Unusual Succulent
Jeanne
08/29/2014
Now, before any of you start commenting on my 'title'..... last year we had the opportunity to house sit for two weeks. During that time, an unusual plant in the back yard got a very unique looking bud, blossom and then flower. I watched it and photographed it the entire time we were there. I posted photos of it on this blog.

The owner of the house was kind enough to bring me my own plant. It arrived with a blossom, which came and went before I could get the camera on it. Thinking I'd missed it, I was pleased to see several more buds forming.

This plant is not a slow bloomer! The first buds, opened and closed within 12 hours. Then I started to see more buds! This time the plant let loose with 1 followed within 24 hours of 4 more! Two or three buds didn't make it.

I've done a bit of research on it, and learned it's of the "Huernia" family. It's not a Pillansi, although close. It's not a Schneideriana - it's red, or a Barbata. However, it's got flowers similar to one - the right shape, not the right color, or the right size, but wrong shape, etc. The closest flower that I've found has a different plant stem than this one. So, I'll keep looking in all my spare time... but if you've been a reader of this blog, you'll know how much time that is!


La Paz Cruisers Supply, #2
Tom, Jeanne and Lefty
08/23/2014, Marina Palmira, La Paz
Well, I guess it was bound to happen. Neither one of us is the sit around type....our store business was growing, but our space wasn't. Of course, there were several factors, storage, sales, Jeanne's sewing room, her growing massage clientele, all leading up to a move to a bigger location. The timing also worked as our first years lease was about to run out.

So....we moved the store in July to a space right next door that was double the floor space. This gave me double the floor space for retail products, it allowed us to establish a complete area for Jeanne to do a boutique type gallery, with not only our photos, but many other things that have been requested by our cruising clientele.

We also both knew this was going to be a lot of work, as the space we were moving into was in short, a disaster area. It had been a catch all storage area for the last decade here for the marina office....so every box of paperwork, every broken fixture or piece of equipment that did not get thrown away, along with a whole bunch of furniture (new and very old) all gathered in a pile from the floor to the ceiling.

The marina staff got the mess all hauled out, and our work began. The space we were taking was actually two separate rooms. I went in and cut the wall down between, leaving a small section that would serve as our office area.




Then in order to get some air flow I cut four windows in the dividing wall that separated the store front from the back room.





I re-wired the entire room, to allow for extra fans, extra outlets for our office area, and new lights in the back rooms.


The back room was one big long room, then I built a wall to divide into a 1/3 - 2/3's size rooms. By giving Jeanne the 2/3's room, and using a cable to allow her to have a floor to ceiling curtain, she then had a separate room for massage.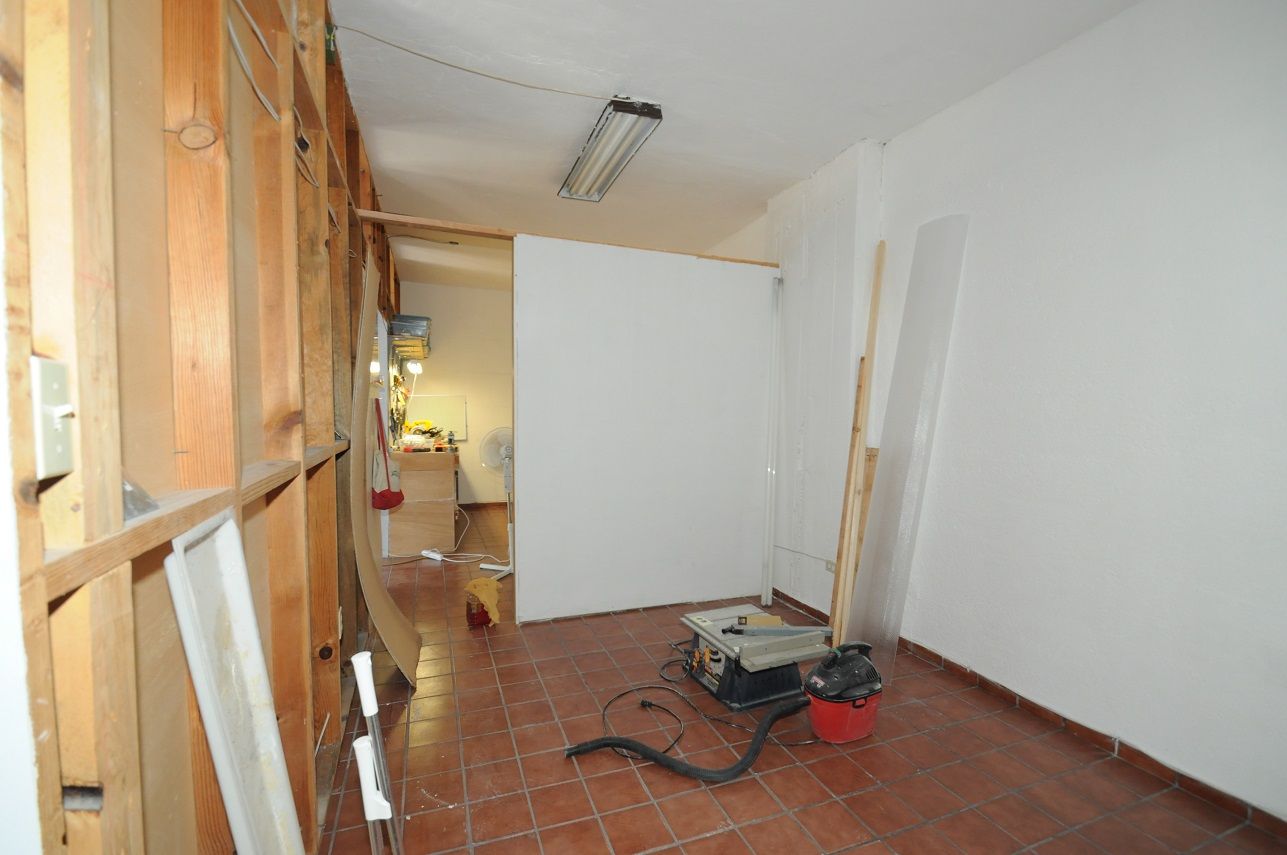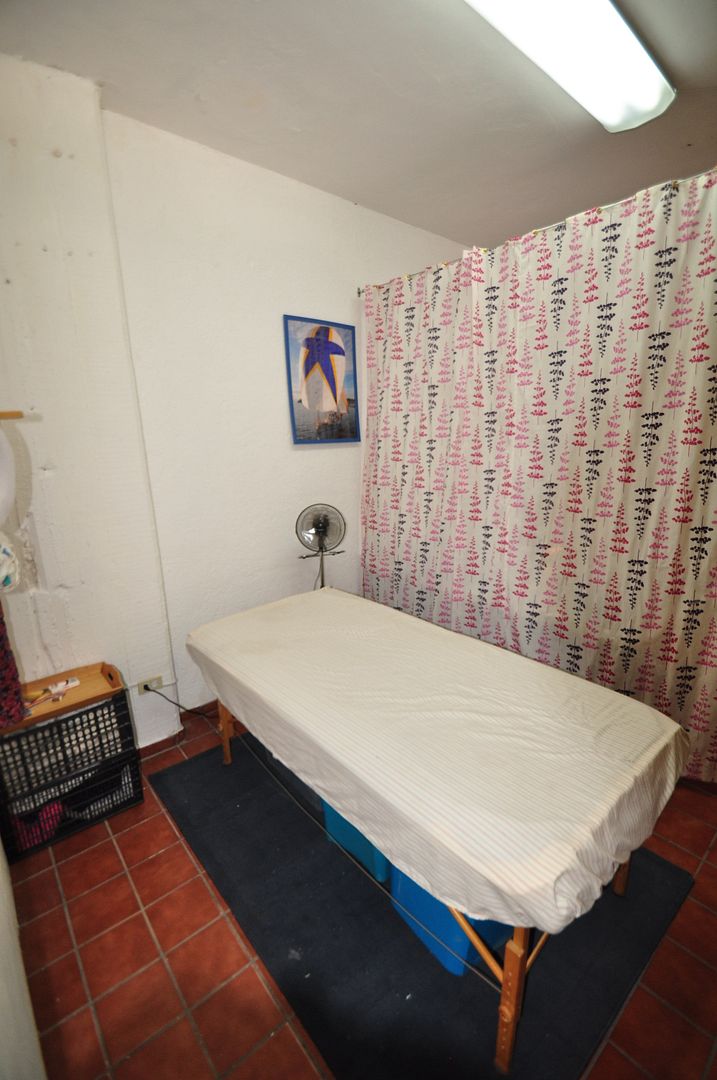 She also then has a good size room for sewing that would expand for bigger projects when there was no massage client on the schedule that day.





Then of course we needed to patch the ceiling, and repaint the whole room. Now it was time to tap into the local help that we have been using for many of our boat projects, as well as some of the marina staff on their personal time. Here you see Jesus, and his brother did all the painting.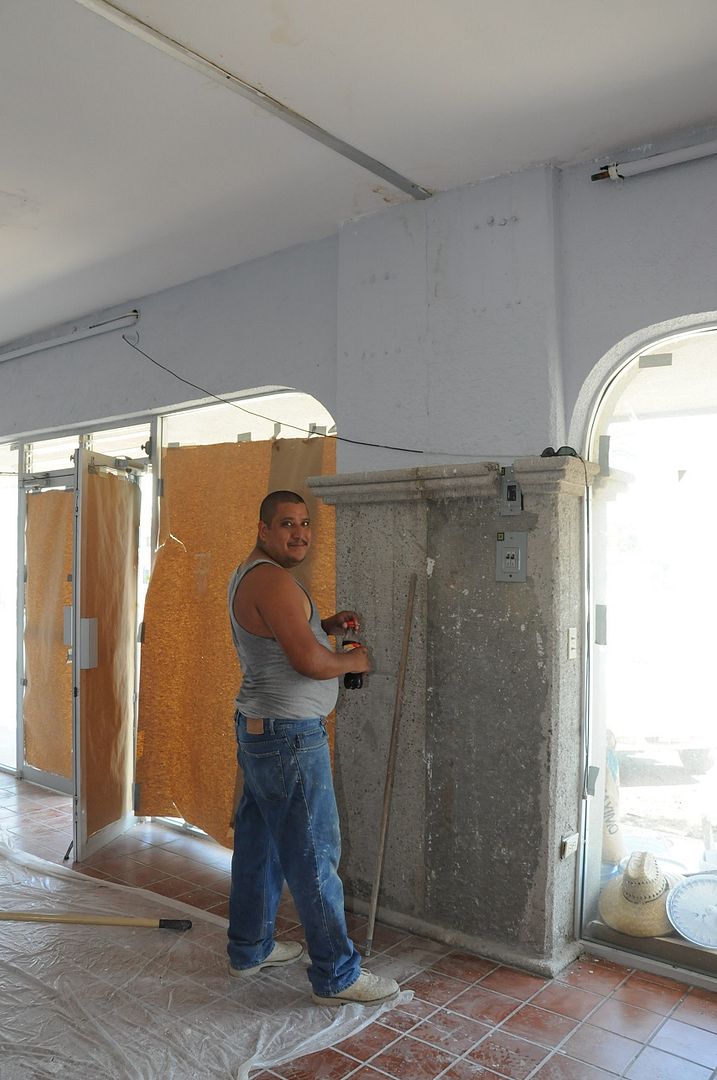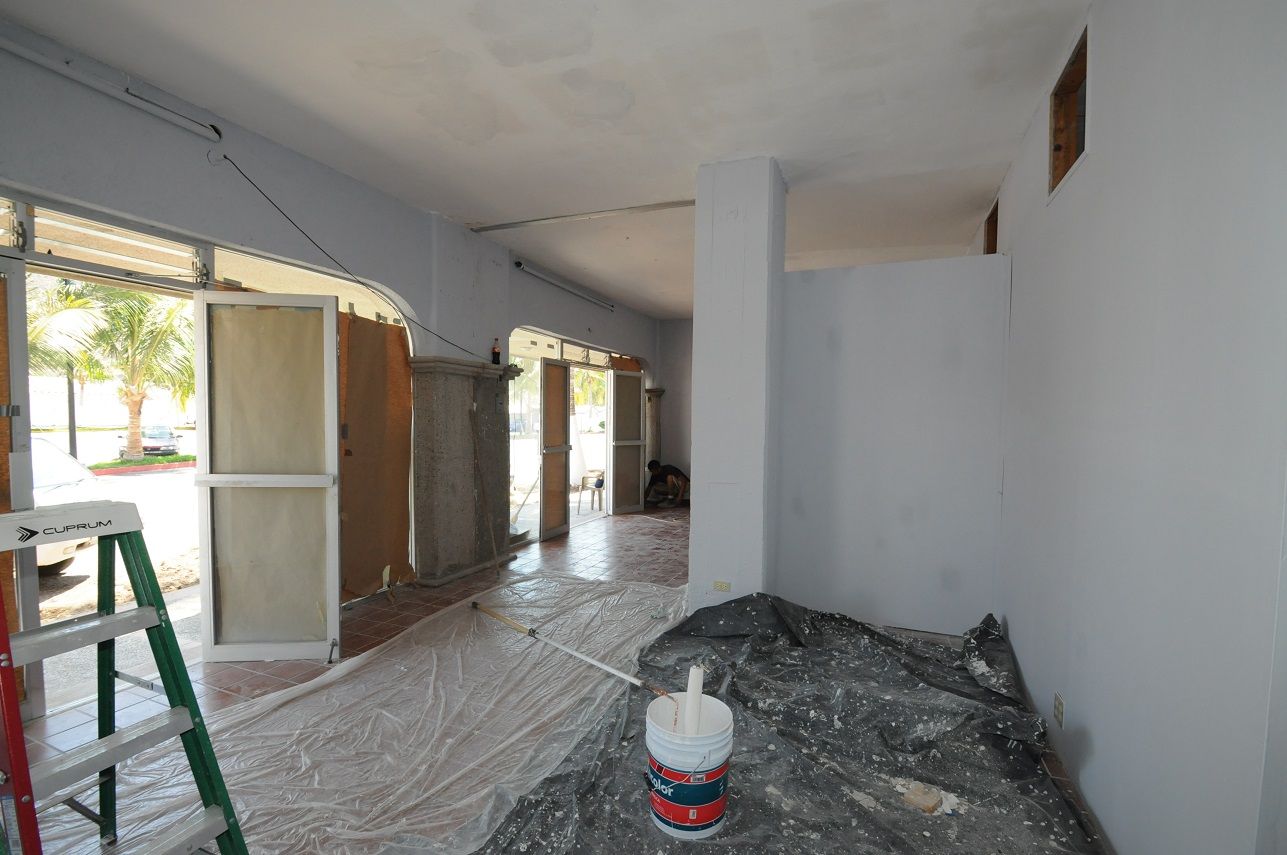 Our good friend Dulce's son Daniel is a welder, so we had him build us a very nice set of shelves in the back room. Daniel is at the top of the shelves, while his brother Ivan is helping out





Things were shaping up, and then one of the front doors had a broken hinge.....the marina guys were there in minutes it get it fixed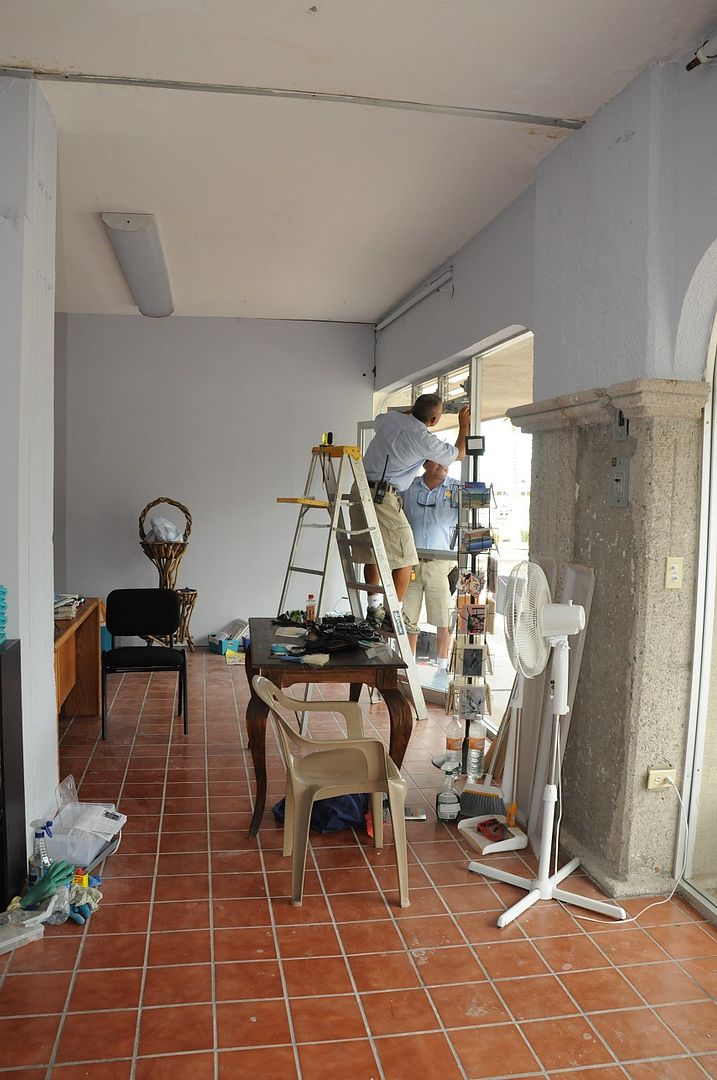 And of course the lovely Lupita was brought in to do the deep cleaning of the glass...ten years of grime, grease, and bugs...ich. But the glass like crystal when she got done.





Now it was time to start the move. Of course this meant tearing the old store apart, even if we were only going next door it amazing how much work it turned out to be......and how the heck did we get all that stuff in that little bitty store?





New fixtures, more slat wall, some peg board, move my work bench, new lights, new store furniture....all it takes money and time, and we have a lot of time!!

With the help of a bunch of local friends, some long hours spent doing our full time jobs during the day and getting a new store set all of the rest of the hours, it is starting to look really good.

We have a table full of La Paz Cruisers Supply shirts and hats




A wall full of electrical components, switches and connectors....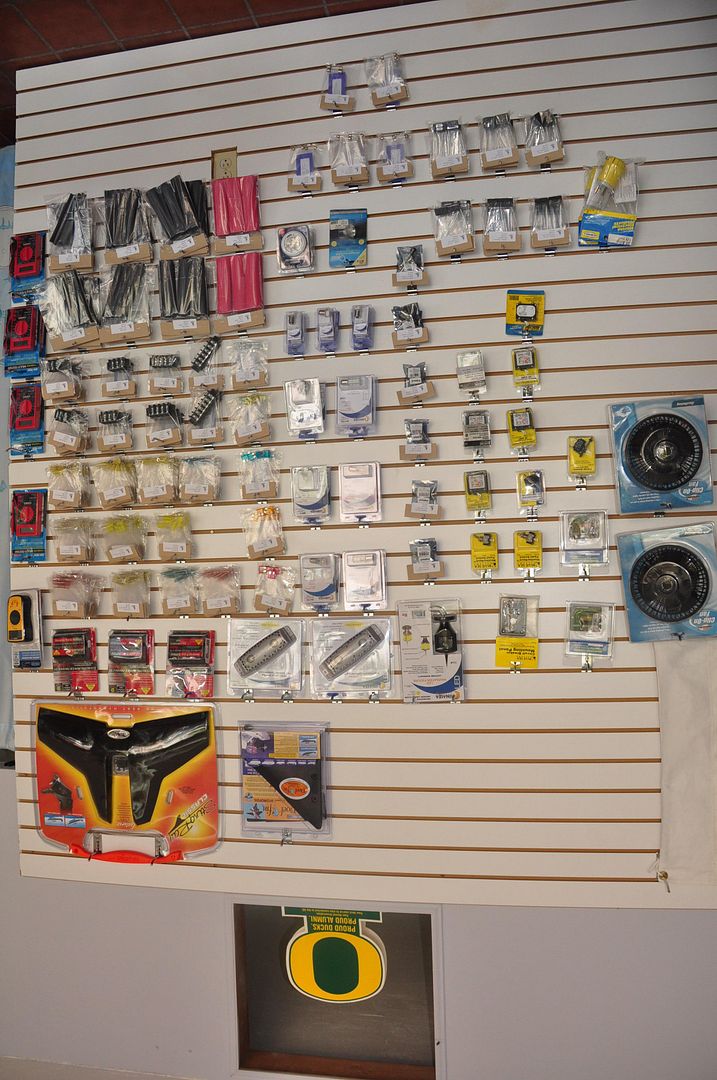 a few boat goodies, thing-a-ma-jigs and what-cha-ma-call-its.....




We feature the Dock Water Solutions filtration systems for fresh water. we produce these right here in La Paz, and use them to make sure that the dock side water you put in your boat is 99.999% pure. Check out those awesome covers that Jeanne makes, complete with our logo.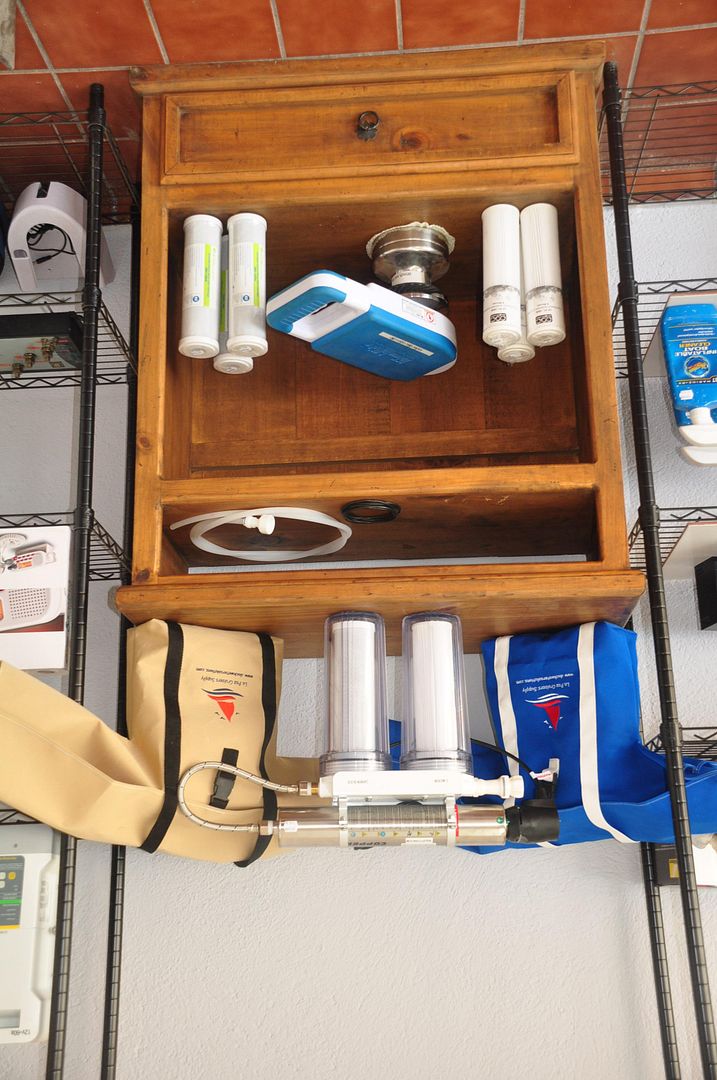 And of course our flag ship brand, Cruiser RO water, along with Technautics-Cool Blue refrigeration for boats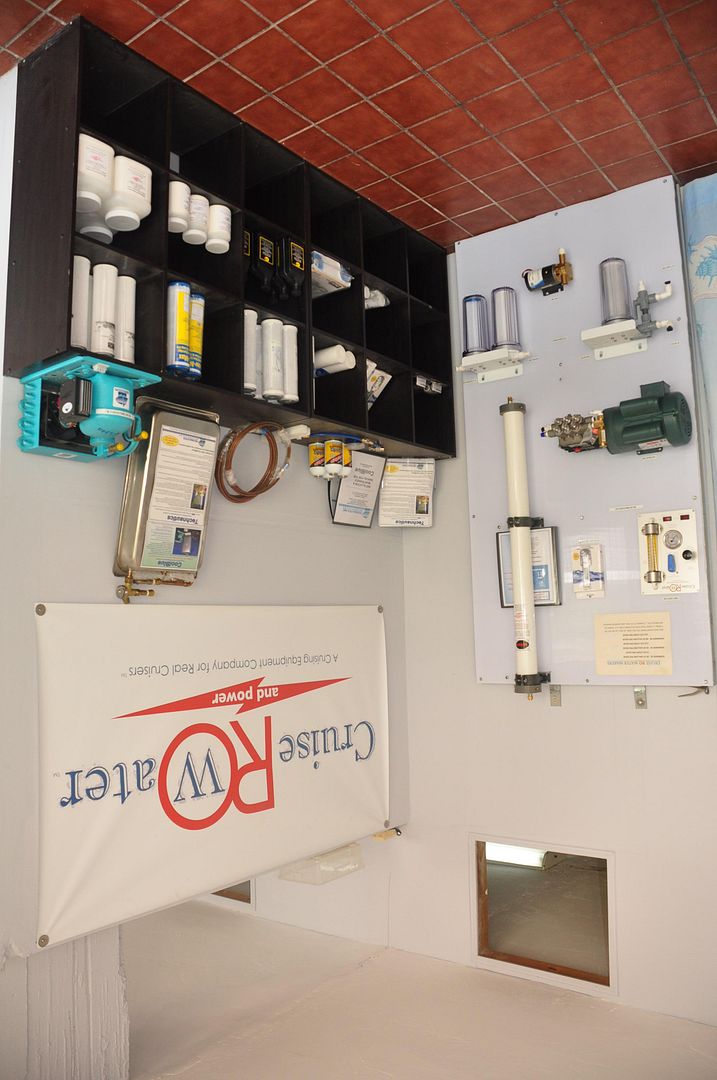 We have a section of binoculars and solar energy controllers.....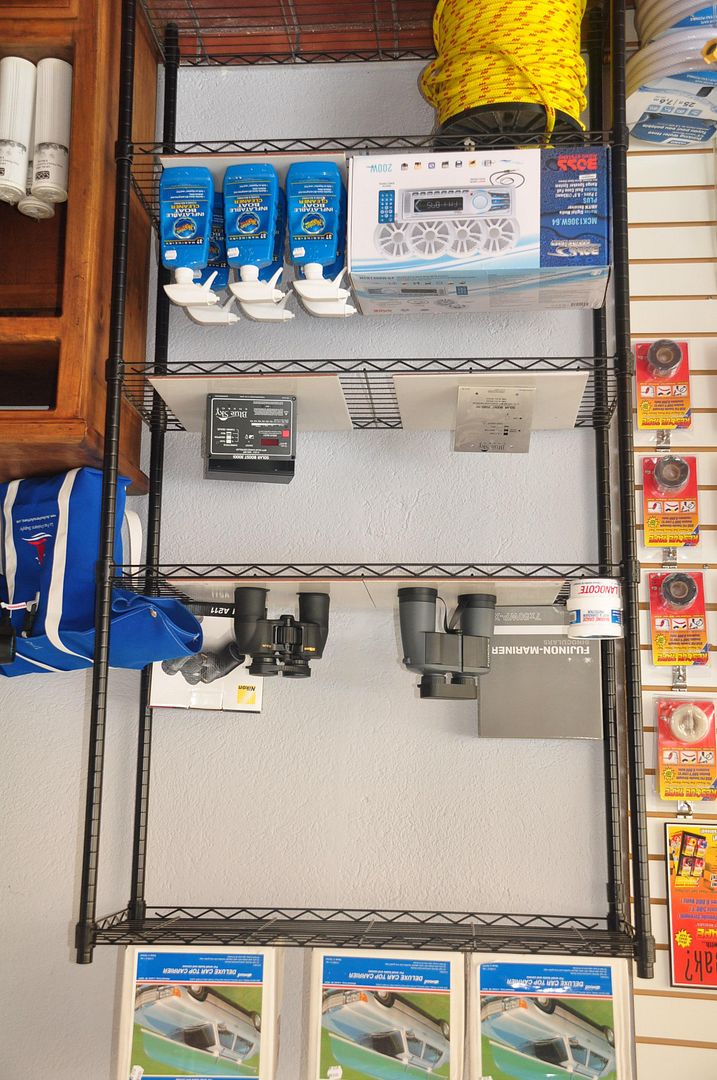 There is a section full of VHF radios, battery chargers and other electronic goodies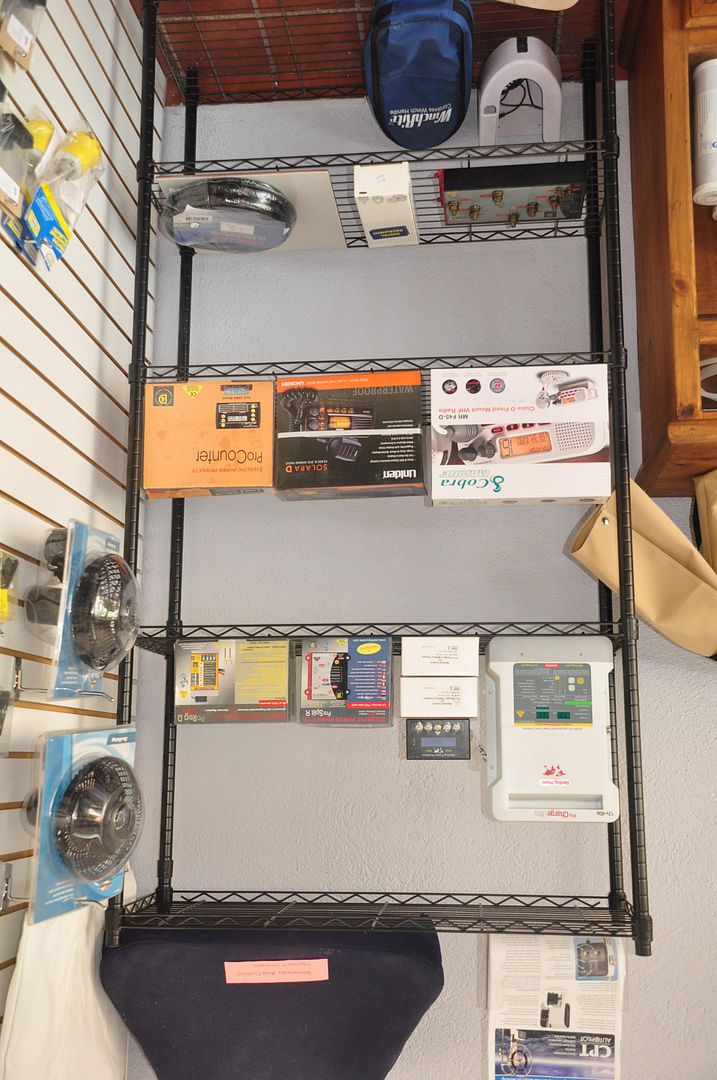 We have tried to use some fixtures and decorations with a bit of local flavour. When Jeanne saw this three position basket, I knew it would be coming home with us.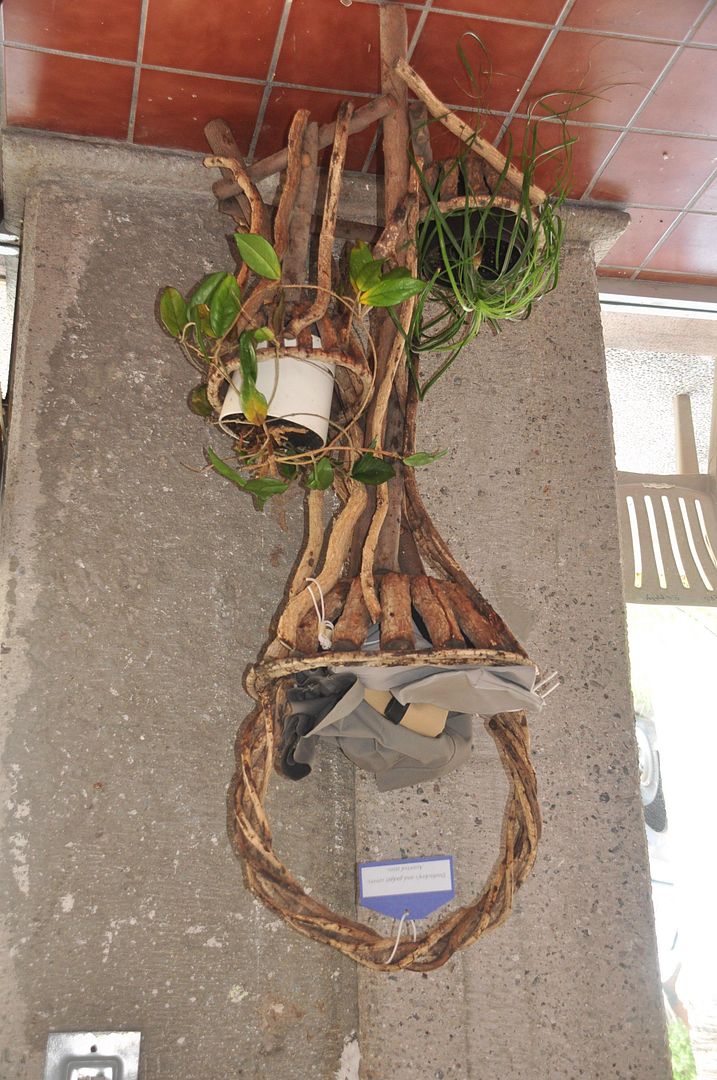 Check out those legs!!! We found the antique table and are using it to hold the photo post cards we sell.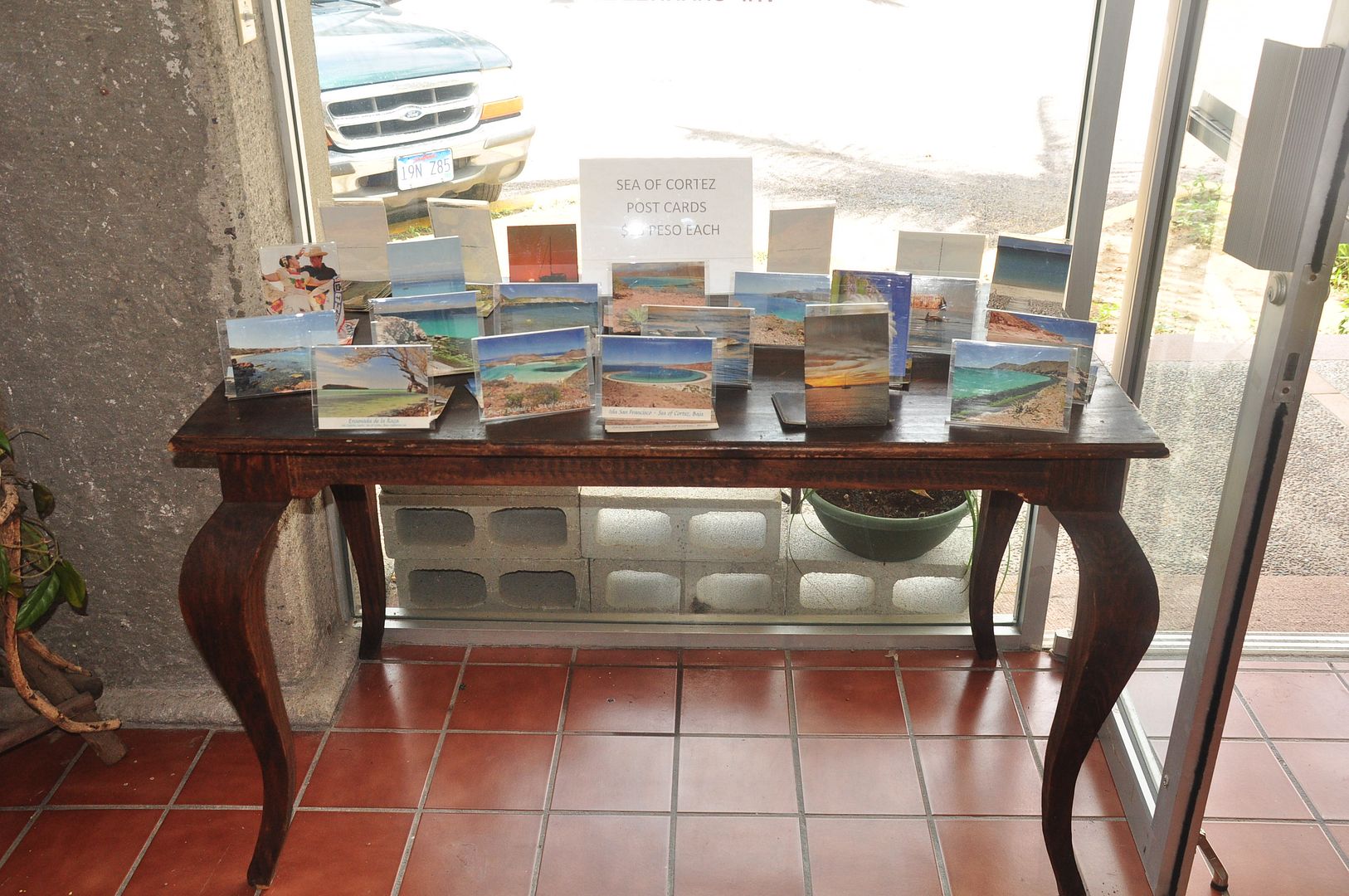 Moving over to the other side of the room, we have Jeanne's section. We feature our photos, all natural bug repellents, organic custom soaps, local jewellery and crafts.....




A good selection of books, reference guides and of course, the internationally famous Sea Of Cortez cruising guides by Shawn Breeding and Heather
Bansmer....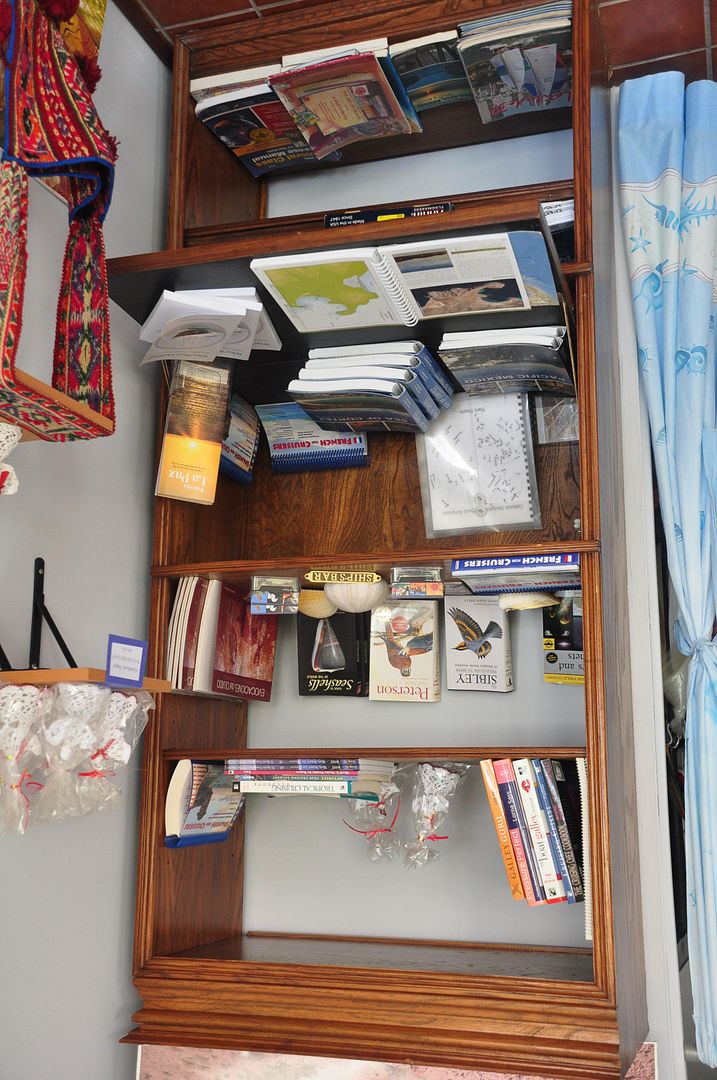 Jeanne has done an incredible job of taking over the "office" duties....keeping me out of a whole bunch of trouble....that and her increasing knowledge of the Spanish language has really made our business much stronger!!




We have a dedicated flat panel on the back wall behind the desk that has a continuous run that features our photos that we offer for sale, framed, unframed, or shrink wrapped.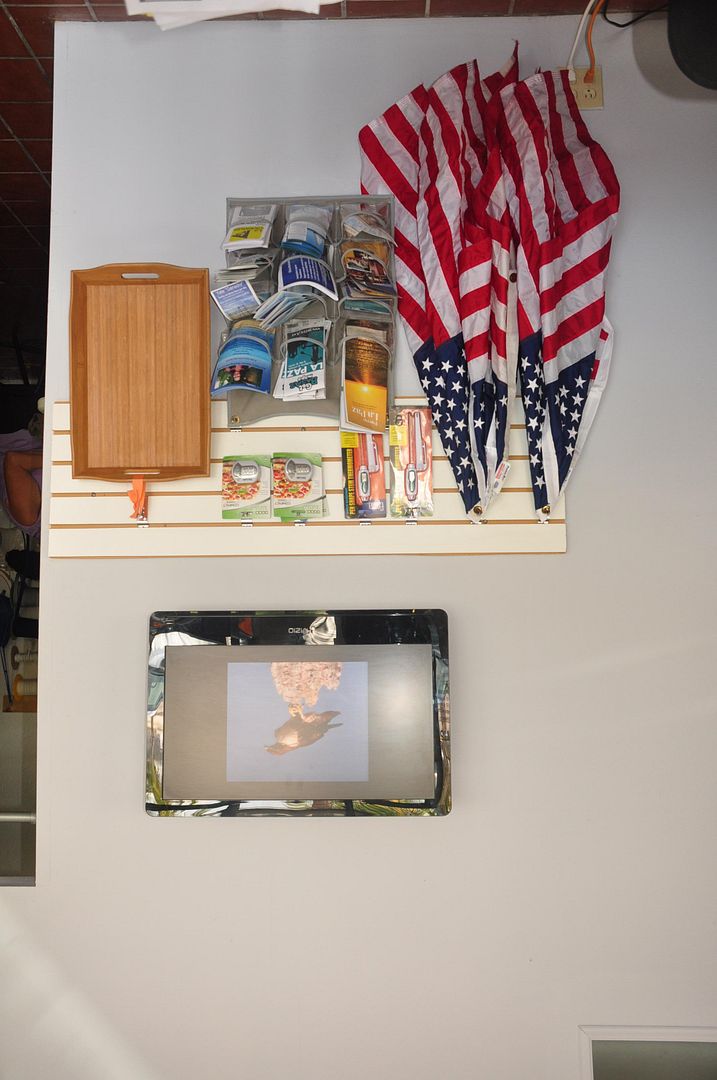 We have managed to fill up all that great storage space in my back room in no time at all




Here is a quick loom at my work bench...while it is mostly cleaned off....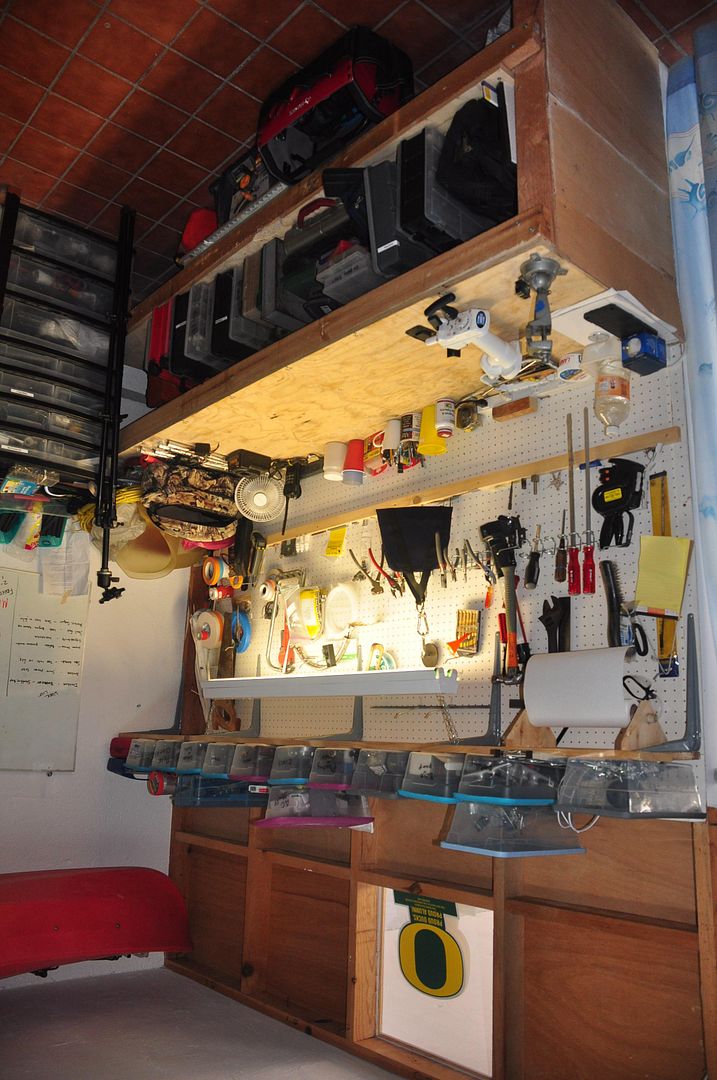 Here is a over view of the retail side of the store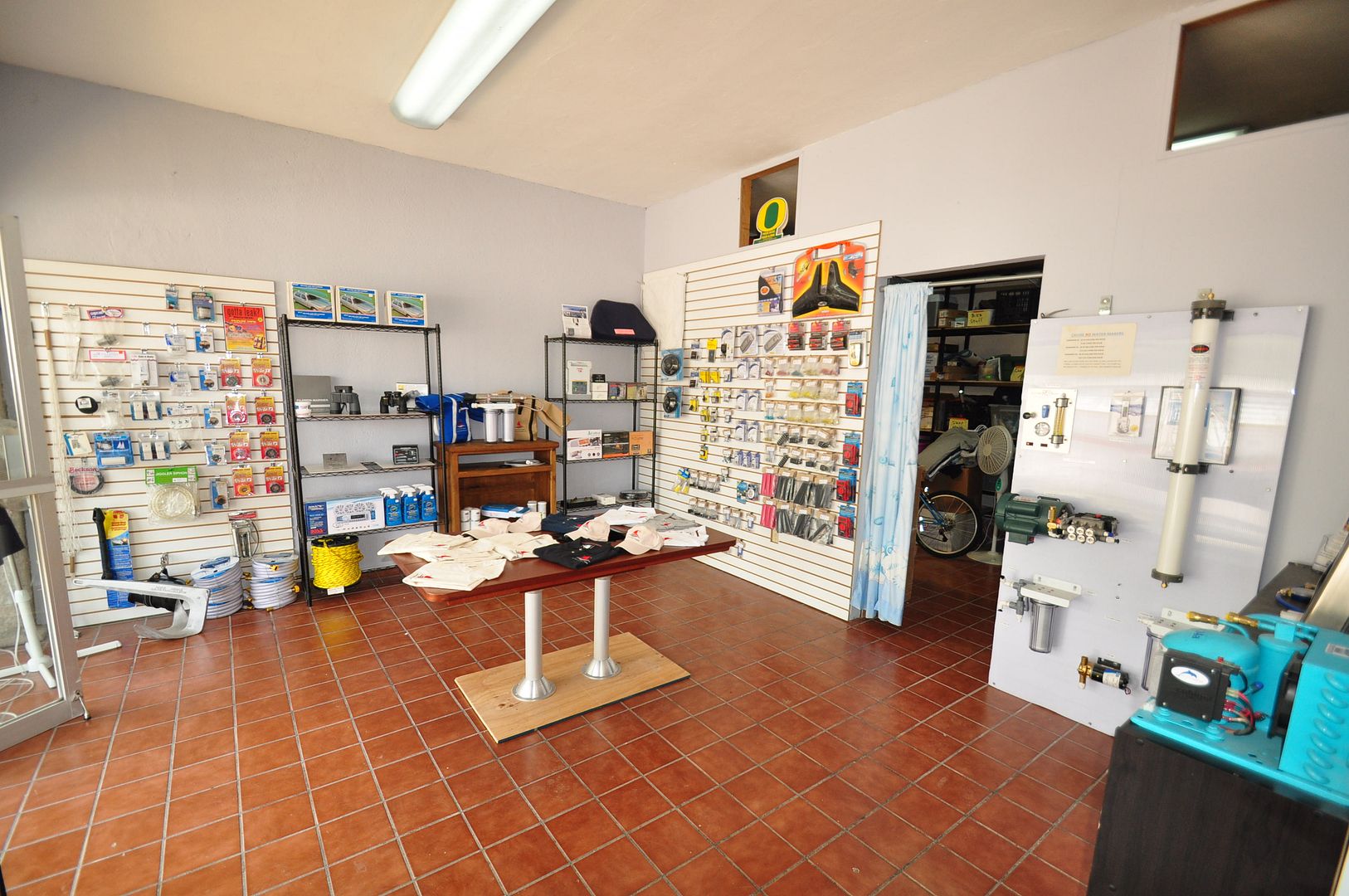 And here what we look like from the parking lot!!


Resort style lunch
Jeanne
08/22/2014, La Paz - Costa Baja Resort
Well, it's not all work and no play down here. I know that's what it sounds like from our blogs, but occasionally we do get away.
Our friends Les and Diane, SV Gemini and George and Barbara of SV Dreamcatcher decided that a cruisers lunch at the Costa Baja resort was in order. If you're arriving to La Paz by water, Costa Baja is the first resort/marina that you come to - right at the channel entrance. It's also the furthest from town, so unless you have a car, or are really determined, the social activities are few - unless you invite the activity to you!


From left - Tom, George, Barbara, Jennifer & Grant - SV boat name unknown!, Dennis & Susan - SV Two Can Play, Jannie - SV Luna - husband Luke back on the boat doing his virtual job, Les & Diane - SV Gemini and me.
Wednesday 11 of us enjoyed the view, food and infinity pool, and actual pool - not a puddle!- for several hours in the afternoon.

A small squall system rolled through while we were eating, but cleared out before we got to the pool, much to everyone's relief - especially Diane's!

For a few hours we got to pretend we were wealthy tourists, lounging and playing at a 'shi- shi' resort..... back to reality!

Mother Natures Wollop!
Jeanne
08/20/2014
I know that I recently wrote about the latest batch of weather that's been coming our way. However, we've had a few more 'experiences' with the summer weather here, and... well, I just can't help but be impressed, awed and a bit amazed - and NOT necessarily in that order!


The weather report on this morning's cruisers net..." Expect highs in the 90's with high humidity. There's also a good chance of more thunderstorms this afternoon, but nothing is showing on the site right now... but we all know what that means. We're keeping our eye on a system that's building off of Manzanillo, on the mainland, but it's predicted to slide past us. We'll be watching this one. Stay cool, drink your electrolytes and watch for potholes that are underwater."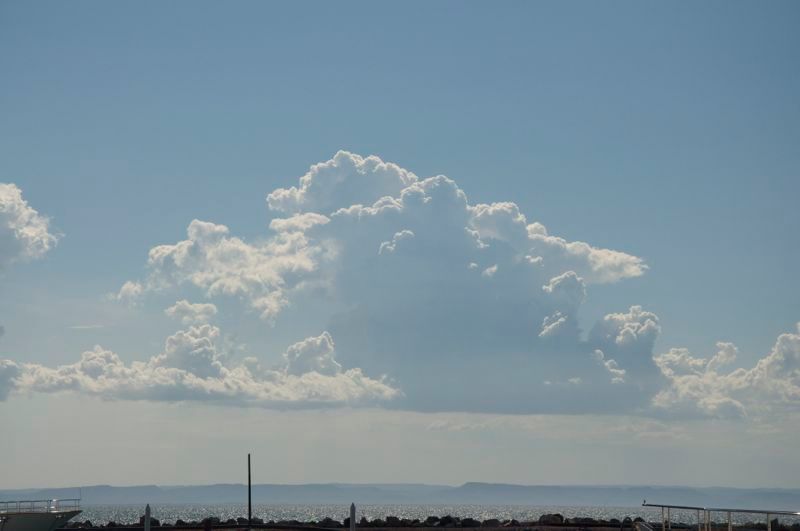 This time of year the clouds and weather patterns form mostly from the mainland - think tropical jungle, hot steamy... lots of moist air rising. It then heads out to sea, and across to the Baja. Sometimes the systems make it here and sometimes not.

Most afternoons, there's some sort of interesting cloud to see.


I notice we're learning a lot from the locals. When to pull the flags down, when to just stand by and watch. Tom has even started messing with a couple of the dock guys as to which one of them will be right regarding rain that day - Tom watches www.eebmike.com for our weather, the locals just go outside and look up.

After the last storm, last Thursday, Tom's been showing the guys the weather page..... they've been stopping in several times a day to see what the afternoon might bring us!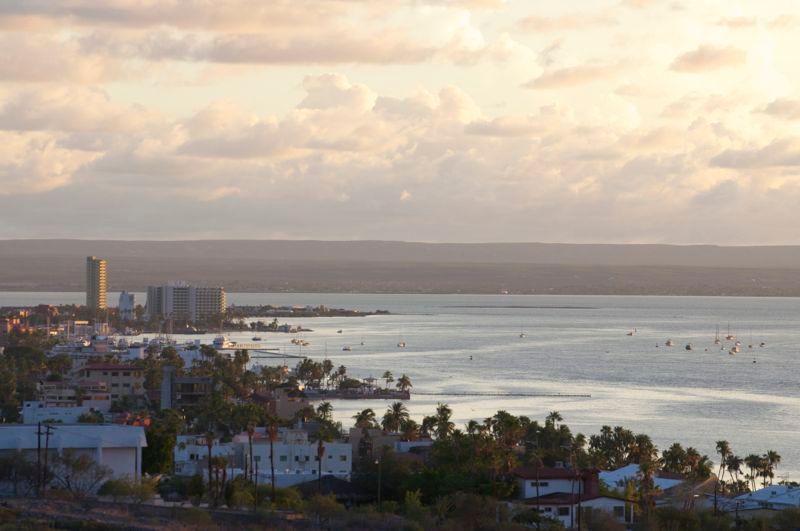 We get lots of cumulous clouds, some with anvil shape, some with out.


Then you get your 'just kind of fluffy' all around the bay clouds.


Some are kind of boring...

Some don't make a very good sunset.....


and some make for a spectacular sunset....




AND THEN..... stuff like this shows up!
It's not going to slide right on past us... we are it's target!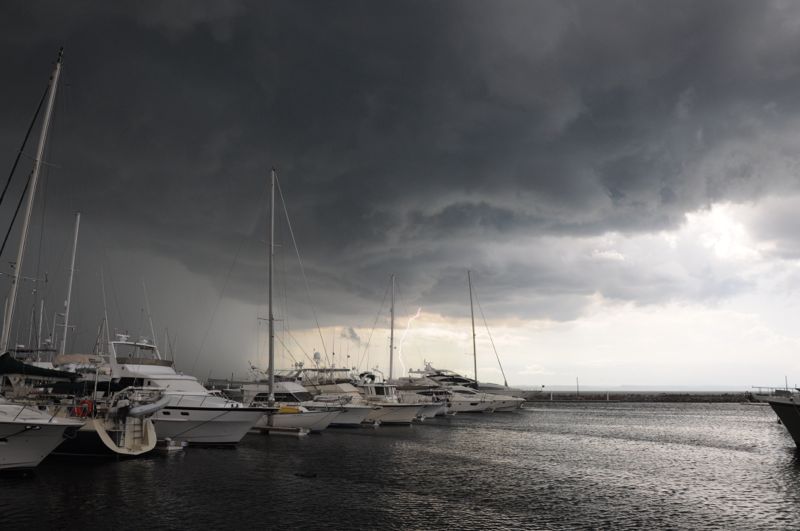 Notice the lightening strike!

Both Tom and I stood under the eaves of our building, with the marina staff and watched this one head towards us, bellow out its greeting, and slither on past.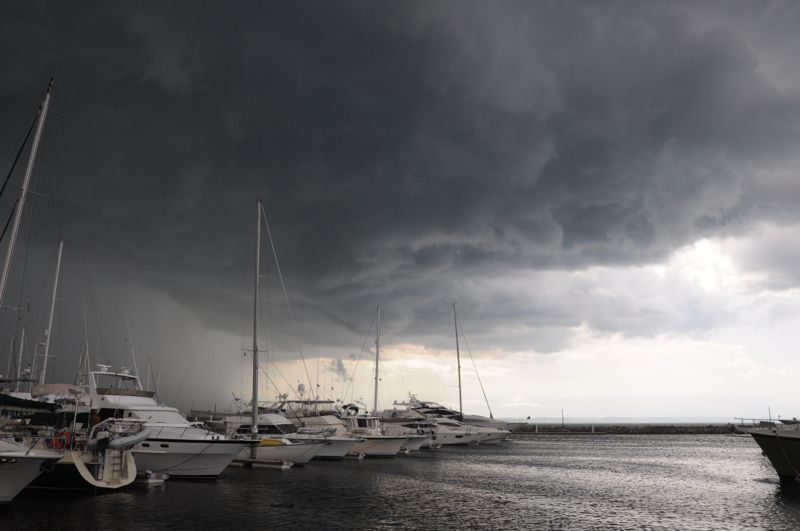 This storm contained a lot of lightening, of which I was only able to catch one strike. We know of one that hit inside, or close to inside the marina, and one hit a small restaurant right across the alley from Harker Stand Up Paddle boards - total loss on that one.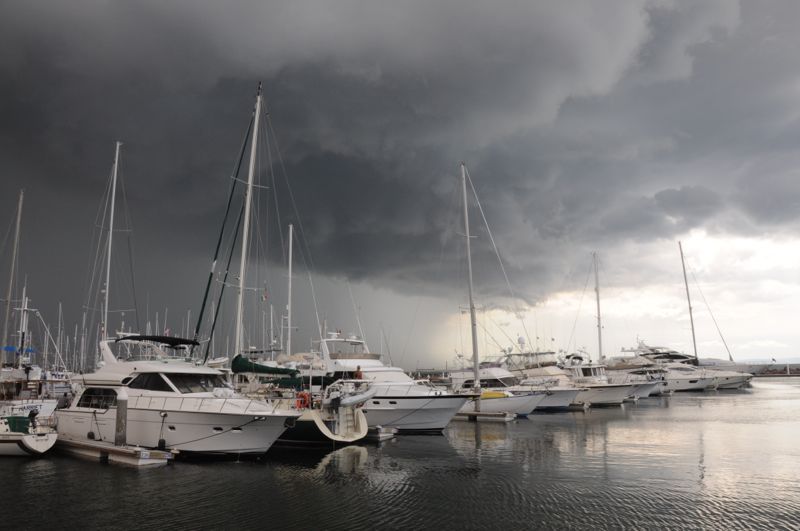 This system lasted about 20 minutes in which we got 2.5" of rain! That's 8" an HOUR folks!


Once the leading edge of the storm passes, the rain comes then lessens. Right behind the system the blue sky reappears.


Usually by the time of the sun to fade away, we've got another spectacular photo opportunity. Or just an opportunity to sit back and enjoy the colors.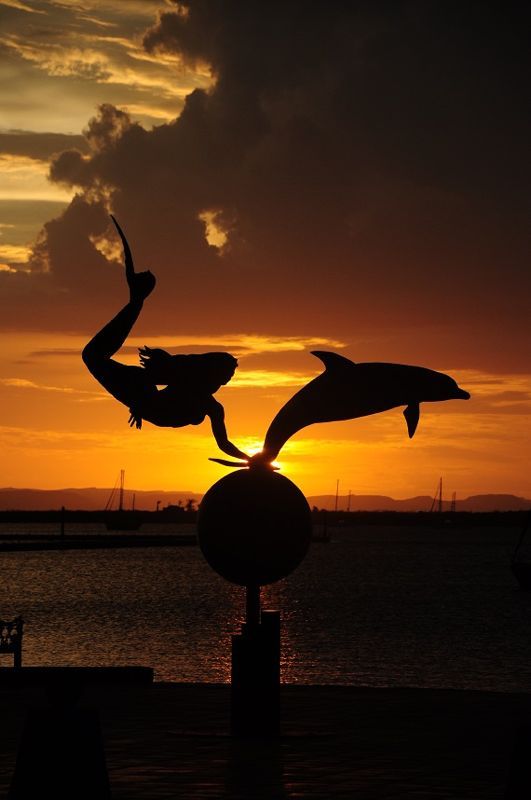 Something Foxy!!
Tom
08/15/2014, San Juan de La Costa
On one of our last forays out into the Mexican desert, I was very fortunate to spot a small Desert or Kit Fox (Vulpes macrotis). These guys (or girls as it may be) are not very big, about the size of a small border collie (3-6 pounds). And of course, you can't miss the ears! In addition to helping provide excellent hearing, the size of the ears also aids in helping to keep them cool. The kit fox is mostly a nocturnal animal, but sometimes ventures out of its den during the day. It usually goes out to hunt shortly after sunset, mostly eating small animals such as kangaroo rats, cottontail rabbits, black-tailed jackrabbits, meadow voles, insects, lizards, snakes, fish, and ground-dwelling birds.

This one was really not to shy, as long as I kept my movements to a minimum, and stayed just outside it's comfort zone....I guess a 400mm lens helps too!

Now if I can just track down a bobcat!

Mujeres Asian style
Jeanne
08/13/2014, La Paz
Since we had such a long time between our last two cooking sessions, we all decided we didn't want to wait that long again. Before we even finished our mole from the last gathering, we decided upon Asian themed food and set the date. This a was three weeks ago! I figured I'd better get this one posted as we've another one planned in a few weeks!

Our Mexican friends were excited as they'd never made any 'Asian' style food. There are many Chinese restaurants and buffets in town. This was all new to them.

Linda was anxious to show how to make fresh Spring rolls. This sounded like a good start to a summer menu. Since it's been so hot, our goal was to prepare as much of our meals as we could without the use of the oven or stove. Fresh spring rolls would be perfect!



Linda and I prepared a menu of Fresh Spring rolls with several dipping sauces - sweet and sour, hot chili, two different peanut sauces - one with coconut milk, the other without. We also did lettuce wraps with chicken and veggies with a plum sauce, chicken and pork satays - marinated in a tamarind/curry sauce, fried rice, green beans in black bean garlic sauce and for dessert coconut rice with mangos sprinkled with five spice powder and traditional Mexican flans made by myself and Olivia. We also had agua de Sandia (watermelon) and Guayaba (guava) for beverages, along with some wine and beer.



Our chefs this time around were: Olivia , also our host, Linda from SV Windwalker - also at the Mole event, Martha, a frequent participant, and me Unfortunately, Mariella had to be in Los Cabos and Dulce was working. Since I was helping with the instruction this time, I didn't get as many photos... I was having too much fun cooking!

After preparing the shopping list, and raiding our own lockers we headed out to gather the rest of the ingredients. Bravo market was the stop for the pork, chicken and shrimp. Linda hadn't been there before and was impressed with the vendors. We purchased a kilo (2.2#) of pork tenderloin for about 4 USD, 8 chicken breasts, skinned and boned, and the bones bagged separately for 5 dollars. The shrimp prices are high right now, and don't seem to be coming down, but we managed bargain a bit and got a kilo for 260 pesos, about 10 USD.

The one thing we haven't been able to find, yet, is the rice wrappers for the spring rolls. Linda had just returned from a stateside trip, bringing the necessary wrappers with her. I've seen the spring rolls in restaurants, so they must be around..... the search continues!

We started out with preparing the rice pudding since it had to cool. We used Arborio style rice and coconut milk, added a beaten egg and some vanilla, and a pat of butter at the end, and set it aside to cool.


The chicken and pork were sliced for satays and were skewered and placed in a tamarind, curry marinade to await the barbecue.



The veggies, sliced, chopped, and prepped for spring rolls, or the chicken lettuce wrap mix.




While Linda showed Martha and Olivia how to wrap the spring rolls, I worked on making the peanut sauces, sweet and sour sauce, chili and plum sauce.


Olivia and I had talked about each of us making a flan using identical ingredients. I use a pressure cooker, and she uses a bain marie on the top of the stove. We were interested to see if there was a texture or taste difference...... however, I saw her adding cream cheese to the blender along with the other ingredients,... this comparison was off for today!


For Linda and I, both live aboard boaters, it's a nice treat to have a full size kitchen to work and play in. We chopped, used lots of pans and burners and did lots of dishes!


At the appointed time, our guests arrived. Tom, Gary-Linda's husband, Don- Olivia's novio - boyfriend, John from Swagman - a foodie friend and dish drier, Sonia our taster and dishwasher, and Origami and Luna - Olivias Daughter in- law and granddaughter, and lover of coconut rice pudding!


We had a great time cooking together and sharing a meal.


We've got the plans coming together for the next one, somewhere around the first of September. Mariella, Olivia and others have tentative travel plans....scheduling is tricky as usual. And then, of course, we'll be right in the prime hurricane season. But then, I've never let a weather system stop me from a meal!