What I saw on my way.....
Tom
05/17/2013, La Paz
....down the Malecon tonight. It has really started to warm up, with temperatures reaching the high 90's last several days, so along with many of our local Mexican neighbors, we all head down to the Malecon. By now I am sure that you all know that the Malecon is the long, wide sidewalk that separates the water and sand from the street that runs along the beach. Nearly ever night it is busy with families out for a walk in the cool evening breezes that come off the water. In addition to the usual large group of bikes and three wheel tricycles that is made low to the ground, and for large kids and adults, there is almost always some event going on that can catch for attention. There are a couple of vendors that rent the bikes very cheaply, so all Mom & Dad need do is drive down, rent the bikes and away go the kids! safe and sound along the well protected Malecon.

Tonight was no exception. Jeanne and I parked the truck near my office, "Harker Boards, and Brew Pub", and started a slow stroll down the Malecon. Strolling thru the various Sculptures that are at regular intervals, we ran across a group of South American musicians/jugglers playing and practicing on the sand along the water. In the next block or two, the young artists were hard at their creations in the Malecon kiosk, where easels have been set up. Spiderman, Tinkerbelle and other famous characters were all very diligently being painted while Mom, Dad, and the Grandparents all sat along the wall near the water enjoying the star filled night and chatting with friends.

A few more blocks we ran across the La Paz, Mexican Archery group all practicing, with their targets near the water, so any misses, well, splashed! These kids were 8-17 years old, and with the exception of the youngest little fellow, never missed the target. Most of them had very high end almost Olympic Grade Bows, and carbon Fiber arrows. What a real treat to see, even at this age the obvious dedication these young people showed.

A few more blocks, and we had made the primary objective of our walk, Fuentes Ice Cream!! The best Ice Cream I have ever had, and it is even better after a long hot day of boat work.

Continuing our walk down the Malecon, we came across an entire park area, that was now covered with tents...well this just had to be investigated. Turns out it was a very special High School business fair. A select group of local High School students all were competing in an event to show case the new business idea that they had conceived, planned and were now promoting. Bike shops, recycling centers, "Green" clothing, and foods ideas, music shops and even a coffee shop. One of my favorites was a 15 year old girl had designed a smart phone "app" that was similar to an Amazon type site where you could purchase neatly anything. Movie tickets all included the trailer to the movie so you could pre-view it before buying.

By now we had walked nearly the length of the down town (Centro) part of La Paz, and it was time to turn back. We visited with a few locals that we have come to know, enjoyed the last of our ice cream, enjoyed the amazing variety of music coming from the many bars and lounges that were just starting to get warmed up, and slowing we got back to Pancho, the truck.

Sitting here on Eagle, I came to realize that the Malecon is yet an other part of La Paz that has made this place so special to us! Now some our friends all need to come down and enjoy these evening strolls with us.

These boots were made for...
Jeanne
05/16/2013, La Paz Malecon
singing!
Meet Manuel, a local street musician. Almost nightly he can be seen strolling the malecon, in and out of restaurants trying to catch the eye of a music lover!


We've seen him many times. Can't say we've heard him..... he's just one of many evening entertainers with such great character in their faces, hands and clothing!

A couple of nights ago, we were gathered at 'the office' for an evening sunset beer. Patty and Fabrizio, who run the bagel shop just up the street stopped by, Tom Ireton, our friend and photographer, stopped for a beer and a hot dog, Sergio our Sports event contact was there... so pretty soon, our group had taken over a fair portion of the deck. Then along came Manuel, looking for someone to sing to. Instead of buying a 'song' from him, we treated him to a cerveza and he sat and visited.



I had my camera with me and began to take some shots. Patty, borrowed it to take some from her angle and Tom I. ran to the car to get his! Manuel wasn't quite sure what to make of all of it, but in the end he was gracious. Just another impromptu happening!

just another sunset
Jeanne
05/15/2013, La Paz Malecon
Well this photo pretty much sums up what the weather and the sunsets have been like for the past several days.
We've had days in the high 90's with little to light breezes. Our nights have been very pleasant with temps around 85-82 about sunset then slowly decreasing to about 65 by early morning.
The slow fade of light with each sunset is quite lovely. There is an infinitesimal number of colors within each one.... such a slow, lovely fade!
While this photo doesn't show it, the malecon, in the evenings has been full of people on dates, families- sometimes 2 and 3 generations, walkers, joggers, bikers, roller bladers and folks just outside to enjoy the waterfront and watch the night make it's slow approach.

Off the dock
Tom
05/13/2013, Isla Espirtu, Ensenada De La Raza
With all the work we have been doing, Jeanne and I jumped at the opportunity a slow weekend gave us and we got the dock off the boat, so to speak. We left Saturday morning, had a great sail until we go to San Lorenzo Channel, where the wind died and we had to motor the last 4 miles, to one of our favorite spots on Isa Espirtu. Puerto Ballena is actually made up of three finger like bays, Ensenada De La Raza, Ensenada El Gallo, and Ensenada La Gallina.

The first night we stayed in the northern most bay, De La Raza, due to the northern winds, but when they switched to Southerly, we pulled anchor and made the 1.7 mile run down to La Gallina.

A little swimming, and little fishing, a couple of naps, some Baja rummy...I am sure you get the idea by now!

This morning at the crack of 10, we sailed off the anchor, to a light south wind, giving us a beam reach out of the bay. As we exited the bay, the winds picked up a bit, to a steady 10 to 12 knots, and a nice long run at 45-50 degrees off the wind. We managed to hold that same tack all the way to the entrance of the La Paz channel. 17 miles of great sailing, one tack, high 80's with out a cloud!! The only bad part was that this was a sail back to the dock and back to work, but it was a great, and much needed break!

Founders day events
Tom
05/13/2013, La Paz Mexico
478 years....now that is a long time! That is what La Paz is celebrating, the formation of their little town by Herman Cortez 478 years ago, when he landed on these beaches. Now of course, his landing here had some rather unpleasant historical problems as well, what with the virtual destruction of the local Indian population, but since it did result in the formation of their town, lets have a party!!

Founders Day celebrations, a month long affair started the first of the month, and involves nearly every part of this community. Arts, theater, dance, food, music and sports events all marking the obvious pride in their home town. As we have pointed out many times before, with nearly every celebration that happens here in La Paz, there is a strong family component. Three and sometimes four generations all show up together to cheer on, support and enjoy every event.

Jeanne and I have both shown off the pictures of the reenactment of Mr. Cortez's landing here on these white sandy beaches. We will continue to send along photos of the events that continue to run thru the month, with today's pictures of the highly contested Mountain Bike Races.

The races had a quite a few different flights, and since I had positioned myself a couple of miles out into the desert course, Jeanne stayed at the start/finish line and called me with start line updates. She got to enjoy the real beginning races, a couple of which were proudly sitting on their "My Little Pony" and "Barbie" bikes. Their course was quite short, just down the finishing straight away and back, but here they were giving it their all, with no less desire to excel that those seasoned, professional rides that would start later in the day.

As you look thru these pictures, the higher the letter on the racers number placard, the older the competitors are, with the professionals all having a "X" designation.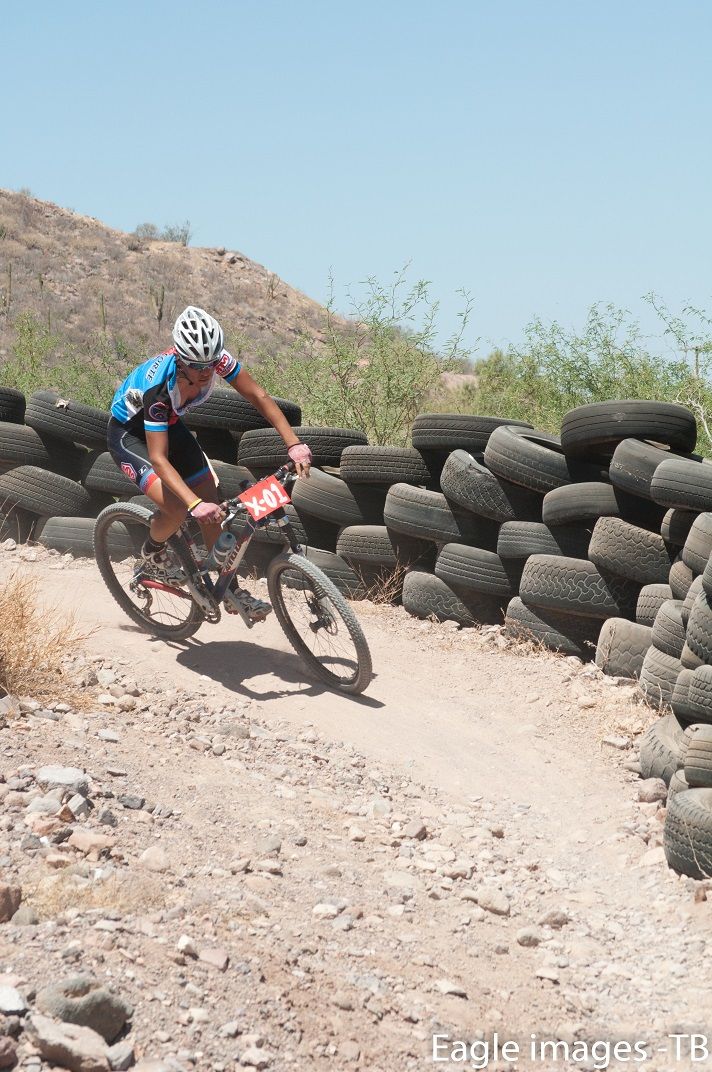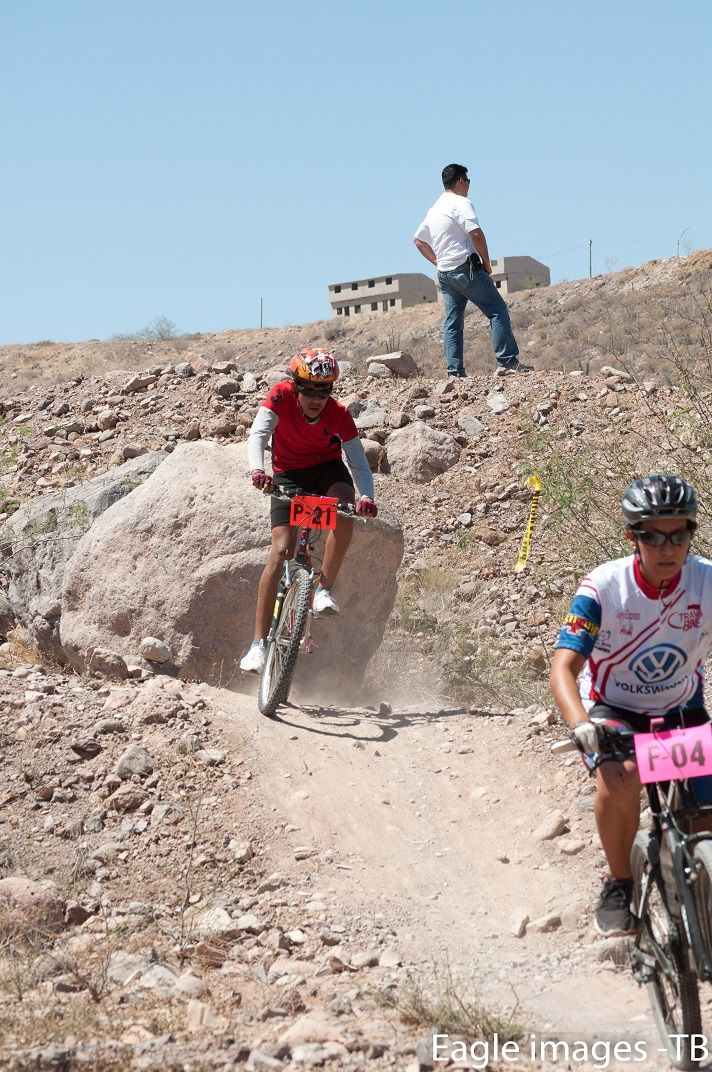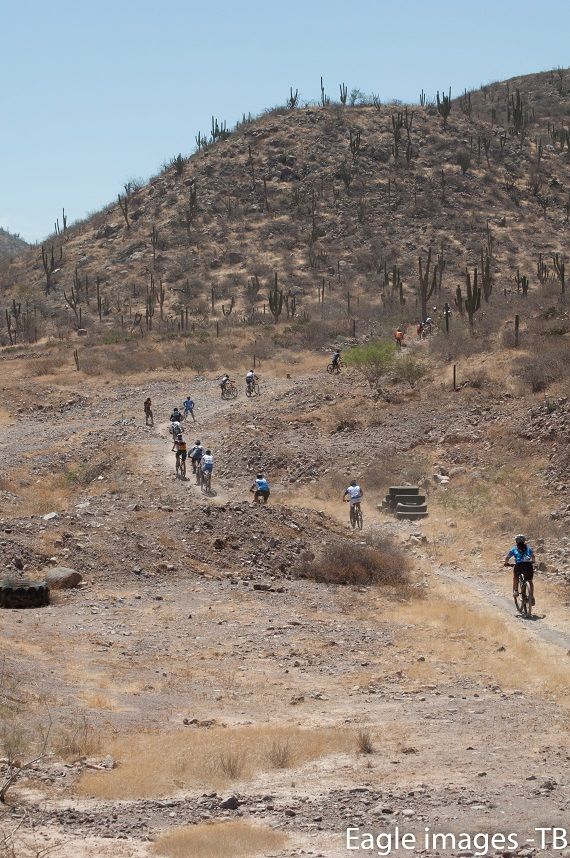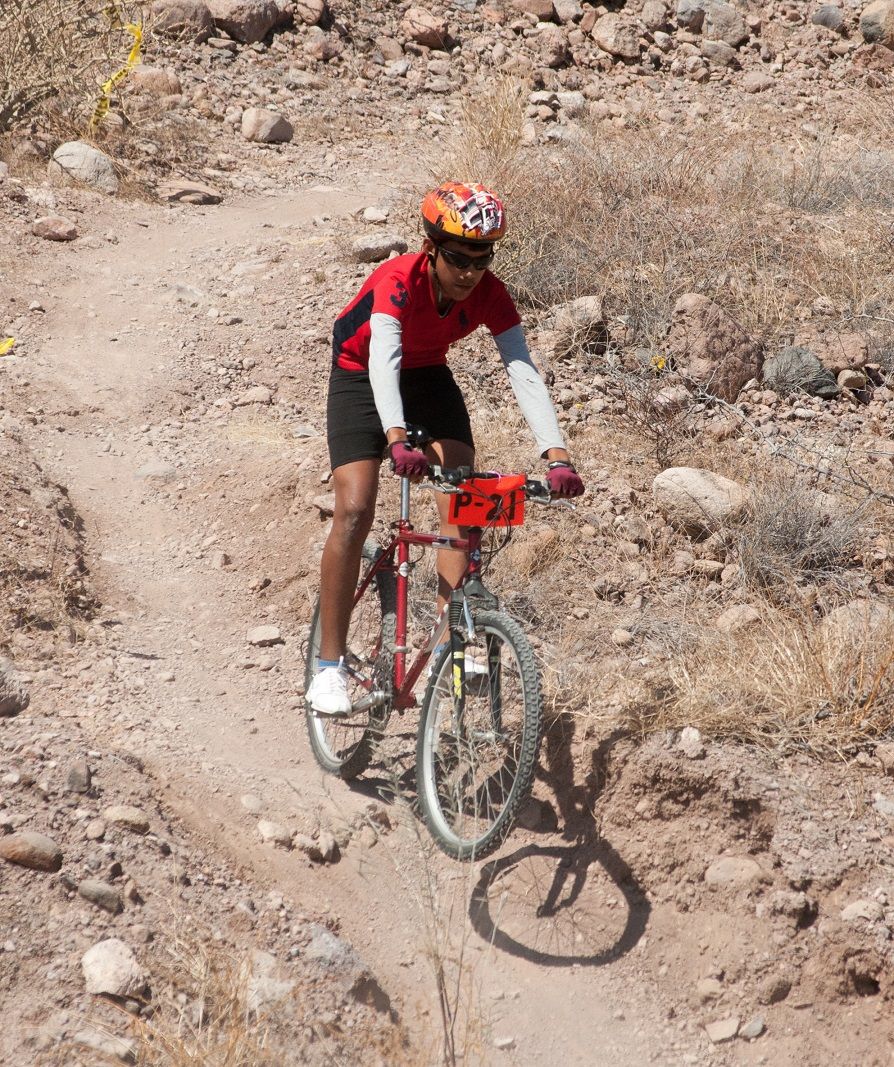 OOPS!! I am pretty sure that this short cut is not gonna work out.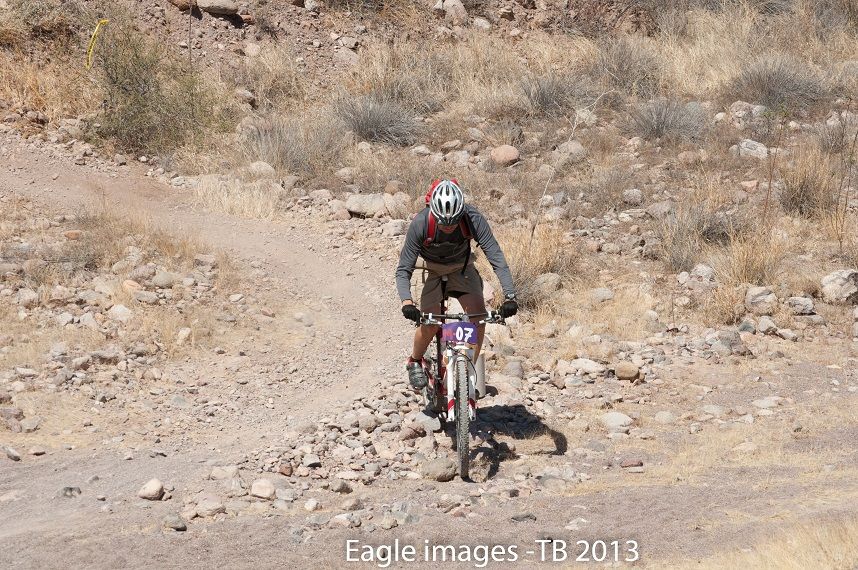 Beep, Beep
Tom
05/09/2013, LaPaz
We really haven't been able to get even nearly caught up on the blog with all the things we have been doing here in La Paz the last few days....but surfice it to say we have been getting very little sleep. There have been a lot of late nights and early mornings. We will try to get you all caught up in the next few days!

One of the events we photographed was the very large Mountain Bike races held here in La Paz last weekend. It included every possible age group, from 3 years old on their "My Little Pony" bikes to full on professional races, and a lot of all of them. Needless to say, in order to get some good mountain bike pictures I needed to go out to where the bikes were going to be doing there mountain racing, which here is out in the desert near La Paz.

I managed to find what looked like a good photo shot along the race course, set up one camera on a tripod, and got the other ready to shoot from a hand hold to cover the action.....when all of the sudden i looked up and sure enough, it was an honest to goodness Road Runner! Only one other time had I ever seen a Road Runner, so to have one pop up so closely, when I had a camera ready was an exceptional treat!!

So, before we close this out, and I post one of the other photos, let's all dig into our memory banks, back to your childhood cartoon memories, and give a nice loud...BEEP BEEP...can't you just see the poor ol' Wiley E Coyote, falling off a cliff, or getting blown up by one of his ACME traps that was just sure to get him a Road runner dinner this time!! LOL