Pancho's second life
Jeanne
09/29/2014, La Paz
We're mostly back to normal around here - normal as 'normal' can be! We're still cleaning up, and getting boats ready for the owner returns... but the really good news is PANCHO will live to trek the Baja once more!!!!

A collective round of applause please! And many, many thanks to the awesome mechanic that put Pancho back together!

For a mere $350.00 USD he got all the electrical running, totally cleaned the engine, new filters, new plugs, points, wires, battery cables, flush of the radiator, fill all fluids, change tranny oil, checked the brakes, and I'm sure there's more I'm missing..... picked the car up at 11 one morning, returned the next day at 3! Yes, he picked it up and returned it!

Pancho is currently at the window shop getting new 'shades'... we're not jumping as high on this price, and we've settle for acrylic in the canopy, but it's all fixable!!!! and we should get it back this afternoon!

So, we'll have to plan for an excursion to the beach or camping. There's just this little storm that's building off of the coast of Mexico to watch first.....


Fall down, go boom
Tom
09/23/2014, Atalanta boat yard, La Paz
Despite the incredible damages reeked on the Baja by Hurricane Odile, boats that were in Marinas, and boat yards really came thru it in pretty good shape. That's not to say there wasn't some damage, but I don't know of a single boat that was sunk or lost while in a marina.

There is one exception to that...the boat yard next to our Marina, marina Palmira. The Atalanta Boat Yard is a DYI (do it yourself) yard, with no real facilities, but it is priced accordingly. We hauled Eagle there, and highly recommend the yard, just not during a hurricane.....

While there are 24 boats that have fallen, I believe that only three will be considered a total loss. There will be the need for some new masts, some rigging and such, but I have to keep reminding myself that we experienced the most powerful hurricane to ever hit the Baja.

I am including a few shots so you have an idea of what it looks like down here.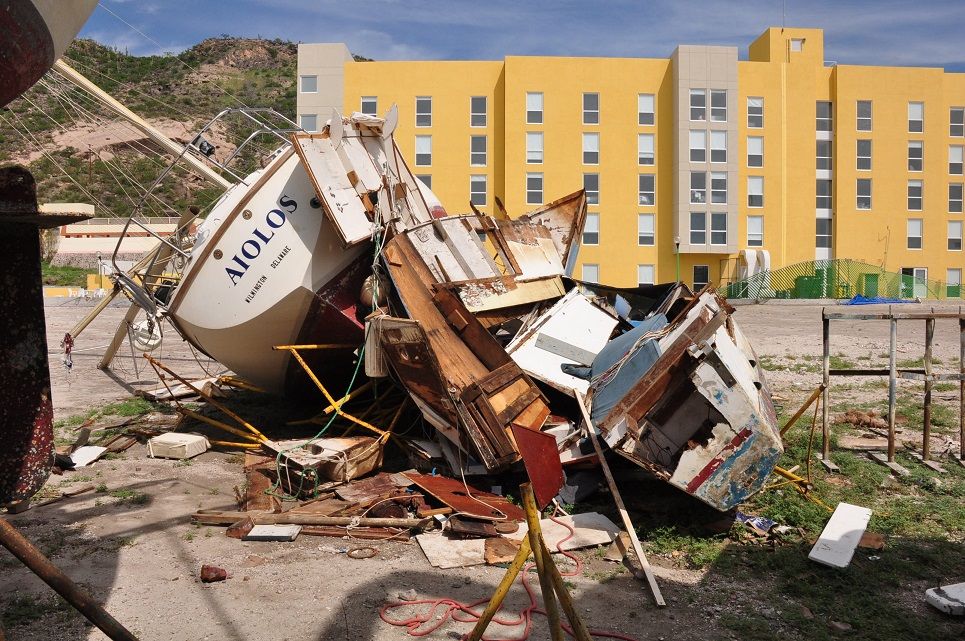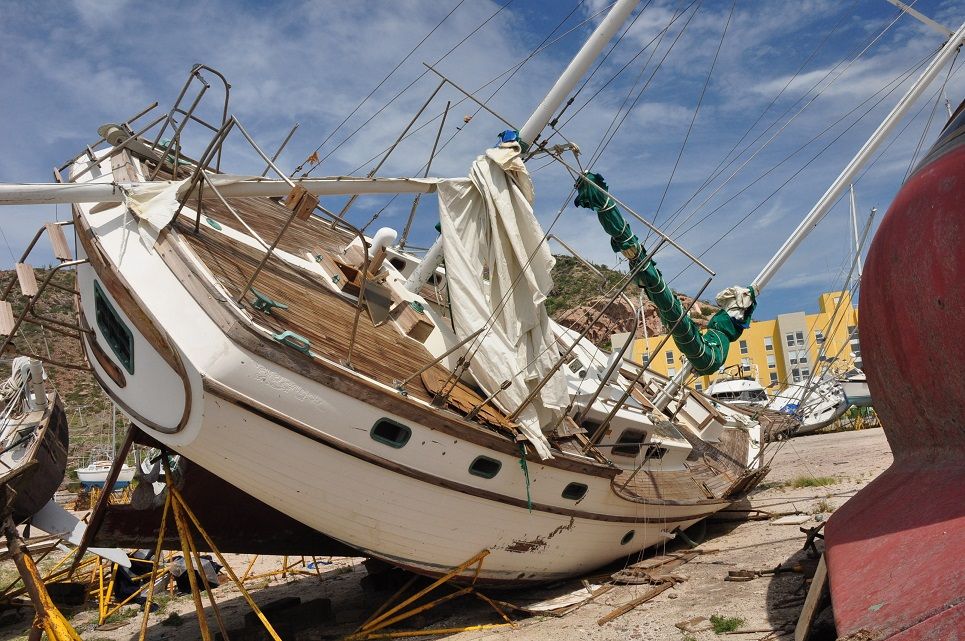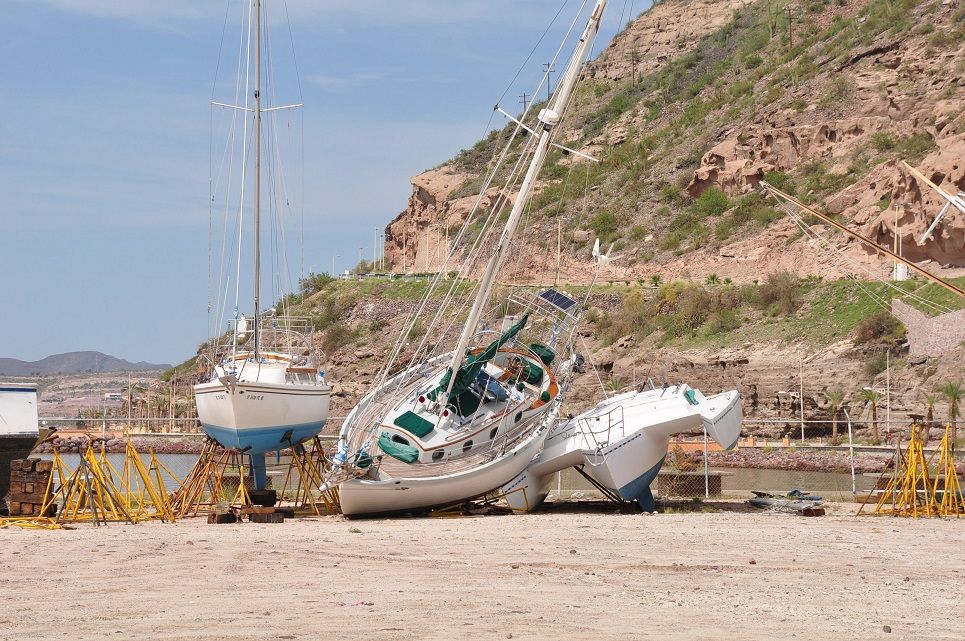 Hurricane Odile & Pancho
Jeanne
09/21/2014, La Paz
Well, while we and Eagle survived the recent hurricane with nary a scratch, our beloved Pancho didn't fair so well.

Pancho is our 96 ford Ranger pick up with canopy that we use for around town, checking on our boats and exploring the Baja.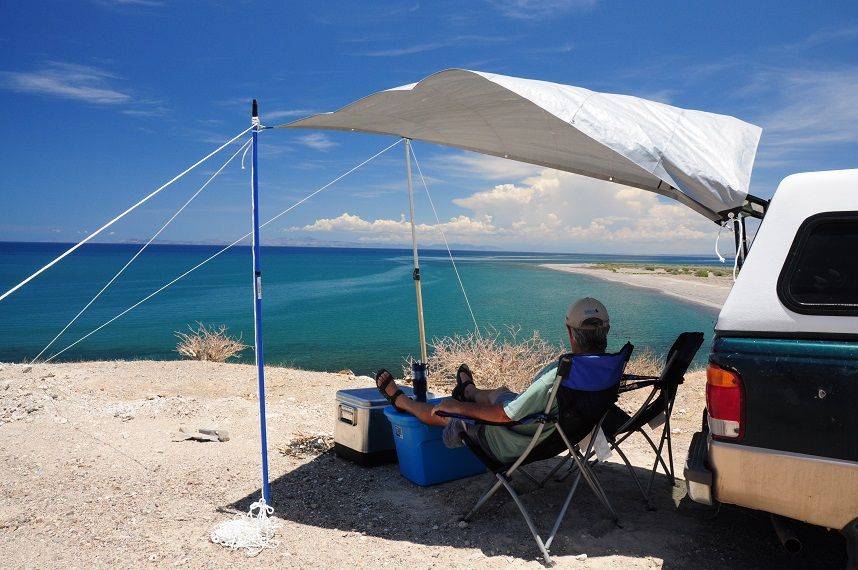 Normally it's parked in front of our store, between the coconut palms. Due to these coconuts, Tom moved the truck to the middle of the parking lot with several other vehicles - well away from the trees! Good plan, but too much wind.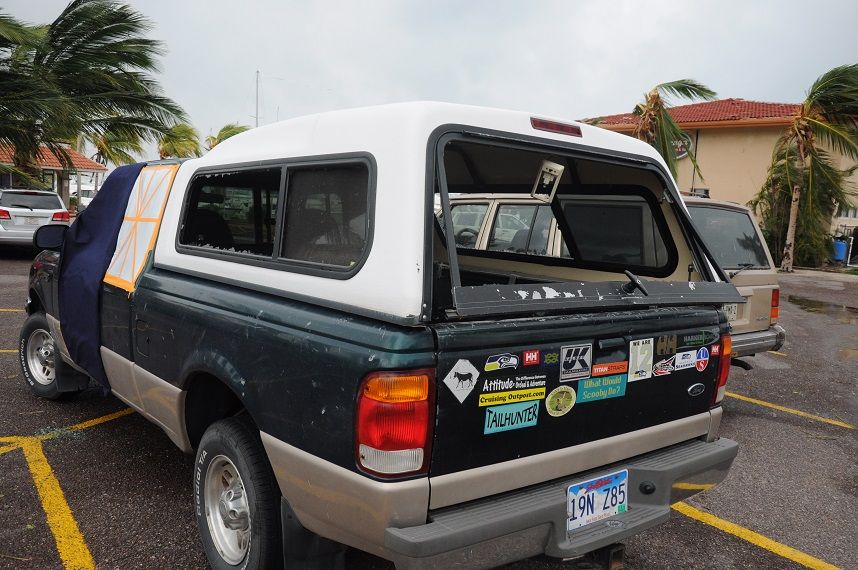 The storm blew out the drivers window, the small one in the jump seat behind, and all the canopy windows except the pass through to the cab.
The rain then filled up the car with lots of water, especially on the steering column. When Tom came up to check on things, he found the damage and the 'flashers' buzzing. It's since been cleaned out, but the electrical system is no bueno...... won't start right now.

We're attempting to contact a mechanic who we're told is excellent with Fords and their electrical systems.. we'll deal with that and the feasibility of repair before we tackle the windows!

Can you say bicycle?

Hurricane update #2 Saturday
Jeanne
09/20/2014, La Paz
Slowly, but surely, things are returning to somewhat normal!

I drove across town yesterday afternoon to check on Dulce's family and the people at the shelter.
I'm happy to report that everyone is ok, as are their homes and other structures.
Dulce, her father, brother Israel and his girlfriend stayed in Cabo during the storm. They were returning to La Paz as I was there visiting with the rest of the family. Unfortunately, Dulce called with car problems, so the guys were gathering up tires and tools to get them home.

Mama Benita's Shelter has been without water and power. The children were all moved to a military base until services were returned to the house. One of the adult residents said the power had been on and off during the day, and the power crews were all over their neighborhood.

The town is sweeping and cleaning. Power has been returned to a good portion of the city, although we're still without power and water at Palmira. We're hoping it will come back soon.... Otherwise I'll be doing laundry in a bucket on the dock!


Grocery stores, tiendas, gasoline stations are open and seem to be well stocked. Some stores like Oxxo's (Mexico's version of 7-11's) are open, but you place your order from outside! Restaurants are slowly returning, some with limited menus, but are open. Our airport has flights in and out, although I'm not sure many are being allowed to fly in. I saw construction projects being worked on - things that had been underway before the storm, as well as repairs.
Mostly the city is returning to normal, or something similar to 'before the storm'. Our friend Jason, of MV Gypsy Fade, also at Marina Palmira, has many New Orleans friends. He commented that those friends all talk about either 'before the storm' or 'after the storm'. We find the same is true down here....it's truly been a life changing event.

We learned the road to TJ is open, with some slight detours and puddle crossings. We don't' hear much from Cabo San Lucas, other than it's not good there. The marinas in Los Cabos survived quite nicely, with mostly small boat - panga- damage. The rest of the town is not good.

So, we're getting back to normal, slowly. Tailhunter's restaurant is planning on being open tonight for the Ducks game... so yes, our world is returning to normal......... well, at least for Tom!

I have no doubt that this beautiful city of ours will rebound better and stronger than before this 'little' blow!



Hurricane Odile update
Jeanne
09/18/2014, La Paz
Are we all confused yet?
Last week I preprogrammed several blog post to cover my quick trip to Washington Sept 4-9th. We've been busy doing final hurricane prep, and then serious prep due to the forecast. I figured that getting a few blogs lined up would cover us for a bit. Yes and no, as it turned out.

As the storm got closer the blog never even got an inkling of a thought.
So, let's get on with what everyone wants to know - a brief report for now, details later.

Jeanne and John of Timepiece arrived back in La Paz on the 9th. All three of us got to experience firsthand a Category 3 hurricane - 117mph! On the boat, at the dock. I don't care to do it again.

Both Eagle and Timepiece and their owners came out just fine.

Timepiece popped a couple of fenders, and the rest of the zippers on his dodger, but, that's the extent of damage- pretty lucky. Oh yea, I set a pair of reading glasses on the table... just as Tom walked by, the boat 'lurched'. Down went the glasses, right under his foot!

There are at least 32 boats in La Paz harbor that are lost/sunk, or well aground. The boats that Big Left Turn Yacht Management manages are all fine - we've a couple of scratches and very minor cosmetic issues, but all is good on that front.

Unfortunately there is some bad news. Captain Gunter of SV Princess went down with his vessel. Gunter was in his later years and had some health issues late last year. We almost lost him then. He got an extra few months of life aboard his boat, and with the community that he was definitely a part of. We are all sure, that his trip around the sun, ended as he would have wanted.

Also, there are two others that are missing, the boat has also sunk - they were not found aboard. Rescue/recovery efforts are still going on.

We had a command center set up at the Club Cruceros clubhouse for the past two days. I manned the radio as 'net control' and had a team of ladies helping me keep track of all the communications and information coming in and out. We had multiple teams of cruisers in dinghy's out searching an assisting those in need.

On the good news, We (the proverbial 'we' - the teams!) were able to pull four boats off the beach! Yea Team! There is still work underway to help two others that dinghy's may be able to help. The others will likely have to call in the professionals with big gear. We just heard tha the Navy is sending up a helicopter to search the mangroves.

It's very heartbreaking to see all the boats on the beach - the dreams that have been literally washed ashore.

We are still without power here. Water - not potable is back on the dock. Fuel - gasoline is being used carefully and some stations are still open and have fuel - some with limited purchases, but open.

Cell phone and land based internet services were restored yesterday. We just watched another 100 CFE trucks - the electrical company- pass by. They just arrived from the mainland to assist with the rebuild of our cities.

We understand the reports coming from Los Cabos are not good. So far this city is doing fine. People are out sweeping streets, clearing debris and helping out.

That said, Tom and I are heading to the boat to regroup, unpickle the watermaker for anyone who needs water.

While it looks like Tropical storm/hurricane Polo will sneak past us, we need to prepare ourselves anyway. We don't care to experience a Cat 3 hurricane again!

We'll be back with more later. We appreciate all of the warm thought, hugs and wishes for all of us down here. Thanks everyone.

Jeanne & Tom


Teasers
09/17/2014
Two years ago, my folks, Linda and Gordon joined us in La Paz for a visit. We'd like to have them back again for another one.....

We'll take you to some of our favorite places -


El Triunfo 40 minutes from La Paz and home to a really GOOD bakery/restaurant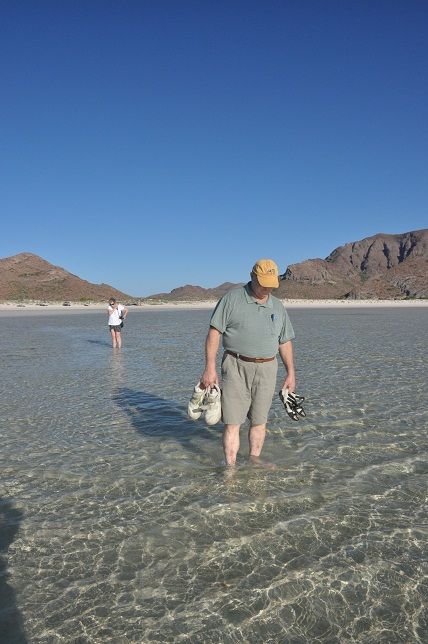 the white sandy beach and shallows of Balandra 17 kilometres from our store...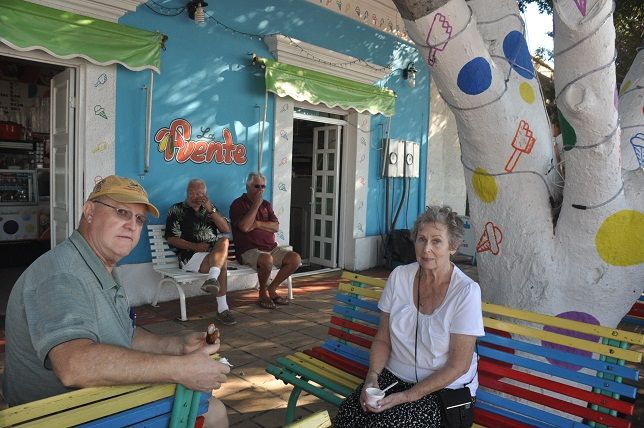 La Fuentes, the polka dot tree ice cream shop... ohhhh so good!

hands free shopping at Mega and Chedraui....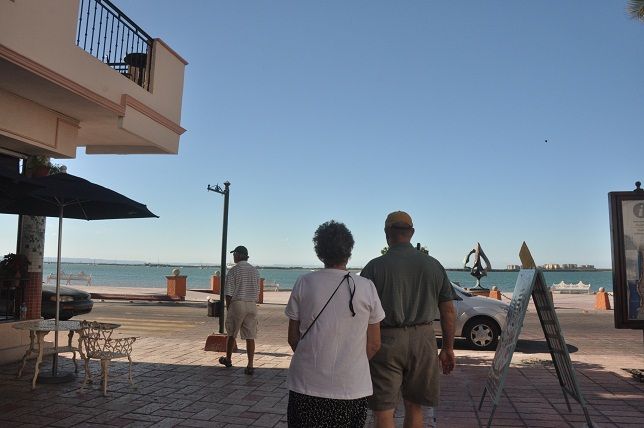 walking along the Malecon

meeting some interesting people....



foraging for appetizers...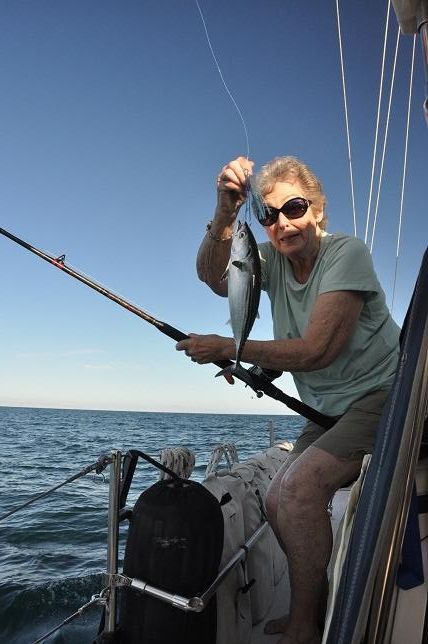 catching dinner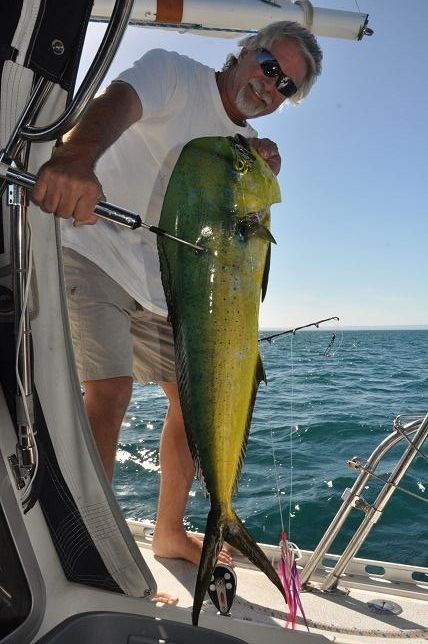 sailing in the bay



Spending time with Lefty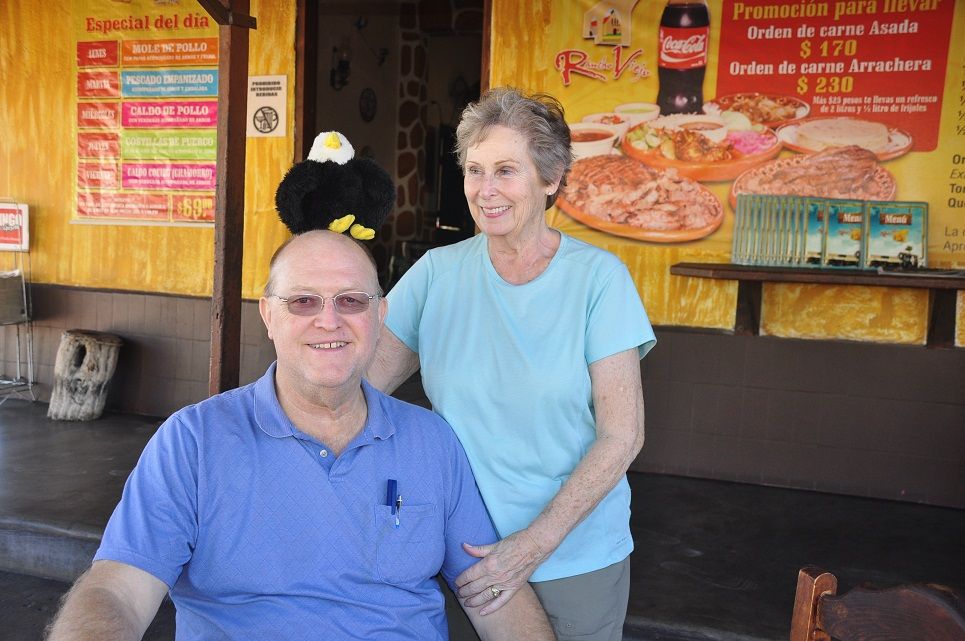 Lefty would do 'hand stands' if you come down again!!!!



And to anyone else that would like to visit us here in La Paz... we'll show you all our favorites too! Maybe, we'll even explore some new ones together!