CPT Autopilots
Jeanne
04/25/2016, La Paz
Meet Jeff and Anne Swedberg of CPT Autopilots. We've been their Mexico rep for several years. ( you can sort of see the CPT Autopilot banner behind them).
After sailing down Baja and spending most of the winter on the mainland, they are now about to 'bash' back to the Santa Cruz area - home of CPT Autopilots. They left the boat in San Jose Del Cabo and rented a car to come and say hi... and to have this photo with Lefty!

They stopped by the shop shortly after arrival to find a couple of CPT his new CPT. Jeff left with the specifications and measurements. He happily went to check out the wheel arrangement and make sure everything was measured properly. He also took the time to look at a couple of other installations! Talk about great customer service!

Since they'd traveled up to La Paz to see us - it's been 6 years - we closed the shop and went out for lunch. Over lunch at McFisher, we got caught up. The business is going well. So much so, that their son, who does a lot of the marketing as well as assembly of the units - is swamped! They're needed at home. They're hoping that it won't be another 8 years before they get 'the dock off of the boat'!

Here's hoping that your trip up the coast of Baja is fun and uneventful! Thanks for your visit!

The little things - photos
Jeanne
04/23/2016, La Paz
Tom and I went to the cultural center this morning to view the current exhibit on 'ranchos'. It was exceptionally well done. My last post of Rancho Maria could have been put into the exhibit. The continuous slide presentation looked liked images I've taken, right down the eyeball of the horse! It was fun to see images similar to mine. I sometimes feel that my subjects are a bit unusual!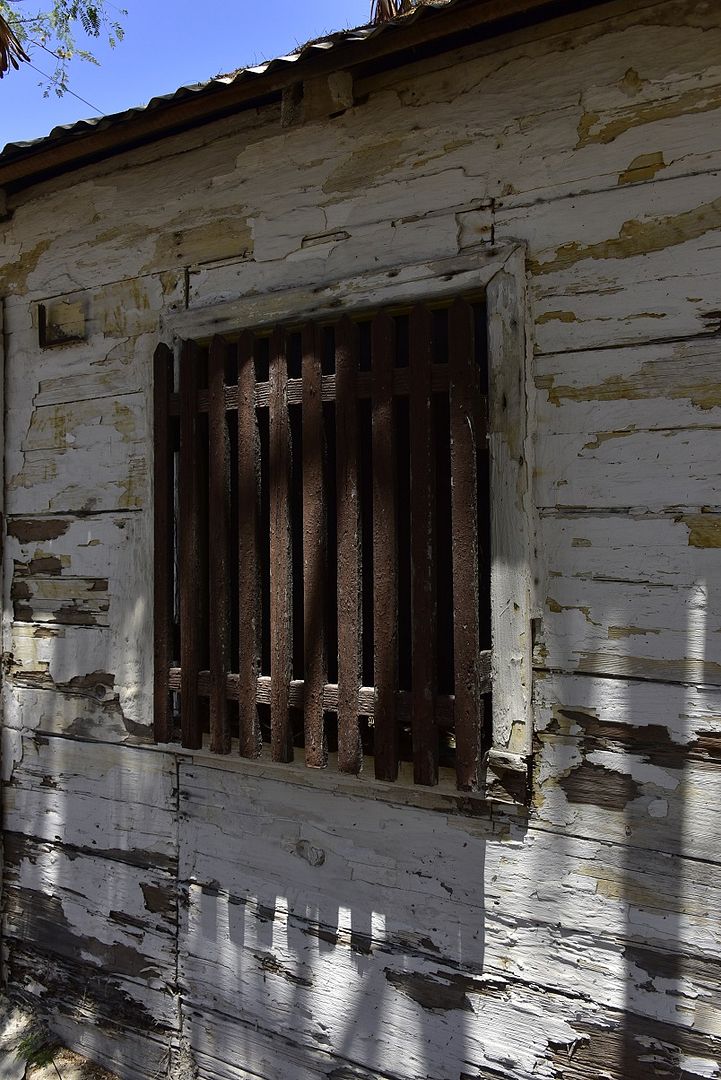 I parked next to this old house.

With cameras in hand and different topics, we split up to wander town. Tom headed to the waterfront for gull photos, while I just wandered. I was hoping for some activity at the zocalo - town center- across from the cathedral. No such luck today. In fact it was pretty quiet.


Another selection for my doors and windows collection.

Tom called to tell me he ended up at Tailhunters - gee! what a surprise! I wandered that way to meet him. I parked at the top of the hill and found these images on the way.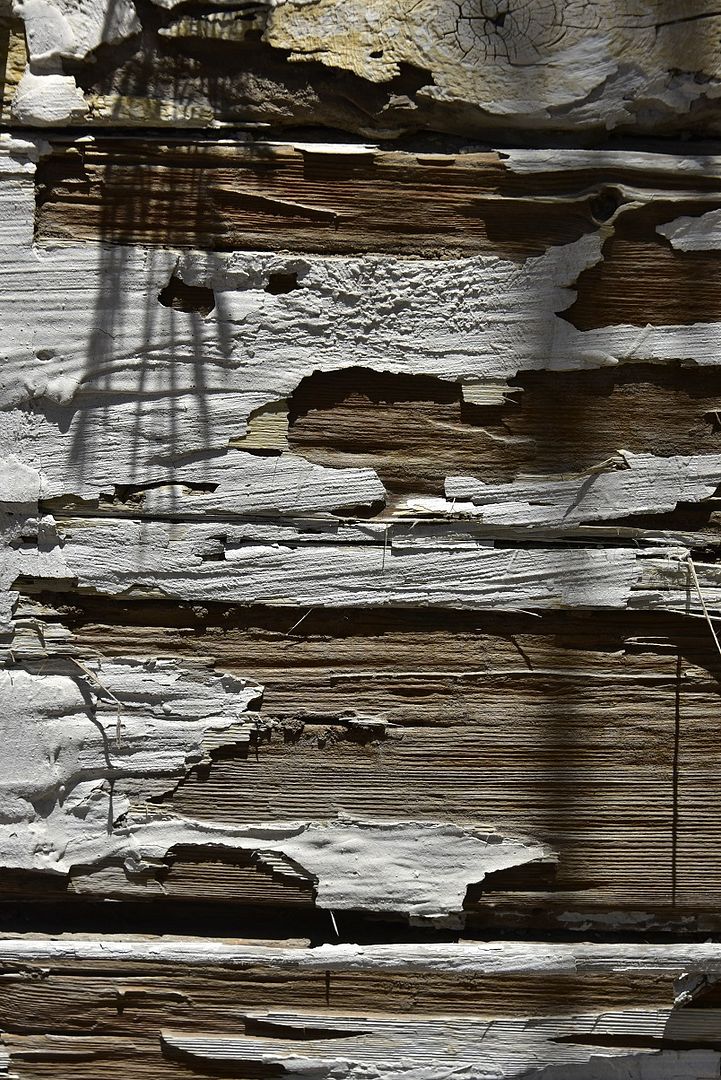 This one goes in the textures category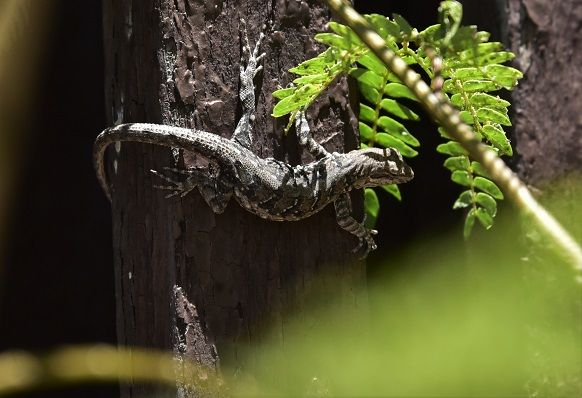 This little guy was under the shade of the leaf... just watching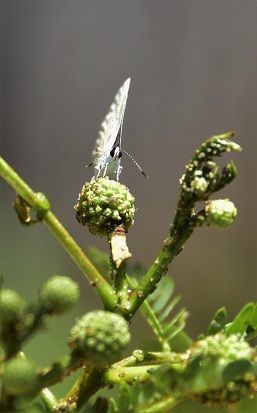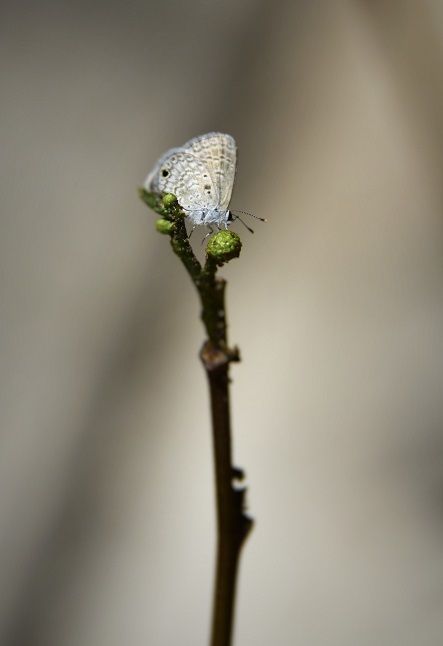 A very tiny, yet unnamed butterfly

A tribute to Rancho Maria
Jeanne
04/19/2016, East of Pescadero
A week ago, we had the pleasure of accompanying some friends, Lonnie and Maria, to Maria's rancho, about 20 miles east of Pescadero.

The rancho has been in her family for several generations, and is quite extensive. Our destination was literally the 'end of the road', or Auntie and Uncles house.
According to Maria, her mother and her 10 siblings were born on this property. The original house is no longer there - a result of one of the aunties not getting her way, and a resulting fire! After this happened the family moved to what is now known as Aunties house. Two hundred yards uphill is Uncles house. The opening photo is of a hat I found in Uncles house. I hung it on a fence post. That's a corner of his house in the background.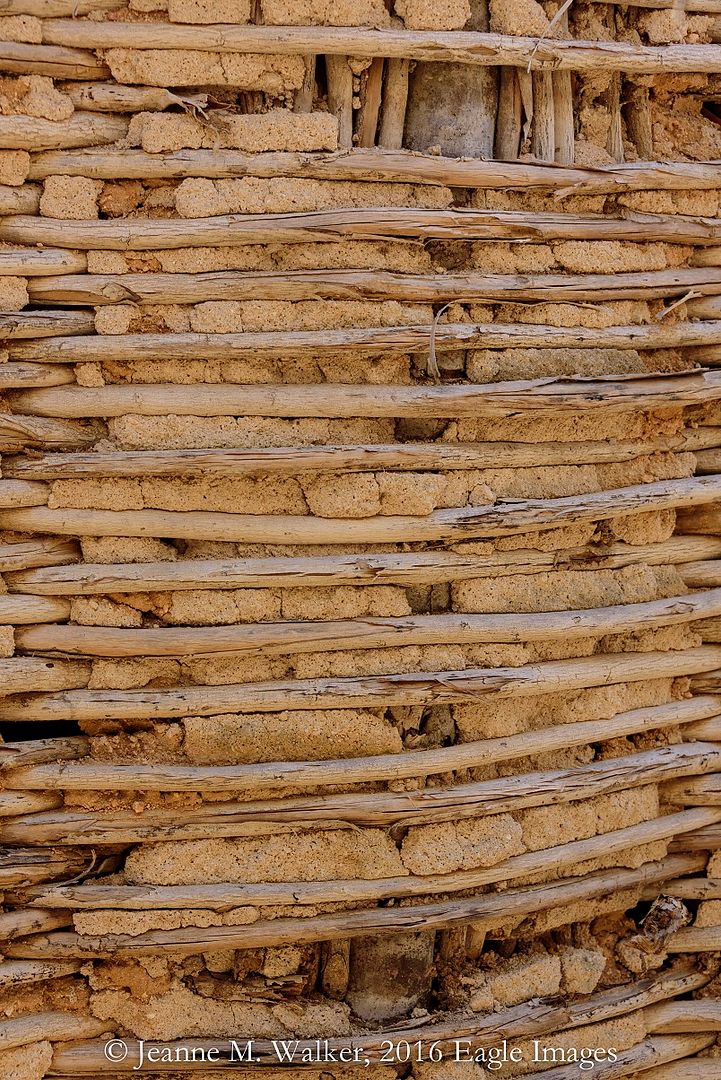 The aunt and uncle lived up here on the hill, caring for one another. Auntie took a fall and injured a hip, and Uncle began to loose his sight.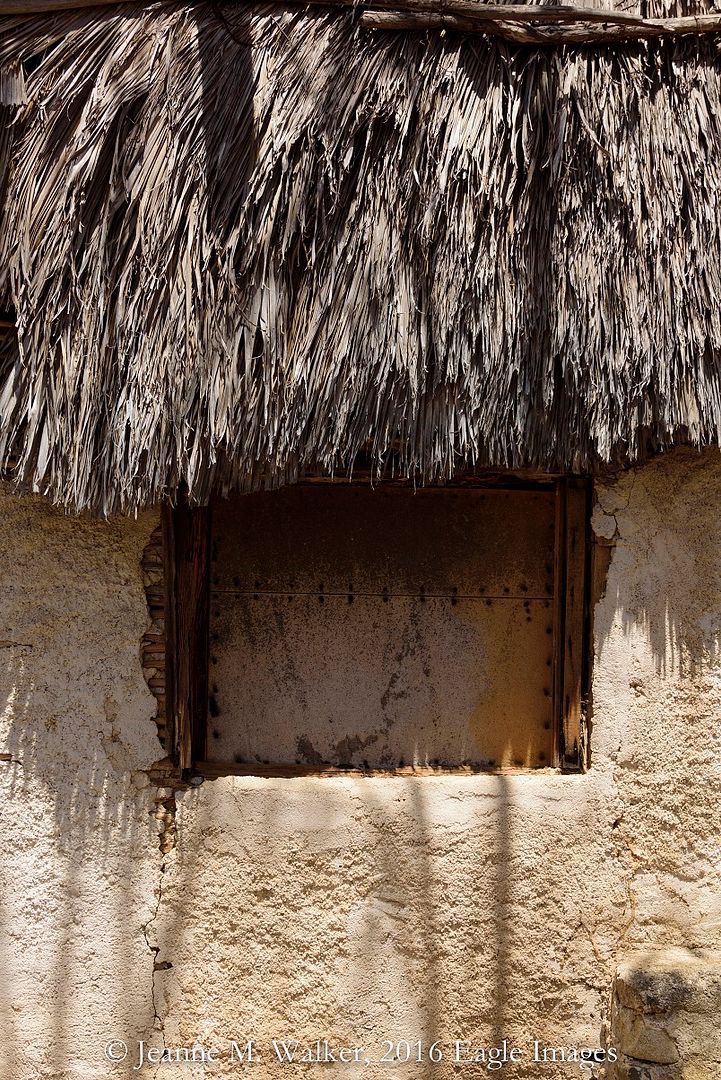 It became apparent to Maria that they needed care. Maria had been living in La Paz with her mother, helping her through her last days. She moved them into the home so they could all be together. Last July her mother passed.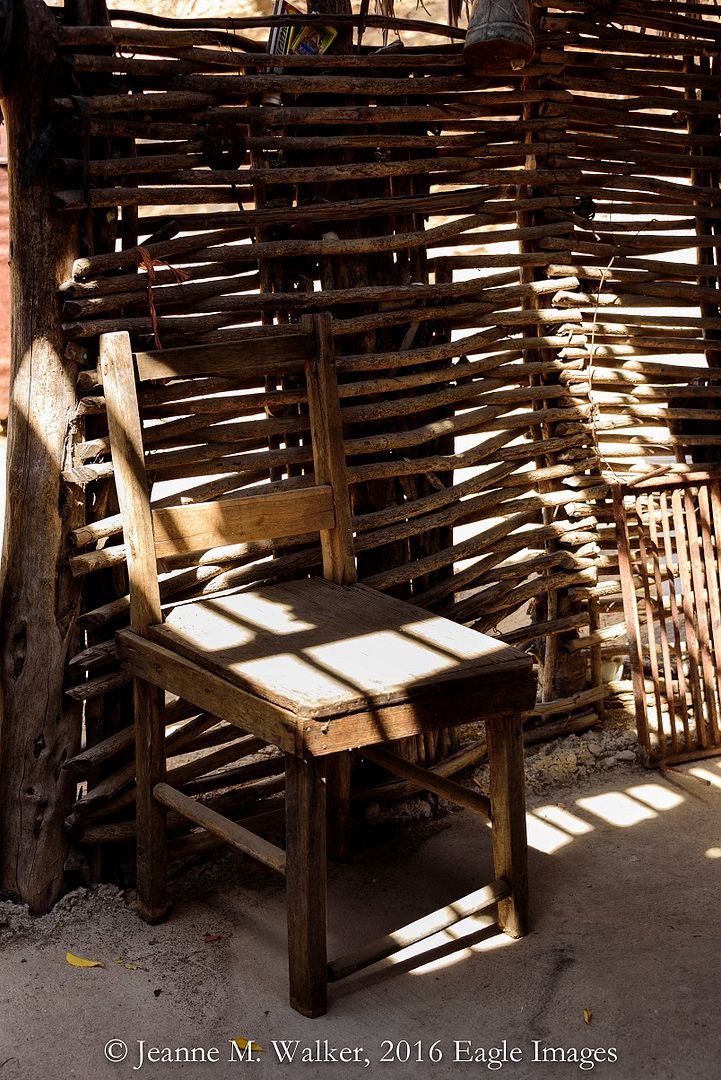 Earlier this week, Auntie passed as well. She was 84, I believe. She hadn't been in good health. Uncle, at 92, is totally blind, but 'with it' mentally. The rest of his health is not good, but he's hanging in there.

I had hoped to get these photos to Maria, to let Auntie see some of the things that were still in her home. Unfortunately, I didn't make it.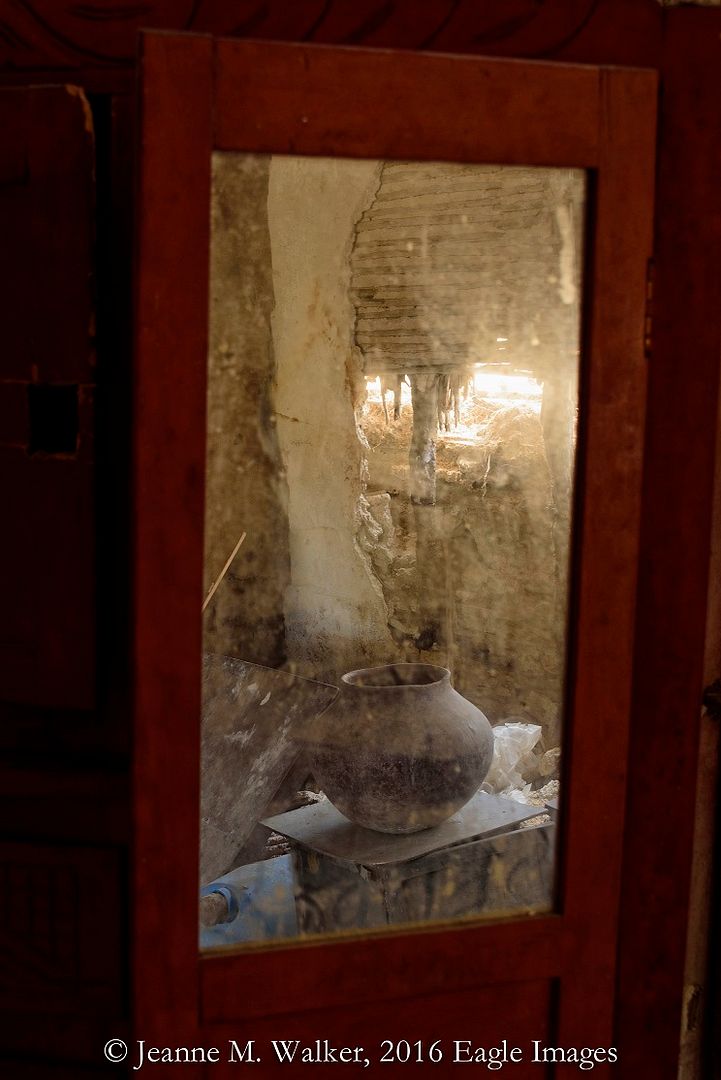 This is the mirrored image from a cupboard door, showing a casuela or bean pot. Some of these pots are still around on the property.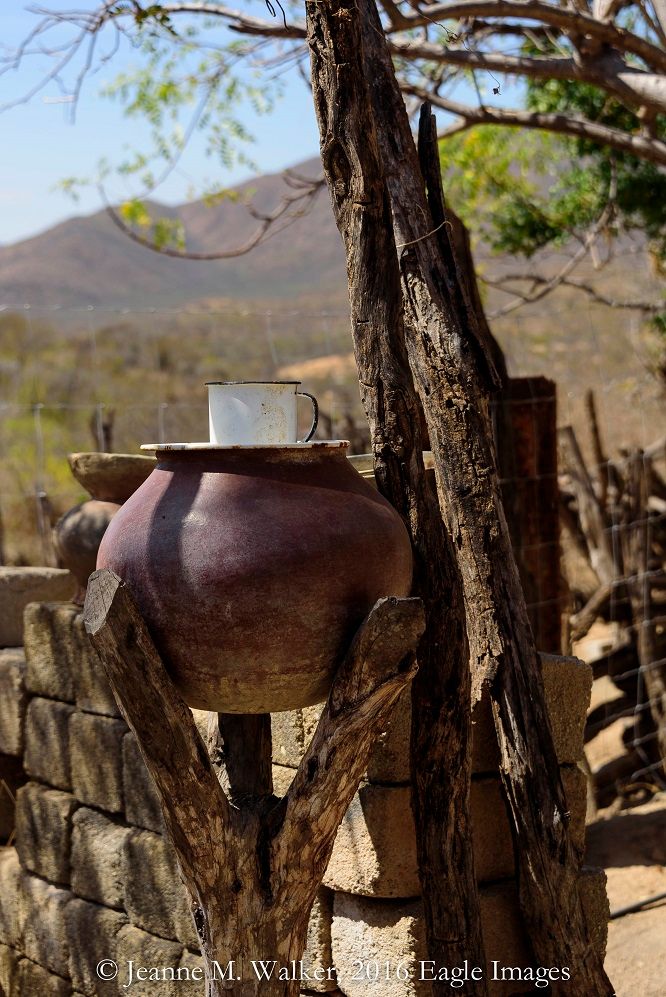 This pot is used for drinking water. Once the jug is filled, the evaporation of the water helps to keep it cool. This pot with it's cup adornment survived Hurricane Odile just like it is! I wonder what other stories it could tell.

We spent the afternoon wandering around the grounds, and in the houses. As I was editing and sorting, I realized that I didn't get any overview shots - the big picture. I was very much drawn to some of the items and placement of the items in the houses.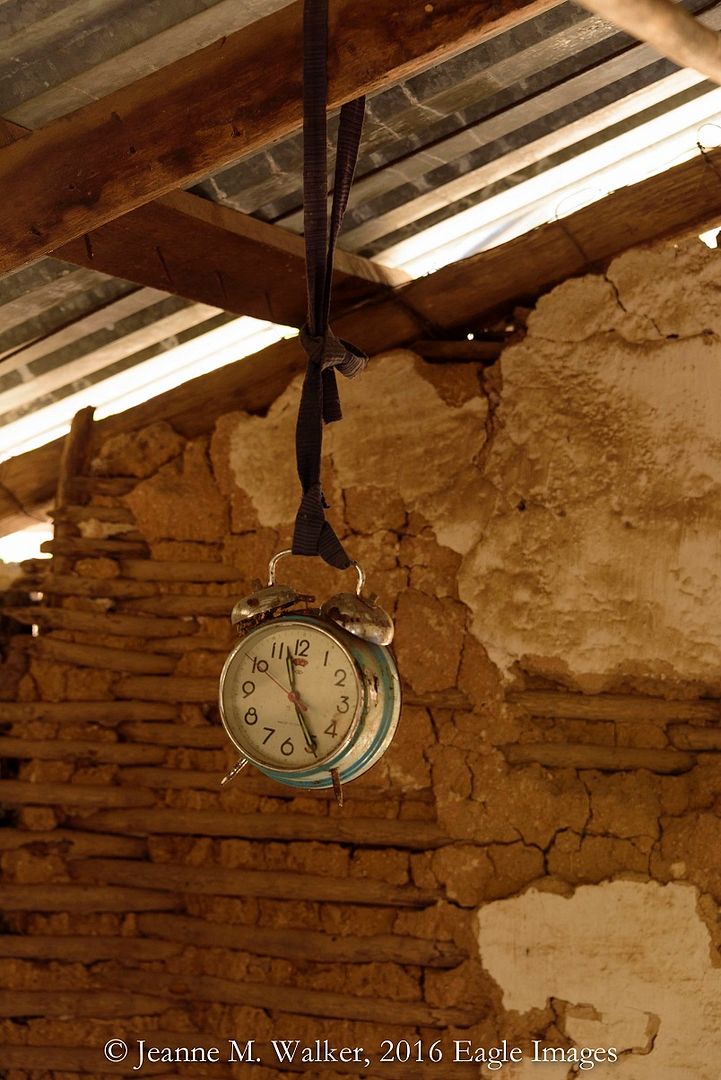 This was in one corner of what was Aunties bedroom.



These items were on the other wall.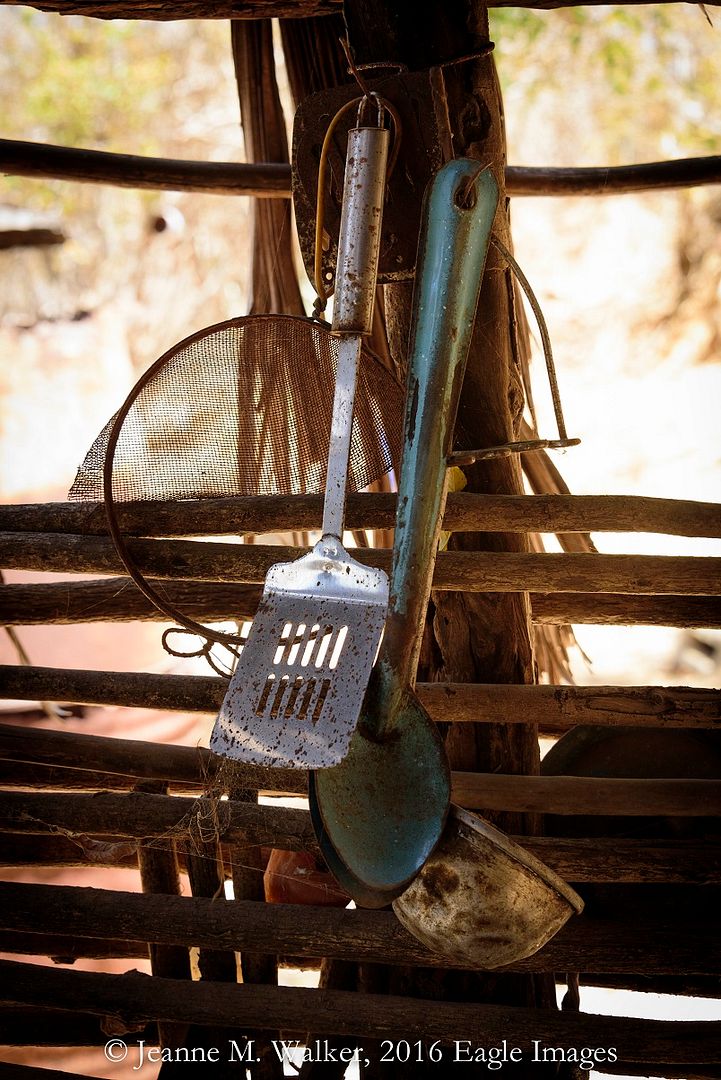 A simple life. Water from a stream drips into an above ground cistern. While I saw electrical outlets for light bulbs, I'm not sure there is electricity there. Maybe at one time. Cooking was all done on wood fire.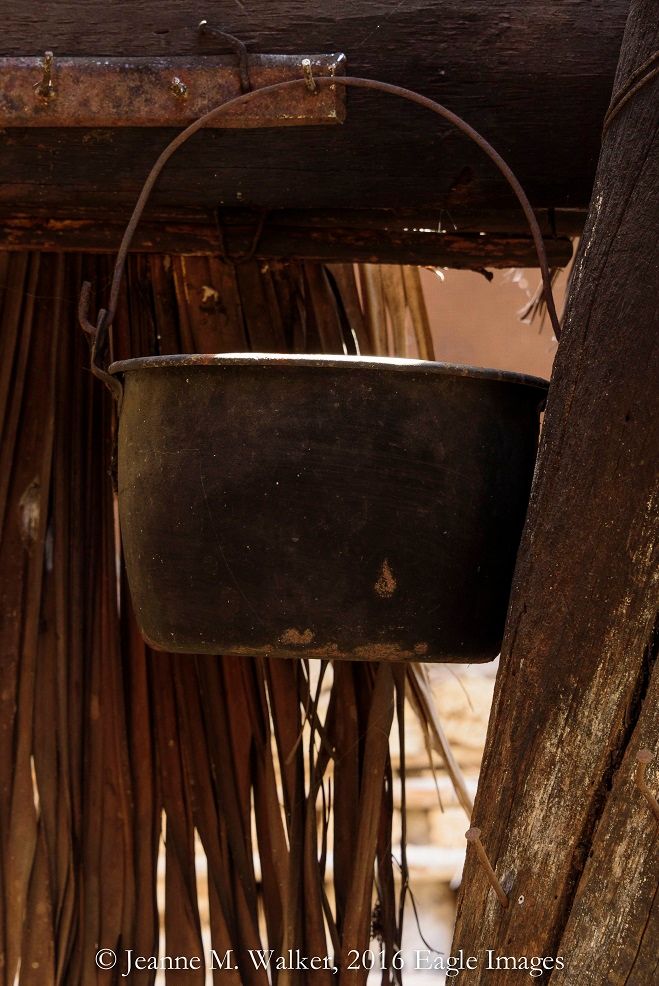 In several areas, it was evident that the kitchen used to be somewhere else: lot's of soot in the rafters and on the items placed up high. And, of course, no refrigeration.



I enjoyed documenting some of the tableau's in the house. I've also just added a black and white editing process, so, of course, I had to play around. The subject just seemed to fit.





Maria only calls them Auntie and Uncle, so that's who they are.

May Auntie Concha rest in peace.


This looks a lot like an apple blossom to me. Uncle remembers there being apples up here. They've just recently cleared and fenced off the area where Auntie used to have her garden. This blossom, and many others are inside this area!

FitBit gizmos
Jeanne
04/13/2016, La Paz
Last year I was gifted with a Fitbit to track my steps every day. I wear it almost daily. I'm never impressed with my step count, but today was an exception!
If you ever wondered how many steps there are in a washing machine cycle now you know! 2215 for the permanent press choice!
It's still doing just fine, and will be back tracking me tomorrow!

Native Mexican Indians
Jeanne
04/11/2016, Mexico City near the Zocolo
While on our wandering around in Mexico City near the 'zocolo' or city center, I heard a few cars honking, then a few more, then many from several different directions. Something nearby was definitely going on!
Rounding the corner to the intersection I saw a group of Mexican Natives performing a dance in the middle of the intersection. It was pretty impressive with all the costumes, drumming and the horn honking!


I'm guessing they occupied that spot for at least 10 minutes before they were shooed off to the side by the local police. The honking stopped and traffic resumed. The discussion by the side of the park was heated on all sides - the Indians and the police, but not out of hand.



The reason for the 'demonstration' was as it is most other places in regard to indigenous people: Their desire to bring to light the lack of anything these people get. No recognition of their land, culture, customs and human rights.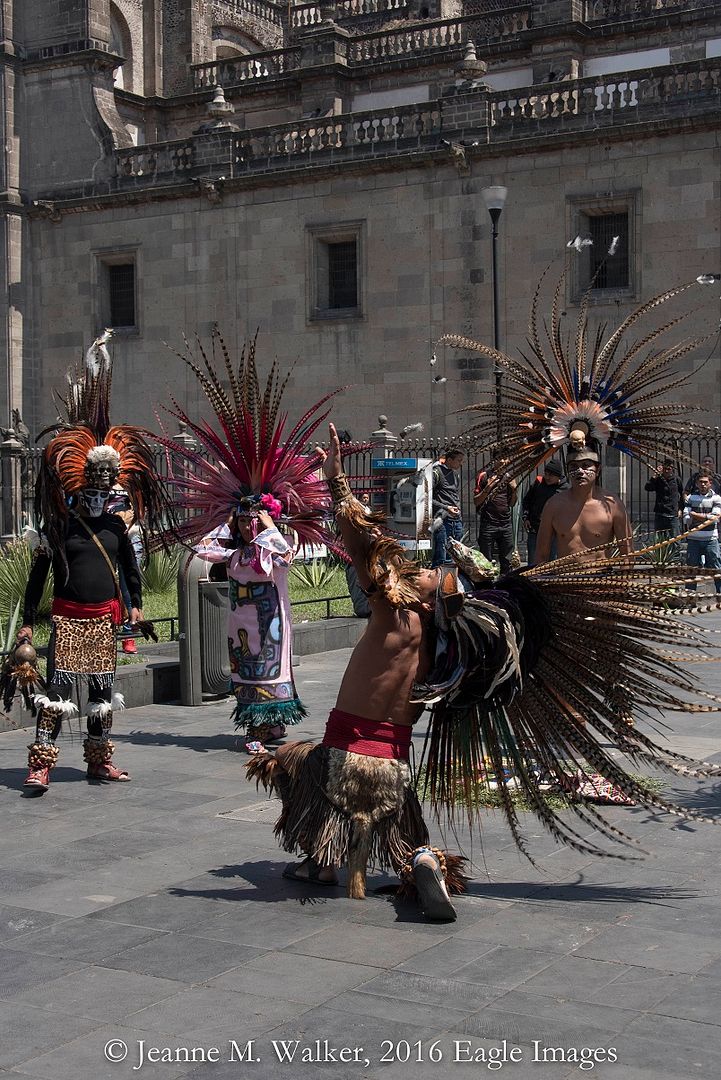 This group performed in a small courtyard, with one drummer and a small 'altar' placed near the center.



Several of their dances lasted 10-15 minutes, and I never saw anyone needing to wipe away sweat.... me? I'd be a greasy little puddle on the sidewalk!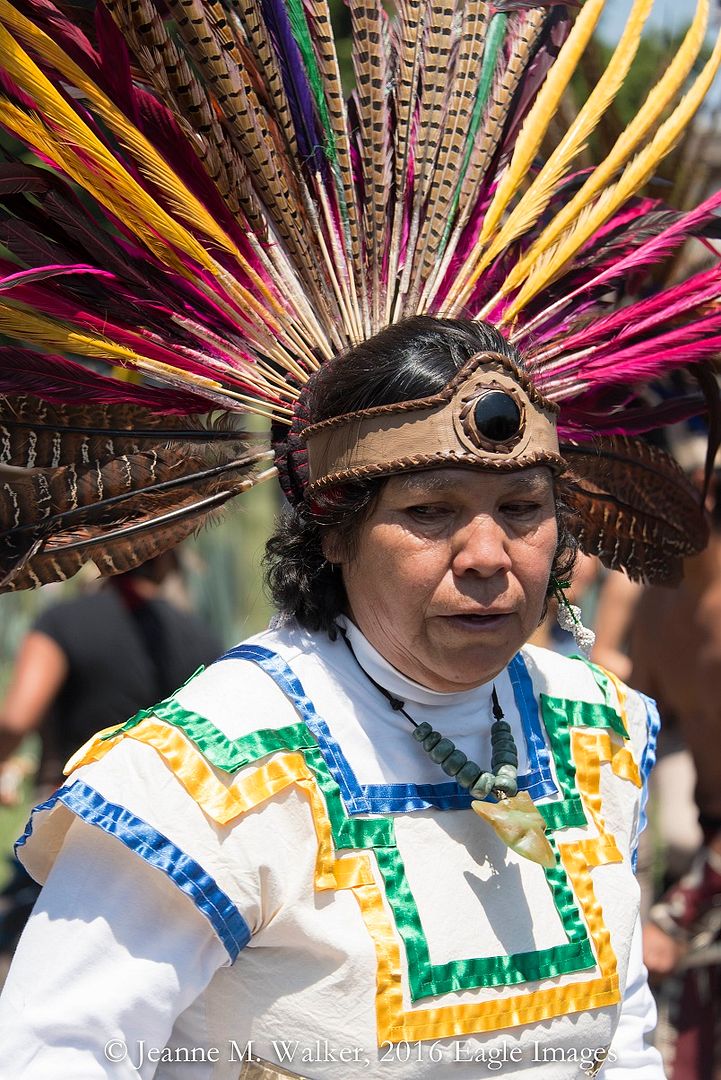 I was fascinated by the work in the costumes, the 'shrunken' heads, and other decorated animal sculls.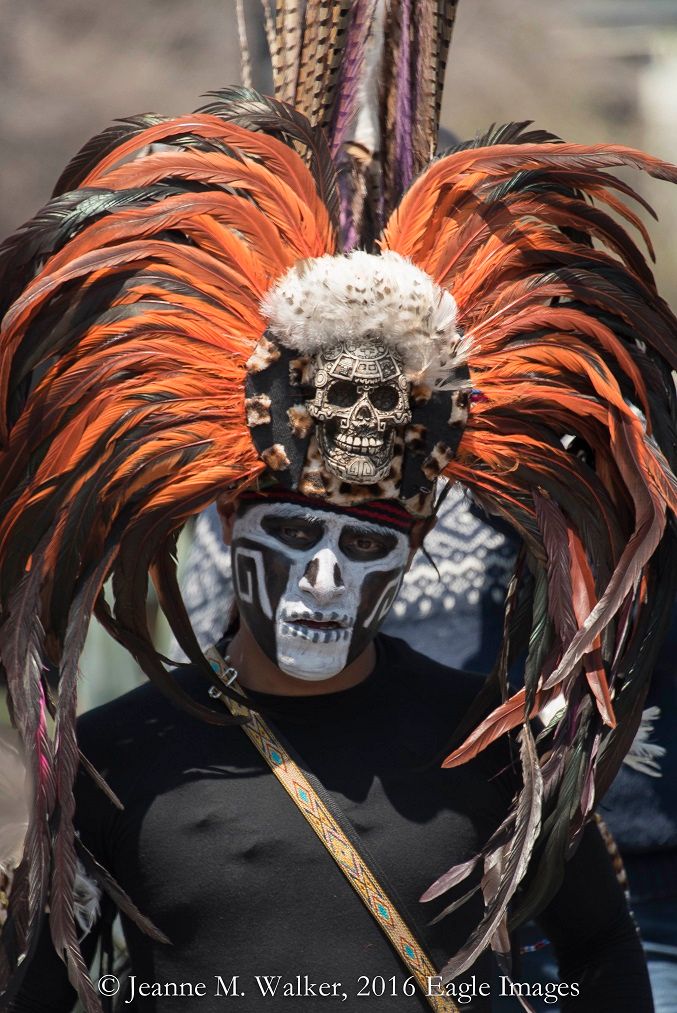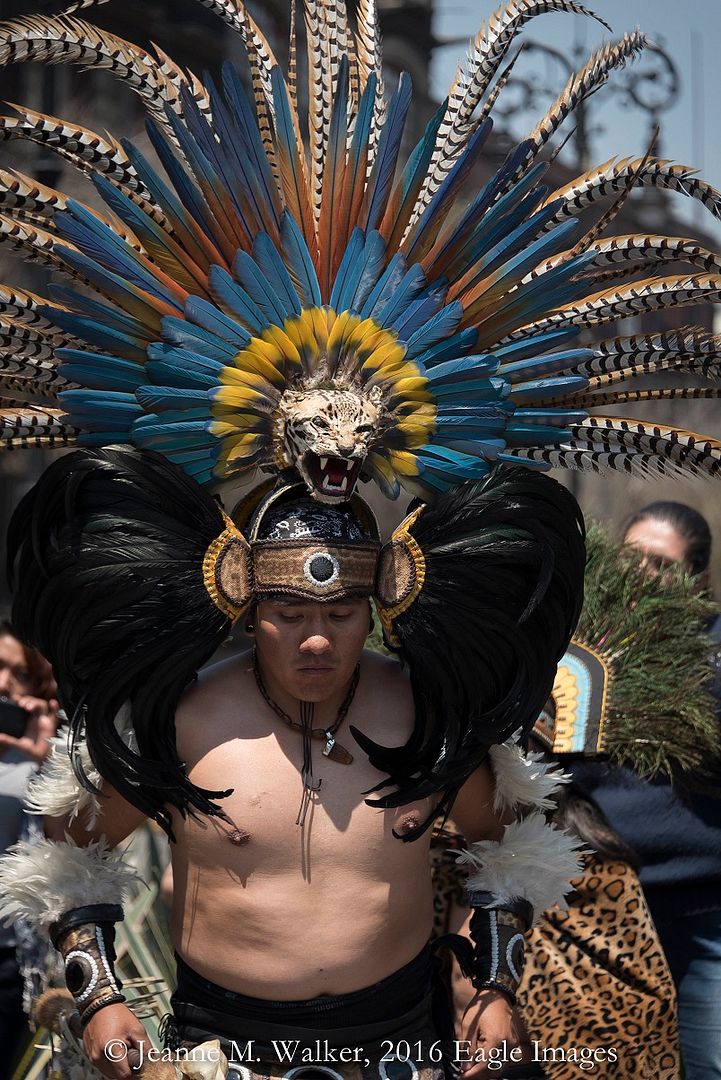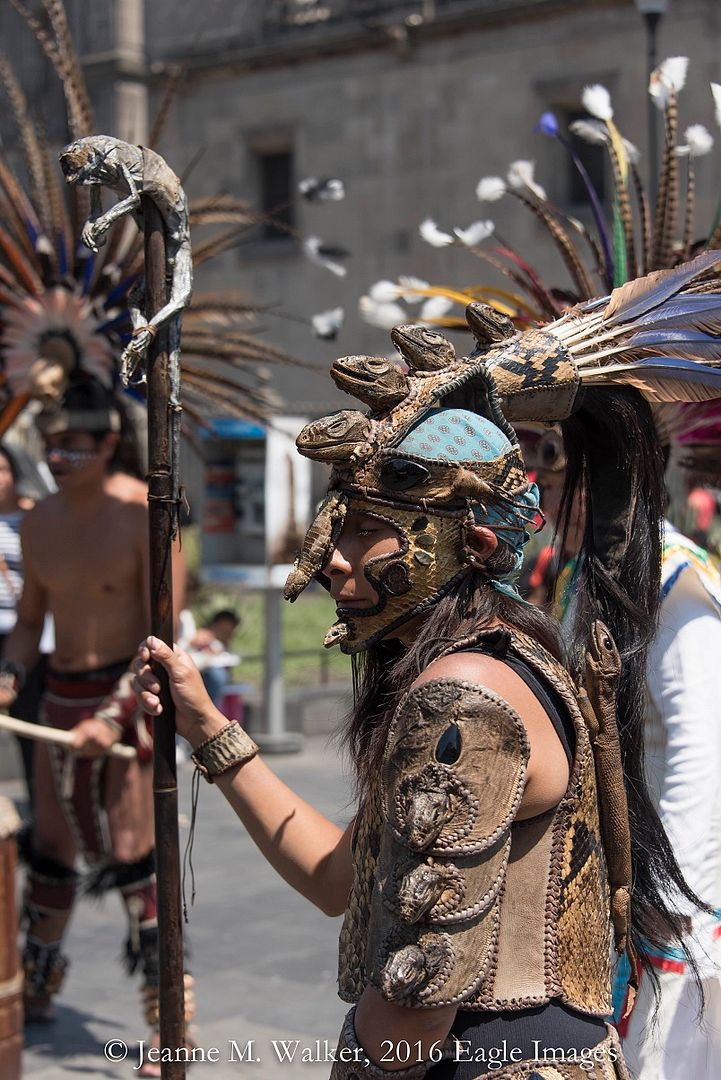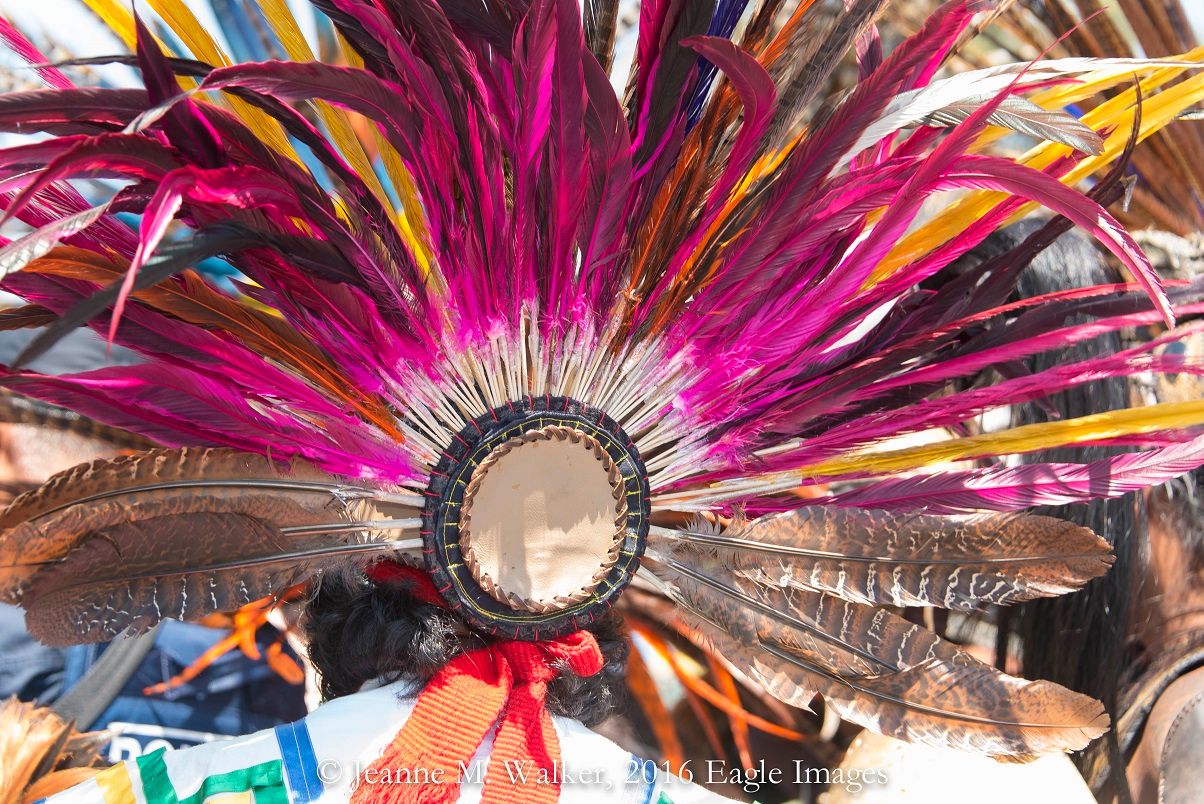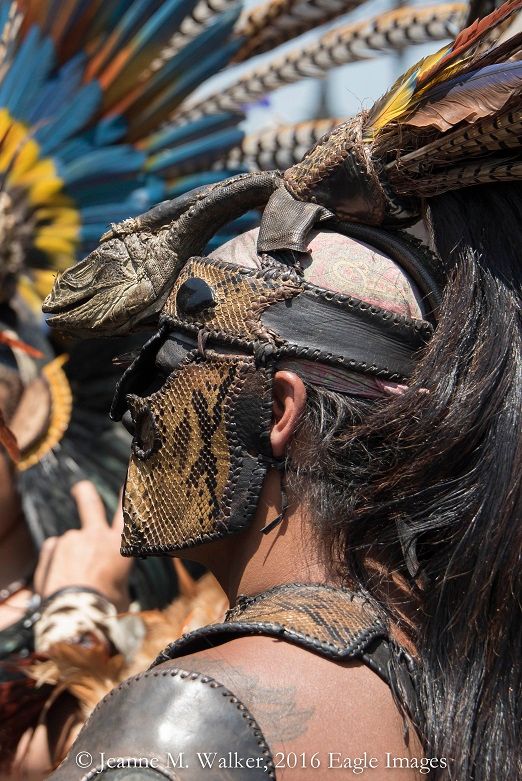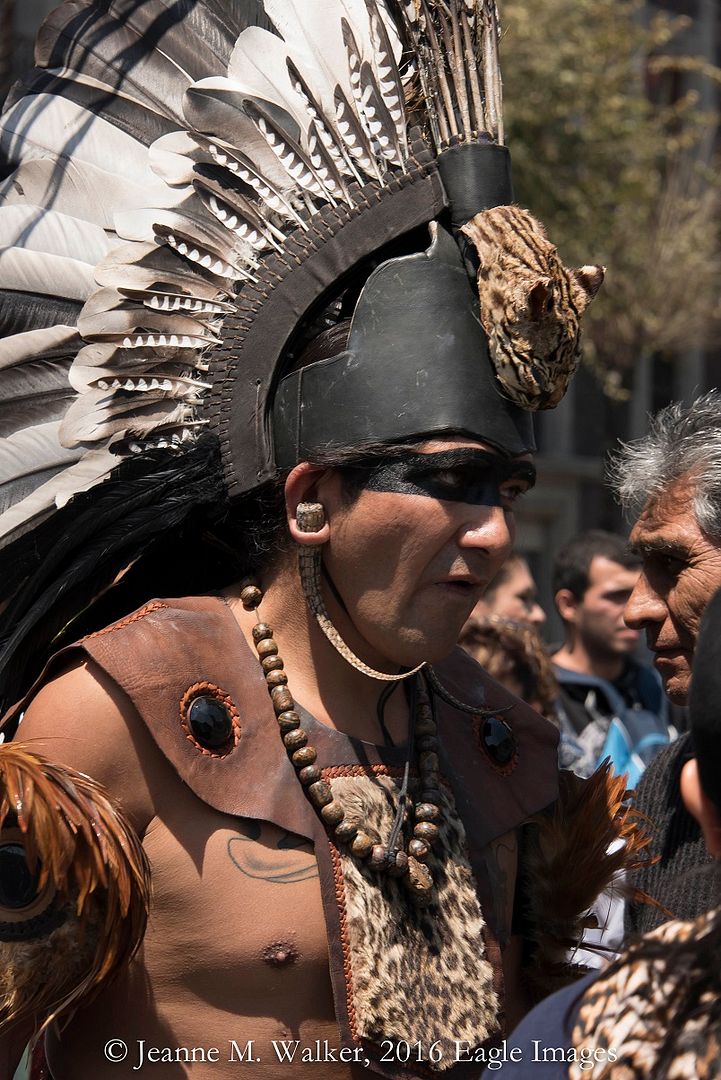 check out those earrings!



For those of you who are Jeff Dunham, the ventriloquist, fans... here's " Mexican Iguana.... On a 'steek'!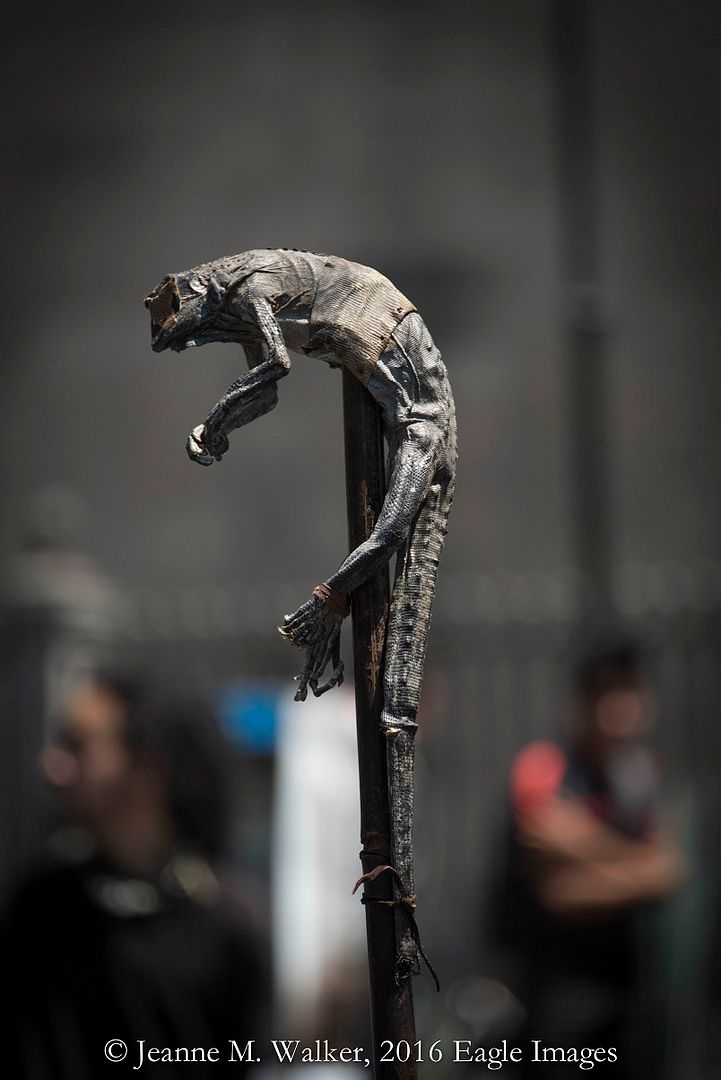 Enjoy the photos.

The fountain at Plaza Reforma
Jeanne
04/07/2016, Mexico City - Fountain at Reforma
I've posted previously about the Plaza Reforma area and the domed shaped building I photographed. On the first morning, the whole place was set up for a conference of some kind - exhibition tents and tons of chairs.
When we took an afternoon walk, all of the conference stuff was cleared away and the 'fountain' was in full glory!

It was lots of fun watching the enjoyment and craziness of people.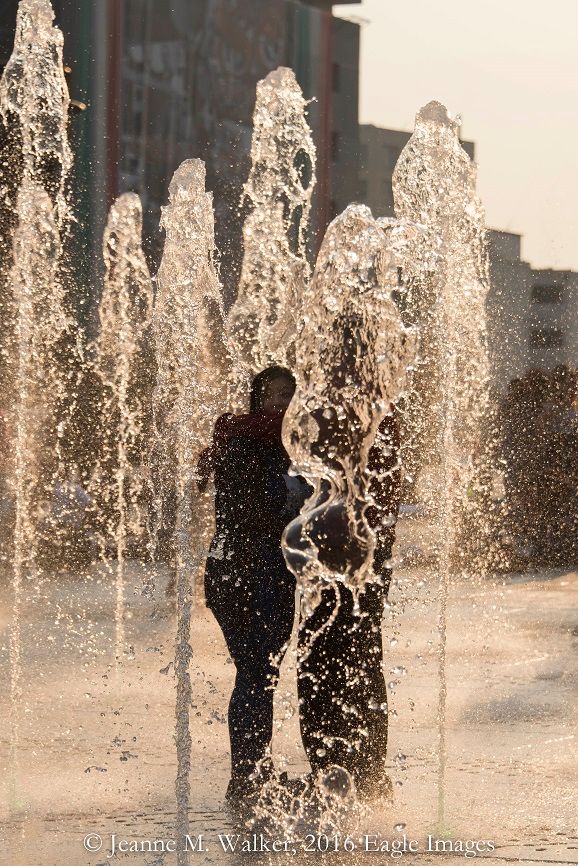 We had noticed that there was lots of PDA all over Mexico City, and this plaza had couples all over it! As the fountain changed in volume and nozzle type - spray to columns and anything in between... there were several couples 'hiding' within the fountains. When they got chilled to the shaking point they finally came out!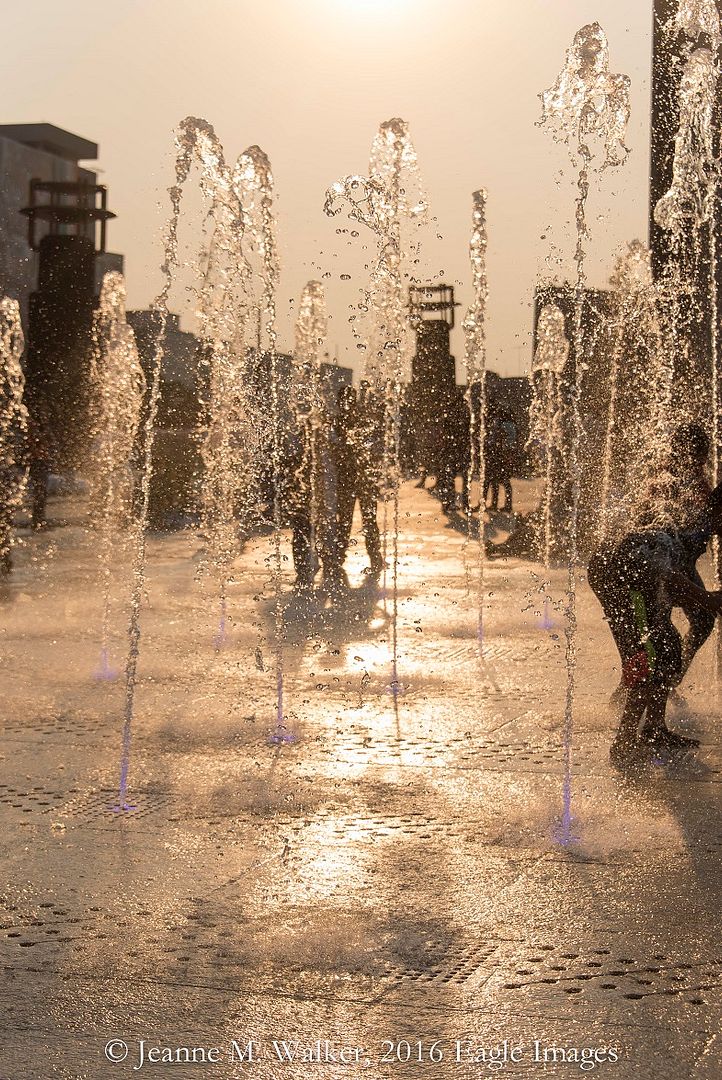 The fountain seemed to have a magnetic sort of draw. People would stand and watch from quite a ways away. Soon, they were closer, and pretty soon making a run through it - laughing all the way.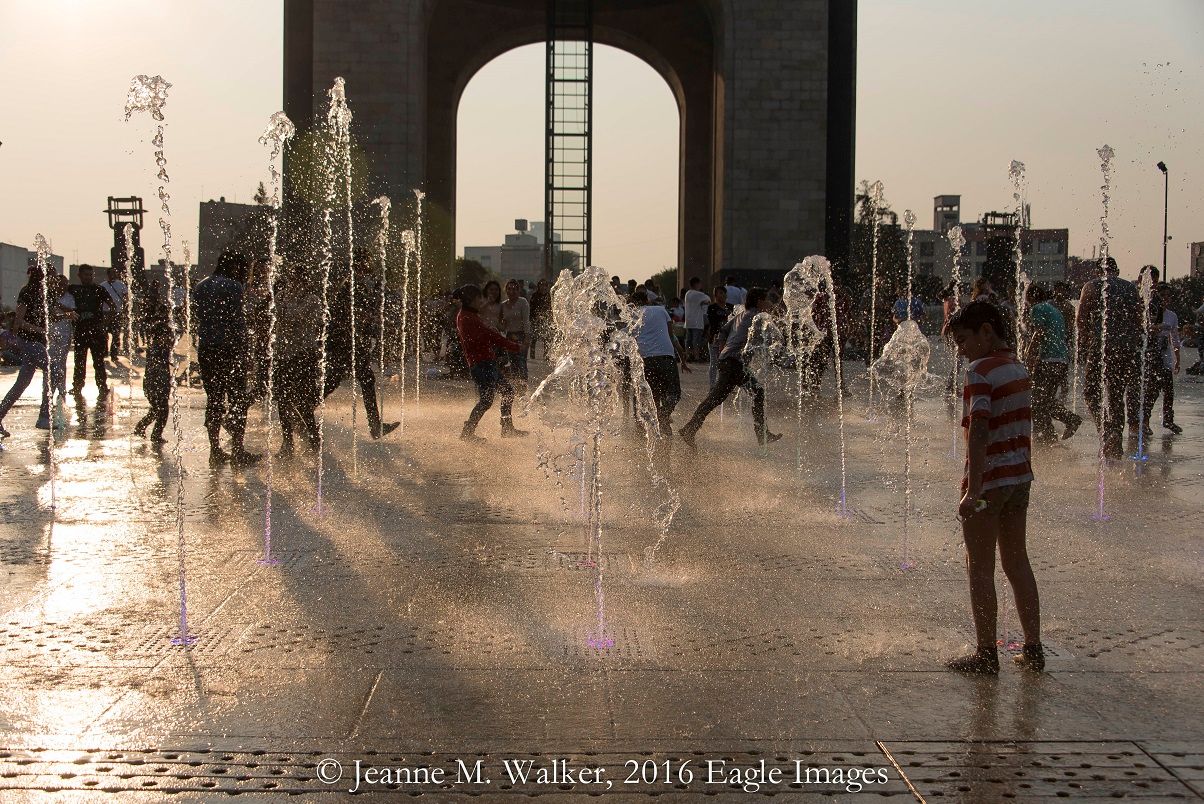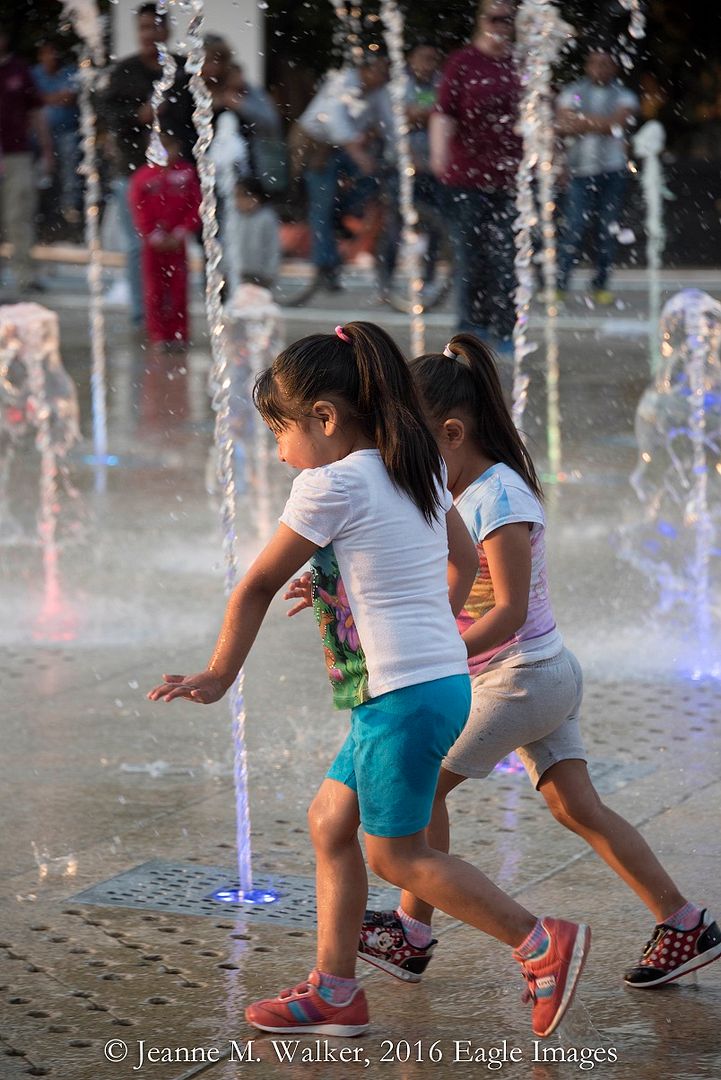 It was quite enjoyable people watching.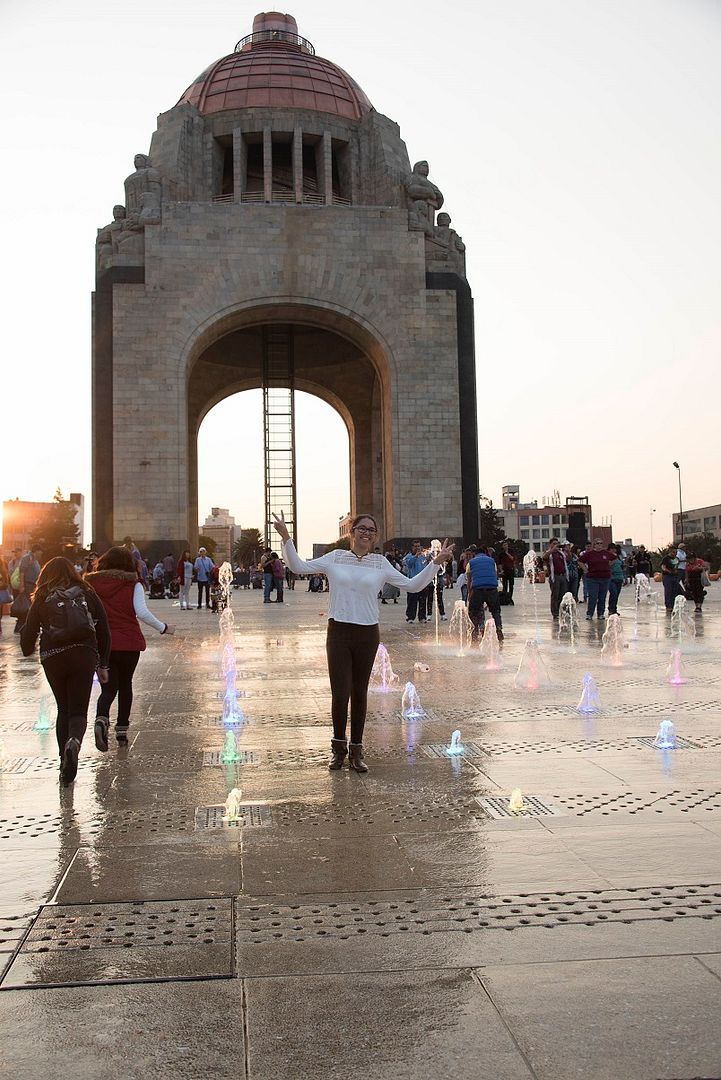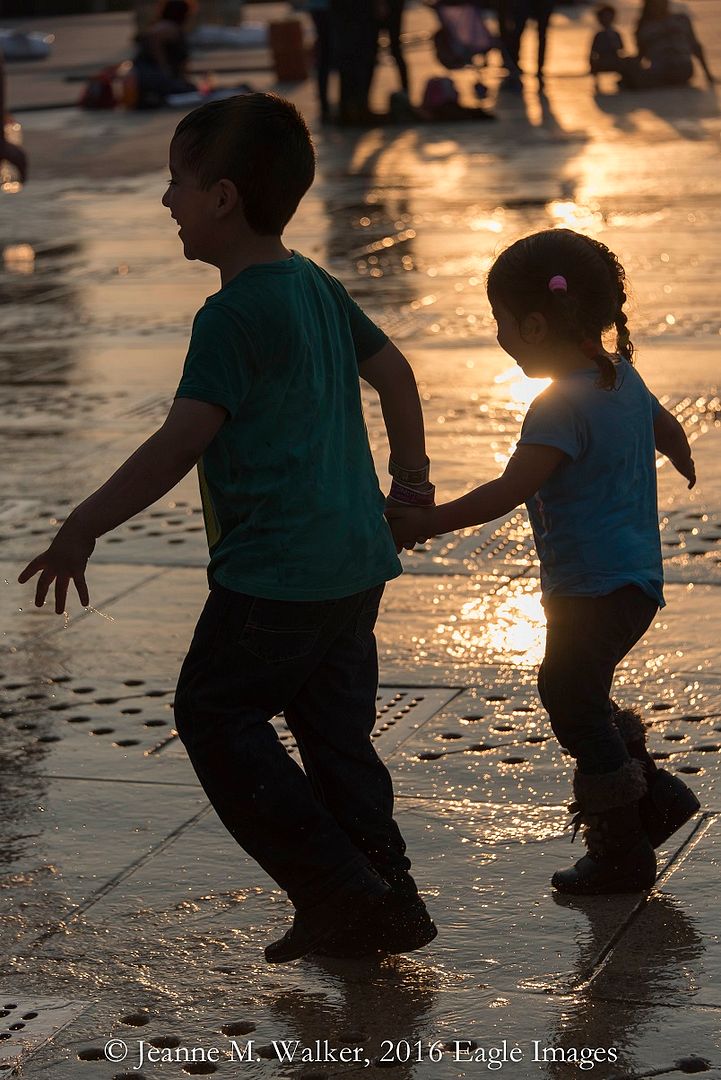 The water itself made some interesting shapes.



As the sun started to set, the colors in the LED lights in the surface started to glow.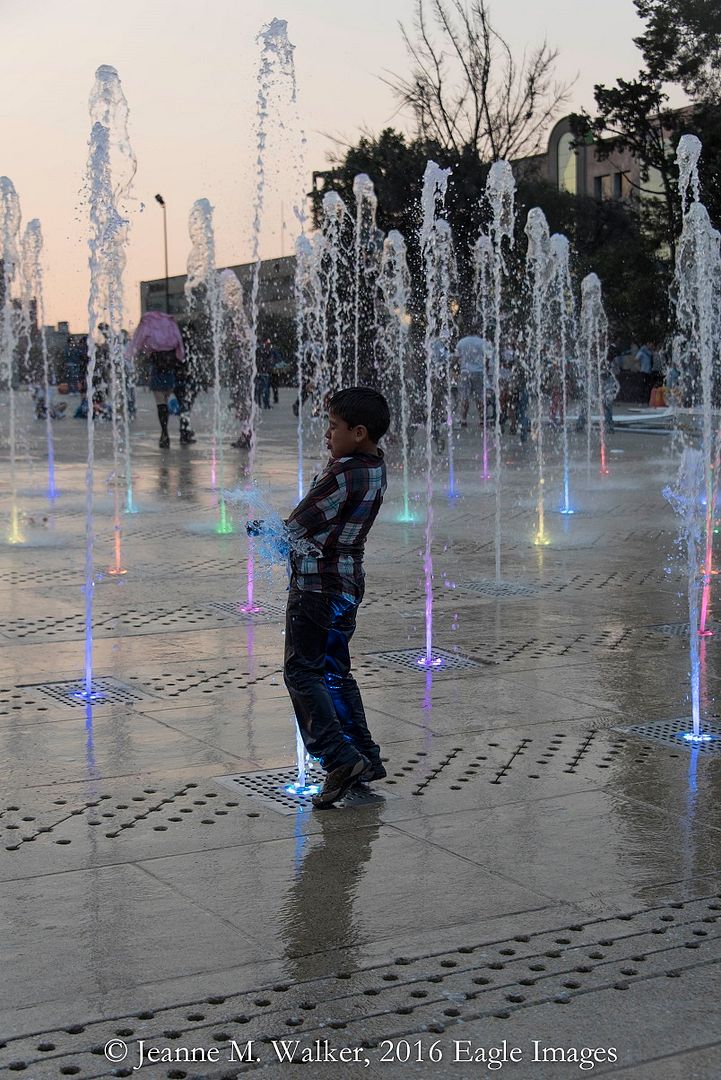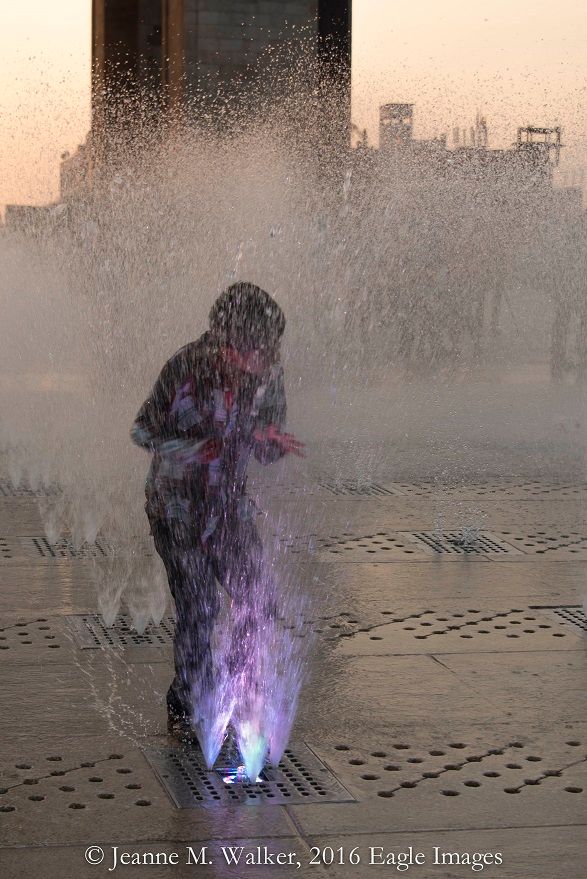 There were at least 3 quinceanero events - a 15 year old girls birthday- coming of age party - complete with gown, tuxes and professional photographers to document the day. The misty spray made for a nice background.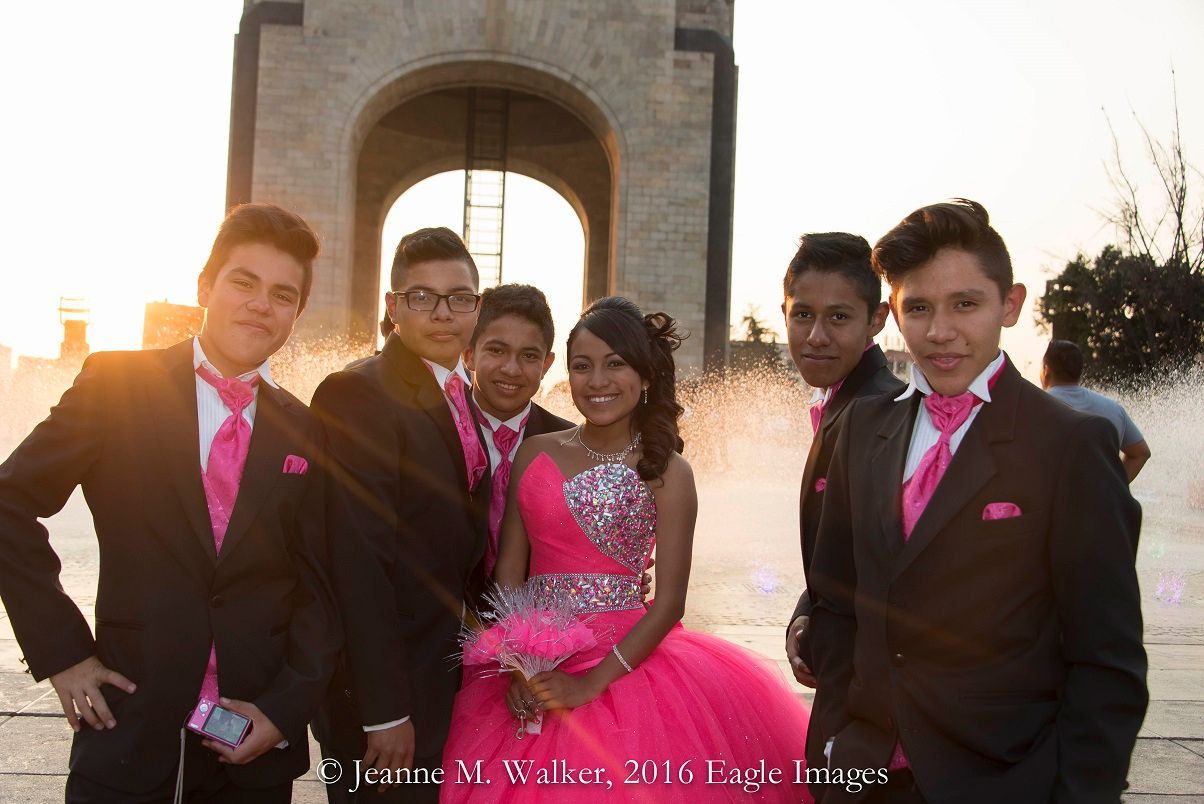 I think I shot about 200 images over 2 visits, and enjoyed every minute of it! I think I'm going to lobby La Paz to put one in!