Mujeres en la cocina - Tamales #1
Jeanne from Seattle
01/28/2015, La Paz sent from Seattle
For those of you who have followed our blog, don't be confused by the next few posts. I'm in Seattle to attend the Seattle boat show, but I'm taking the opportunity to get caught up on stories from La Paz.



An anxious group of people gathered to try their hand at making traditional style tamales. Mariella hosted as well being our 'maestro'.

Her eager students were


Alice of MV Elegante, Cricket of SV Mystic Island,


Mike and Linda of MV Trinity Rose,


Nancy of SV Shindig,


John of SVTimepiece, 'Memo' ( Maymo) Mariella's oldes son, our back up interpreter, in case I couldn't do it, and me.



The fillings of carnitas en tomatillo salsa, pollo en mole, rajas con queso con salsa roja, and fresa con arandano rounded out our menu. These were accompanied by frijoles refritos, y chaporrada, a beverage made with masa.( Pork in tomatillo sauce, chicken in mole, peppers with cheese in salsa fresca, and strawberry and cranberry.)



We started off by making all the fillings and sauces. Everyone got to assist with the chopping, prepping and cooking.


Tamales Part 2
01/28/2015

Then it was time to make the masa. Traditional tamales use manteca or lard, so did ours. With all the media information about the effects of fats on our bodies it's really weird to plop 3or 4 rolls of lard into a bowl to blend with the mixer. Yummy umm!


While that was going on Mariella added some baking powder and soda to the 2 bags of masa.


Memo explained to us how traditionally the families gathered to make and assemble tamales. The women in the past ground the masa by hand using molcajetes and stones. All done with their hands, and lots of love. We opted for the current trend of going to the store and buying a couple of bags of maseca!


Chicken stock went in next, and they guys started stirring, and stirring and finally the best way was to mix and knead by hand.


Playing with your food is fun! Once the chicken stock was well mixed, in went the blended lard. Mising continued with occasional additions of more stock and a bit of salt.


Mariella determined when the mixture 'felt right'. A portion of the dough was set aside for the dessert tamales - strawberry flavored jello and cranberries.


The dough was then set aside to rest for a few minutes while the corn husks were prepared. A short while later they'd been placed in a sink full of water and allowed to soften. They were drained and placed on a tray and set aside.


Tamales part 3
01/28/2015
A short while later they'd been placed in a sink full of water and allowed to soften. They were drained and placed on a tray and set aside.



Taking 2 corn husks, Mariella placed them together in fan shape, then smeared a bit of masa on the husks. A half a cup or so of the filling, then fold the left side in, fold the right side in, fold the bottom up and set aside. The top is left open.

Tamales #4
01/28/2015
Once all the fillings were used up, then it's time to cook them.
The tamales are placed into the pan with the open top up, tightly together, filling up the steamer portion of the pot.


In the bottom of the pot is placed several cups of water, and the secret noisemaking/timing device, a couple of centavo pieces. When the water really starts to boil, you hear these rocking around on the bottom of the pot, before you ever start hearing the water boil.



Then it's time to sit back, share some stories, take a nap and wait for 2hours while every thing cooks.


While the tamales were doing their thing in the two pots on the patio, Mariella made a batch of chaporrada. Masa, milk, and cinnamon are the ingredients of this national drink.



For dinner we were joined by Nancy's husband Rob, Alice's husband Bert, and family friend Omar.


And as always, there's a never ending supply of dishes to be washed!



The next food event is being planned, the menu to be determined!


Lefty's new ride
Jeanne from Seattle
01/27/2015, Seattle Boat show
We're in Seattle for the boat show, but I'm taking this opportunity to get caught up on blog posts - so, I apologize on the location switches!


Lefty's found his next ride! Perfectly sized for him and his growing collection of friends!

Swap meets - La Paz Style
Jeanne from Seattle
01/27/2015, La Paz sent from Seattle
For those of you who have followed our blog, don't be confused by the next few posts. I'm in Seattle to attend the Seattle boat show, but I'm taking the opportunity to get caught up on stories from La Paz.

If you're from the Pacific Northwest, like we are, you've most likely heard about the Fisheries Swap meet, a twice yearly, not to be missed event.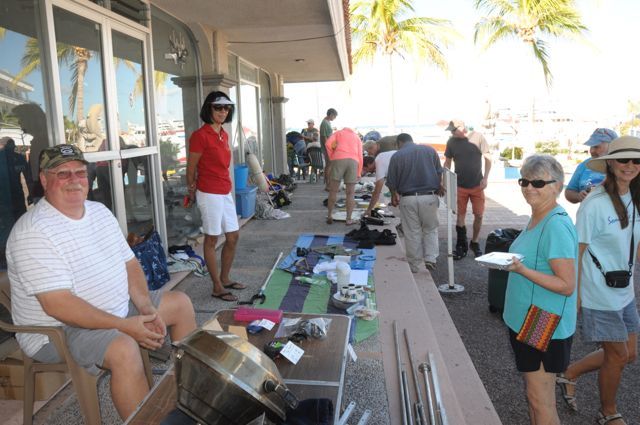 The general rule with this swap meet is 'if you're not using a flash light, or head lamp to see your way around to the booths and sellers, you're too late to get the good deals'.



The times for this event are posted 7am-1pm, but vendors will show up the night before to get a choice spot and shoppers come in the wee hours of the morning. We've done both before!



We at La Paz Cruisers Supply have our own swap meet going on. We're much more civilized about it - show up no earlier than 8:30 and it's done when it's done!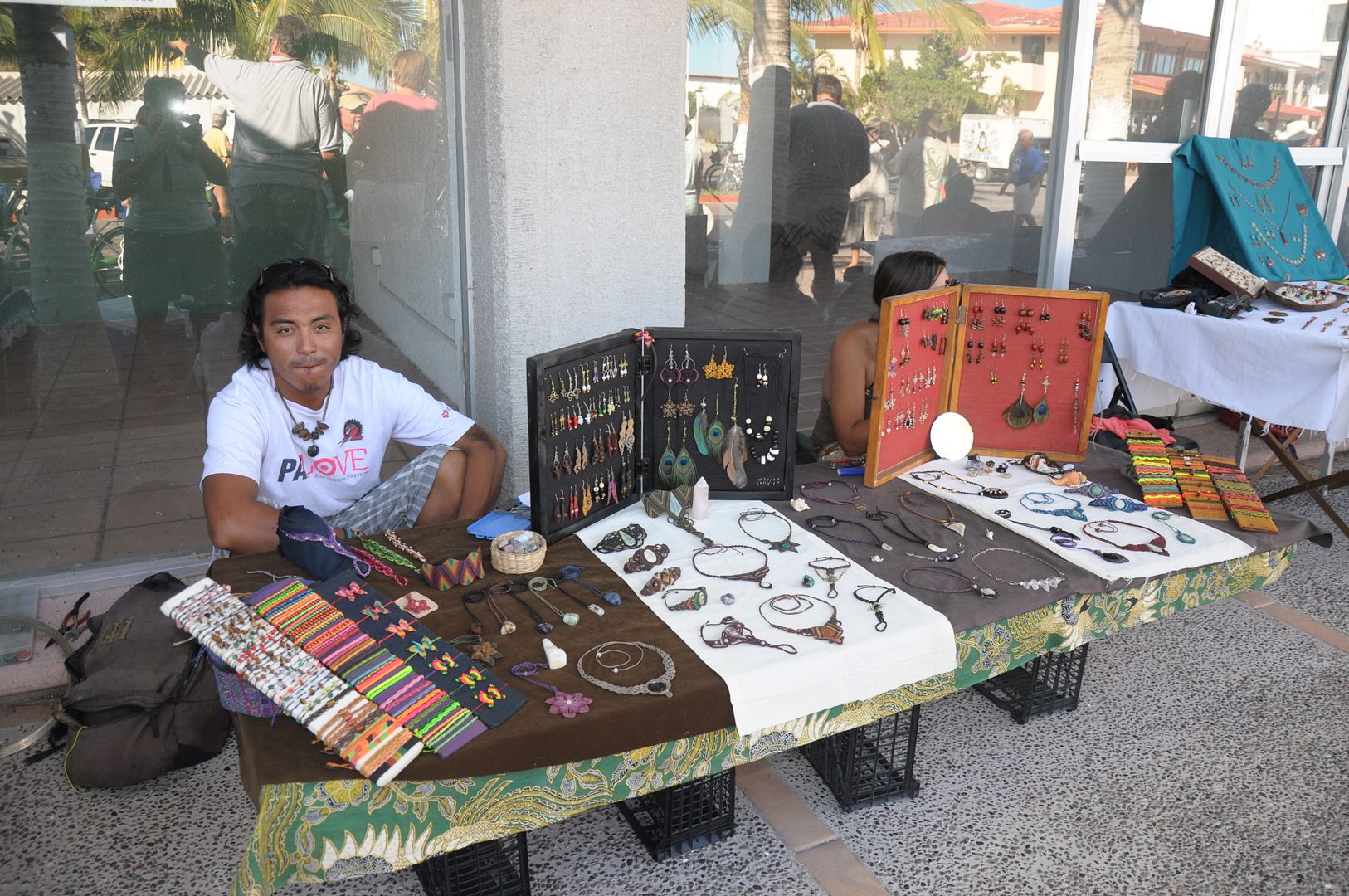 The crowds have been good, the selling swift at times, and bargains are always found.