What a great day fishing
Tom
04/19/2015, Bahia de Los Muertos
My good buddy Tim, from Seattle is down for a visit and had asked if we could go fishing....so I booked a trip with Jonathan and Jill at Tailhunter's International http://www.tailhunter-international.com/

We had an awesome day.......7 Dorado, one Huge Pompano, my first ever landed Wahoo!! The largest Sierra I have ever seen, a very nice Roosterfish (which we released) several Bonito, Houndfish and Cornet fish. Jeanne posted some of the shore side photos that the Captain took, but these are some fresher photos right after they came out of the water. this way you get to see the bright, beautiful colors.

Our Captain, Pancho was just plain amazing!! We tried used several methods, trolling, Jigging and some live bait.....all worked for what we were targeting.

Here is my very first Wahoo!! This is the fastest fish in the sea, capable of 75 MPH...and I am pretty sure it hit my lure at about that speed....and then took off!





We caught 7 Dorado, but this big Male was the biggest of the day.






Tim was fishing in Mexico for the first time, and what a day! He managed to land this incredible Pompano!! I have never even heard of one this big down here!!






I also managed to land a very nice Roosterfish.....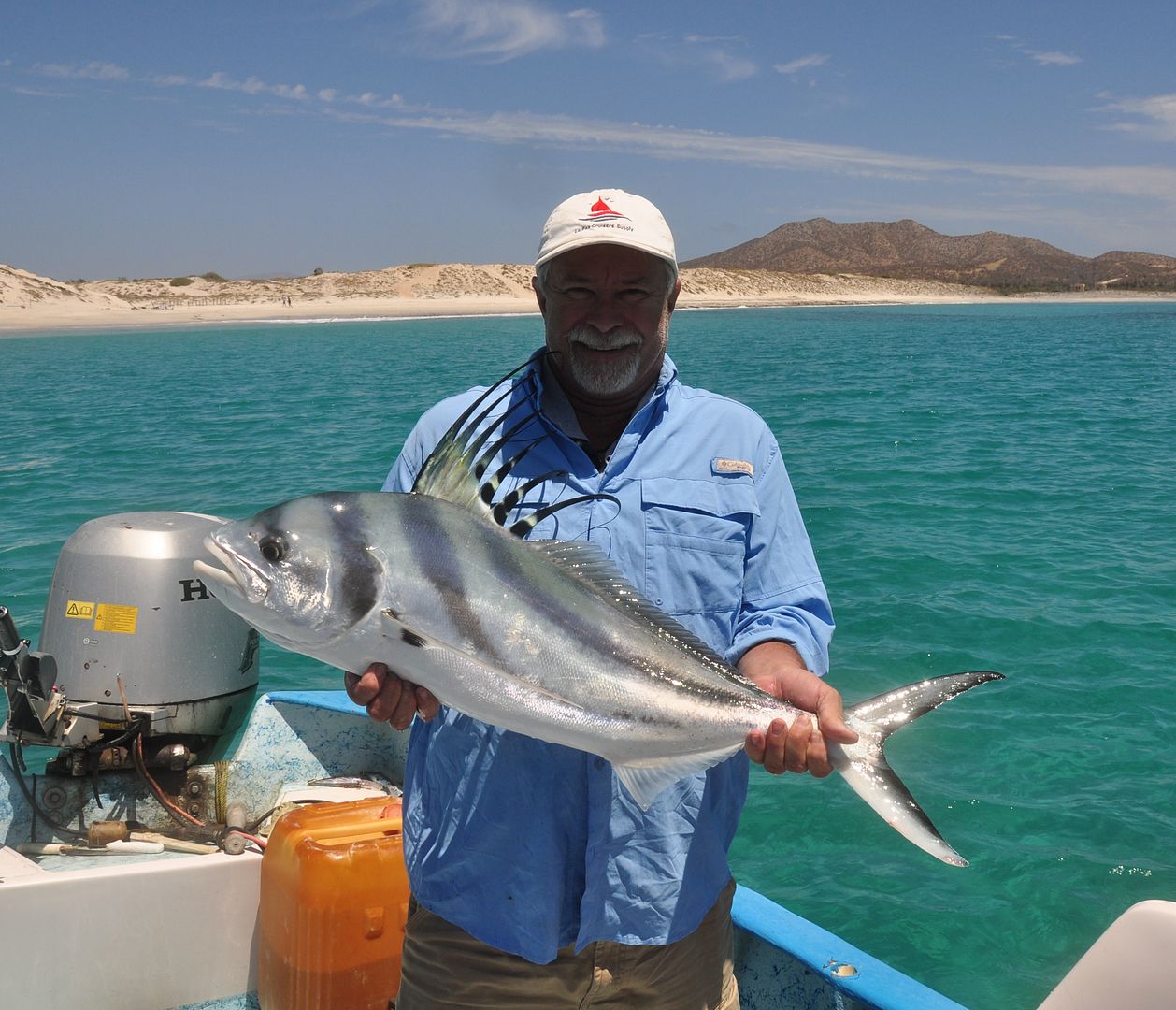 Wahoo!
Jeanne
04/17/2015, La Paz
The guys went fishing today with Tailhunter International fishing trips. www.tailhunter-international.com. They were picked up in front of the store at 5:30 am and did a one hour drive to Los Muertos/ Punta Arena area. Several hours later..... WAHOOO!!! and Dorado,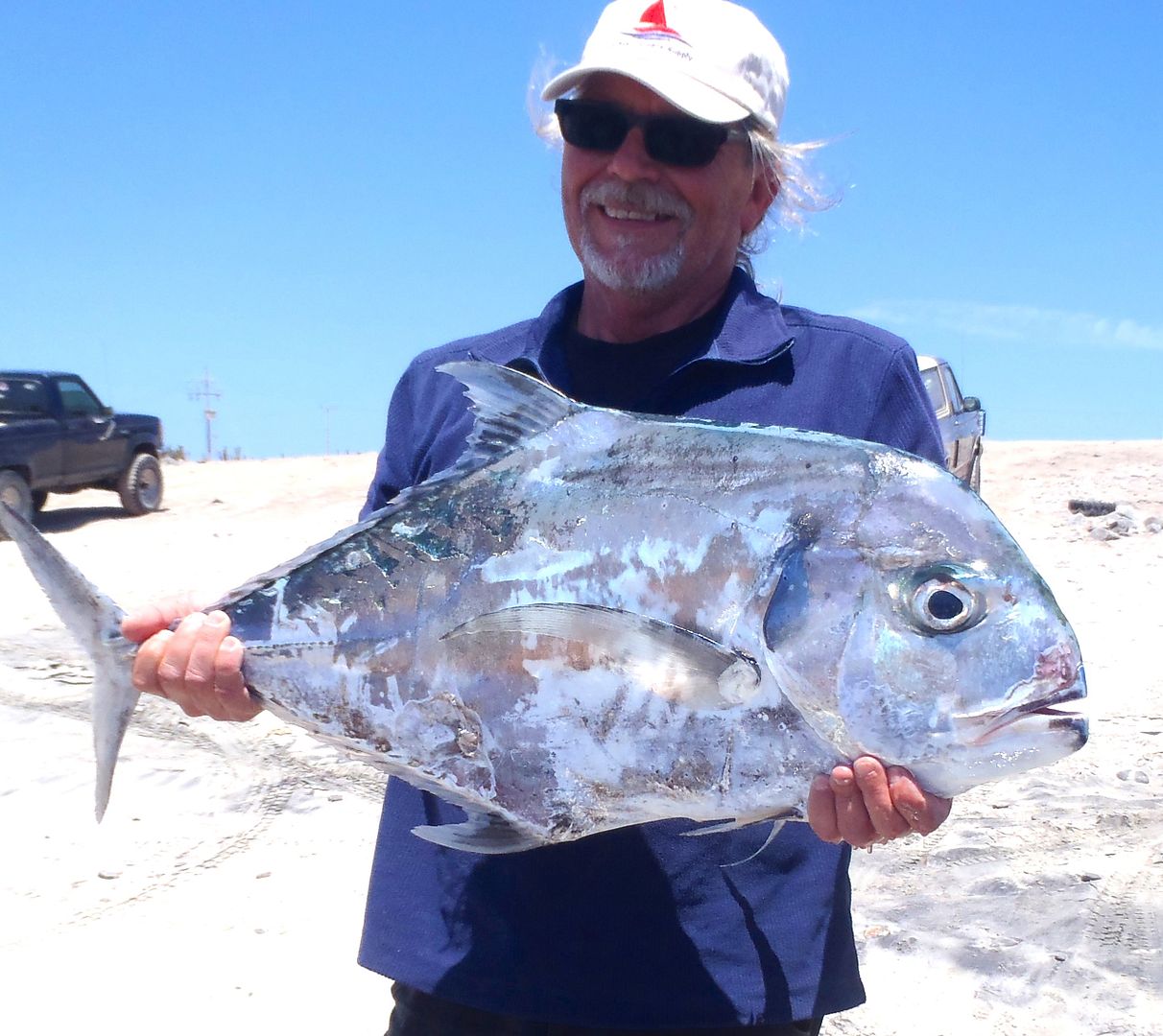 and Sierra, and Grouper, and Pompano, and Rooster fish 12 fish in all!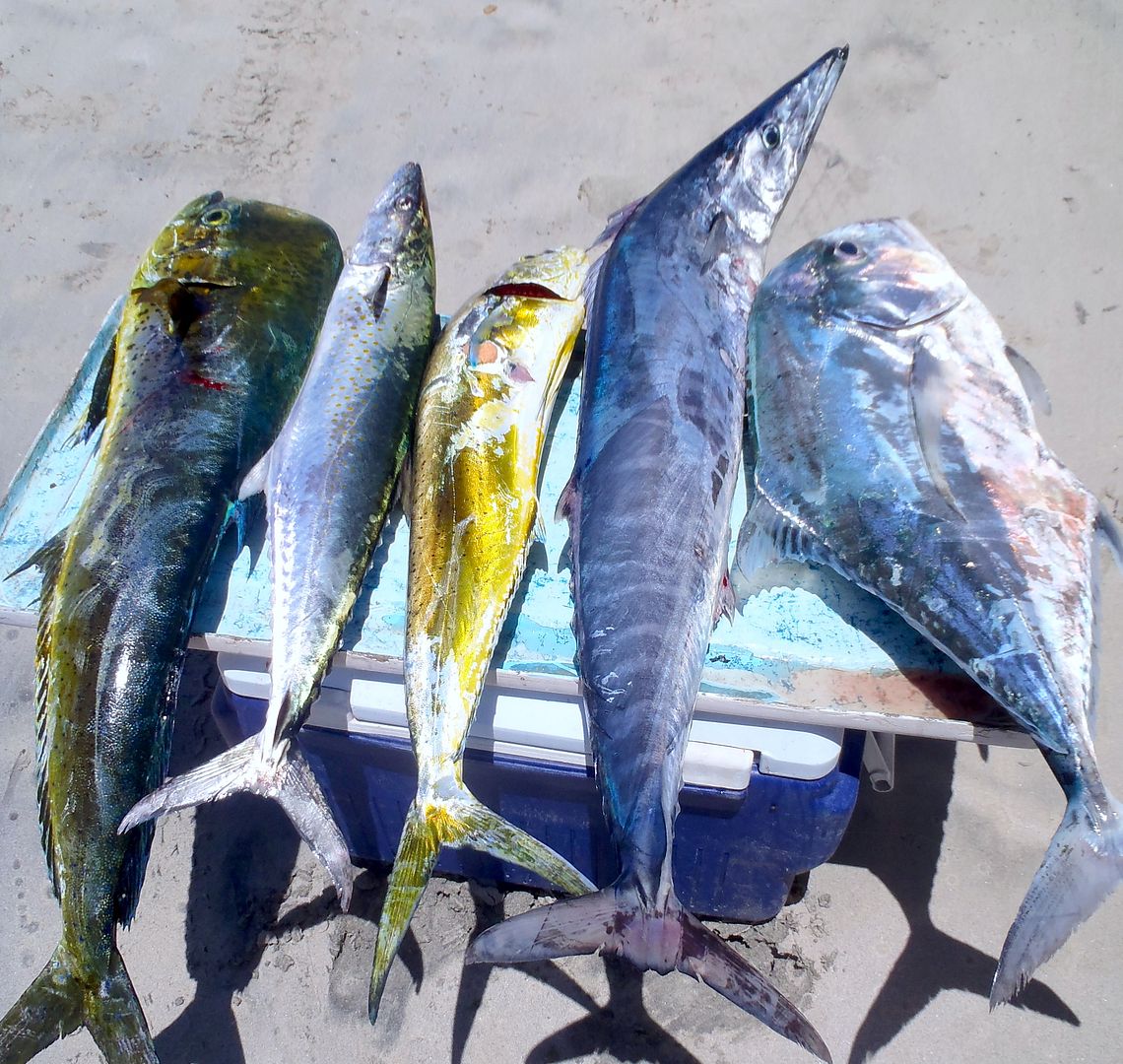 The grins are big and the stories are soon to be told. We're heading up to Tailhunters Cantina and Bar to feast on a fresh fish dinner. The chef is cooking up all sorts of the fish for our fiesta. And it is Alacia's birthday today - Pam's daughter, who is also here with her husband Gavin.
I'm sure there will be more photos later....but now it's dinner time!

Vashon Island visitors
Jeanne
04/15/2015, La Paz
Finally! After 5 long years we finally get a visit from our good friends Pam and Tim! Pam will be celebrating a birthday on Monday and decided she wanted to do it here, with us!

As I was perusing back through photos of great times, we've shared, I decided to share a few with all of our readers.

We've got a few activities planned, some down time and of course, a Mujeres event this weekend of very special proportions! There will be a detailed posting later. As you can see from some of the photos I've choosen, Pam and I in the kitchen together is not new!


The year we decided to cook a 'goose' for Christmas - actually two of them - 'freshly harvested' by my brother.. we had to remove the 'shot' before cooking it. She did one recipe and I did another.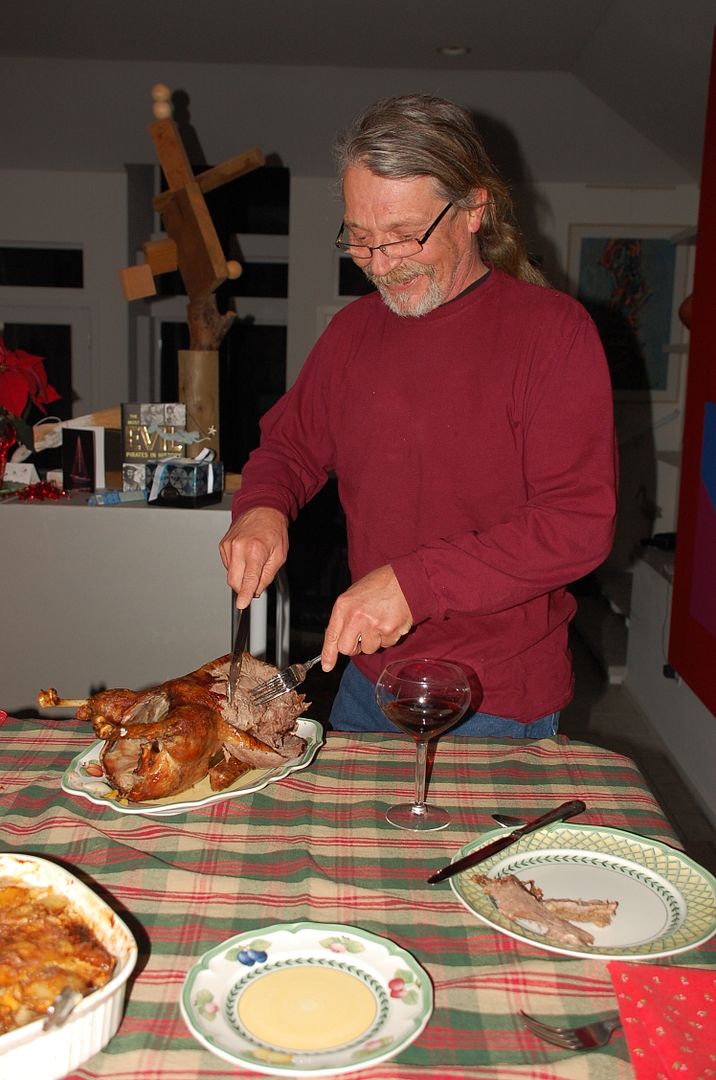 Then there was the New Years day tamale party - several ladies, couple of guys and 220 tamales later!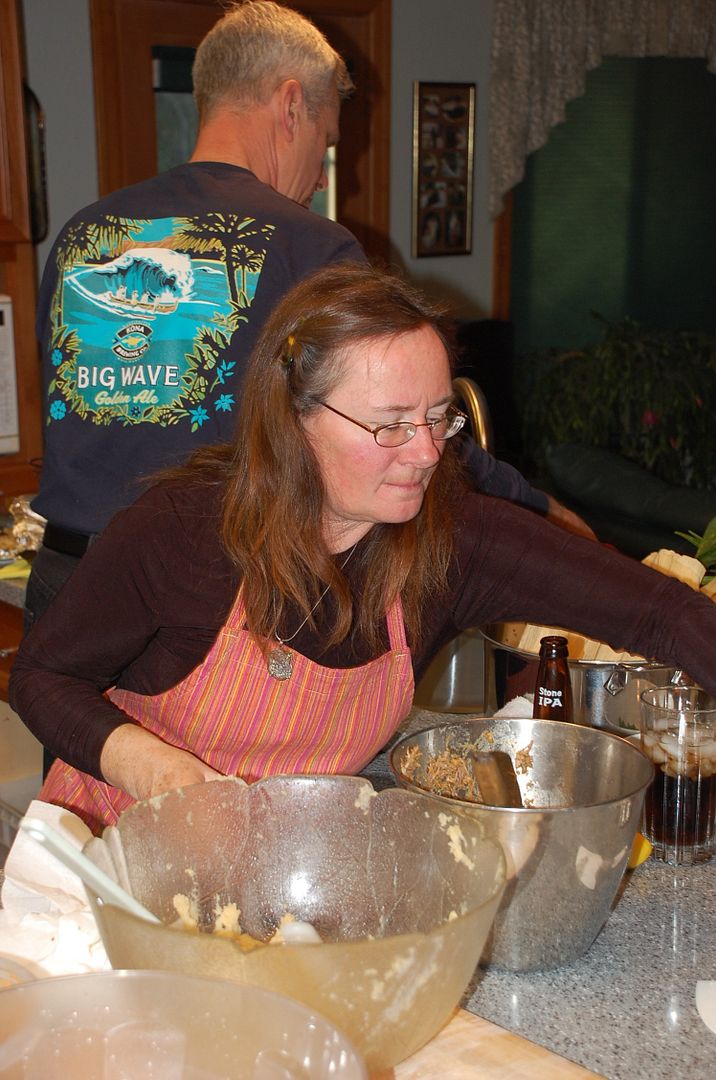 It's amazing to look back at the photos and see how many of them not only revolved around food, but Mexican food!


Since we're all live-aboards, the raft-ups, potlucks and just hanging around together. Savarna is their boat - always rafted to Eagle!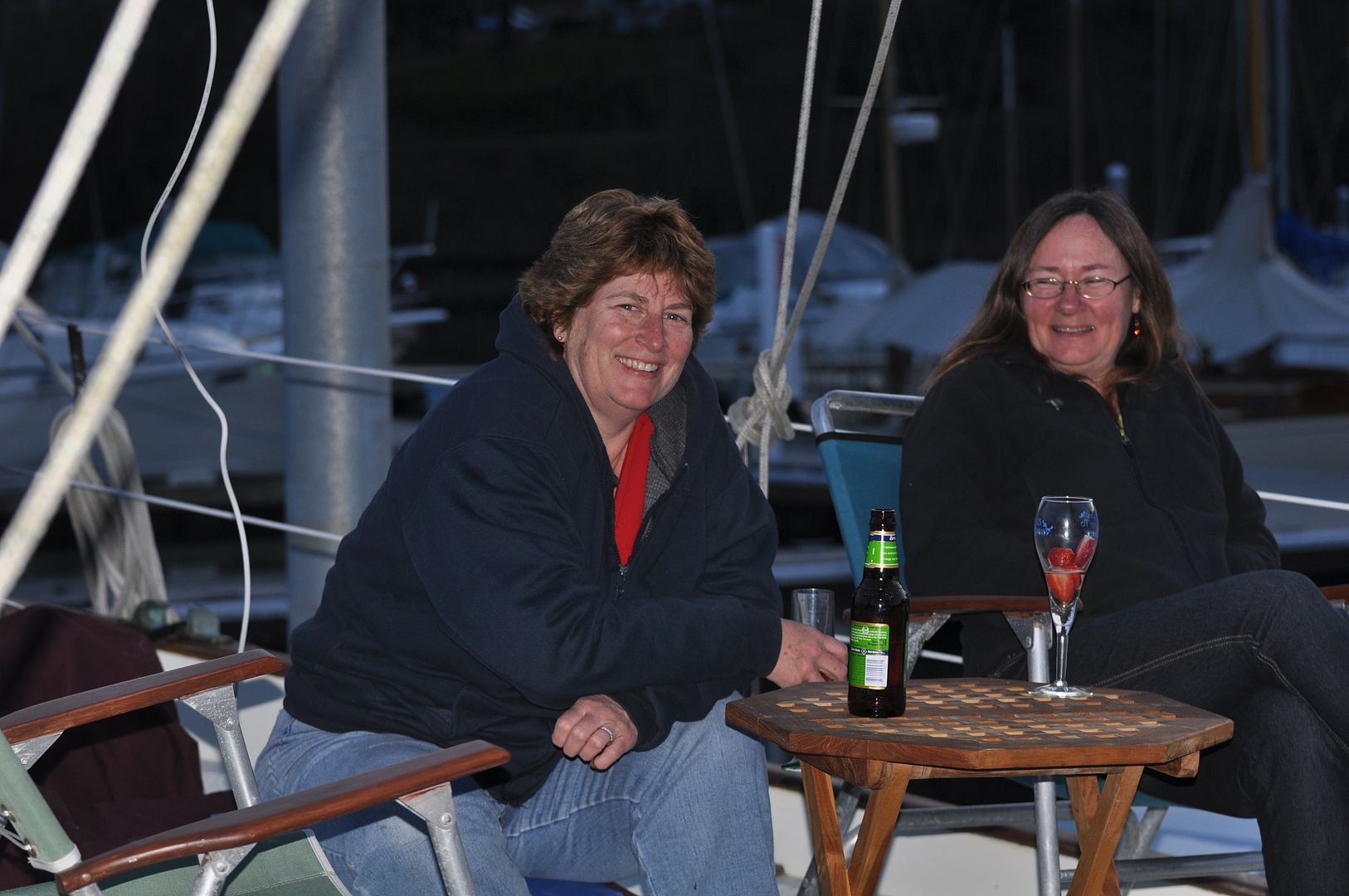 It's great to have them down here creating some new memories.... we'll share those later... now we have some margarita sampling to do!


Seasons greetings
Jeanne
04/06/2015, La Paz
There are several times a year when seasonal greetings come into play. The obvious one is the Christmas holidays. What I'm referring to here relates to the unique lifestyle of those that are cruising.

You leave your home port, and sail away. Along the way you meet similar folks, who are coming or going just like you. You like all of them, some maybe more than others, but everyone has a unique story to tell, and since they're out doing the same thing you are, you have a fair amount in common.

Here in La Paz, now that we're in one place, we see all the seasonal traffic. I find this time of year very hard - I hate saying goodbye!

In the summer, it's pretty quiet. The boats that are staying in the Sea are off cruising in the Sea way up north. The ones that are staying here are, for the most part, without their owners. Most of the Canadians have departed for their 6 months up north.

Then after hurricane season, little by little people start to show up. Then we get a big influx of cruisers about the second week in November all the way through December. Many will head off to the mainland just after the holidays. Some head into the Sea for exploration. Lot's of the boats heading to the mainland continue south to other Latin American countries, South America, the Caribbean and the Pacific.

By the time the boats continue on to their next port and adventure we've had lot's of time to get to know the owners.
It's the goodbyes that I find are the hardest. We share stories, tall tales, a beer, a hug, a game of cards, or whatever. We share a bit of each others lives. Watching a friends boat sail out, is bittersweet. We're happy that they're off to continue on with their dream,even jealous in some cases. We're sad that they won't be a part of our lives here anymore.

We acknowledge that to be a live-aboard sailor, and out here doing what we do, is a bit out of the norm! This makes us all a bit different or maybe even crazy! When someone 'stands out' in our group - well that person is just further off the norm than the rest of us!

That said, the same thing goes when saying goodbye, at least for me. Most of the cruisers we meet are great people and we miss them. But like with everything in life there are exceptions. There are a few people who I've met along the way who really 'stand out' for me. These are the ones I will miss the most.




John's on the job!
Jeanne and John
03/28/2015, Caribbean via La Paz
So for those of you who have followed our blog through the past year, you'll remember John and his unfortunate dinghy accident. The accident ultimately cost him his lower left leg. He's done a phenomenal job of getting back to the life he loves - being on the water on his boat Timepiece. He returned to La Paz in September. Not long after his return, we waved as he left the dock for some short day cruises, and a couple of overnighters.
Christmas and New Years came and went - a new year underway. It was time to take a closer look at what the accident really meant to his cruising budget. Since it pretty well wiped it out - time to get a job.
He agonized over having to fill out an application, spent several weeks 'researching', and finally found something that he thought would be a good fit.
The universe seemed to line things up just right for him..... he left La Paz on the 15th of February, for a week in Los Angeles.... and now - John's story!


"It's time to update everyone on my new adventure...working....on a cruise ship....not a bad gig!

So I officially started Feb. 24th and spent two weeks in Miami, FL for training in the corporate office. Then on March 8th I joined the Royal Caribbean 'Independence of the Seas' as the Compliance Officer. This is a new position for Royal Caribbean and I was the second hired in the fleet. Onboard I was introduced to the ship's executive team by both of my shoreside bosses, which help show the importance of the new position. I have been made very welcome onboard by the Captain and other management personnel. One of the delays was getting my computer setup, turned out to be a shoreside issue and finally after two weeks I'm online. Online really means I have access to the company's intranet and limited access to the internet, so my email is very slooow....pre-dial up!

OK, life onboard.....

I have a nice cabin with an ocean view, tv, refrig, it will sleep four, and I don't have to clean it!....basically the same size as 'Time Piece'. I have full run to the ship with access cards and keys, semi-private office, eat at any of the restaurants, and my laundry is done for me. I guess there is something to be said about having three stripes and reporting directly to the Captain.

My work schedule varies every day, which keeps it interesting. I respond to all guest injuries and investigate as required. I am visible to the guests as I walk around and talk with them, mainly in the evenings. The Captain likes that I do my walk arounds since most of our guests are from the USA or Canada and I'm the only USA Officer onboard.
The Captain requests that I'm on the bridge for all departures and arrivals. He asks for my review of the bridge team and the evolution. Now you also need to know that the Captain has only ever worked for Royal Caribbean since he was eighteen and has worked his way up to Captain; he is thirty-nine years old. Matter of fact, only the Staff Captain is older than me on the bridge team, but they are very capable. The Captain knows that I have my USCG Masters license, but even though it is a 100 ton rating that doesn't matter, it's a Masters License and that was how he introduced my to the bridge team as holding a Masters License....but believe me I don't try to pretend I know more....this is the worlds sixth largest cruise ship! So when it comes to the bridge team I'm in a very cool position, I get to observe and learn, plus give feedback. I met privately with the Captain everyday at 17:30 and the meeting lasts from as short as thirty minutes to as long as five hours. He is very interested it what I have to offer him and the ship in terms of bring it to the next level with regards to injury prevention, bridge resource management, and in other areas of operation.

The other part of the job, which isn't as fun, is reading manuals and policies so I can know them and improve those that really need revisions.

So even in my short two weeks onboard I've started to impact the ship in a positive way, made a couple small changes that so far have paid back well. The staff and crew seem glad to have me onboard. All my socializing is done in public areas or with Officers and some staff, which is fine since then I can go hide in my cabin and play ukulele.

So that's my brief update on how it is going. And since I need to work now, this is a cool gig! Heck I've already logged aprox. 5,000 sea miles, circumnavigated Cuba twice and seen some nice places in the Caribbean.

Cheers!
John "


Photo:
On the Bridge for an arrival into Grand Cayman.


Kids at the beach… March
Jeanne
03/25/2015, La Playa - the beach
Previously in several blog posts, you've read about my involvement with Mama Benita's shelter for women and children. It's still going strong and better than ever. There have been some good changes and remodeling done at the house, and more help and assistance is arriving all of the time. The kids are all healthy, happy most of the time and a joy to be around.


Our time spent on the beach with the kids and Harker Stand up Paddleboards has been a great success from all participants point of view. Bryon Harker has offered to have the kids to the beach to play and provide them with a meal each month! So, off to the beach we went!

My crew of drivers, observers, kid wranglers, ball chaser and all around helping hands agreed to help. The kids were delivered to the beach late morning, and given a quick safety and gear lesson before being turned loose in the water.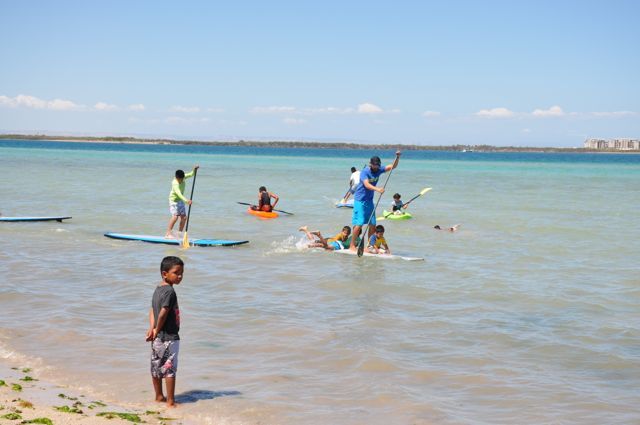 Diego was a bit apprehensive




Chapa came to assist




Sergio is on the Mexican Pro SUP team and uses the wiggling kids as a practice tool!



Estrella - 10 and Ester- 3 yrs old



Ricardo, Ester and Estrella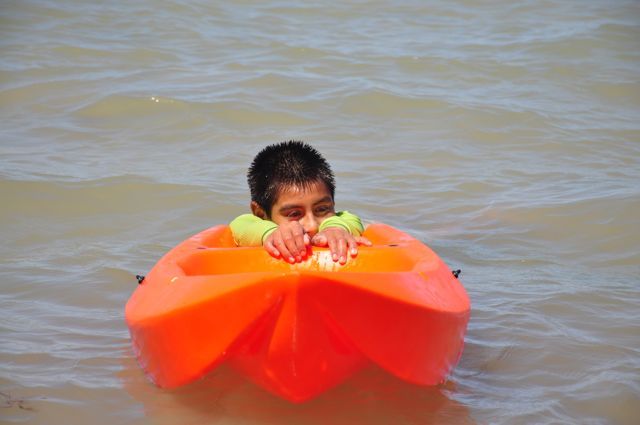 Eliseo chills out.



Josué - (Ho sway) took a big jump off the board... into 8 " of water!


As the teeth chattering began, we headed to the beach for some shore side games organized by Anthony and his wife, Karlene. The water ballon toss and throw was a fun one.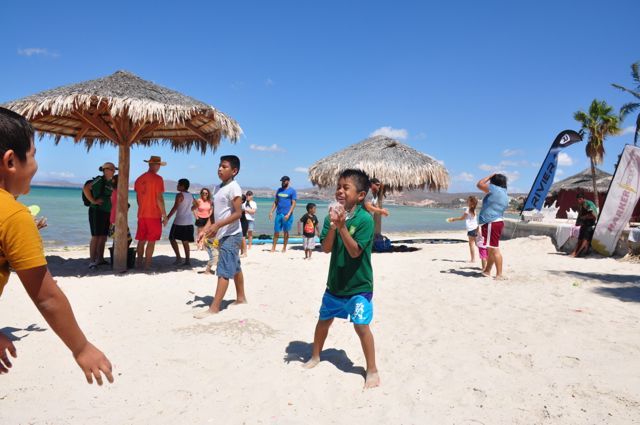 Passing the balloon relay style with out hands - sin manos -was challenging!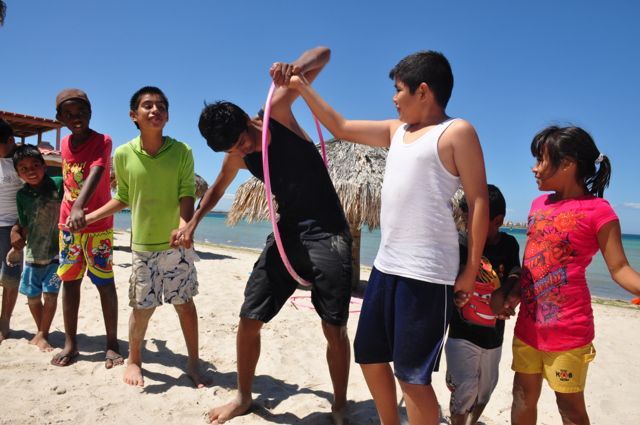 The trick to this is to keep your hands linked and pass the hula hoop down the line - no letting go of hands! The organizer of the game let them try it a time or two before he told them the secret... let the first one through then double back and hold the hula hoop for everyone!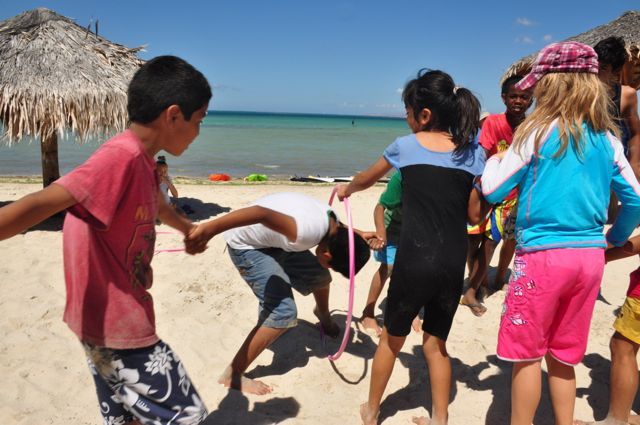 Some soccer is always good...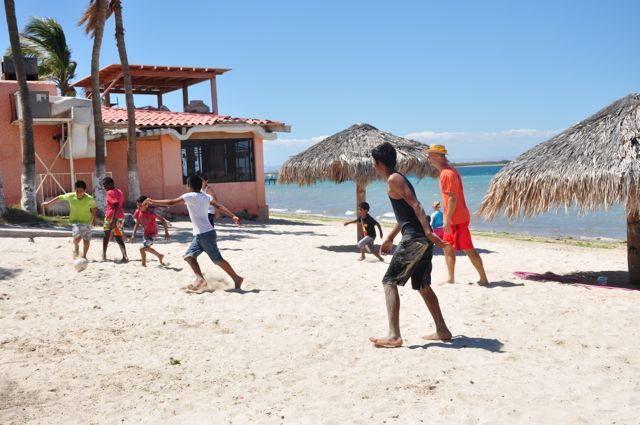 And even some American style football.
Complete with tackles and pig piles!


If football isn't your thing, there's always playing in the sand!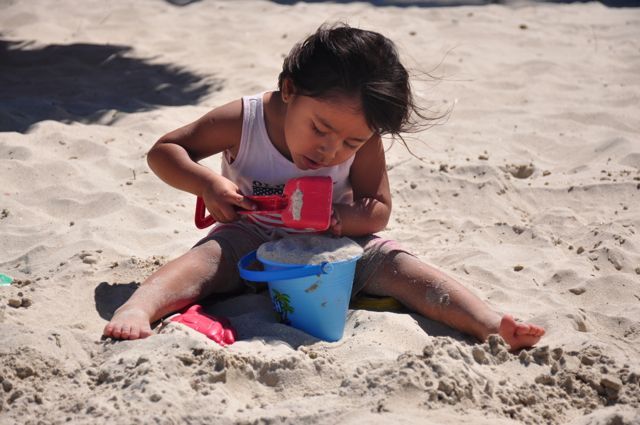 Or multiple hula hoops!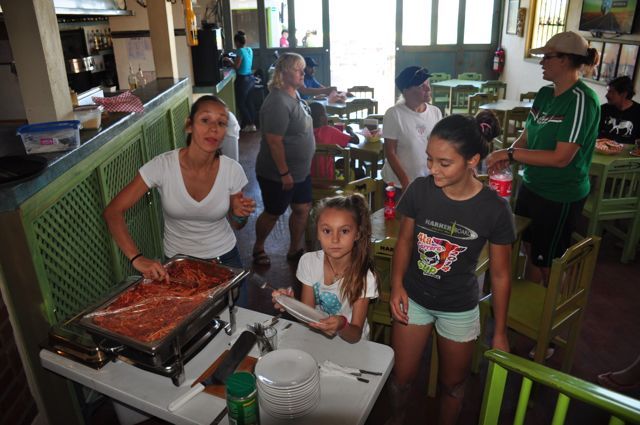 Of course then the food!

Thanks to every one that helped play on the beach, especially the Harker family for their time, toys and great spaghetti!