Smiles all day
Jeanne
07/22/2014, The beach in La Paz
Opening Photo courtesy of Thomas Ireton
The grins say it all!

This morning I had the pleasure of taking 21 kids to the beach! Along with Tom's help in driving a carload, our friend Tom Ireton taking photos, friends Terry & Valerie Townson , the great assistance and pizza donation of Bryen Harker of Harker Stand Up Paddle Boards, and professional SUP racer Sergio, we saw smiles all morning!

I've been wanting to arrange a day at the beach for a while, and finally got it all together.

We met the kids and several adult members of the shelter at 7:30 this morning.
15 people in the cab and back of Pancho, the rest in Bryens loaner car, we hauled them down to his shop across from the beach.

The kids were very quiet until we could see the beach....... giggles and chatter all around, followed by 'Yeas' when we opened the doors!

Sergio and Bryen gave the kids a quick lesson, but for most of them it was great to just get in the water. The big kids quickly got the hang of SUPping, and started giving rides. The little ones just enjoyed pushing, pulling or being pushed or pulled on one in the shallow water.

The grins were contagious and non stop.

Just as some of the little ones were starting to shiver and teeth chatter, Bryen's crew brought out 10 pizzas for everyone!

There were so many fun photos, that I've chosen a couple of dozen and placed them in our gallery. Just look to the right on your screen and click on the gallery section - Mama Benitas Kids at the Beach.

Wire woes...
Tom
07/15/2014, a lot of boats
Much of my time down here is spent digging around in somebody's boat, trying to figure out why something has quit working. Now, don't get me work, sometimes things just break, or wear out, but by far and away the biggest number of repairs I make have to do with faulty wiring. Corrosion, vibration, poorly done connections, and god forbid, the biggest problem of all BLACK ELECTRICIANS TAPE!!!

Boats by nature are just a bundle of wires waiting for something to go wrong. The are put away in the lowest, most cramped places, in one of the harshest environments you can, in an object that is nearly always in some degree of motion. Salt water in the air, constant motion, you have to do this right, or Mother Nature is gonna get you in the weakest link she can find, your wire connections.

Now thru my life I have had the chance to do, and learn a lot about wiring. I have built houses, restored Corvettes, worked on more cars that I car to try to add up, and well, a heck of a lot of boats. When it comes to the marine side of wiring, I was very lucky to have enrolled in a course at the university of Washington, that was being taught by Dick Trowbridge. What an eye opener!! Much was learned about various grades of wiring, components, installation, and what causes them to fail.

The bottom line was that if you make a proper, corrosion proof (or at least very resistant) connection, and control the vibration, you will go a long ways with very little trouble. Lots of zip ties, and various hangers to reduce or eliminate vibration and movement. Marine grade wire and connectors, Di-electric paste, shrink tube terminal fittings, all will lead towards the optimum electrical wiring you can obtain.

As you can see by the cover photo, there were a few things done poorly. First of all I am not a fan of electrical equipment that allows the user to just plug a piece of raw wire right into the connection, and hope it never fails, pulls out or corrodes. The above is a 40 Amp battery charger, that failed due to corrosion more than anything else, but with that many raw, unprotected wires just hanging out there, what would you expect? In this case, there was significant corrosion on the connection to the positive terminal for the house bank of batteries. The corrosion caused enough heat to actually melt the connection, and cause irreparable damage to the entire unit, not to mention a possible fire hazard. The #2 bank wires were very close to as bad, and the negative wire has more wire outside the connection than in it. This also adds the chance of a short that could happen with anything that crosses those wires. Yup...just a whole Lota bad going on here.

So, lets be careful out there, good luck and happy wiring...

Leaping lizards!!
Tom
07/07/2014, El Magote, La Paz, Mexico
Well, so they weren't leaping but we sure had fun watching them run around, pose and just look cool.

Actually the day started out with us finally taking a full day off! We loaded up Pancho The truck and headed north, looking for a place to do some snorkelling and spend the day just chilling. We found a great spot to snorkel near San Juan de La Costa, about 50 miles north of La Paz. We then set up a small camp had lunch and a very short nap.

It was time to move....but where to go? We wanted to explore a new area, so we decided to drive down the spit that forms the Magote, the long bit of land across the bay from down town La Paz. This is where there is a small group of condos, some done, some in various states of completion. The standard way of getting there is by small little boat ferries that run from the down town La Paz area, over to a dock on the other side. We had been told that it was about a 55-60 mile trip by land from La Paz, north to the turn off, and then back south again to the end of the spit, or Magote.

Well, lets just say we now know why nobody drives it....the road is, well, in order to keep the story "G" rated, I will say it is in very bad shape. For those of you that have driven on wash board gravel roads, imagine 6"-8" washboards, for 14 kilometres....then throw in a few small wash outs, some standing water, and a couple of realm soft spots that have caused almost a sink hole and you have an idea.

But, like every cloud, there was a silver lining....LIZARDS, a lot of them. Now most people would probably have a little less enthusiasm about a bunch of iguanas, and lizards, but we had so much fun shooting (with cameras) that we forgot about how bad the road actually was.

As you can see on the cover photo, we got to see some Coastal Horned Lizards (Phrynosoma coronatum). There are three basic Horned Lizards in the Baja, the Desert, the Coastal and the Regal Horned lizards. We did not see any of the other two, but it was great to see these horny little devils.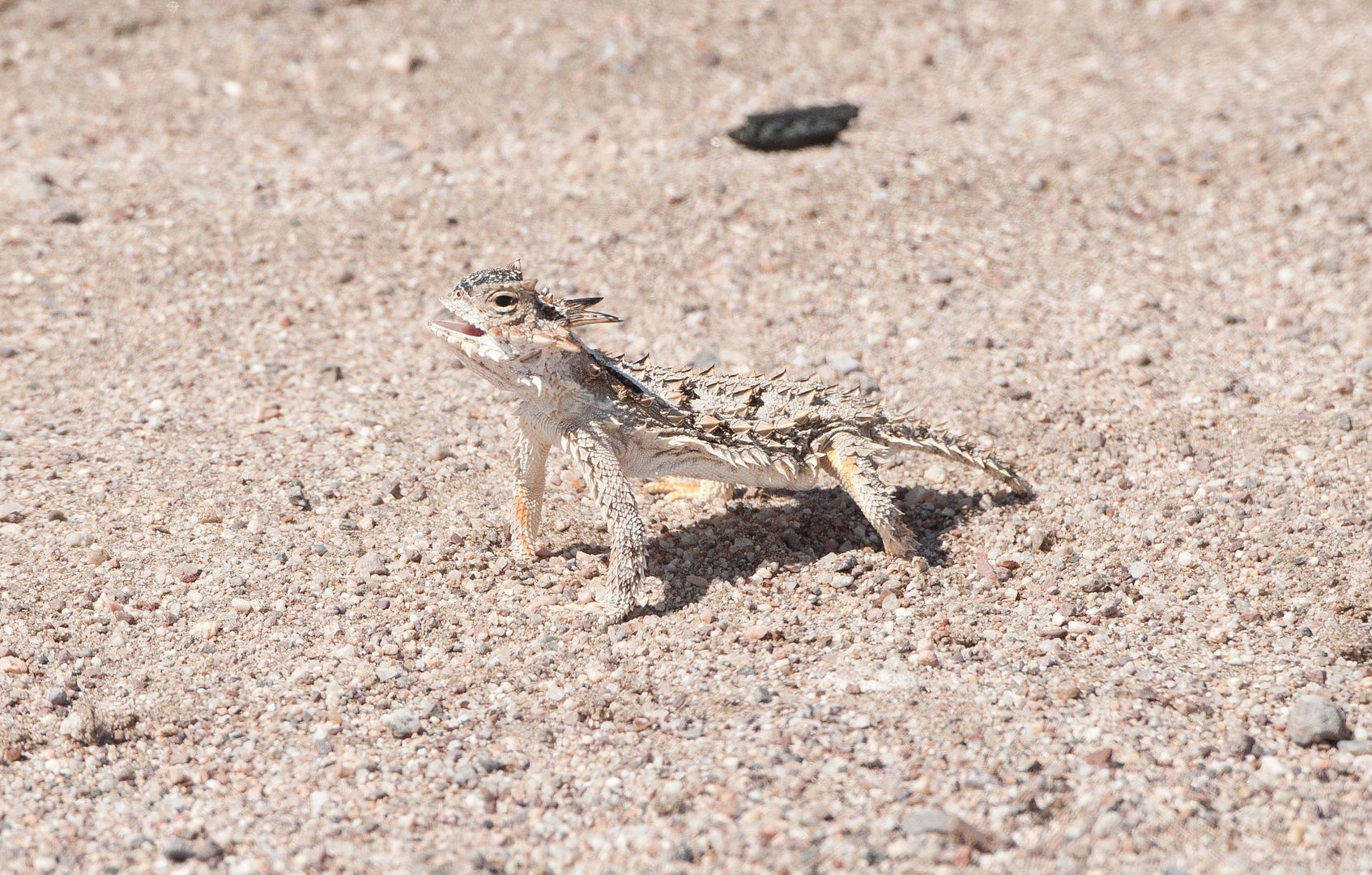 We also got a kick out of the Desert Iguanas (Diposaurus dorsalis). They have a very wide range of colors and patterns all the same species, in the same area....they sat on rocks, the ran in the sand and even climbed the bushes for a better view. All of the following are the same species, and all with in a 5 kilometre area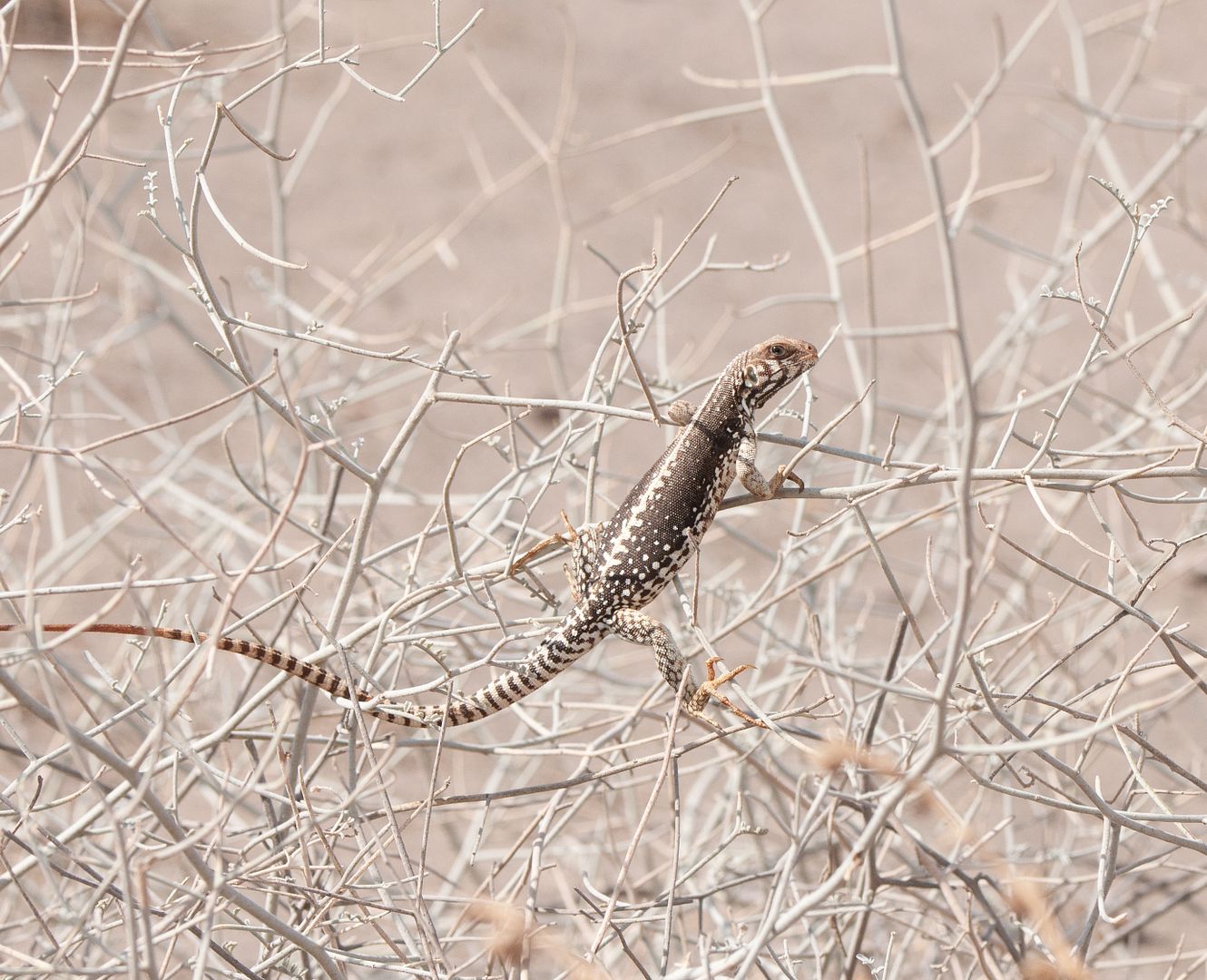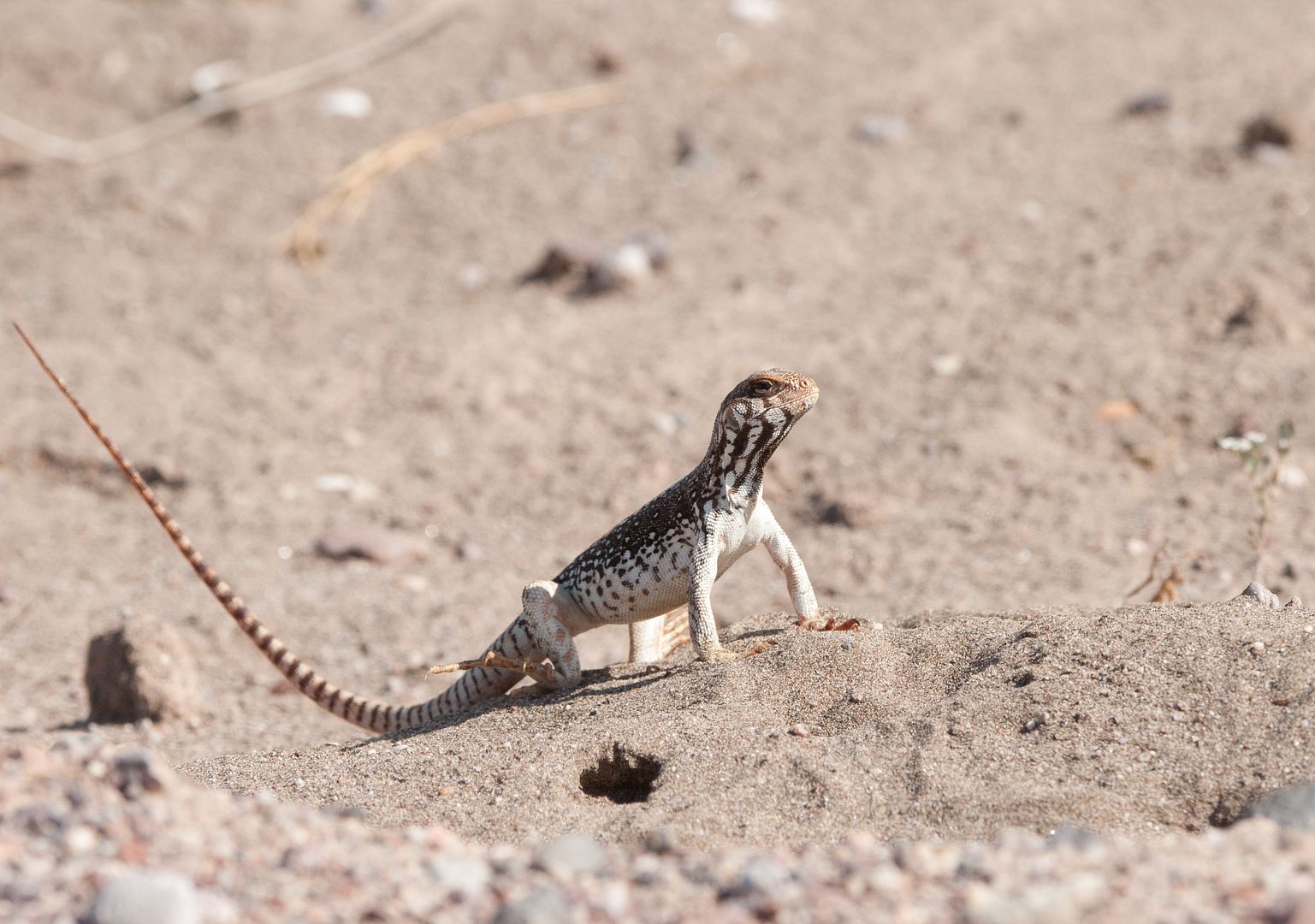 The third lizard we got to see was the smaller, and much faster, Zebra Tailed Lizard (Callisaurus draconoides). These also have a very wide variety of patterns and colors. I have been shooting photos for them for a couple of years now, with the idea that they were different kinds...nope, all Zebra Tailed...some lighter, some darker, some with a blue patch on the belly, some with a couple of black spots...and much like the birds, the males get all the fun color. The females tend to be much more muted in their markings, as seen in the second picture






I am sure that Lizards are not everybody's cup 'o tea, but they turned a long bumpy drive, which we were not able to complete due to a closed, locked gate that nobody had mentioned, into the fun afternoon chasing these very beautiful creatures around the desert.

We're still here..
Jeanne
07/02/2014
We haven't fallen down and can't get up, nor have we stepped into the deep end of the pool! We have, however, been taking advantage of the pool here at Palmira, and an occasional happy hour adult beverage before 6pm. It's usually a run to the boat about 5:40, pull on dry swim suits over a damp, sticky body and run down the dock and malecon to the pool, just getting our drink order in before 6pm!

We've been super busy. We've got a full compliment of boats that we're managing for the season, so preparations to make sure they're ready for any storm are underway. Most are ready to go.

We've been cleaning and reorganizing the store and we will post more detail and photos about what we've done in a few days.

It's been in the 100's or high 90's most days. Usually we have a nice breeze during the day and a bit stronger wind at night just about sunset. There have been a couple of days where we've had NO wind - day or night! Ugghh.
We're very glad we 'caved' this year and bought a small air conditioner for the boat. It's very nice to turn it on a few minutes before going to bed.

We've watched a few storms develop and raise our anxiety levels. We've then watched them fizzle out - just the way we like them. The past few days, we've gotten clouds, and a few thunderstorms and RAIN, all gifts of Tropical storm Douglas sitting out in the Pacific. Of course, with the clouds and rain we've got a big increase in our humidity...... hot and sticky, and we're not talking sticky buns from Cinnabon!

So, we're still alive, well and getting ready to join our fellow cruisers and other ex pats on the beach at Pichilingue on Friday for a CAN/AM/Bastille day party, fiesta, close the store and go play at the beach day! BBQ, friends and s'mores!
I'm ready!

You can never trust a wingnut!
Jeanne
06/24/2014, La Paz
Boat projects: You gotta love them - or not.

If you own a boat I'm sure you can relate to our tale. If you're thinking about owning a boat, think again, and again!

For several months now, we've put up with decreasing water pressure in the galley sink. The faucet or some part of it wasn't working right. It had been taken apart, a new filter put in the on/off lever and all systems cleaned. It still didn't work right.

We finally picked up a new faucet while out and about the other day. This one is not of the same quality as the last one we had. The cost of Price-fister here is pretty dear. So, after looking at the new one sitting in its box for over a week, I decided that I would switch them out.

Now Sundays are our 'day off'..... Uh huh! This one started with Tom getting up at 6am to get the parking lot set up for a swap meet in our marina parking lot. Finally about 1 I got down to the boat with a bag of tools and set about my project.

First of all, the stuff on the two shelves gets set aside and the door to the cabinet is removed. I never did say this was a 'quick, easy fix'. That's a sure way to double or triple the time and energy involved!

Then I start disassembling the old system. It went pretty well until I tried to get the actual faucet off and needed both hands and my head under the sink, but another set of hands up on top to turn the faucet while I held the part below. Time to get Tom involved. Yadda, yadda yadda... ok that part is removed, along with the sprayer and the handle.

Great, we'll just set the new one in place....... Not so fast. The wingnut that attaches the fixture to the counter won't go on one side..... there's this piece of half round corner molding that supports the top counter that's in the way. Unfortunately, it's located up in the back, way behind the sink, and of course, totally hidden to any light or eyeballs. Ok, step back...... it's 3:45. The USA game with Portugal is about to happen, let's go take a break.....go USA

7:00 back on the boat. We find that our boat workers must have been off watching the game also, because the job is still not finished......
Tom made a trip up to the store - ours, for more tools, more stuff. He made at least 5 trips.

He tried the Fein Multimaster. Not being able to actually see what you're cutting on was a real issue. Now what. We can't reinstall the old system, a couple of lines were cut just to get it out. Have to keep moving forward. Remove the sink.

Well, that was definitely easier said than done. Back in Seattle we had upgraded the counters and fixtures. We must have been concerned about water getting under the edge of the sink, or concerned about the loss of a half tube of caulking fi we didn't use it all. We had used a ton of caulk... the damn sink didn't want to come up - yes, we removed the little clamp of gizmos. Prying and cutting caulking... sweating and swearing, prying and cutting.... You get the idea. And it was 95 degrees and 50% humidity yesterday!
Finally, finally we got it out. ARGGGGHH!!!

Adjustments were made to the counter, the faucet installed the hoses hooked up.... Crap, broke a hose clamp.... Back to the store....... New hose clamp on, turn on the water pressure.... Small water feature - cracked fitting.... back to the store - have I mentioned we're glad it's our store and only about 500 yards away?

Got the water under control, tested and now we have pressure. Tape off the sink edge for the caulking, goop away, lay in the sink, hook the gizmos in place, gather the tools, clean up and put stuff away....... Job done 10:00 pm.

Having owned and lived aboard Eagle for going on 14 years now, I know not to 'jinx' the job or invite gremlins on board by saying how fast the job will go, or how easy it will be. I don't even THINK it. That's a sure fire way to double or triple the time and dollars involved.

This is the way of life on a boat, be it a project like this one or getting out goodies to make cookies. After all, I'll just whip up a batch of chocolate chip cookies is a sure fire way to get you to find you have weevils in all of your dry goods. Cookies? Forget cookies - I'm just going to go have a shot of rum and dream about cookies - it'll be cooler that way anyway!



More new boating families
Tom
06/23/2014, Dock #3, Marina Palmira
This seems to be the year a "migration" of sorts to dock #3 here in Palmira. First it was the Hummingbirds, and now we have a very cute family of English House Sparrows taking up residence in the boom of a sailboat near Eagle.

Most of the time we stuff socks or rags into those open holes to discourage the building of these little squatters looking for a waterfront condo.....but nobody was home on this boat, so they moved right in.

Seems like a tight fit but they sure do look happy!! For now I am calling them the "Boom Babies" so I will keep an eye on them and report any new news