fun stuff
Jeanne
03/05/2015
Still going through photos... here are a couple of favorites...
enjoy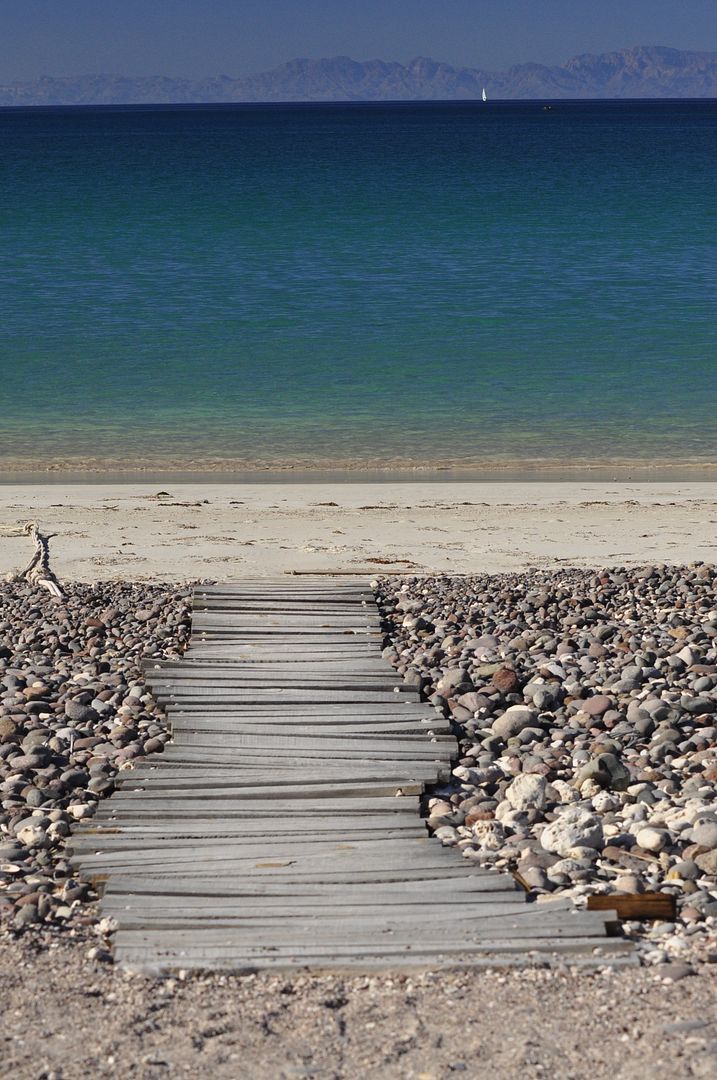 Where are you today?
Jeanne
03/03/2015, La Paz
I'm sitting here at the desk, in the store going through our photos trying to locate some particular images. We've just sold a dozen or more to a new neighbour in our building who will decorate his new office with them.
Nice! And then I get to go back through many hundreds, well, thousands of photos and discover just how poorly we've categorized, or not categorized our photos, as the case may be!
Anyway a lovely trip down memory lane........
Just one image for now, but where would you rather be?


Happy birthday to you....
Tom
02/19/2015, La Paz
Today is Jeanne's birthday!!! Yea yea....so rather than get her a card, I am making one up from a few photos from the last few years! They have been awesome! So, to my Best friend, Lover, and wife, I wish you a VERY HAPPY BIRTHDAY!!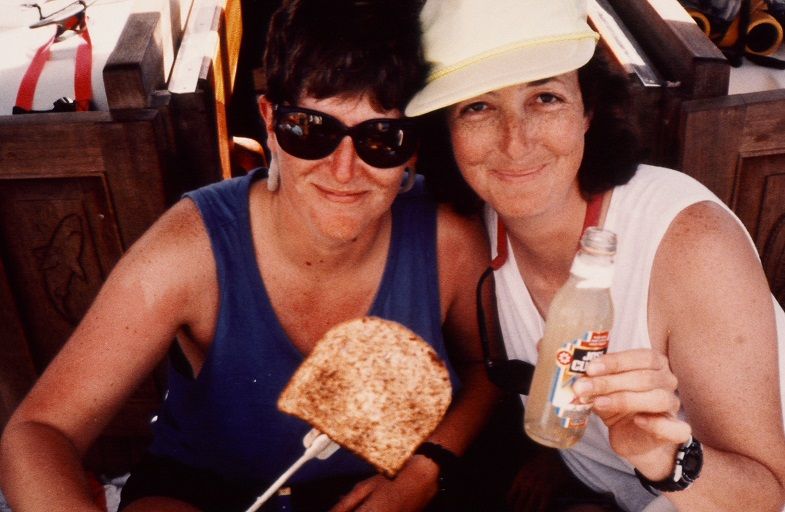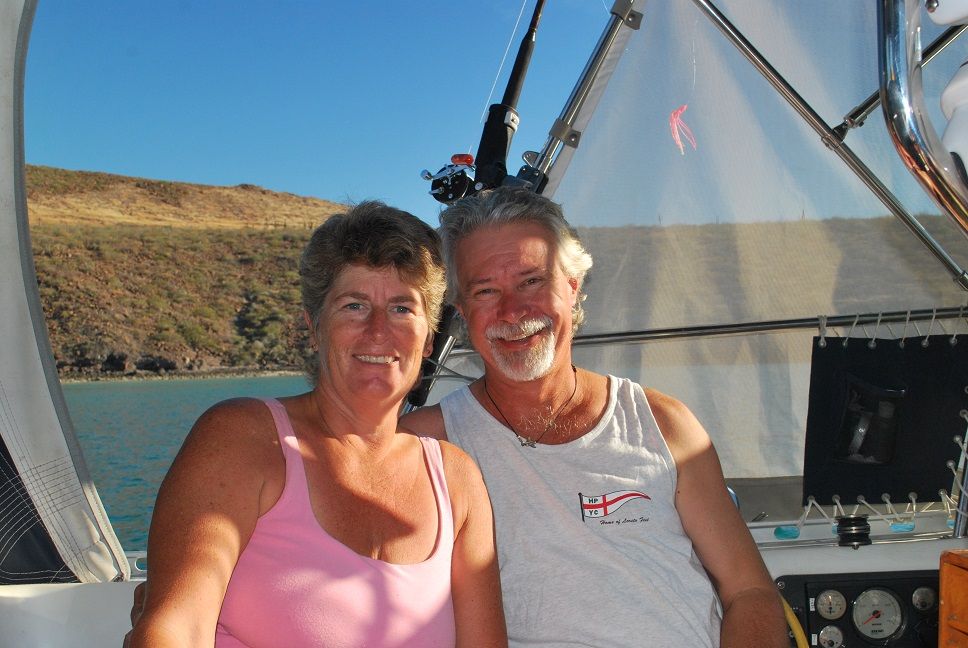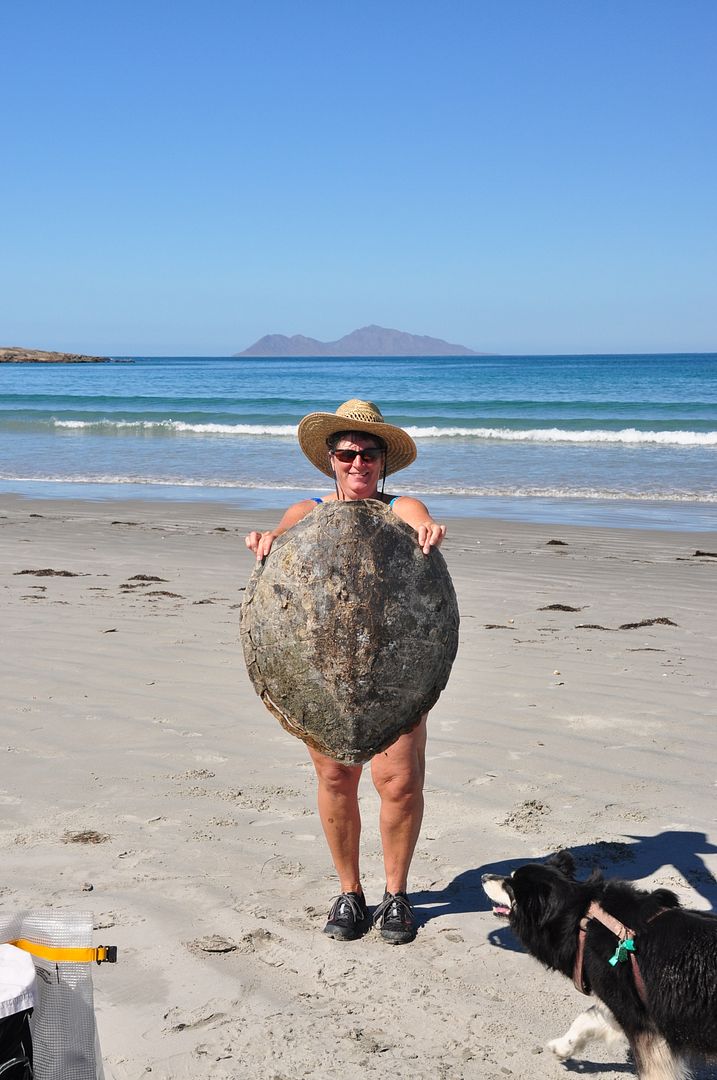 Happy Valentine's Dsay
Tom
02/14/2015, La Paz, BCS
Jeanne, lefty and I want to send out a big Happy valentine's day to every one!!

Marina Palmira had a "non-contact" kissing contest where all participants were to put on his or her favourite lip stick, pucker up...and kiss a piece of paper!!

Then the lip impressions would be voted on, and a winner will get a bottle of Champagne. And the winner is.......like it is a big surprise to me, since I kiss them lips all the time!! JEANNE!!!!!! Wooo Hooo!!


Out and About town
Jeanne
02/11/2015, La Paz area
Well, we're back from our trip to the Seattle boat show. We're basically back in full work mode and desiring to change that, we headed out of town on Sunday. Not too far out of town on the road to El Triunfo is a road sign that says "San Blas 30K". According to our Baja Almanac this road, unimproved connects with the road to La Ventana. Perfect for a day road trip. So with cameras and lunch packed we headed out.

We turned off of the highway and made a quick organizational stop. Before we'd gone 2 k, we'd been passed by at least 4 vehicles.... huh, so much for a quiet, untraveled dirt road! We explored little side roads and meandered along enjoining the day.

San Blas is home to a mission, or at least the sign designates it as such. It also seems to be a popular spot for Sunday afternoon picnics. Opting for a bit more remoteness, we choose to continue on and revisit the church another day.

We stopped here and there snapping photos along the way. At one pretty picturesque corner we stopped to look. Tom saw a bit of a ravine that with water would be pretty spectacular........thinking that I should look at it, he backed up.....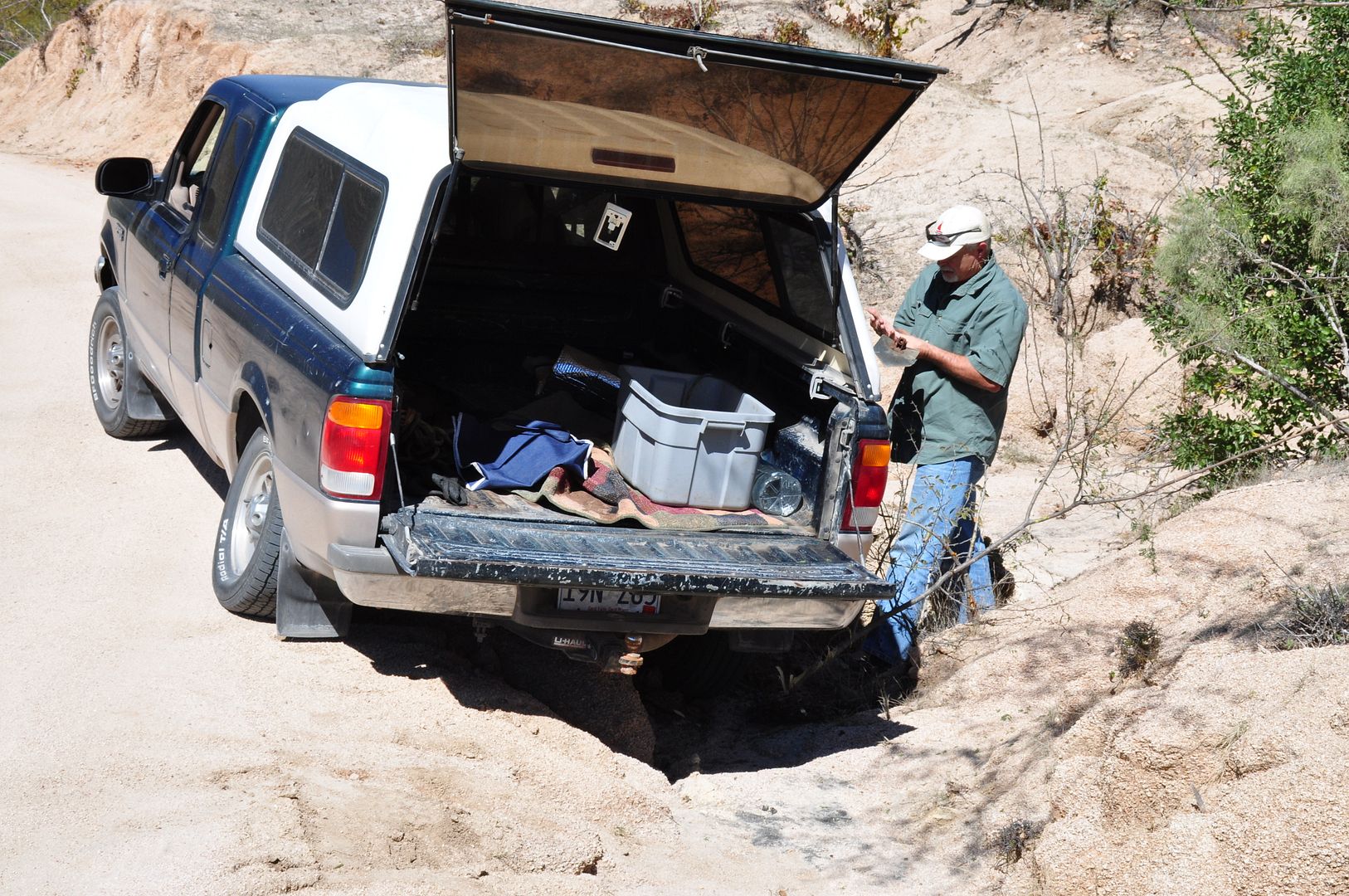 right into the ditch on the opposite side of the road. Uh, oh!
Ok, assess and evaluate, and plan our removal from this ditch. The truck was sitting on the differential and the right quarter panel. We weren't going anywhere in a real hurry!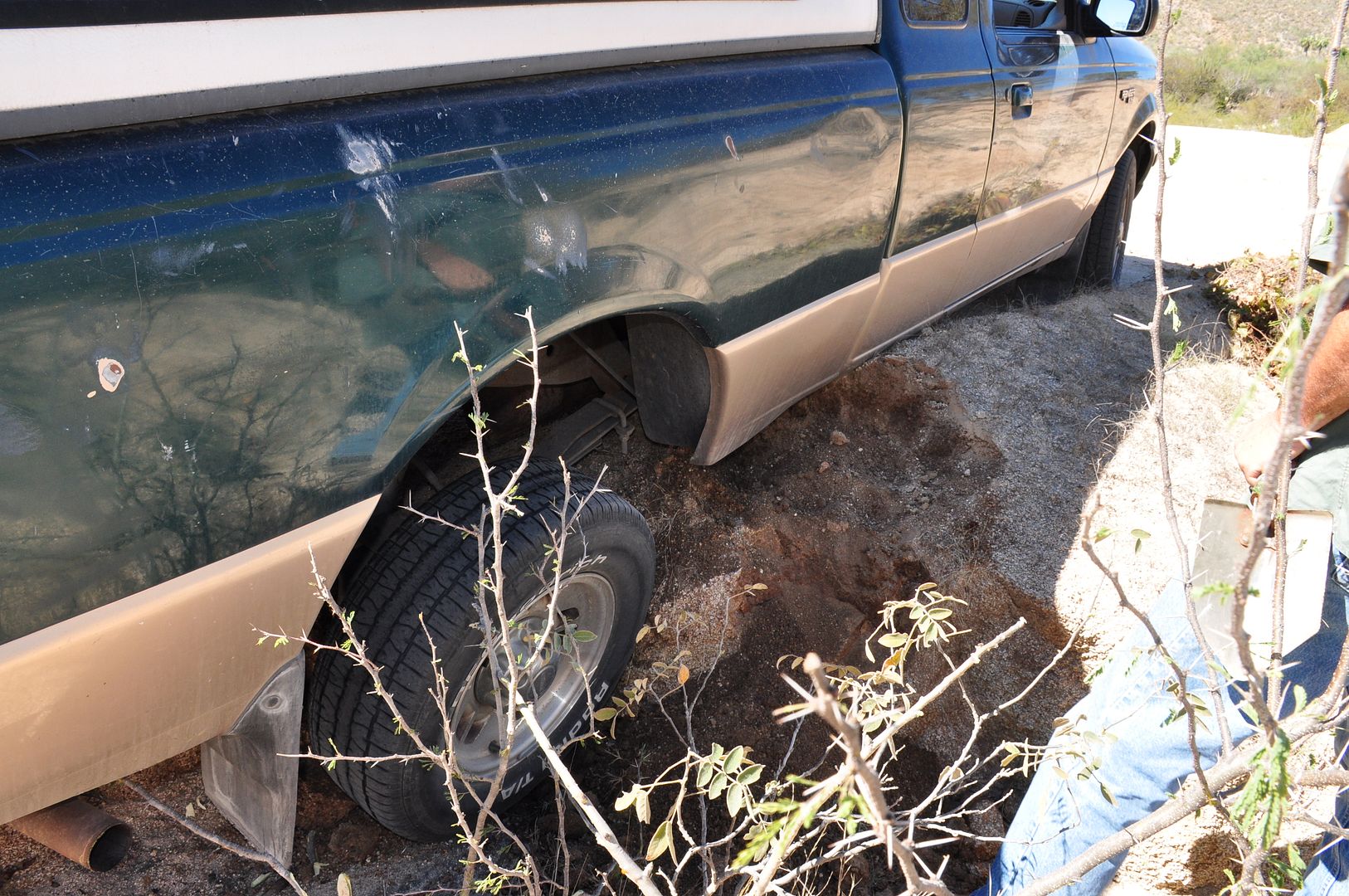 Of course, if one doesn't have photos, it didn't happen! Right? So, I went around documenting the 'event'. Meanwhile, Tom got out the emergency shovel and begun to dig us out. I inventoried the emergency box - found the length of 'tow' line- and assembled the flimsy little jack -then gathered rocks to put under the once jacked up wheel. We own a large floor jack - it's in Seattle! We'll now figure out a way to get it to Mexico. Road trip, anyone?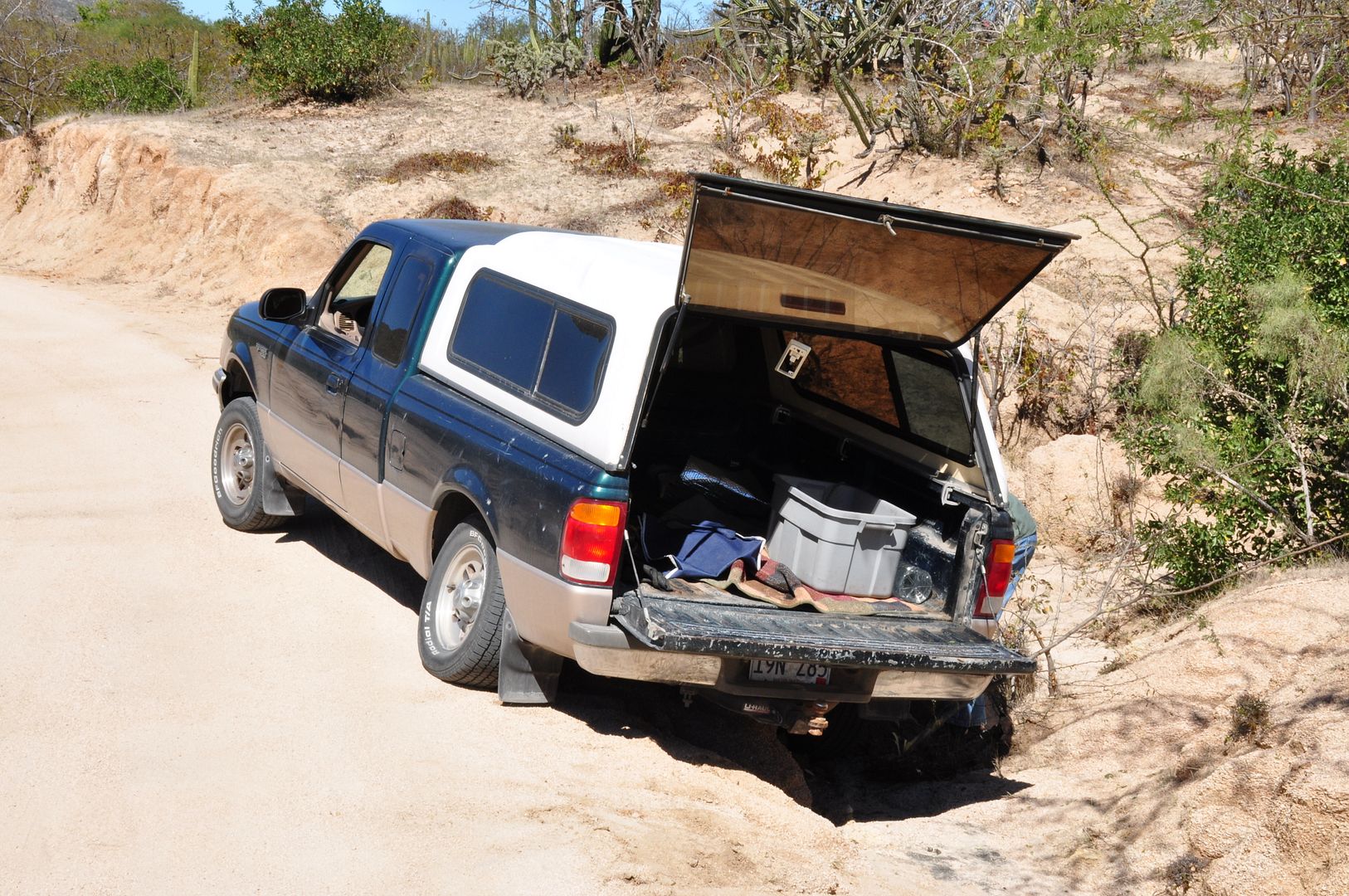 Later - 5 large rocks on my part and Tom sporting a shovel end blister right in the palm of his hand...... a truck with 4 cowboys and towing a large steer in a large trailer, followed by an Explorer with 6 cowboys inside came by. ( Hey, they all had the hats, buckles and boots!)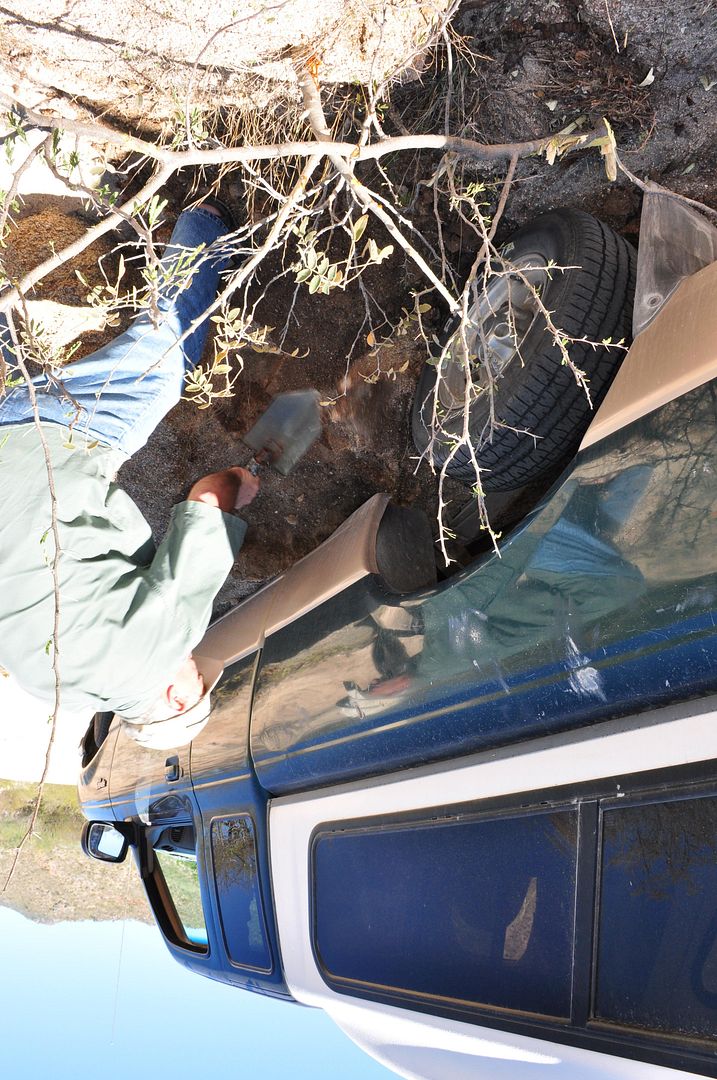 The truck and trailer passed, then stopped. The Explorer pulled up next to me and I asked if they'd help. If we had a 'line' they would. Tom continued to dig. I pulled our trailer hitch off Pancho, installed it on the Explorer and helped get the lines in place. Quickly grabbing the camera for some action shots, I stepped aside as Tom got behind the wheel of Pancho.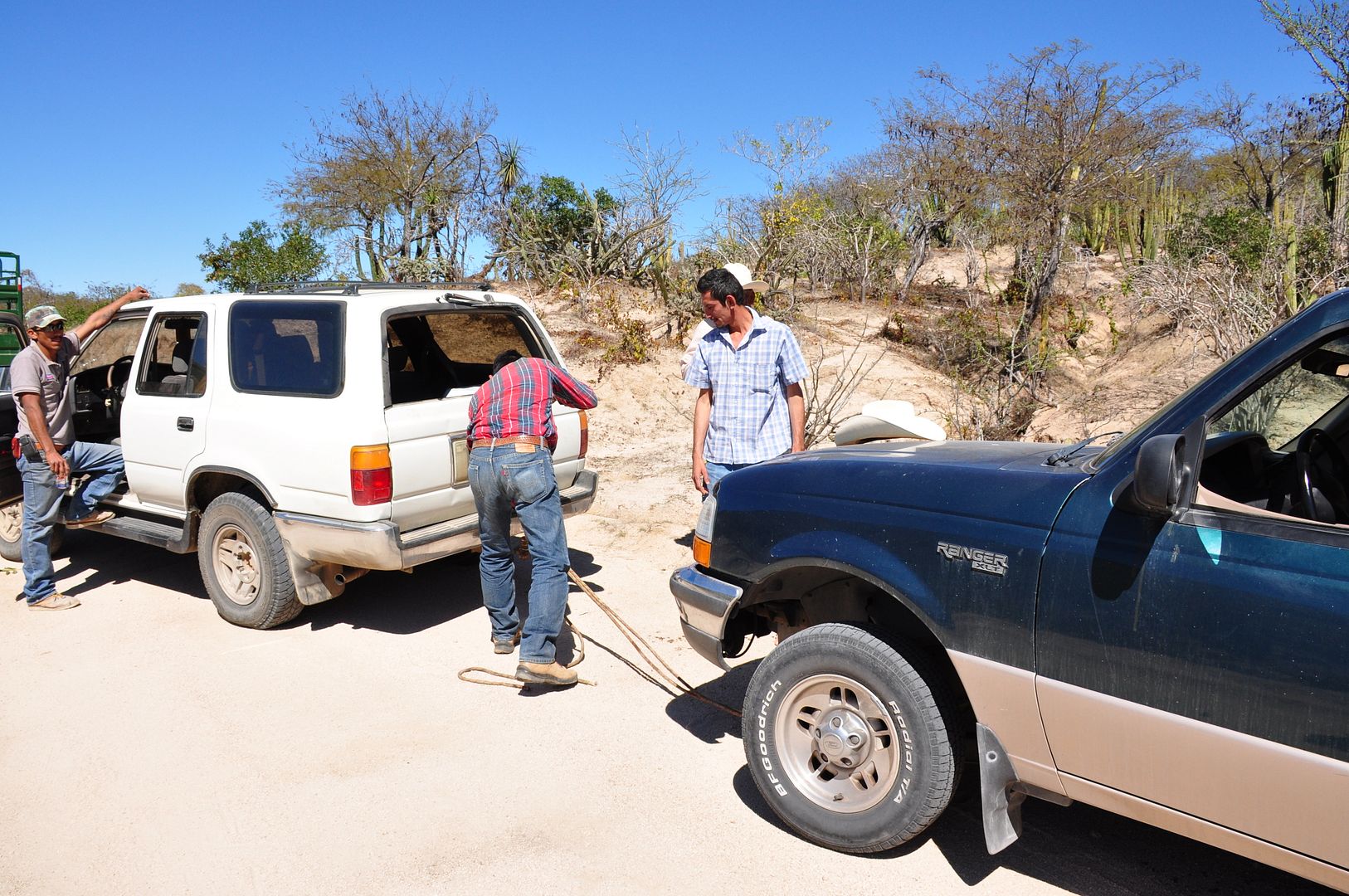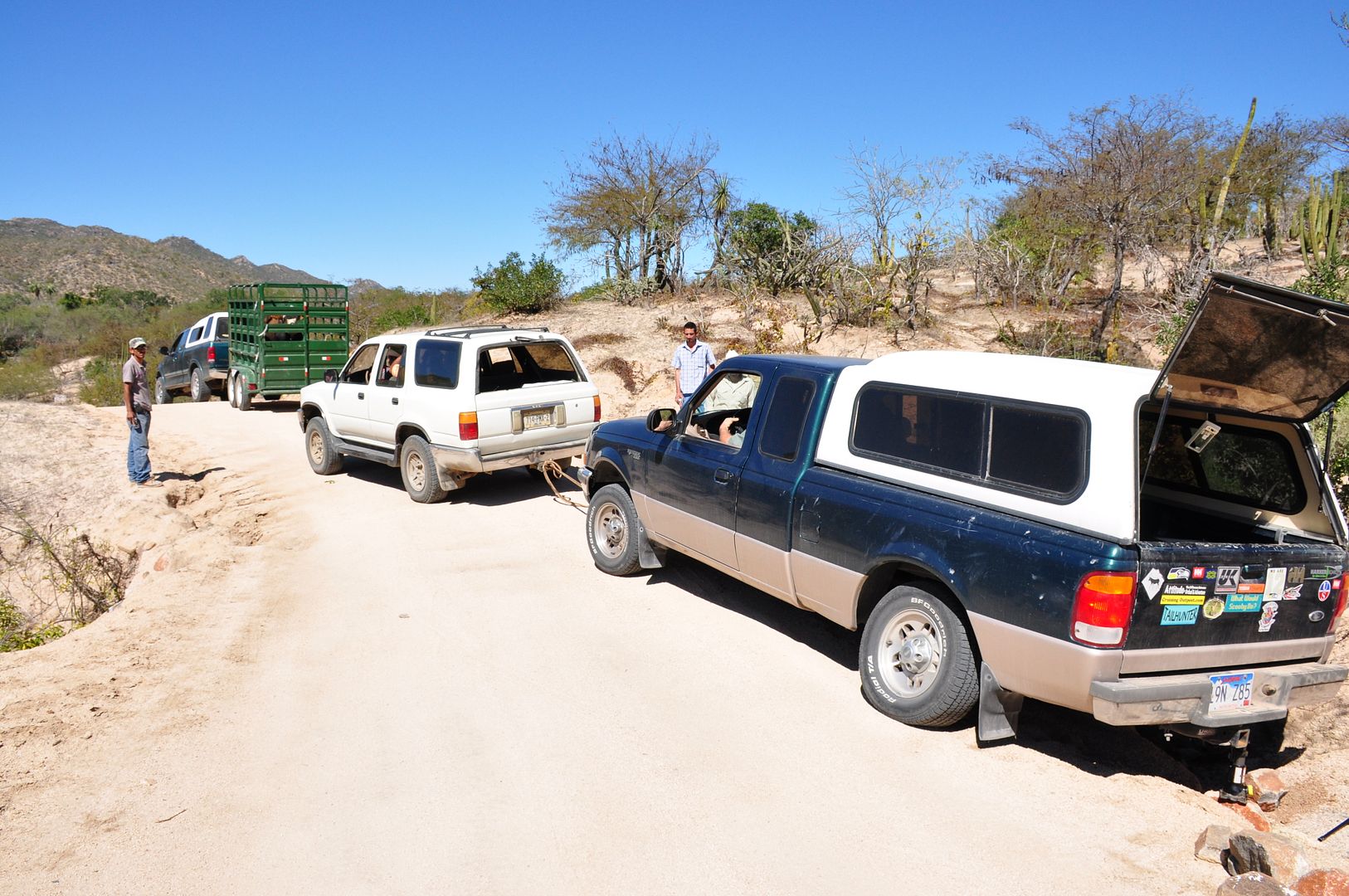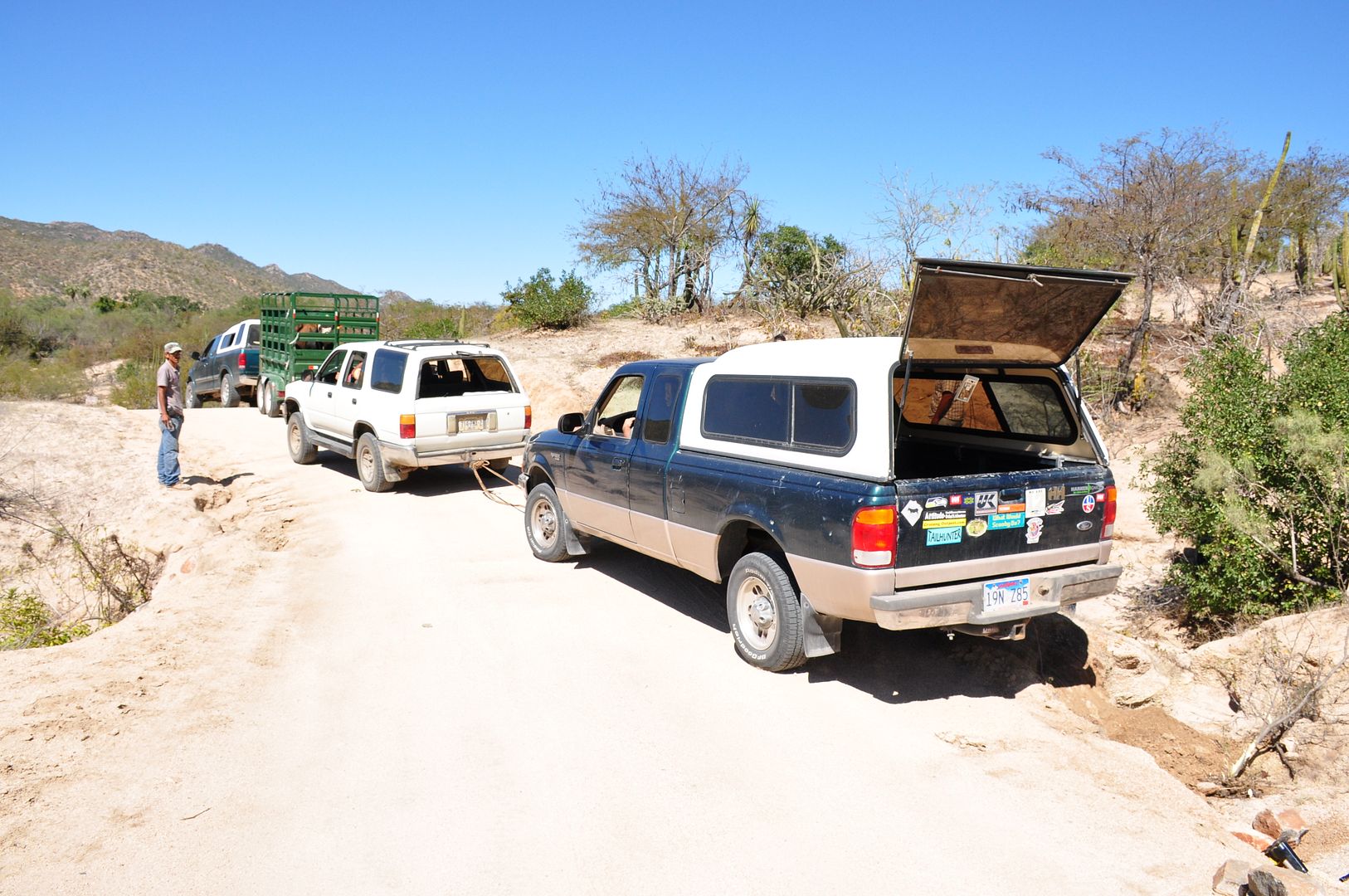 With so very little excitement, the truck was out!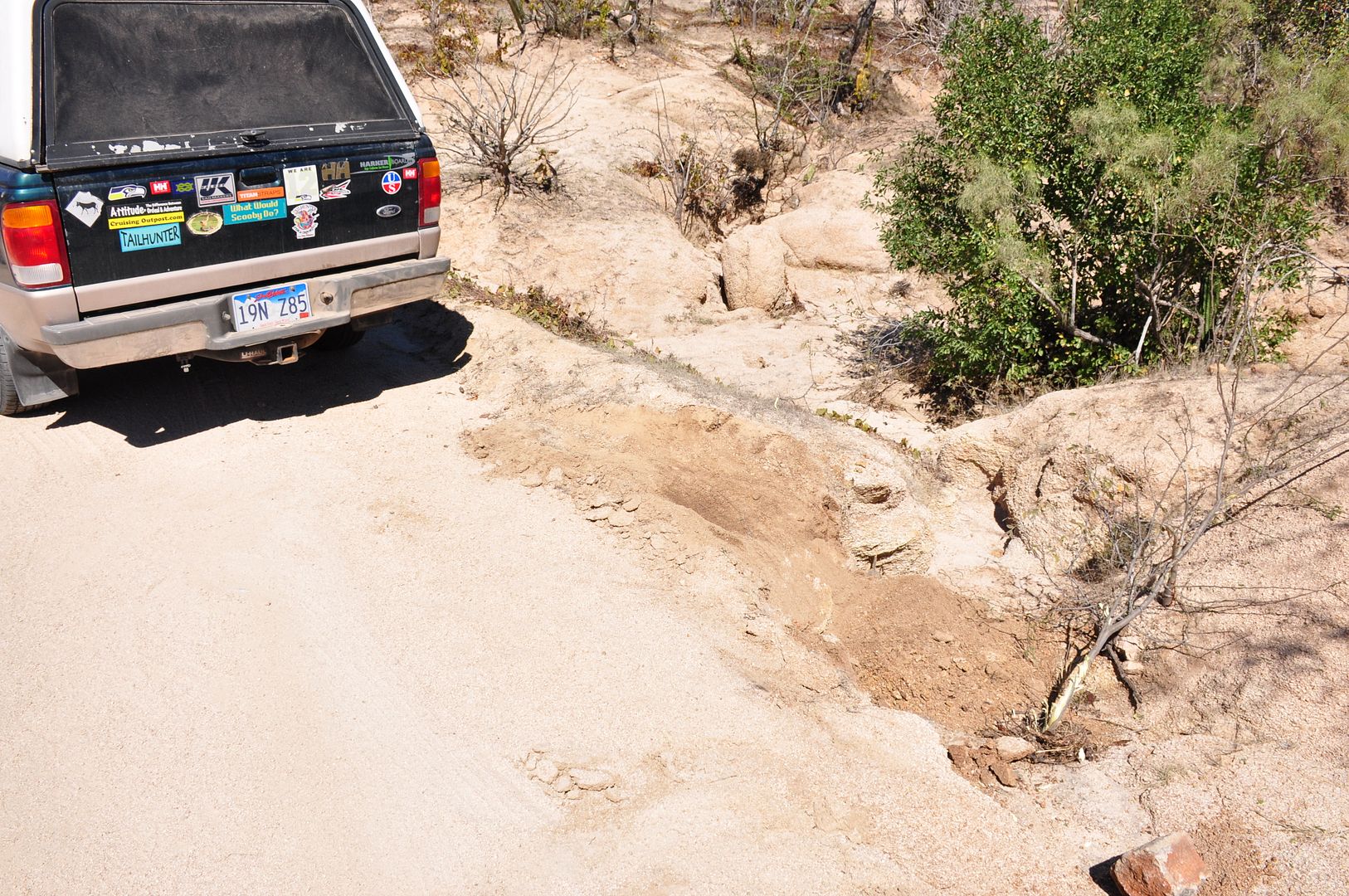 Pancho is fine. He's now sporting a small 'curl' in the quarter panel, and a story to tell!
Thanks to the heroes of the day we were able to continue on our expedition and they were gifted with some pesos for cervezas!

Mujeres en la cocina - Tamales #1
Jeanne from Seattle
01/28/2015, La Paz sent from Seattle
For those of you who have followed our blog, don't be confused by the next few posts. I'm in Seattle to attend the Seattle boat show, but I'm taking the opportunity to get caught up on stories from La Paz.



An anxious group of people gathered to try their hand at making traditional style tamales. Mariella hosted as well being our 'maestro'.

Her eager students were


Alice of MV Elegante, Cricket of SV Mystic Island,


Mike and Linda of MV Trinity Rose,


Nancy of SV Shindig,


John of SVTimepiece, 'Memo' ( Maymo) Mariella's oldes son, our back up interpreter, in case I couldn't do it, and me.



The fillings of carnitas en tomatillo salsa, pollo en mole, rajas con queso con salsa roja, and fresa con arandano rounded out our menu. These were accompanied by frijoles refritos, y chaporrada, a beverage made with masa.( Pork in tomatillo sauce, chicken in mole, peppers with cheese in salsa fresca, and strawberry and cranberry.)



We started off by making all the fillings and sauces. Everyone got to assist with the chopping, prepping and cooking.