John's on the job!
Jeanne and John
03/28/2015, Caribbean via La Paz
So for those of you who have followed our blog through the past year, you'll remember John and his unfortunate dinghy accident. The accident ultimately cost him his lower left leg. He's done a phenomenal job of getting back to the life he loves - being on the water on his boat Timepiece. He returned to La Paz in September. Not long after his return, we waved as he left the dock for some short day cruises, and a couple of overnighters.
Christmas and New Years came and went - a new year underway. It was time to take a closer look at what the accident really meant to his cruising budget. Since it pretty well wiped it out - time to get a job.
He agonized over having to fill out an application, spent several weeks 'researching', and finally found something that he thought would be a good fit.
The universe seemed to line things up just right for him..... he left La Paz on the 15th of February, for a week in Los Angeles.... and now - John's story!


"It's time to update everyone on my new adventure...working....on a cruise ship....not a bad gig!

So I officially started Feb. 24th and spent two weeks in Miami, FL for training in the corporate office. Then on March 8th I joined the Royal Caribbean 'Independence of the Seas' as the Compliance Officer. This is a new position for Royal Caribbean and I was the second hired in the fleet. Onboard I was introduced to the ship's executive team by both of my shoreside bosses, which help show the importance of the new position. I have been made very welcome onboard by the Captain and other management personnel. One of the delays was getting my computer setup, turned out to be a shoreside issue and finally after two weeks I'm online. Online really means I have access to the company's intranet and limited access to the internet, so my email is very slooow....pre-dial up!

OK, life onboard.....

I have a nice cabin with an ocean view, tv, refrig, it will sleep four, and I don't have to clean it!....basically the same size as 'Time Piece'. I have full run to the ship with access cards and keys, semi-private office, eat at any of the restaurants, and my laundry is done for me. I guess there is something to be said about having three stripes and reporting directly to the Captain.

My work schedule varies every day, which keeps it interesting. I respond to all guest injuries and investigate as required. I am visible to the guests as I walk around and talk with them, mainly in the evenings. The Captain likes that I do my walk arounds since most of our guests are from the USA or Canada and I'm the only USA Officer onboard.
The Captain requests that I'm on the bridge for all departures and arrivals. He asks for my review of the bridge team and the evolution. Now you also need to know that the Captain has only ever worked for Royal Caribbean since he was eighteen and has worked his way up to Captain; he is thirty-nine years old. Matter of fact, only the Staff Captain is older than me on the bridge team, but they are very capable. The Captain knows that I have my USCG Masters license, but even though it is a 100 ton rating that doesn't matter, it's a Masters License and that was how he introduced my to the bridge team as holding a Masters License....but believe me I don't try to pretend I know more....this is the worlds sixth largest cruise ship! So when it comes to the bridge team I'm in a very cool position, I get to observe and learn, plus give feedback. I met privately with the Captain everyday at 17:30 and the meeting lasts from as short as thirty minutes to as long as five hours. He is very interested it what I have to offer him and the ship in terms of bring it to the next level with regards to injury prevention, bridge resource management, and in other areas of operation.

The other part of the job, which isn't as fun, is reading manuals and policies so I can know them and improve those that really need revisions.

So even in my short two weeks onboard I've started to impact the ship in a positive way, made a couple small changes that so far have paid back well. The staff and crew seem glad to have me onboard. All my socializing is done in public areas or with Officers and some staff, which is fine since then I can go hide in my cabin and play ukulele.

So that's my brief update on how it is going. And since I need to work now, this is a cool gig! Heck I've already logged aprox. 5,000 sea miles, circumnavigated Cuba twice and seen some nice places in the Caribbean.

Cheers!
John "


Photo:
On the Bridge for an arrival into Grand Cayman.


Kids at the beach… March
Jeanne
03/25/2015, La Playa - the beach
Previously in several blog posts, you've read about my involvement with Mama Benita's shelter for women and children. It's still going strong and better than ever. There have been some good changes and remodeling done at the house, and more help and assistance is arriving all of the time. The kids are all healthy, happy most of the time and a joy to be around.


Our time spent on the beach with the kids and Harker Stand up Paddleboards has been a great success from all participants point of view. Bryon Harker has offered to have the kids to the beach to play and provide them with a meal each month! So, off to the beach we went!

My crew of drivers, observers, kid wranglers, ball chaser and all around helping hands agreed to help. The kids were delivered to the beach late morning, and given a quick safety and gear lesson before being turned loose in the water.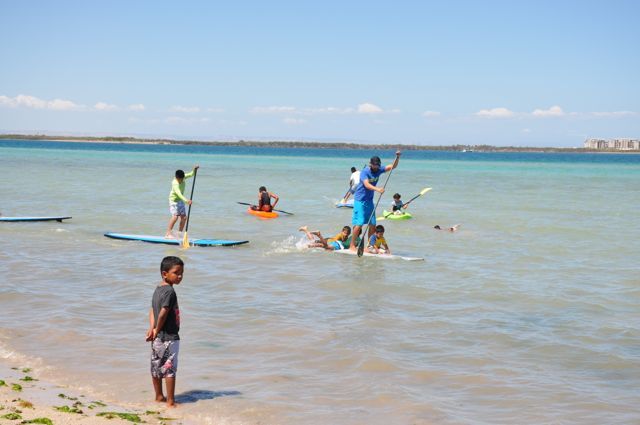 Diego was a bit apprehensive




Chapa came to assist




Sergio is on the Mexican Pro SUP team and uses the wiggling kids as a practice tool!



Estrella - 10 and Ester- 3 yrs old



Ricardo, Ester and Estrella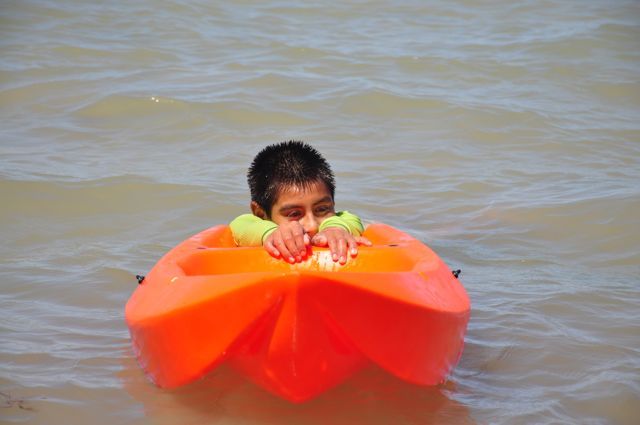 Eliseo chills out.



Josué - (Ho sway) took a big jump off the board... into 8 " of water!


As the teeth chattering began, we headed to the beach for some shore side games organized by Anthony and his wife, Karlene. The water ballon toss and throw was a fun one.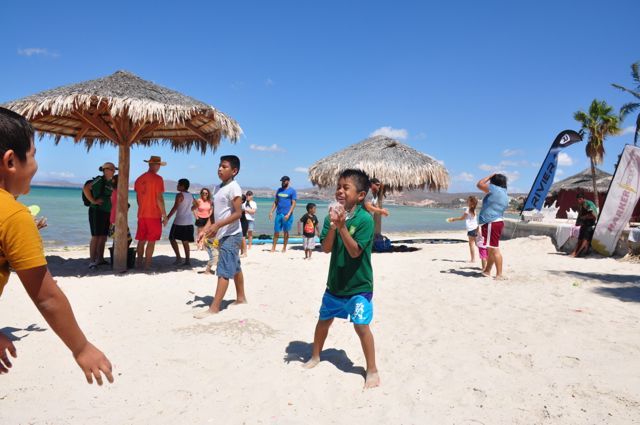 Passing the balloon relay style with out hands - sin manos -was challenging!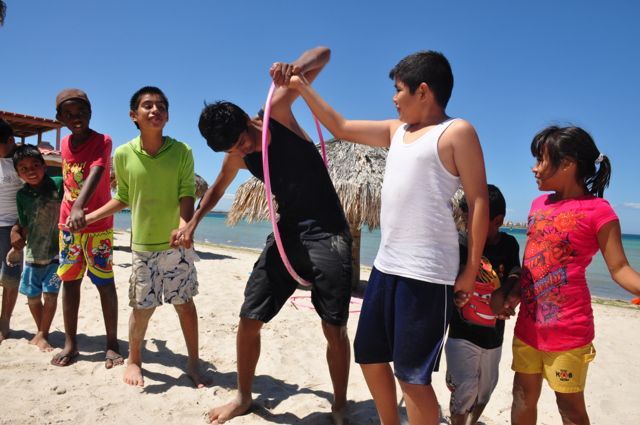 The trick to this is to keep your hands linked and pass the hula hoop down the line - no letting go of hands! The organizer of the game let them try it a time or two before he told them the secret... let the first one through then double back and hold the hula hoop for everyone!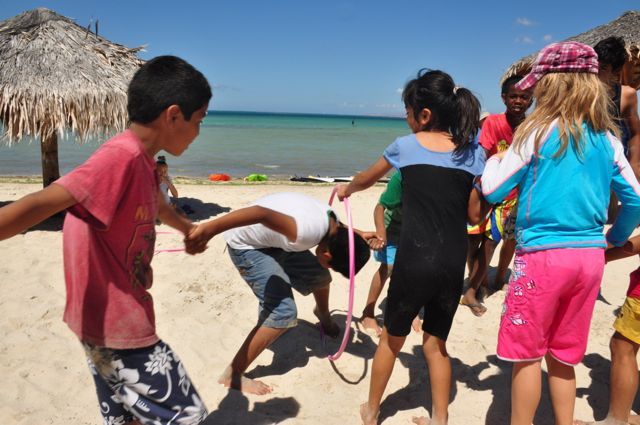 Some soccer is always good...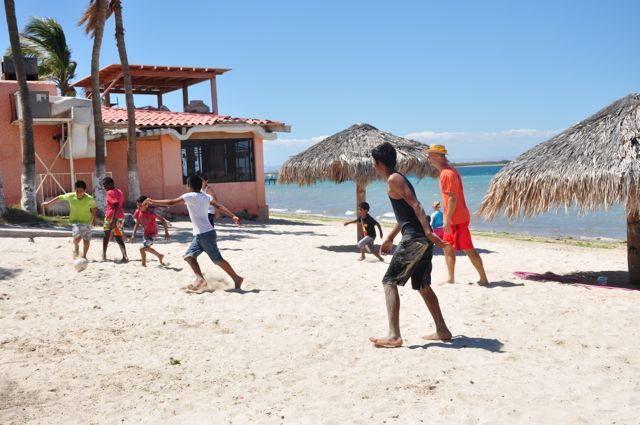 And even some American style football.
Complete with tackles and pig piles!


If football isn't your thing, there's always playing in the sand!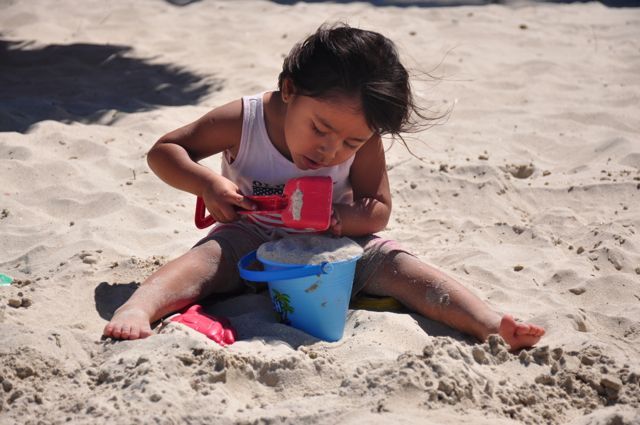 Or multiple hula hoops!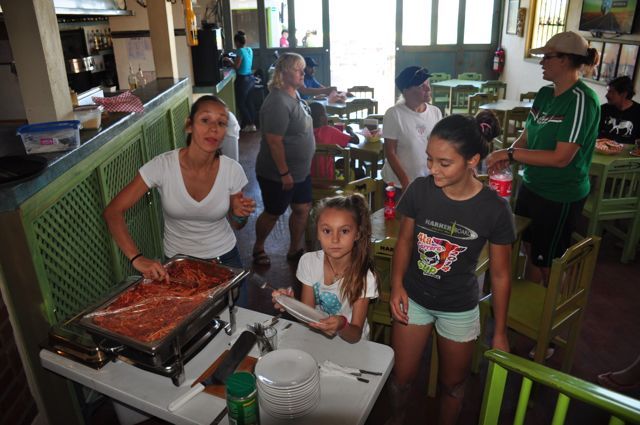 Of course then the food!

Thanks to every one that helped play on the beach, especially the Harker family for their time, toys and great spaghetti!


Summer weather - early
Jeanne
03/18/2015, La Paz area
Monday afternoon we experienced our first thunderstorm/ chubasco! It's mid March - a couple of months too early. We had about an hour of thunder and some pretty impressive lightning, followed by about 40 minutes of light to heavy rain. Hmm.....
Let's keep all 'our' fingers crossed that this season is a kind one to those of us living here in La Paz!

Mujeres en la cocina - Pozole
Jeanne
03/16/2015, La Paz area
It's about time! Mareilla is back from Los Cabos. We're back from Seattle. NO more excuses! We've got people who want to cook together.

The menu this time revolved around cookies and the fact that we had to postpone a cookie session before Christmas. Hmm... what goes with cookies that we can prepare ahead while we mess in and around the oven with the cookies? Pozole sounded like a good option. It could just sit on top of the stove and simmer away.


Mariella and Olivia were our instructors for the Pozole, hosted by Olivia in her newly painted house! I made a spinach salad, with warm bacon dressing and for desert, Sharon of SV Between 'da Sheets did coconut macaroons, Cricket of SV Mystic Island did Chocolate chip, oatmeal, cranberry cookies, and I made the family lemon bar recipe.



Our other participants were Ron, Cricket's husband, Brian - (BB), and Brian, (BJ), friends who are spending a year or so here totally remodeling/redoing a classic Cris Craft yacht. More on that project later!

Each of us prepared our recipes in Spanish and printed out copies for all. We tried to talk spanish the entire day, and for the most part we did ok!
Sharon's husband Rick, Tom and a couple of others joined us later for the meal.

We were planning on 20 people. Olivia purchased the pork for the Pozole, including the traditional pigs feet and neck bones. We all agreed to that, but nixed the 'parts'!


Into a large stockpot went the pork, a roughly chopped onion, a couple of bay leaves and several garlic cloves. Turned on high to bring the heat up, then it simmered for several hours.


Meanwhile, we seeded and stemmed guajillo, ancho, and pasilla chilis. They were rinsed then placed in another stockpot with water, garlic cloves and onions. Heated up to boiling, then reduced and cooked until the peppers were soft. They were then placed into the liquadora with some vinegar, salt and liquid from the peppers. This was then strained to remove any 'bits' and then added to the pork stock. Several batches were blended and all was added.


In a separate pan we added several tomatoes, quartered, 8 or so garlic cloves, a rough chopped onion and more dried peppers - cascabel and chile de arbol.


Simmered until the peppers were soft and the tomatoes were splitting, this was also blended in the liquadora, then set aside. This is the salsa for adding to the Pozole - for your own personal heat!


After the pork had cooked for about 4 hours with the chili mixture, the meat was removed and deboned, then shredded and returned to the pot. A large can of hominy was drained, rinsed, and then added. It continued to simmer.


As the Gringo Contingent provided the cookie lesson of our day, we choose to make cookies or at least use ingredients that were locally sourced. No sense in showing our friends a yummy cookie that came from ingredients dug out of the bilge and only available at Trader Joes or Whole Foods.


Reading the recipes.


checking out the pozole


Sharon shreds the deboned pork.

Pozole Part 2
03/16/2015
Pozole and Cookies continued....



What would a 'mujeres' cooking event be without some dancing... Olivia gives BJ a very serious lesson.


speaking of steps....

Since the lemon bars are multi steps; a baked crust, a baked filling and then icing on the top, they were started first.

I don't normally buy lemons down here. They're first of all hard to find, then, they've never seemed as 'bright' in flavor as the limes, or limóns. I should have gone with the limes. I did find some at a regular shopping spot. I also use real butter, and only one or two of the local markets actually carry American style butter. This is not a compromise on my part. I've attempted some things with Mexican butter and it's not the same. Especially trying to brown it - it just doesn't brown. So no go with local butter on this one.


BJ helped with spreading the bottom crust and I learned that he's not fond of 'playing' with his food!


After BJ got over the 'ice' factor of spreading the crust, and the dance lesson... it was time for a nap!

Powdered sugar, flour and butter make up the crust. 20 minutes in the oven then a layer of eggs, lemon juice and zest, some baking powder and a tiny bit of flour are added and baked for another 25. It's all topped with a powdered sugar, melted butter and milk icing. The cookies were good - but needed more lemon or lime flavor to offset the sugar! They didn't get thrown away, but just weren't up to Grandma's standards.



Olivia, BJ, Brian and Sharon toast the day with 'ron con cocas'!



Cricket then started her Chocolate chip, cranberry, oatmeal cookies. She used an ice cream scoop for the first batch, and ended up with one big cookie on the sheet!


No one had any trouble eating them! They were on a plate and gone in 10 minutes! She regrouped, added a bit more flour and came out with perfectly formed cookies. She was a happier camper!



Sharon had presented me with a plate of her 2 ingredient coconut macaroons for my birthday. Easy and quick with locally sourced ingredients - they were perfect to round out our day! Sweetened condensed milk and shredded, sweetened coconut are all that is needed. We were able to get American style coconut at a local market. But we may try this recipe with local style - it's not quite so moist and I don't think it's sweetened. With the sugar in the condensed milk, not having sweetened coconut might go unnoticed!


She mixes the coconut and condensed milk in a big bowl. BJ, even though he's not fond of handling his food had agreed to mix these cookies by hand - the easiest way. Sharon got it done and placed big spoonfuls onto the cookie sheet. They're baked for about 10 minutes in a 425 oven. She had trouble getting hers off of the sheets - they kept sticking to the trays. We didn't have any trouble eating hers either!



With the cookies out of the way, Brian cooked up the bacon he so patiently chopped, preparing it for the spinach salad. Mariella and I stemmed three bags of spinach and sliced some mushrooms and one half red onion. We added 4 sliced, hard-boiled eggs, some grated cheese and some pepitas - pumpkin seeds in place of not located sunflower seeds.

We drained off most of the bacon fat, reserving some. To the rest, and in the same pan that we cooked the bacon in, and on med heat, we added some prepared mustard, some honey, some apple cider vinegar and a bit of salt and pepper to season. We then added some olive oil and tasted until the dressing was the right tartness to sweetness. This was poured around the sides of the salad bowl, tossed to coat and wilt the spinach, and mix all the goodies up.


The Pozole was served in big bowls. Tostadas are on the side. Sour cream, shredded lettuce, sliced radishes, lime for squeezing over, cotija cheese, and dried oregano are all available to adorn your Pozole or tostada. Olivia spreads sour cream on the tostada then tops it with lettuce. The radishes, lime and oregano go on the soup. A very tasty soup indeed.


The gang shares a great meal.



P.S. Olivia says "Thanks" to Brian and Brian for fixing her kitchen drawer.... actually, once they retrieved all of the items in the back of the drawer it worked just fine!

Whale of a good time
Jeanne
03/13/2015, Puerto Lopez Mateos
This morning, while finishing my fresh bagel and salmon dip purchased at our farmers market, and before starting a real project... time to show you that we do occasionally take some time off for fun! In this case, whales of fun!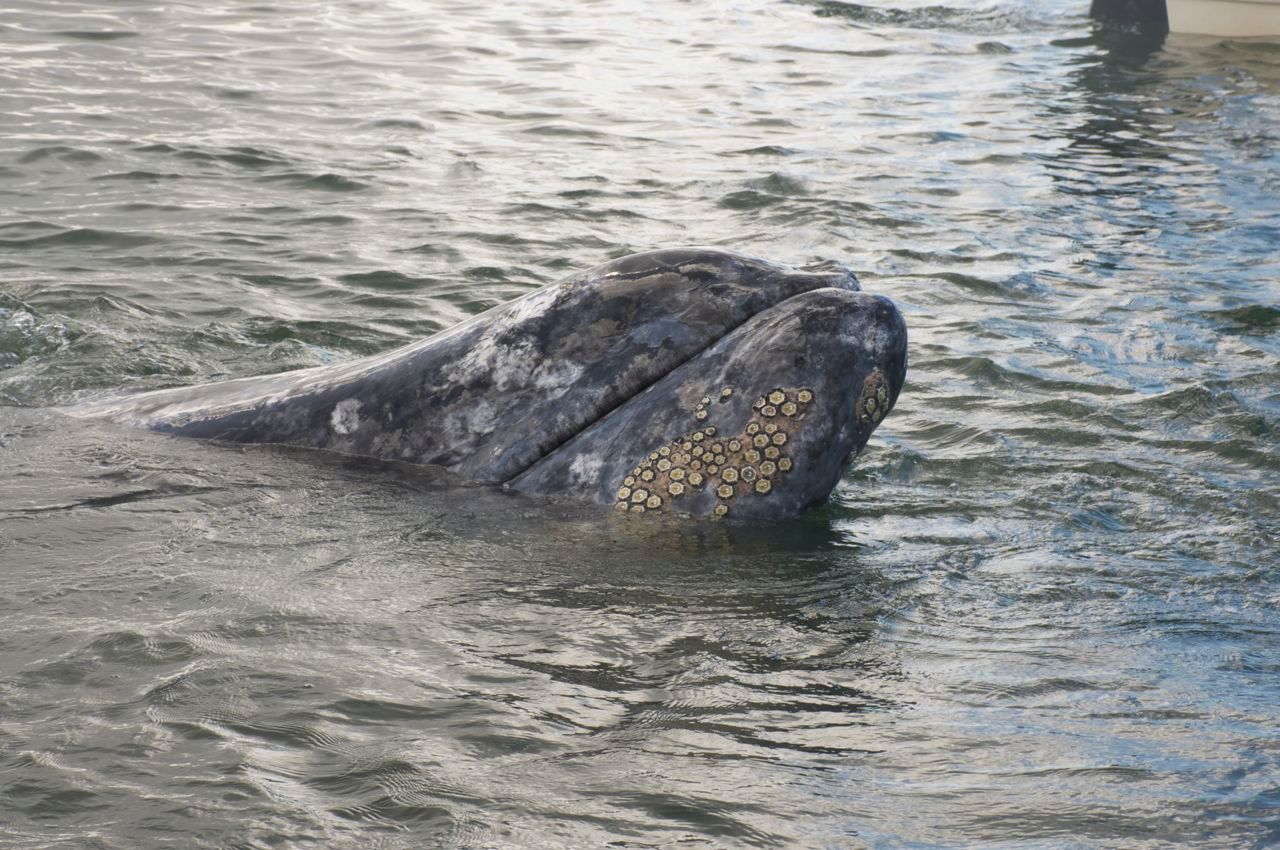 The whale breeding/hatching -ok, birthing season is just about complete now. Just at the tail end of the peak, we took a tour with Eduardo of 'Eduardo's Tours' - the only certified guides working out of La Paz.


Our pick up time was 5:30 am. All sleepy eyed, we made a couple of other stops around town picking a few others wanting to share the experience. We got to nap and watch the sunrise, while our driver did a great job of driving the brand new 12-person van.

We headed North out of town to Consitutucíon for a Mexican style breakfast of eggs, cooked to your choice, frijoles, very fresh, very wonderful corn tortillas with pieces of fresh goat cheese, fresh juice and coffee, a potty stop after eating and we're on our way again to the town of Insurgentes - ( In sir hen tays) and a left turn to Puerto Lopez Mateos, located in Magdalena Bay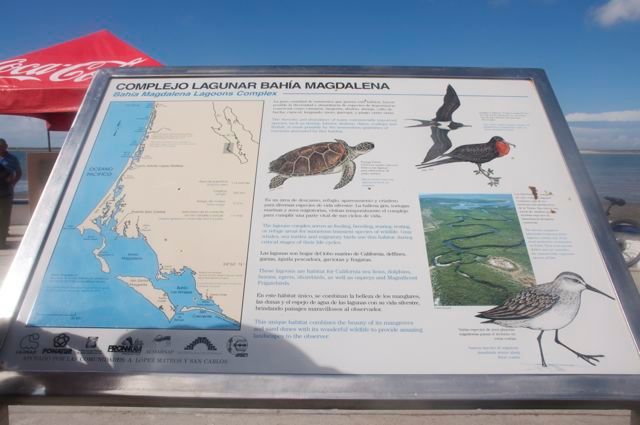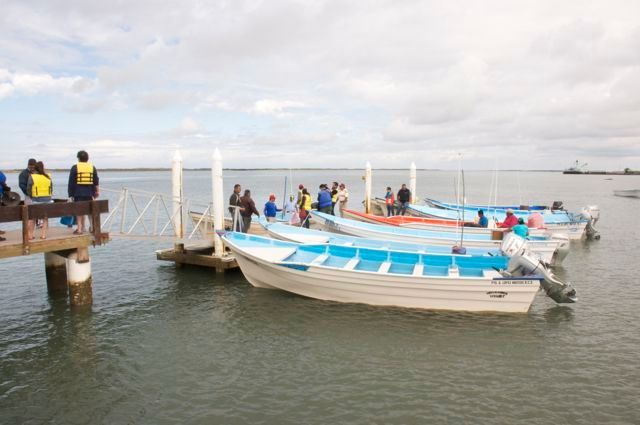 At the bay we were given pfd's and ushered down the dock to the pangas, accompanied by Eduardo and the driver. Eduardo gave a 6-minute presentation on the bay and the whales and what we would hope to see.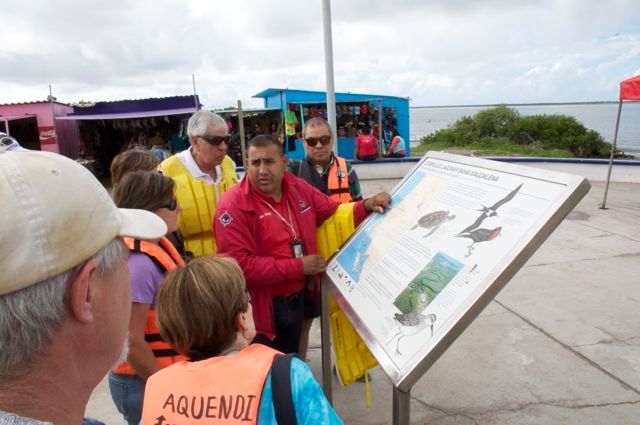 And see we did! Lots of whales; several mothers with babies, some keeping their distance and a couple that were very friendly!




We go two hours of time on the water watching the baby play along side the panga. It appeared to love the attention and being 'petted'. Mom, not wanting to be left out, joined in the fun also. She would surface in the middle of the pangas - there were 4, and roll slightly to her side and 'blast' her exhale directly onto one of the pangas! She got our boat twice! Now, was she saying back off and leave my baby alone? Or, ok, kids, that's enough touching?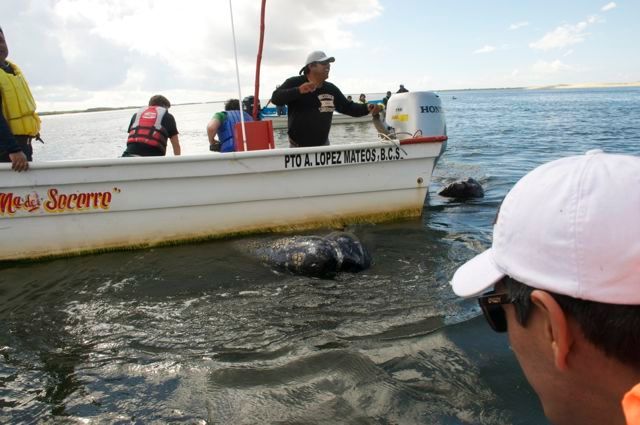 We're pretty sure that wasn't the case as she then came up for a nose rub of her own! She wiggled her way directly under and in line with a neighboring panga, then came up underneath - just a bit, and pushed the boat around. She did the same to ours, several times. All the while she was pushing, the baby was thoroughly enjoying his human friends!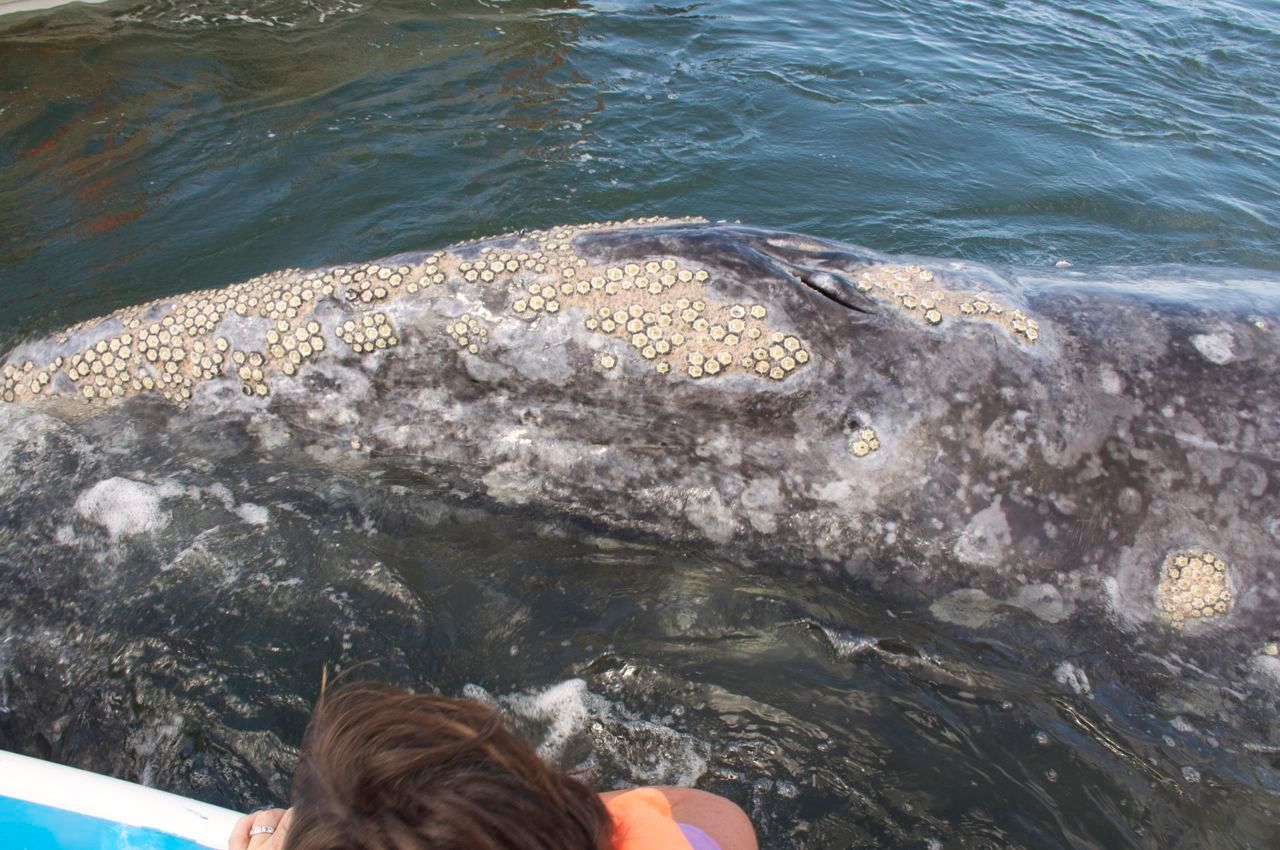 When she had had enough, she went deep and baby reluctantly followed!
We followed from several yards away. We saw several other whale pairs from the distance, lots of birds and a lone coyote standing on the shore side.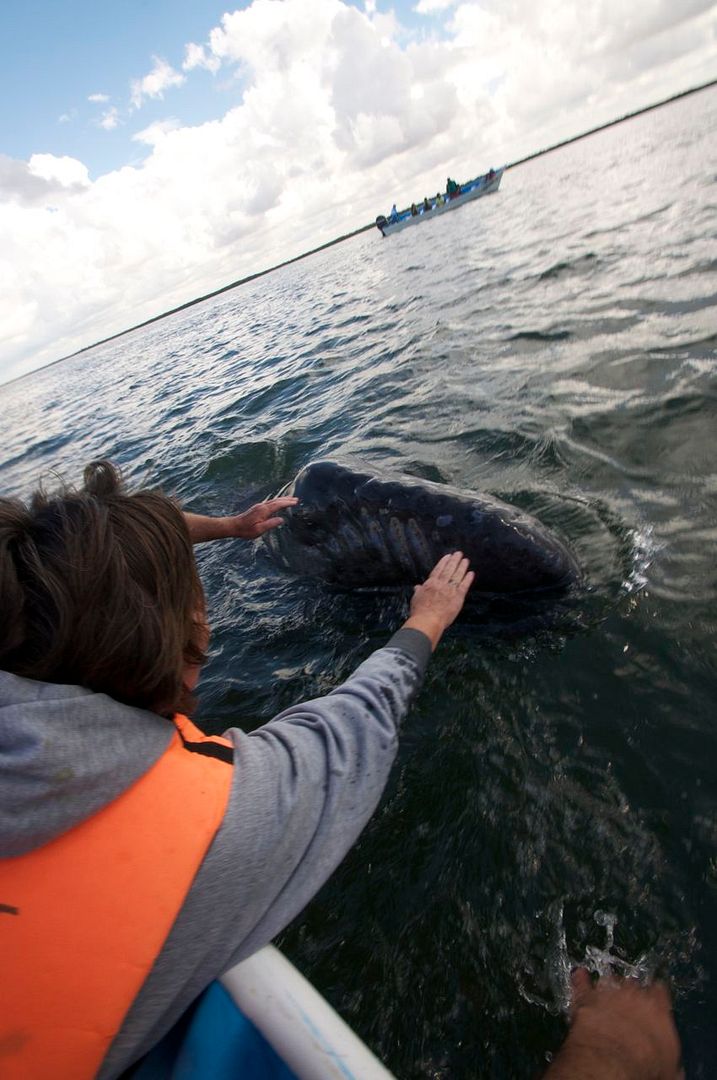 Everyone in the panga got an opportunity to pet one or both of the whales. I even put my cameras down long enough to pet the baby and mama!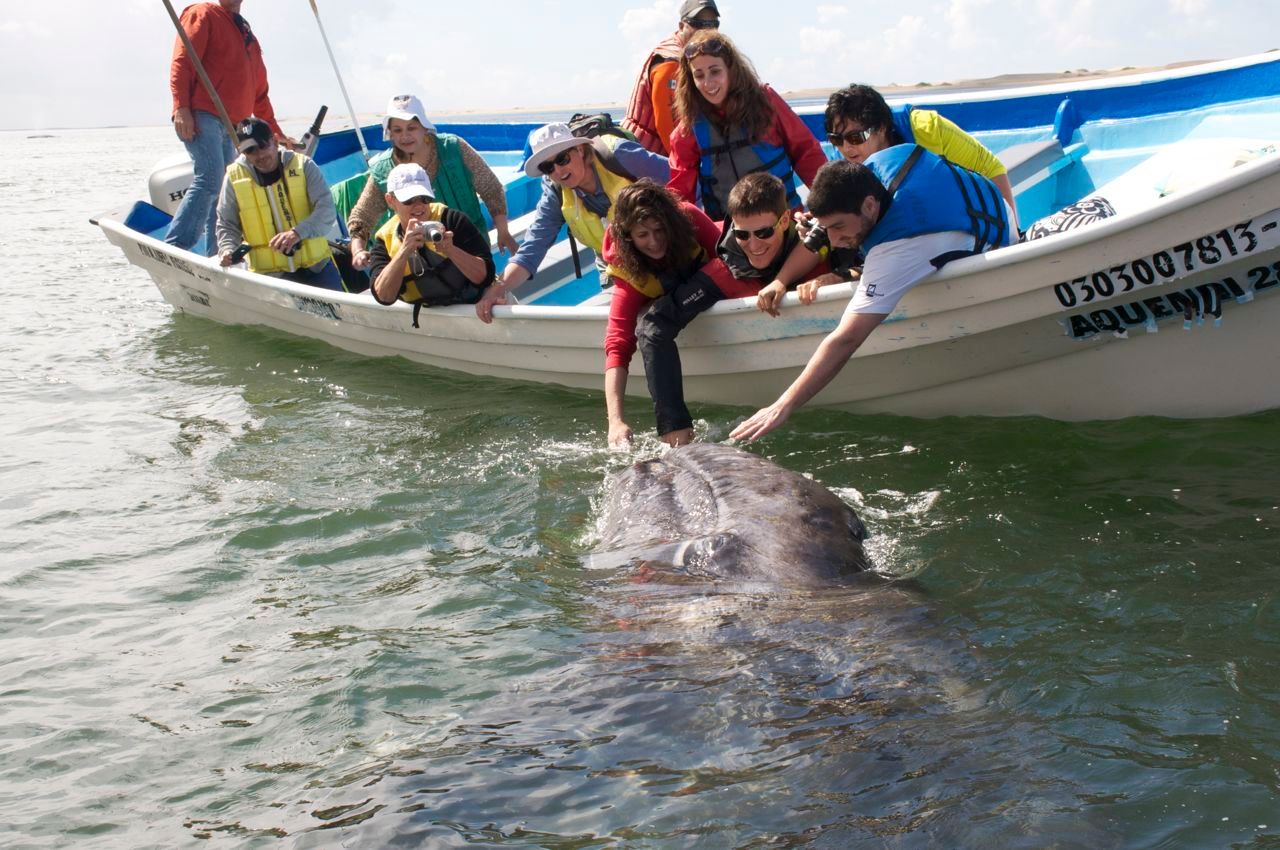 The texture was hard, yet soft, smooth, not slimy. Sort of like the density of leather if it gets wet, but not slimy. It was just very, well, whale like!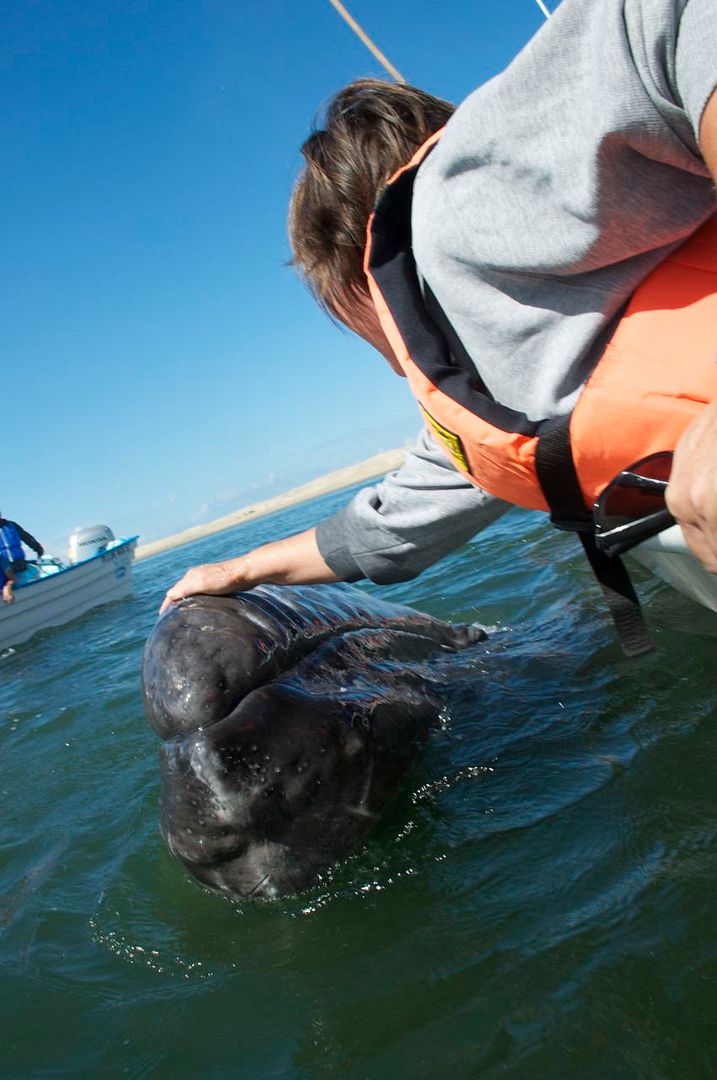 Getting back to the van, all with big grins on our faces, we drove down the road to a local restaurant for a lobster, fish, and shrimp dinner. Complete with rice, salad and a beverage of your choice.

A three-hour drive back, and we're still grinning and will definitely do this again next year!