Hurricane Blanca June 7th
Jeanne
06/08/2015, La Paz
Well, she's come and gone, with just a few remnant gust of 20 or so. The humidity is up, and it's high overcast. By tomorrow we should be back to 94 degrees and clear skies..... until the next one that's brewing to the south!


View from our bow looking west just at sundown

By yesterday around noon we had everything all prepared. All the boats had been checked, checked again and yet again. Two set's of eyes can see things that one doesn't. We noticed a gate not closed - it was secured to prevent scratching, a small cover overlooked was removed, a couple of tweaks done on some dock lines......then we wait.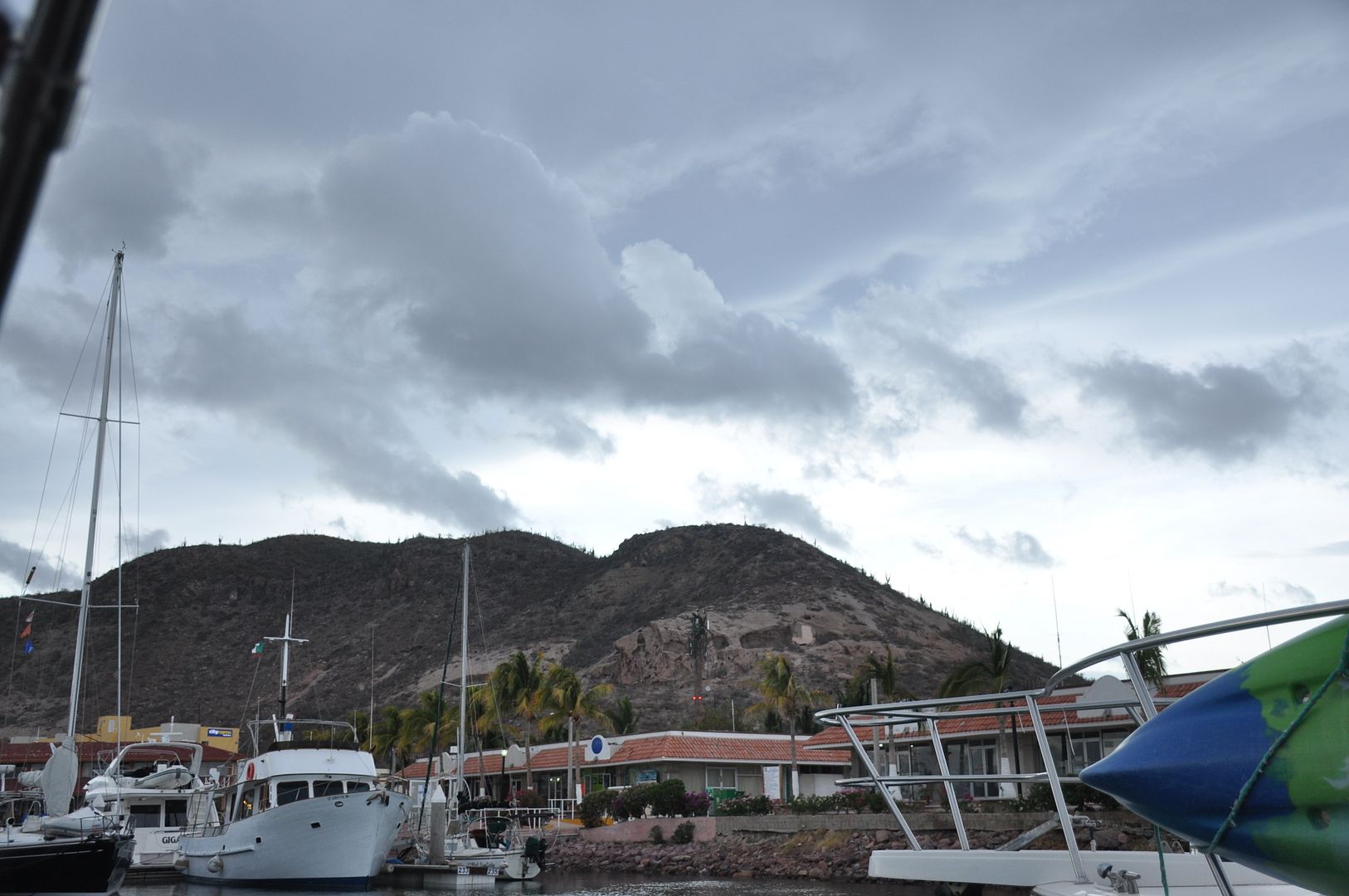 Clouds looking east, just at sundown

Once again the peak of the storm was due to arrive in La Paz about 3am - no surprise there! Early evening we had steady 15 or so, some lulls, some gusts. I was able to get a few shots off just before dark, mostly to show the clouds.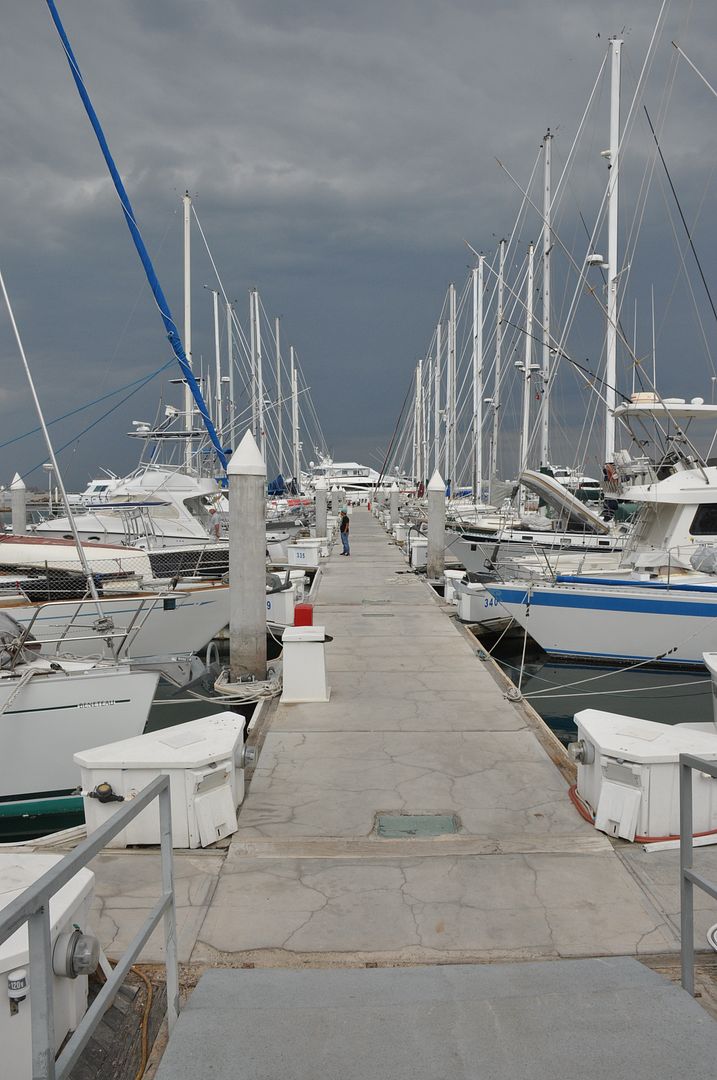 View down our dock at daylight this morning

Our power went off, then on, then off again two more times around 2am. It was back on this morning on our dock and at the store. The marina office and several other docks did not get power restored until early this afternoon.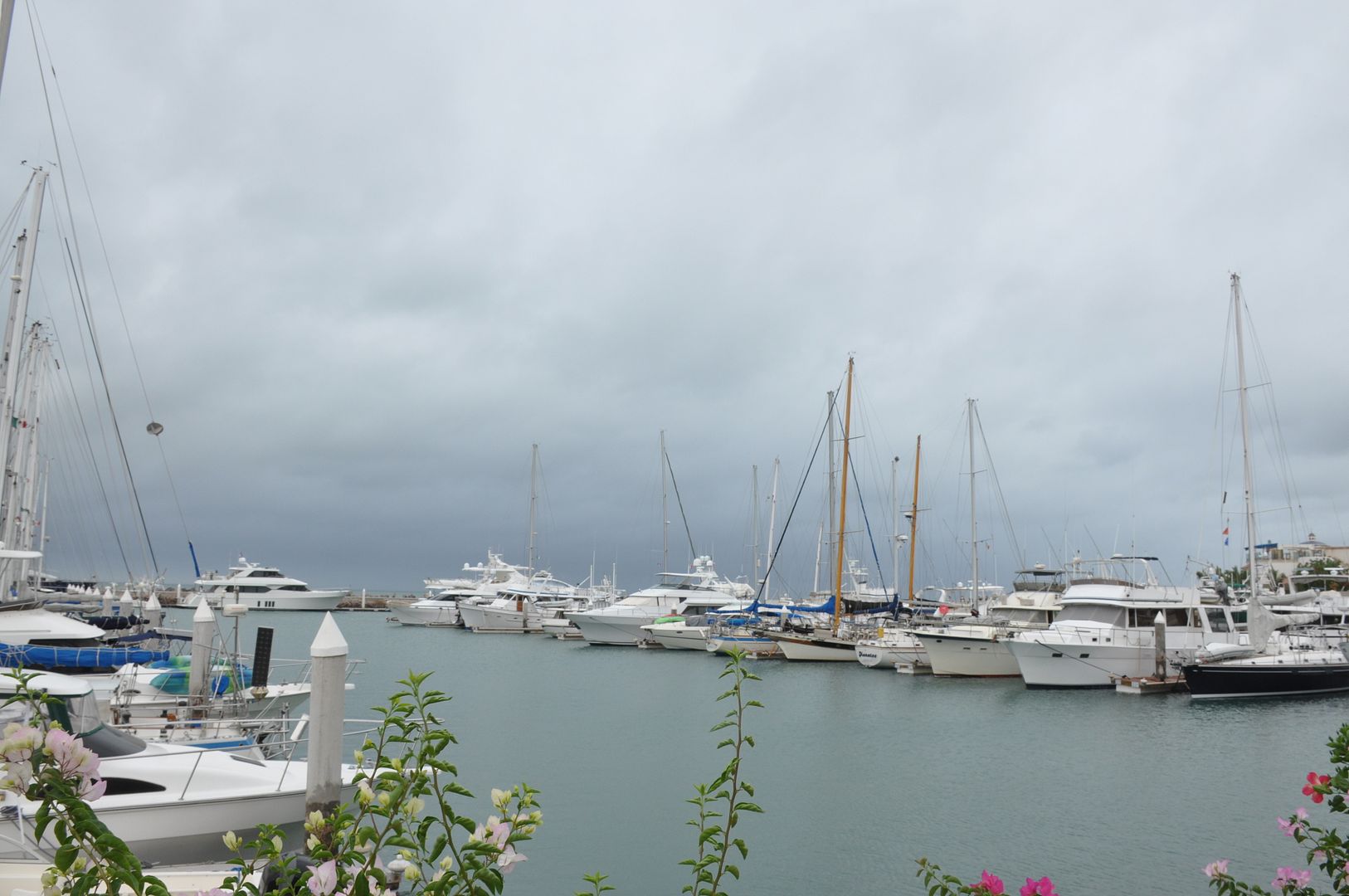 View looking north this morning, the east edge of the storm is just leaving

The good and bad news is we didn't get any rain! We need it, to wash off the dust that the storms bring, but then the city gets bogged down with all the water. It sounds like the Loreto area got about 3 inches.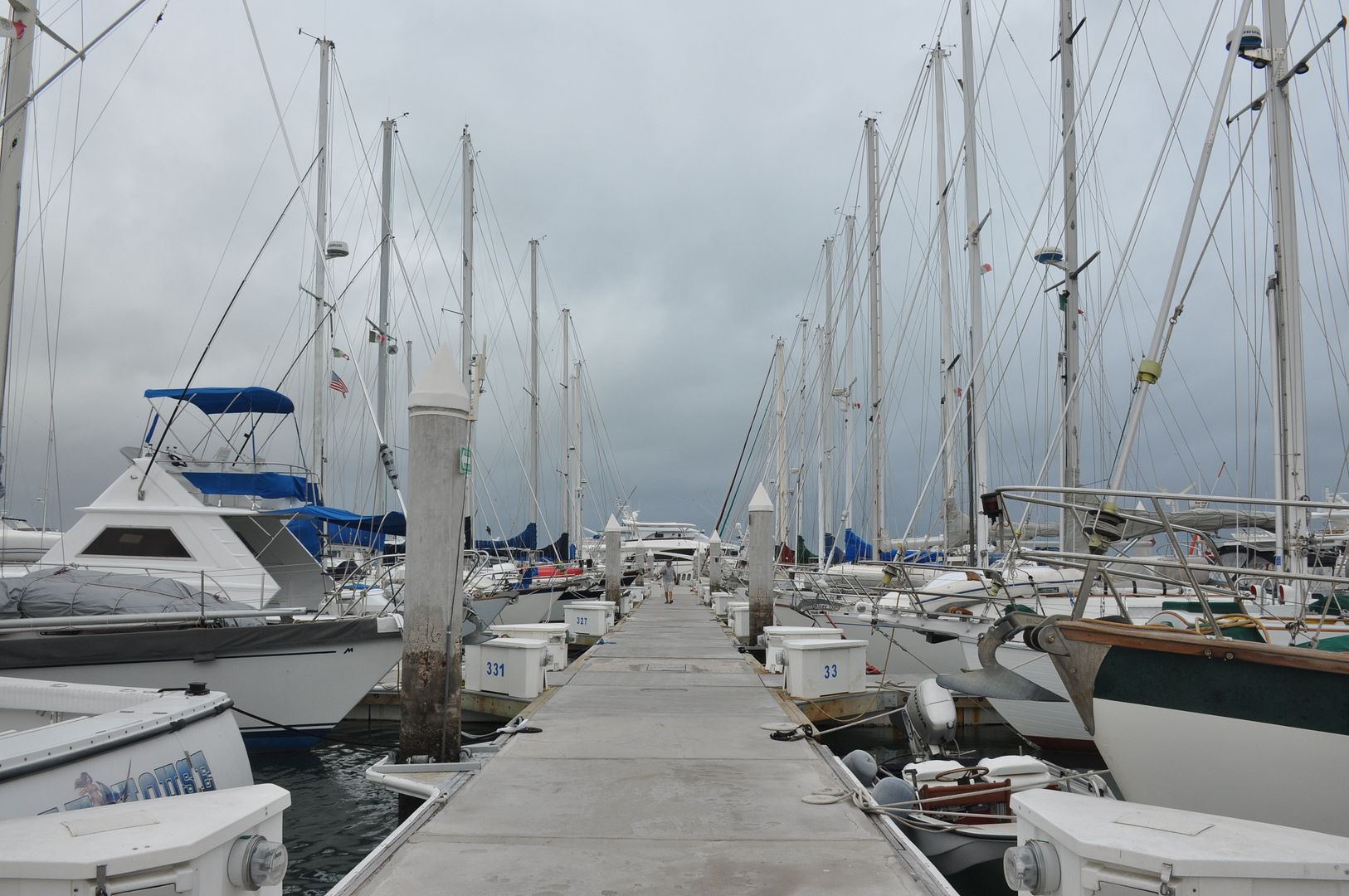 Another view down our dock
Our last foray around the docks was at 4:30 this morning when we saw steady 40's and gusts to 50. After that it was back to bed. Monday's are Tom's day to be net host for the local cruisers net, so we got up to make sure we had power for the radio. We are happy to report that we had one unmanned boat go ashore and a channel marker went through the anchorage to the other end, then when the tide and wind switched.... came back through again! a much different scene than that off Odile!

We got a couple of hours of nap late morning, now we're trying to get back to business as usual! But maybe another nap first!


It's too darn early!
Jeanne
06/02/2015, La Paz
It's only the 2nd of June and yet here we are rushing about getting all of our boats prepared for the possibility of a hurricane in a few days! Shees! Never in the weather history of Baja has there been a threat this early - not only in the year, but the alphabet too! May Blanco blow her little heart right out way before she gets anywhere close!

We follow www.eebmike.com and www.windyty.com for weather conditions. Boats that have headed off for the upper areas of the sea have turned around and have come back. Others that were going to bash back to Ensenada or California, or further north, are waiting it out.

It's hot, 99 degrees, the past few days, and we're all feeling it. Last week was incredibly lovely.... today it's just frigging hot! We certainly don't feel like scurrying around preparing boats - we'd rather be poolside with a cool one! Since that's not going to happen, I've just put a big stock of Electrolits - fluid refreshers - in to the refrigerator.
and we spent Sunday putting up or shade awnings and getting the air conditioner situated..... it was good practice, right?
Back to the docks.... stay tuned!



Got the dock off the boat!!
05/19/2015
we had been threatening to do it, and finally did! We took Eagle and went sailing. While it was just a short over nighter, it was nice to get off the dock.

We had a very nice sail, with 12-14 knots. The winds built a little as the morning went on, settling in at a little over 18 knots. we were flying our 150% head sail, and felt a little over powered so we pulled it in to the first reef point.




Our last tack had us heading right toward our destination, Caleta Lobos. Right after the tack, he heard the lovely sound of the fishing reel singing...FISH ON!! Unfortunately, it was only a big fat Skipjack Tuna. Not to good for eating, so it was promptly released.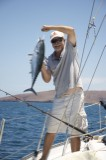 We sailed to the bay, dropped the hook and settled in. A snack, a book and a nap! Of course time was made for a swim, even if it was just to check on the anchor. The water was still a little cool...mid to high 70's.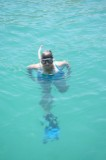 Sunday, our good friend Kevin on the motor vessel Andante, was coming into the bay. he had offered to bring several of the nurses from the local hospital out to the bay the day. We have now shared an anchorage with Kevin in three different counties, Canada, US and now Mexico.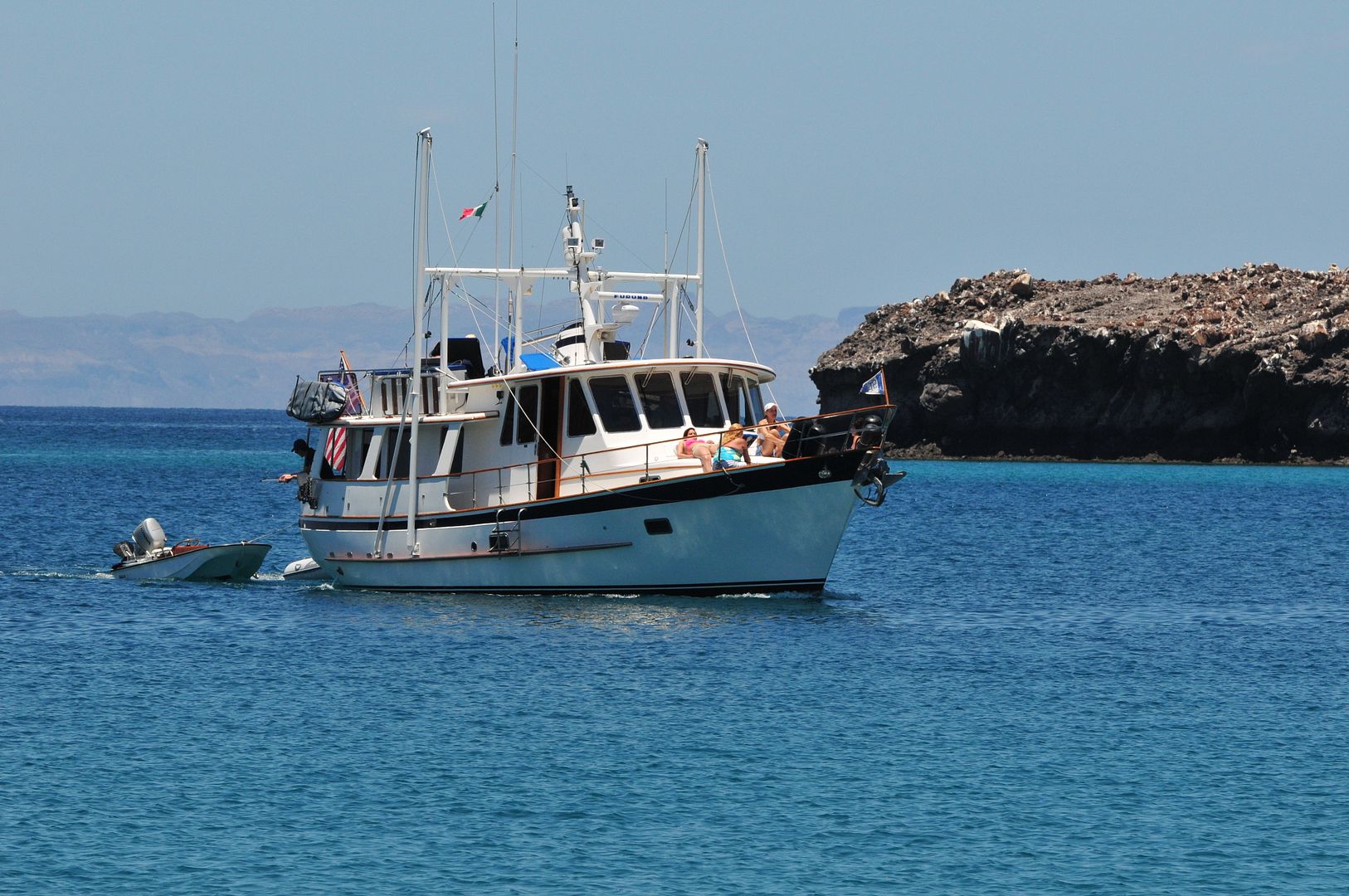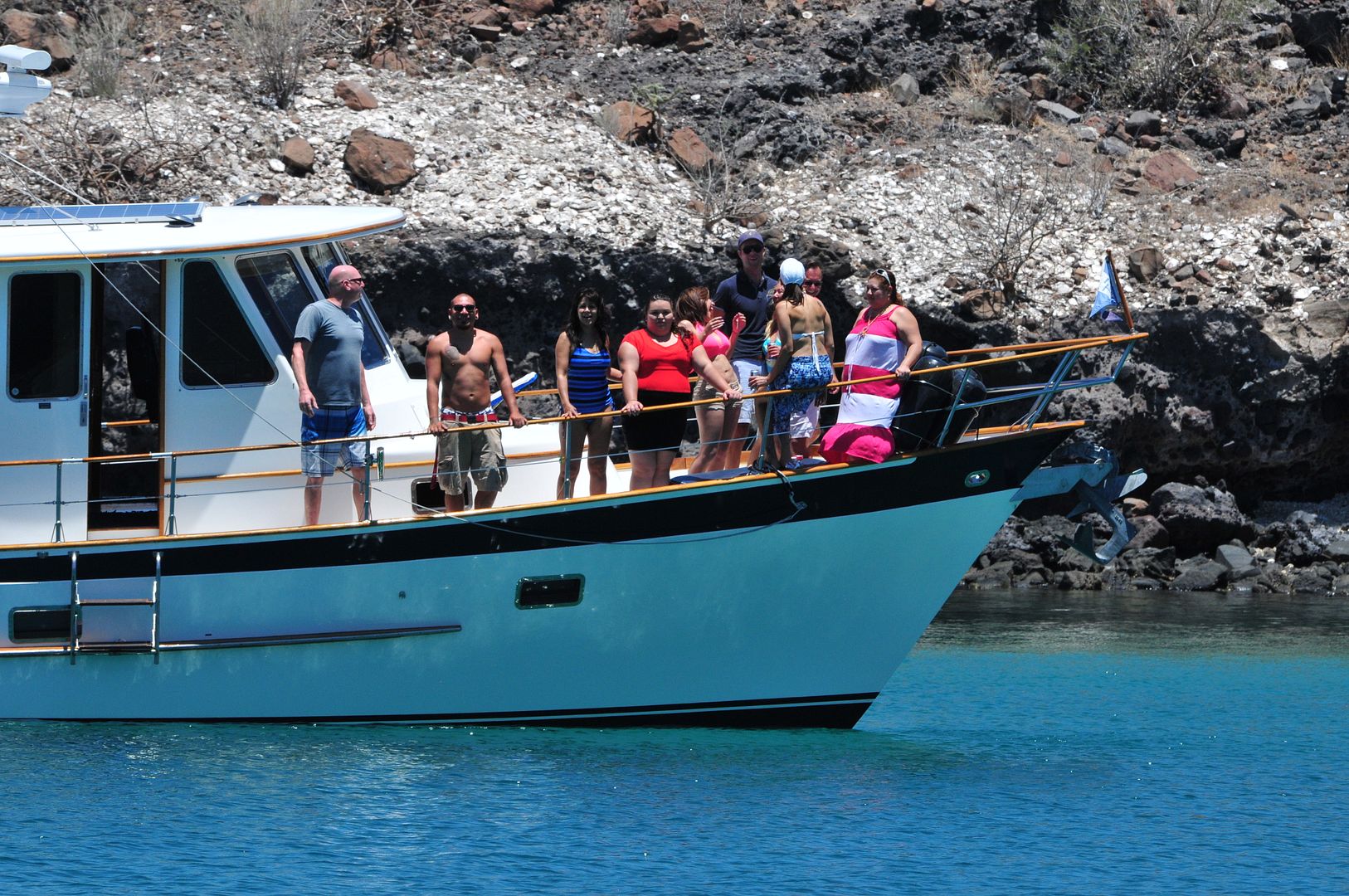 Our Yacht Management Customer and good friend Brian offered to come along to help out. He spent most of the day ferrying nurses around the bay, to the beach, back from the beach, to the island, back from the island......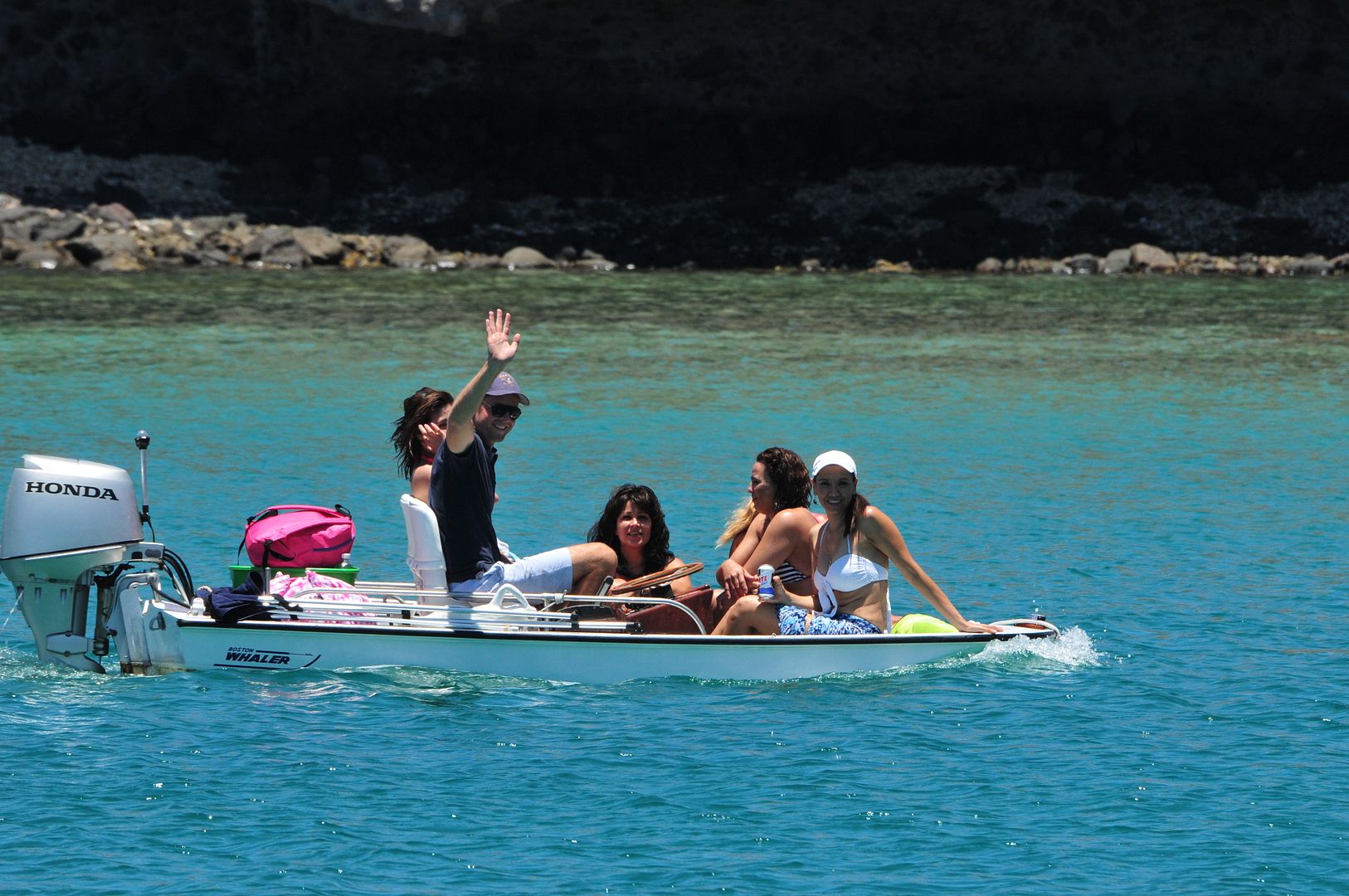 Sometime around 4:30 we pulled up the anchor and sailed home....it was a great weekend, just never long enough!!

A cruiser's nightmare turns out ok.
Jeanne
05/15/2015, La Paz


A week of hearts!

Part one:
Early Sunday morning we got a knock on the side of the boat. The 'knockee' had heard Eagle being hailed on the radio, several times and was just making sure we knew about it. 7am on a Sunday morning most likely means some sort of emergency. And it was.

Jim and Betty have a boat down here, that we take care of for them when they've gone back to the states. They were returning from a couple of weeks of cruising in the Loreto area. During the day on Saturday she had started to experience some indigestion, nausea, sweating and clamminess followed by what she described as 'an elephant sitting on my chest'.

Yes, folks.... Classic symptoms of a heart attack! Yikes and still several hours away from the city of La Paz. They pulled up anchor in Puerto Los Gatos, set a rhumb line for La Paz and headed south. I'm sure it was a very long and stressful night - all at 6 knots!

We were finally able to get in contact with them by radio, then phone. They were making good time, Betty's excruciating pain had subsided and we were making plans on this end, to get her medical help.

Our friend Kevin, on MV Andante, a retired high level EMT assisted in the assessment of her condition, as well as providing Betty with some comfort and information about what was happening with her body.
After relaying her condition to the Medical center that took such good care of John when he had his accident, it was decided they should send an ambulance to Ballandra, the closest anchorage that we could all get to.

Tom , Cricket , Ron and I headed to Ballandra to coordinate the transfer of Betty from the boat to the beach to the ambulance. We rented a double sit on kayak - to get Tom and Ron out to the boat and Betty back, but by the time they got out there Jim had the dinghy down and the outboard ready to go. Betty was put in the kayak with Tom behind, Jim drove the dinghy providing power, and Ron stayed behind on Flibbertigibbet. They had an easy ride to the beach, with only a slightly wet behind! Tom returned to the boat with the dinghy, which he and Ron brought into Palmira.

Betty had an uneventful ride into the city, and was quickly attended to by the medical staff waiting her arrival. All of the first tests didn't show any 'heart attack' rhythms. But, when her blood test came back, her enzymes were very high. She had an angioplasty on Monday with 4 stints placed where she had some blockages. She was released from the hospital late Tuesday and had a good night sleep. Her daughter Robin has arrived to provide some familial TLC and distraction as she grounded to the boat for several days. Good outcome!

Part two of heart week, sort of started on Sunday as well. Our friend Francisco, a man with a very large heart and generous soul, is working closely with Los Cabos Children's Foundation, Mobilize Mankind and Corazon de Ninos. Currently we have a high tech pediatric cardiology team in town to train the medical staff and perform/teach open-heart procedures.

Francisco has been providing support and logistics as well as social director for the visiting staff. He called and asked if I knew of some boats that might be willing to take the visiting staff out for a day of fun. Hmmm..... I thought of Kevin on Andante. He had done some charters in the PNW as well as having a medical background. Not to mention a boat that could handle everyone on one boat.

So after helping with the phone calls to Betty, he loaded up all the nurses, Francisco, and Brian for crew and headed out to Caleta Lobos for a play day. They all had a good time and came home with stories to tell.

Francisco stopped by to thank us for arranging all of this and said he'd received permission to have us observe and open-heart surgery procedure... were we interested? Heck yea! Tom and Brian declined, both were a bit ambivalent about it, but Kevin and I were definitely there!

So yesterday afternoon, we met Francisco at the hospital and sat in the conference room watching the live feed of an open heart procedure to fix a missing wall in a section of this 1 ½ year olds heart... the very dark colored portion that was seen at the start of the procedure was pink and healthy looking at the end! We then got to visit the Intensive care unit where a couple of children were getting better and waiting to go home.

Unfortunately, we were unable to take photos, and I'm sure you, the reader, are thankful for that! I'm pretty darn sure that I wouldn't have been able to jump through the hoops and hassles that would have allowed us to watch this. The director of the Pediatric Cardiology and Pediatric Oncology division of the hospital sat with us for about an hour, describing the procedure and explaining the differences with the insurances in Mexico. He also volunteered to 'take one for the team' should we ever need crew or passengers for sailing or boating!

It's now Thursday. It's been quite a week already. But the best news is, it looks like we'll follow our own hearts and get Eagle off of the dock this weekend!



Playa Mexia Birds and......
05/10/2015
For those of you that follow along regularly, you know that we had acquired a new 4 wheel drive Dodge Durango and a 16 foot Shasta trailer. The whole idea is to have a little more free time this summer to explore the Baja and work on our photography.

Last weekend was our maiden journey with the new rig, and so for a shake down we stayed pretty close, making the 45 minute run to Playa Mexia.

This gave me a chance to get back out in the desert and chase down some new bird shots. While there were no new species, I did get to spend quite a bit of time with a family of Loggerhead Shrikes, and got what I consider to be an awesome California Quail shot.

Lets start out with the quail on a cactus picture...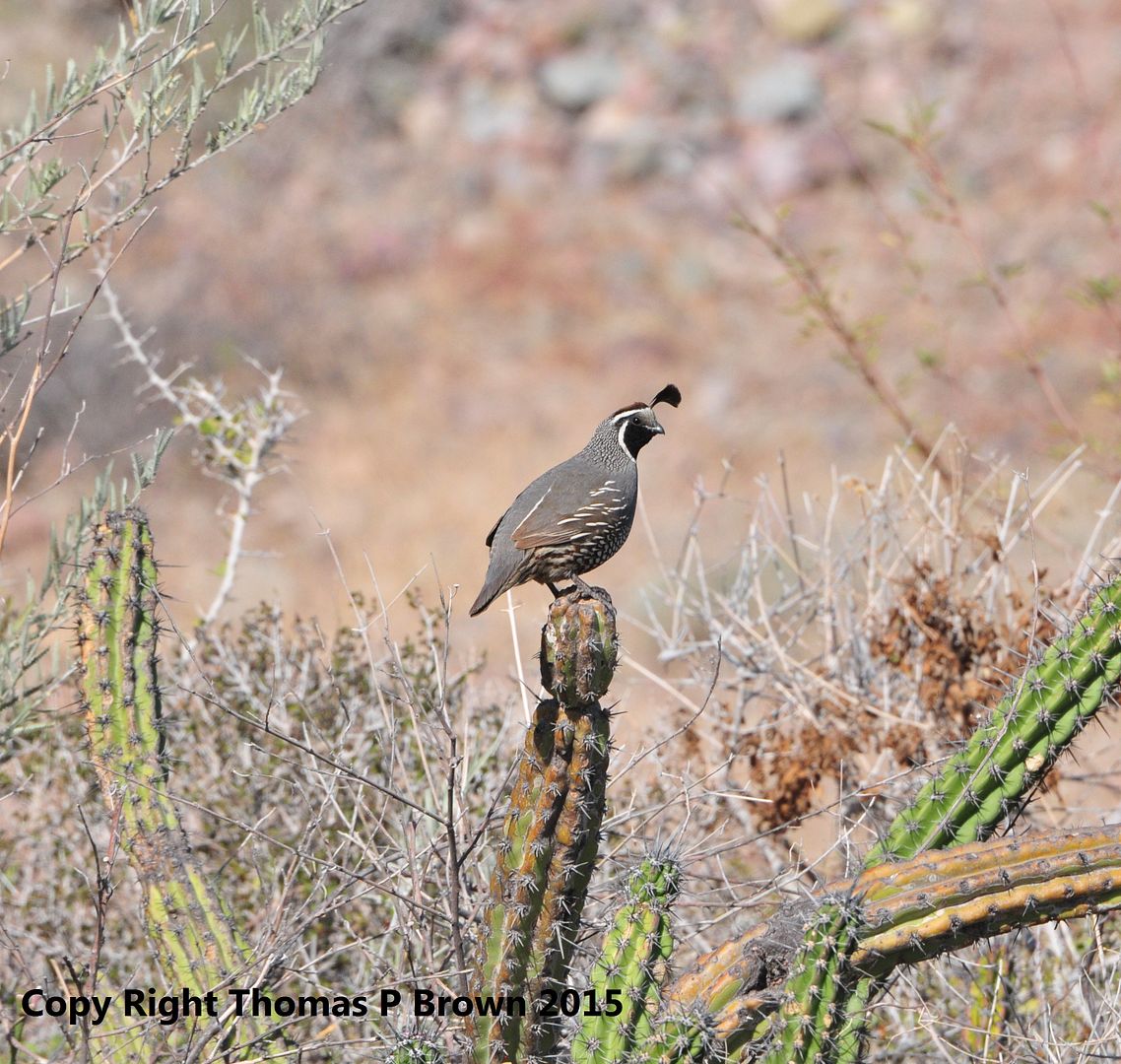 It always seems like the smaller the bird, the harder it is to get a great shot. they tend to move a lot, and stay in the brush for protection. That is why I really like this shot of the California Gnatcatcher.




Here are the Loggerhead Shrikes....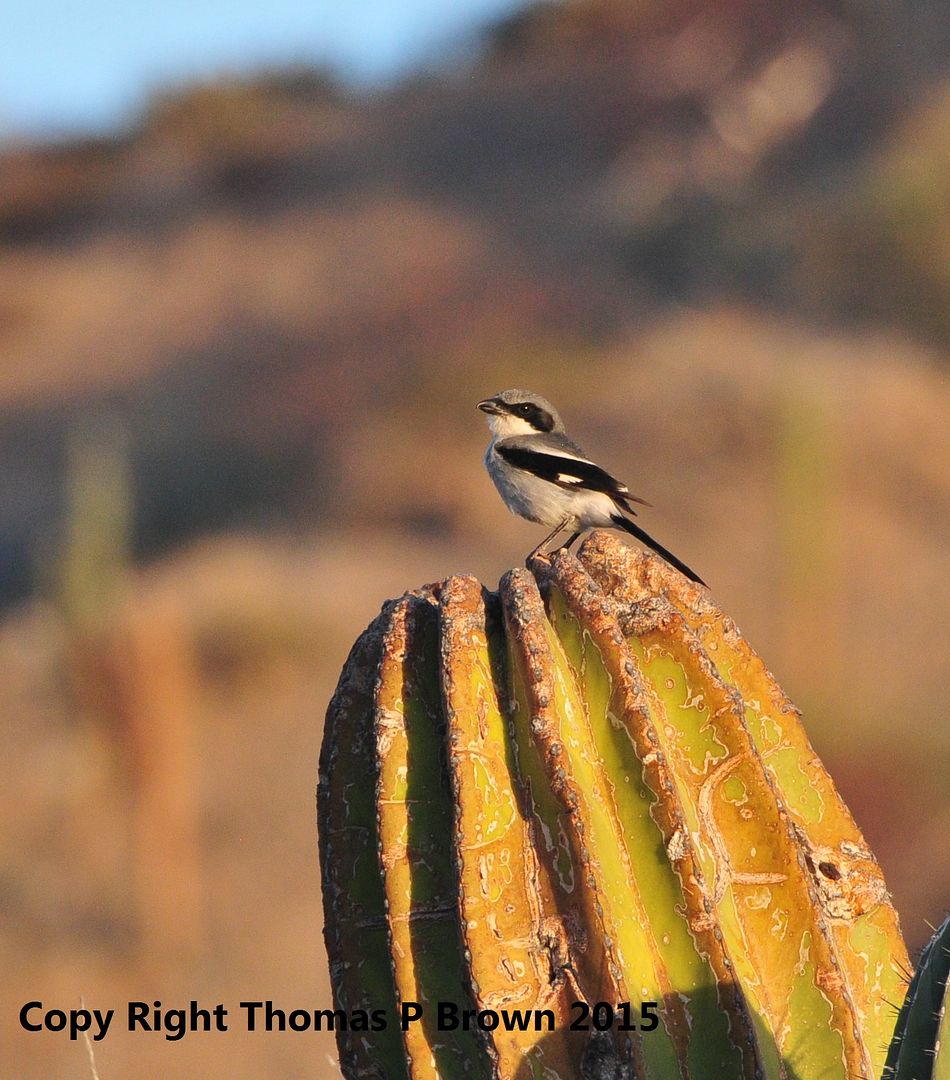 There were a few of the Hooded Oriole's around, the first picture is of the male, in first summer plumage. The second is a mature female.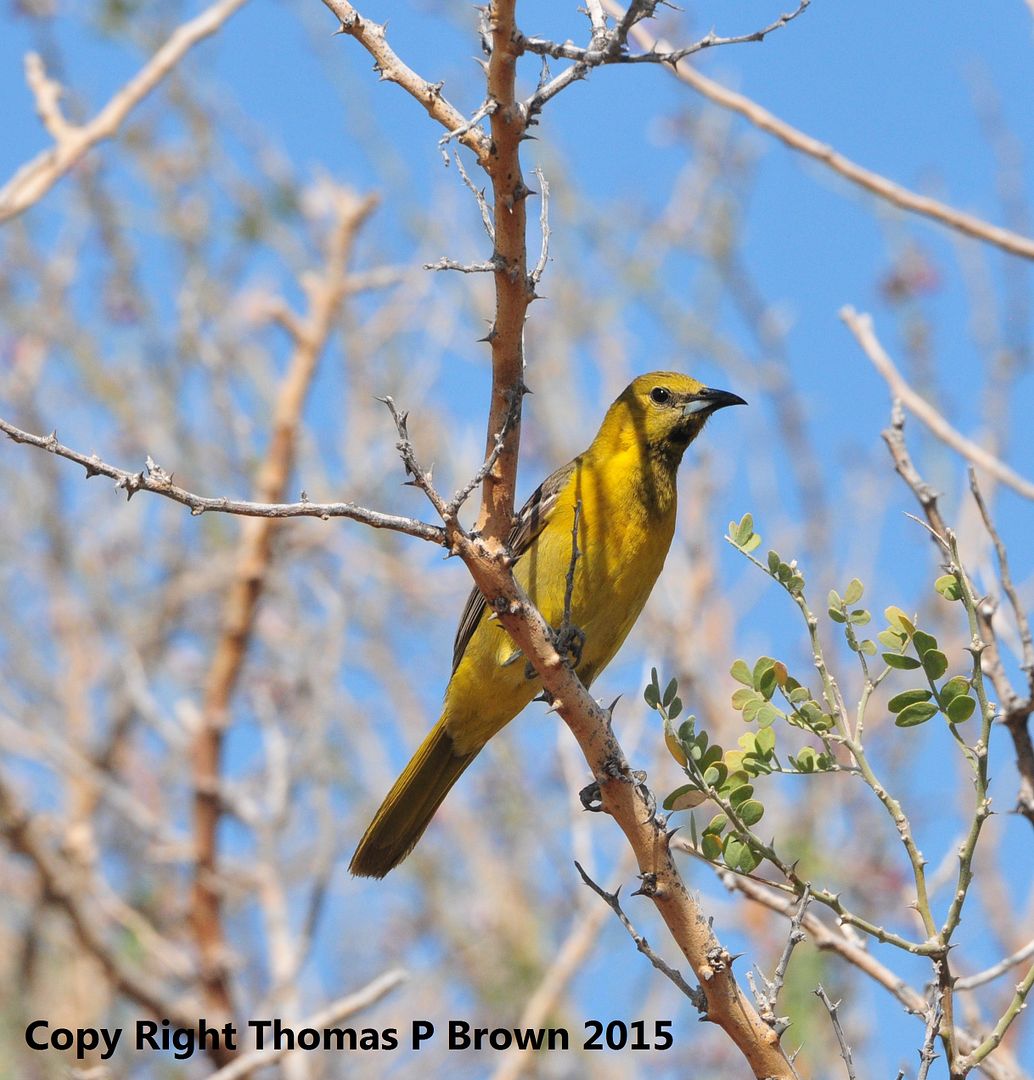 and just so you don't think that all I shoot are birds, here is a Baja Ground Squirrel, and a Desert Iguana. For the life of me, I don't know how those squirrels run up and down those cactus at the speed that they do with out puncturing something!!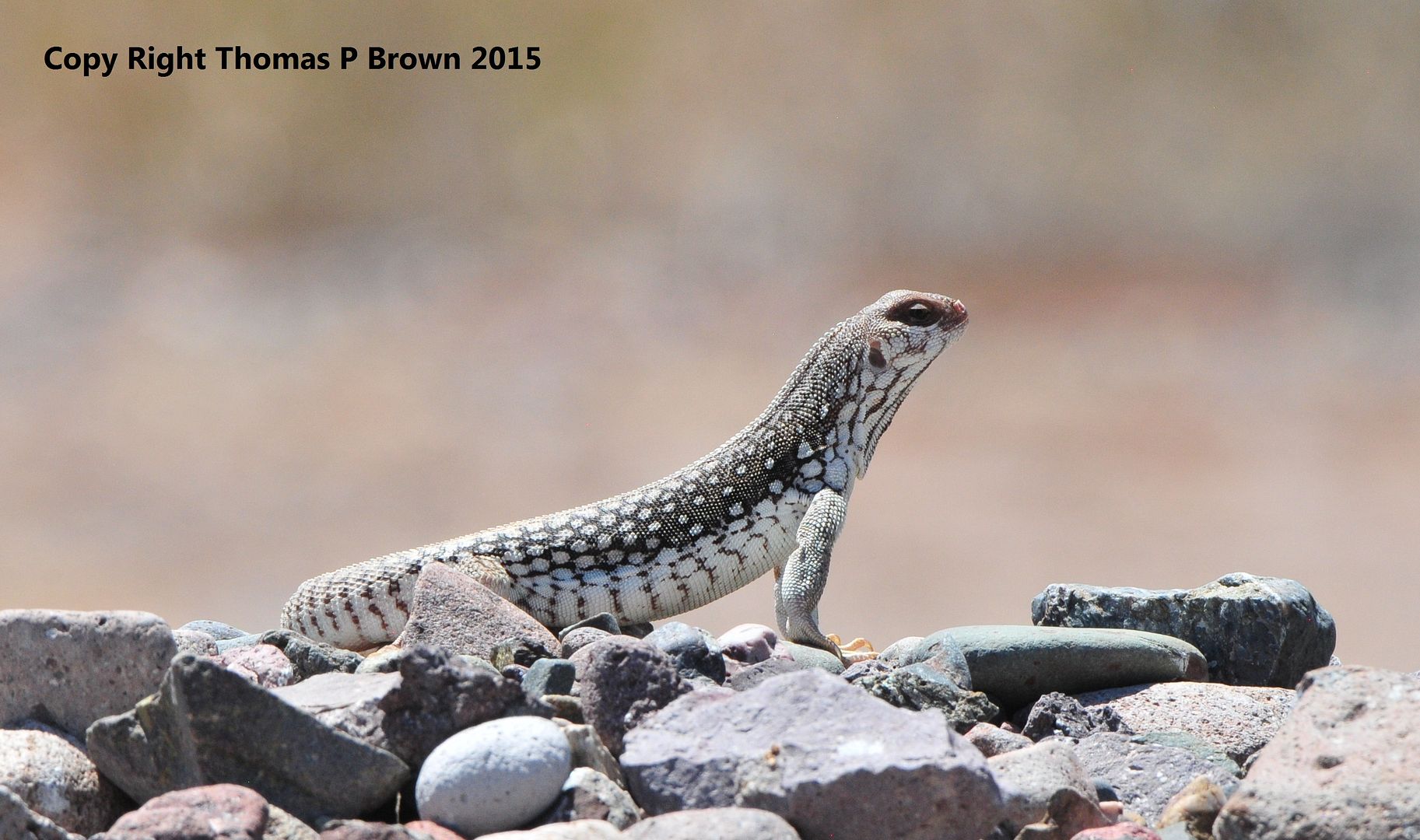 I like this shot of the Gray Thrasher, one of the endemic species here on the Baja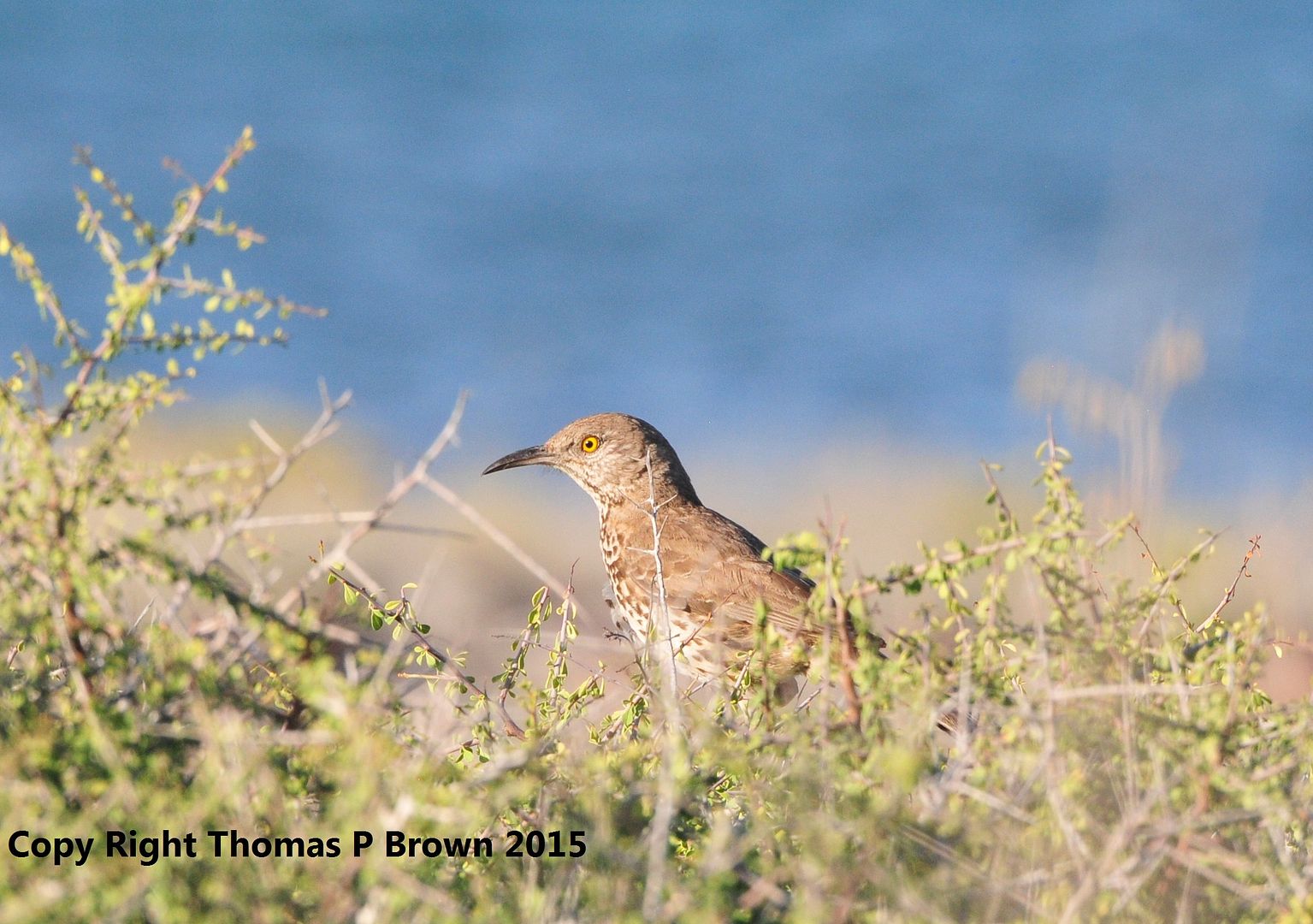 The Gila Woodpeckers are just so pretty that I keep shooting them, despite having hundreds of pics....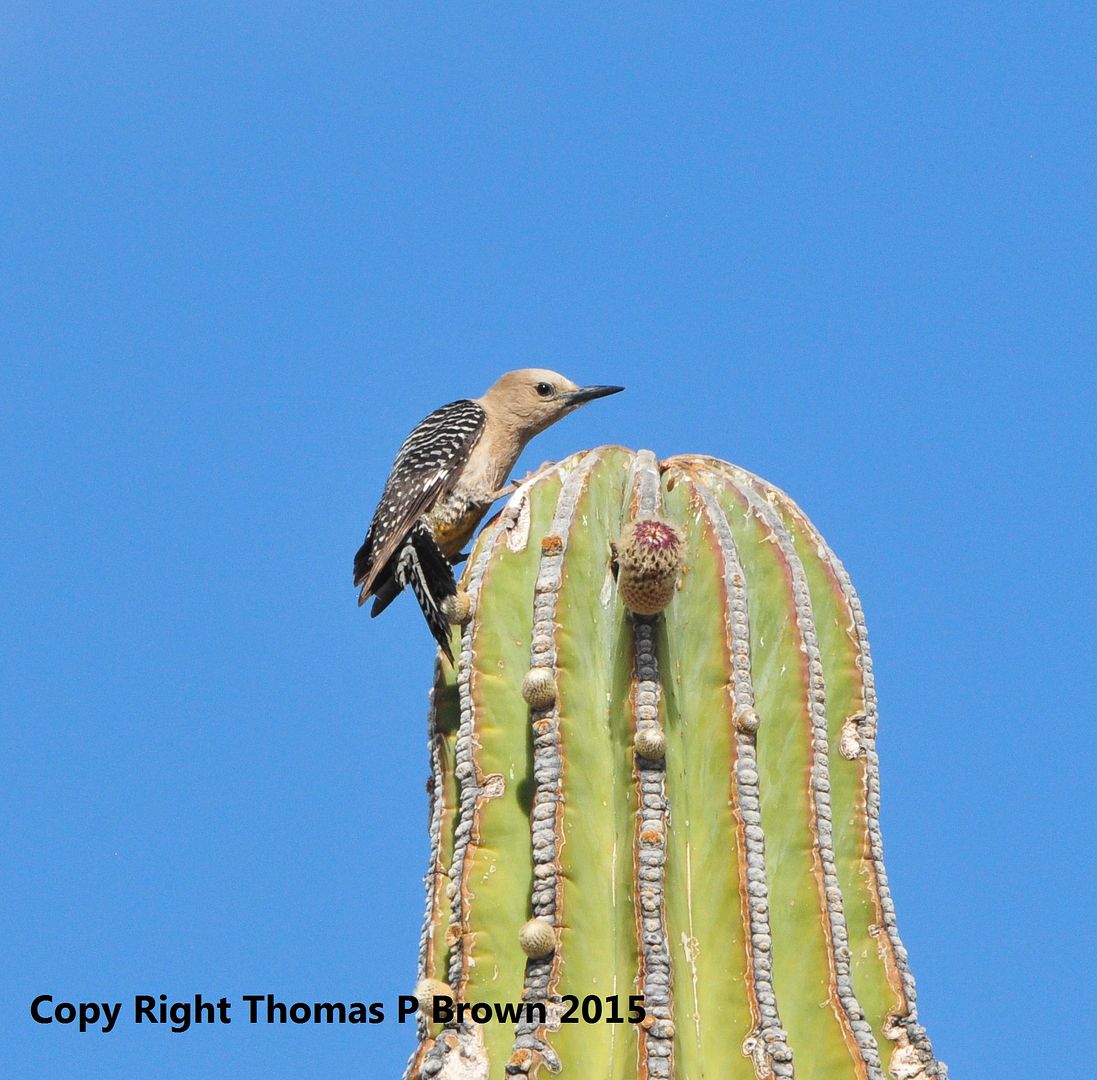 Now that we have this fun new equipment, we should be able to get out more, and do a lot more shooting, so stay tuned!

Huitlacolche Part 1 of 3
Jeanne
05/08/2015, Olivia's House
Wheat la what?

Huitlacolche. Corn Fungus! Corn flavored mushroom, mushroom flavored corn. It's "whoo eat la coal chay".

It's a fun discussion to come up with the next menu or ingredient to focus on at the next Mujeres gathering and this time was no exception. Huitlacolche. I have seen this in the markets and wondered what to do with it. Olivia had seen it, and heard of it, but didn't know either. Since our friend, Obet, own's a restaurant, and we'd had an entree made with this, we asked him. He was willing to be our 'maestro' - teacher for another event, featuring this corn fungus.




And an event this was to be. Our friends Pam and Tim from SV Savarna of Vashon Island, had decided to celebrate Pam's birthday with a visit to La Paz. Pam's daughter Alacia and her husband Gavin, would also be in town at the same time. Kevin of MV Andante, also of Seattle was bringing his boat back from the mainland to see them also. In our photo album, there are many images of Eagle, Andante and Savarna all rafted together! Lot's of food fests fondly remembered.

Also still in or back in town were Charles and Carol, SV Shadowfax, Vashon Island, Lyn SV Fellowship - Rich was bashing their boat back to San Diego, Greg and Anna SV Aventura, Mike and Shelly of Avatar, BJ of MV New School, Ron and Crisket, SV Mystic Island, Francisco of San Francisco, Dulce and other friends who have attended previous cooking sessions.

What is this stuff - our main ingredient? It seems that corn farmers will leave a whole crop, uncut, unharvested, just before the rainy season. The rains mold the corn, which in turn becomes sort of a mushroom. At least that's the flavor and texture of it, with a light corn hint in the background. On closer inspection of the kernels of 'corn' they are whitish, grey, similar to a mushroom, firmer in texture, and some pieces even have a corn silk attached. The taste of corny mushrooms! Our guest, Shelly is not a fan of mushrooms. To her the huitlacolche tasted just like them! We cooked up a couple of items without huitlacolche so she, too , could enjoy the meal.

Our menu for the evening was, home made corn tortillas with a mixture of sautéed huitlacolche, cebolla y ajo (onions and garlic), and asadera cheese - Mexican style string cheese.
Our entrée was stuffed, and rolled breast of chicken with the huitlacolche, onion, garlic mixture and cheese, topped with a roasted poblano pepper sauce, and a huitlacolche and cream sauce, on a bed of cilantro rice.

Dark chocolate tamales with Fuentes vanilla ice cream finished the meal.


We gathered at Olivia's at 4 to prep and make the meal to be served a 6:45. It's amazing to me, how these all seem to flow together. To a non- foodie or kitchen
person it most likely looks like chaos!

It all seems to work out fine. Everyone helps and pitches in with the chopping, peeling, stirring, folding and of course cleaning of all the pans and the dishes.


Because of the bigger group this time, we opted for disposable dishes, the Mexican way.



Several things had to happen simultaneously - the tamale husks needed to be rinsed and soaked in water -
Ron took care of this in the outside sink....... He told me the bottle of tequila was to keep the husks in the water... likely story!


Soni, a staff member of Obets, is a pro at making tortillas. She arrived with her wooden press and headed to the back patio and the outdoor grill. We'd placed a comal baking sheet for her to grill the tortillas on. In a large bowl, she mixed two bags of maseca with one bag of regular flour, then kneads it with her hands. It's all about the right feel.


Kevin helped by making the dough rounds. The rounds were placed between two pieces of plastic bags and squished with the press, then right onto the grill.


Inside the kitchen the chocolate tamales were underway. Obet was at the stove using a double boiler melting the dark chocolate, adding some butter and milk, then the white chocolate.


Once all melted and blended that mixture was poured over maseca the corn blend for tamales and tortillas. A bit of baking powder, and some nuts were also added. Kneading and mixing by hand is much easier. A bit more milk until the right consistency.


The husks were folded around the chocolate mixture, in thirds, the bottom end folded under and the top left open. They are placed in the tamale cooker with the tops up to steam. The tamale filled pot, with water in the bottom, was placed on the bbq's burner for 30 minutes of steaming time, or until the tamales had sort of a brownie texture.