2015 Calendar
Tom
12/20/2014, La Paz
It suddenly occurred to me that I had not put anything about the new "Birds of The Southern Baja" on the blog. They have been out for about three weeks and have been an over whelming success. The cover features a Male Hooded Oriole, in a photo that I shot over in the little old mining town of El Triunfo. For those of you in the US that would like to purchase one, we have a few left that can be shipped from Seattle to where you would like in the US. The Calendars the same price as the last three years, $20.00 plus $5.00 shipping and handling...

There is still time to get these out to your bird loving family members for Christmas!!

Merry Christmas and a Happy, Prosperous New Year!

Tom, Jeanne and Lefty

Happy Holidays
Tom
12/17/2014, Marina Palmira, La Paz
It's that time of year,,,and no matter how busy we are some things just have to happen.

This years light display is a bit different, with a few lower strings, but not a huge difference.

Jeanne and I want to wish all our friends a very Merry Christmas, and a Happy, Prosperous New Year

Playing with turtles!!
Tom
12/06/2014, Todos Santos, Mexico
Well, I guess I should clear that up a bit, as we did not actually get to play with them, just help release newly hatched baby turtle back into the sea.




When we found out that there was going to be a release of baby sea turtle, and that we could go along to help out, we jumped at the chance. It worked out the Jeanne's Mom and Dad, Gordon were here for a visit at the same time so they got a real treat

The release is timed around the hatching of the new turtle (DUH) and just so happened to be around 4:30-5:00 in the afternoon, so I would be able to take photos! The beach where they are release is pretty steep, and had some rather large waves coming in.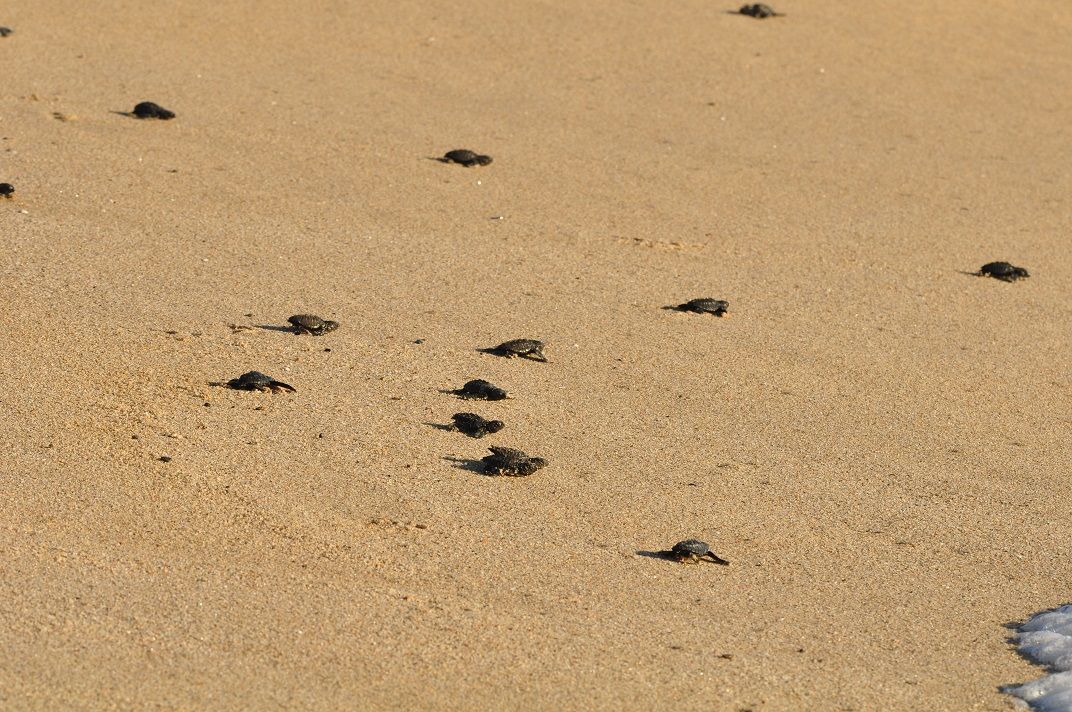 The local biologist was careful to explain that the turtles are not to be touched...they were placed in small white tubs and walked over to the beach. You tip the tub up, let them walk down onto the sand make their way to the water.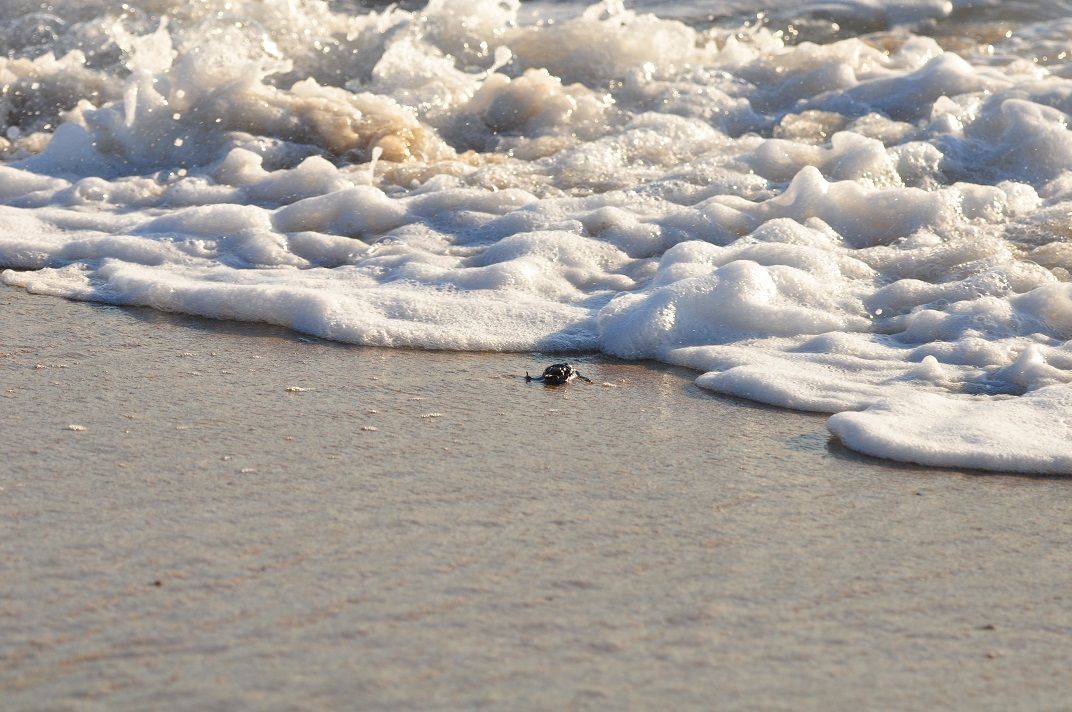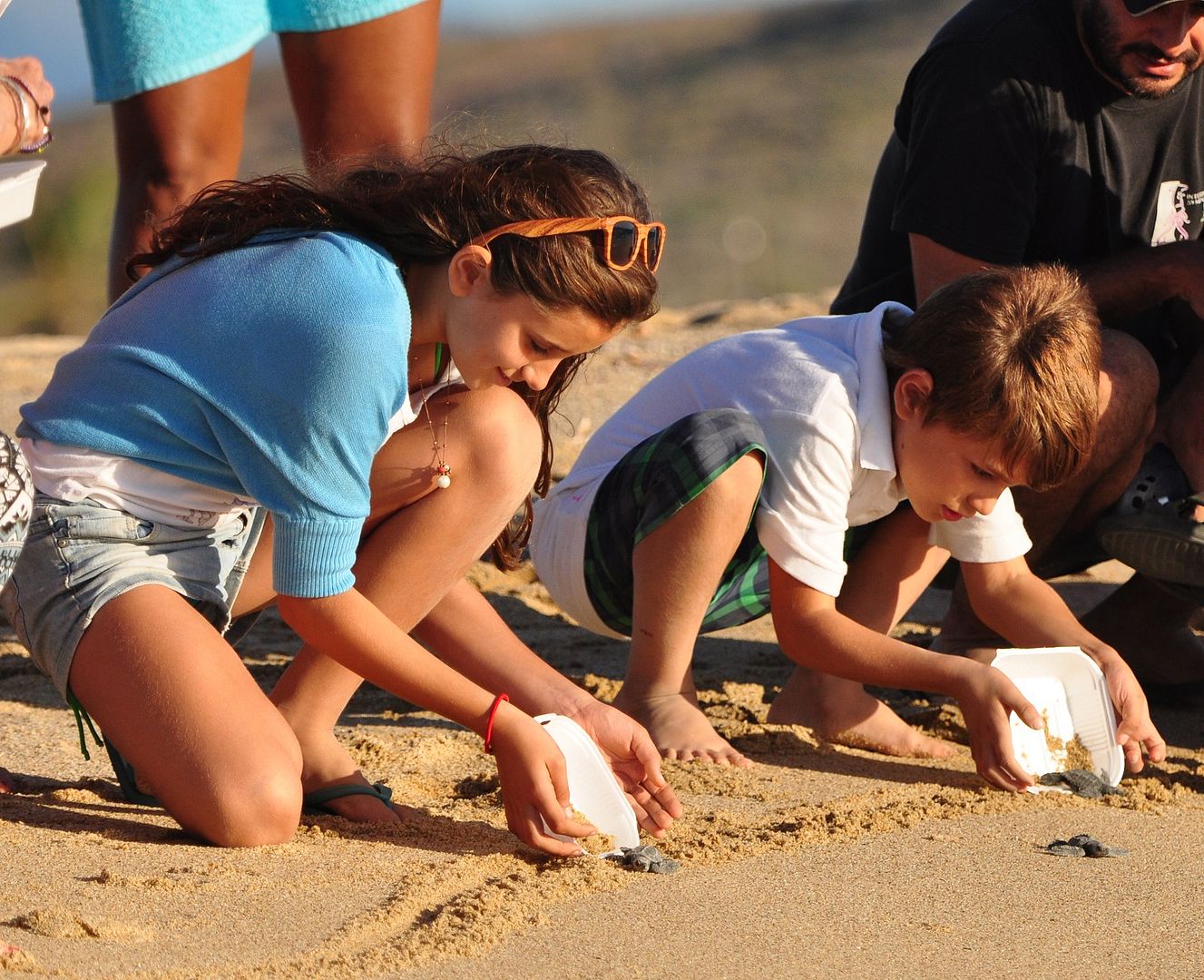 There five or 6 other adults there, as well as 5 or 6 kids all very excited to help out. We release about 60 new turtles out into the ocean on this particular afternoon.

Gordon and Linda got to help several of these little guys make they out into the world.....





The waves were pretty big, and every now and then I would spot one swimming away for the beach.....It's a big nasty world out there, so we wish you good luck, God speed and be careful!





Are we having any fun yet?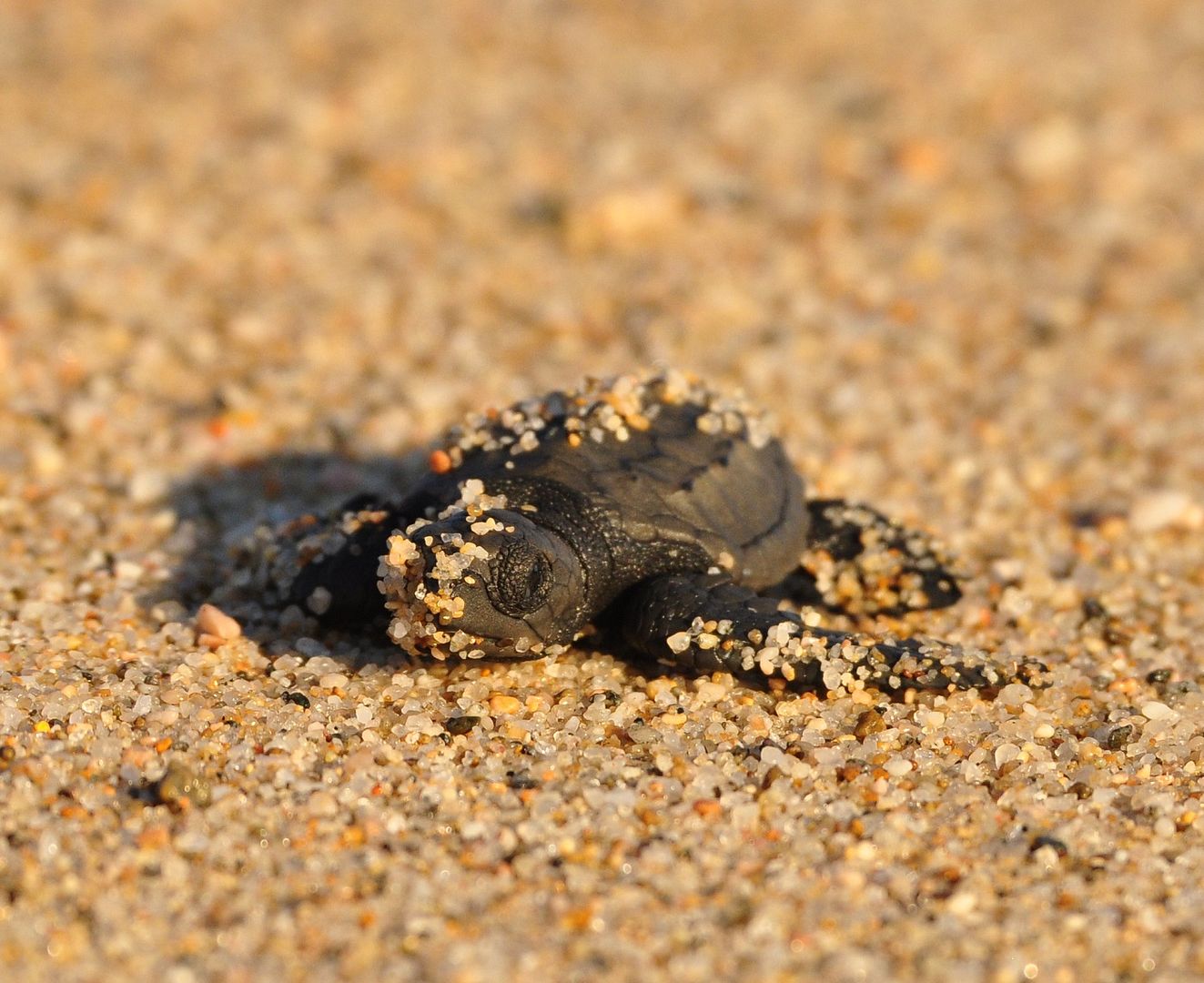 Mujeres en la cocina - Chilis En Nogada
Jeanne
11/08/2014, La Paz
Take one large kitchen,- Mariella's, add several cooks - Isabel ,our maestra, Olivia, Mariella, Cricket of SV Mystic Island, and myself, stir in a traditional Mexican meal, Chilis en Nogada and you have a really great time fixing a wonderful meal. We were joined later in the day by Marisol, Mariella's daughter, Marisol's daughter Natalia, and Josefina, or "Jose".



Chilis en Nogada is generally prepared in the fall around Dia Day Independencia, in October. The dish represents the Mexican flag: Roasted, and stuffed poblano chilis - the green, a lovely sauce made from peeled walnuts- the white, and pomegranate seeds- the red, sprinkled over the top. Pomegranates are available in the fall months.

Our Dia de Independencia was met this year by Hurricane Odile, Cat 3/4 arriving Oct 14/15. Needless to say our cooking was postponed!

We gathered up the ingredients, with Isabel and Olivia doing most of the shopping -the hardest to find were the walnuts. Luckily, I had several cups of them stored in Olivia's freezer for just such a use! We also gathered a selection of wines for the cooks... and guests! It's a good thing. Doing this recipe all in one day is very labor intensive. It could definitely be broken down in to different steps then assembled later. We were all thankful that Isabel had cooked all the meat ahead of time.




Isablel's family is from the mainland and her sister shared the family recipe for our meal. Isabel prepared, in advance, the meat for the stuffed peppers. She cooked beef, which she then patiently shredded very fine. She did the same with pork.



The traditional recipes for this, like the one in Like Water for Chocolate, call for peeled walnuts. If you've never really looked at a walnut before it is full of little nooks and cranny's....... and lots of them. Olivia spent a couple of evenings trying different methods of getting the peels off. Seems the best is to pour hot water over them, and let them sit overnight. Then there's the time consuming task of getting the skins off.



The poblanos were roasted over the open flame of the stove by Cricket and Mariella, then placed in a plastic bag to steam the skins off, and cool.




Marisol and Mariella then peeled, and seeded all of the peppers, then set them aside to wait for stuffing.



Meanwhile, I had started to help Olivia with the walnuts. Slow, slow going.......

Isabel had diced a couple of onions, softened them in a bit of oil, and added the precooked, and shredded meats. To this she added minced garlic, diced, fresh peeled and cored pears and apples, canned diced peaches, and slivered almonds.




Cricket, now done with roasting peppers joined Olivia and I in the task of walnut peeling...........


It's a jungle out there!
Jeanne
10/30/2014, La Paz and a bit beyond
It's a jungle out there!

After two more trips to the mechanic - a burst water line and a blown head gasket..... Pancho was ready for a road trip - so were we!

We got up on Sunday morning after getting an extra hour of sleep and decided that breakfast at Café El Triunfo, in El Triunfo was a really good idea. So, 40 minutes later, cameras were loaded and away we went.

El Triunfo, a former mining town 35 kilometers from La Paz, is a quaint little village about 5 blocks long. It's nestled in between some hills and near the old Eiffel smelter stack, supposedly built by Eiffel himself - or rather he had something to do with it! El Triunfo is also home to the world famous piano museum.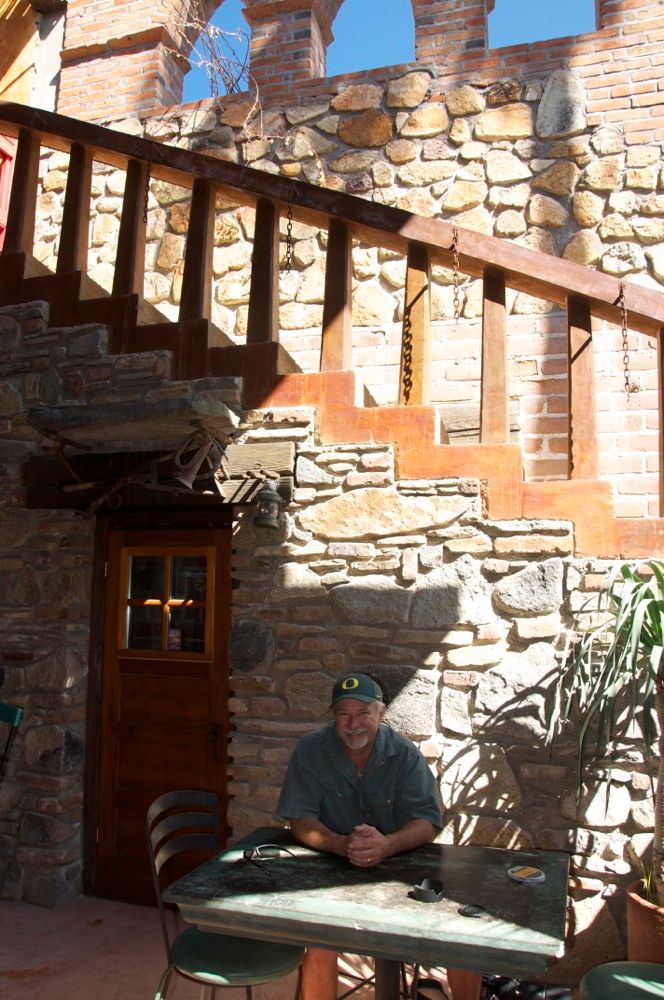 We had a good breakfast, met some nice folks on the way to their place on the beach in La Ribera and then wandered through town for a bit. Tom went in search of birds, and me, I just went looking.


I found some interesting windows,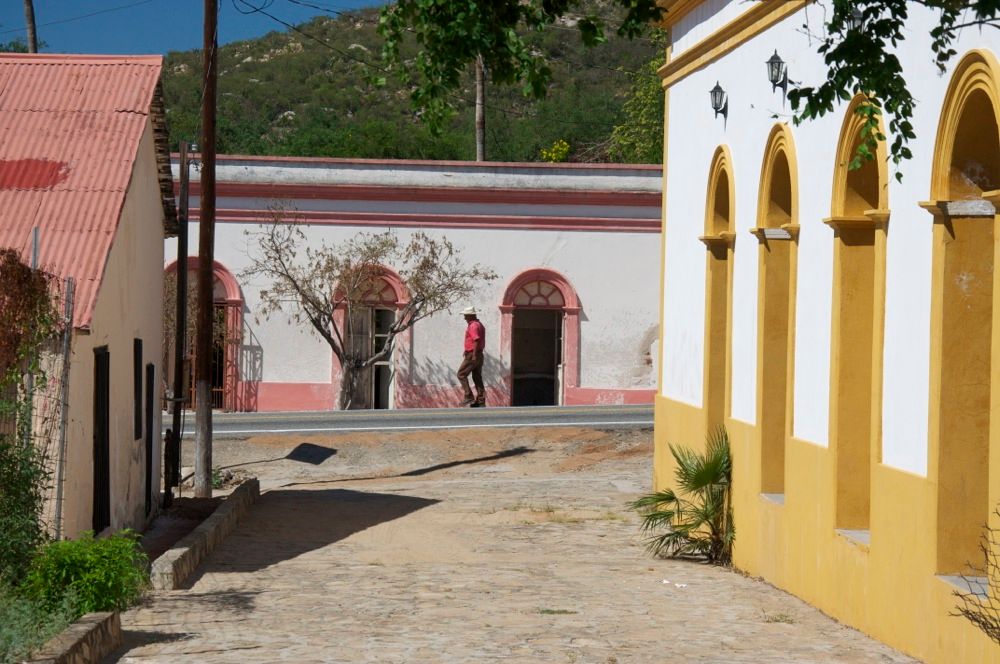 some fun colors and textures,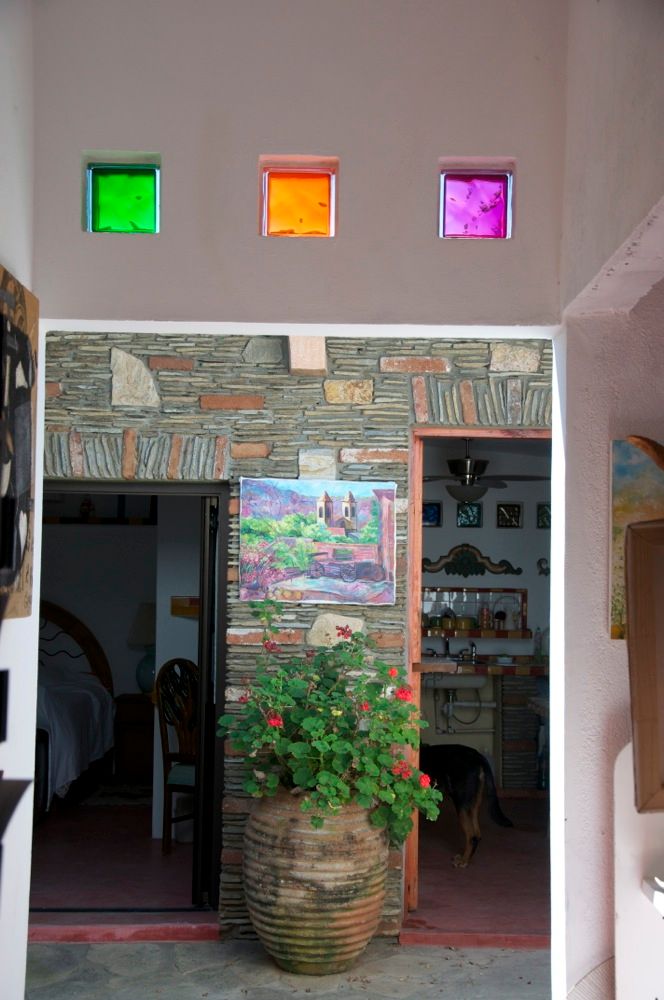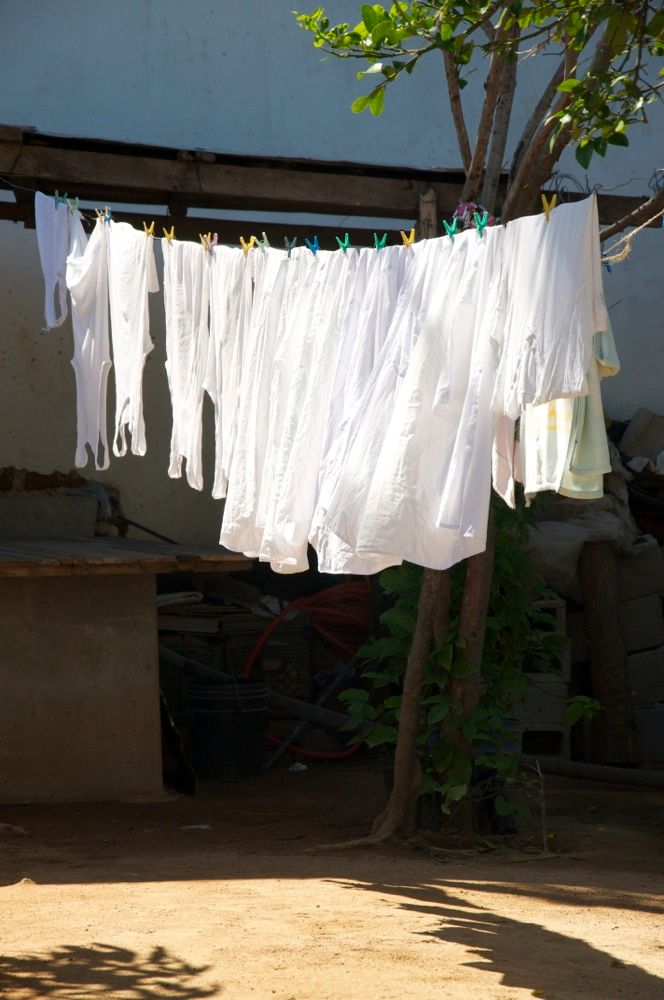 the old bridge,


a few bugs, a few flowers,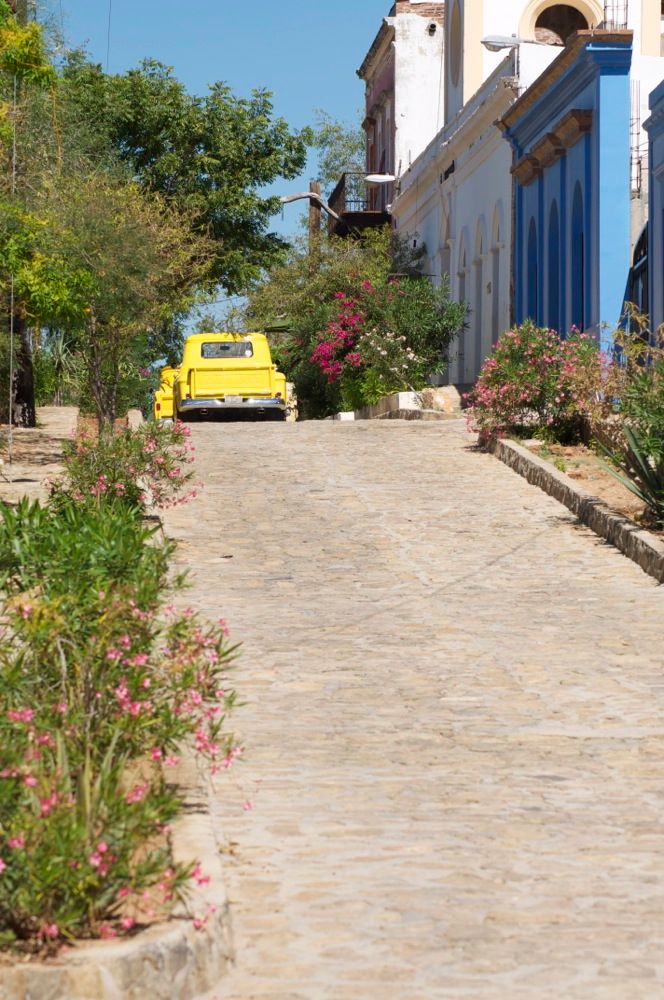 and some transportation used to get folks here.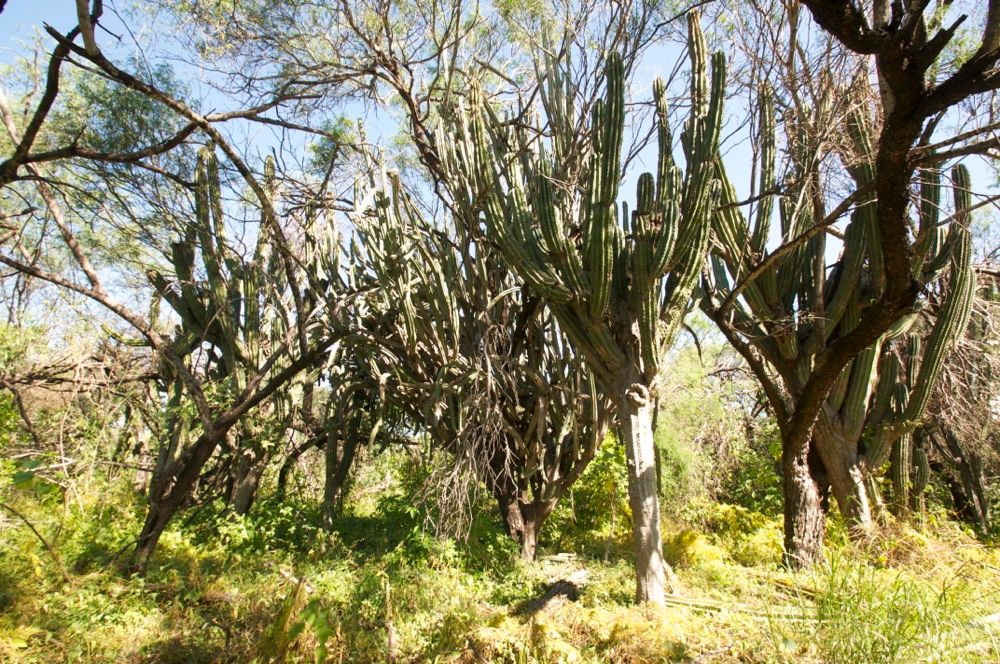 On the way back we headed down the road that leads to the Sanctuario de Cactus, 5 k off the main highway. The road side was just lovely. The hills and vegetation is so green and lush, it looks more like a jungle, than the desert. We couldn't have walked more than about 2 feet away from the road if we'd wanted to.

All the many hues of green were beautiful to see. There were lots of flowering plants - pinks, yellow, blue and purple. An occasional white or red flower could be spotted. Amongst all of this, and over and on top of and woven through was a yellow viney plant that looked like some kids went wild with silly string! It appears to literally be choking and totally engulfing the plants.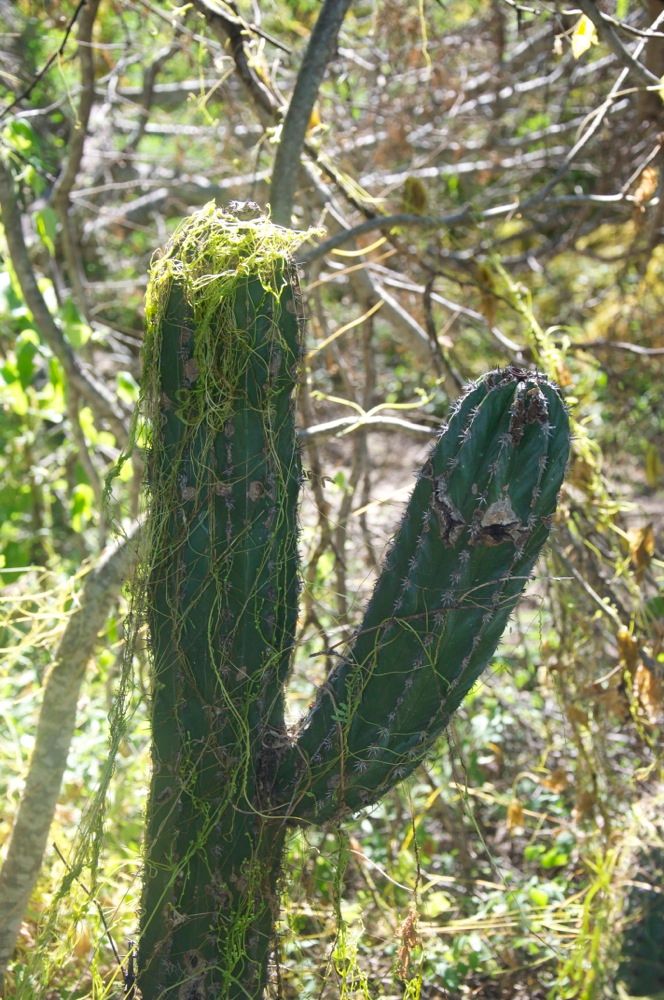 We were met at the gate of the 'sanctuario' by a man , the 'caretaker', who gave us a brief tour. It was actually rather involved and detailed, but we were more into just wandering on our own. Hurricane Odile had left her mark. Several large trees were down. Many cactus arms were broken,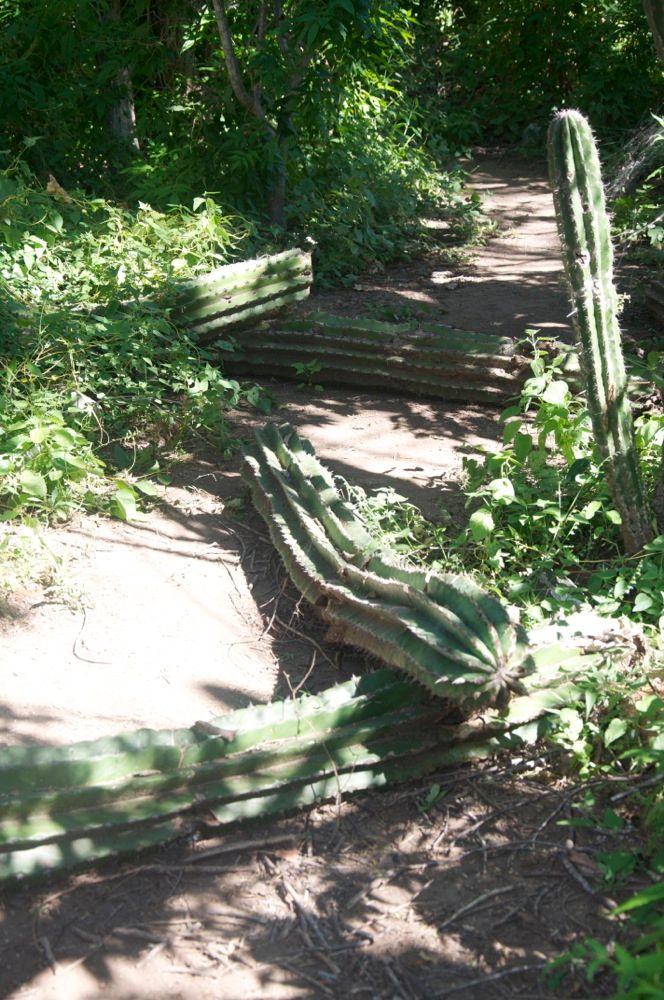 and that jungle stuff was encroaching upon the pathways. We wandered to the end of all the cleared areas, then worked our way back.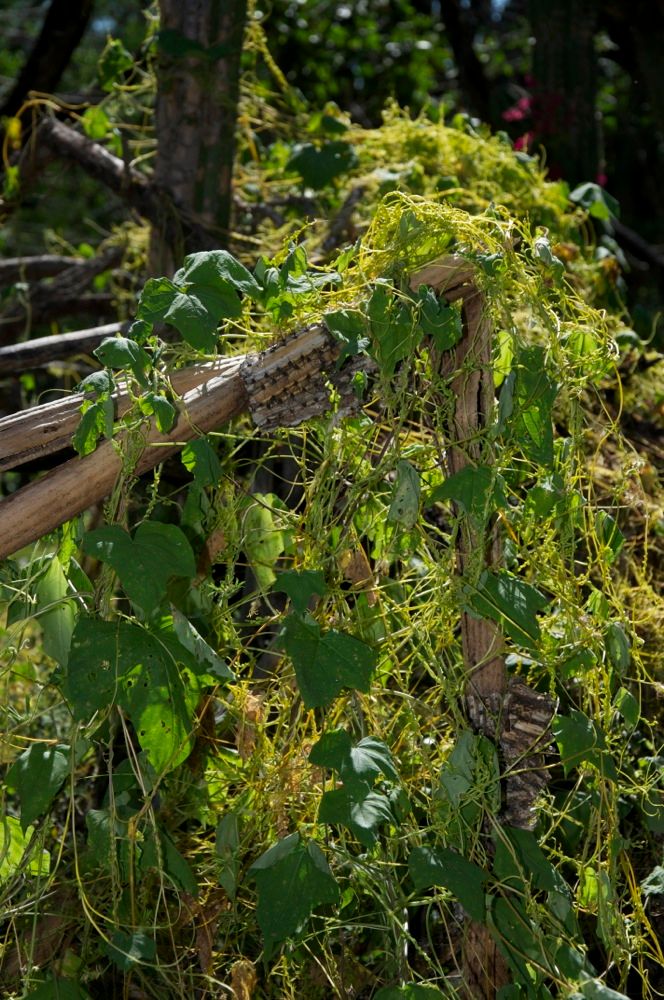 As is usual with us, when we go slow, we see more! Unfortunately, because of all of the vegetation, many of the cactus (cacti?) were hidden from view. There were lots of butterflies, a couple of really BIG ones floated just out of lens reach, but were fun to watch and a couple of neon spiders and other little critters were spotted and enjoyed. I had fun photographing the twisty vines, some back lit cactus and trying a new technique with my flash unit.


We were also shown through the neighboring cemetery, of which he's also the caretaker. He pointed out some really old vaults.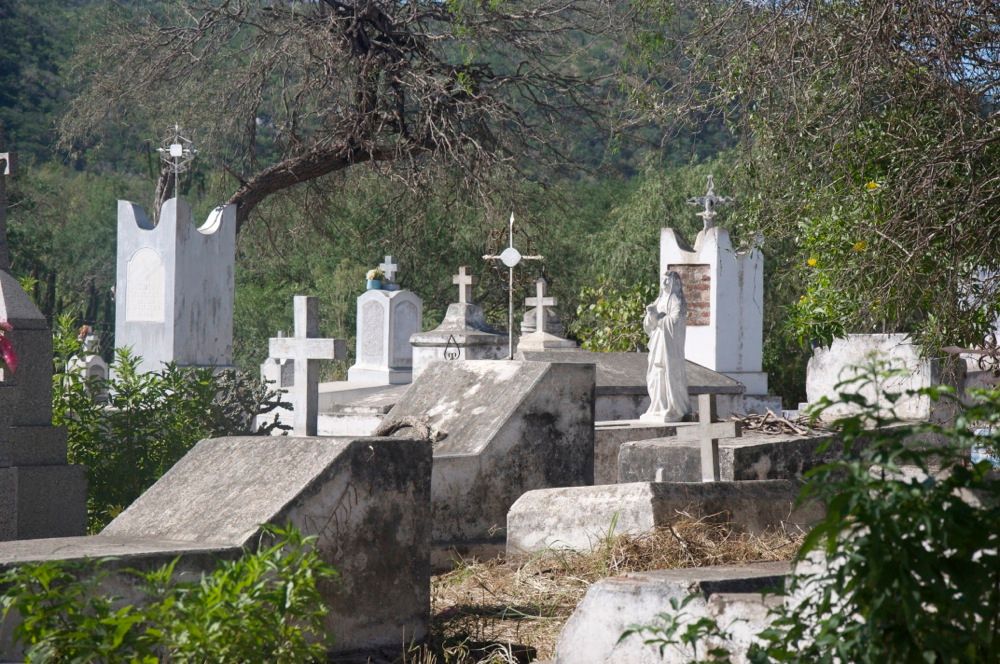 An extremely large one, a couple of Indian ones, at least two Spanish ones complete with the arquitecture examples of the time period.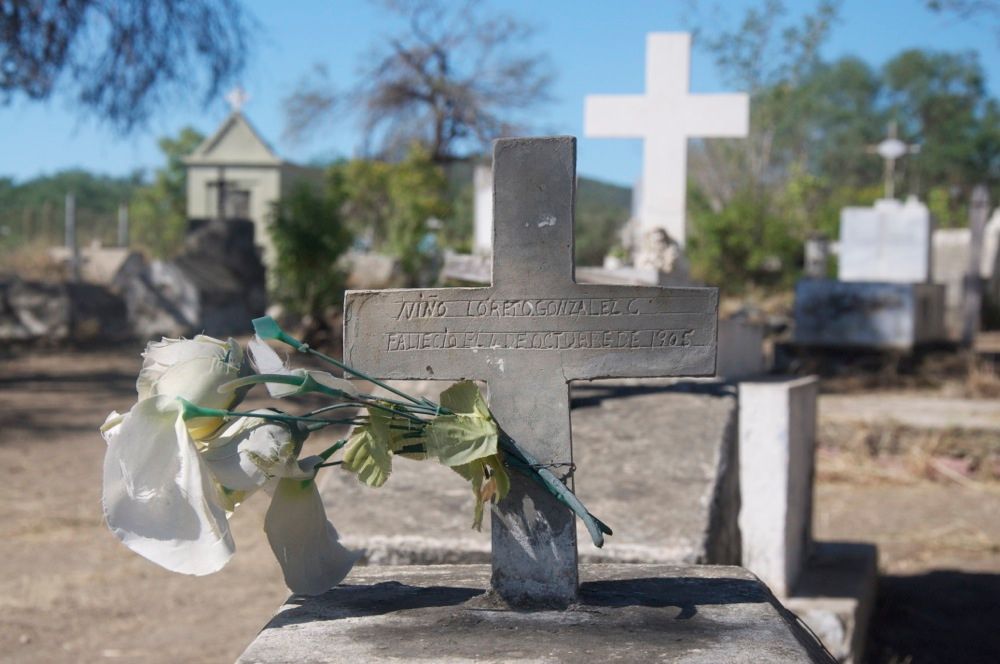 Like all cemetaries in the country, they are all being cleaned up for next weekends, Dia De Los Muertos celebrations. A time to honor and remember those we've loved that have passed.


La Paz is back!!!
Tom
10/10/2014, La Paz
Were almost back! This community has been nothing short of incredible, jumping right in and getting everything put back in order. Just in case you have been living in a bubble somewhere, or don't have any idea of where we live or, what happened just a little less than a month ago, on September 14th, our newly adopted hometown of La Paz, Mexico was struck by Category 3 Hurricane Odile. This was the strongest hurricane to ever hit the Baja of Mexico since hurricane records have been kept. And, as bad as the town of La Paz got it, our neighbors to the south, Cabo San Lucas, San Jose Del Cabo, and Todos Santos got it even worse. They saw steady winds above 125 MPH, gusts to 145 MPH and catastrophic devastation throughout the south cape region.

The timing of this storm is in no way extraordinary, falling right in the middle of the peak season for Eastern Pacific Hurricanes. All the long time locals, and cruisers who have kept track of the 'trends' in hurricane forecasting were all saying for months that this was the year....everything was setting up to be a monster hurricane season. The biggest indicator was the water temperatures...nearly 10 degrees warmer that it should be, and months ahead of time. We had a few close calls, several major hurricanes (category 4 or bigger) who all passed by to the west, some traveling as far as Hawaii. As of today, the 9th of October, the 2004 Hurricane season has had a record number, 8 Major hurricanes in the eastern Pacific.

Then along comes Odile (pronounced Oh-Deal) and from the get go she looking like she was targeting the Baja. At 3 days out, we all knew we were going to get at least a part of this storm. The closer she got, the more it looked like we were going to get a lot more than just a part, and finally we all knew we were going to get pretty much a direct hit. Most of the forecasters were calling for sustained winds of 125 MPH with gusts to 140 MPH. The seas were pushing waves ahead of the storm, or surge as it is called with heights nearly 30 feet.

As many of you all know, one of the components of our business here in La Paz is full time or seasonal management of yachts and sailing vessels while the owners are away. We had spent a considerable amount of time this summer making sure that we had prepared boats to be as ready as possible for whatever Mother Nature decided to throw at us. Strip the decks of sails, Biminis, and any other canvas that would come off. Extra dock lines, all with chafe guards, as many fenders as possible and if it is loose, move it inside or tie it down! Despite all our advance preparations, the last few days were crazy busy with last minute checks, double checks, and what the heck, even a few triple checks. It was the little things that really paid off in the long run. Things like looking to make sure that your boat and the neighbor's boats mast were off set. If they should start swinging, you don't need the masts to be doing a sword fight in 100 MPH winds.

Finally it was getting dark, and you could feel the steadily increasing winds start coming thru the marine, and singing in the rigging. 8:00, 9:00, 10:00, each hour it just kept ramping up...and then the rain started. At this point the wind was still in 50-60 MPH range.....so next time you are driving down a major highway, stay within the speed limit, then stick your arm out the window. Then imagine the rain coming down at a rate of 4-6 inches per hour with it. Dive mask, ski goggles, or safety glasses, are required to be able to see while on the docks and function. The rain at 70+ just plain hurts. But, we were not done yet. I continued checking on our boats until about 3:00 AM when the winds were making it nearly impossible to move on the docks and sidewalks. I really never feared the moving boats, they are to me at least, somewhat predictable. It was walking the sidewalks at the top of the docks that I was concerned about. Flying coconuts, palm fronds and building materials were my biggest concern.

At this point, Jeanne said NO MORE!!! We have done what we can, and at some point they are just boats, not worth an injury or human life. So we settled in our beloved Eagle, and rode out the balance of the hurricane. Several times she healed over to the point where the toe or cap rail on the top of the deck, was below the dock!! That is about a 40 degree lean and in some cases, very close to a knock down! The peak wind speed reported here in our Marina was 117 MPH!

At 6:00 Am, as the sun started to lighten the steely gray sky, I headed back out to survey the damage....and I have to tell you we were blessed! A few scratches, a few dings, one bent stantion, a few dock cleats pulled out (all in the brand new Marina at Costa Baja) several lines worn thru, and that was it! Our fleet had come thru the tormenta in what I felt was superb condition.
The town, of La Paz was not so lucky.....trees down, power lines toppled, roofs blown off, thousands of windows broken or blown out, and in some cases entire homes leveled! In the Magote anchorage area, off the city of La Paz, 32 boats were washed ashore, or sunk, and three of our cruising friends lost their lives! The stories of damage, and catastrophe were just beginning.

But then a crazy thing started to happen. The people came out of their houses, the shelters and business, and started to clean up. Not just a few, but thousands of local La Paz citizens, known as "Pasenos" started to put things back together. There were no crime sprees, no rioting or savage gangs roaming the streets. Just a very proud community, starting to rebuild. And that is what they did, by sweeping, cutting, piling and hauling off in trucks the debris that was formed. The La Paz water front with its beautiful Malecon, or sidewalk saw hundreds of workers with brooms and shovels cleaning whatever had been washed down from the surrounding hill sides. I found that there was no age limit to this effort, as children, were right there sweeping and picking up with their Parents and Grandparents.

Then the mighty effect of the Mexican government started to be felt. The Mexican Electric Company "CFE" started sending literally hundreds of trucks and crews from the mainland. The ferry system was for all matters commandeered, and the only passengers allowed on board were CFE trucks and employees. Right behind them came the Federal Police, or Gendarmes. While there is no question a very large part this CFE and police movement was directed at the Cabo area, at one point when Jeanne drove down town, there was a minimum of two federal officers, and sometimes as many as 15, on every block the length of the Malecon, or down town, and water front area. An exceptional show of police strength and control. Again La Paz just felt to me like it had a special kind of pride that was evident everywhere I looked.

The cleanup still continues here in La Paz. It would fool hardy of me to try to tell you otherwise. There are still parts of La Paz, especially the lower income areas that have a long way to go to getting back to normal. There are some areas, low priority areas such as the roof on the baseball stadium that have yet to be tackled. But fear not, it will happen. There is just way too much pride in the community to not get everything back to the way it should be.

At this point I feel confident that I can say that the major infrastructure is 100%. Especially the areas that the seasonal tourists, most of which arrive by boat, are concerned about. The hotels are all completely repaired. Every marina in La Paz fully functioning, with fuel, power, internet, even the pool at Marinas Palmira has been drained, scrubbed and refilled. The fishing fleets and dive/snorkel trips are ready and waiting.

The sun is out, the skies are as blue and beautiful as ever and La Paz is back and ready for a visit, so some on down and see us! Let La Paz show you how special this place is.