John Updates
Jeanne
03/10/2014, La Paz/San Diego
Well the weekend found those of us here in La Paz unwinding from a very busy week of playing catch up and the fundraising event. Saturday evening we were treated to dinner and a game of cards on board Pangea with Michael and Katie - they say, "Hi John!"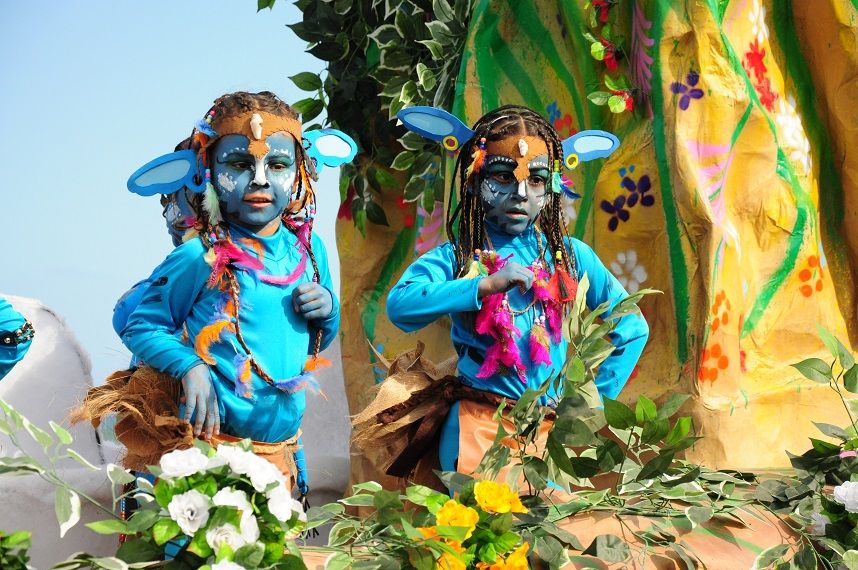 Sunday morning marked the final day of Carnaval with the children's parade and festival at the Kiosk in the center of the malecon. We got up and got to a spot on the malecon just 5 minutes before the start of the parade.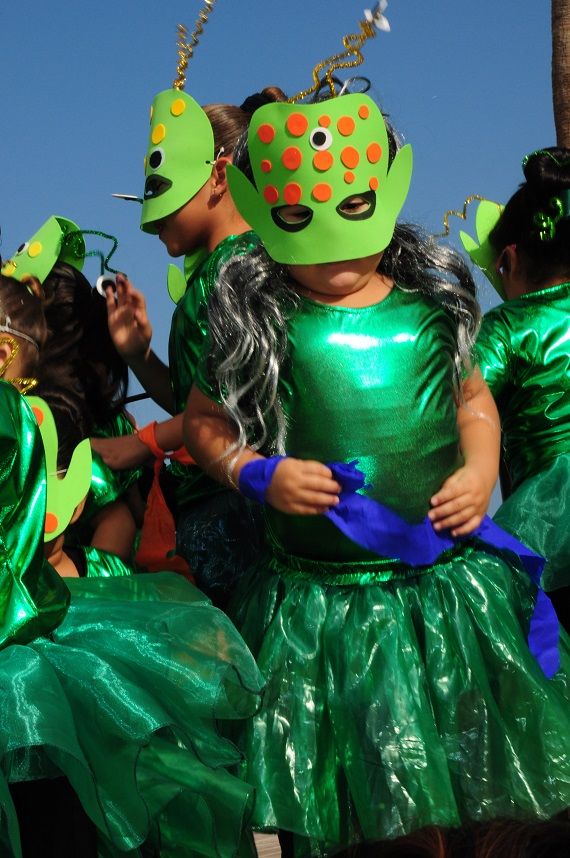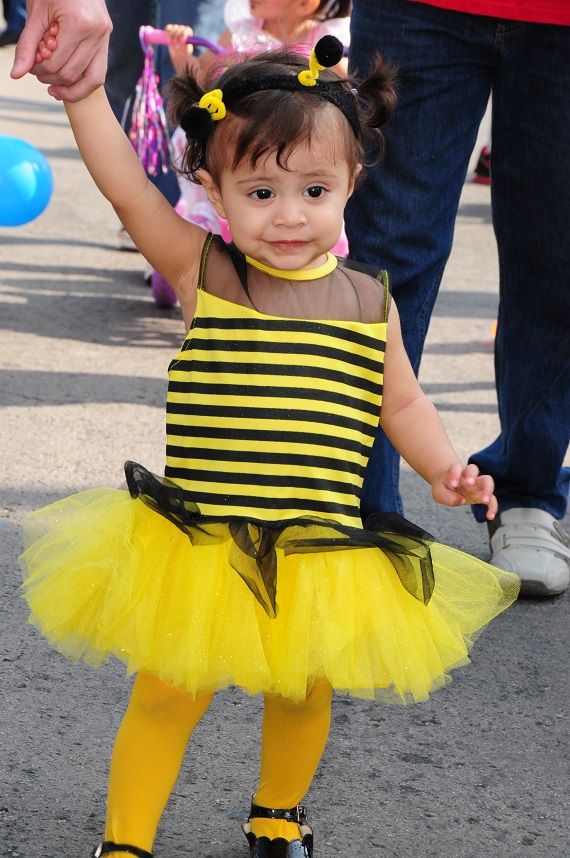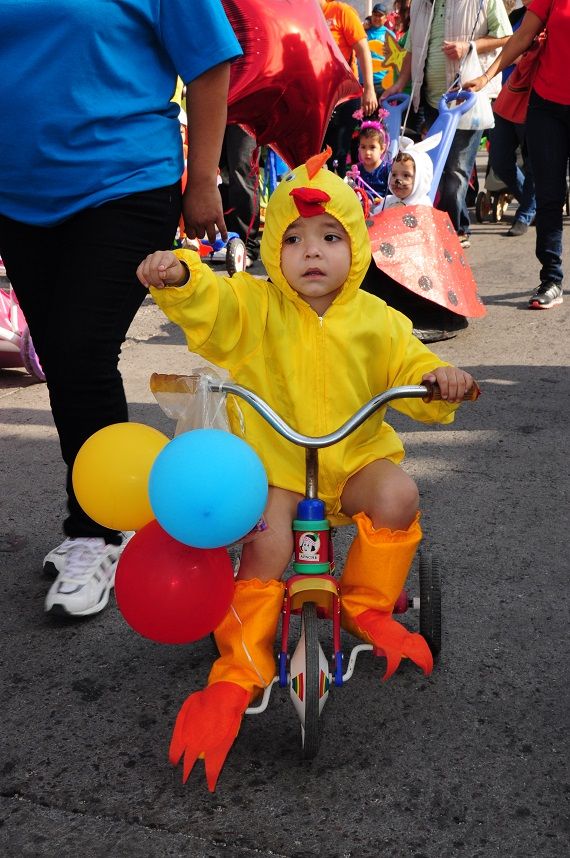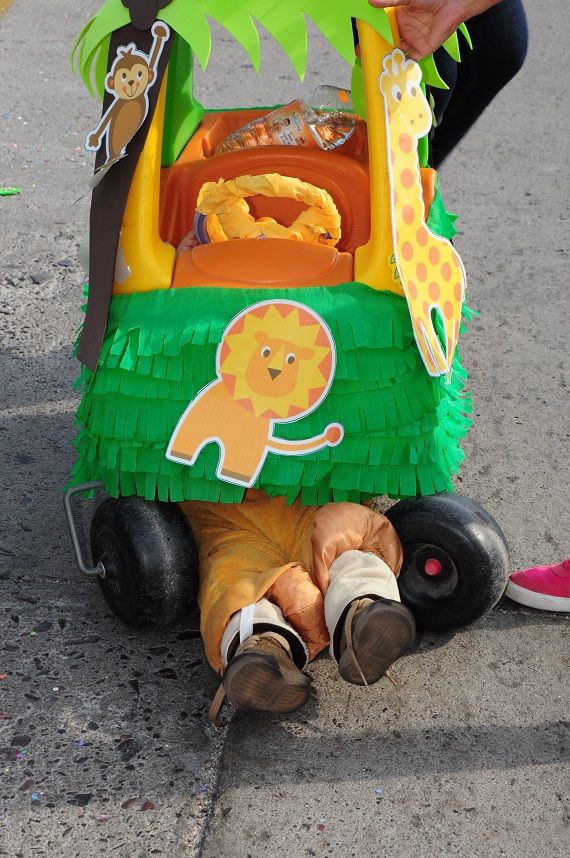 OOPS!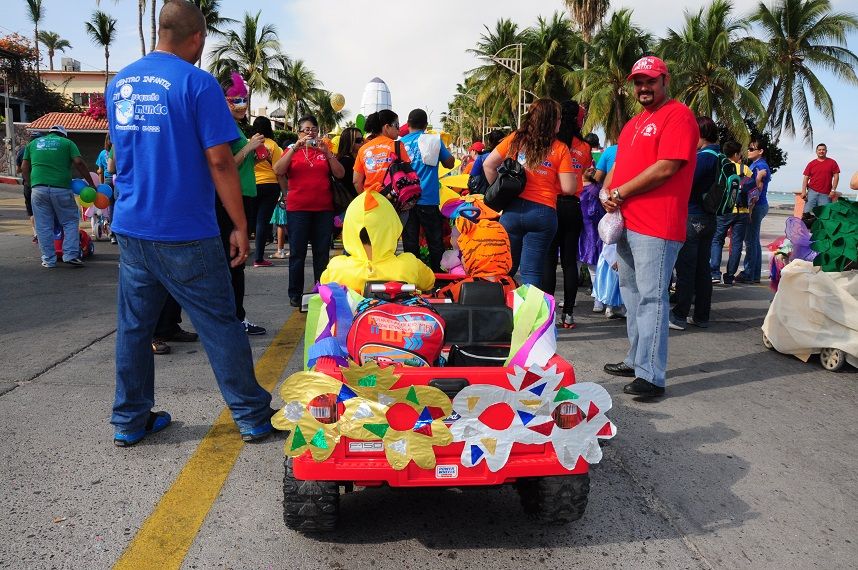 About 7 floats and a few marching groups came by - 10 minutes later it was done!

Tom headed to the waterfront for some bird photography and I off to Mama Benitas Women and Childrens shelter to drop off collected donations. We met back on the boat and had a very quiet day onboard Eagle, mostly enjoying a very long siesta!

We spent a lovey evening on board SV Willfull Simplicity with our great friends, Steve and Charlotte, aka Esteban Y Carlotta, also San Evaristo Ambassadors!

The conversations, no matter, where or with who, always seem to come back at some point to John: "How is he doing?, What is he doing? Where's he going to stay, do...etc." How's he dealing with this? How's his head? - still head bobbing, as he's known to do!

Esteban Y Carlotta have the 'move' down pretty good... a little tip of the top of the head, followed by a bit of a shoulder shrug/dip... then a quick chin up - you got yourself the "John John head bob"! We laughed and shared stories about all of us, including John till way, way past sundowner hour!

So, in his words here's how he's doing:
"Today (Saturday 3/8) I had a nice visit from Mike H. From Shilshole Marina in Seattle. He is down visiting his parents, so it was great to have him come by.

Also today my college roommate David and his wife Susan arrived for the weekend, David has to work in San Diego on Monday. So now I have some new cribbage players!

I'm still doing the prescribed PT and brother Jim is making sure it is done, plus I've added some upper body conditioning. It's not all work...Jim got me out for my first skateboard ride!"


A fellow cruiser, Wes on SV Good News, offered to take some things back to John on a return trip to LA. John received the bag and a few extra goodies we'd placed inside! A motivational photo of John sailing into Isla San Marcos under all sails, our 'loaner' ukulele, and a La Paz Cruisers Supply shirt. As John say's he'll be able to start a band and they will already have the band shirts - the practice location is in the chairs right in front of the store!
We're waiting for you!

John's expenses from this accident continue. If you'd like to help him with these, you can go to Paypal , account SVTimepiece@gmail.com. If you'd rather make a direct deposit or mail him a check, please contact us here for the information to do so.!

John officially moves
03/07/2014
To California that is.... he spent several hours "of adventure", he says, at the California DMV getting a new ID card. The DMV in any town is sort of a United Nations.
And look! The sun is shining! Ok, so he's got a polar fleece vest on, but he is in short sleeves!

Yea! Team La Paz
Jeanne
03/06/2014, La Paz
John, your Team La Paz absolutely ROCKS! Last night was the benefit in your honor, and the team did really well!

The donations for the auction were plentiful and still arriving minutes before the event started. We even had a late addition in the middle of the live auction! We were a bit concerned that we wouldn't have enough bodies to bid on items, but we shouldn't have worried. It was standing room only.


You already knew about Kim and Rob from Cross Marine Works, and Marilyn and Will from TechsMex Services. These two couples spearheaded the auction and its organization. They did a fantastic job.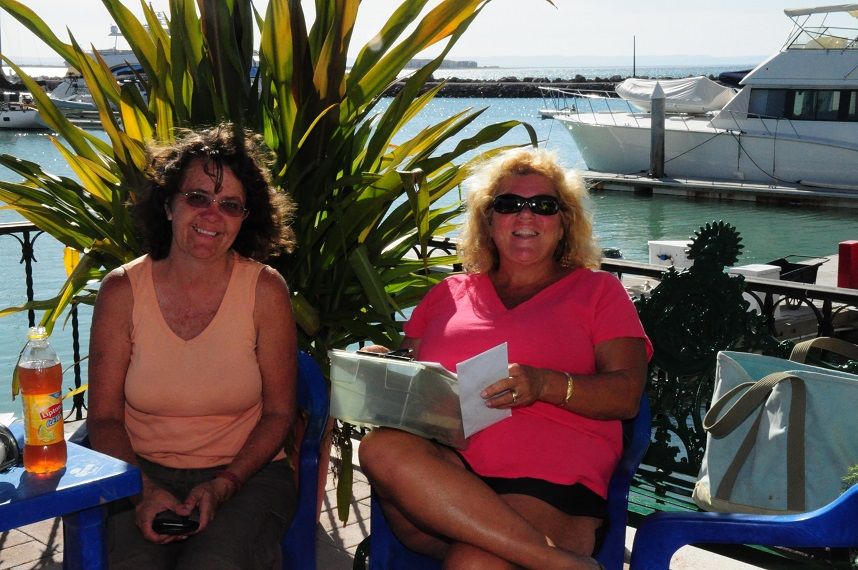 Kay of SV Tutu was the "bank" and kept track of the paperwork on the items, and Kim ran the swap meet table - there was no bartering, items were priced to go! And away they went!


Rhonda, SV Swan and Susan, S/V Two Can Play, headed up the 50/50 raffle. The ticket sales amounted to 27,200 pesos, with half for John, the other a lucky winner. That lucky winner, who we've been unable to contact so far, also donated a full day fishing charter for four on a pretty nice sport fisher. Since part of your Team La Paz, (Yea me!)bid on it and won... we'll reserve one spot for you John. And, they'll provide the beer...just a little incentive to hurry back. (He reported 4 yellowtail yesterday!)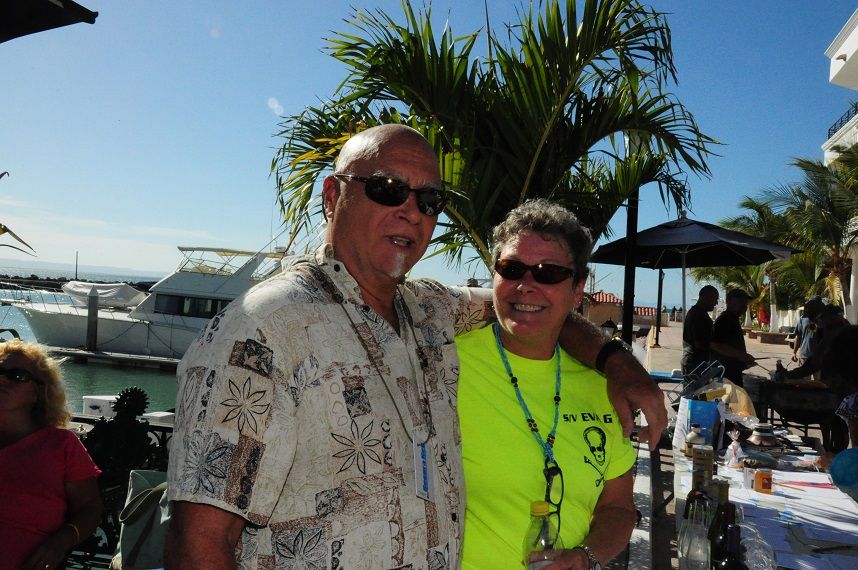 Bill and Dana, SV Eva G, manned the silent auction tables, and every item went to good homes!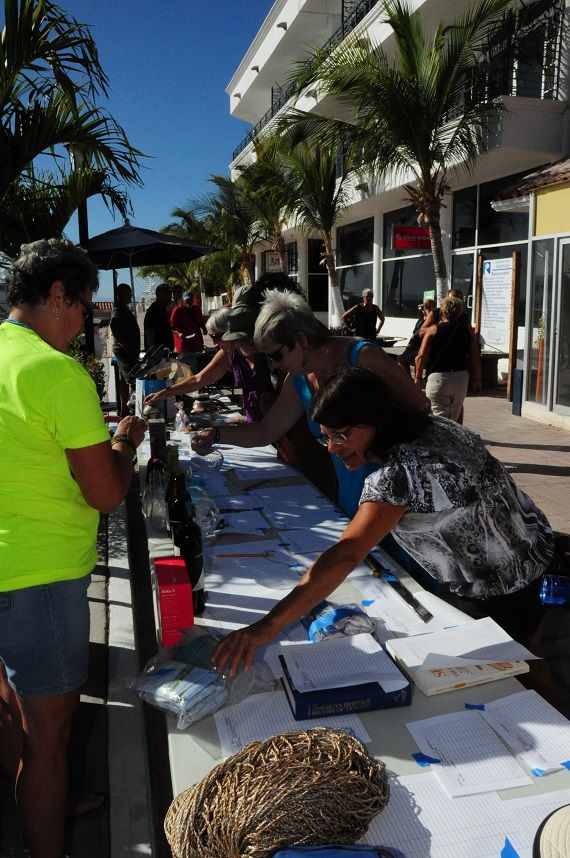 We had a crew to work the live auction, with Lance, SV Kylani heading up the spotters. Tom stepped up and became auctioneer for the night... a man of many talents! He did an excellent job.


Travis and Rosie of "The Shack" Restaurant/Bar donated, cooked and sold, in his words " the most expensive cheap hotdogs in La Paz" and donated all funds- 6,500 pesos! Unfortunately, he ran out! Most of the staff for the night, including me - usually, not a hot dog eater, didn't get one.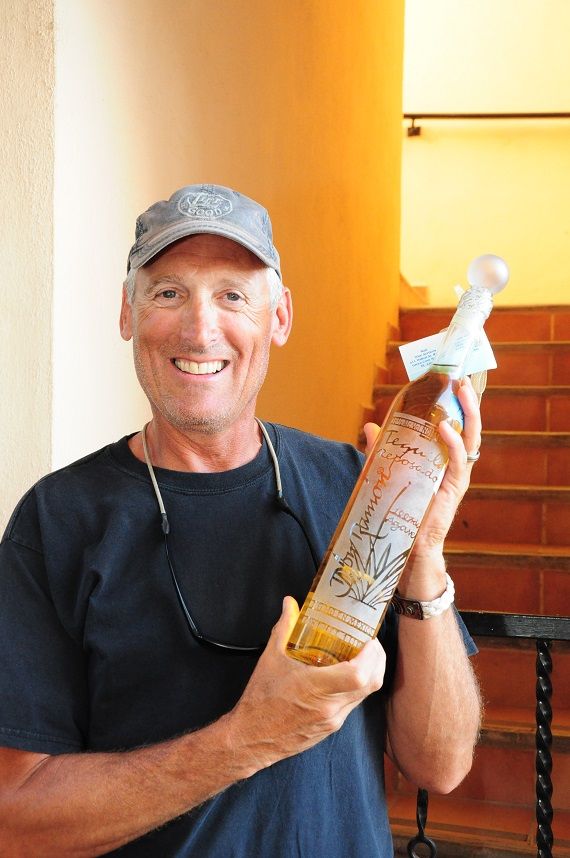 There were a couple of real bidding wars, one for this bottle of tequila. Scott has assured us that he'll bring it over to dock 3 to share! There were a couple of absolute steals - and a couple of items that were bid up, just because it was going to help you to get back here sooner! The overall total amounted to just under 8,300 USD.


And lastly, we recognized the great donation Marina Palmira has made for you. Tom, and I accepted it on your behalf, presented by Eliza, the marina's PR rep, and friend to all of us. The management gave you the first month for free and a 50% discount for 6 months. That should help you get back here, or at least ease your mind about it.
Everyone is still on a high about the great event last night. Unfortunately the reason we were doing this was because you were in the right place at the wrong time, doing, as you do so well... a good thing.
So now we'd all like you to keep doing the things you need to do to get back down here, even if it's just for a week or so.

If you'd like to help us help John, with his medical bills and expenses, you can make a donation to his Paypal account at SVTimepiece@gmail.com, or contact Tom at bigleftturn@hotmail.com for direction to make a direct deposit.

Many of you have already helped John by making donations - John, Team San Diego and Team La Paz thank you for your generous contributions!
( And the comments - John's favourite reading, right now!)


Mountains and dragons
Jeanne
03/05/2014, La Paz/San Diego
Yesterday saw all the team members taking a deep breath, one of reality. Team San Diego, is settling into their routine. Team La Paz, is getting back to boat management, running the store and completing waiting projects.

John's facing the reality of his situation - not that he hasn't prior to this! He's just got a bit more time to think, ponder, and look into the future. His life has taken a big left turn! All of us that know him, have the utmost confidence that he will return to the life he loves, and also, share or instructor or lead or ...... time will tell as he walks up that mountain.

He's found a few dragons rearing their heads, so far no fire yet! He's spending his time answering emails and making a few phone calls, researching prosthetics and BTK's - below the knee amputations. For increasing his endurance, he's quit using the wheelchair around the house and is only using the walker. Jim's got him on a 4x a day PT schedule, so John's been doing all of this reps while watching the golf channel - mental PT he calls it! He's had a few talks with Megan, an amputee also. She's been a great resource and confidant as the rest of us really don't know how he feels. She 's been very helpful as a dragon slayer!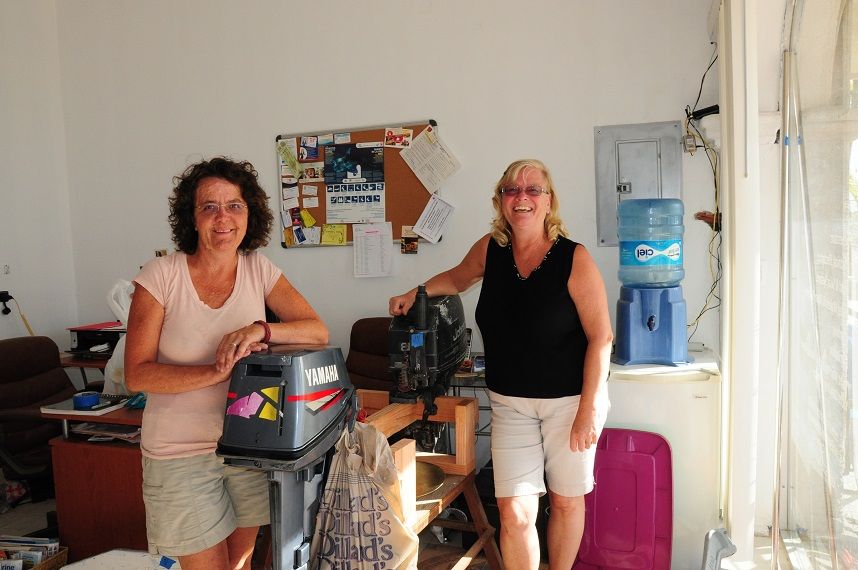 Kim and Marilyn with two of the outboard engines for the auction.

Meanwhile, here in La Paz..... this afternoon is the benefit fundraiser for John.
Marilyn of TechsMex Services and Kim of Cross Marine Works have taken on the task of collecting and sorting and cataloguing all of the items that have been so generously donated. so many items have been donated that it's being split up into a live auction, silent auction and swap meet section.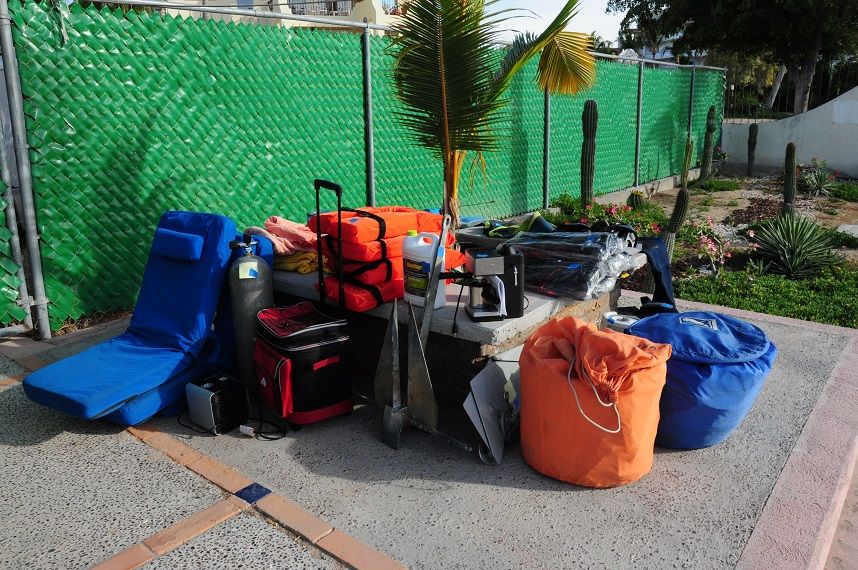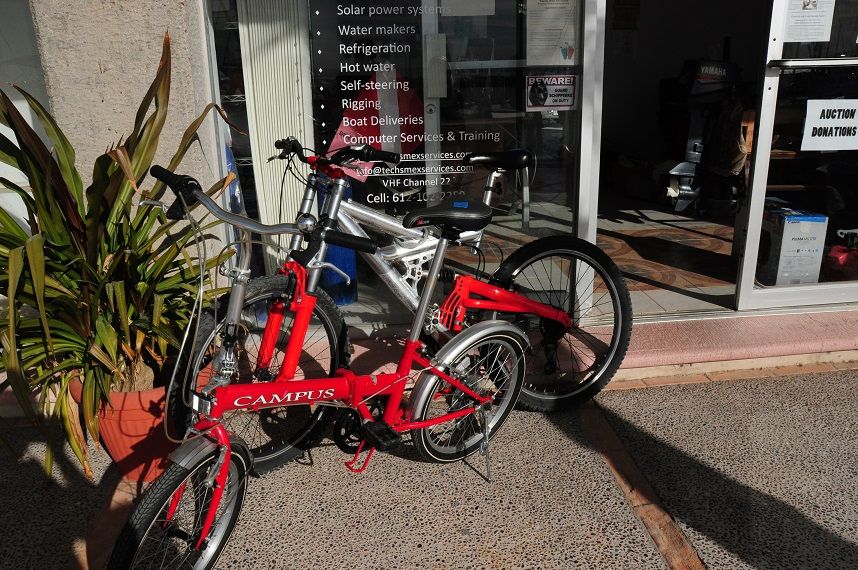 People are scurrying about getting things set up and ready. Travis, the owner of The Shack, restaurant and bar, will be bringing his hotdog cart down. All sales from the hotdogs will be given to John. The folks here know how to put away some hot dogs - Baja style - Bacon wrapped!

Club Cruceros and Rhonda from SV Swan have been selling raffle tickets for a 50/50 raffle.

Captain Wayne, the musician will be providing sailing/tropical rock music for the event........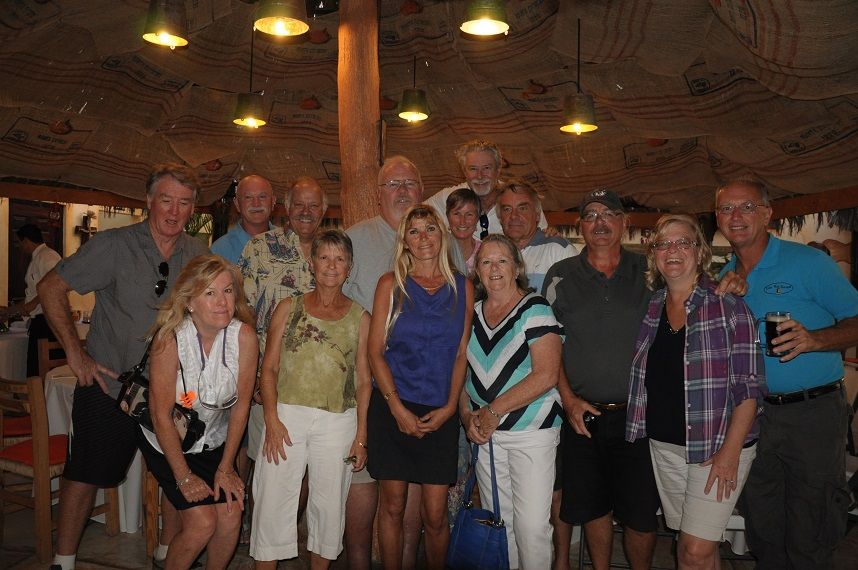 And not to forget where we live, yesterday was Fat Tuesday, and the last night of Carnaval, the final night of the parade and John on S/V Swagmans birthday! We joined some friends to share a good meal at the new location of La Bartolo on the malecon and had front row seats for the parade!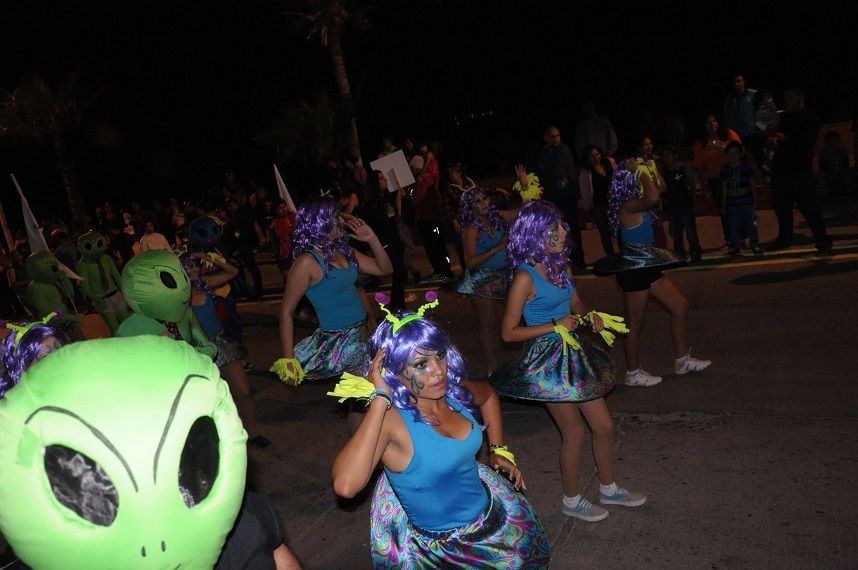 Rocky S/V Euphoria gets into the spirit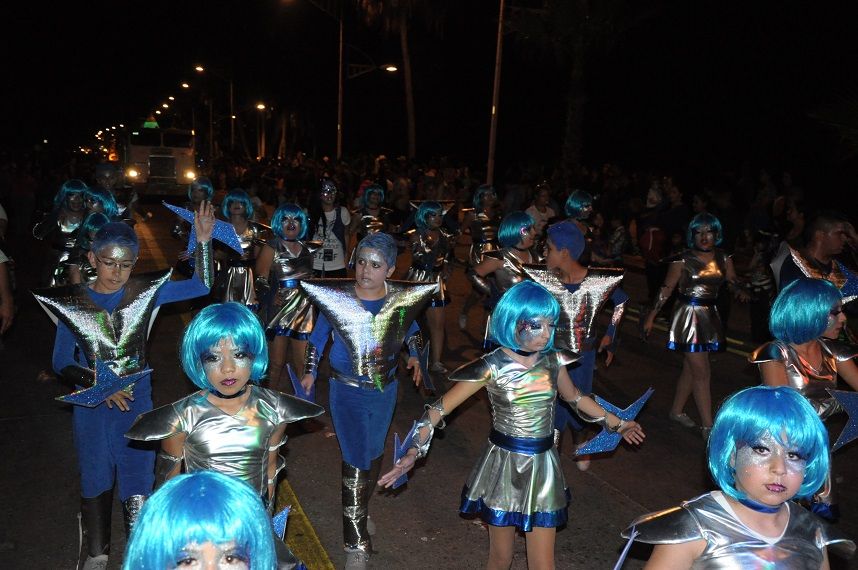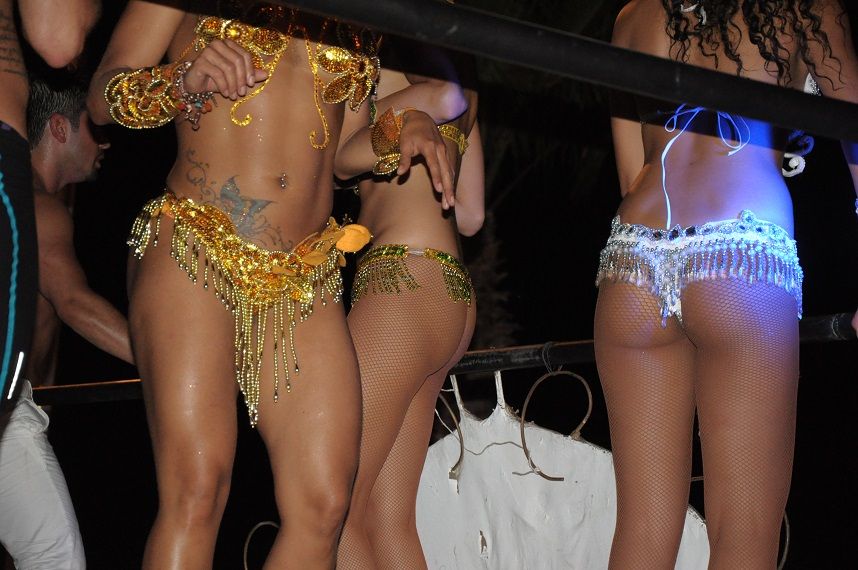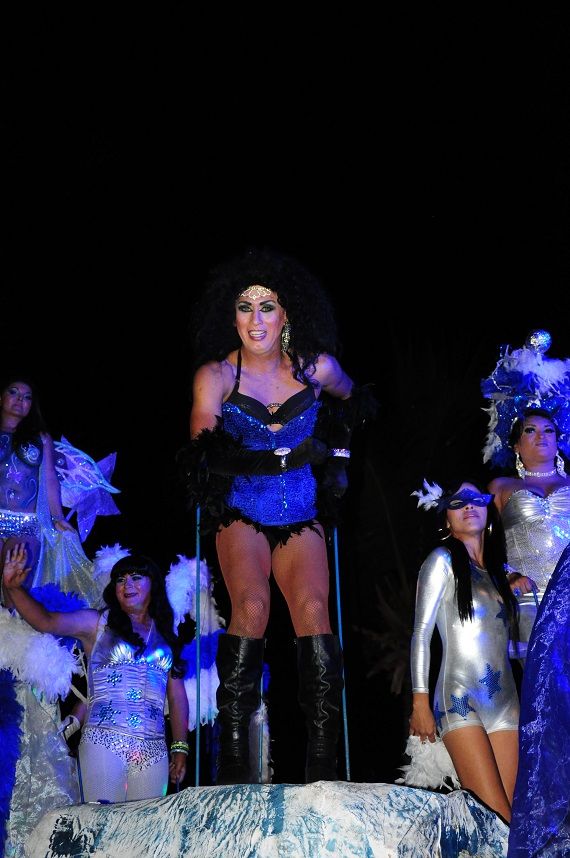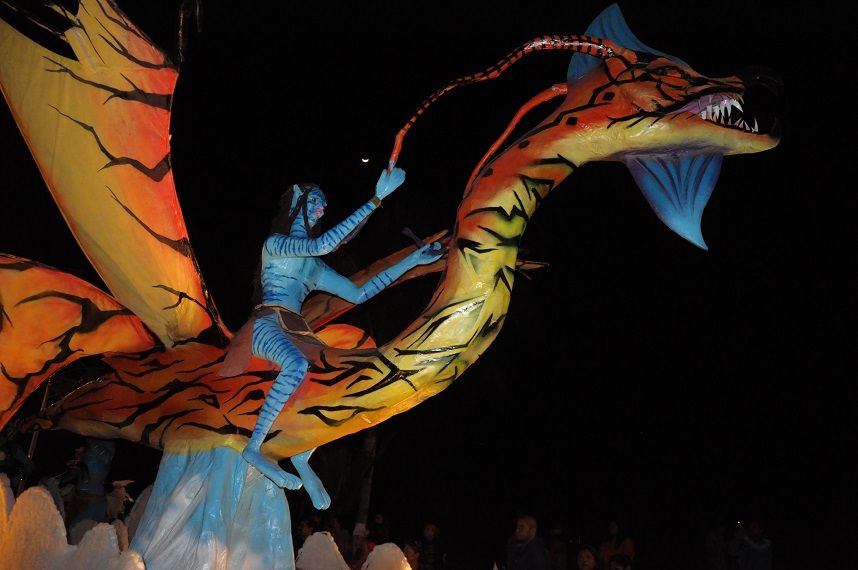 We'll have a run down of the benefit event in the next few days.

If you can't be here but would like to help:
You can make a donation to John's Paypal account at SVTimepiece@gmail.com
or contact Tom at bigleftturn@hotmail.com for information to make a direct deposit to his account.



A look at John's road...
Jeanne
03/03/2014, La Paz/San Diego

Well, at this point John probably feels like he's looking at crossing a freeway at rush hour, with blinders on. He's a little more comfortable with looking at his journey ahead as a path or a trail to wander!

He was released from the hospital just last Wednesday. His brother, Jim and sister- in law, Nao have welcomed John into their home. They are also providing him with taxi/chauffer services around town and to doctor and other appointments. Friend Chuck hung around for a few days, but headed to his home in Oregon on Saturday.

The first couple of days were all about John getting some rest, some good talks with Chuck, some naps and as I hear from John, watching lots and lots of rain fall outside his window! Reminds him a bit of the Pacific NW! If only we could bottle up this gorgeous blue, sun filled sky and send it off to him....
He's feeling very rested now, and the dragons have raised their heads a bit. Due to his Team San Diego returning to their lives, he's had a bit more time to 'think'.

He's having mostly good days, but, as to be expected a few not so good ones. He's got lots of extra hours on hand now..... even though days spent at anchor can be whiled away with hardly a thought at all, and you look up and it's sunset! Jim has given him a pep talk to two, and has assigned him PT exercises to do each day - 4 sets each day. The team also procured a wheel chair for him to use. While it's not turbo charged, it is wheels. It sounds like they might have to get the attaching pontoons, and a set of oars..... but he'd feel right at home! Hopefully he can get out and explore the area just a bit.

His mother arrived on Saturday for about a week. I'm sure she'll keep him on task with his PT. She can dote on him a bit and do the 'mom' thing.

Meanwhile, the plans for the benefit party for John are gearing up for the Wednesday evening event. We've gotten a large amount of items for the auction, including several outboards, and an outboard & dinghy combo.

If you'd like to make a donation to help John cover some of this expenses due to this injury, you can do so by making a contribution to his Paypal account - SVTimepiece@gmail.com. If you prefer to make a direct deposit, please send Tom and email at bigleftturn@hotmail.com for the information.


John is enjoying the comments left here on the blog, and will send us his own statement soon. He is still feeling a bit overwhelmed by all of the amazing support he's received.
Keep the hoo-rahs' coming!




Benefit for John
Jeanne
03/02/2014, La Paz/San Diego
This is the flyer that has been spread all around town. Come on down and join us for this fundraising event.

If you can't make it and you've just learned about this terrible accident, the poster shows ways you can contribute!