southwestern Yacht Club
Jeanne Sunny!
10/26/2011, San Diego
Southwestern Yacht Club is our home in San Diego for a few days. It's just inside of Shelter Island on the mainland side. We learned from our neighbor Frank, that there's a convenient dirt path that runs along the water right into the heart of the 'boat' stuff stores. We unloaded the bikes and took off on a reconnaissance mission.

We located Downwind marine, and it's two sister stores, a couple of canvas shops, the spare engine parts store, post office, bank, and other needed locations. All were within a couple of blocks of each other. We were able to check a few items off of our list right off the bat! Lefty even got to meet JD at Downwind, he's another Freeport owner.




Back at the dock, we ran into Frank. He invited us for a tour around town, including a tour around the army base as he's retired military. We learned of his favorite restaurants, pubs, saw the banks, groceries, and lots of other things this town has to offer. He's offered to be our driver later in the week if we need a vehicle! We've met many "Franks" along our way and they've all been wonderful people.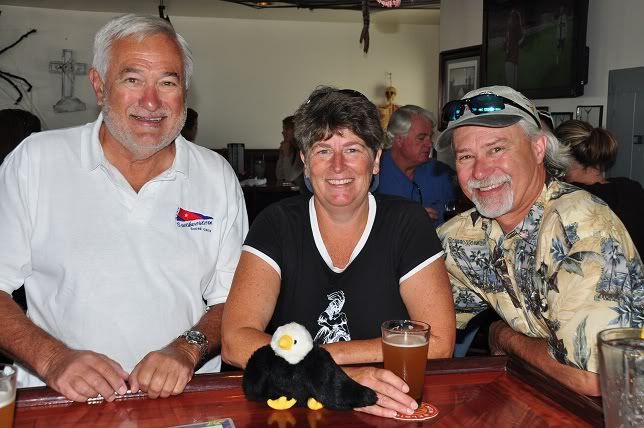 This morning we got several necessary items done in time to meet Frank for lunch at his favorite fish taco restaurant. We headed over the hillside to Oceanbeach, to the South Beach Bar and Grill. We had amazing grilled Wahoo fish tacos gazing upon the beach. We got another tour around town on the way back to the marina.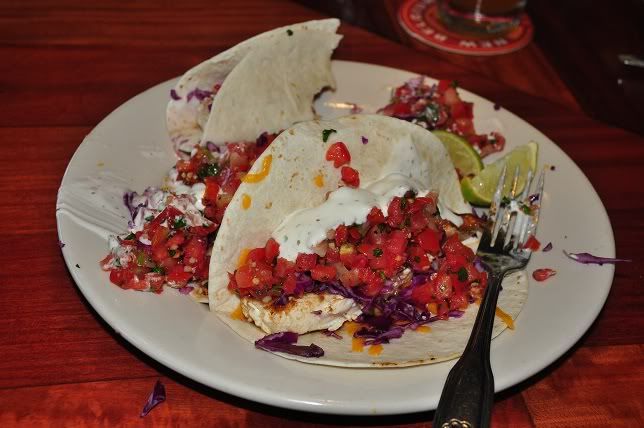 The afternoon saw us completing a few more boat projects, some sewing and repair to the end of the boom. We had noticed a crack in the pad-eye at the end of it, and Tom took it off and replaced it. The list is getting shorter. Mexico is just around the corner!



Our last port in US!
Jeanne
10/26/2011, San Diego
When I think about arriving in San Diego, blue, sunny skies are definitely part of that image. I know, you're getting pretty tired of hearing us complain about the weather, but it's been crummy! We woke this morning to sprinkles, heavy overcast and a very dark, ominous looking cloud out to the west! (The above photo is as we rounded Pt Loma.... San Diego is in the background somewhere!)

Our friends on Shannon had been rafted up with us in Mission Bay, and left our side about 7:45. We pulled up the anchor and headed out behind them. The entrance to Mission Bay, and all the way from La Jolla to Point Loma is a mine field of crab/lobster pots. Watching for pots in gray on gray water is tiresome. Throw in some darkening clouds off to our right, heavy marine layer over the coastline and an occasional crash of thunder and you've got a fine morning!

We could see lots of dolphins, many leaping out of the water at the same time, about ½ mile away. The sky, horizon, water and dolphins were all the same pewter gray. So much so, that our cameras, when I did try to take a photo, had a hard time focusing! We never were able to get close enough to see them really well. While using the binoculars to watch for pots, we could see them leaping in the distance.



We were timing our arrival into San Diego Harbor to match the boats departing on the 2011 Baja Ha Ha. It's a 'group' - (176 boats) - migration down to Cabo San Lucas/La Paz. We got into the channel and off to the side just as the first boats were heading out.

We had told our friends on Timepiece, Deep Playa, Papillion, and Iridium, that we'd be out there and to watch for the pirate flags! Tom had all twenty of them, including the Oregon Duck Pirate flag, flying! The excitement of the boats was palpable. We were listening on the radio to the starting roll call, and I wanted to make a U-turn and join them! We'll be following behind them by about a week as we've got couple of minor boat projects, some provisioning and a few folks to catch up with before we leave.


Playing catch up
Tom
10/25/2011, Mission bay
With the lack of clear internet, we have a bit of catching up to do!

When we last left you, we were in Avalon Harbor, on Catalina Island. A small jewel, with a very rich history, of wealth, famous people, and various sporting adventure. After Mr. Wrigley bought the island, he had his Chicago Cubs baseball team hold all of their spring training here. Marilyn Monroe worked in candy store here when she was a girl. The golf course is the oldest continuous operating course west of the Mississippi.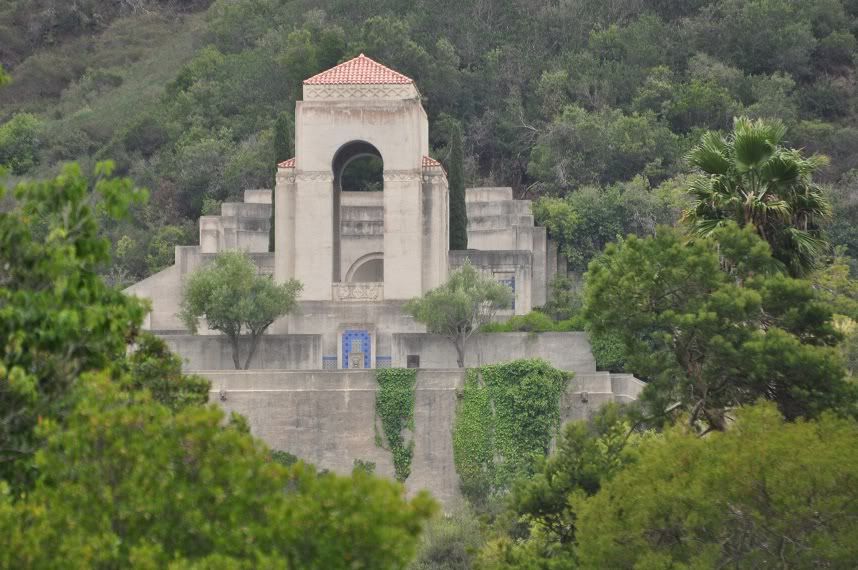 The mooring field in the harbor is quiet ingenious, allowing for the maximum number of boats, in the least amount of space. When you come into the harbor, you are met by the harbor patrol, who assigns you a mooring number, and takes your money. You wander through a maze of large white balls, all having a number on them. In front of each of these, is what appears to be a whip antenna. You pull your boat along side the correct antenna, and pull it up. It is connected to a loop in a large heavy line, that is the mooring line. This is looped around your bow cleat. Then you follow the connected ( dirty and slimey) line backwards until you reach the loop that goes into your stern cleat. Jeanne did an awesome job of lining us up, and stopping in the right place, making it look easy. After seeing a lot of boats try to do the same thing, I came to realize how great a job she did, because there is some real entertainment value in watching the boats try to pull of this maneuver.


We left Catalina Island at 6:30 am for trip to Oceanside, California. This was a very uneventful trip, with little or no wind, and calm seas. We did have a very fun little visitor, in a Yellow Rumped Warbler. After a quick nap upon arrival, she perked up and wandered the boat doing a very nice job of cleaning up any and all fly's, spiders and any other insect she could find. Then once we were cleaned up, she would fly out off the boat, grab a bug, and come back to the bat to eat it. After a couple of hours of free transportation, she jumped ship and continued her migratory trip south.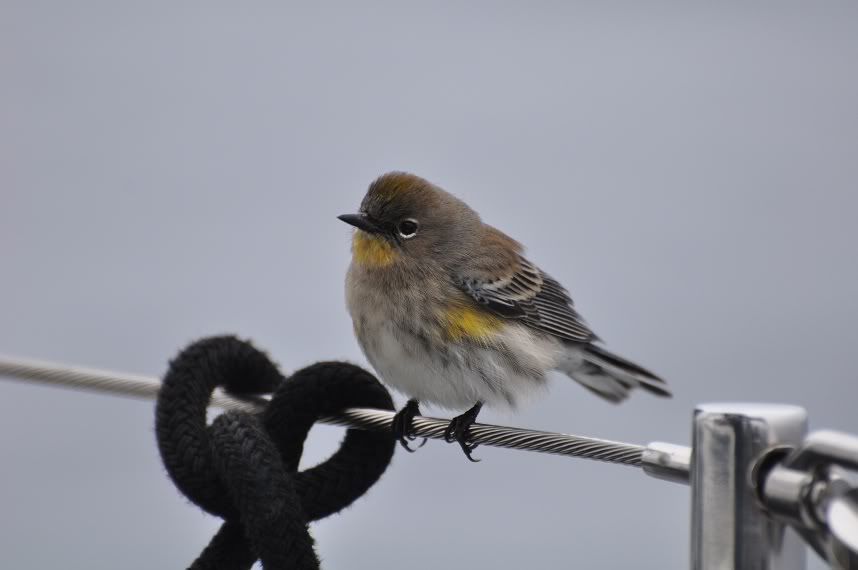 We grabbed a slip in the public transient slips at Oceanside. This was the most expensive moorage since Deer Harbor in the San Juan's last April. While we were there, we had a chance to meet, and visit with Don and Jan Grass, fellow Freeport owners. Don is in charge of the website for Freeport owners, so we were excited to get a chance to talk to him about our boats. We had a surprise visit from Mark Diederich, the owner of SV Fife Dream, yet another Freeport. Unfortunately, we did not have time in our schedule to make it down to see Mark's boat!

Sunday morning we had a relaxed morning, with a short trip planned down to Mission Bay. There is a very nice anchorage just inside the bay. This part of the trip allowed us to see the largest number of whales that we have seen on the whole trip. Lots of Gray and Fin whales all making appearances. We had a couple come up with in a boat length of Eagle! Fun to see them, but not close....OK!! There has also been a huge number of dolphins migrating south, that all the other boats have been seeing but us! They have talked of pods of over 400 dolphins, just jumping and flipping all around their boats....well, we did finally see this monster pod of dolphins, even if they were several hundred yards away. Is is a pretty amazing site to see!




We dropped the hook in Mission Bay, and later in the evening, the ladies on SV Shannon came along side and rafted with us for the evening. We will head out at 8 AM tomorrow to make the 7 mile trip to San Diego!!

Avalon...It's a wrap
Tom
10/21/2011, Catalina Island
We have had a great visit here at Avalon harbor, on Catalina island, but it is time to move on. Tomorrow morning we will make the 46 mile run back to the main land, and a stop in Oceanside harbor. We have a friend there, Don Grass who owners a Freeport like ours that we want to make sure and stop and see.

As we have made this journey down the western coast of the United State, we have been able to visit some exceptional places, many of which I have deemed "don't miss" locations. This one will certainly qualify under that heading, but with a disclaimer. If you desire to stay out of the more glitzy tourist areas, then this might not be your cup of tea. I also must admit, that would normally be our preference. We found Avalon to be well, different. There is no doubt that it is the hot place to be on the island. If you are from almost anywhere on the coast, from San Diego, to Marina Del Ray, this island is really your only option as a cruising destination. In all fairness, the island does have two other major anchorages. Two harbors, and the near by Cat Harbor, which is just a short distance across a spit of land, are available, with out the commercialization that Avalon has fostered. Avalon has a wealth of restaurants, shops, and other entertainment opportunities. There are at least two liquor stores, a Von's grocery store, a theater and a golf course!! And yes I did get in a round of golf! That is hole #1 in the picture.

Avalon is not cheap, but it much what you would expect from a major tourist destination. But...there is a reason it is a major tourist destination. Beauty, history, a small village much like you might find on some coastal harbor in the Mediterranean. With this all in mind, I have to call this a "Don't Miss" place, that you must see at least once!

Everybody sing along now "26 miles across the sea...Santa Catalina is a-waiting for me!!"

Strangest Creatures on Earth
Jeanne
10/20/2011, Venice Beach
As cruising goes, things are usually pretty mellow regarding ones neighbors and other folks one sees around the local environs. Every town has a few homeless people, some more than others, an occasional escapee from the 'home' or someone that's been out in the sun too long. Most people have been to a street fair or local 'freak' show, attended a foreign festival while traveling or found that part of a town that's just a little bit, or a lot, different from what's back at home. The appeal is just that, that it's different. The price of admission is usually quite good! Grab a seat, sit down and watch the show go right by you. That's exactly what we did in Venice Beach California.

We jumped on the bikes and took advantage of the great bike trail system that Marina Del Rey has to offer. Our first clue that things were a bit different was at the last intersection at end of the road, where the beach starts. It's a four way road, with lights, that claims to be a 'three way intersection'. Huh? Cars, four lanes wide, motorcycles in between the rows of cars, multitudes of bicycles, people crossing in all different directions and suddenly the bike lane disappears and we all converge together! Yikes!

Continuing on through this we found the bike trail on the beach and headed North towards Santa Monica. Hoping to catch some hard bodied 'eye- candy' at Muscle Beach, I was disappointed to only see a few folks barely fit enough to carry their water bottles! Must be off season? The bike path is a winding, paved trail right down through the center of the beach. Lot's of sand on either side, a walking path, and a couple of roller parks - skate boards and roller blades- were on both sides. The sightseeing was continually being interrupted by another biker speeding past, going to slow, kids darting out, or something good to look at! Time to get off the bikes and walk.




I felt like we'd stepped into some weird time warp, but I'm unclear as to what time period we were in!
Lots of retro clothes, anything goes clothes, or no clothes. A multitude of hairstyles - or lack of, shoes, sunglasses, handbags, hats, long dresses, mini skirts, shorts, short shorts and shorter short shorts were all present. People were dressed in velvet, leather, fur, rags, jeans, gauzy fabrics, henna, three piece suits, Rastafarian garb, three sizes too big jeans that hang at the knees, it was all there! There were roving entertainers on roller blades, a guy banging on a 5 gallon drum and another playing a full size upright piano. The best one was a rather large man with a microphone/pa system and a 'rap' soundtrack who was doing improv rapping. As people walked by, he would include them in his next line. If that person heard and stopped, he'd keep going and throw in a line about since he'd featured them, how 'bout they feature him with a dollar or two'! He was very good and entertaining!




Along the beach side of the walk were hundreds of booths with tents. All kinds of 'art', jewelry, hair ornaments, your name written in a 'chunk of sand', or on a grain of rice, reeds tied into flowers, handbags, candles, ..... you name it, it was probably there! On the other side of the were more permanent businesses. Lots of sunglasses displays, 'medical marijuana - 'the doctor is in' establishments, shops selling the appropriate paraphernalia, food, and complete with 'carnies' on the sidewalk enticing the passerby.... the 'weirdest freak show' in Venice beach. We didn't feel that we needed to pay any money for this spectacle as we were standing in the middle of it! Lefty, however, had to have his photo taken beside the banner!





As this is a 'moving' show, we grabbed a sidewalk table, a beverage and a burger and watched the show. Since we both had a good view, we were able to alert each other to upcoming attractions. The masses of humanity were overwhelming and we soon tired of the show, same stuff, different people with more down the way. Back on board Eagle, a glass of wine in hand.... Home, sweet home!



Exploring Avalon
Tom
10/19/2011, Catalina Island
We are still here having a great time exploring this amazing little harbor. What I am finding amazing is the amount of history that revolves around this area.

Jeanne is putting together a series of photis and story on the area, so i will keep this short.

The picture above gives you a small look at our view from the boat.