Frigatebirds
Tom
02/05/2012, Bahia San Gabriel
The very first Magnificent Frigatebird (Fregata Magnificens) I got to see was while we were at anchor in Turtle Bay, on our way down the west coast of Baja. Since then, they have become a pretty common sight around any of the Baja waters. They are a pretty large bird, effortlessly gliding along on the winds, but they have a sinister look to them that matches their behavior. They float around on the wind currents, looking for fish or other likely food items. Despite their ability to grab fish from the water, they do not float, so they must pluck the prey cleanly from the water. With that in mind, they have found that the best way to gather food, is to steal it from other birds in mid air. They will drift around, upon high, waiting for some poor seagull to find a meal, and then with the speed (and noise of F-14 jet) will swoop from above and bash right into the previously successful victim. Once they have robbed their meal, they soar off in search of their next thievery.




These birds grow to have a wing span that exceeds 90 inches. The adult males are solid black, only showing off their bright red breasts which they expand like a balloon when seeking a mate. The females, while primarily black, have a white breast plate that is easy to see as they roost or fly over. The juveniles show the same white breast as the females, but have a solid white head as well.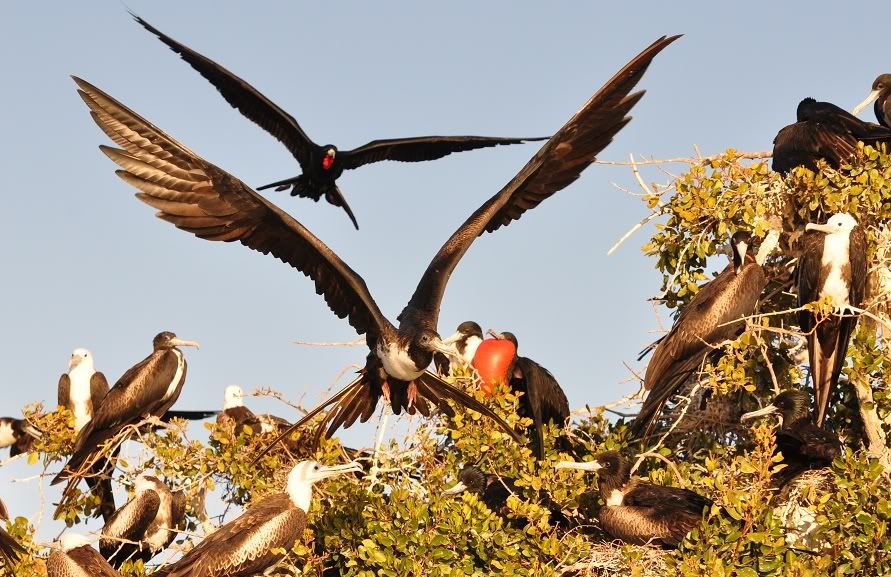 For most of the year these birds are some what solitary, but come breeding season, they gather in huge groups, call "rookerys". At this point the males get to show off their stuff so to speak. The adult males have a almost balloon like bag on their breast that they inflate into a very bright red spectacle, looking much like a deployed automotive air bag. Along with some wing flapping, and a raspy rattling call they do their best to get the attention of a willing female. Once there is a bond, the males will begin to gather sticks for nest building, flying off to find twigs and such to bring back to the female. From what I have seen, she is a very discriminating nest builder, accepting or rejecting sticks and such, based on some unknown quality.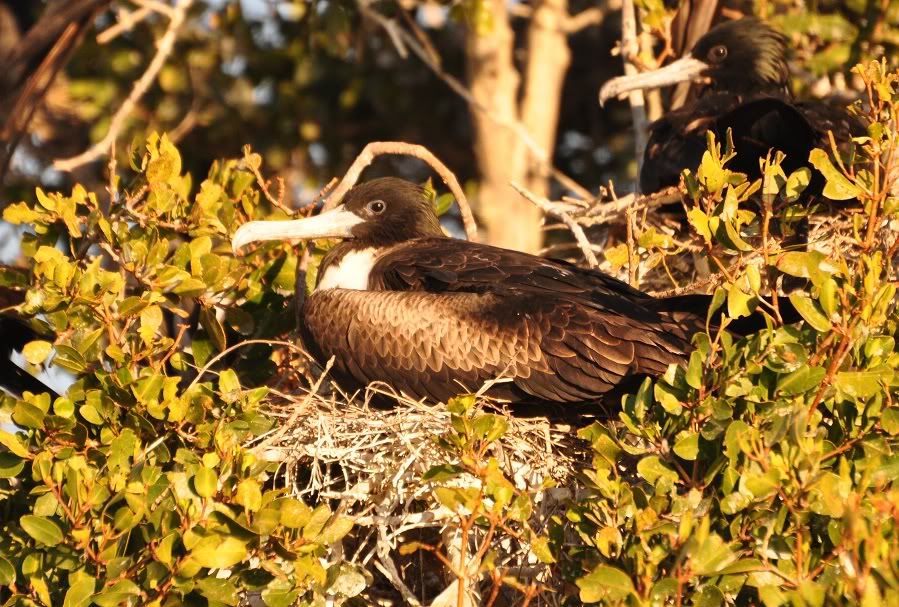 Once the nest is built, the males will do the bulk of the "Nest Sitting" while the females are off robbing unsuspecting birds of their lunch.




One of the great features (depending on your boat location and the wind) is the fact that there is a huge rookery right here in Bahia San Gabriel. They have picked a group of mangroves near the waterline, in the north east corner of the bay. To see nearly a thousand frigatebirds in one concentrated area is amazing to see, but not a place you want to spend much time down wind off!! This is a real treat for someone who was recently described as a "Bird-Nerd" I can live with that!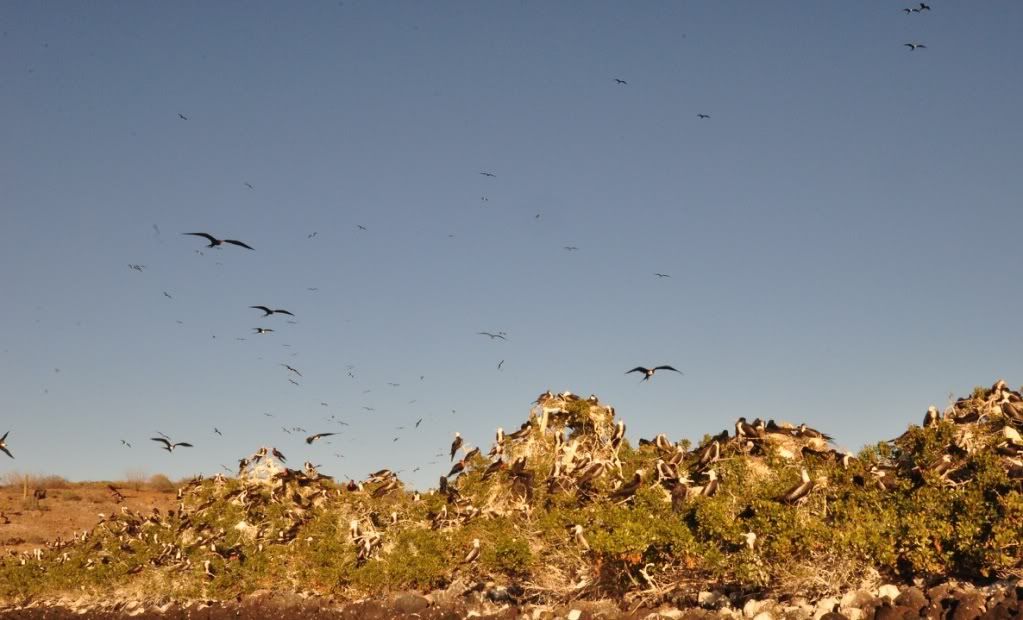 Getting a little exercise
Tom
02/04/2012, Bahia San Gabriel
The last couple of days have found us doing some slightly longer or more difficult hikes. Yesterday we hiked all the way across the island from Bahia San Gabriel to the long white sandy beach at Bahia Bonanza. Then this afternoon while Jeanne was doing some sewing, I went ashore and hiked to the top of the highest peak in the surrounding area.

The hike to Bonanza Beach: We were off the boat early in order to be able to take out time going over, have a lunch there and hike back before it got too late in the day. As we were motoring over to the beach here in San Gabriel, it became apparent that the water was getting much shallower that we had expected. Even with the shore wheels down, we had to "walk" the boat over a hundred yards to the actual beach. This is kinda like pulling a really big wheel barrow thru soft sand and a foot of water. The first mistake we made here was not being sure of what the tide was doing. Going in or going out, and how much was it going go, which ever way it was going? To be on the safe side we pulled the dinghy all the way past the high tide mark just to make sure.




We were told that the hike was about a mile and a half each way, with no real trail, but lots of foot prints to follow. We were following a wide arroyo so it was really just a matter of working your way through the various different desert plants, all of which have some form of thorny protection. It is a harsh life out here in the Mexican desert, and every thing out here seems to have something sharp sticking off of it.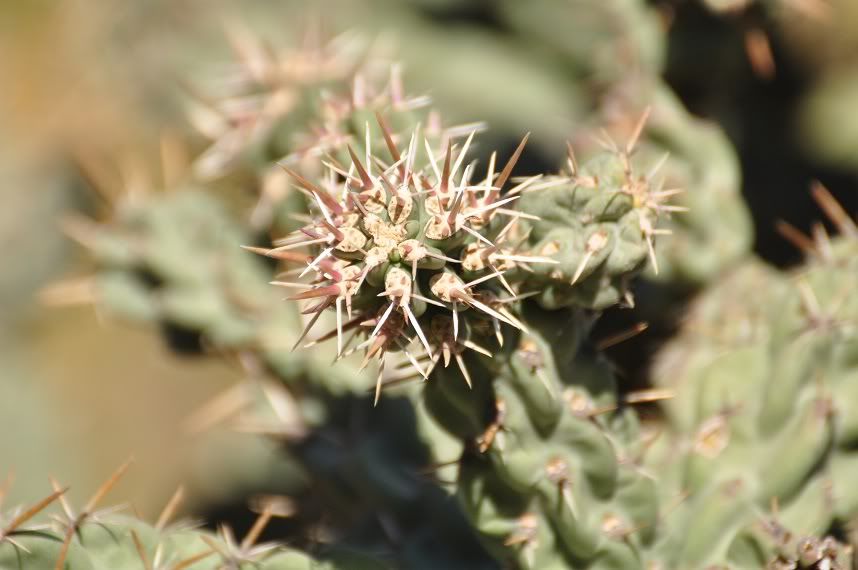 All in all it was pretty easy going, with the flat terrain. The previously quoted distance is in question though as we found that distance to be more like two to two and half miles each way. The weather was beautiful, very little cloud cover and low 80's for a temperature. We found the beach, and it was as beautiful as advertised. Nearly two miles of pristine white sand, all to our selves. Well, we did have to share it with two Yellow Legged Seagulls, but they did not seem to mind our intrusion too much. We had a nice picnic lunch, and headed back towards the boat.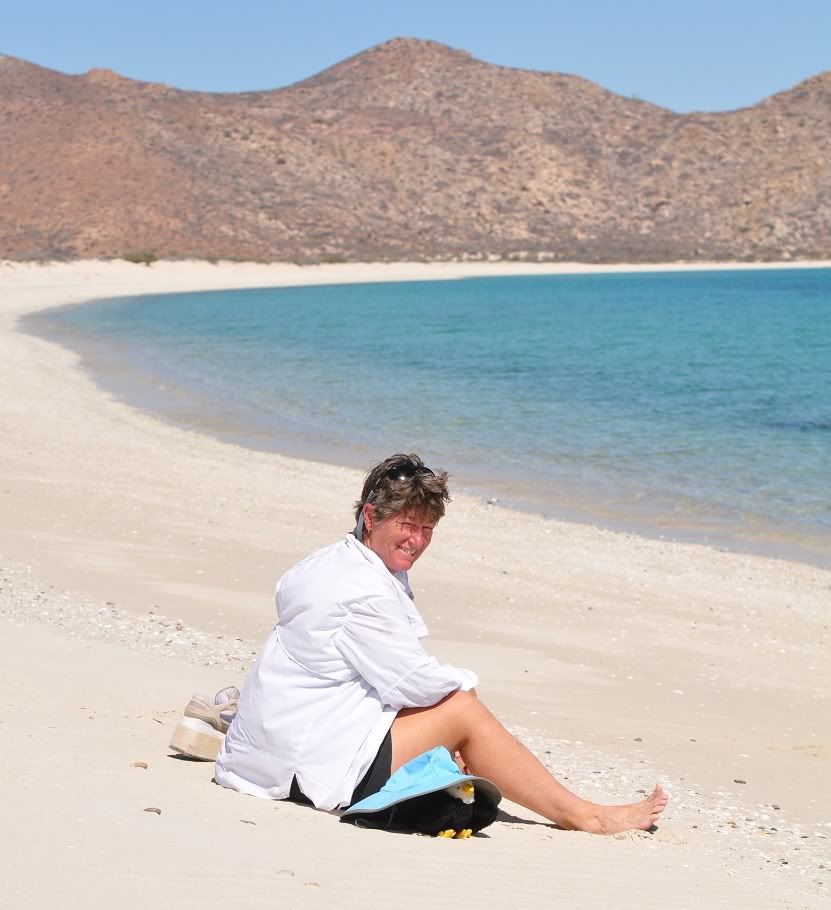 This is were mistake number two comes in. The allotted water for each of us was one water bottle, capacity of a little less that a quart. When you throw in a ham sandwich, and some cookies, along with the warm day hiking thru the desert, we were a bit short of water by the time we got to the dinghy.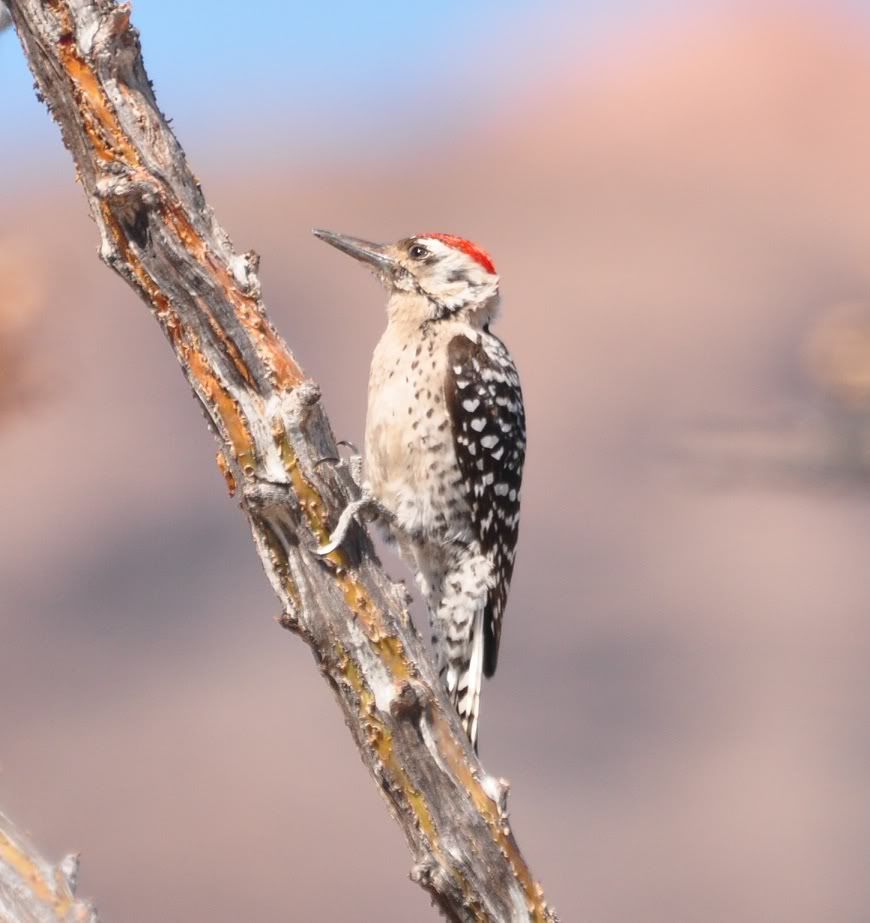 One bonus on the trip back was getting some beautiful pictures of my first Ladder Back Woodpecker.


Once we go to the dinghy, our lack on tidal knowledge was compounded, when we found that the tide had gone even farther out, and now we had 150 yards to roll the dinghy back across the sand to find some water to float it in. The haul was actually easier going out then it was going in, as` it was` now completely dry and there for the sand was much firmer. We made it to the deeper water, loaded up and headed back to Eagle. It was a great hike, and I highly recommend it to anyone passing through the area.

To the top of the Mountain: Right after lunch today, I took the dinghy and headed to shore. With the memory of the tidal fiasco fresh in my mind from yesterday, I had a plan. Today I got the boat to the first of the shallow water, and dropped the dinghy anchor in. Now all I had to do was wade in, go for a hike, and the dinghy would still be in the water when I returned. The base of the hill top that I wanted to climb was not the far from where Eagle is anchored, so after a short dinghy ride, I dropped anchor and wadded in. I got to the beach, changed in to long pants and shoes and headed up the hill. The first part of the climb was actually quiet easy. Flat rock, sparse foliage and not a lot a elevation. The terrain is mostly all rock, some flat, some round, some stable and some not. The bulk of the trip was a case of stepping from rock to rock, and having to pre-judge in mid-step whether the rock was going to move out from under you or not. The lower elevation rocks were all very stable. The higher I got the worse that situation got. By the time I was climbing the last hundred yards, it was actually quite nasty. I had come this far, I wasn't going to stop now! Finally I made to top, and it was so worth it!! Incredible views of the Sea of Cortez, and all the surrounding bays.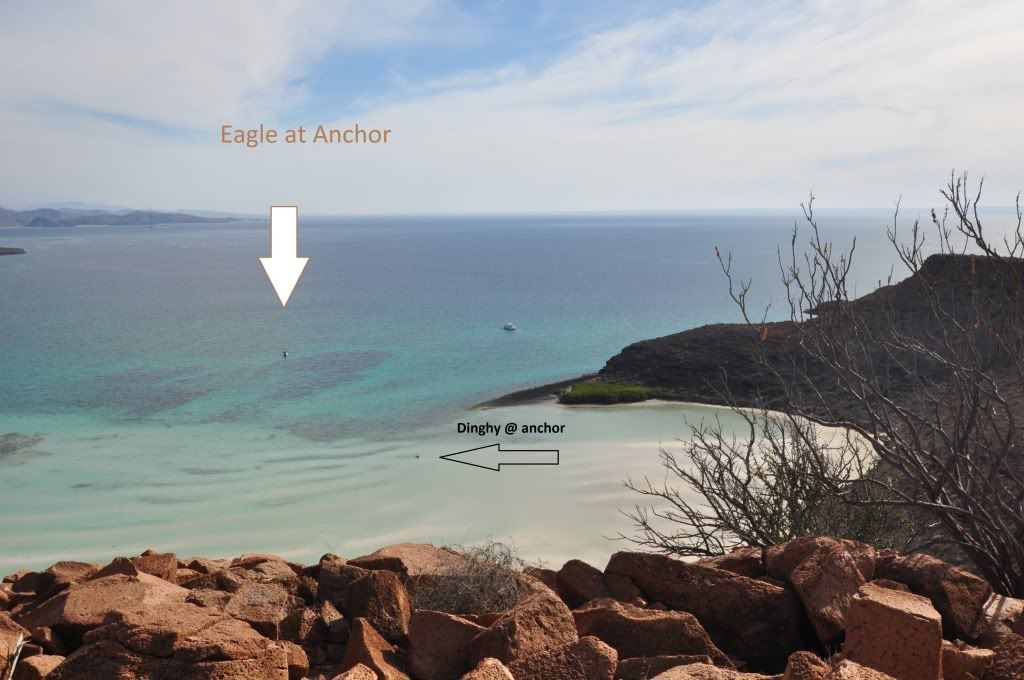 The hike down was accomplished with no major issues.

Just as I got to the beach, another brand new bird popped up and waited for me to get the camera out!! A Black Throated Sparrow.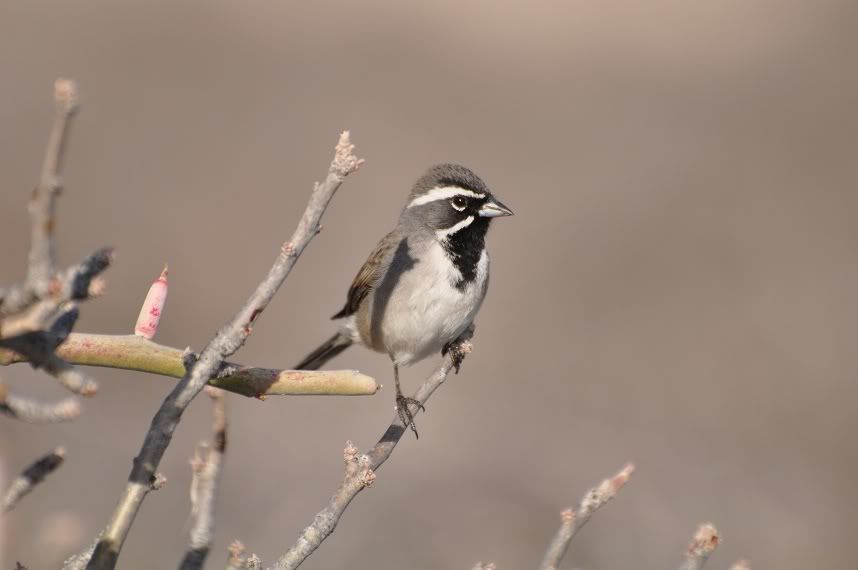 Two great days of hiking. Just another thing really love about our life right now!

February 1...wow!
Tom
02/01/2012, Bahia San Gabriel
Early this morning, well, at about 7:30, we were up and getting Eagle ready to move. We had planned on a short hop, just about a mile or so, to the next large bay south of us, Bahia San Gabriel.

Before I get to far ahead of myself, I better give you all a quick update of what we have been doing these last few days. Humm...well....ummm...where did all that time go? OK first of all we have done quite a bit of exploring by dinghy. We have been using it to get to some of the smaller bays that we can't risk taking Eagle into. Just too shallow, rocky or nasty coral reefs that don't mix well with fiberglass boat bottoms. We try to be off the boat by 7:00ish so that we can get some good early morning light for photography. I am always looking for birds and they seem to truly follow that old "Early bird...." adage. Jeanne has been able to get some really nice desert scenes, along with the different beach, desert, and miscellaneous textures, lights and colors.

Then we usually make it back to the boat for some lunch, and a few light boat chores. The late afternoon/evening then brings some fishing, a few more pictures encompassing the late afternoon light. If there are any other boats in the area, we might try to organize a little gathering for sun downers or a pot luck. It is a blast to meet new cruisers, and be able to swap tales with them.

The next thing you know, it is late, 9:00, and time for bed. That is pretty much how we have spent the last week and a half....and the time just flies past! I mean, look at the calender...it is a new month already!!

Now, back to the current time. We actually did some sailing this morning, at least for a little while until the wind died. We have moved the boat to the very northern most part of Bahia San Gabriel. This bay features a world class white sand beach, that is nearly a mile long. It has a beautiful coral reef right thru the middle of it, and the southern most end, has a grove of mangroves that serve as a Magnificent Frigatebird rookery. There are nearly a thousand Frigates there all doing there best to look appealing to the opposite sex. Lots of noise, and puffing out their bright red breasts.

We are still on a questionable wi-fi signal, so I am going to hold off on the pictures. I promise I will post some ASAP!! The picture above is last nights sunset in Ensenada De La Raza.

Social gatherings while at anchor
Tom
01/30/2012, Isla Espirtu Santo
After being here in Ensenada De La Raza, for a week, all by ourselves, we finally got some company. Yesterday, Ben and Ellie of of SV China Girl anchored near by. We invited them over for an evening visit and a round of "sundowners" to get acquainted, We had a great visit with two very nice young people, who just bought their boat here in Mexico. Their family owns a lodge in Alaska, that does fishing and skiing trips, and they were escaping the cold and dark for a while.. They had mentioned that they had to leave in the morning in order to go meet up with another boat. It turns out that the other boat was SV Sockdolager. We had met Jim and Karen from Port Townsend several times as we traveled down the pacific. I spotted them as they passed the anchorage, and hailed them on the radio. They promptly changed their plans, and joined us here in De La Raza. Their dinner for four quickly became a pot luck for 6, and the food was amazing. Both those boats will be leaving tomorrow, and we will have our quiet anchorage back all to our selves, but it was a real treat to have them joins us here in our little bit of paradise.

Bahia Bellena
Tom
01/28/2012, Isla Espirtu Santo
Just another great day at the beach!! We finally got a respite in the winds yesterday, and took swift advantage of it. We launched the dinghy and went exploring in the other two bays of Puerto Ballena. We are anchored in the northern most bay, Ensenada De La Raza. The two bays to the south of our anchorage are Ensenada El Gallo ( Bay of the rooster) and Ensenada La Gallina ( Bay of the Hen). The sun was out, the water was gin clear, I got to add two new birds to my list ( The Loggerhead Shrike and the Wilson's Plover) along with some awesome photos of the Yellow Crowned Night Heron. We got see amazing numbers of fish, in the clear shallows, and on our way back we were treated to a first! Dolphins playing in the bow wake of the dinghy!! how cool is that? They frolicked and caught fish all around us for nearly a half hour, it was a blast to see.

After a nice lunch, and a nap we took the dinghy back out and went fishing. Right off the bat I caught two really nice groupers, one 4 pounds and one about 7 pounds. Jeanne caught a really big Trigger fish, and we then added one more grouper to the days catch. All told we probably caught 20 fish, but just kept the 4 really big ones!

We will go back and add photos to this story as soon as we can.

The wind is back up this afternoon, but not until we had a chance to explore the bay to the north of us, Ensenada De La Ballena. I will save that adventure for another day.

Checking in from De La Raza
Tom
01/26/2012, Isla Espirtu Santo
Our first five days here in Ensenada De La Raza, have been well......quite blustery. With the exception of our first full day here, Sunday, we have had 12-18 knots of wind, with gusts in the mid 20's every day. Last night it built to a steady 25-30 and gusts over 40 knots. This is where we are happy to have spent the extra effort (and money) on our ground tackle. That is not to say that we had a peaceful nights seep, but I wasn't up all night waiting for the anchor to start to drag. the new Rocna anchor is just plain awesome.

We had a bit of a calm spell yesterday afternoon, and took the dinghy out fishing. I guess the fish didn't get the memo...or perhaps they did!! So far the only fish we have caught have been by Jeanne off the side of the boat. Last night just before dark she caught two really nice sized sand Bass, and a large Cabezone.

We did get to go ashore on Sunday, did some exploring, and took some pictures. We will post them as soon as we get an internet connection.

Despite the wind, the sun has stayed out, with temps in the mid 70's and lows in the low 50's. Still pretty comfortable. Especially considering the weather back home.

At this point we plan on staying here through the weekend, before moving to another bay to explore. We will post more on that later.