Back to the islands
Tom
02/22/2012, Caleta Lobos
After spending nearly a month out in the islands, at anchor, our time in a marina just seemed very hecktic. Cars, sirens, people walking up and down the dock, Running around doing boat projects, shopping for provisions, and working on our FM-3 took all the fun out of being back in La Paz. We went back there primarily for Carnival, and were not disappointed in that regard.

So, now we are back in the peace and quite of the islands. Anchored here in Caleta Lobos, along with 3-4 other boats. One of which is our good friends Carol and Livia off of SV Estrellita. Carol's Mom is visiting from Canada, and they are showing her the sites around the la Paz area.

We will stay here until either sunday night, or Monday morning, when we will return to La Paz and hopefully make some progress on our FM-3 visas.

It's Carnival time
Tom
02/20/2012, La Paz
When pressed to give a description of Carnival in La Paz, I am tempted to just string along a long list of outrageous adjectives and call it good. Loud, flamboyant, impressive, colorful, sexy, huge, are just a few of the first ones that come to mind.




Jeanne and I returned to La Paz in order to be able to take in at least a couple of days of this annual event held in La Paz. We had been given warning by locals and cruisers alike, that this is a crazy time, with a huge influx of people. Estimates of over 10,000 more people that the town had sleeping places for! That we would be seeing people sleeping on the beaches, and in the streets. We also heard that the criminal element was here in force and to really watch out for thieves, pick-pockets and the like. I would like to point out that so far, for our part, none of the above has proven to be true! The crowds are in huge....shoulder to shoulder 3 lanes wide once the parade has passed. But, and this is a huge point for us, they are all smiling!! Families have come out in force, dressed to the nines, and very impressive in how controlled, but fun loving they are! Families, many times with three generations all in attendance.




With the previous fore warnings, we came back to La Paz from the sleepy, quiet islands of Espirtu Santos. There is no question in my mind, that the Mexican people know how to do loud....and do it well. The venue for this years carnival is stretched along nearly 3 miles of the Malecon. In that short little area, are no less that 6 different stages for the live bands and the main attractions that are scheduled to appear. It is kinda like "Battle of the Bands" on steroids! The music starts around 5:00 PM except when there is a parade, and then they push back their start to after the parade has gone by. This in turn allows them to extend the time when they quit at night (well morning) to after 3:00 AM.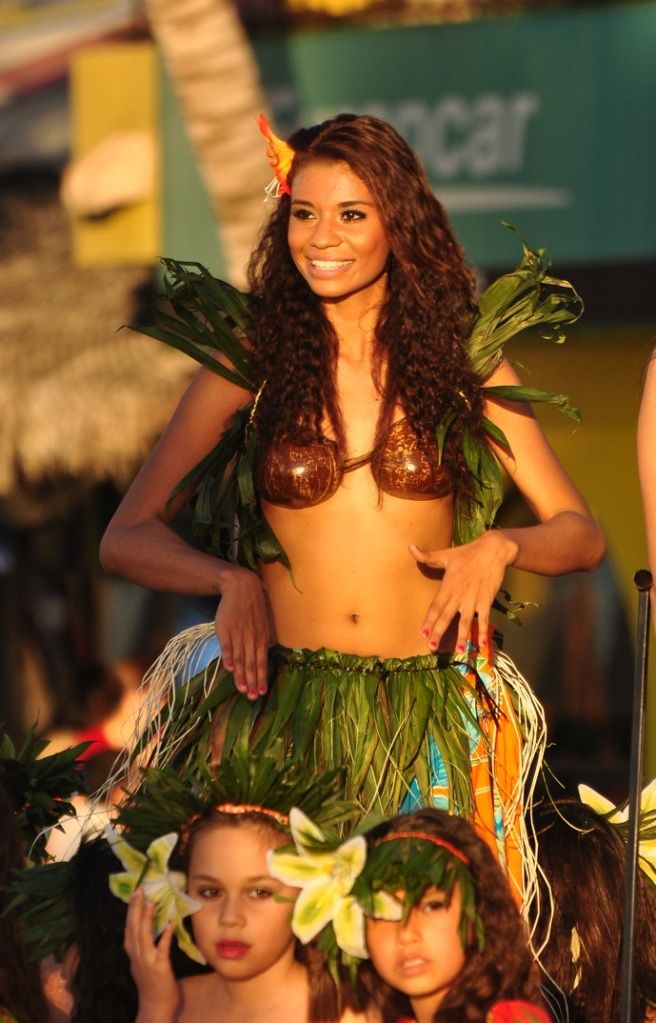 The parade it self was so incredible. While they did not have the impressive finessed touches that you might see in a Macy's type parade, they are colorful, well thought out, and very well attended. Each was pulled by a local work or delivery truck, with the daily drivers doing duty on parade day. Beauty queens, south pacific dancers, vaqueros, and pirates all in full costume, dancing and smiling.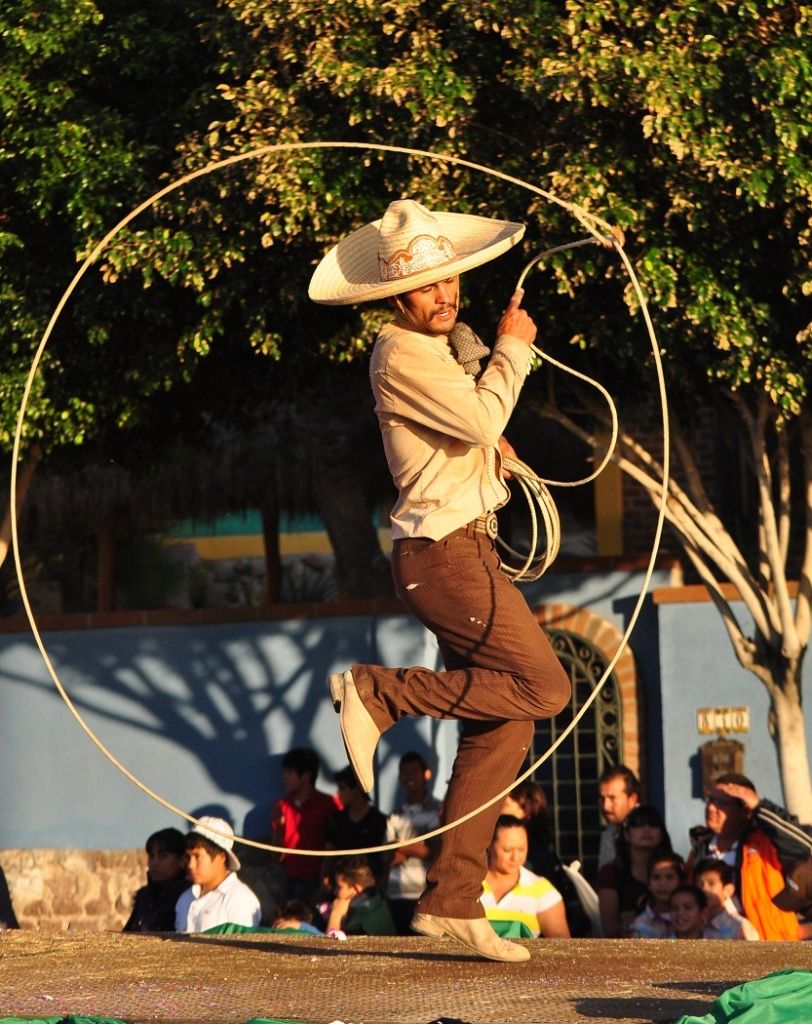 After each of the floats, there were huge groups of brightly dressed dancers or characters that were relevant to that preceding float. Age had no bearing on participation either. From age 5 to 95..they were all out walking, dancing or riding along...and smiling! The Floats all were made locally, so you see many of the construction methods based on the things that they can get their hands on right here in town. Empty cans and bottle used as filler, old CD's and DVD's used to provide flash, or in one case as fish scales. Wire, wood, paper and plastic, all used in one manner or another to get a certain effect.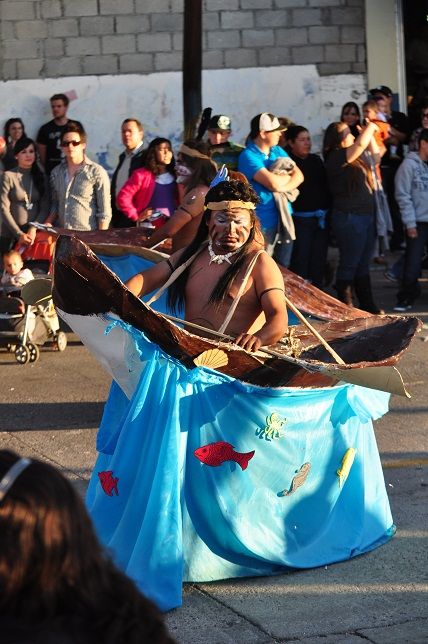 This years theme was "Legends and Super Heros in La Paz History", so many of the floats featured mythical beings that have been featured in bed time stories and ramblings from around a camp fire. There were a few of the more main stream super heros, like Superman and Spiderman.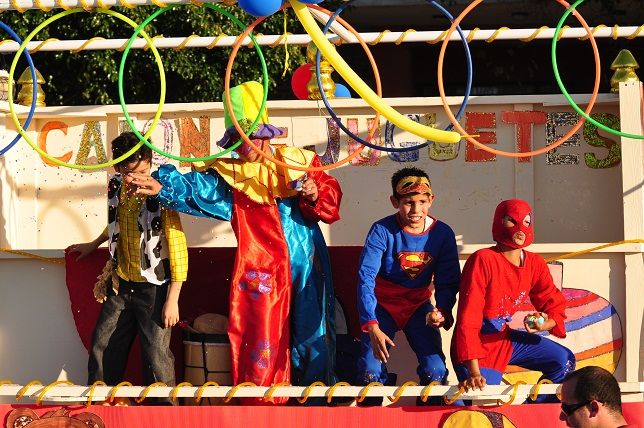 Masks, hats and bright colorful holiday attire were common place among the the huge crowds. Cotton candy, carts and wagons all selling every kind of treat, American as well as local Mexican fare. One unique feature of Carnival was the egg shells filled with confetti. Thousands of them being sold, or brought from home. The are thrown around the street, at each other and in some cases the target was a person or persons on one of the floats. The other unique feature, at least for us was the porta-potties all had a fee for use. $5 pesos, which at the current exchange rate equals to .37 cents. That, and many were placed on some of the side streets that intersect with the Malecon, so you were leaning to the right or leaning to the left depending on which row you went into.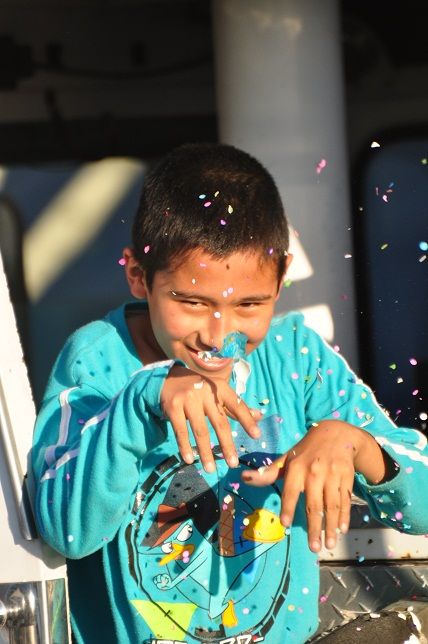 I did not count, but there must have been nearly 30 floats, 5000 participants, and a crowd so huge, I could not even guess! Yet again, the prevailing theme for me that night was the smiles!! they were every were. No pushing or shoving, even when the parade was gone past, and everyone filed into the street to mingle, or walk up and down the street. The bands began to warm up, the food vendors were cranking up the tacos, churros, the arachera, the Poppas (potatoes), and nachos. There were probably a hundred food booths, 20 booths that featured $1.00 beers, and at least a dozen that poured mixed drinks. Clothing, pottery, kitchen goodies, jewelry, and balloons...there was a booth for every one.




Jeanne and I have had an amazing time in Mexico, and especially here in La Paz, this so far this was the cherry on the top of the ice cream sundae. We had so much fun, walking with the locals, talking to as many as we could, and just smiling right along with all the others!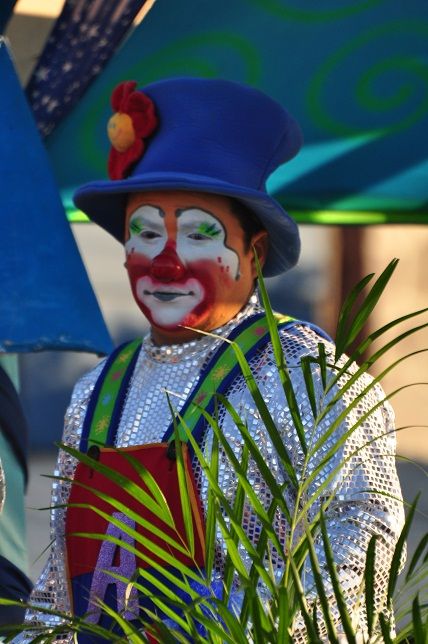 If you look very closely in the following few pictures you will see some of many local items used to build these remarkable floats! CD's old albums, chicken wire, it is amazing the beauty of these locally constructed displays!!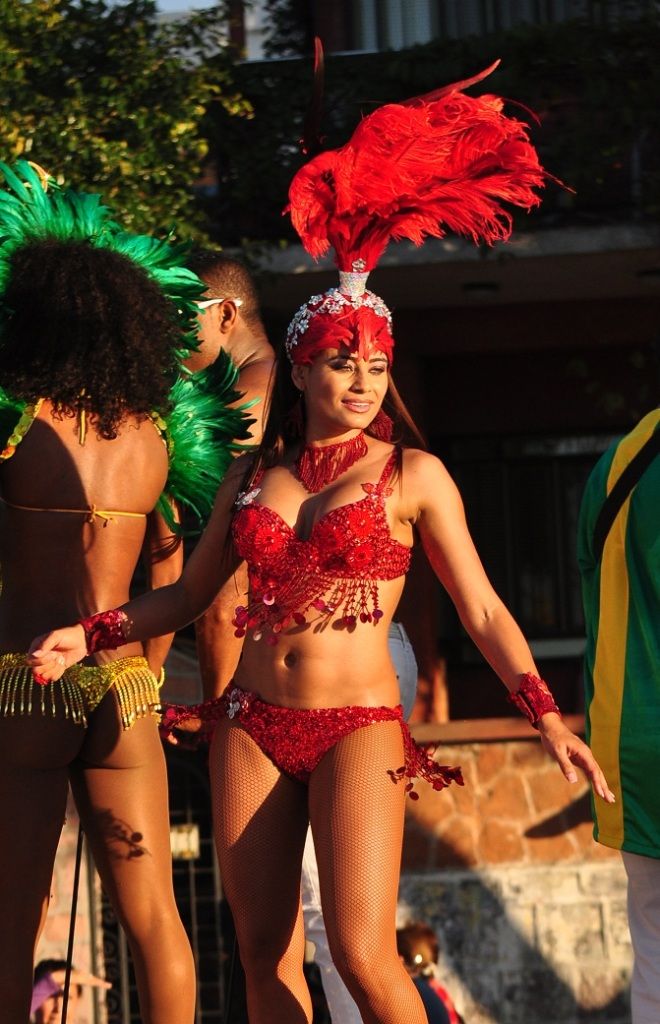 Lefty gets some 'Cultcha'
Jeanne
02/19/2012, La Paz
For a change of pace the other day, we decided a bicycle ride was in order. The waterfront in La Paz is fronted by a five kilometer long malecon, or embankment. It's a thirty to forty foot wide, nicely paved walk/bike way with benches, turnabouts and a series of bronze sculptures. It is the pride of the town.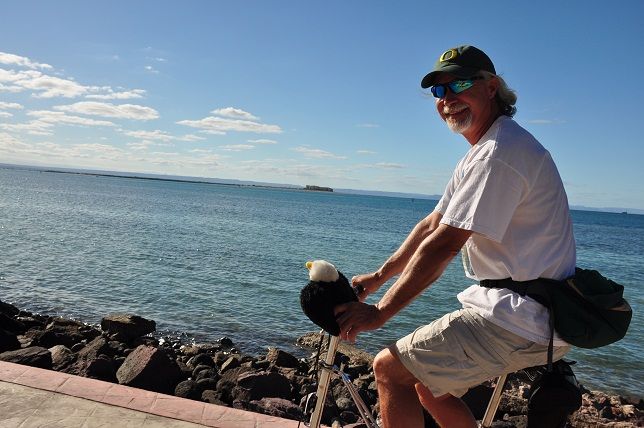 Tom and Lefty ride the malecon.

Marina Palmira was a good destination about 3 kilometers away. This provided us with an opportunity to visit with our friends from Shannon and enjoy a yummy fish taco and ceviche lunch at Moyeyos. It also gave us a chance to inspect the many sculptures on the way. Lefty, as usual, was a 'ham'!

The humpback whale, the opening photo, was one of our favorites. The sky behind it makes it look like it's swimming. There were some titles or labels and I've included these where available. Some we just liked, others we liked a lot!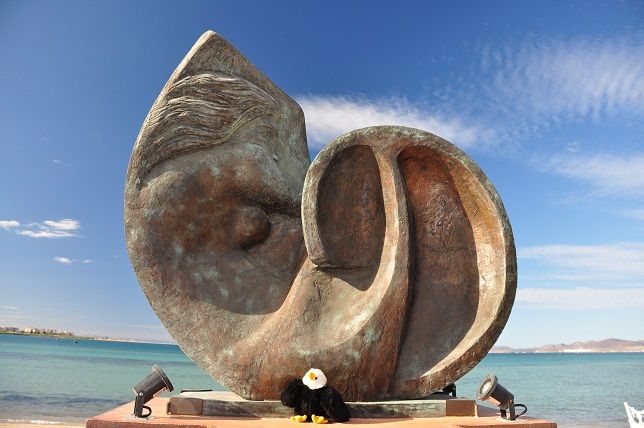 Mujer en Nautilus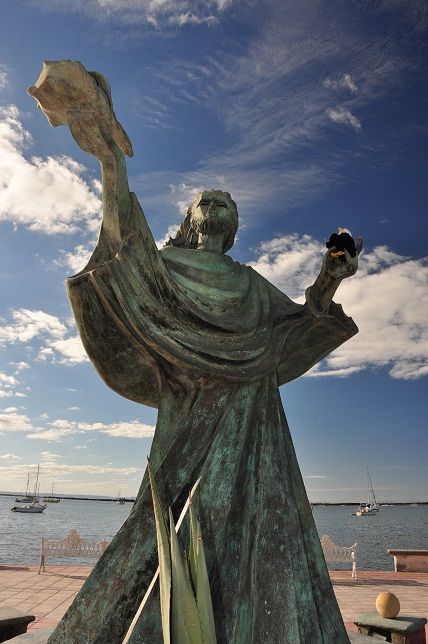 The bronze of the 'Padre' is very tall. Lefty is about eight inches for reference.





Manta ray with Lefty along for a ride.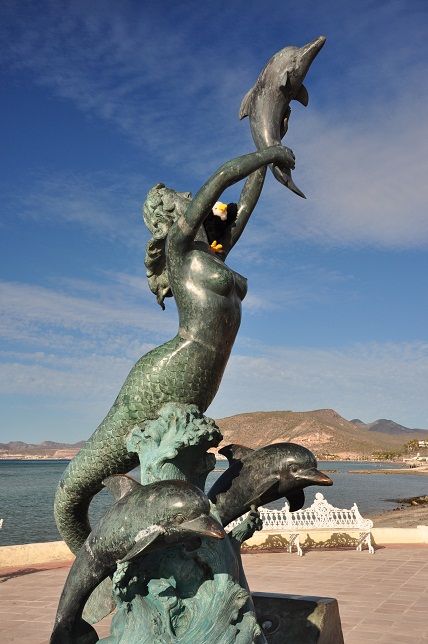 Sirena y delfines ( Mermaid and Dolphins) Lots of detail in this one!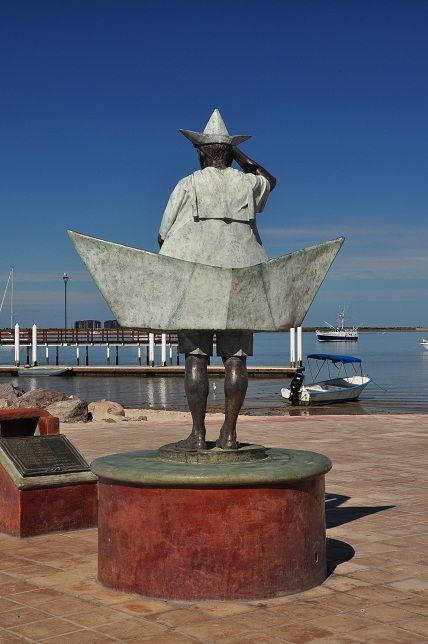 El viejo y el mar? (Old man and the sea) Someone's got a sense of humor!





My assistant helps to position Lefty on El Espiritu de la Conservacion ( The Spirit of Conservation)



Lefty Poses, then....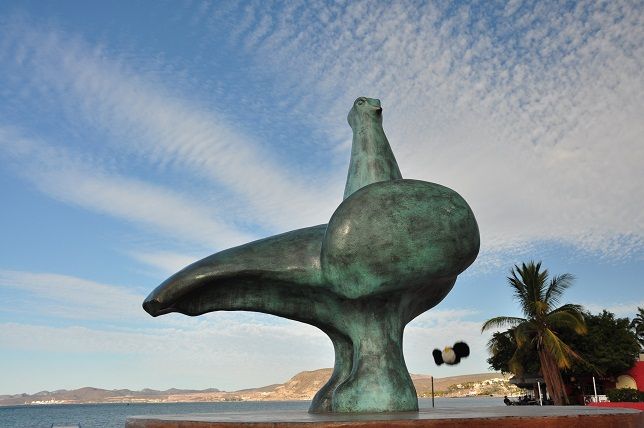 Slippery little bugger!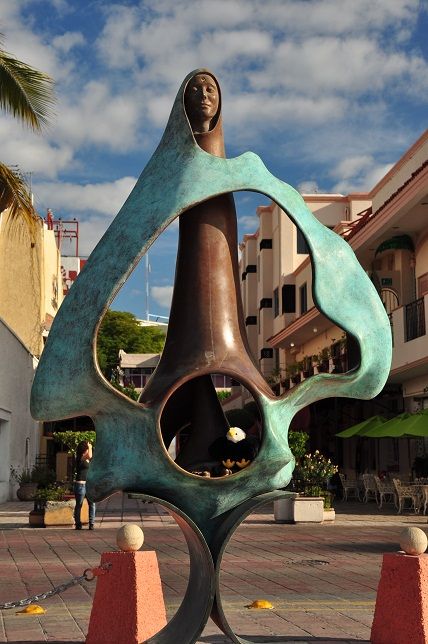 Reina de Los Mares (Queen of the Seas)





Lefty was part of the days catch!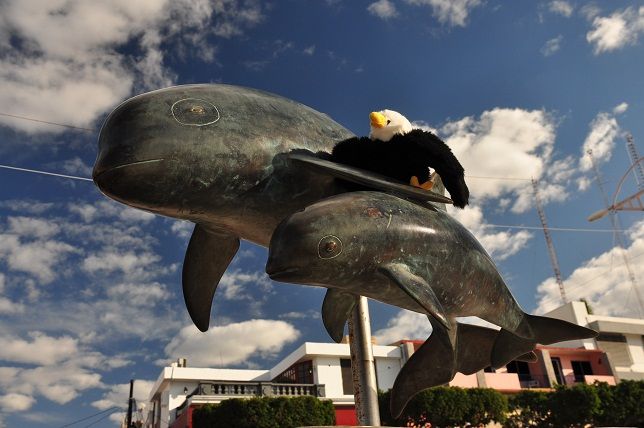 A mother whale and her baby.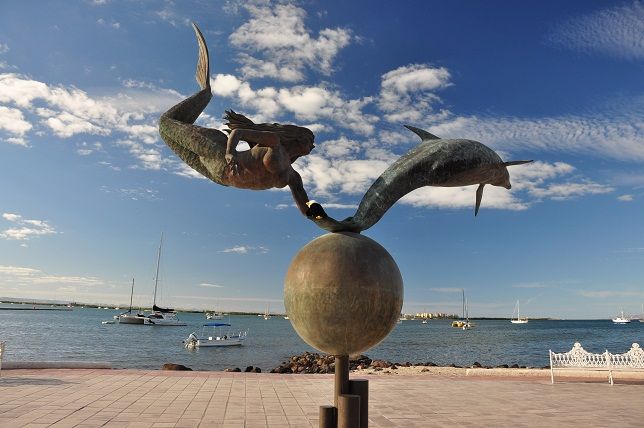 And last but not least, our favorite, another Sirena Y Delfin. This one is very dynamic, has lots of detail and is the landmark for finding the Shack - a NorteAmericano burger, pizza hangout! After all of this riding and photographing we've developed a hunger. Might be time for a Shack Burger!

test blog
Tom
02/16/2012
In an effort to continue having all this fun, and since Google ads gave us the boot for having too much traffic, we have become an Amazon Affilate. What this means is that if you were to click on the link to an Amazon Product, featured in our blog, and then purchase it, we get a little cash! Very little mind you but every bit helps!

I will try to get this system refined in the next few days, to include descriptions, prices and possibly photos of the featured product.

Just as a reminder, if you are going to purchase anything thru Amazon anyway, if you start out with our link, we will still get credit no matter what you buy. It just has to look like you were convinced to go there because of us!

Here is a test link to the new Kindle fire, so if any of you get a chance to click on it, please let us know if it does indeed send you to amazon.

And thank you for your support!!


Kindle Fire

Mexican Trifecta?
Jeanne
02/14/2012, Mexico
Well, it happened first in Ensenada. Then again in Turtle Bay. It also happened quite a bit in in Los Frailes. It even happened for a bit in La Paz. But last night, whooo boy - we have a winner!

I don't know what it was that woke me up, but at 5:00 am. this morning I was wide awake. I got up, thinking I'd seen a 'flash'. I stepped out into the cockpit and, yep, saw another one. The sky had totally clouded over, no full moon in site. There was just enough light and detail in the sky to see a pretty good sized squall heading right towards us. This was confirmed by the increasing wind blowing in our direction, and the occasional sheet lightning high up in the clouds.

This squall passed over with just a bit of increased wind only to leave another one in its shadow. The next one came with a bit higher winds, 20-24kts or so and a touch of rain. A few more lightning flashes, seemingly closer, got me to wake Tom up. We watched together as that system passed overhead.

The next one got our attention! Lots of lightning, some of the strikes now shooting downward. And here we are in a bay a mile and a half wide, with the a piece of metal 50 feet tall sticking up into the air-the only metal for miles around, and it's coming our way - FAST! We watched and counted the strikes and thunderclaps as it very carefully worked its way past us just slightly to the north. One strike, directly to our right, fanned out in several directions enough that I could see the surrounding beach and sea like it was daylight! Yikes! And then came the rain.

Softly at first, then with gusto. The rain was not as intense as the rain we experienced in Los Frailes, but steady for about 6 hours. It rained long enough for me to go out and at least run the brush around on the deck to loosen the dirt and salt. So, we're hoping its just our timing. This series of squalls, nor the total cloud cover today were not forecasted, at least not any we heard. We're five for five on the weather systems. I know that a Trifecta is three, so perhaps down here, in Mexico, I should call it a 'cincuenta' - but that means fifty, and I don't care to experience that many!

That sure looks like a nasty face in that storm cloud!!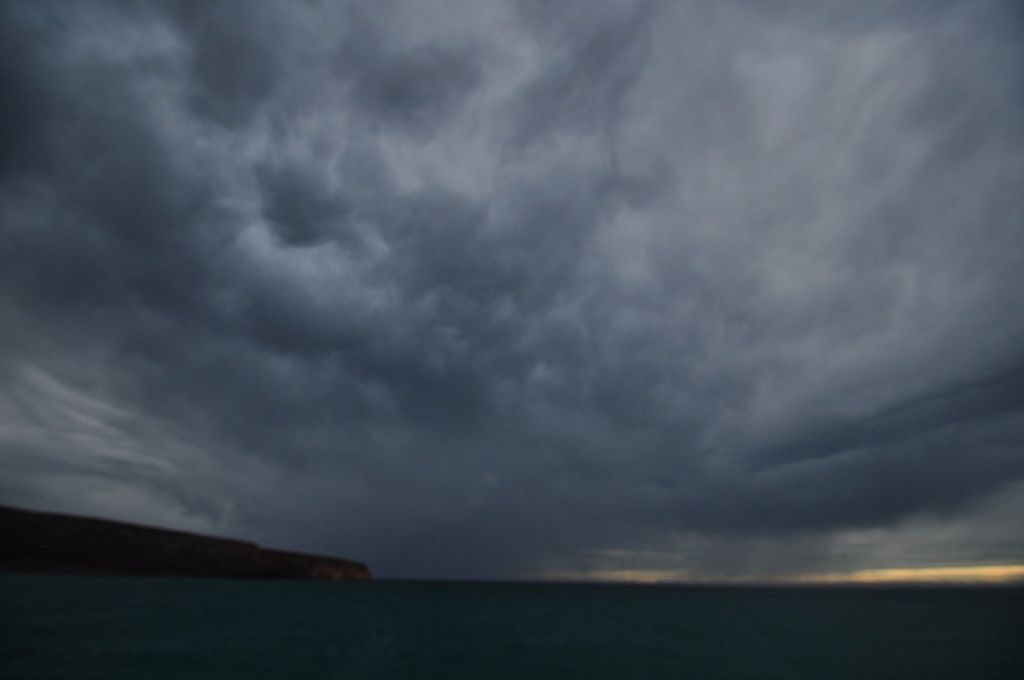 Catching up on pictures
Tom
02/14/2012, The Islands
I have spent a quite a bit of time posting a sample of some of the pictures we took while out exploring the islands of Espirtu Santos. You might need to go back page or two as well, as there are several posts that I have done. We hope you enjoy looking at them as much as we did taking them.