Happy Thanksgiving
24 November 2016 | Seattle
Jeanne
This year I have so much to be thankful for.
I'm very thankful for all of you that are very near and extremely dear to me. My wonderful, dear husband Tom, my family and a whole bucket load of great friends. Thank you all for your help, offers of help and just being there to listen or help out - when I allowed it! I also want to toss out a thank you to Dr Jaime Michel, for doing such a superb job with the surgery and followups. My leg is stronger every day, and I'm almost, almost cane free! Yea!

Happy Thanksgiving to you all!

Now, I want to send a thank you to all those people out there who do things in their normal course of the day with out getting many thanks.

I'm sitting in a Seattle Hospital as I write this. My Dad, Gordie just had bypass heart surgery yesterday. I arrived late last night and saw him briefly this morning. He's doing good, in fact was sitting up in a chair! The family is here, and we're taking shifts holding his and mom's hand. He's going to be just fine.

So, here it is Thanksgiving. I've heard people say "Happy Thanksgiving" to people. Our family, like most of you usually spend the day with family. This year, since we're not doing the usual family meal, I've decided to thank those people who don't get many thanks. So today, so far I've thanked the cashier in the cafeteria for working today so that I could get some breakfast. The lady who was cleaning up the family lounge, was doing a great job and is hoping to get to go home a few hours early. A couple of other hospital nurses and staff as well.

So go out of your way today to Thank someone who maybe doesn't get much in the course of their day.

And to all of you, Thanks for being a part of my life. You are cherished and loved!




We've been adopted
17 November 2016 | La Paz
Jeanne
This is Paloma - white dove.
She arrived earlier this summer. And she made herself quite at home here. Her favorite thing to do is to help the guys that ride the bicycle garbage carts... she tags along.
We soon discovered that she was to be a mom! In Mid August she gave birth to 5 puppies. All were healthy and are now in good homes.
Paloma is a sweet dog. She comes by for a drink or a snack or just to check in. She greets Tom in the morning, and was waiting at the door of the store when we returned from an overnight trip to Los Cabos.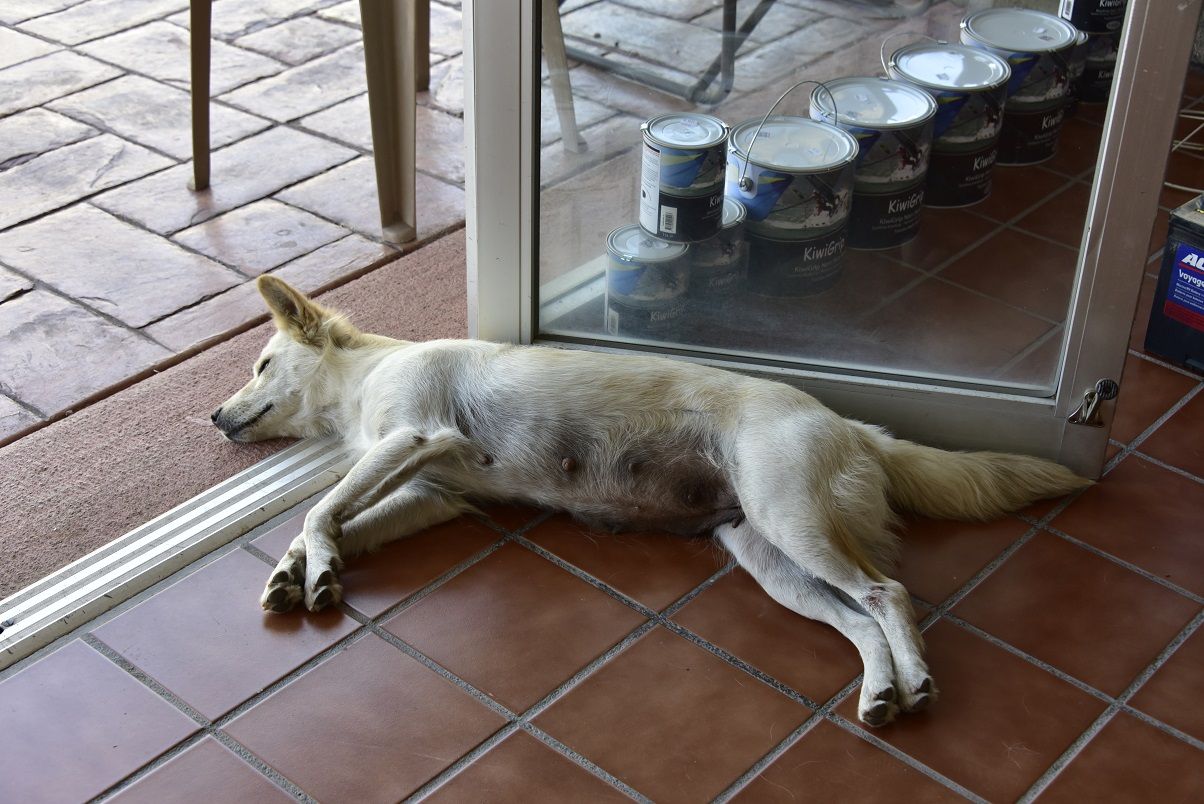 She's not a boat dog - too free roaming for that. But she looks kind of cute hanging out by the door.
Now you see it, Now you don't!
15 November 2016 | La Paz
Jeanne
A few years back, we to let our hair grow out. Not anticipating the all-encompassing heat down here, that plan was halted and we went the other way and cut it all off! And I mean all off - shaved down to 1/4"!
For the past 15 months or so Tom has let his hair grow again. He finally got it to the point where most of it was contained by his hat or tied up in a band as a pony tail.
All summer long. Until last week.
Dulce has returned to do haircuts at our Wednesday market, and had an opening.
He had said December 1 it was coming off, and decided not to wait!
It's gone, although there a 5" long pony tail sitting beside the VHF radio. More than once I've thought it was a small rodent!
She tried to get him to go with the fashionable asymmetrical style... but he wasn't buying it!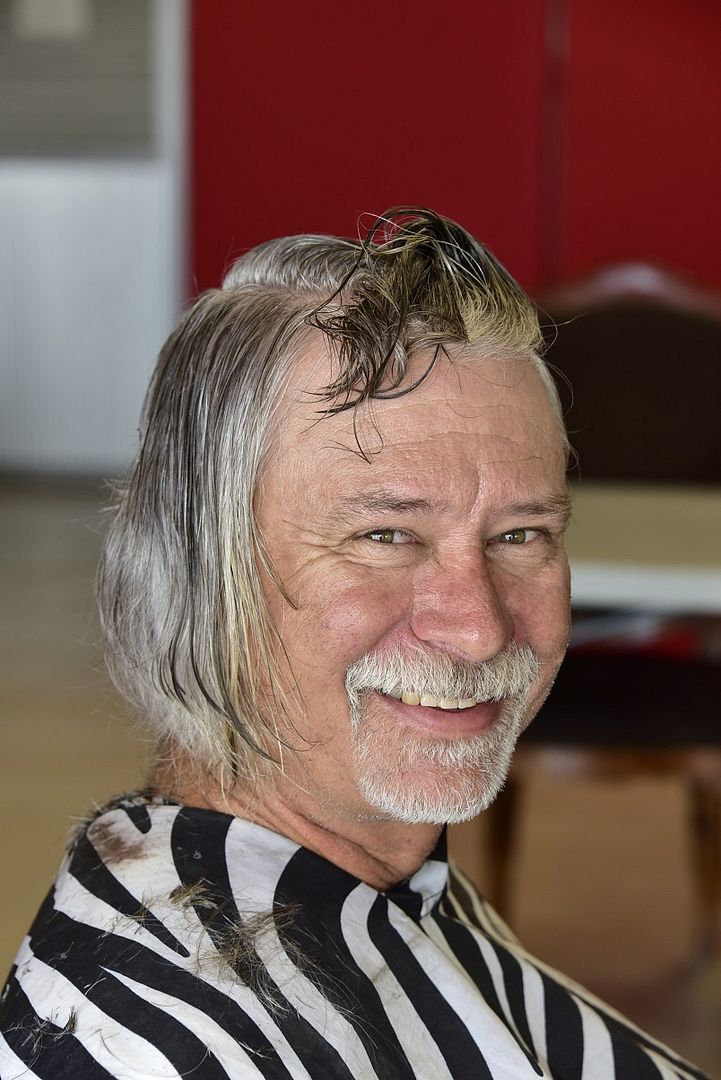 Caption this!
10 November 2016 | Outside La Paz
Jeanne
"Hey Betsy! I really like the new ear tags.... but don't you think the nose ring is a bit over the top?"

Just what is that anyway?
July 5 - Nov 5 progress
09 November 2016 | La Paz
Jeanne
So I've just passed the 4 month mark, by a few days. Now that I was given the ok to throw away one crutch - Oct 13-. I've done just that.

There have been a couple of rough days, but for the most part, 2 weeks later, I'm just using a cane. But, at the end of the day, my inclination is to reach for both crutches! Some mornings even find me walking in the store without any additional support.

The best part is that I virtually have NO pain in my knee. A couple of nights I've been kept awake from some deep achiness, but that's totally related to how much I tried to do. I now know that walking around Office Max and every aisle at City Club, followed by a jaunt at Home Depot was waaaay too much. I had a very slow day on Sunday.

The rest of my leg is experiencing 'growing pains'. New angles on ankle and foot bones. New pressures on the tibia and fibula are keeping me aware of my stride. I'm working really hard on walking correctly. For several years I didn't realize how poor my walking posture and stride was - I knew it wasn't good, but denial is sometimes an ok thing!

My PT now consists of strengthening the muscles in both legs, balance, walking and steps. I still don't trust my left leg, even though my knee joint feels really stable.

So, my thanks go out to Dr Jaime Michel Gutierrez, of UESO in Guadalajara, my family for putting up with me during this difficult time. You were all awesome and deserving of some sort of award!
Also to those of you who followed along, and have offered support, both on this forum and private emails- you know who you are! I love you all.

How to make yourself look BIG!
31 October 2016 | Around Baja
Jeanne
When you are a skinny little stick bug, how do you make yourself look big and intimidating? (Although nature has done a pretty good job, just the way it is!)
Use your shadow to become really impressive!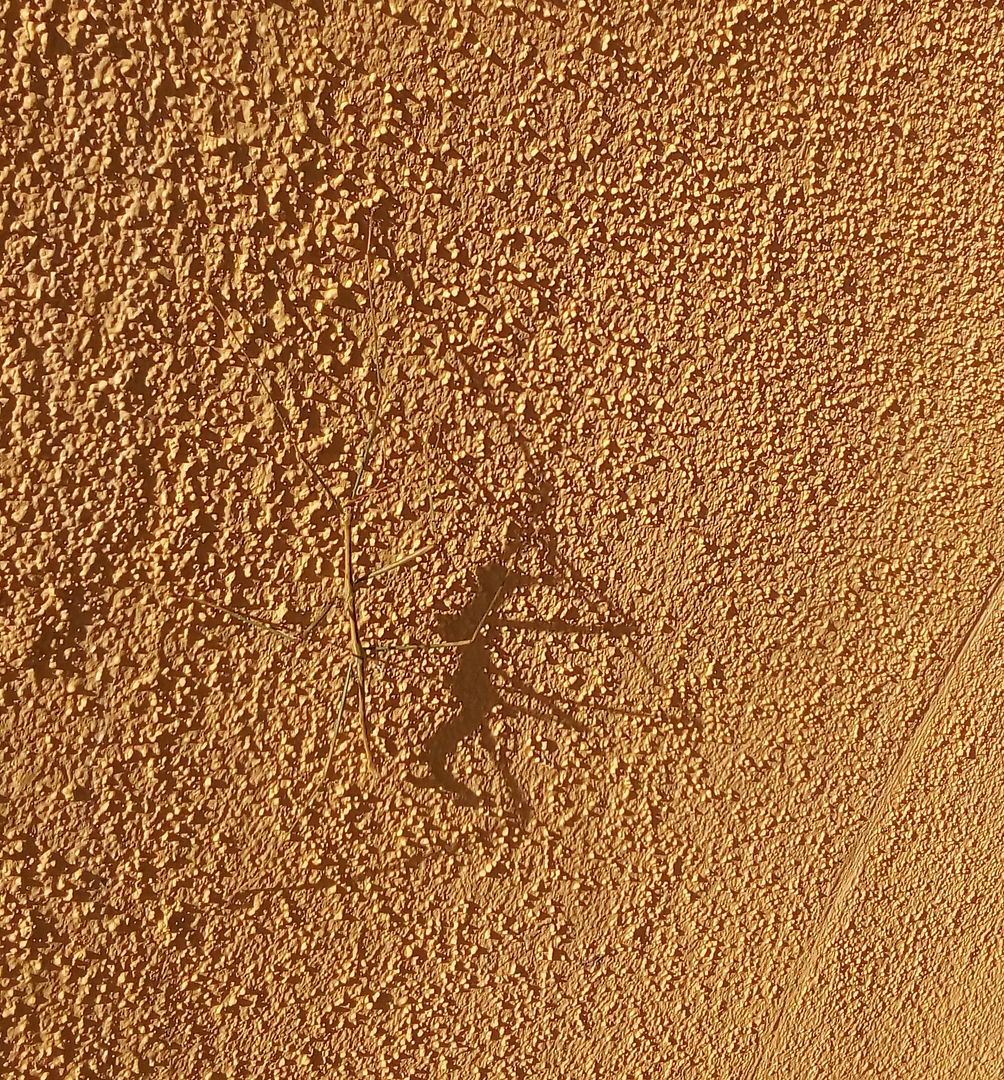 Happy Halloween!