Sunday day 53
28 August 2016 | La Paz
Jeanne

The week really got to me more than I had realized. I did almost nothing yesterday! Tom got up early to go find some birds to photograph, and I slept in.
Then I rolled over and read a good book for a while. I did a few exercises and stretches for my knee, then moved to the couch! About 4 I rolled into the kitchen and made a batch of spaghetti sauce for dinner. I checked email, did a couple of puzzles, and we watched two movies. Then it was time for bed. A good day! I guess I needed a down day!

Today is the day that several boater friends have been waiting for several months for! They're ship has finally come in! Literally! Last night the freighter the BBC Polonia finally arrived to La Paz after being delayed with mechanical issues in Panama. The boat was originally due to arrive here mid May. 7 Sailboats will be loaded on the ship today and head north, next port of call for these boats is Victoria BC, approximately 11 days from departure, and back to the US. Tom is in charge of loading 4 of the 7 and is assisting with one more. I'm driving shuttle.

Thursday Post op day 50
25 August 2016 | La Paz and Guadalajara
Jeanne
My return from Guadalajara was more tiring than I had originally planned on. Of, course, I should have expected it. We did have a bit of adventure, rather small events that made for a long day.

We flew out on Monday, and we got a wheelchair for transport at the GDL airport. Good thing as it was quite a distance from our gate to the taxi stand. Gaby had called for an UBER taxi when we got off of the plane. We were told 8 minutes – perfect time to get to the stand.

Upon arriving there, she got a note that the guy had cancelled us! And charged her 25 pesos for the cancellation! And he did it twice! Ok, it's not raining, I'm sitting down and we have another one on the way!

A Nissan Sentra pulled up, very popular there, and whisked us to the Dr. appointment about 50 minutes away. We arrived, and were the first clients, or so it seemed 40 minutes later and several people being seen before me, the DR came out and got the x-ray proceedings going. He mentioned that since we were going to be in his office for a longer period of time, he was seeing the others first. I guess I didn't send him the memo about the other things I'd planned to cram into my few hours in GDL.

So, x-ray done, and in his exam room. We check flexion – 90 degrees, no pain anywhere during that move. Good to go, same as before surgery. Since I didn't have more than that before, and the knee is the same one, he doesn't think I can get any more, but I can keep trying.

Flexion is better than when I was checked out after the hospital, but certainly not straight. Lying on his exam table, he was able to place two fingers between the back of my knee and the table. The goal is to be flat and not allow any fingers there. Lots of work to be done on very tight muscles.

Review of the x-ray: I was very disappointed to see that it looked exactly like the one done 5 weeks ago, regarding the bone healing or knitting together. He fully expected it to be like this, so I relaxed just a bit. I know that when donor tissue is used, there is always the possibility of rejection from the host. After more discussion and some education about 'stimulating the bone' I felt better. I can apply 20-30 kg on my left leg, and when in the pool walk when submerged up to my shoulders. This little bit of pressure should start the knitting process.
The next x-ray in 5 weeks.

We then called for another UBER taxi and jumped in under a downpour. This guy's car was so fogged up inside, he almost got into two wrecks – honked at twice! Then from the left lane, made a right turn across a left turning car! We were heading to a mall in search of another pair of shoes for me. This mall has a pay parking lot and you must enter through an automatic gate. We handed him the fee for this, 5 pesos, and he grumbly went inside and pulled up next to the door. Phew!

Meanwhile, Gaby's phone was down to about 12% battery. We needed this for the taxi's. She'd gotten a few minutes at the doctors office, but not enough. Right across from the chosen shoe store was a Starbucks, so she found an outlet while I purchased my shoes. 20 minutes later she barely had any more charge. I handed her my charger and it worked much better. I told her to keep it until we got to the hotel in case she needed more charge and she placed it in her purse.

It was now about 9pm and the shops were closing. Not only was I in search of shoes, - the search was successful - I was hoping for some time to look for a birthday present for Tom's upcoming birthday. The shop I wanted to look in was already closed, so no need to stay here any longer.

Gaby felt like she had enough charge, so she called the next car. None available, and when it was, it was 2.8 x the normal rate! It's pouring, we're on the curb under the awning, and trying to communicate to the driver he must come inside.

He arrived curbside and was pleasant about going inside. I slid in and put my backpack on my lap and crutches along side. Gaby started to get in and dropped her phone outside the car, in the rain, into a puddle! She threw the x-ray and her purse in and grabbed the phone. All good there, as it landed case side down in shallow water.

Off we go to La Moresca, a recommended restaurant from the doctor. Along the way the phone dies. Evidently when using Uber you stay connected while you're in route. . The driver passed her his charger, but it didn't work well. So dead phone.

Arriving at the restaurant we gathered all our stuff and got out. I looked back to make sure we had all our things and saw an unplugged charger on the floor. I assumed that it was the drivers and because it was unplugged, was the reason she wasn't getting a charge.

Once seated in the restaurant and searching for the charger, it was evident that the charger I saw on the floor of the car was MINE and it was no longer in her bag, but on the floor of the last taxi! Now we can't call the guy as her phone is totally dead, so we have to be patient and wait while it charges and hope the guy doesn't get a fare to the airport at the other end of town!

Dinner of homemade raviolis with pesto and a very good pizza, 2 glasses of a Montepulcciano (sp?) wine, and sangria, was very good, albeit very late about 11. She was finally able to make contact with the driver, who graciously agreed to come back with the charger. We paid for our meal and met him outside. He then agreed to take us to the hotel! He got 5 stars on his rating!

It's now close to 12, the hotel has a reservation and we've called to say we're still coming. We get checked in and are given a key. Up to our room, #217 and discover it's got one bed, not the two we asked for. Back down to the desk, and they give us #401, the suite we were in for the 2 weeks before. We only need a bed for about 7 hours, but we'll take it. Up we go, only to find that the key lights up the little green light, but the door won't open. By this time, we're really laughing!

She headed for help and returned with the night manager. He couldn't make it work either. Back to the desk he goes and returns with another room key, around the corner. We got in, had 2 beds, and had another good laugh! Finally!

Tuesday morning was just fine… although the TV kept turning off, then on again all on it's own……the flight back and return to La Paz was totally uneventful.
I went for a short walk in the pool, about 8-10 minutes worth and the laid down for the rest of the afternoon.

My knee felt good Wednesday morning when I got up. So I did some more time in the pool last night, about 30 minutes.

This morning my knee is telling me that between all the events of the past few days, and the new walking, that the time I did in the pool yesterday was probably a bit too much. It felt fine at the time and also last night.

I keep checking the 20-30 kg every time I walk into the bathroom by pressing my foot on the scale. I don't feel that I'm overdoing it pressure wise, but maybe activity wise.

So, today, Thursday, I've had a quiet morning in the condo, writing and doing some reading. I'm off to meet some friends for a birthday lunch, after which I think I'll return for another rest!
Finding that activity line – good vs bad is difficult!

Return to Guadalajara 1st re check
23 August 2016 | Guadalajara
Jeanne
We, Gaby and I, flew to Guadalajara yesterday for a visit with Dr Jaime and a new xray.
It was along day, an even longer night...which is quite comical and will have to be dodocumented later.
Im using my phone for this entry!
Anyway, I got a mostly good report. I can start to apply some pressure to the left leg, and rehab will now include walking in the pool.
Got to go catch the plane back to La Paz
More later.
Friday day 44
19 August 2016 | La Paz
Jeanne
I'm finding that as I feel better my frustration level rises. In regards to not being able to do things… lift the gallon of juice out of the refrigerator. Ok, so now that we have a large full size refrigerator, Tom thought the gallon size would be good. Yes, but now he has to pour it for me – good and bad! (smiley face!)
I walked to the office twice yesterday and went for a haircut. By the time I got back I was exhausted from crutching the whole way. We're into daily thunderstorms and potential rain. That's bad for me with the crutches and slipping, so I've gathered up other things to do in case I can't go out.
It's an effort to just use the toilet, let alone the shower. Lots of thought and planning has to go into it… then getting dressed… getting a meal….. it all just takes way more time than I'm used to.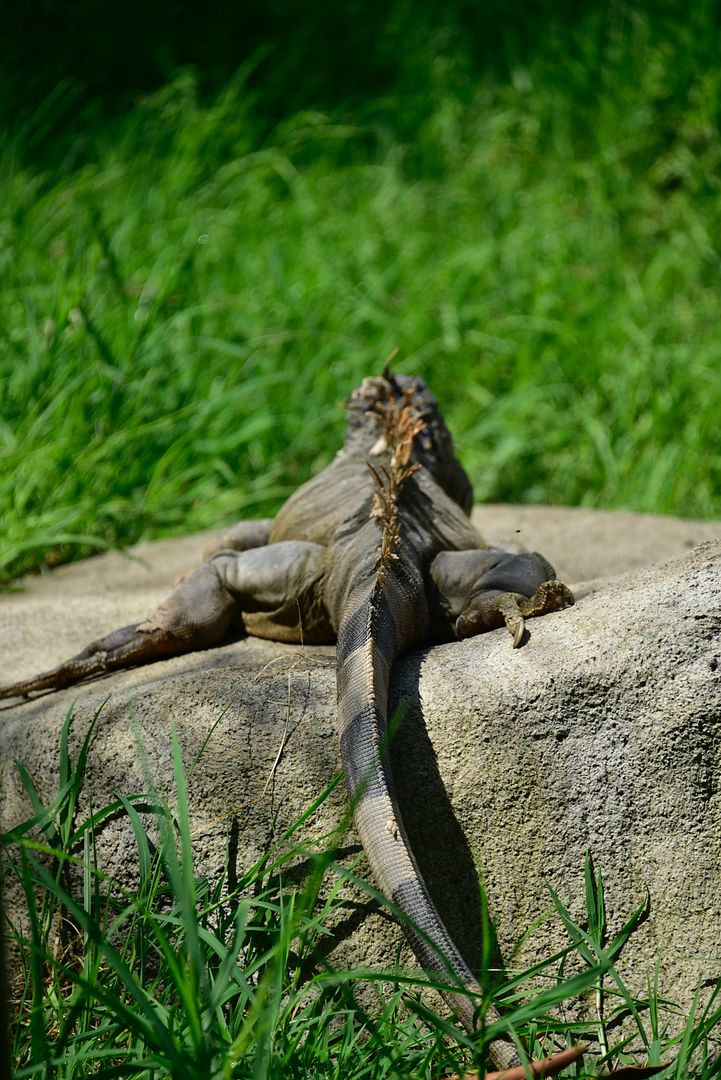 big old iguana sunning on a rock
The swelling continues to decrease, and I'm sure at some point, maybe now, it's just my leg and there will be no further decrease! I'm starting to feel and see areas around my knee cap that are definitely without swelling.
I'm getting PT from a friend 2x a week. We pushed it a bit on Tuesday night and I hurt for a couple of days. I also went back to using ice and a pain med. Yesterday we switched up the routine and did some other things to give the knee a break.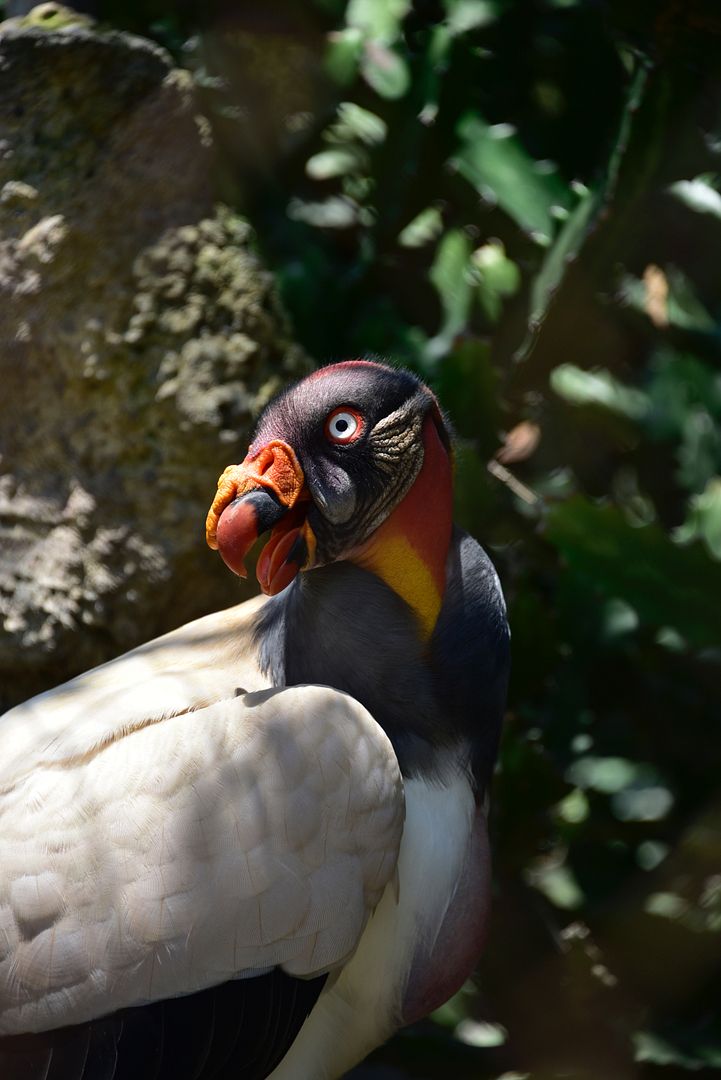 I've been in the office most days for a couple of hours. Other times, I'm in the condo, for right now, watching the Olympics. We've got 8-12 channels to choose from. Many of them are dupes, but right now my choices are men's 57kg wrestling, men's 10m platform diving, water polo, race walking, badminton, artistic gymnastics, and of course talking heads. While we've had many visual channels to choose from, we've not gotten the details on the competitors – all the commentaries are in Spanish. I can get a portion of it, an age, maybe parents, and town… but that's it.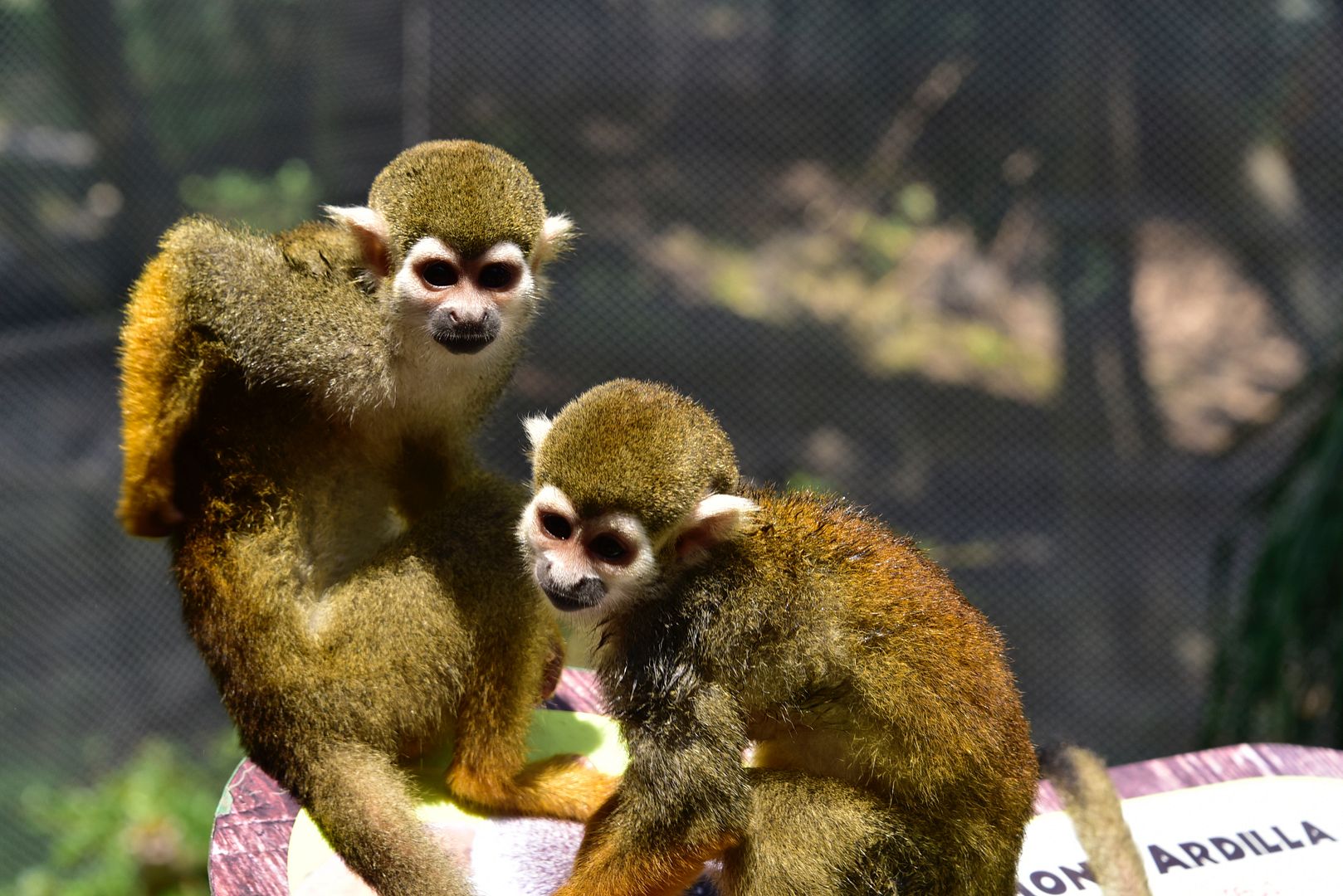 these guys are an arms length away and wet due to the docent spraying them with water to keep them off of people. In this enclosure, the people get to walk through the animals!
One of the things I wanted to do during this time was to organize and edit some photos. My laptop underwent a serious malfunction just before this 'adventure' and I'm building up trust in it again! These are a few images from from our trip to the Guadalajara zoo, 2 days before surgery.
did someone make a noise?
and
shhh... Tom's trying to capture a rare 'watzamacallit' ! He's gathered quite a crowd
Tuesday Day 41
16 August 2016 | La Paz
Jeanne
Today Mom and Dad headed out.. back to Seattle. After the first two weeks of our warm air - ok hot, I wasn't sure they were going to make it. But they persevered, mostly by just staying inside the condo with the AC on! After our little bout with Tropical Storm Javier, the temps cooled down a bit giving all of us a reprieve. Over the last couple weeks, the temps and humidity have climbed back up again.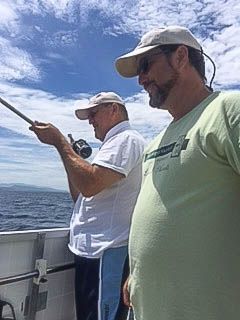 John and Dad - Fish on!
However, over the last couple of days, as the temps have dipped near the high 80's I heard Mom say once or twice that she was a bit chilly! They'll be running the furnace when they get home! At 9pm last night it was 95. They both thought it was 'very comfortable'!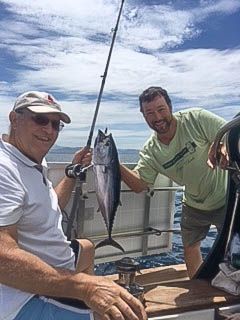 The "Eco tour" catch and release the skipjack!
It was thick with humidity today, and we've now got a threat of some thunderheads and rain. Their flight is about due to depart, and hopefully they'll have a calm ride up the coast.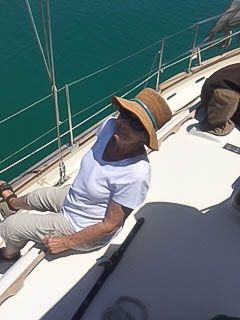 Linda on dolphin watch
Unfortunately, since the purpose of this trip was to help me out and not really be a 'tourist', they didn't get much exploring. Thanks to John of Timepiece and his girlfriend Linda, they did get out and about for some grocery runs, lunch a couple of times, a visit to the new whale museum and out on the bay of La Paz on Timepiece for a day or play.
I think they're freaked because Gordies at the helm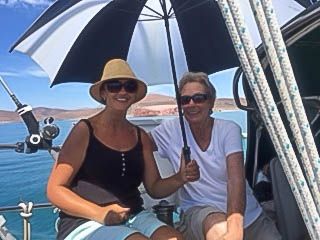 the two linda Lindas!
I really appreciated them taking the time to come and help us out. The first two weeks that I was back it was very important. As I gained a bit more mobility and independence their presence was needed less, but still important. There were a few tense times and a bit of egg shell walking was done a time or two. Naps, walks and time out at the pool all helped us survive 30 days in the same condo together! - and still be smiling at the end. The old 'visitors rule' that any one - friends, family or fish, all start to get a bit 'smelly' after 3 or 4 days still stands true! Everyone needs their own space even for a few hours or a couple of days.
There is not much to report on a daily basis regarding my leg. I'm doing daily exercises and swimming, including flutter kicking with both legs. My friend Noella, who is a PT is working with me at least twice a week. I'm pretty sure my knee flexes to 90 degrees. My extension is not where I'd like it to be. The back of my knee is still not on the bed, but it's getting there.
I'm scheduled to fly back to Guadalajara for a recheck and new x-ray on Monday, returning Tuesday. I'm keeping my fingers crossed that things are healing faster and I can start some weight bearing sooner than the 5 weeks more as predicted!
Thanks for the photos Linda and John!
Saturday, Day 38
13 August 2016 | La Paz
Jeanne
Yes, I've been in the pool! And boy does it feel good. Thursday the first day in the water, I swam quite a bit - a dozen or so laps. Then later that evening, I realized while walking with my crutches, that I need to balance out my swimming - arms, with my walking on crutches - more arms! Crutches do help with the 'dingle dangle' on the arms however!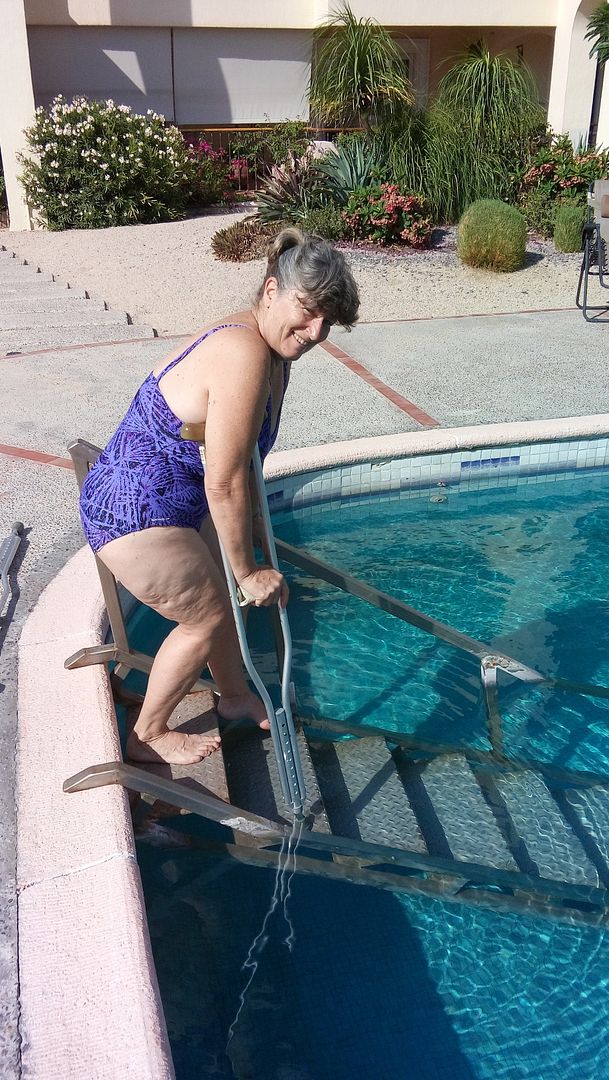 The first day I just let my leg drag along behind me. Later that night in bed, doing my exercises, I realized that what I was doing was basically a freestyle kicking stroke. Friday, after my PT session, I headed to the pool and did some light kicking with my legs. Not enough to propel me through the water, but enough that I could feel my leg muscles as I was swimming. I also decided that I would not be doing my PT and swimming together
As far as my progress goes, I've got about 80 something degrees of flexion. My goal is 90 by my return visit to Guadalajara on the 22nd. And, complete extension, straight leg. That one still bothers me. I've got about a finger and a half width to go before the back of my knee touches the bed.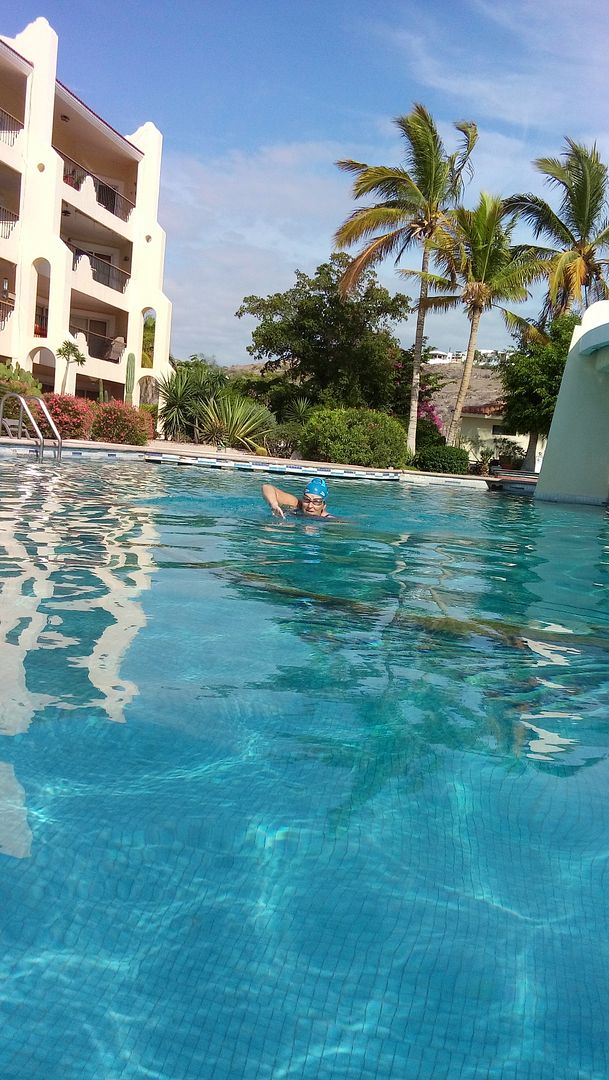 This morning I went to the pool by myself. I'm trying a few more things on my own, as Mom and Dad leave next week.
My folks are still here, and getting a few days to enjoy the town. Our friend John and his girlfriend, Linda are out with them on SV Timepiece today for a 'boat day' It was a nice morning for sailing, and now it's lovely, a nice temperature and light breeze. We can't see them on the horizon, so figured they must have dropped the anchor for some swimming. They all went to the new whale museum yesterday and loved it. John and Linda's vacation is quickly coming to a close also, so we're trying to cram in some dinners, time together catching up and cooking, and special recipe requests.
Speaking of that, my batch of browned butter brownies are about to come out of the oven.......