a short trip
Tom
05/08/2012, 8:30 cove
we took a short trip last night from Puerto Escondido around the outside point to a small little cove the locals all call 8:30 Cove, as it does not see the sun until around 8:30 in the morning.

We had a great time at Loreto fest, met some awesome people, and are now...well tired! It is a very busy 4 days.

We are going rest up here in 8:30 cove for a day or two and journey on. We will make a trip back to Loreto to make a last few phone calls, and send some more e-mails and pictures before going north. we will be with out e-mail service for a couple of days until then.

I am cutting this short as I have some pretty sore fingers for typing. We were sailing with the spinnaker yesterday, and just as we gybed it, a huge gust came up and ripped the sheets threw my fingers . I now have 2nd degree burns on four fingers, two on the right and two on the left.....not real bad, just some nasty blisters. No worries...

we will send more in a day or two, when we visit town

Until then.....Hasta Luego

One year plus a few days out...
Jeanne 90 degrees!
05/06/2012, Puerto Escondido
One year out.....
Wow, it was just yesterday wasn't it? But then, it also feels like it could have been more than one year since leaving Des Moines, Washington.

For the most part, the good times far, far outweigh the not so good ones. Other than our 30 or so scary hours of coming down the coast, there really haven't been any bad times. So, not so good, good, and really good would be how I'd classify the days.


When we left for smaller latitudes, we had purposely decided to not have a schedule once we arrived. We're still sticking to that, and it's been great. We anchored in San Evaristo for what we thought was going to be a 2-3 day stay....... three weeks later, we'd met many of the locals, did school portraits for the kids and any family members that wanted photos, fished, swam, spent the Easter holidays among them and thoroughly enjoyed it. The kids would greet us at the beach with big smiles and hugs. We took a few lessons from the locals on 'how to kick sand'. We seem to have done well with our lessons, as were invited back! I've even managed a conversation or two with them!

We gathered with three other cruiser couples last night, and shared stories, anchorages and dreams. Every single one was extremely happy that they had chosen to spend more time in the Sea of Cortez. All of them had arrived here with plans to spend one season here and move on, either further south or west. With 800 or so miles of coastline, and hundreds of bays and islands to explore, not having a departure time frame is a good thing.

We're currently in Loreto/Puerto Escondido at the last day of Loreto Fest. We currently have no plans or destinations in our immediate future. We'll go explore the bays and anchorages in this area and around Isla Carmen. Since Tom just came back from the raffle with the winning ticket for entry in the Tripui Fishing tournament the 3rd week in June, we'll be staying around for a while!

Our health is really good, not that it was bad before we left, We've both lost weight, and trimmed up. A cruiser buddy was looking at our departure photos and commented that we also appear to have lost 10 years! That's a really good thing. We hike, bike when we can, snorkel, kayak, swim and are outside almost all the time. We just don't have any stress to speak of. Our diet is very healthy. We've been eating fish at least once a day, sometimes twice. There is no 'fast food' down here, unless it's a quick PB & J sandwich!

We're amassing quite a collection of photographs. Sometimes it's a bit overwhelming. I'm saving some editing chores for when it's too hot to do anything but sit in front of a fan!
We're getting a good balance of alone time, together time and social time with other cruisers. Quite often we get a small group together for a snorkel or a hike. And sometimes its for a 'rita and a round or two of Eagle Farkle!

Lefty is still enjoying his cruising life. He's met many interesting people, some dignitaries, musicians, and other boat 'pets'. He's great at getting us to be silly, and gets smiles out of most of the folks that he meets.

We still enjoying writing the blog, and sharing what we're doing with those of you reading this.
If we had anything to pass along in the way of words of wisdom it would be just this: If you're living vicariously through our stories, get out here and join us. After all, who promised you tomorrow!













it's a ringer....
Jeanne
05/05/2012, Loreto Fest
Well, today finds us once again getting up early to attend a boaters swap meet. Fortunatley, this one started at a decent hour - 9am. But, like all boaters swap meet, this one started way before the posted time. We didn't need headlamps or flashlights for this one, luckily!

Tom purchased a heavier duty rod and reel - not sure where it's going to be stored, or what it's replacing... but I guess we'll work that out once we get back to the boat. He also picked up a Hawaiian sling spear gun. I'll keep you posted on how that works out!

I was able to sell a couple more of my jerry jug covers so that clears out a bit of space.

The swap meet was followed by a couple of seminars: fishing, jewelry making and we're currently finishing up one on the SSB radio. Between all of that, Tom and his horseshoe partner, Elvin, were unfortunately eliminated in the second days tournament. He says the heat today made the horseshoes slippery in his hand...... uh, huh!

There's more music planned for later on and then tomorrow a group of us will taxi into town for the farmers market, we're told a not to be missed event!

despite everything.....
Tom
05/03/2012
I have been having second thoughts about posting these, but what the heck. these are great fish, we had a blast catching them, and even more fun eating them!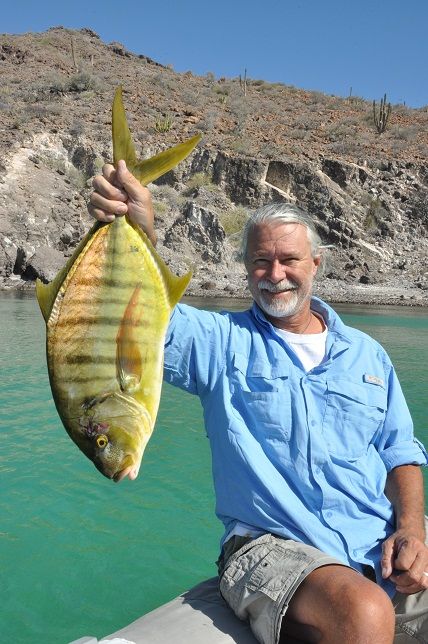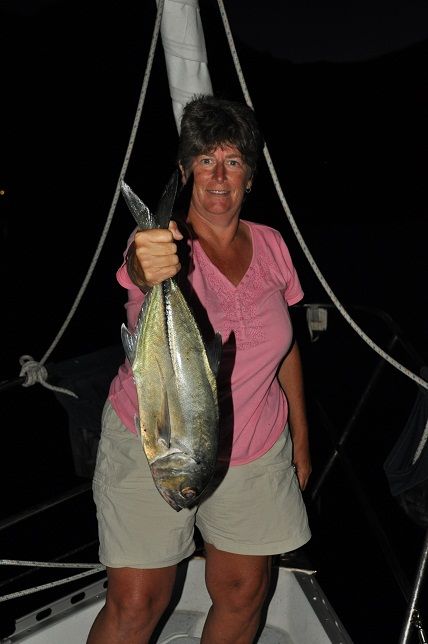 A few shots with Lefty
Tom
05/03/2012
Just so you think he hasn't been left on the b oat, here are just a few of the adventures lefty has joined us on.


Here lefty gets to me John off of Time Piece's new pet Poppy!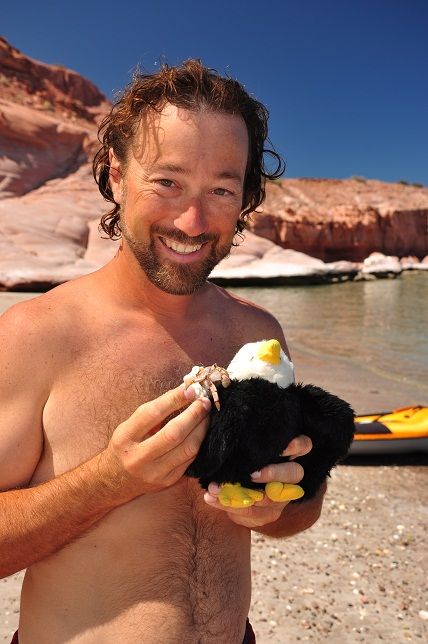 Lefty at the really cool rocks at Los Gatos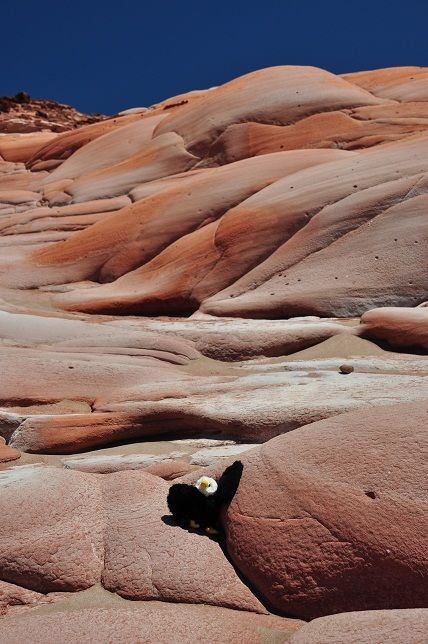 Mexico's Kids
Tom
05/03/2012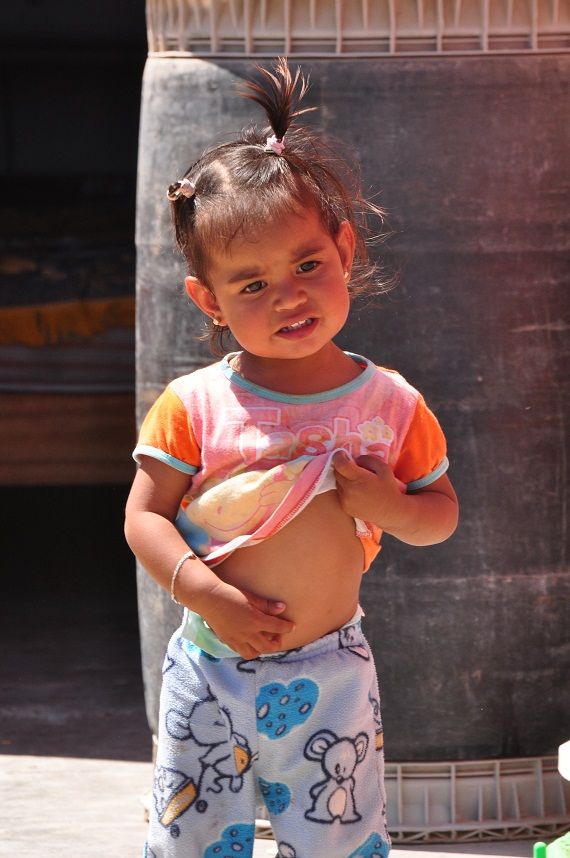 We have had such a great time metting, and getting to know many of the local kids, not just in the bigger cities but in the small fishing villages as well! Here are a few of our pictures, including the young man who helped me with my bird pictures, by bringing me his chicken!! Priceless!!