A day in Lefty's Life
Jeanne w/ Lefty's help
05/24/2012, Loreto
While most of Lefty's days are spent reading the guidebooks in the bookcase, occasionally, after bugging us enough about all the cool places he's read about, we let him out to run fly around! While in Loreto and at Loreto Fest he had a grand time meeting people and checking out all the activities.

Most of our first visit into the town of Loreto, found him securing the eggs in the backpack - a worthwhile job. He proudly showed off his balancing skills. Mike from Compass Rose gave him a '8.5' score!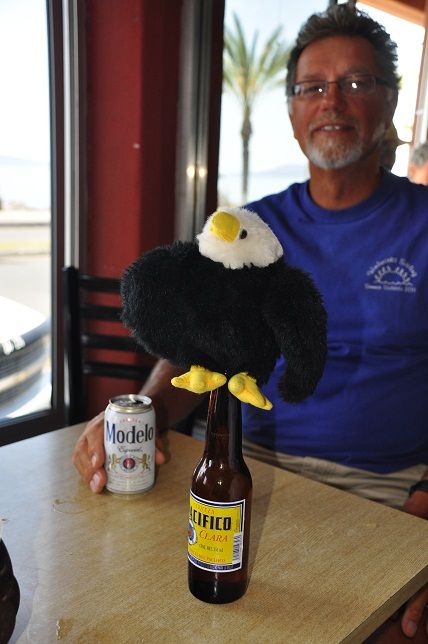 Balancing lefty

He did get a chance to make a new friend with whom he became very enchanted. He felt a bit like Goldilocks.... this one is just right!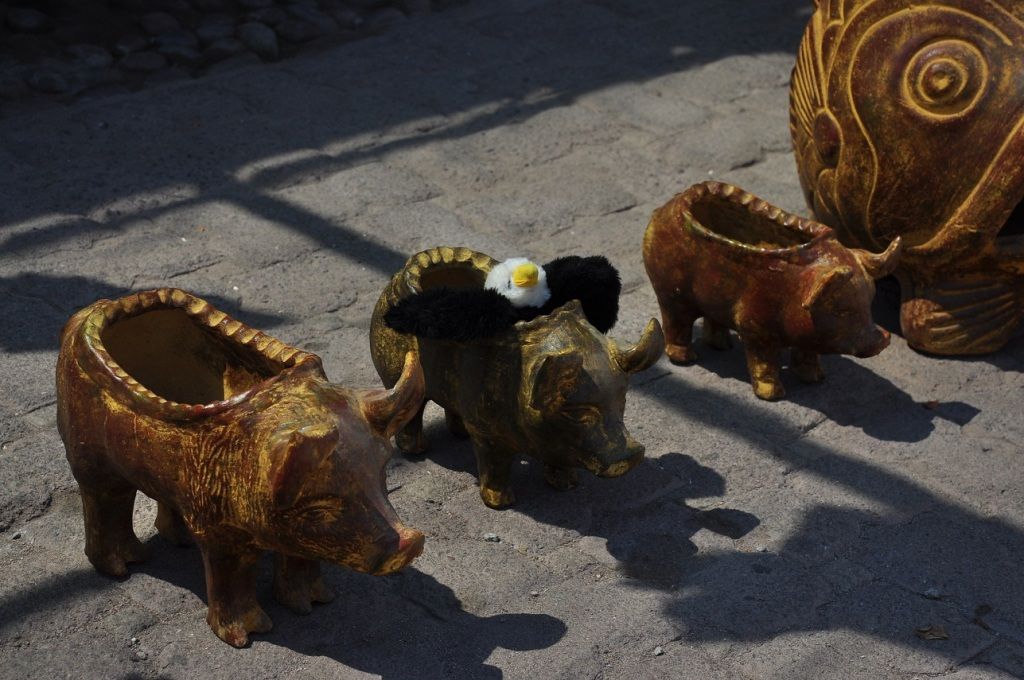 He got to spend an afternoon with the Editor of Live Aboard Magazine, Robin. She's cruising on SV Mermaid with her husband Mike, and cruising dog PeeWee. They had a really good time together, sharing adventures, and sharing tall tales.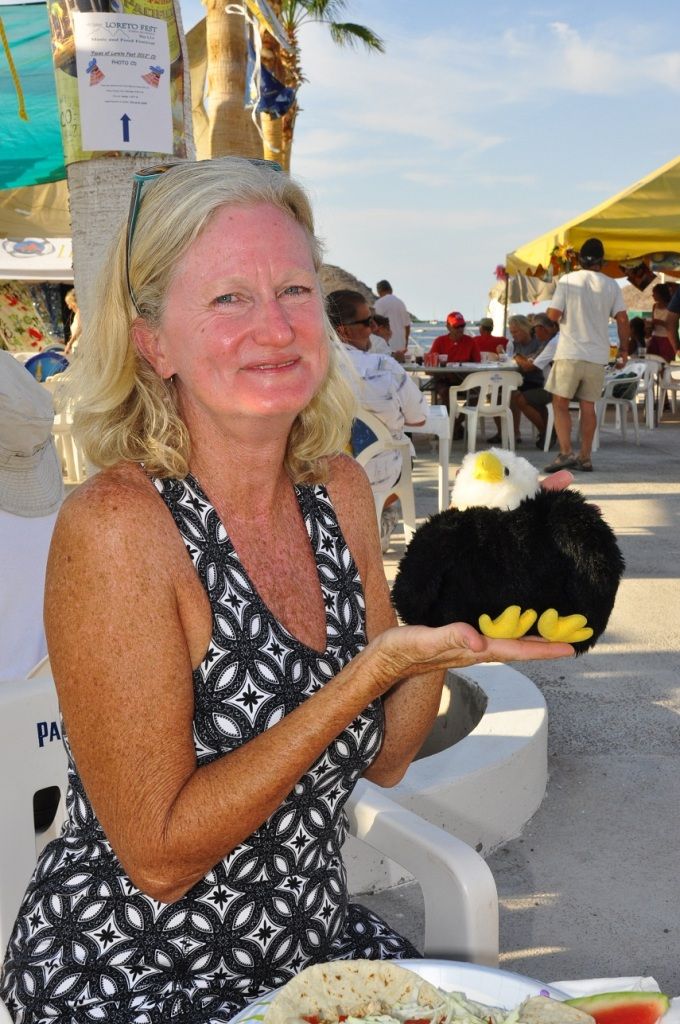 However, when Lefty shared that he'd been 'up close and personal' with Bob Bitchin, the founder of Latitudes and Attitudes Magazine, she wasn't so impressed!




The highlight of Lefty's day was getting to meet the star of the evenings entertainment, Roy Orbishark, and his Troupe. The performers consisted of Roy, Wray Charles, Eelvis Presley and Tina Tuna, who's our opening photo. Lefty was invited backstage and even though most of the performers were 'resting', they huddled up for a photo for his scrapbook.




Jim Barden, the puppets 'manager' made Lefty a "Crew Member". Jim and Lefty had such a good time together, that when we were all together in V Cove a few days later, Lefty was invited to join Jim and friends on his boat S/V Anne Marie for a great BBQ dinner.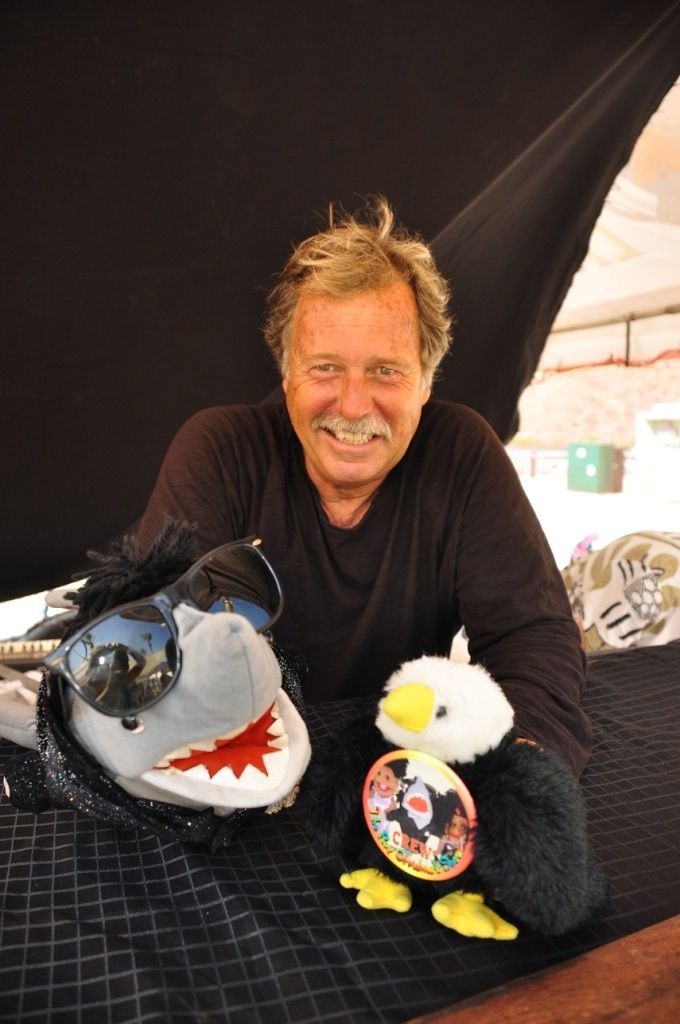 Moving day
Tom
05/22/2012, Bahia Candeleros
In a bit of a last minute decision, we have moved from Ballandra, and a very nice bay that I am sure we will see a lot more time in, to Bahia Candeleros, a bay that has some great amenities. We first saw this bay on our way north towards Puerto Escondido. It is hard to miss really, as there is a huge multilevel resort here. They provide the wi-fi that I am sending this note on, free use of the pool, and great protection from southerly winds, which we might have for the next several days.

We left Ballandra around noon, motored in flat calm waters for about an hour, then put up the spinnaker, as you can see above!(yes that is us smiling and waving!! Thanks for the photo to Alan and Caroline on the Catamaran SV Magic) An hour later, in a matter of seconds, we went from a 6-8 knot northerly, to a 14 knot southerly! So, down with the spinnaker, up with the main, and roll out the head sail. An hour later the wind died to nothing....still with falt calm waters, down with the sails. Then as we approached the passage along Isla Danzante, back were the 12-14 knot southerlies, and up go the sails again. An hour later, they died again. A couple of miles before the entrance to Candeleros, the winds were back, and again, back up go the sails. So just in case any of you might think we are just laying around down here, this sailing stuff can be work! I mean, it is over 90 degrees

Depending on how long the southerly winds last, we will hang out here. Heck, just free pool and wi-fi alone will keep us here for several days. Even if the beer here is 50 pesos each. That is $3.65 US dollars at the current exchange rate. That rate by the way is net to us after fees, 13.67 peso per dollar!

We are told that we can get some phone calls here, but so far we have not been able to get any signal.

We will try to get some more photos posted tomorrow

Back to Ballandra
Tom
05/18/2012, Bahia Ballandra, Isla Carmen
After another some what rolly night, we pulled anchor and sailed (at least part of the way) around to Bahia Ballandra. You might remember this as our first stop here on Isla Carmen.

SV Magic has followed us this time, and we have rejoined with SV Time Piece, after his time sailing around, and visiting Loreto.

This bay has really good protection from every direction, except dead west, and there is nothing "Predicted" for a wind from the west, son perhaps tonight we will get a complete, and calm nights sleep.

Not sure how long we will be here. We are pretty sure we can get some phone calls here, so if any of you family members want to give us a call, this would be the time. We swill try to make some called this evening, or in the morning.

bumpy night, bumpy ride
Tom
05/16/2012, V-Cove, Isla Carmen
Our night in Bahia Cobre turned into a rolly, bumpy night by 2AM with 4 foot rollers coming right into the anchorage. Needless to say, they was to be no sleep the rest of that night, so by 4:30 - 5:00 Am we were up on deck getting the kayaks and dinghy stowed, so that first light we could be on our way to someplace calmer.

That place is V-Cove on the north end of Isla Carmen. The trip was 9.1 miles, of light winds, 3-5 knots, and very large seas....4-6 foot steady waves with a set of three 8 footers every now and then. Not enough wind to sail, so we motor sailed, with just the main up.

V-cove is a very small little cove, room for 3-4 four boats if everybody is anchored pretty close, or small. When we got here, SV Magic, a catamaran was already here, so we had plenty of room. The later in the day, we were joined by two small boats, SV Ann Marie and SV Simaril. The spacing worked out really good, and so here we will hang until these heavy southerly wind abate. We do not get any wind waves, swell or fetch here, but we do get the full brunt of the wind. we have had a steady 18-20 all day, and some nasty gusts to 38 knots.

Hopefully it will die down a bit so we can take Alan of off SV Magic fishing in the morning....

Just around the corner.....
Tom
05/15/2012, Bahia Cobre, Isla Carmen
..Is this great little bay, that will give us protection from the southerly wind we are supposed to have. So, after an early morning start in the old towne of Salinas Salt Company doing the photography thing, we loaded up the kayaks and dinghy in order to make the 5.6 mile run just around the corner.

You will now find us in Bahia Cobre, a smallish little bay, surrounded on 3 sides by steep cliffs, all showing some amazing striations, that we are now finding unique to this part of Mexico.

We also found some amazing snorkeling, with some of the largest schools of fish we have seen so far.

Depending on the weather, we might just stay here one night and move on to the next bay, or maybe not........

summer is here
Tom
05/14/2012, Puerto Salinas, Isla Carmen
The last few days, we have been getting some kind of idea of what our summer is going to be like. We have had mid 90's, light to no winds, and humidity in the 50-70% range. right now it is 10:00 PM, it is 86 in the cabin, 84 outside, no winds, and the humidity is down to 48%. The water temps are climbing though, with the water in the "pool" up to 75.9 this after noon for our snorkel. I bought a Hawaiian Sling, a simple fishing spear so that I might be able to get a fish or two that way......well, let's just say I am better at fishing with a rod and reel. I am pretty sure that the grouper that i was trying to obtain, stopped, turned a laughed at me!!

We are going to stay at least one more day here in Salinas. We went in to check out the old abandoned salt mine, and it's decades old buildings this morning. That place is so cool......it is truly an old company run town, with a medical office, Company store, admin. offices and bunk houses. I bet that this place was really something back in the hay days. Now it is a lot of crumbling building, but a photographers dream!

There is a bit of renovation going on now, with two new cottages, complete with air conditioning, landscaping, a dirt landing strip and a full time care taker. All this is due to the success of the re-introduction if the Big Horn Sheep on the island. The sheep have been so successful that they are now holding hunts for them right here on the island, and the hunters who are paying literally tens of thousands to hunt here, expect some decent lodging! The money, or so we are told, goes to support the sheep, who are being introduced in many locations around Mexico.

I would like to try to photograph some, but was told that the area is closed to all visitors, and that trespassers will be "Consigned To The Local Authorities" which sounds like something I want nothing to do with!!