A quick southerly trip
Tom
05/30/2012, Agua Verde
In an effort to catch up with our good friends, Rich, Lori, Amy and Jason Boren on SV Third day, we left Honeymoon Cove, and made the 26 mile run back down to Agua Verde. The Borens, who have been living on their sailboat in Mexico for four years, have decided to return to the good 'ol USA and will sail back sometime in June. We really wanted to catch up with them one more time before they leave the sea. Rich has been a friend, an inspiration, sounding board, and a bottomless pit of really good "down to earth", or should I say "down to the sea" information from some one who is out here doing it.

Not that the trip is such a hardship, as we really enjoyed our time here in A.V. and a little more time is like a bonus.

We caught about an 8 pound SkipJack tuna on the way down, but set him free.

It is still 87 here at 8:30, the water is almost 76 degrees, and the water is flat calm, pretty much what we have had since 8:00 AM this morning. It was 85 when i got up, got up to 92, and is now 87 as we are getting ready for a late dinner. Grilled Grouper that Jeanne marinated...yum!

I got some amazing photos of a really large Manta Ray, leaping out of the air! While we see a lot of rays jumping, this guy was larger than most, and going way higher. It was a real treat to see!

Still on Honeymoon
Tom
05/29/2012, Isla Danzante
Well, actually IN Honeymoon. Cove that is. This a really great little anchorage, were we have had a little down time, Jeanne has done a little sewing, I caught a couple of fish...just the normal stuff. We got to finally spent some time getting to know Susan and Alan on Blue Jacket before they put the boat away and return to their home near Boston.

Then John on Time Piece, along with Rick and Kyra on SV Nyon showed up, so today we all went snorkeling followed by some post snorkel Farkle (say that three times fast). I would like to point put that I won all three games!! I am sure that I have just jinxed myself for any future games, but what the heck, it was a great run!

In the next day or two, we will take off and head towards Agua Verde, in order to catch up with Rich, Lori, Amy and Jason on SV Third Day, before they head the boat back towards California.

After that......well, we will just have to see which way the wind is blowing

Honeymoon cove
Tom
05/25/2012, Isla Danzante
As much as we enjoyed the day time amenities of Bahia Candeleros, and the fabulous Villa De Palmar Resort, the night time winds were just to much. But more on that in a minute.

We slept in this morning, and then set sail north to a small anchorage, just to the east of Puerto Escondido, on the small island Danzante, called Honeymoon Cove. The weather was calling for the winds to switch to northerlies, and Honeymoon gives good northerly protection. Unfortunately the wind has not switched, is still 10 knots out of the south, so we have a very bumpy anchorage right now....we are hoping that they are right on the weather and this will in deed switch some time tonight. We set the sails right away and had a great sail, close hauled at 13-16 knots, with flat calm seas, and a boat speed of 5.5-6 knots, right on a straight line to where we were going to...that doesn't seem to happen much!

We are learning that the weather here along the Baja certainly has some interesting peculiarities. With high heats of the land, the cool water, low pressure and high pressure gradients, the winds that blow across the Baja from the Pacific side, and the spin off of the hurricane "Bud" south of us, there is some wild weather to try to predict. In many parts of the Baja, the cool winds from the Pacific side come blasting across the warm desert and into the sea of Cortez. Then you have localized westerlies from the super heated mountain range that also rush down to the cool water in the evenings. Then there is the tropical low that sits south of us most of the year, which then pulls wind south, or pushes it north depending on the weather in Southern California, Arizona, and the "Four Corners Area", depending on how the pressure gradients run along the length of the Sea. What all this mumbo jumbo comes down to is that in any given area, the weather can just plain do what ever it wants, despite the best predictions of the Weather Guessers.

At Candeleros, with the steep mountain range so close to the water, every night that we were there, we had strong winds start up right after dark. The first couple of nights it was only 16-18 knots and then died down around midnight. Two nights ago it was a steady 18-20 with a lot of gusts that I called freight trains, 'cuz you could hear them coming with their 25 knots roar. Last night was the final straw, with steady 20-22 almost all night and around 3:30-4 AM, the turned up the dial and roared` at 30 plus knots until 9 AM.

All night I just kept chanting...."I love my ground tackle....I love my ground tackle"

well, maybe tomorrow night we will get a good nights sleep

Vacation time...
Tom
05/24/2012, Bahia Calenderos
Ever since we have started off on this adventure from Seattle, there has been a bit of a feeling like we will have to return back to work right after the weekend is over. Several of our friends have asked us about our "Vacation". Neither of us have felt like we are on vacation, just enjoying a long term part of our lives, until the next stage.

To that point, I bring up the subject of boat jobs. These are mostly just maintenance, but an occasional jobs that falls under the repair catagorey come along. Jeanne is awesome, with her plan of doing at least one boat job per day, and staying on top of things. me, well, I guess I have not been able to maintain that much consistencey. So yesterday was my make day. My list of jobs, things that I have assigned myself was up to eleven, so it was time to have a boat day. Jeanne spent he day off the boat, while I played catch up! Cleaning the fuel system, wiing in the new 12 volt outlet for our cockpit fans, new plumbing for the shower in the head, clean the solar panels, polish the lexan hatches, and a few other small jobs all that if I could just have Jeanne's daily consistency, would not have required the better part of a day.

Well, with all that done, today, I am in deed on vacation!! Lefty and I are chilling here alongside the pool, taking a quick dip as needed. All this is a great treat, and one that we sure appreciate, but soon enough it will be time to move on, and we will be back to work, trying to get that jobs done, one a day, just like the apple, right?

What we see
Jeanne
05/24/2012, Agua Verde to Loreto
Here's a brief photo album of what we've been seeing along the way.

Agua Verde: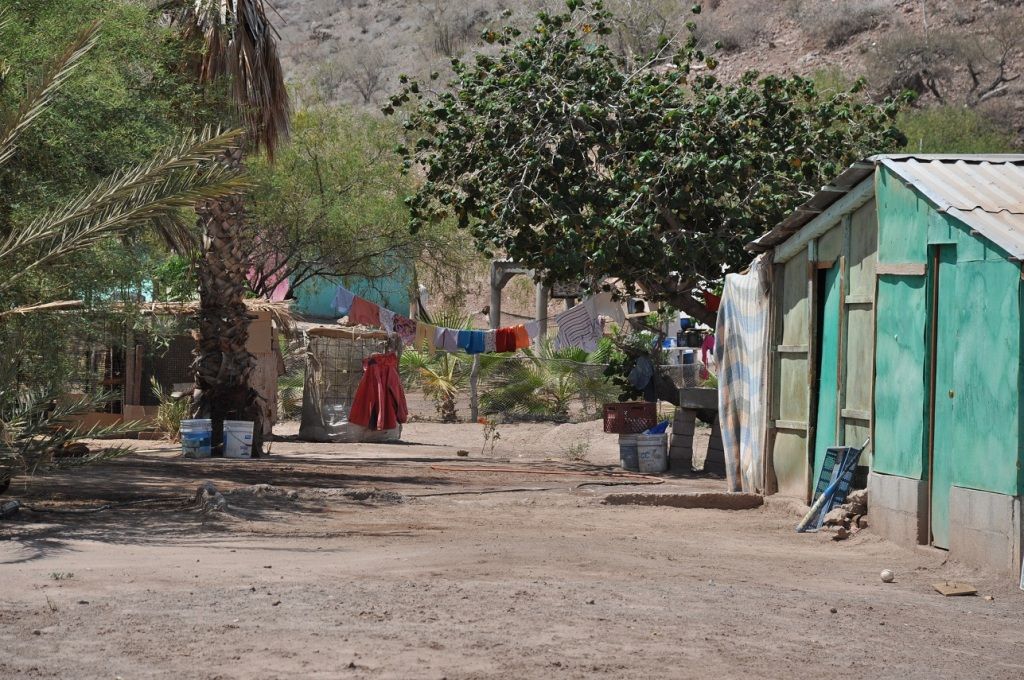 Los Gatos: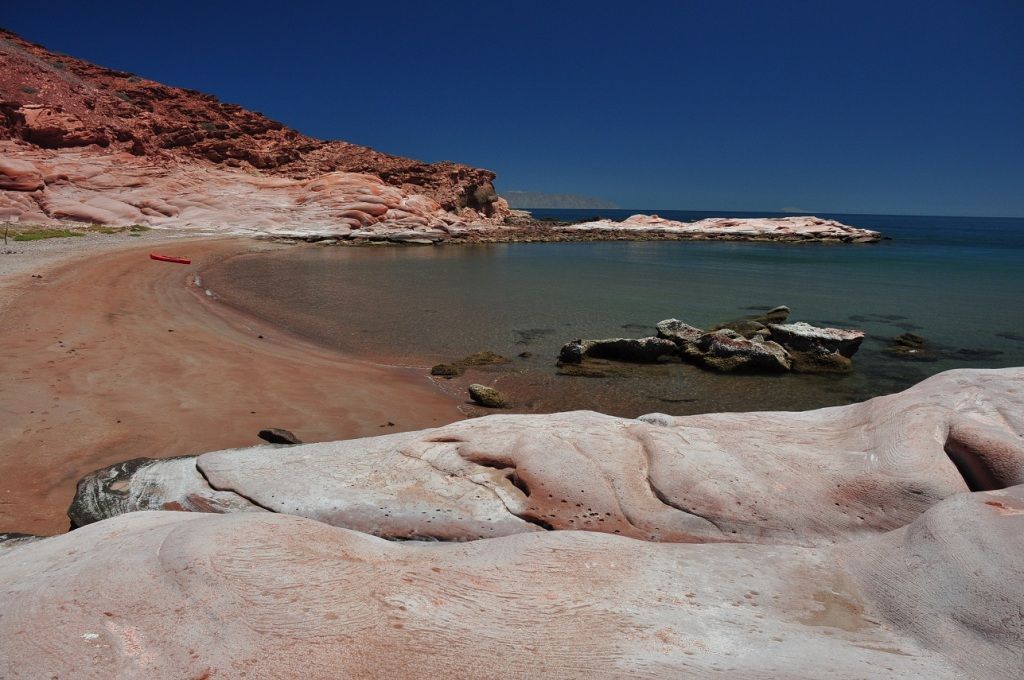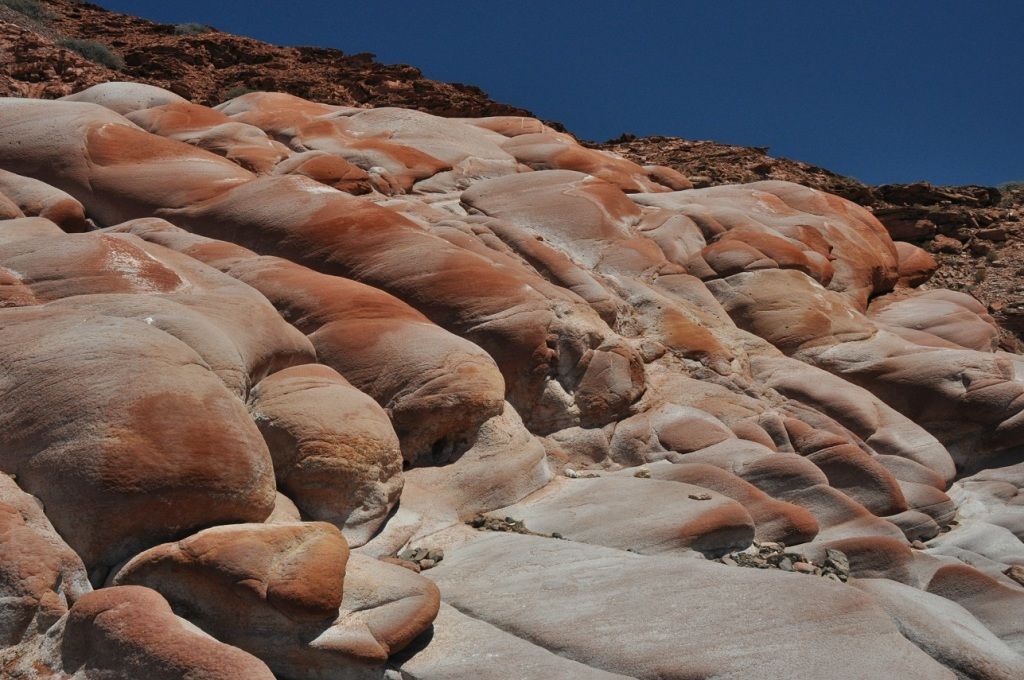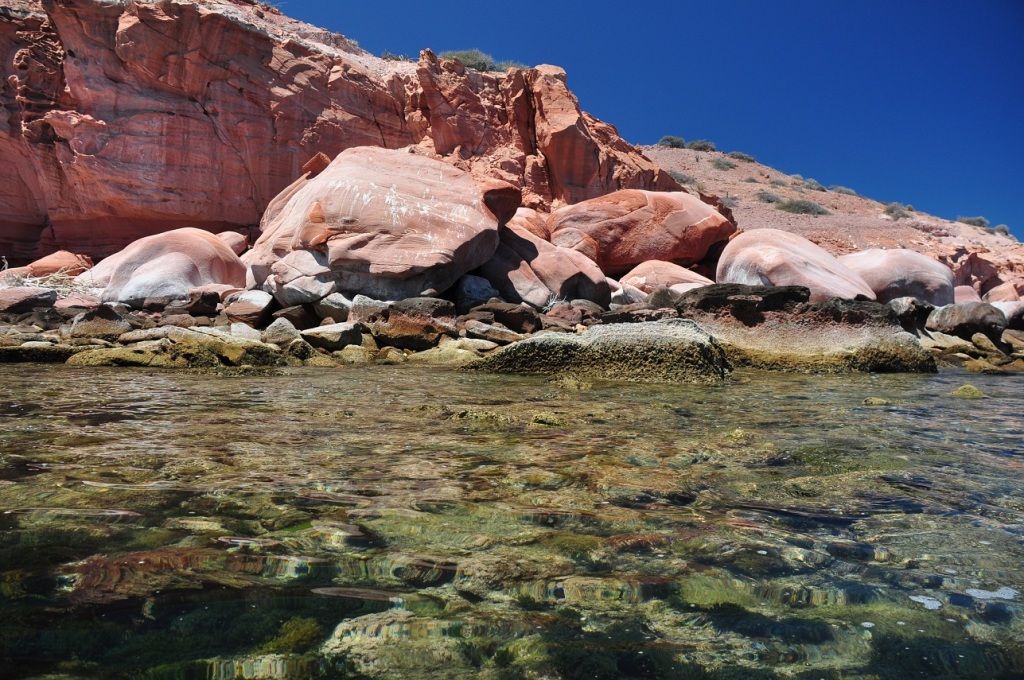 Loreto: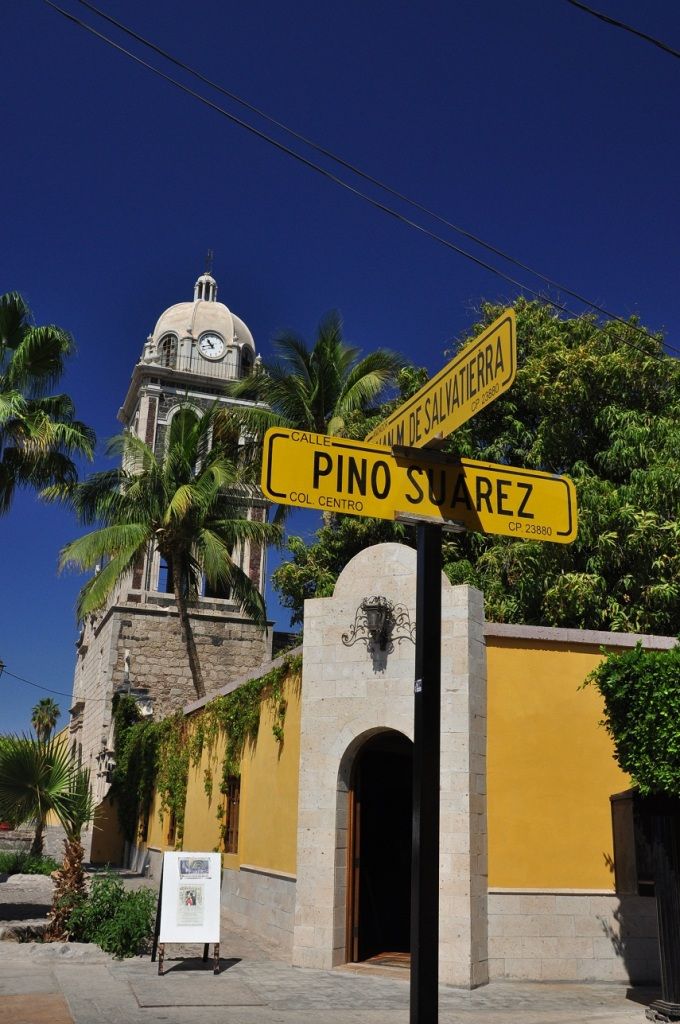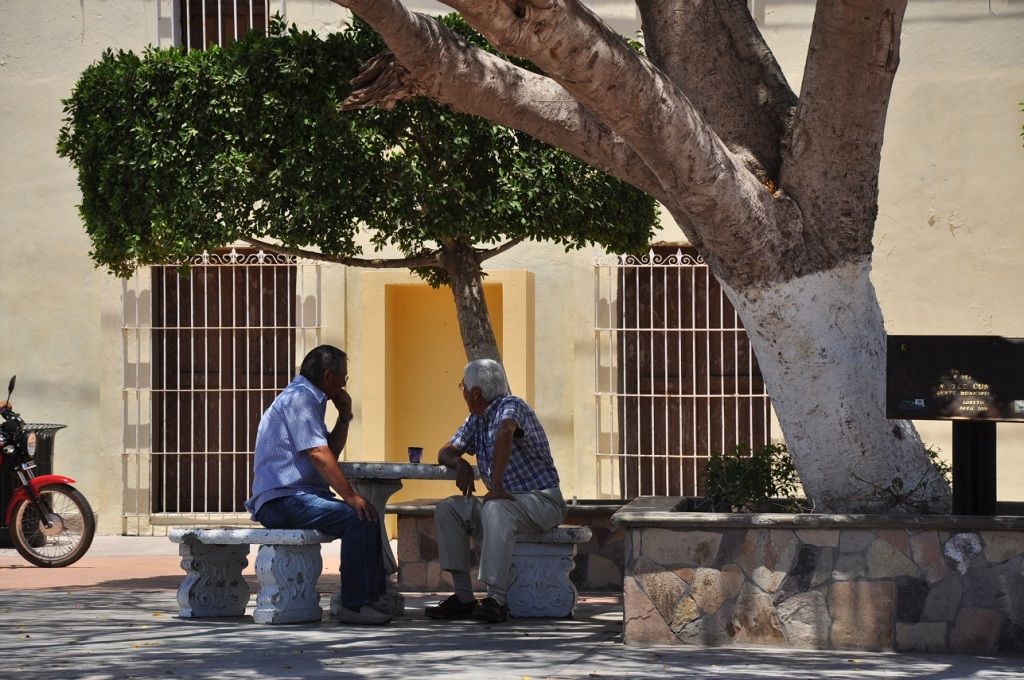 The Sunday Farmers Market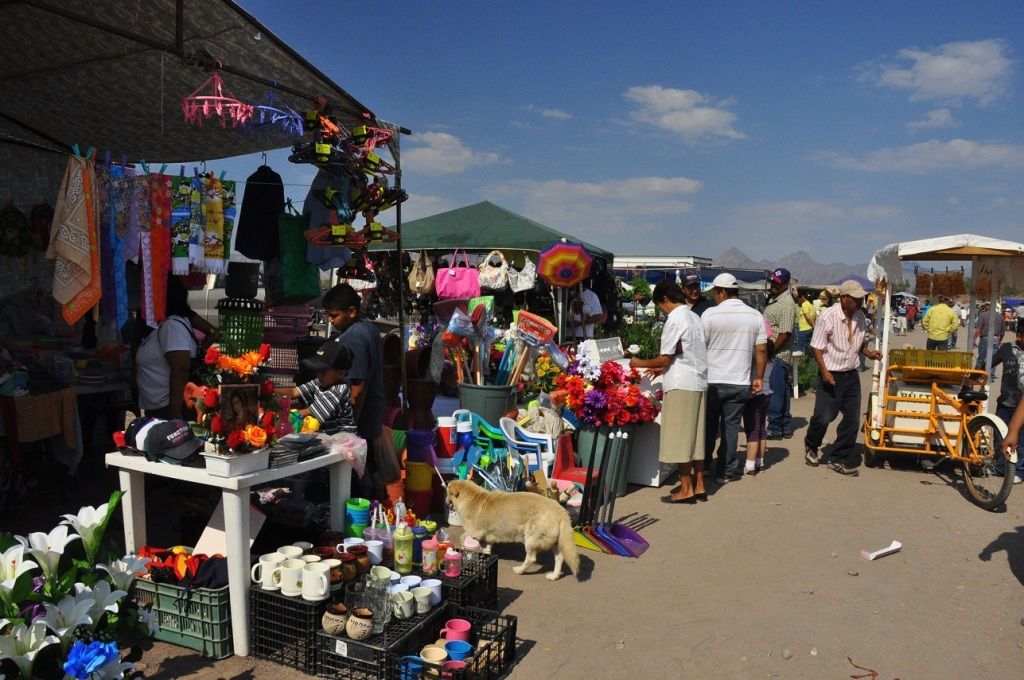 Posada De Los Flores.... the ceiling is the bottom of the pool!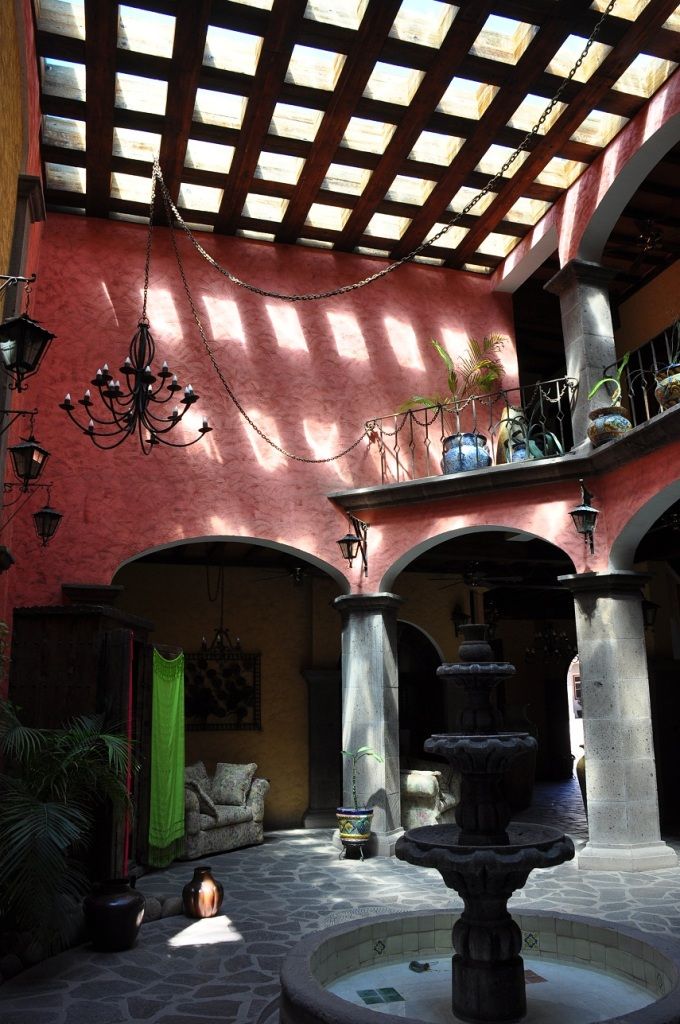 A day in Lefty's Life
Jeanne w/ Lefty's help
05/24/2012, Loreto
While most of Lefty's days are spent reading the guidebooks in the bookcase, occasionally, after bugging us enough about all the cool places he's read about, we let him out to run fly around! While in Loreto and at Loreto Fest he had a grand time meeting people and checking out all the activities.

Most of our first visit into the town of Loreto, found him securing the eggs in the backpack - a worthwhile job. He proudly showed off his balancing skills. Mike from Compass Rose gave him a '8.5' score!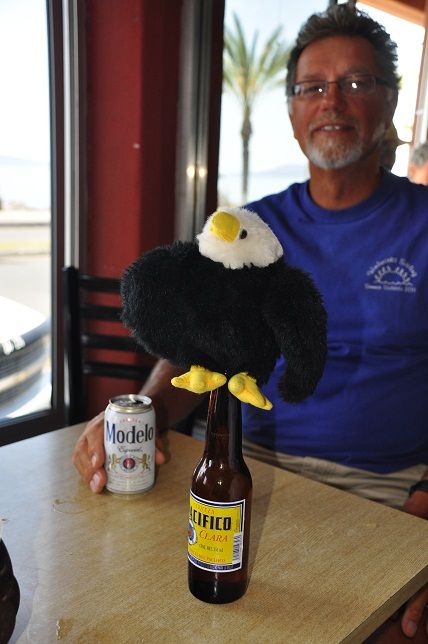 Balancing lefty

He did get a chance to make a new friend with whom he became very enchanted. He felt a bit like Goldilocks.... this one is just right!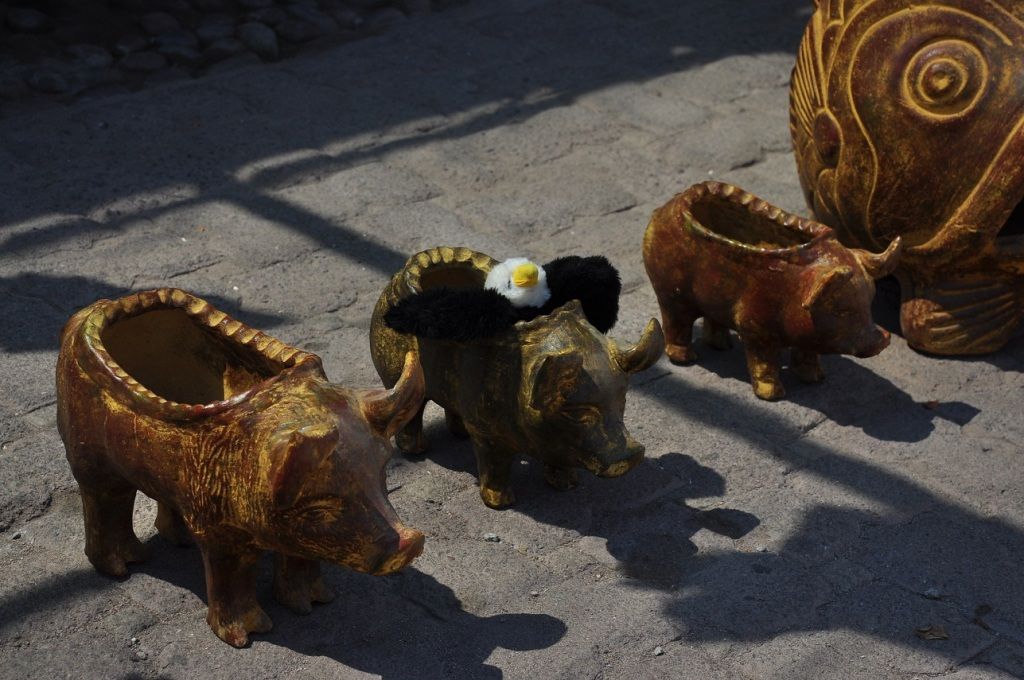 He got to spend an afternoon with the Editor of Live Aboard Magazine, Robin. She's cruising on SV Mermaid with her husband Mike, and cruising dog PeeWee. They had a really good time together, sharing adventures, and sharing tall tales.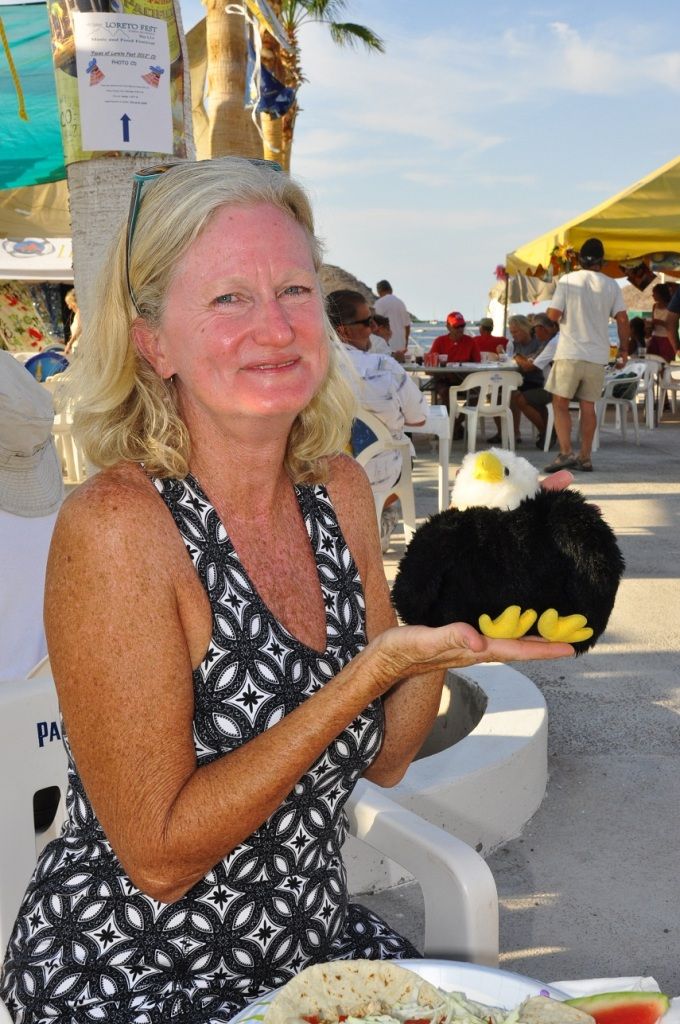 However, when Lefty shared that he'd been 'up close and personal' with Bob Bitchin, the founder of Latitudes and Attitudes Magazine, she wasn't so impressed!




The highlight of Lefty's day was getting to meet the star of the evenings entertainment, Roy Orbishark, and his Troupe. The performers consisted of Roy, Wray Charles, Eelvis Presley and Tina Tuna, who's our opening photo. Lefty was invited backstage and even though most of the performers were 'resting', they huddled up for a photo for his scrapbook.




Jim Barden, the puppets 'manager' made Lefty a "Crew Member". Jim and Lefty had such a good time together, that when we were all together in V Cove a few days later, Lefty was invited to join Jim and friends on his boat S/V Anne Marie for a great BBQ dinner.