A few pics from Salinas
Tom
06/04/2012, Bahia Salinas
Here are a few pictures that Tom took, while Jeanne was documenting the historic old "Company Town" of Salinas, the site of a huge salt minig facility. The town is now seeing some renovation due to the private introduction of Big Horn Sheep to the island, and the enormus fees that are charged to hunt them. It is rumored to be in excess of 35 thousand US dollars to participate in an hunt, and that is wether you get a sheep or not!!

I could tell that the brown Pelican was very excited to have Eagle anchored there in his bay....so his cover shot is at the top of this story

Any way, here are a few misc shots I took:

This 6" crab lives in holes they dig in the beach, right at the tide line. they are very secretive, shy and almost never seen. This guy on the other hand, had no fear and wandered right down the beach eating as he please. It might be good to point out that he is almost three times the size of any I have ever seen




One of the local catus that has gone into bloom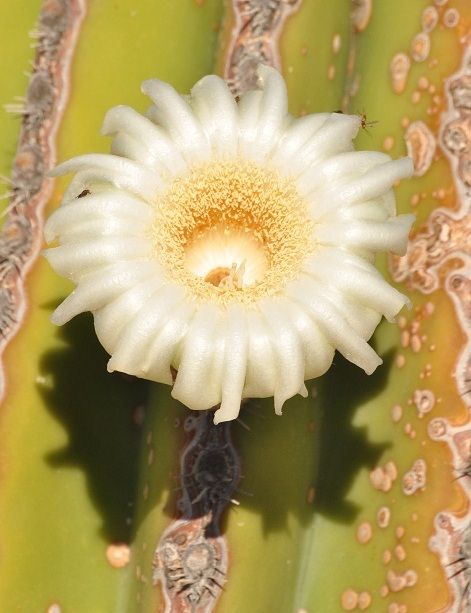 This is a look at the old city, from Eagle right at sunset.




Jeanne had found some really big ugly bugs, that were eatting on the blooms of this plant and just had to get up close and personal




The up side to my long telephoto lense....I dont have to climb into the bushs, i cheat and stand back away from the nasty looking black bug and take the picture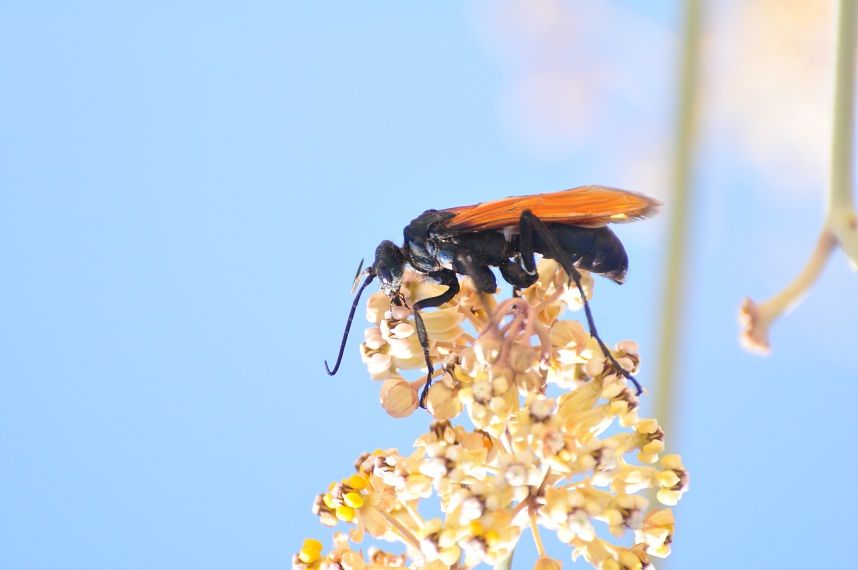 Just a few nights ago
Tom
06/04/2012, Bahia Salinas
Tonight, with the stars, the warm Mexican waters, the fish swimming around the boat and our friends on board for dinner and drinks, was a special evening. One of so many here in Mexican. But, I digress....the reason for this little note is not to make our friends, family, and faithful followers upset with us, but to try to explain what this night was like for us. So with that warning, allow me to wax prophetic....

The day started out like one of many we have enjoyed here so far....warm, sunny and cloud free. We were expecting Larry and Sue from MV Beverly S. to join us for a dinner of Jeanne's awesome homemade Chili rellanos , some freshly caught grouper, flavored with a hint of lime and orange, along with some beautifully done Spanish rice that Sue contributed. A chilled Chardonnay, a nice bold Tempernillo, and a rum and coke for me completes the setting.

After a dinner worthy of any high faluting restaurant back in the states, and a couple bottles of wine, our guests returned to their boat, Jeanne and I retired to the lido deck, also know as the bow of the boat to watch the worlds greatest natural fire works show. The bioluminescence in the water was strong, the stars were out in force, the water had fallen to an amazing calm, all adding up to an evening the likes of which become so very hard to describe. But I will do my best to try..

We are anchored in Bahia Salinas, on Isla Carmen. It is well past "Cruisers Midnight" the recognized 9:00 PM bed time of most of the boating community. The schools of fish, are out in large numbers tonight. Their every movement, enhanced by the natural lighting provided by the bioluminescence, appeared like fireworks, bursting thru the water around Eagle. The small schools, buzzing around like so many Fourth Of July sparklers, the medium sized fish moving thru the water with less flamboyance, but none the less impressive. The organized schools of larger predator fish, like the most highly advanced green-white torpedoes....moving as a group, zigging and zagging thru the water with grace and speed, and at the same time with deadly precision. The glow that they give off, surely gives away their presence to the very creatures they seek to obtain for their evening meal. The speed that they move through their watery realm reminds me of nothing less than the choreography of the Blue Angels fighter jets. They remain tightly bunched, until all at once, some unseen signal sends then all bursting off in different directions. Then as quickly as they had dispersed, they gather back in their tight formation and are off again, searching, and in some small part of my mind....just plain showing off!

The sky above this amazing display, is bordering on the un-imaginable. With nothing in the way of city light to effect the crystal clear view of the heavens most panoramic show case, we are nothing less than humbled by the sight of a limitless number of stars. The moon, which just a few days ago was at it's most magnificent fullness of the calendar year, and reduced by some small percentage each night, has failed to climb the jagged peaks of this arid Mexican desert island. It's absence further adds to the complete inky black of this amazing night, In this awe inspiring sky, one with so many stars that the main stay of the northern sky, the Big Dipper is almost lost in a camouflage of stars. Planets, stars, even a satellite or two all, reflected brightly on the calm waters of this beautiful bay. The still of the evening waters, with the multitude of stars reflecting on it, helps to erase the line, of where the heavens meet sea.

Moments like these are the ones that truly leave me in awe, and so glad we are down here!

Back at the resort
Tom
06/03/2012, Candeleros
We have dropped our anchor out in front of the resort at Bahia Candeleros, and plan on staying here until Tuesday or Wednesday. We will go into the resort either this afternoon, or tomorrow morning and get caught up on the blog, some pictures, and what every inter net business that needs to attended to.

With that in mind, I will keep this short until tomorrow

Manana

Some down days
Tom
06/02/2012, Agua Verde
We are still here in Agua Verde, pretty much taking it easy. A short hike or two, some swims, a little snorkeling, and mostly just hanging out and catching up with some old friends. many of the boats that we spent time with in La Paz this last winter have all arrived here, in order to see off our good friends Rich, Lori, Amy and Jason on SV Third Day. The kids are anxious to start in a regular high school, and I think Lori is ready for a break in the "Home Schooling" routine. So after four years here in the Sea of Cortez, they will make their way back home to San Louis Obisbo, California. They will be missed!

In addition to Third Day, we were joined here by SV Just A Minute, SV Eyoni (I sure hope spelled that right!!), SV Hotel California, SV Kasasa, and SV Interabang. Last night the whole gang got together on Just A Minute, a Lagoon Catamaran. By the way Jim and Faith, they are getting ready to put her up for sale...Hint Hint!! Here you go, a Lagoon, already fully outfitted, and sitting right here in the Sea.

If the weather holds in the morning, we might start our journey back towards the north, up to Candeleros again, where we will use the pool, and the free wi-fi!

A weather update...it has cooled a bit. It is now 9:20 PM, and it is 82 outside, 80 inside, and 75 in the water!! Might have to take a quick swim before bed!

A quick southerly trip
Tom
05/30/2012, Agua Verde
In an effort to catch up with our good friends, Rich, Lori, Amy and Jason Boren on SV Third day, we left Honeymoon Cove, and made the 26 mile run back down to Agua Verde. The Borens, who have been living on their sailboat in Mexico for four years, have decided to return to the good 'ol USA and will sail back sometime in June. We really wanted to catch up with them one more time before they leave the sea. Rich has been a friend, an inspiration, sounding board, and a bottomless pit of really good "down to earth", or should I say "down to the sea" information from some one who is out here doing it.

Not that the trip is such a hardship, as we really enjoyed our time here in A.V. and a little more time is like a bonus.

We caught about an 8 pound SkipJack tuna on the way down, but set him free.

It is still 87 here at 8:30, the water is almost 76 degrees, and the water is flat calm, pretty much what we have had since 8:00 AM this morning. It was 85 when i got up, got up to 92, and is now 87 as we are getting ready for a late dinner. Grilled Grouper that Jeanne marinated...yum!

I got some amazing photos of a really large Manta Ray, leaping out of the air! While we see a lot of rays jumping, this guy was larger than most, and going way higher. It was a real treat to see!

Still on Honeymoon
Tom
05/29/2012, Isla Danzante
Well, actually IN Honeymoon. Cove that is. This a really great little anchorage, were we have had a little down time, Jeanne has done a little sewing, I caught a couple of fish...just the normal stuff. We got to finally spent some time getting to know Susan and Alan on Blue Jacket before they put the boat away and return to their home near Boston.

Then John on Time Piece, along with Rick and Kyra on SV Nyon showed up, so today we all went snorkeling followed by some post snorkel Farkle (say that three times fast). I would like to point put that I won all three games!! I am sure that I have just jinxed myself for any future games, but what the heck, it was a great run!

In the next day or two, we will take off and head towards Agua Verde, in order to catch up with Rich, Lori, Amy and Jason on SV Third Day, before they head the boat back towards California.

After that......well, we will just have to see which way the wind is blowing