update on world record attempt
Jeanne
06/20/2012, Puerto Escondido
We've been out of internet information for a couple of days and just learned that Paul, attempting to swim across the Sea of Cortez, was removed from the water after 24 hours due to a decreasing body core temp.
Maybe he'll give it another try!

World record attempt, today
Jeanne
06/11/2012, Loreto and Punta Chivato
Yesterday, Sunday, after a sail and motor to Loreto, Lefty was hanging out in the bar of the Mission Hotel in Loreto, hoping to get some wi-fi. No luck there, so he mingled with some soon to be departing hotel guests.

His new hero is Paul Lundgren - the guy in the orange shirt. Today, starting at 8am, Paul will be attempting to set a new world record by being the first to swim across the Sea of Cortez, from Punta Chivato to Guaymas - 80 miles. How long does it take to swim across the Sea, you might ask? The goal is hopefully under 2 days! TWO DAYS! Paul's adventure is detailed at www.solocortez.com.

He will be attempting this fete using the "English Channel Rules" - speedo only, no skin protection against jelly fish, no assistance from the support boat crew in the way of being 'supported while in the water', and no touching of the support boat. The support boat will be able to give him, food and drinks from a long pole..... just what do you eat while in the water? Sort of eliminates the "stay out of the water for at least one hour after eating rule" now, doesn't it?!

His crew consists of a bunch of friends, Jo, Monty, Jamie, and others, who are 'extreme' sport enthusiasts; all planning their next triathlon, long distance swim, or multi-day survival of some 'crazy' race. China, Australia, India, as well as locales in the states were all mentioned as possibilities for the next adventure. Lots of well channeled testosterone in that room!

Lefty knows how 'pruney' you can get from being in the water for a couple of hours, but what will Paul look like after 36 or more hours? Stay tuned, we'll try to keep tabs on Paul's progress.


Lefty's near death experience
Jeanne
06/11/2012, Yellowstone Beach, Monserrate
While joining the cruisers for some bocci ball, he was minding his own business sitting on the foredeck of the kayak - chillin' in the sun.


The crews: Ethan and Zeda, SV Eyoni, Ken & Nancy, SV Brandywine, Pam & Rick, SV Hotel California, Tom, Jack,Patrick and Rudy, SV Just A Minute





Rudy, the large, friendly, yellow lab, playfully on his part, decided that Lefty looked like a 'chew toy' left on the beach just for him. Rudy skipped the 'lovey, carry the toy around' part, and went right to the 'rip the head off and go for the guts' part! Luckily, quick hands prevailed. Lefty, a bit slobbery, sandy and literally, shaken up, is fine.



Rudy was last seen running down the beach chasing a tennis ball. After a near death experience on Yellowstone Beach, Lefty is fine and has lived to tell about it.





and behind door number one.....
Jeanne
06/11/2012, Loreto
Upon arriving at the fishing panga marina in Loreto, one first notices the new construction. The breakwater has been redone and the signage is extensive for the work yet to come.

Glancing around to get my bearings, I spied a tower. While certainly not at heights for an aviation tower, it is up there. What really got my attention is the full size door located in the side about 30 feet in the air. HUH?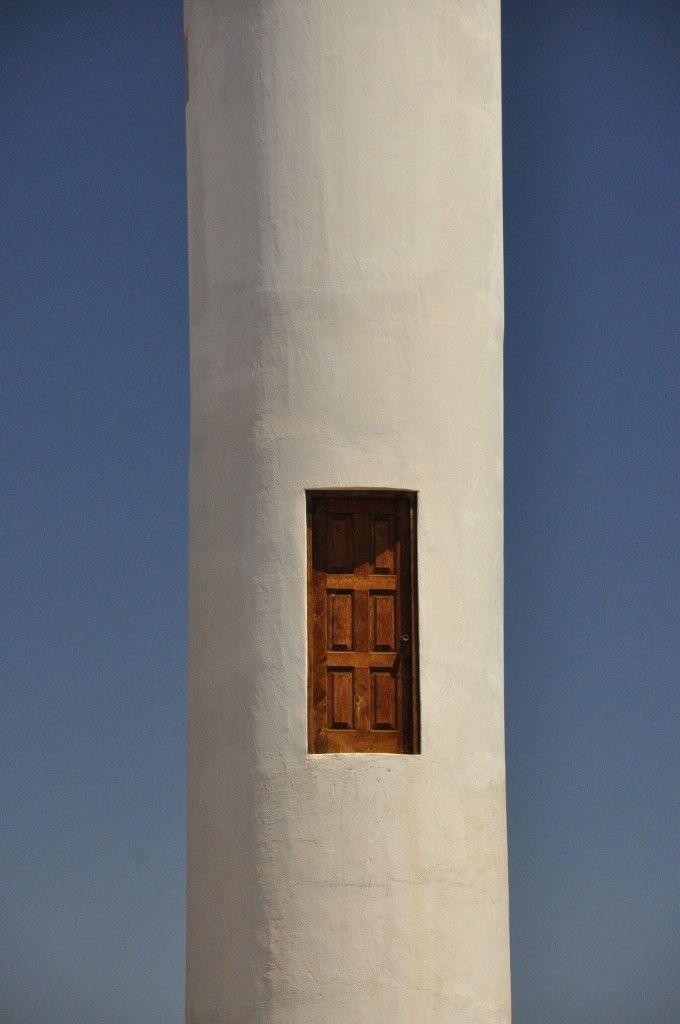 We got a few good chuckles trying to decide what it's use is, and decided the following was our winner:

The tower leads to the port captains office and on the inside of the door is the sign that reads " Complaint Department - Through this door!"

Anyone else?

No alcohol was invloved, and no blood shed
Tom
06/04/2012, Bahia Salinas
Mexico in the summer....not something a lot of people do. Even the majority of the people who are down here on boats, all put the boat in a marina, and head back to the states, or Canada for the hot summer months of July, August and September. When Jeanne and I started on our adventure, we knew that we would be traveling on a pretty tight budget, so random airfare would be out of the question. That also means that we were going to have to find a way to stay comfortable during the hottest moths of the year down here. We have decided against air conditioning...for the time being at least. It is a bit expensive, and bulky. Where do we store a 3 foot by three foot by 2 foot box, the rest of the year?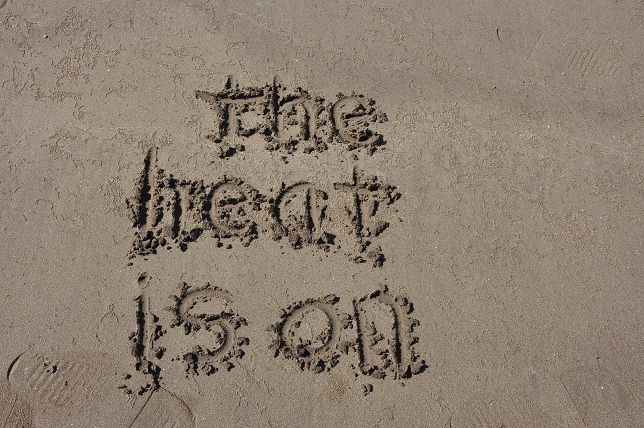 We have installed several fans through out the boat, including one that can be moved around. Last week I enlarged the cockpit bench seats so that we can sleep on them, especially when the inside of the boat starts getting hot as an oven. We have our instant ice maker so we will have cold drinks all summer. Jeanne has made screens for all the hatch openings to keep the bugs out if they should become a problem. We have floating toys so we can spend a lot of time in the water. We even made an awning, that will attach to the whisker pole, out over the water, so when we are in our floaties...we will be in the shade. This awning even include a couple of drink holders.

The last thing was our hair...mine has gotten pretty long since the last hair cut I got was the first week of march......2011!! Jeanne did cut the bulk of her long hair, it was down to the belt, off just before leaving Seattle. So, with the upcoming heat in mind, we headed to the beach, to the red bucket hair salon.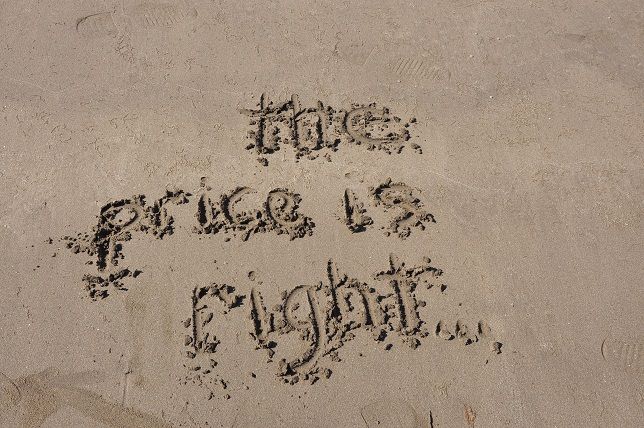 After a bit of discussion, it was decided that I would give Jeanne her haircut first!! Many thanks to Ann Marie and Chris off of SV Starship for coming along to be our photographers and document our hair cuts.

Now despite my many skills, I have never graduated from any form of Barber College, as a matter of fact, I am pretty sure I have never even cut the hair of pet, let alone my lovely wife!




But cut it I did, and as the piles of hair gathered on the beach, my confidence grew. Along with Ann Marie's quality control assurance, I continued loping it off. Until is was all the same length...very short.

Ummm sweetie...lets take down all the mirrors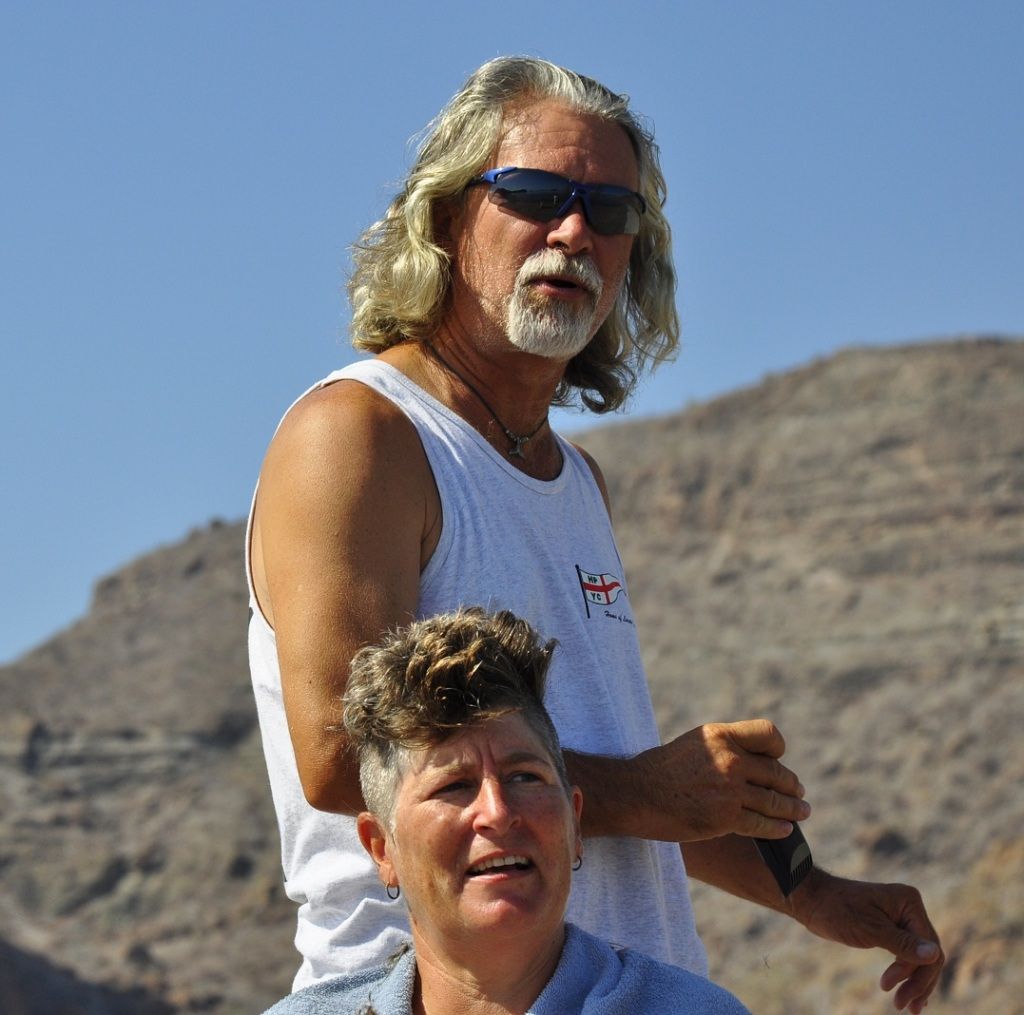 Then it was her turn. She seemed to have a better hand at this than I did, as she made very quick work of the long hair that I had accumulated these last nearly 16 months.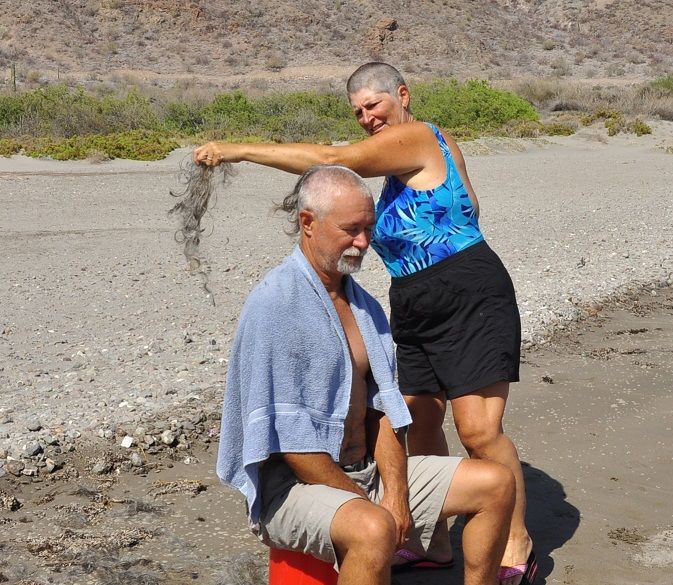 It is done....and I have no regrets. If for no other reason than the ease of diving and snorkeling. That along with the fact that there is a shower that follows every swim in the salt water. The amount of water it took to wash and rinse became a bit of an issue. We have a water maker on board, but I felt like there was a lot of water being wasted just on my hair.




It is certainly a whole lot cooler, and that was the primary reason for our new do's. I figure by the time winter gets here, it will have mostly all grown back, and we will be glad to have a bit of our heads covered.



A few pics from Salinas
Tom
06/04/2012, Bahia Salinas
Here are a few pictures that Tom took, while Jeanne was documenting the historic old "Company Town" of Salinas, the site of a huge salt minig facility. The town is now seeing some renovation due to the private introduction of Big Horn Sheep to the island, and the enormus fees that are charged to hunt them. It is rumored to be in excess of 35 thousand US dollars to participate in an hunt, and that is wether you get a sheep or not!!

I could tell that the brown Pelican was very excited to have Eagle anchored there in his bay....so his cover shot is at the top of this story

Any way, here are a few misc shots I took:

This 6" crab lives in holes they dig in the beach, right at the tide line. they are very secretive, shy and almost never seen. This guy on the other hand, had no fear and wandered right down the beach eating as he please. It might be good to point out that he is almost three times the size of any I have ever seen




One of the local catus that has gone into bloom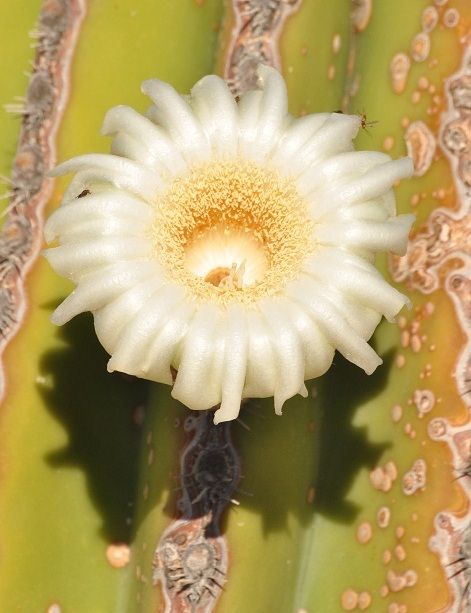 This is a look at the old city, from Eagle right at sunset.




Jeanne had found some really big ugly bugs, that were eatting on the blooms of this plant and just had to get up close and personal




The up side to my long telephoto lense....I dont have to climb into the bushs, i cheat and stand back away from the nasty looking black bug and take the picture