A few misc pictures
Tom
06/20/2012, Sea Of Cortez
Here are a few pictures of some of the fun things we have been doing. Many relate back to the previous blog posts, so rather than make all of you go back thru them, I will just put a bunch here. The top picture is us sitting in the bar at the Mision Hotel on the waterfront in Loreto. If you look over our shoulders, you will see Eagle, sitting nicely on her anchor awaiting our return.

Isla Carmen Bighorn Sheep





No John, we ate not supposed to go past here, in order to keep us away from the bighorn sheep!!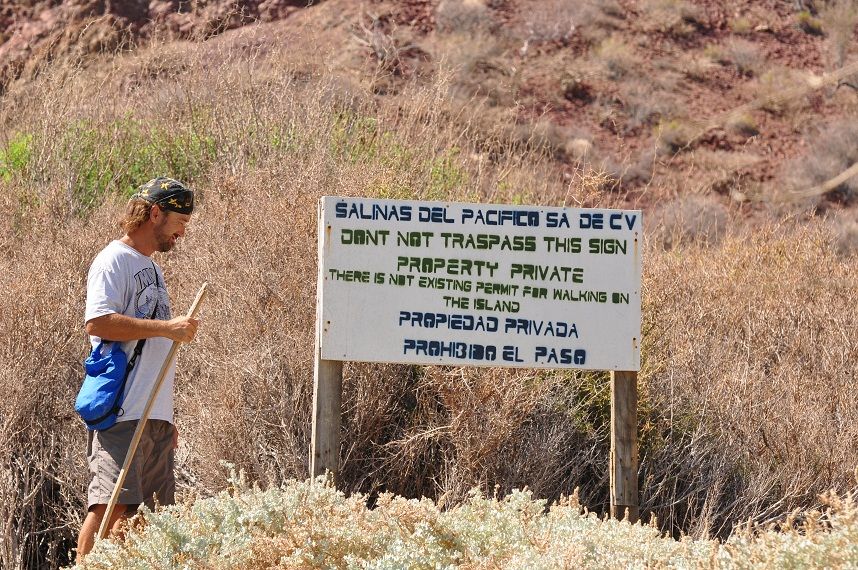 Now that is my kinda swim up bar!!




And what kind of party would it be with out Lefty, even if he has to be "Eagle in a bubble" in order to join in the fun.




And lefty has some relatives!! This is Auntie Helen, and Uncle Ralph!! They have been crusing for sev eral years down in the sea, as well as all over the world...and they have to be some of the coolest people we have ever met! They were right there in the water with us for our floating, swim up bar. And what is even cooler is that yesterday was Ralph's 81st birthday!!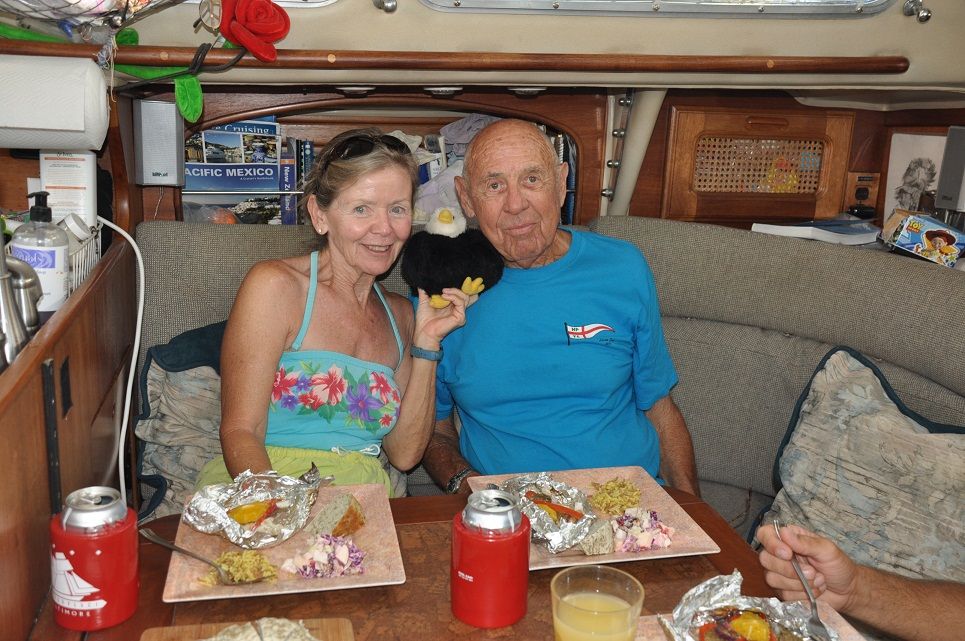 update on world record attempt
Jeanne
06/20/2012, Puerto Escondido
We've been out of internet information for a couple of days and just learned that Paul, attempting to swim across the Sea of Cortez, was removed from the water after 24 hours due to a decreasing body core temp.
Maybe he'll give it another try!

The girls day
Tom
06/19/2012, Puerto Balandra
Yesterday, Jeanne and Kyra off of SV Nyon decided on a "Girls Day" on their boat. Arts and crafts, Painting, and shell jewelry were on the schedule. So, I picked up Rick, then went over to get John from Time Piece, and the boys all went fishing. There was a lot more fishing than catching going on, we we had fun any way.

Once we got back to the boat, at about noon, the girls were still doing their thing, so we boys all went to Eagle, had a cold beer, made some lunch, and watched a couple of episodes of Dead Wood. around 4;00 Jeanne headed back home, and was ready for a swim. by the time we were ready to hit the water, Verena from SV Camille showed up on here on here SUP board. With all the guys, and all the girls hanging around the floating board, Jeanne had the idea that it should be used to hold some cold drinks......and voila we had a swim up bar right here in our little bay. Soon we were joined by Nicky of of SV Seychelles, Derek and Teresa off of SV Interabang, and Ralph and Helen off of SV Moon Drifter, all floating along drinking several versions of tropical rum drinks...The water was a steady 79 degrees, no wind, 93 degree outside, just right for hanging out in the water for oh about 4 hours!!

Fishing, girls day, guys movies, swimming in the warm water and a our own private swim up bar.....Priceless!

Happy Fathers Day
Tom
06/16/2012, Puerto Balandra
Jeanne and I sent a note to our fathers, hoping that they have a very nice day, one in their honor! we would like to send a similar note to all our friends who hold that esteemed position, Fatherhood!

We are still sitting here in Puerto Ballandra, with the hook firmly attached to the bottom. We will stay here one more day, before heading over towards Puerto Escondido again for the weekend. The water is still a very comfortable 77 degrees, getting clearer by the day. We now have about 20 foot of very clear visibility, and then a bit murky for another ten. Weave done some very long snorkels....using two dinghy's. We park one at the beginning of a reef, and then going all the way to the other end in the other. This way we get to explore a reef or headwall, with out turning around and looking at the same area again. Yesterday, we swam the length of a nearly mile long rocky shoreline. Turtles, eels, rays and lots of fish. it was a blast.

Any way, to all the fathers out there following along, we will honor your day in the most Hallmark way we know. we will hang up the hammock, open a cold beer and then take a nap.....we hope you all do like wise!!

A paper nautilus, a turtle, and a bighorn sheep
Tom
06/13/2012, Balandra
What, you might ask do all three of these things have in common? we found all three on our morning adventure in the dinghy.

we were up relatively early, listened to the weather on the ham net, got a couple of boat jobs done, and headed out in the dinghy to explore some of the island that we have not yet seen. Isla Carmen, is a rocky island, with craggy shoreline with an occasional sandy beach. Some of these beaches are very small,30-40 yards or less in some cases. We had loaded the dinghy with hiking shoes, cameras, as well as our snorkeling gear. After stopping and exploring a couple of the small beaches, on one of which i found one of the most sought after shells, the Paper Nautilus, complete and undamaged!

At the next beach we stopped at, just as we got out of the dinghy to land, I spotted a full curl, male Bighorn Sheep, not 30 yards from where we had landed! I quickly dug the camera out of the dry bag, and got some great pictures`as`he made his way back up into the cliffs above the b each. i am pretty sure he was as surprised to us, as we were him.

At the next beach, we had hiked up and down the sandy shore line, and were hot enough that a quick snorkel was in order. as soon as we got into the deeper water, Jeanne got my attention, and pointed out a Sea Turtle, she found asleep in the rock, at about 15 feet below the surface. After a few minutes of watching him, and getting some awesome movie footage, he woke up and quickly left the area.

Just another ho-hum day in the life, down here in the amazing Sea of Cortez

were backkkkk
Tom
06/12/2012, Balandra
Yesterday we made the short 8 mile run from Loreto to one of our favorite coves in this area, Bahia Ballandra. It provides good protection from all winds, is close to the city, but far enough away to have no effect on the bay.

We went out this morning and caught a couple really large triggerfish, which we shared with Ralph and Helen, off of SV Moon Drifter, and John on Time Piece, when they all came to Eagle for a pot luck

Jeanne, John and I had a very nice snorkel this afternoon, seeing several very large Panemic Green Moray Eels, huge schools (literally thousands) of Mexican Goatfish, and a couple of the largest grouper we have seen since being in Mexico. One of the really big ones, Jeanne got on film, and we figure it to be nearly four feet long!

we will hang around here for a day or two until the bug to move bites us!