Tripui Tournament Day 1
Tom
06/22/2012, Puerto Escondido
The alarm went off at 5:30 to get our day started. By 6:30 we were on our way out to the fishing grounds with Pancho our Panga guide.

By 10 am we had caught 5 small dorado, but nothing we wanted to keep, after all we in a tournament, and looking to the Muy Grande's!! Hummm then the bite stopped!! Nada, nothing for several hours.

At 2:00 we were running out of time, and we only had one small dorado in the boat. Jeanne was handleing a rod with live bait on it, and I was back to my basic standard of jigging. all of the sudden, the rod came to an immediate stop, and I was not sure if i wa gonna stay in the boat with it. Yellowtail, and a good one. After a really good ten-to-fifteen minute fight, I got him in the net!! 21 pounds of some of the very best eating I have had!! The picture above is right after I caught him, and the picture bdelosw is me and Lefty at the official weigh in!! With this fish, I am in third place in the non-dorado class.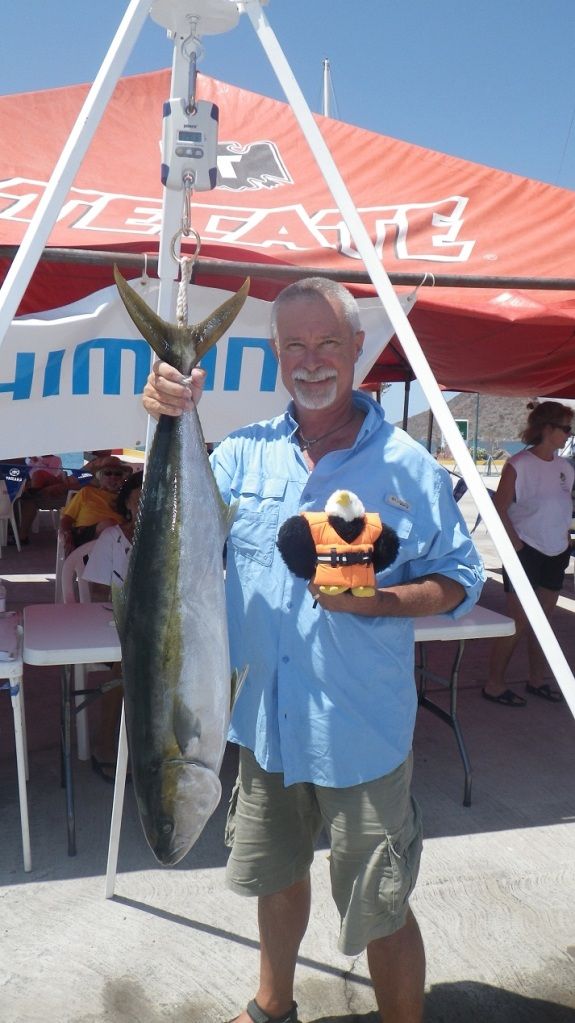 We will be back at it even earlier tomorrow morning!!

Lets get ready to fish
Tom
06/21/2012, Puerto Escondido
We are anchored Puerto Escondido, getting ready fo the Tripui Fishing Tournament. We walked up to the Tripui Resort this afternoon for the registration and cocktail party.

Tomorrow morning, we will leave the dock at 6:30 AM for our first day of fishing. Saturday morning will be a repeat of the same schedule.

We will include pics and the whole stry as soon as we have something to tell.

A few misc pictures
Tom
06/20/2012, Sea Of Cortez
Here are a few pictures of some of the fun things we have been doing. Many relate back to the previous blog posts, so rather than make all of you go back thru them, I will just put a bunch here. The top picture is us sitting in the bar at the Mision Hotel on the waterfront in Loreto. If you look over our shoulders, you will see Eagle, sitting nicely on her anchor awaiting our return.

Isla Carmen Bighorn Sheep





No John, we ate not supposed to go past here, in order to keep us away from the bighorn sheep!!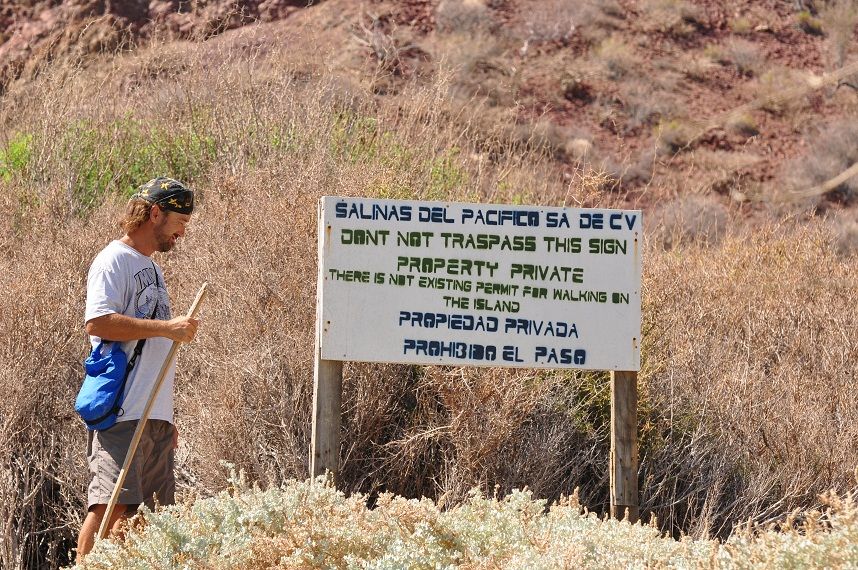 Now that is my kinda swim up bar!!




And what kind of party would it be with out Lefty, even if he has to be "Eagle in a bubble" in order to join in the fun.




And lefty has some relatives!! This is Auntie Helen, and Uncle Ralph!! They have been crusing for sev eral years down in the sea, as well as all over the world...and they have to be some of the coolest people we have ever met! They were right there in the water with us for our floating, swim up bar. And what is even cooler is that yesterday was Ralph's 81st birthday!!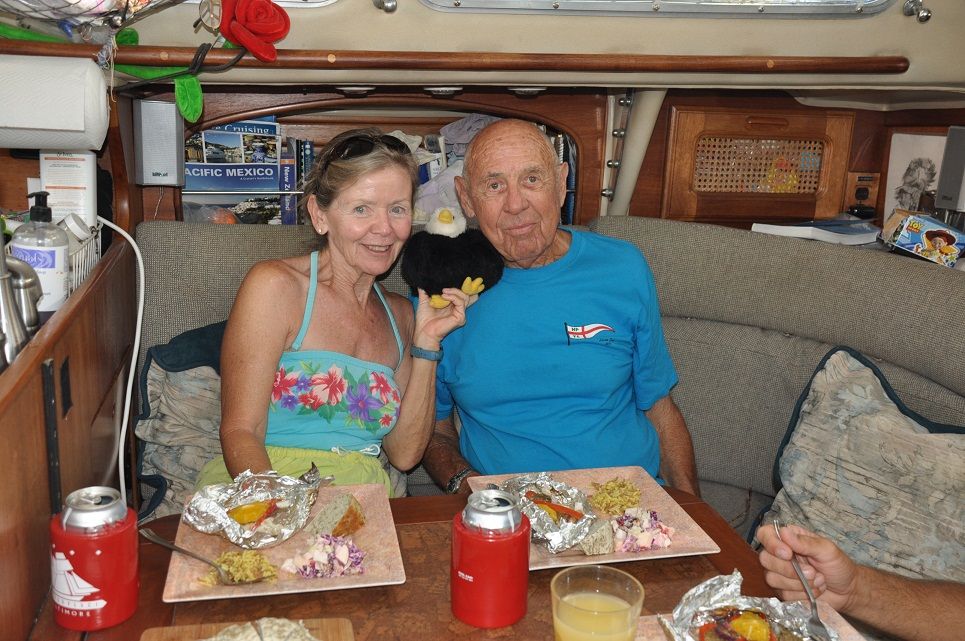 update on world record attempt
Jeanne
06/20/2012, Puerto Escondido
We've been out of internet information for a couple of days and just learned that Paul, attempting to swim across the Sea of Cortez, was removed from the water after 24 hours due to a decreasing body core temp.
Maybe he'll give it another try!

World record attempt, today
Jeanne
06/11/2012, Loreto and Punta Chivato
Yesterday, Sunday, after a sail and motor to Loreto, Lefty was hanging out in the bar of the Mission Hotel in Loreto, hoping to get some wi-fi. No luck there, so he mingled with some soon to be departing hotel guests.

His new hero is Paul Lundgren - the guy in the orange shirt. Today, starting at 8am, Paul will be attempting to set a new world record by being the first to swim across the Sea of Cortez, from Punta Chivato to Guaymas - 80 miles. How long does it take to swim across the Sea, you might ask? The goal is hopefully under 2 days! TWO DAYS! Paul's adventure is detailed at www.solocortez.com.

He will be attempting this fete using the "English Channel Rules" - speedo only, no skin protection against jelly fish, no assistance from the support boat crew in the way of being 'supported while in the water', and no touching of the support boat. The support boat will be able to give him, food and drinks from a long pole..... just what do you eat while in the water? Sort of eliminates the "stay out of the water for at least one hour after eating rule" now, doesn't it?!

His crew consists of a bunch of friends, Jo, Monty, Jamie, and others, who are 'extreme' sport enthusiasts; all planning their next triathlon, long distance swim, or multi-day survival of some 'crazy' race. China, Australia, India, as well as locales in the states were all mentioned as possibilities for the next adventure. Lots of well channeled testosterone in that room!

Lefty knows how 'pruney' you can get from being in the water for a couple of hours, but what will Paul look like after 36 or more hours? Stay tuned, we'll try to keep tabs on Paul's progress.


Lefty's near death experience
Jeanne
06/11/2012, Yellowstone Beach, Monserrate
While joining the cruisers for some bocci ball, he was minding his own business sitting on the foredeck of the kayak - chillin' in the sun.


The crews: Ethan and Zeda, SV Eyoni, Ken & Nancy, SV Brandywine, Pam & Rick, SV Hotel California, Tom, Jack,Patrick and Rudy, SV Just A Minute





Rudy, the large, friendly, yellow lab, playfully on his part, decided that Lefty looked like a 'chew toy' left on the beach just for him. Rudy skipped the 'lovey, carry the toy around' part, and went right to the 'rip the head off and go for the guts' part! Luckily, quick hands prevailed. Lefty, a bit slobbery, sandy and literally, shaken up, is fine.



Rudy was last seen running down the beach chasing a tennis ball. After a near death experience on Yellowstone Beach, Lefty is fine and has lived to tell about it.