Tripui Tournament Day #2 and summary
Tom
06/23/2012, Puerto Escondido
OK...first things first. We did not win. If fact we did not even place, but we had so much fun, who cares!!

Last night when I was typing up the post, I was so tired I really missed some of the adventure, so here is a bit of catch up from yesterday: In tally form, we saw three turtles, thee hammerhead sharks, Caught and released 5 dorado, all just too small, landed Tom's first Yellowtail. Holy mooly, they are with out a doubt, the hardest fighting fish I have ever caught! So fish wise, the firstday was one Dorado kept, and one 20.8 pound yellow tail. The last 45 minutes of fishing, we were treated to a visit from a humpback whale, swho at some point we decided that he thought the boat was him mommy! he circled us from 10 feet away, dove under us upside down, and many time was so close that we got sprayed with his exhale, which is preatty stinky by the way.

Day two called from some pretty high winds, which make the fishing pretty tough in the 6+ foot rollers. But Pancho, our boat Captain was the bomb both days. He flat worked his butt off for us, making sure that we got some fish, even when the conditions were less than perfect. The morning started with an amazing sunrise, but rough seas as` we made the 25 mile run to where we were going to start fishing. With the bouncy seas, the decision to go for yellowtail first seemed to make sense, so that was what we did. Everybody in the boat was`using live bait, but i really like to use jigs, so I stuck to that. The hard part reeling up and down as`fast as you can over and over from 250 feet down. Fortunately, I did not have to wait to long, as i caught a 21.06 pounder on my second cast. Greg and Donna of off SV Magic carpet, who had joined us we fishing with live bait, and just as` soon as I dropped my jig back down, i hooked another nice fish. The Greg hooked one as` well...two nice fish on at the same time! Just a little bit later, Panch put a live mackerel on a down rigger at 160 feet, for Jeanne, and right off the bat she had her hands full with a fiesty 13 pounder!! WOW What a great start....unfortunately, the bite stopped`as quickly as it started. Nothing for several hours....just a lot ofn bouncing around as we slow trolled for Dorado. Finally the wind started to let up, the seas calmed, and we were back into Dorado, even if they were small. Jeanne finally landed her 9 pound bull to wrap up our day!!

The over all tally, we caught 78 pounds of Yellowtail, which was first place in the over all catagorey, but we did not catch them two a day, but one and three...oh well, like i said we had some much fun, and the tournament people were awesome. I will post a picture of Jeanne's Dorado, her first yelow tail, and our four fish at weigh in. The top picture is Us, Lefty and Pancho. Truly one of the very best boat Captains I have ever fished with. If anybody is coming this way, and wants more info on him, drop is a note.

Now...we will start heading north again, with the plan of being in Bahia Conception by 4th of July. NOw it is 10:30 at night, it is 86 in the cabin of Eagle, and I really need to get some sleep nighty night



Tripui Tournament Day 1
Tom
06/22/2012, Puerto Escondido
The alarm went off at 5:30 to get our day started. By 6:30 we were on our way out to the fishing grounds with Pancho our Panga guide.

By 10 am we had caught 5 small dorado, but nothing we wanted to keep, after all we in a tournament, and looking to the Muy Grande's!! Hummm then the bite stopped!! Nada, nothing for several hours.

At 2:00 we were running out of time, and we only had one small dorado in the boat. Jeanne was handleing a rod with live bait on it, and I was back to my basic standard of jigging. all of the sudden, the rod came to an immediate stop, and I was not sure if i wa gonna stay in the boat with it. Yellowtail, and a good one. After a really good ten-to-fifteen minute fight, I got him in the net!! 21 pounds of some of the very best eating I have had!! The picture above is right after I caught him, and the picture bdelosw is me and Lefty at the official weigh in!! With this fish, I am in third place in the non-dorado class.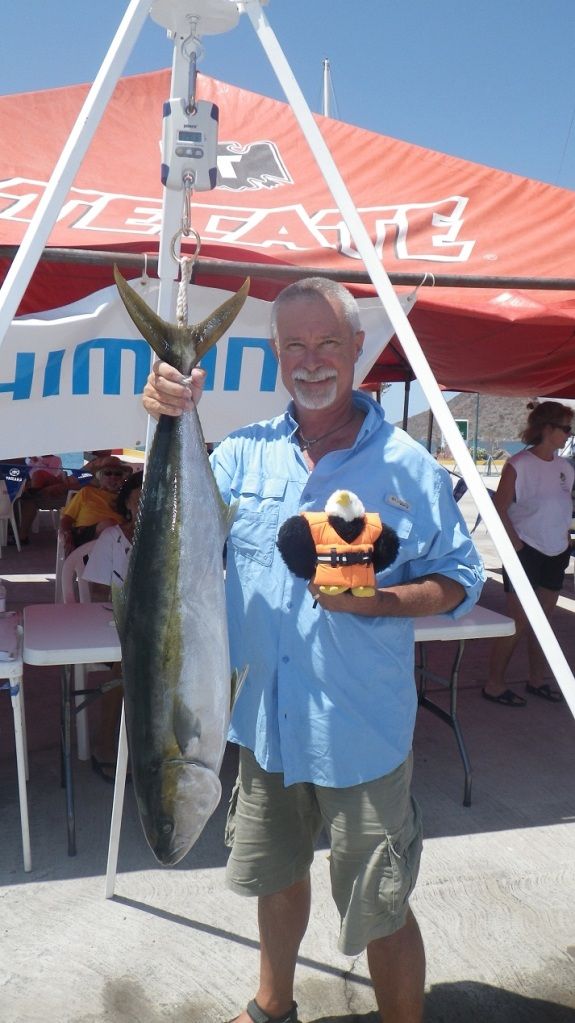 We will be back at it even earlier tomorrow morning!!

Lets get ready to fish
Tom
06/21/2012, Puerto Escondido
We are anchored Puerto Escondido, getting ready fo the Tripui Fishing Tournament. We walked up to the Tripui Resort this afternoon for the registration and cocktail party.

Tomorrow morning, we will leave the dock at 6:30 AM for our first day of fishing. Saturday morning will be a repeat of the same schedule.

We will include pics and the whole stry as soon as we have something to tell.

A few misc pictures
Tom
06/20/2012, Sea Of Cortez
Here are a few pictures of some of the fun things we have been doing. Many relate back to the previous blog posts, so rather than make all of you go back thru them, I will just put a bunch here. The top picture is us sitting in the bar at the Mision Hotel on the waterfront in Loreto. If you look over our shoulders, you will see Eagle, sitting nicely on her anchor awaiting our return.

Isla Carmen Bighorn Sheep





No John, we ate not supposed to go past here, in order to keep us away from the bighorn sheep!!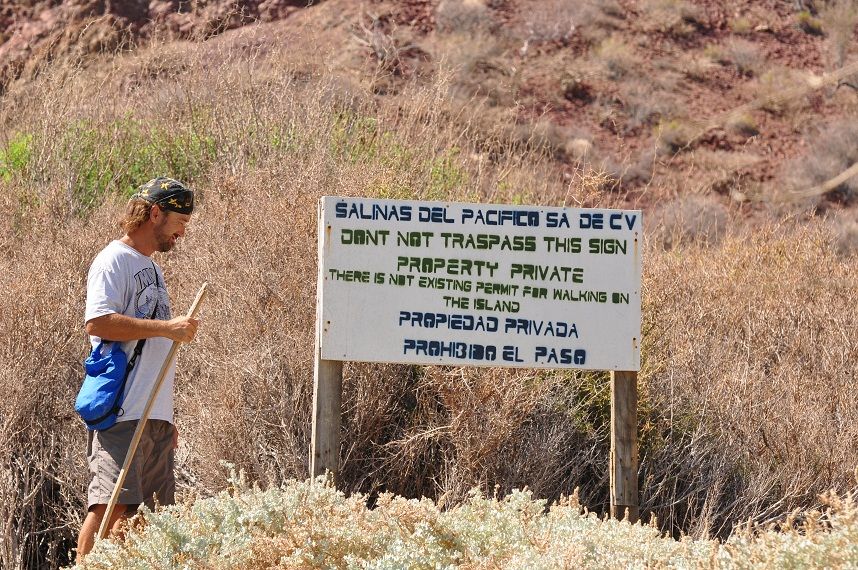 Now that is my kinda swim up bar!!




And what kind of party would it be with out Lefty, even if he has to be "Eagle in a bubble" in order to join in the fun.




And lefty has some relatives!! This is Auntie Helen, and Uncle Ralph!! They have been crusing for sev eral years down in the sea, as well as all over the world...and they have to be some of the coolest people we have ever met! They were right there in the water with us for our floating, swim up bar. And what is even cooler is that yesterday was Ralph's 81st birthday!!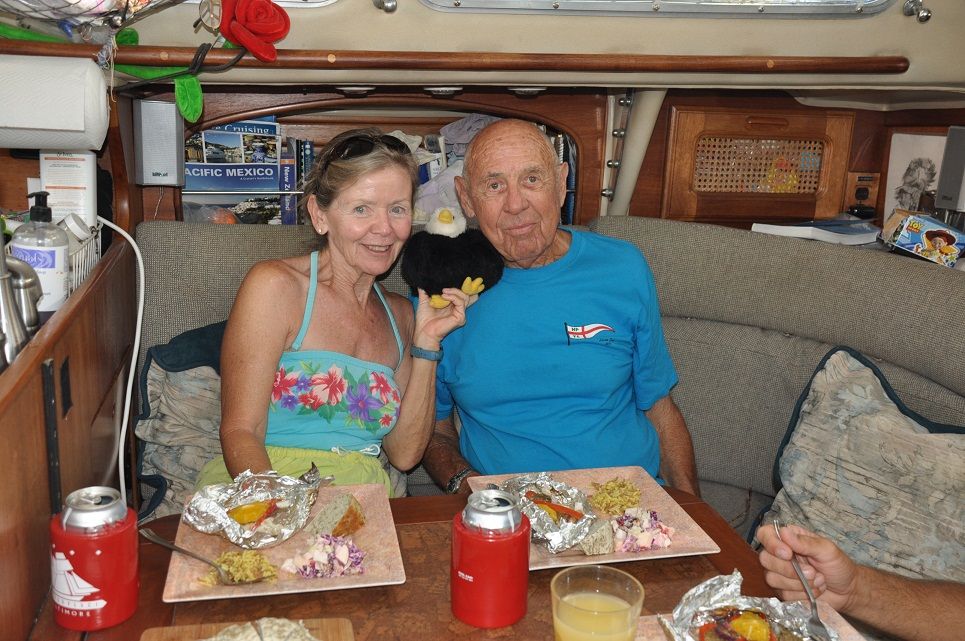 update on world record attempt
Jeanne
06/20/2012, Puerto Escondido
We've been out of internet information for a couple of days and just learned that Paul, attempting to swim across the Sea of Cortez, was removed from the water after 24 hours due to a decreasing body core temp.
Maybe he'll give it another try!

The girls day
Tom
06/19/2012, Puerto Balandra
Yesterday, Jeanne and Kyra off of SV Nyon decided on a "Girls Day" on their boat. Arts and crafts, Painting, and shell jewelry were on the schedule. So, I picked up Rick, then went over to get John from Time Piece, and the boys all went fishing. There was a lot more fishing than catching going on, we we had fun any way.

Once we got back to the boat, at about noon, the girls were still doing their thing, so we boys all went to Eagle, had a cold beer, made some lunch, and watched a couple of episodes of Dead Wood. around 4;00 Jeanne headed back home, and was ready for a swim. by the time we were ready to hit the water, Verena from SV Camille showed up on here on here SUP board. With all the guys, and all the girls hanging around the floating board, Jeanne had the idea that it should be used to hold some cold drinks......and voila we had a swim up bar right here in our little bay. Soon we were joined by Nicky of of SV Seychelles, Derek and Teresa off of SV Interabang, and Ralph and Helen off of SV Moon Drifter, all floating along drinking several versions of tropical rum drinks...The water was a steady 79 degrees, no wind, 93 degree outside, just right for hanging out in the water for oh about 4 hours!!

Fishing, girls day, guys movies, swimming in the warm water and a our own private swim up bar.....Priceless!