A new crew member
Tom
06/30/2012, El Burro Cove
we got up at 5:30 this morning, so we could be on our way by 6. We were going to make our longest runs since coming down the coast in November. La Ramada to El Burro Cove, inside Bahia Conception is nearly 60 miles. We were supposed to have nice 10-15 knot winds, and a nice sail north. It was a great plan, but the wind machine did not get the memo, so we had to motor the whole way. Jeanne was able to land, and relaes a 10 pound` tuna, and she hooked a small, 80-100 pound`sailfish, but was note able to get him to the boat before he got off the hook.

Our new crew member is an un-invited guest. His name is know to many by monikers that are shall we say, less flattering. We just call him "Murphy" We knew that when we took off from Seattle, we had done as good a job as possible in preparing the boat, with upgrades and the newest gear possible. All of this was in an effort to reduce our breakdowns along the way. We also knew that is was not a matter of if something would break, but when. This is where Murphy moved in...when the first thing broke, it was no surprise. But when a long, and bothersome series of things started to fail, it just plain got old!

The first was actually a reoccurring item, our macerator pump. It has been a source of aggravation 4 or 5 times now, so it's failure came as no surprise. When the expanding spinnaker pole, decided to no longer to expand, the right side o my fuel filter system became clogged, the anchor chain started to jump out of the windlass jaws, the watermaker sprang a small leak, the DC side o the electrical panel gained a mysterious short, that comes and goes as it pleases, the #2 bilge pump just plain gave up the ghost, and after several upgrades, the SSB/ham radio will no longer send out voice messages to anyone more than a few miles away, it became apparent that "Huston we have a problem" Any one of these, or in fact a couple of them would be just something to do, but all of these in a matter of a few days is really starting to ....well not make me very happy!

Our buddy Jim has sent me a couple of notes requestion stories and pic of me actually doing some work with pictures of proof. Well Jim, the pics will be hard, but you will get a few stories about repairs in the next few days!

We will stay here in this area thru the July 4th holiday, and yes there are enough Americans to get together and have a party, even if it is Mexico. But more on that and the repairs later. It is very hot here, 96 degrees at 10:00 PM, and the water temps are now in the high 80. I am going out on the fore deck to see if i can get cooled off!

Manana

our first leg north
Tom
06/28/2012, La Ramada Cove
In get an effort to get farther north, today was the first leg in that direction. We motored the 20 miles north headed towards San Jaunico, but as many of our trips go, we fell back to the infamous "Plan B" . As soon as we cleared the land on Isla Coronado, we were hit by a nasty set of rolling seas, any where from 4-8 feet...right on the beam, with no wind. But, we got to make water for nearly four hours, so there was our sliver lining.

As we neared the San Jaunico it became obvious that with this amount of swell in the water, there was no way we would be comfortable there, so we traveled two more miles, around the corner to a small little bay called La Ramada Cove. Well, it looked like every other cruiser in the area had the same idea. By the end of the day, we had 12 boats all nicely packed in here.

We will stay here one more night, do some hiking, and exploring before heading north the 56 miles to Bahia Conception.

Heading north
Tom
06/27/2012, Puerto Coronado
We had a very un-eventful run of 8 miles over flat calm seas, with little or no wind this morning on our first leg north from Escondido. Our new boat friends Scott and Lisa, on their yet to be named Trimaran had joined us in Ballandra, and followed along to Coronado as well. Also here in the bay with us is SV Nyon, SV Camille, and SV Tequila Mockingbird

We had heard a lot of good things about this bay, but like everything else, we have our opinion, and are a little less impressed. The water was pretty clear here a few days ago, but now is a green pea soup.

So we will move on pretty quickly, probably day after tomorrow. I am having a bit of a carburetor problem on the outboard, so i will take it to the beach tomorrow and see if i can get it figured out.

our next planned stop will be San Juanico

Technical Difficulties
Tom
06/25/2012, Puerto Balandra
We have left Escondido for a quick stop back in Ballandra. We need to catch up with John Time Piece to pick up a few things that his friend Chuck brought down with him from the PNW.

I have somehow gotten a glitch in my computer and it won't let me post any pictures...!!! so we will have to get that sorted out and get those fish pictures up. sorry 'bout that.

We are going to try to head north to Bahia Coronados tomorrow in our slow craw farther north.

Manana

Tripui Tournament Day #2 and summary
Tom
06/23/2012, Puerto Escondido
OK...first things first. We did not win. If fact we did not even place, but we had so much fun, who cares!!

Last night when I was typing up the post, I was so tired I really missed some of the adventure, so here is a bit of catch up from yesterday: In tally form, we saw three turtles, thee hammerhead sharks, Caught and released 5 dorado, all just too small, landed Tom's first Yellowtail. Holy mooly, they are with out a doubt, the hardest fighting fish I have ever caught! So fish wise, the firstday was one Dorado kept, and one 20.8 pound yellow tail. The last 45 minutes of fishing, we were treated to a visit from a humpback whale, swho at some point we decided that he thought the boat was him mommy! he circled us from 10 feet away, dove under us upside down, and many time was so close that we got sprayed with his exhale, which is preatty stinky by the way.

Day two called from some pretty high winds, which make the fishing pretty tough in the 6+ foot rollers. But Pancho, our boat Captain was the bomb both days. He flat worked his butt off for us, making sure that we got some fish, even when the conditions were less than perfect. The morning started with an amazing sunrise, but rough seas as` we made the 25 mile run to where we were going to start fishing. With the bouncy seas, the decision to go for yellowtail first seemed to make sense, so that was what we did. Everybody in the boat was`using live bait, but i really like to use jigs, so I stuck to that. The hard part reeling up and down as`fast as you can over and over from 250 feet down. Fortunately, I did not have to wait to long, as i caught a 21.06 pounder on my second cast. Greg and Donna of off SV Magic carpet, who had joined us we fishing with live bait, and just as` soon as I dropped my jig back down, i hooked another nice fish. The Greg hooked one as` well...two nice fish on at the same time! Just a little bit later, Panch put a live mackerel on a down rigger at 160 feet, for Jeanne, and right off the bat she had her hands full with a fiesty 13 pounder!! WOW What a great start....unfortunately, the bite stopped`as quickly as it started. Nothing for several hours....just a lot ofn bouncing around as we slow trolled for Dorado. Finally the wind started to let up, the seas calmed, and we were back into Dorado, even if they were small. Jeanne finally landed her 9 pound bull to wrap up our day!!

The over all tally, we caught 78 pounds of Yellowtail, which was first place in the over all catagorey, but we did not catch them two a day, but one and three...oh well, like i said we had some much fun, and the tournament people were awesome. I will post a picture of Jeanne's Dorado, her first yelow tail, and our four fish at weigh in. The top picture is Us, Lefty and Pancho. Truly one of the very best boat Captains I have ever fished with. If anybody is coming this way, and wants more info on him, drop is a note.

Now...we will start heading north again, with the plan of being in Bahia Conception by 4th of July. NOw it is 10:30 at night, it is 86 in the cabin of Eagle, and I really need to get some sleep nighty night



Tripui Tournament Day 1
Tom
06/22/2012, Puerto Escondido
The alarm went off at 5:30 to get our day started. By 6:30 we were on our way out to the fishing grounds with Pancho our Panga guide.

By 10 am we had caught 5 small dorado, but nothing we wanted to keep, after all we in a tournament, and looking to the Muy Grande's!! Hummm then the bite stopped!! Nada, nothing for several hours.

At 2:00 we were running out of time, and we only had one small dorado in the boat. Jeanne was handleing a rod with live bait on it, and I was back to my basic standard of jigging. all of the sudden, the rod came to an immediate stop, and I was not sure if i wa gonna stay in the boat with it. Yellowtail, and a good one. After a really good ten-to-fifteen minute fight, I got him in the net!! 21 pounds of some of the very best eating I have had!! The picture above is right after I caught him, and the picture bdelosw is me and Lefty at the official weigh in!! With this fish, I am in third place in the non-dorado class.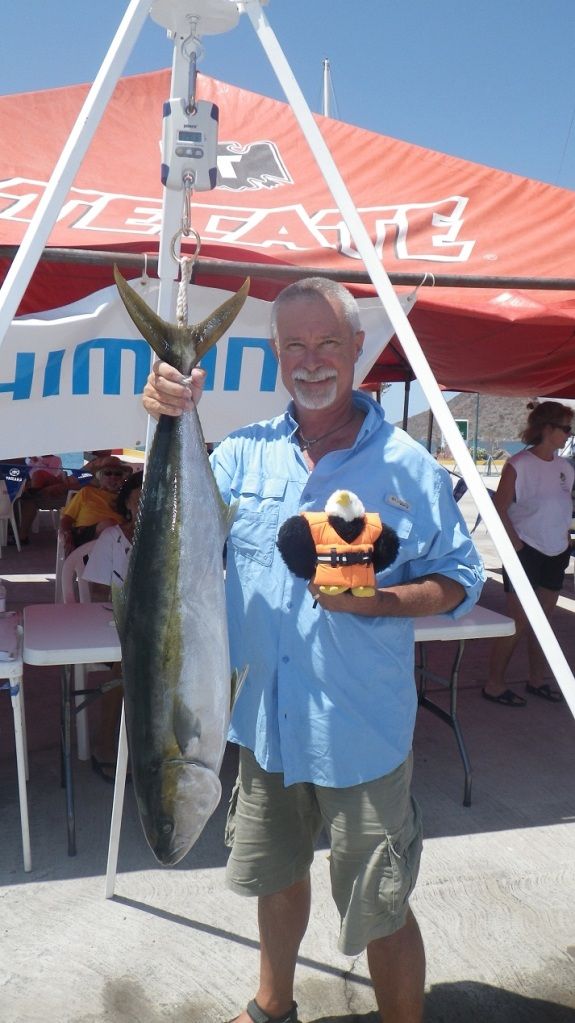 We will be back at it even earlier tomorrow morning!!