save the Boobies!!
Tom
07/22/2012, Isla San Marcos
In an effort to show my social concerns, I have dedicated this blog post towards the fight to stop breast cancer, and have included several pictures of boobies!! Both blue footed and brown.....Enjoy!!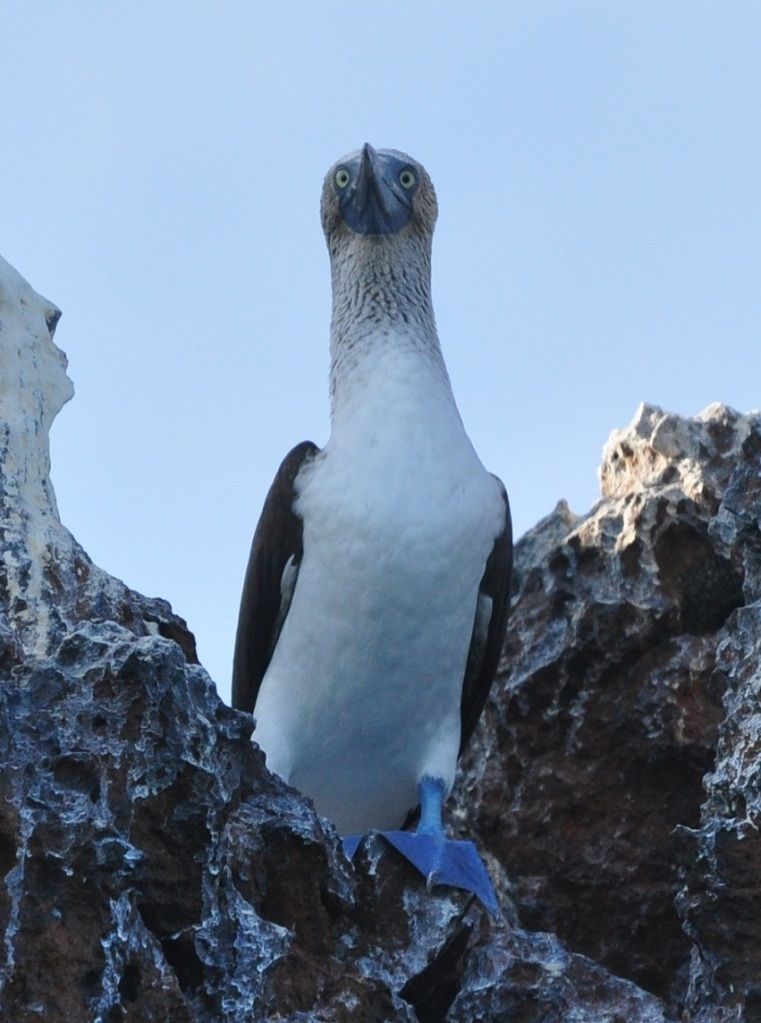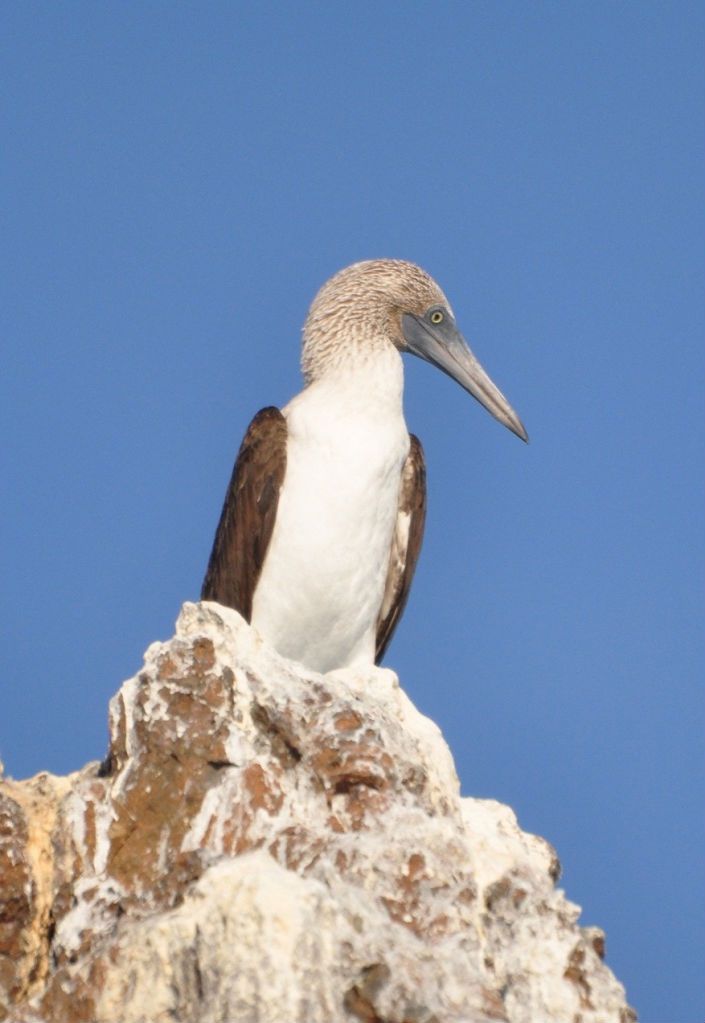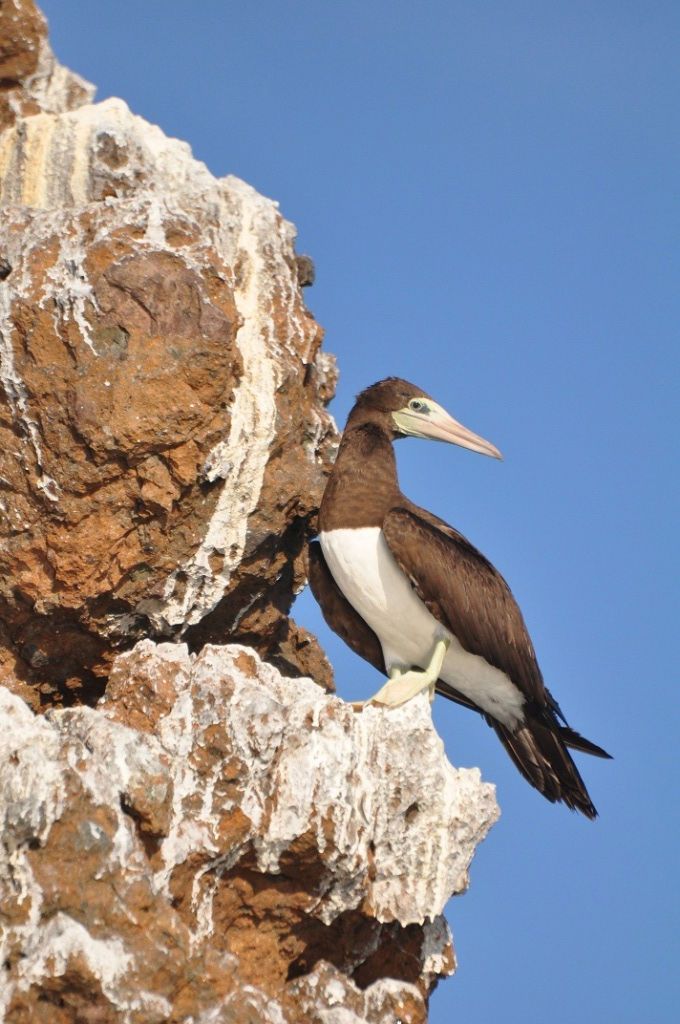 A celebration and a sail
Tom & Jeanne
07/16/2012, Isla San Marcos
This morning we walked up to the French bakery in town and celebrated our 7th wedding anniversary with pastrys and fresh juice.

then we walked back to the back, and left Rosalia for Isla San arcos again. The trip was a true joy, with 90-92 degrees, 12-14 knots of steady wind sailing back to an island we really enjoy. This is where the sea cave pictures were taken.

We plan on staying here until 25th, when we will sail back to Rosalia, and make our final provision before heading north 125 miles to Bahia De Los Angeles, where there is very little in the provisioning area.

We have some internet and cell coverage here in this anchorage, so i will continjue to try to get some pictures posted in the next few days

Work day
Tom
07/15/2012, Santa Rosalia
Today is a divide and conquer day. I am spending the day doing boat jobs, and Jeanne is making repeated trips from the boat, up to town, and back in the heat buying groceries. She just got back with load #2 and I will go help her with load #3 tonight.

I have spent a big part of today equalizing the batteries, changing the oil, and trying to replace the faulty tempature gauge. So far, the oil change when well, the shore side battery charger (the main reason we are at a slip instead of anchoring out) has quit working in equalize mode so I am using the solar panels. The new gauge that I just bought has a completely different probe set up so i wont work at all...

The batteries are almost done cooking, so to speak, and it is getting hot here in the boat. I am pretty sure I have a cold beer and a camerone taco (or 2) in my future tonight!!

A carnivore fest in Rosalia
Tom
07/15/2012, Santa Rosalia
After a day of dock side boat projects, we gathered with several other boat crews and headed into town to sample the the well aclaimed food. We started with what is considered a land mark for many veteran cruisers, the Bacon Wrapped hotdog stand. Yes, a virtual meat lovers delight, all on a bun with onions, mustard, soft cheese, media-crema, some jalapeno pepper salsa all surrounding a standard hotdog, that has been wrapped in a slice of bacon, and grilled to perfection. Can it just get any better than this?





As you can see, Lefty was jonesing to get a bit of my awesome dogs!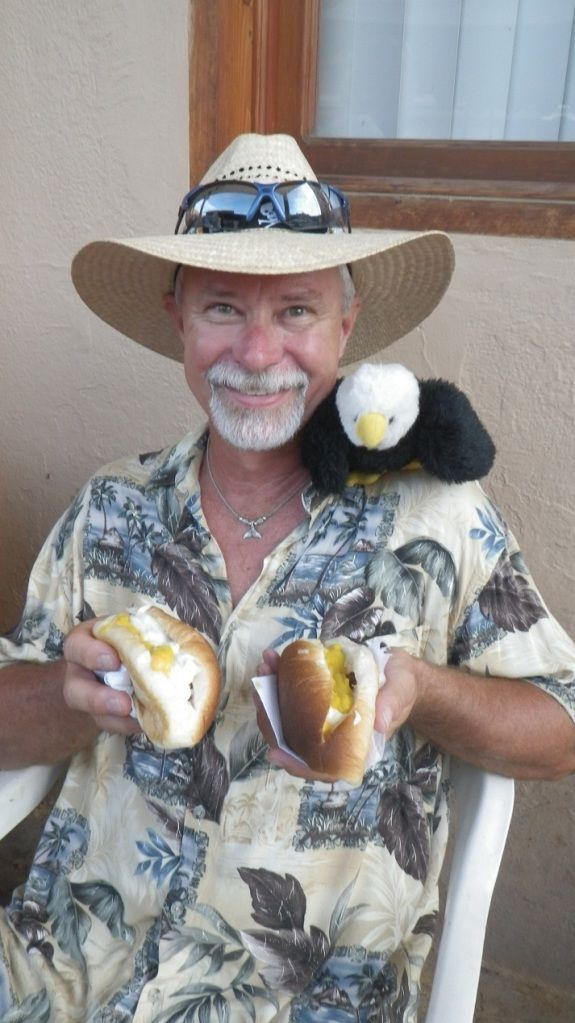 Then, it was off to Georges Hamburgers. Now, this is no Gina's burgers, but since we are several hundred miles from Gina's, this was gonna have to do. After a quick check of the menu, it was decided to go with the combo burger, but with some mild concern for my arteries, only one patty of ground beef instead of the offered two. The combo burger, is one patty of lean ground beef, slices of ham, and a sliced, grilled hotdog. This is all topped off with mustard, cheese, onions, sliced carrots in Jalapeno pepper juice, and of course, Media-crema!!
A quick stop at the corner tienda, while the burgers were cooking to get a 6 pack of Dos Equiis Lager, and we are all set to top off the evenings meat fest.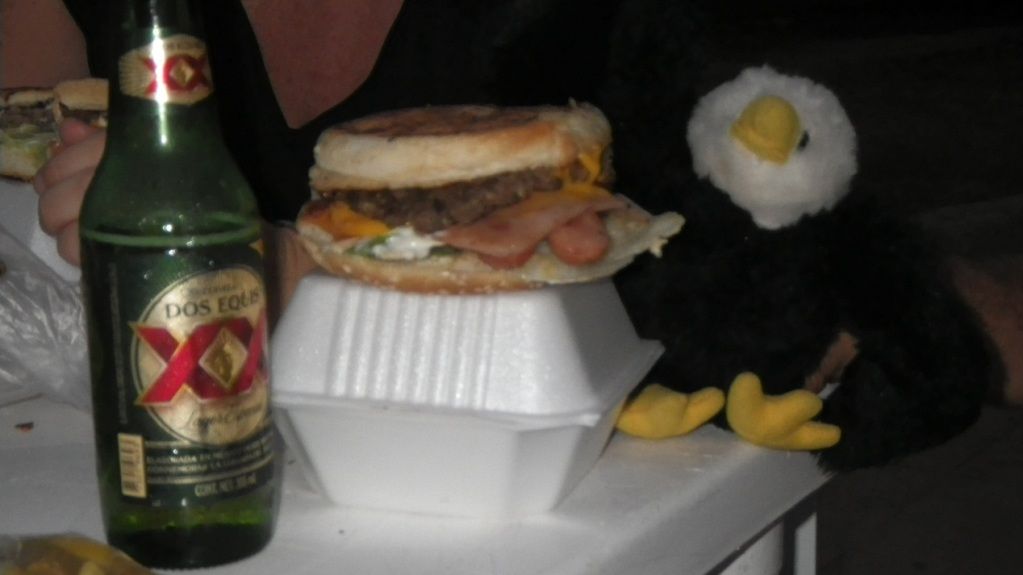 We will now return to normal diet of fresh fish, tortillas, and fruit...you know all the good stuff for you!!

a couple more
Tom
07/14/2012
We have gotten a huge amount of fun out of our kayaks...here you see Jeanne as we go ashore at La Ramada to go on a hike and look for Apache tears. these are small round drops of obsidian, formed when a volcano erupts. and yes, we did find a few.




And here is just a cool picture (at least i think so!!) of Eagle in Honeymoon cove.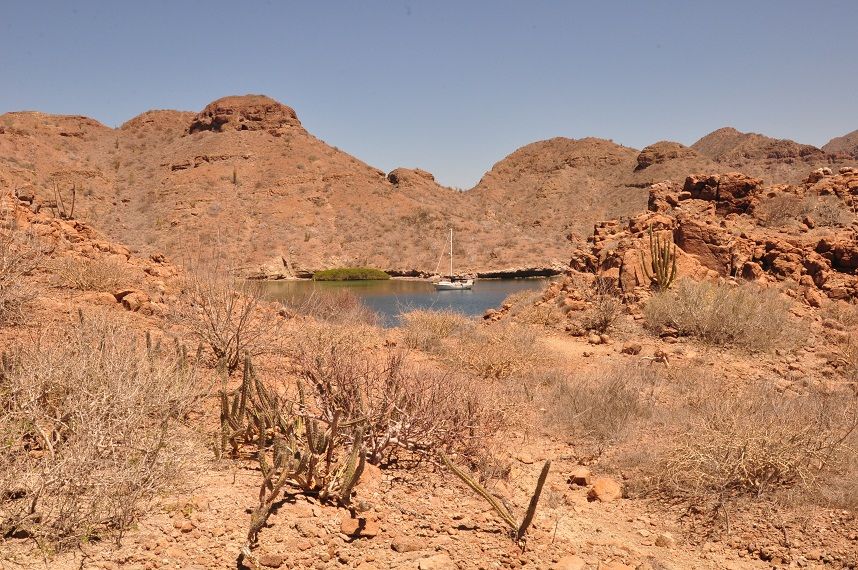 Sea Caves
Tom
07/14/2012, Isla San Marcos
One of the coolest things about visiting Isla San Marcos are the amazing sea caves the line the north end of the island. We took our kayaks and did some exploring.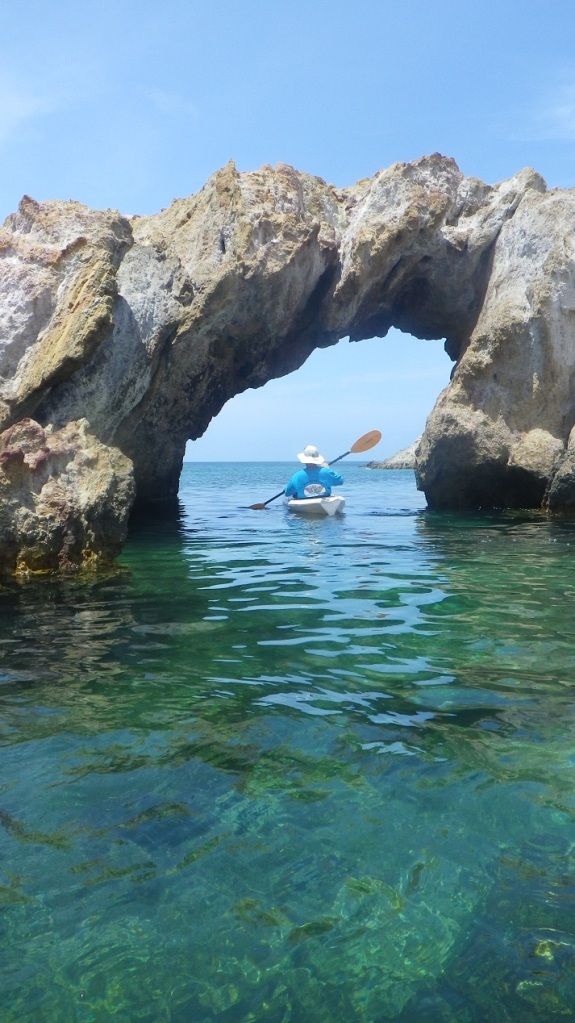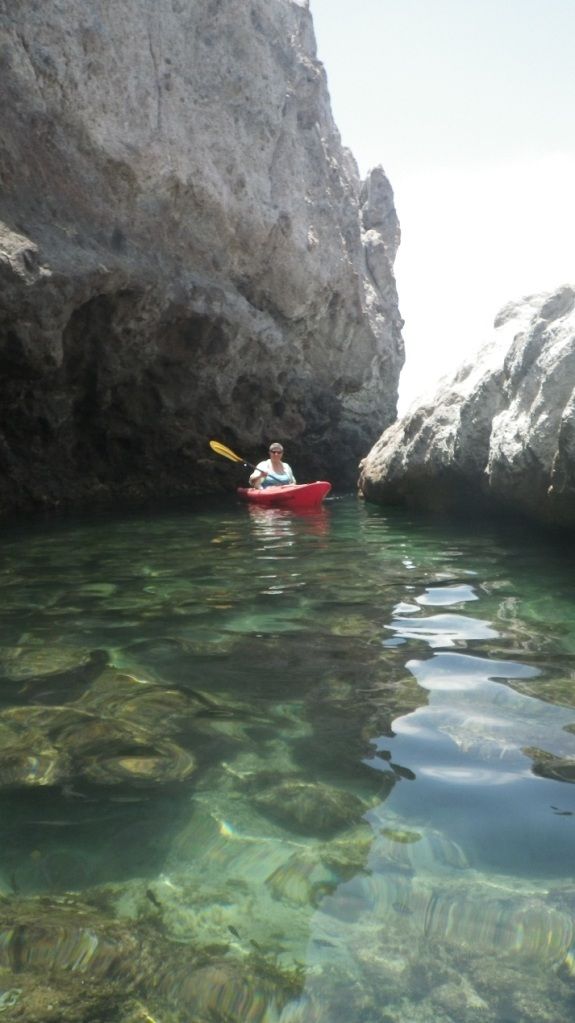 Tom found a long deep cave that he decided to explore, but found out it was a deep end. Still pretty cool though