Back to Santa Rosalia
Tom
07/24/2012, See Above
We made the ten mile run this morning from Isla San Marcos to the sleepy little mining town of Santa Rosalia. We got to sail a little over half the way...the had to motor. We caught one fish on the way, yet another SkipJack tuna, who was promptly released to swim another day.

we will provision and do a bit of exploring for a few days and then head north!!

Triple digit day
Tom hot, smokin' hot
07/24/2012, Isla San Marcos
Today was our first, triple digit day...101 in the cockpit. The most interesting thing about the day was the fact that it didn't seem all that hot. The humdity was down, and there was a breeze! We are at that point in the Mexican summer where 95-96 is pretty normal, so a few more degrees give or take are hardly ever noticed, but give that barometer a few upward bumps and boy does it get miserable. Actually the afternoon winds, 8-15 knots normally make it really pretty nice. So farwe are not regretting our lack of an air conditioner.Time will tell if that holds true


Fresh Fish
Tom
07/22/2012, San Marcos
We still have some fish from the Tripui Fishing Tournament, but it is frozen. So while we were snorkleing this morning, I brought along my hawaiian sling spear to see if i could get us some fresh fish for dinner tonight. I took two shots, and as you can see i got two exceptional Barred Grunts. These fish are very plentiful, taste great, and are the biggest two i have gotten, fishing or by spear!! I was a pretty happy camper!! Fresh cevece tonight!



Guest Photographers
Tom
07/22/2012
In order to make sure credit is given where credit is due, I am posting these two photos seperate. The first one is a shot taken by Kyra, on SV Nyon of Eagle sailing with our spinnaker up. It was a great sail, a single tack, nearly 30 miles all on the spinnaker...SWEET!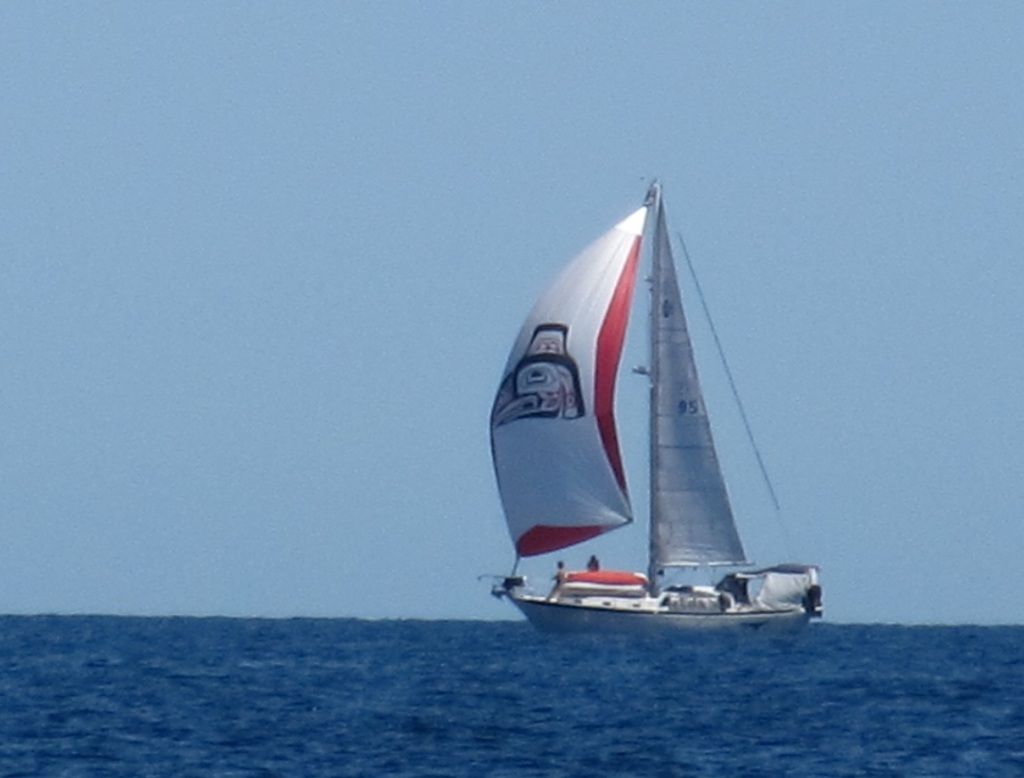 And our buddy John, on Time Piece took ths shot of Eagle in Bahia Los Gatos. Our kayaks are on the beach at the bottom right corner.


Just a few fun pictures
Tom
07/22/2012, all over the place
Here are a few more fun pictures that have been sitting around waiting to make it to the blog.

When we lived at Shileshole marina, in Ballard, north of Seattle, there was a Sea Dragon that lived on the break water, named Cecil. I found his little brother hanging out in the sun on Isla Monserrate. I have named him "Sandy the sand dragon"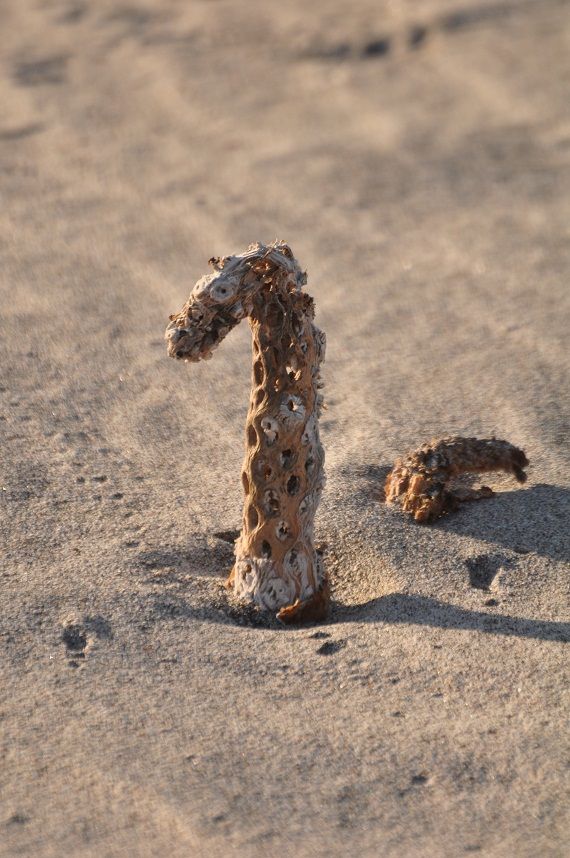 While we were in Santa Rosalia, at the marina, one of the local fisherman came into the harbor looking to catch some bait for his days fishing. The sardines and ballyhoo hang around in the warm, protected waters of the harbor. As you can see by the second nphoto, he did ok in bait gathering department.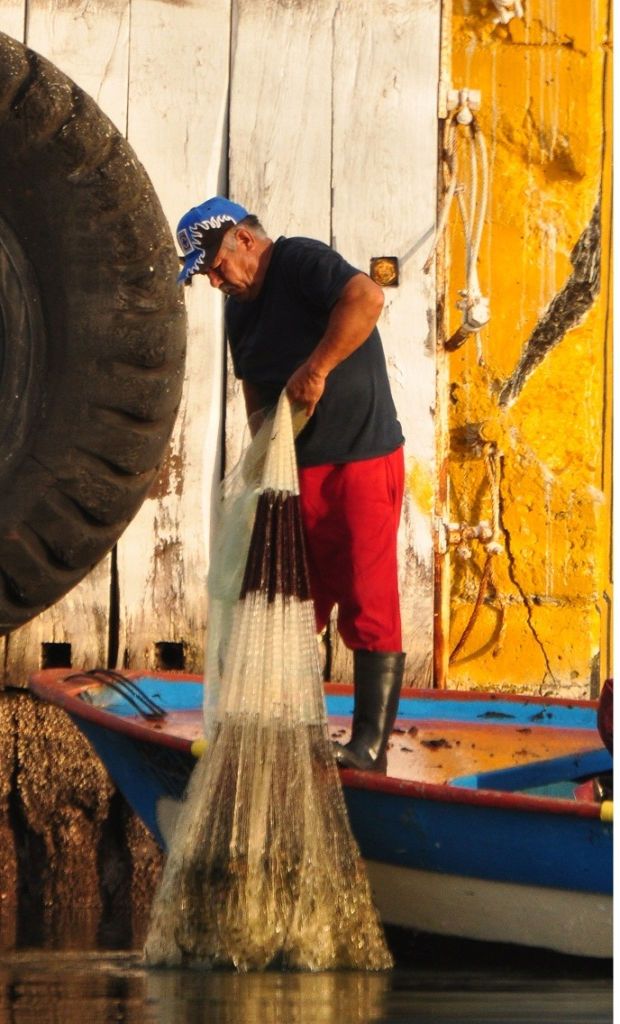 Jeanne, always being the safety concious Captian that she is, is seen here making sure that all the crew is very comfortable in the water, and can swim very well. Mascots are not exempt from this very serious concern.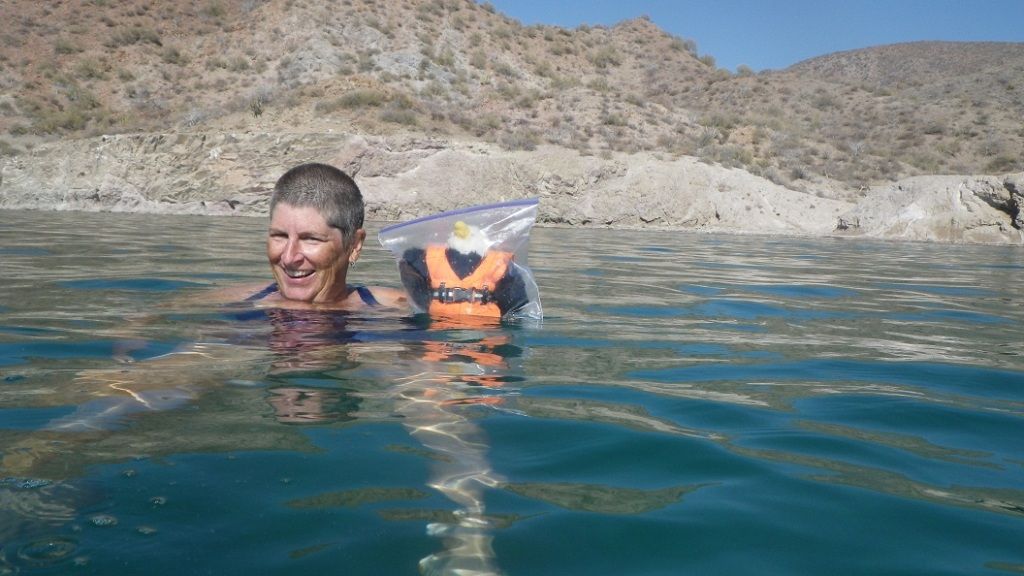 save the Boobies!!
Tom
07/22/2012, Isla San Marcos
In an effort to show my social concerns, I have dedicated this blog post towards the fight to stop breast cancer, and have included several pictures of boobies!! Both blue footed and brown.....Enjoy!!