A long day
Tom
07/28/2012, Bahia San Fransisquito
After deciding that he Chubasco storm was going to break down, and not effect us on our way north, we both took short naps, and then were under way at 12:15 AM. After clearing the breakwater and stowing all the fenders and dock lines, we set the sails and had a very nice sail....for about 4 hours. Then the winds died down. So, we motored and used that engine time to top off our water tanks. Around 8:00 AM we set the sails again, only to have the wind die down again after 3 hours of sailing. We still have nearly 40 miles to go, so we motored, and finished making water. The sea kept getting rougher and rougher, but the winds did not pick up. With the 3-4 foot seas, the ride was not really comfortable, and it stirred up some junk in our fuel tank, so I had a bit of a fire drill, cleaning the fuel filter housing and putting in new filters.

We tried fishing, with no luck. We had a couple of fish on but they were quickly off so we don't know what or how big they were. We had to keep bringing in the lures as the Boobys keep flying over the boat and then trying to catch the lure. I am pretty sure we had them in and out o the water 2 dozen times. Finally, we did not get them min fast enough, and juvenile brown Booby got caught. We reeled him in and removed the hook as carefully as possible. We set him free and off he went, but i am pretty sure he is now one of the "Punk" Boobys and is going to get a ring in his new lip piercing.

The last 5 miles of the trip were just plain awful!! As we got closer to the opening of the bay, the water current, the rapidly changing depth and the increasing (finally!!) wind all worked against each other to make a very nasty piece of water. The results were very large waves, coming from three directions, and no choice but to bash right thru it. We took three waves over the side into the cockpit, something that has not happened since we left on this trip even once, let alone three times.

Trips facts: 78.4 miles 9.3 engine hours three different rain squalls with lightening no fish, one booby caught Back above 28th latitude again engine hours rolled over 1000

It was a long day but we are now anchored, and ready for a rest.

Moving night
Tom
07/27/2012, Santa Rosalia
We are watching the radar screen to keep track of a pretty big Chubasco storm working it's way up the sea of Cortez right now. It seems to be breaking down, but we are going to keep an eye on it. Our plan is to head out just a little bit after midnight for the 80 mile north to Bahia San Fransisquito. We are planning on around a 16 hour trip if we can keep an average of 5 knots. The biggest problem with that might be all the provisions we have put on board! Eagle is sitting a little low in the water.

There are three other boats all leaving about the same time, us, SV Interabang, SV Beyond Reason and SV Time Piece. John will be the last to leave, if all our plans go as scheduled. He is planning on leaving around 6-7 AM. John pretty much sails every where, no matter what, so if the winds don't cooperate, he could be in for a long trip..

Thde down sidemof leaving Rosalia will be the loss of all this great internet connection, along with any chance of phone calls as well. We will still keep posting notes to the blog, but will not be able to post any pictures unless we find an internet cafe along the way.

Feel free to drop us a note or put a comment on the blog, and we will get replys back as soon as possible.

for those of you that want to watch our evening weather, the chubasco radar that I watch at night is www.whatsupsancarlos.com then go about half way down the site and you will see the Java script loading, and then it will say "loading animation" let that load at it will show a radar screen of the sea of cortez. Best to check for chubascos after 6 or 7 at night.

OK, off to take a nap before heading out at o-dark thirty

Talk to you all later

A down day in Rosalia
Jeanne
07/27/2012, Santa Rosalia
And on the 4th day, they rested.......
It's time to tour the town. This is our second trip to Santa Rosalia, a copper mining town, and we haven't really wandered it like we usually do. Oh, we've searched for the best prices on produce, tried a few taco and hot dog stands, but there's usually more than just provisioning to be done.

The cover shot is a local church, that was designed and built by Effiel, the guy famous for the tower in paris. It was used in the 1884 worlds fair, then shipped here to be rebuilt in the small mining town of Rosalia. Pretty cool huh?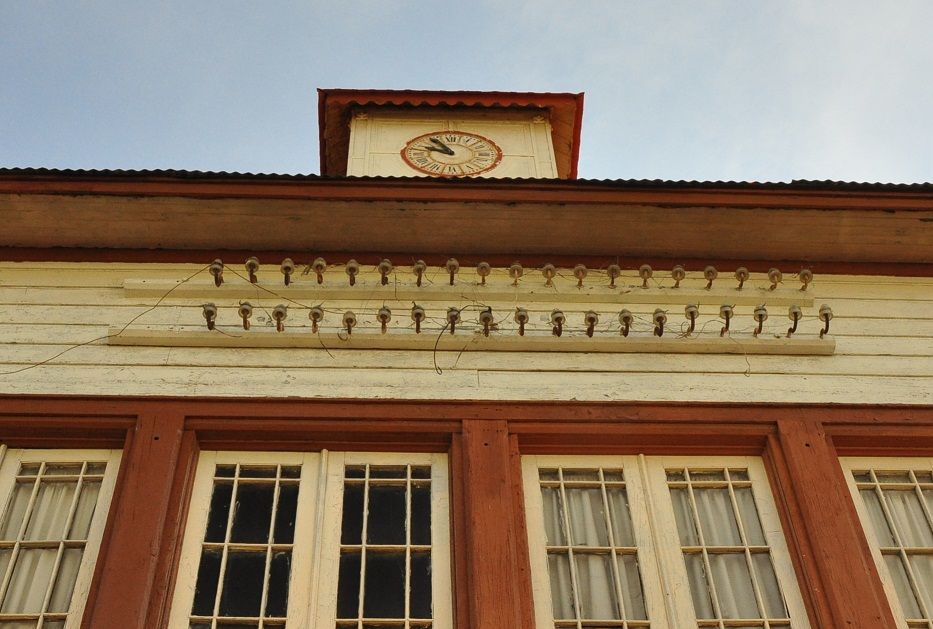 So, this morning, we gathered up Lefty and the camera gear, and our ever present shopping list, and headed off to the Museo de Boleo. To get there, you slowly climb- because its already 90' at 9:00am- a set of steps all the way up the hillside...

The building sits on the top of the hill, overlooking most of the town and the entire harbor. It was once the mining headquarters. A lovely building,constructed entirely of wood; creaky floors, super high ceilings, an entry way that opens to the ceiling with a second story balcony all around the inside. Most of the windows were shuttered or curtained, so I had to use a flash inside.

We were given permission to freely wander through the main level. Several rooms had items used in the mine; scales, picks, hardhats - Lefty tried one on, and other items. What caught our eye, was the collection of typewriters, and office type machines, adding, mimeograph, and even an old switchboard station.




The details of the building were interesting as well. The turn of the century style light switches, some missing key parts - yet still in use! The door knobs and other fixtures were interesting to look at.

Just as we were about to leave, a curator saw us taking photos. He came and unlocked a safe, with an inner safe and allowed us access to the original ledgers/journals stored inside. The room was very small, about 8x10 with deep shelves lining the outer walls. The shelves were full of large, cloth bound books about 20" high. Lot's of history in that room.




The mine re-opened in the last couple of years and has brought some new life into the town. We've been told there is enough copper to keep the mine going for 25 years. Hopefully, something else will be around to keep this town going by that time.


Provisions....
Tom
07/26/2012, Santa Rosalia
With our departure scheduled for Saturday morning, we are wrappping up our major provisioning here in Rosalia. While there are some small tiendas up in that area, we will only be able to buy the basics, beans, rices etc at normal pricing. There will be many things that we will be able to buy but will be at a much higher price so we are stocking up. Box juices. pasta, Media Crema, snack food, soy sauce, chicken, ground beef and powdered lemonade.

And of course BEER!! The local beer deposito offered to deliver the beer to the marina if a couple of boats got together. So, Time Piece, Interabang and Eagle all ordered 5 cases which were promptly delivered at 10AM this morning.

Just in case you are concerned about our beer consumption, keep in mind, we will not be back to a full size town like Rosalia for at least 3 months. That Eqautes to 1.333 beers per day. It is going to be near or above 100 every one of those days, so i will sweat out that much by accident! In addition to that, John on Time Piece read an artical in a magazine for single handed cruisers that they reccomend at least one beer a day, not just for the liquids, but the amount of calories. With the amount of sweating we do, those valuable calories must be replaced in order to not allow our selves to get too run down. That's my story and I am sticking to it!!

Now....Jeanne, what do you want to drink while we are in Bahia De Los Angeles

Back to Santa Rosalia
Tom
07/24/2012, See Above
We made the ten mile run this morning from Isla San Marcos to the sleepy little mining town of Santa Rosalia. We got to sail a little over half the way...the had to motor. We caught one fish on the way, yet another SkipJack tuna, who was promptly released to swim another day.

we will provision and do a bit of exploring for a few days and then head north!!

Triple digit day
Tom hot, smokin' hot
07/24/2012, Isla San Marcos
Today was our first, triple digit day...101 in the cockpit. The most interesting thing about the day was the fact that it didn't seem all that hot. The humdity was down, and there was a breeze! We are at that point in the Mexican summer where 95-96 is pretty normal, so a few more degrees give or take are hardly ever noticed, but give that barometer a few upward bumps and boy does it get miserable. Actually the afternoon winds, 8-15 knots normally make it really pretty nice. So farwe are not regretting our lack of an air conditioner.Time will tell if that holds true