Around every corner
Jeanne
01/16/2013, La Paz
You just never know what you'll find in La Paz.

A few nights ago, we were riding our bikes back from dinner with friends and came across this free concert!



Who would've guessed we'd run across a Gene Simmons/Kiss Band look alike - or wanna be's in La Paz!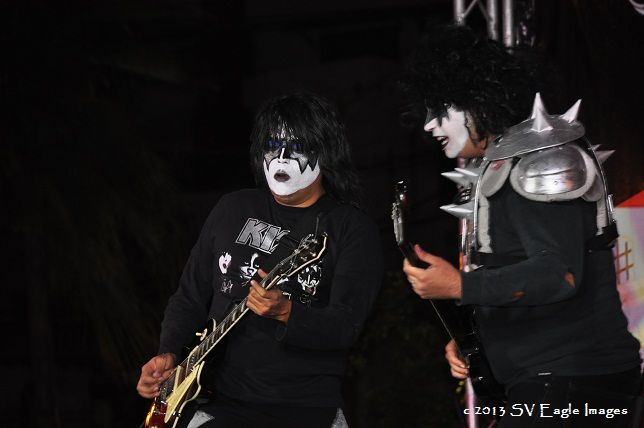 As Tom said, they weren't half bad.... but then they weren't half good either! The laugh and chuckle was worth the price of admission!


What's new with John?
Jeanne
01/15/2013, La Paz
The photo above is our friend John, of SV Time Piece formerly of Shilshole. He doesn't have a blog. He just sends his family and friends to ours to see what cruising is all about. From time to time he's been in a photo or one of our stories. But today, he's the topic. So "Hi" to John's family!

John likes to keep things fairly simple. He's one of the only cruisers we know to have empty lockers on board his boat. He's owned and lived aboard his well equipped, lovingly cared for Time Piece as long as we have - 13 years. We don't have any empty lockers.

John readily gave up the use of cell phones before he even left the Puget Sound. His computer is not new, and he finally relented and hooked it up to the internet one year ago. He was depressed about that for days.

This morning we got a radio call from him. Did we have any in town errands and did we want to do them together? He needed info from the TellCell store - where you buy phones and minutes to use cell phones and internet time. It just so happened that I also needed to go as well. So, off we went.

He bought a phone! Just about knocked me over! I got so blown away, I forgot to take a photo of him at the store, but I did remember just as we were leaving. Always one for a smile or quick with a gag, he jumped on his pony - voila!

Oh, by the way, he'll call you! I do have his number all right, but I've been sworn to secrecy...... unless you've got a nice glass of wine, we'll talk!


Phone info: The best buy, for around town phone calls, and occasional stateside communications is to purchase the least expensive phone, in this case 29.99. You then buy 'minute' cards, a pay as you go plan. Quite often there are promos on the cards pay 300 pesos usually get 300 minutes, but today you got 450 minutes! If you're planning on being in Mexico and want a phone, try to figure out where you'll spend most of your time. Each town has it's own area code, so you'll want to avoid roaming and long distance cards. Sim cards for each area are available down here, unlike in the states the phones are not locked. If you're bringing a stateside phone, check with your provider for the best plan for your situation.


It's called the 'hard' for a reason....
Jeanne very windy - port is closed
01/15/2013, La Paz, on the hard
Well, Eagle is now a 'tree house'! We're on the hard at the Atalanta boat yard in La Paz. As far as haul outs go, both Tom and I agree that it was a relatively stress-less event. It's never easy watching others 'handle' your baby, but these guys did a great job. Hauling out by truck and trailer was a new experience for all three of us, Eagle and her crew!

We got to the ways right on time, 07:30 as directed by Alberto, to make sure we got the highest portion of the tide. Six men were ready to catch lines and secure us in the center of the ways.





Once we were tied up, we all sashayed up into the yard where the tractor and trailer were waiting. The tractor was plugged into a battery charger - hmm, maybe not a good sign. One guy climbed into the cab while another, armed with a spray can and a large hammer, got on the other side. Some ether was sprayed down into the exhaust, some into the engine, glow plugs were manually activated and after several grumblings from the beast - it fired up, belching out thick black exhaust.



It was then discovered that one of the rear tires needed air. The tractor and trailer were backed so the compressor from the engine could reach the tire and that problem was soon solved. I was beginning to think that they should have started their portion of this process a bit earlier..... it's now 8:15!




The trailer, with now fully inflated tires is backed down the ramp. Blocks are placed under the tractors wheels and the trailer is let out further down the ramp by a large winch. While the trailer makes it's journey, Alberto was on it changing into a wet suit. Obviously someone was planning on getting wet.



The line handlers worked the lines at the direction of Alberto pulling in the stern, or port side. Then he'd raise up the hydraulic arms to hold the boat in place. After a couple of 'small' bounces by Eagle, the trailer was let out into the water just a bit more..... she was bouncing on the bottom! Just a little.



After Alberto got the trailer out, the arms all set, the guys were still holding lines, he donned a mask and went in to check everything out from below. He did this at least 7 times. About 50 minutes later, and lots of adjustments, the alignment was good. The winch began it's retreat and Eagle started out of the water.



So, she's out. She's been cleaned. We have a few more blisters than we'd thought. We're tabling the blister 'issue' until we determine what's going on with the tranny.




The Hurth transmission is out. ( Now sing along to the ' this bones connected' song...)The tranny's connected to the bell housing.... The bell housing is connected to the engine... the engine is connected to the well crafted, poorly designed motor mounts, the engine is suspended from the ceiling.....

Several colorfully verbal hours, and bruised knuckles later, it's out. Tom delivered it to the recommended mechanic. Upon it's arrival on his bench, he immediately took the housing off, checked it out, and proclaimed it did NOT have a problem. DAMN! Tom described the noise and conditions we were experiencing and was give a couple of other things to check; the prop could be loose,or the shaft coupler could be loose. Back to the boat the check those two things... Nope. Neither are loose.

So, we've got another set of eyes coming to look at the system in the morning. It might be the clutch plate. It might be something not yet discovered. It might mean that since we've got it apart, we'll put a new one in. It might mean we leave the boat as it is until after our trip to Seattle one week from today. Sure wish we could determine what 'IT' is! Neither of us is very excited about having to come back here to a boat on the hard, with the engine hanging, putting it all back together after a 3,000 mile, plus or minus road trip. This is just another item for the 'fixing your boat in exotic places' list, right?




We're hoping that we don't end up some where between these two boats in this project!

Decorating 101
Jeanne
01/12/2013, La Paz
Marina Palmira has been our home since we pulled into La Paz, WAY back in November. It's a good marina, but about 2 miles out side of town. It can be a real inconvenience to get to the cruisier clubhouse located at Marina de La Paz a the other end of the bay.
So, Marina Palmira had an extra room that they've now turned into a cruisers lounge! They've provided some tables, chairs and a brand new coffee pot. It'll have a book exchange and other things for the cruisers.
We've provided some decorations in the form of 6 photos from around the area, and mounted them on the bright green walls!

There's a group of ladies who are going to be using the room on Mondays for dominoes, so if you're in the neighborhood and want a game or just to check out the mini photo show, stop by!



hand me a bigger hammer!
Jeanne, sunny
01/11/2013, La Paz, the yard
Well, we're on the hard. I'll post some pics of the experience later, but it took 2 hours, 6 men, one large tractor and a boat lifting trailer to get Eagle out of the water and one more hour to put her on the stands in the yard. Quite a bit different from sliding in under the the slings and whoop, you're out of the water!

The current update:
The bell housing has to come off with the transmission. as I write this, it's in the process of being removed. The engine is suspended in the 'living room' with a chain 'come alongs' run through the two cabin top hatches.

The tranny 'doc' is waiting for the patient to arrive. So am I.

A big day in La Pause
Tom
01/10/2013, La Paz
The crew of Eagle were up at o' Dark Thirty this morning getting ready for one of the more stressful things that can happen to a sailboat owner, especially a live aboard!! The Haul Out!! Yes, at 7:30 this morning we are hauling Eagle out for not only some routine maintenance, but there a possibility that we have a partially broken transmission. Iknow, you are wondering how a transmission can be "partially" broken....well, it will go in and out of gear, and make the boat go forward and back, but it has acquired a "clunk" when it is engaged. It also makes a similar "clunk-clunk" when we are sailing with the transmission in neutral or forward.

There is a very good transmission person here in La Paz, and he is standing by waiting for us to haul oit and get the tranny out of the boat. Along with a water maker in stall, and a few miscellaneous other things that we have going on, the next few days are going to be crazy busy, so I figured I better get a note on the blog while I can. We will do our best to keep everybody informed, and update the transmission progress as it goes along.

The unique thing about hauling our down here in Mexico, is that thye don't use a traditional sling lift, but a trailer, that is rolled down a ramp into deep water, and then it has remote controlled arms that raise up and secure the boat. The the large tractor pulls the boat back out of the water. Hummm...well I guess there is a first time for everything

Hope everybody has a great day. By the way, just so you all know, it is a chilly 52 degrees here this morning!!