Friday updates
Jeanne
02/15/2013, La Paz
We've been accused of still being in the 'trip' frame of mind... rushing around and all that. I'm not sure I'm buying that - we've been busy since we've been back. AND, out of the last 5 days there've been 4 naps! I'm thinking that's a great improvement!

We have been busy, that's for sure. And we're still on the hard, which I think adds 'extra' time to anything we want to do.




We finally were able to pick up our clutch plate in Escondido. After several phone calls and emails while at the show, the part was to be overnight shipped to Costa Mesa for us to pick up. We arrived the day after it was due and no part! The company had forgotten to ship it - from Maryland! So, we had to stay an extra night in Escondido where it arrived, overnight-ed, the next day. It fits, and Tom is currently putting all of the engine and transmission parts back together, while I write this. So far, there's only been a little bit of swearing. I know he's jonesing for a hot tub however!

It still amazes me how time just seems to slip away. Grocery shopping takes all day. Even simple day to day stuff takes longer that I'd planned. For example, to go to the showers, or 'facilities'.... it requires a climb down the ladder, greeting all of the five 'guard dogs', just to stay friends, walk through the yard, through 2 gates, across the parking lot, to the marina office and key into the showers - about 15 minutes, each way. OK, so there's about an hour... because of course there will be at least one person to chat with along the way!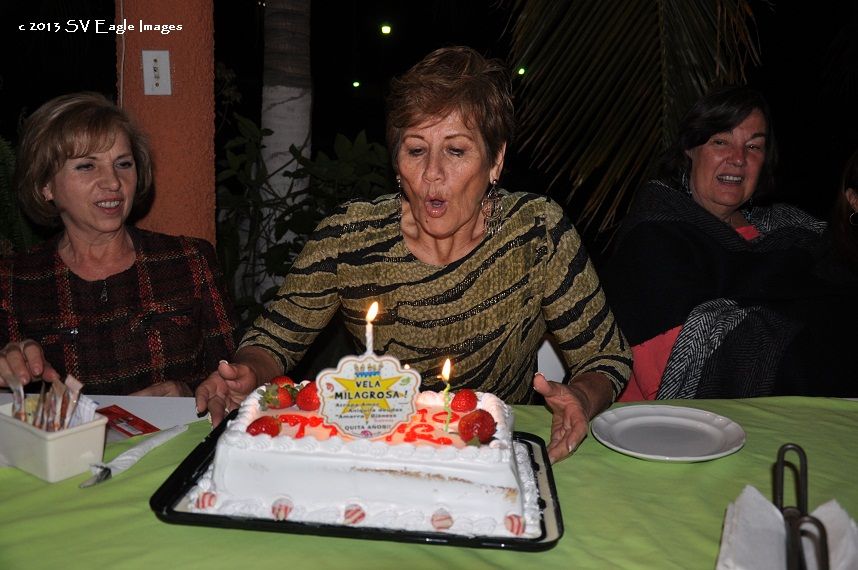 Wednesday night saw us at the La Costa restaurant for our friend Olivia's birthday celebration. Since our 'days' are one apart from each other, we'd planned to do something together. She got the jump on me, so now we'll get to have another one! Lot's of friends and family gathered for socializing and dancing and eating a tres leche cake that was very yummy!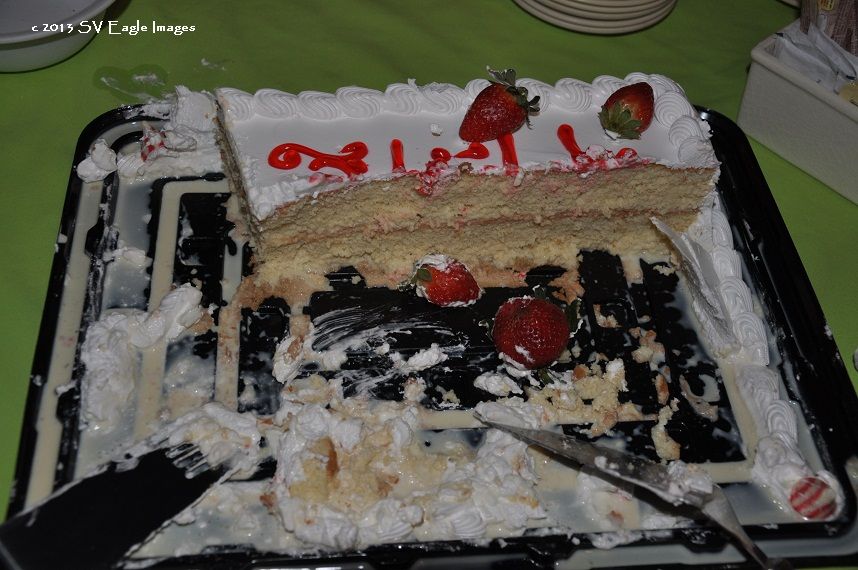 Tom and Jerry, quite the pair, aren't they, were 'singing along' to the band.

We spent a quiet Valentines evening sharing a yellow tail tuna and chicken dinner, and playing cards with our friends Rocky and Renaye on Euphoria.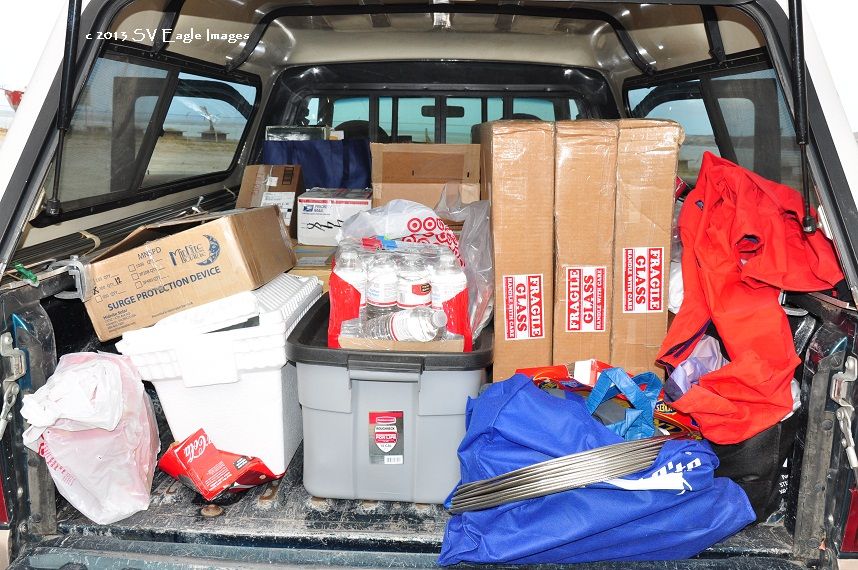 Truck full of items to be delivered!
This weekend we'll continue with the boat projects unless something better comes along. Several of our friends are preparing departures for the South Pacific, the mainland and Canada so I'm sure there will be a gathering or two on their behalf. The bottom of the boat is scheduled to be painted on Monday and Tuesday and we're scheduled to be back in the water on the 22nd.
Will keep you updated on our progress!

Back home in La Paz
Tom
02/12/2013, La Paz
We are nicely tucked back into our home, even though Eagle is still doing great imitation of a tree fort! Life on the hard really sucks, but with a little luck, we will have the transmission put back together in the next few days, and can start to get life back to normal.

We have been super busy what with a truck full of goodies to deliver to other cuisers, our own stuff to get put away, and a few small boat projects to attend to. Also it is Carnival weekend here in La Paz, so we spent a couple of nights with friends enjoying the parades and getting back into "Mexico" mode!

We got in a very nice nap....life is getting better and better

Lefty has a valentine - don't tell Bunny
Jeanne
02/11/2013, La Paz
Lefty's night to remember
On the last night of the boat show, Lefty had a little adventure of his own! He was left at the table with his Aunties Barb and Faith.



His uncles, Kevin and Jim were also 'participants' in the 'keep your eye on Lefty job".Every one was listening to the music of our buddy Dave Calhoun, and having a good time. Tom and I were working the booth and heard peals of laughter from the area of music.




When I got back over to this area, there were lots of "it wasn't me, and I didn't do it" comments.
I was finally able to get out of them, through all the laughter, what the story really is.....



It seems that Squawkers, Dave's parrot and sidekick for his shows, took a fancy to Lefty, and flew across the room to Lefty's table. There was quite a bit of feather fluffing, and 'posturing' between the two of them.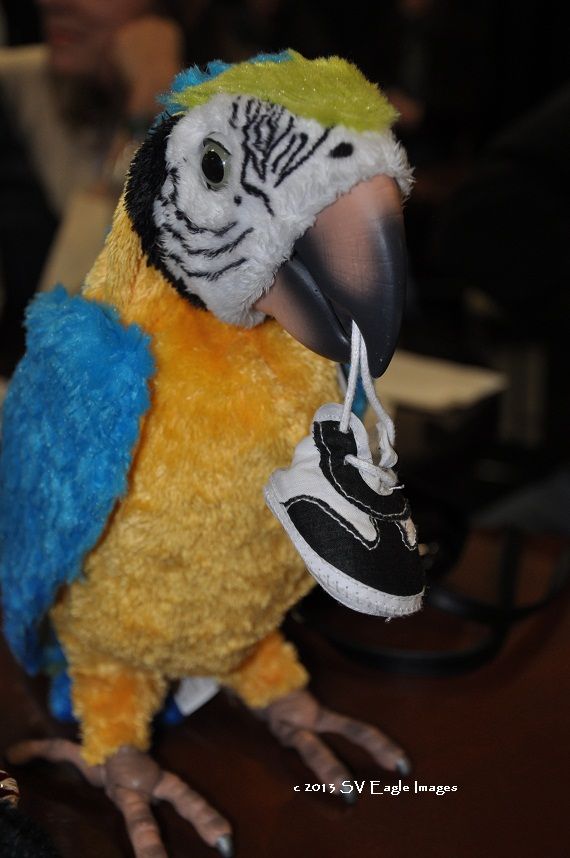 After several minutes of this, feathers flew, and well..... let's just say that Lefty 'lost his shoes' and afterward a cigarette was involved! It happened and there are photos, but since this is a 'family site' what you see here is what you get!




Lefty is now in love and is heartbroken that we had to leave the next day. He's been sitting in the jump seat area behind our seats, and hasn't said much.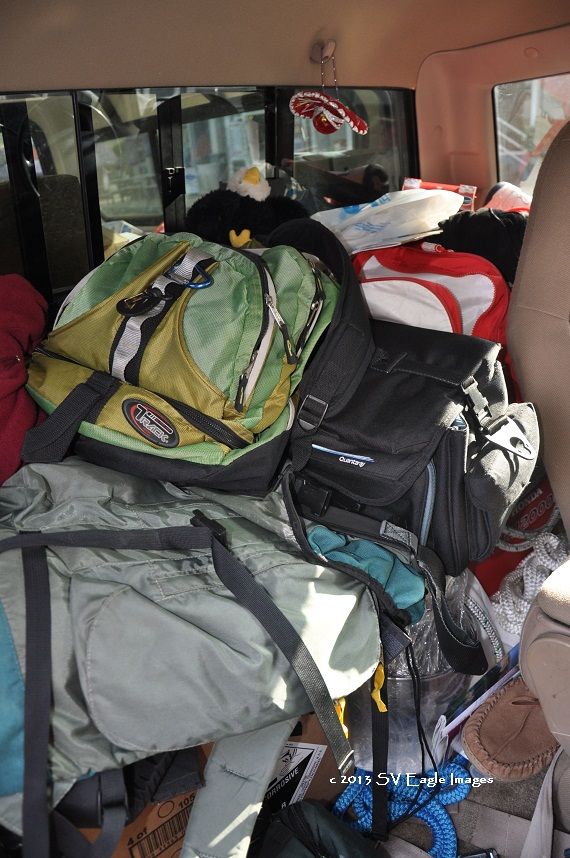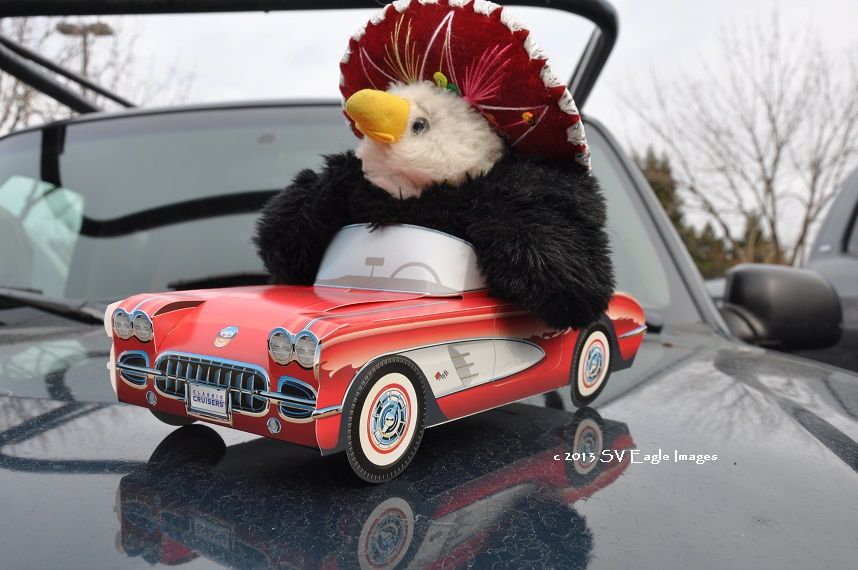 He did cheer up when we came back to the truck after a meal stop and brought him his own car! And a Corvette no less!


I'm sure that Lefty will be back to his normal self soon.... after all, Bunny is waiting for him back in La Paz! Shhhhh!

Lefty's near death drive?
Jeanne
02/10/2013, Seattle
While going through our photos of the trip while in Seattle, I missed this one.....
Or perhaps I was too scared to remember?

This is Lefty on the dashboard of my youngest brother Brians' car. The young man in the drivers seat is Brandon, my 15, soon to be 16 year old nephew. Lefty and I got a ride with them the last day of the show. Since Brandon is trying to acquire driving hours, we got to ride in the back seat!

All kidding aside, he did a good job! And yes, Dad/Brian, he was between the lines, just not real straight!

Good job Brandon!

Meet Pancho
Jeanne
02/09/2013, Baja Penninsula
Pancho is our new vehicle,a 1998 Ford Ranger pick up, gifted to us by my Father, Don. It's got a few miles on it, and the finish is perfect for Mexico. In fact, we've owned it for 4 days, and have put 1200 miles on it!


We put a canopy on it while in Sacramento for security, stowing stuff and road trips. It's a good thing, because the back of the truck is pretty full.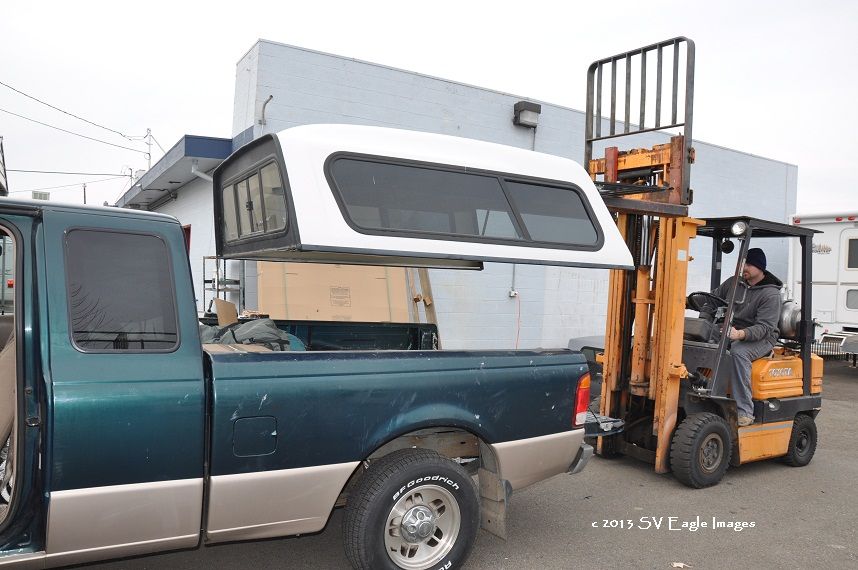 Pancho got a little taste of that yesterday as we passed through the very cool rock clusters and cactus in the Catavina area of the Baja. We'll be going back to this area for more in depth exploring.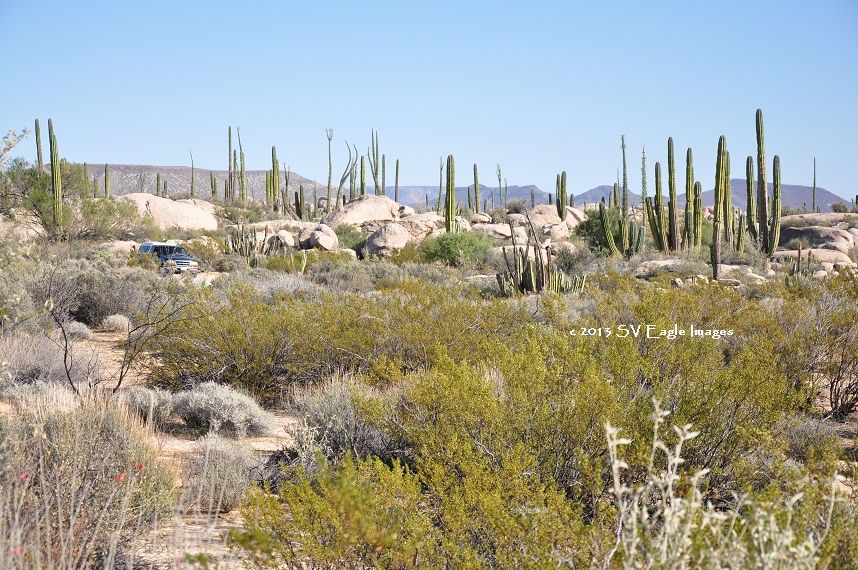 We did some more exploring in Guerro Negro earlier today and have made mile/kilometer markings on our new map for other trips. We'll be back in La Paz in a day or two.

Back in Mexico
Tom, Jeanne and Lefty
02/07/2013, Ensenada, Mexico
We are resting here in our motel room, in the south end of Ensenada. Our day started very early, having to make a trip to Escondido, California in order to meet up with the UPS man to get the last of the freight that needed to go to La Paz. then it was off to San Diego, to hit Downwind Marine to pick up mail that needs to get to la Paz, then to a shop called Mail Call in order to get mail from them as well. The it was off to San Diego Marine exchange to get yet more supplies for Mexican cruisers. After that we drove to the West Marine on Rosecrans to get our last pick that was to go south. Pick up a little bit of food stuff for our personal use, top off the gas tank and make our run for the border.

The crossing was really quite easy, about 30 minutes in line, we got the green light, and headed for the road......just in time to be waved down for a quick inspection. We were well ahead of the game when we pulled out all of the paperwork (TIP's and sale reciepts) that they asked about. I think they were a bit over whelmed. They opened the back of the canopy, checked a few boxes from the top of the stack, and sent us on our way.

We took the scenic route from Tijuana to Ensenada, along the coast, which took a little over an hour to complete. Once we arrived in Ensenada, we were reminded that it was Carnival weekend. There for the entire down town area was completely closed!! Jeanne went to work with her maps and found a way around the blocked streets, and made to to our hotel with no problem!

We are pretty tired, so the balance of the trip will be done at a much slower, easy pace. Ww place on making a few stops to "Smell the cactus" so to speak.

we will try to post a few pictures as we get the chance .