Got The Dock Off The Boat
Tom
03/16/2013, La Paz
After a period of time that is just way to long, Eagle and her crew have finally broke the bounds of our dock in Marina Palmira and headed back our the islands for a little anchor time. And it feels good!!

This trip served several purposes, first and foremost, and respite from town, no matter how much we love la Paz we really like being out and away, on our anchor.. Second, it is an opportunity to sea trial the new transmission parts. On this subject, everything worked perfect!! And third, it is a bit like a date night. Just a little Tom & Jeanne time. We have been so busy, especially with all the work I have been doing on O.P.B.'s (other peoples boats) that we are especially happy to just have some time to ourselves.

So early this morning, we un-tied the dock lines and are now anchored out in one of our favorite little hideaways, Caleta Lobos. Today has been one of the warmest days of the year with not a cloud to be seen, 93 outside, and 92 in the cabin...with a very nice light breeze.

As a side note, we have been questioned several times about our camera gear. Jeanne and I both shoot with Nikon D90's for the body. We have a pair of D40's as well as back ups, and for when we just need to have two cameras going at the same time. We a quite a few lenses that we use, depending on the shot we are trying to get. In our arsenal, you will find a 55mm micro, a 18-135mm, 18-105mm, 28-70mm, 10-24mm, 55-200mm, a 70-300mm. Tom uses a mono pod quite a bit for bird shooting and we both tripods. Jeanne's is quite a bit heavier, and more stable, while Tom's is much lighter and easier to carry around in the brush.

In regard to our pictures, we both want to thank our faithful followers for the many compliments we have gotten on our photography work. Also, thanks to every one who bought this years bird calendar. It was a great success and has sold out.

Talkin' Trash!
Jeanne
03/12/2013, La Paz
I think its because I haven't sat in a 'hair salon' in several months... or at least one that has English printed celebrity... trash magazines. Maybe it's because all of the magazines in the grocery check out are in Spanish. As I think about it, I haven't really noticed magazines of any kind in the grocery stores. How refreshing!

Whatever the reason, while walking past the book exchange in our cruisers club house this afternoon, this magazine ended up in my hands as I was walking down the dock! Since it says "Star" No.1 for Celebrity news" I should be in "the know" in a few short minutes! However, having not had a television for almost 12 years now, and not paying any attention to who's who in the movies and at the theater, it'll be all new reading for me. I don't know, and really don't care who these people are. It's just a diversion - trash reading at its best!

I'll be back after I find out about Demi and her new boyfriend, Drew's new baby and oh, no, not a 300 million dollar divorce! I'll read this then use it to line the bottom of the birdcage-- if I had one!

The two use rule
Jeanne
03/11/2013, La Paz
Early on in my live aboard life I adopted the 2 use rule: Every tool, or gadget had to have at least two uses in order to remain on the boat. For the most part we've kept to that rule with very few exceptions.... we've gotten very creative in justifying the 2nd use!

These little Glad containers - Ziploc makes some also, are my favorite for today. They're 4 ounce in size so they work great for small bits of chopped veggies, a bit of left over sauce, a bit of this or that, containing screws, nuts or bolts while a project is being done... see there are four uses! However, today, my favorite use is as an ice cube!

Thanks to Bill and Lisa on SV Beyond Reason for the idea, we now keep 8 or so of these little containers in the freezer for ice cubes. As our food stock in the freezer goes up and down, so does the number of our ice cubes. Keeping your freezer full of 'something' rather than air also makes it more efficient. I also store my 'freezer bags' that I use to keep cold things cold when shopping, in the freezer. See? A second use for those as well!

So, I'm writing this and enjoying a 4oz ice cube which will last to the end of my bottle of Topo Chico - soda water, and a fresh squeeze of lime...ahhhh... life is good!

Don't kill the dream
Jeanne
03/10/2013, La Paz
The crew of SV Vida Rica practice docking for the first time! em>

Ever since my 'dinner party/ birthday cooking day' I've been down and out with a NASTY, nasty bug of some sort. I'm much better now. Aside from an occasional coughing fit where I sound like I'm going to be turning myself inside out, I'm so much better.




the smiling family doing their un naming/re naming ceremony

During this time, Tom, as well as many others, have been helping new friends with their very first boat. Kevin and Jan and their daughter Hannah, 9 and son Jordan, 17, purchased a 40 Columbia and are learning everything - and I mean everything! They've never owned a boat before. But with a great attitude and smiles on their faces they dove right into the adventure... and the multitude of what at times seems like endless lists!

Now that I've been up and around, I've stopped in occasionally to see what project was underway or what new discovery had occurred. Every time that I've seen them, they've always got a smile on their face, it might be an exhausted and slightly grimy one, but a warm, bright smile none the less.




The other day I was returning a dish that had been lovingly filled with chicken soup when it came to me. Kevin was up on the deck preparing to wash his sails. After a discussion on the why would you do that and why nots and mostly the futility of trying to get them clean, the topic moved on to storing them - Leave it hanked on? bagging it? down the side? We ran through the scenarios of each and decided that on a future day, he'd pull out the old, but still usable mainsail cover, and we'd see if it could be made into a sail-bag. While I was there at least two other people stopped to ask about 'this' project or 'that one'. Kevin just kept the hose on the sails.

Today seemed like a good day to stop by and check out the material situation. Jan and I went up on deck and re flaked the sail and pulled out the old cover. We could make it work. Then she remembered a 'bag' of extra fabric. "Well, what's this? ", I said, 'Look's like a sail-bag to me!" That was the quickest sail-bag I've ever made! Also, the windlass now has a cover and the instrument panel, too. Cross that one off of the list!

Now the whole time we were up on the deck messing around, talking about lines, halyards, routines, Tom and Kevin were pulling old 'mystery' wires and running new ones for lights, battery systems and other things. Kevin , while pulling wires from the cockpit locker pointed out a long metal tube that had yet to be identified as to its use. I thought it looked to me like an emergency tiller, as Eagle has something similar. We haven't tried it out yet, but we're pretty sure that's what it is. There will be another day to try it, and locate the other parts...put it on the list for later. Kevin and Jan shared a brief look that to me said, will it ever end?

Several of you reading this right now are in the process preparing your boat for seasonal cruising, or perhaps a longer journey, maybe even joining us. Many of you are not boat owners and are arm-chairing our adventure. Maybe you own a house that you're working on. Many of you have written us and asked specific questions about how to do something, or what were our experiences, as you work through your own lists. I haven't found a boater, sail or otherwise, that wasn't willing to give an opinion or advice. At times unsolicited, unwanted and maybe overwhelming.

Sometimes in order to not be overwhelmed by the length of the lists, or the complexity of the items on them, it's necessary to 'clean the sails' or 'scrub the decks' so to speak. If you won't allow yourself the time to just sit, after all that list is looming large, then perhaps holding the hose while water runs down the deck you allow your brain a chance to relax, and unwind, yet still 'checking something off of the list'. Did the sails get clean? Nope. But they're now salt free and Kevin feels better for doing it. After all we had a good chance to examine the sails, he spent some time on deck in the sun, and Hannah learned a new way to raise a sail.

What's my point in all of this? Is there one? Yes. It's that stop and smell the roses thing... take time, look around, stop and talk with a friend, sit in the sun, read a book.... enjoy the now.

Hannah made a comment the other day, that so perfectly summed up what I'm trying to get across. After a very tiring day of non- stop projects, Kevin, Jan and Jordan were in the cockpit with two other cruisers trying to solve another issue. Hannah, tired of all the work, came into the cockpit, with her sandwich, sat down in the corner, 'harrumphed', and quietly, but still loud enough to hear said...."some dream!"




Don't kill yourself on the way to living the dream!




Tour de Baja

Tom
03/07/2013, La Paz
Ok...so it wasn't actually the Tour De Baja, but it was a blast to watch, and photograph. The event was part of the Dias De Familia, or Day of the Family that was held here in La Paz. They close down the main street, have a carnival/fair like day, along with music and of course a couple of speaches by prominent locals. I have to admit I did not attend the speaches or the music part, as I wanted to get some fun shots of the bike races. There appeared bto be several classes, both age and experience used to make up the grouping. I found out too late to attend, but there were also some mountain bike races that I would have loved to cover...oh maybe next year.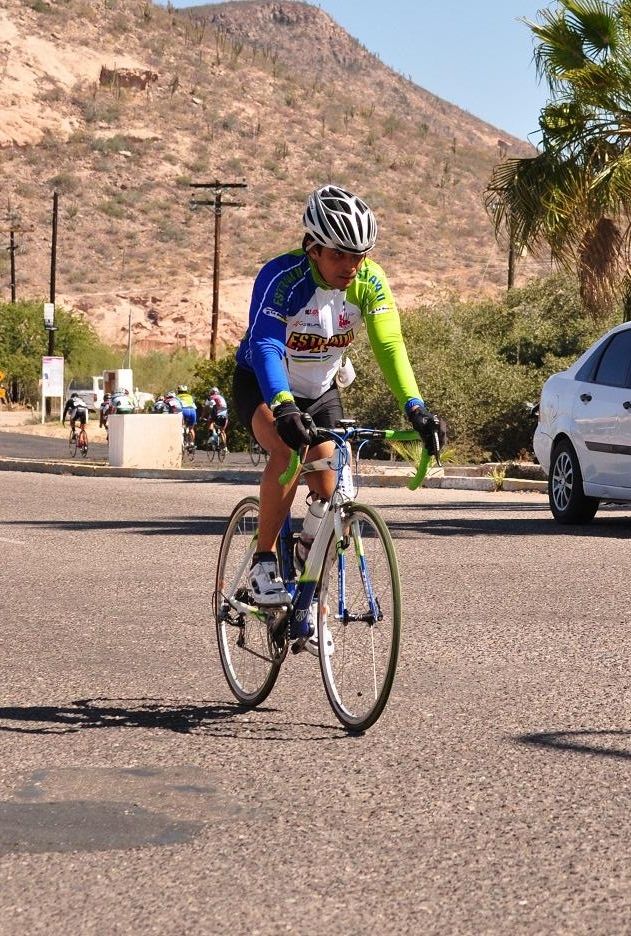 the Project list

Jeanne
03/06/2013, La Paz
As the heat begins to return to the Baja, we're reminded of projects that were planned in anticipation of this years heat. One of the upgrades we'd decided to do was to swap out our galley fan.

We had purchased a marine grade 6" oscillating fan that was installed above the galley. It worked fine for a while, the oscillating part, then it didn't. The fan part worked just fine, suiting our needs very well. Then we were invited over to Nirvana one afternoon and in the process got to see their fan. Sounds like a new pick up line...... Hey, do you wanna come over and see my new fan/etchings?



It turns out it was a good move! We purchased a Caframo Sirocco # 807 fan for just under 80.00. It is 6" fan with protected blades, positionable to 360 degrees, non oscillating, but..... it has 3 different speeds that are all extremely quiet, and a timer for 2, 4 6 or 8 hours of running. It's pretty easy on the amps also - at the three settings 0.21, 0.27 and 0.34 respectively.



It moves more air, quieter than the previous fan. We'll most likely mount our oscillating fan onto an extra wood base and wire a 12v lighter adapter to it for portable access in the cockpit or around the salon for those really hot days in our not too distant future.