Special sauce, lettuce, cheese....
Jeanne
04/06/2013, La Paz
pickles, onions, on a sesame seed bun.... remember the jingle? McDonalds Big Mac? Well, in case the 'special sauce' isn't enough for you, you can add your own! Jalepeno's anytime, anywhere on anything! Just think what you've been missing up in the states!

The new office
Lefty
04/05/2013, La Paz, the malecon
Along with a new business, come many other things: business cards, telephones, paperwork and dollars up and out the 'yin-yang' and to be really official, one should have an office!




Tom has said a couple of times that he was going to 'stop by his office', or that he stopped on the way back from a trip into town... uh huh, right! It seems that Pancho is still getting a bit hot 'under the collar' and Tom has managed to get him to the shady parking of his "office" just before boil over.

Well, I found him at his office yesterday....... outside, in the shade, feet up on a chair. with the phone in one hand and a 16oz blonde in the other. Get out of the gutter, you guys - that's ounces of beer, not a trip to jail!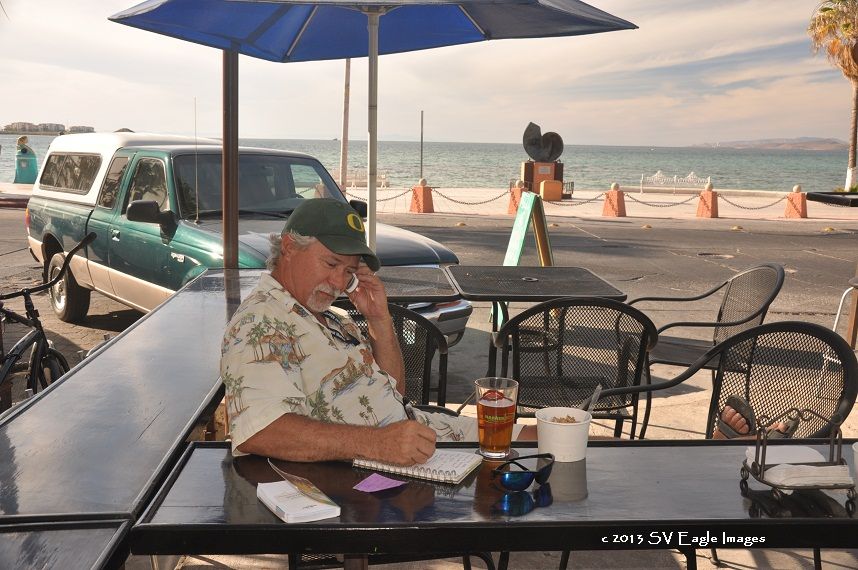 His new office is located on the central malecon at Harker Paddle Boards. You can rent a stand up paddle board, SUP for short, for a trip around the bay. Your board is carried across the street to the beach for you by the same guy that will deliver a beer when you return!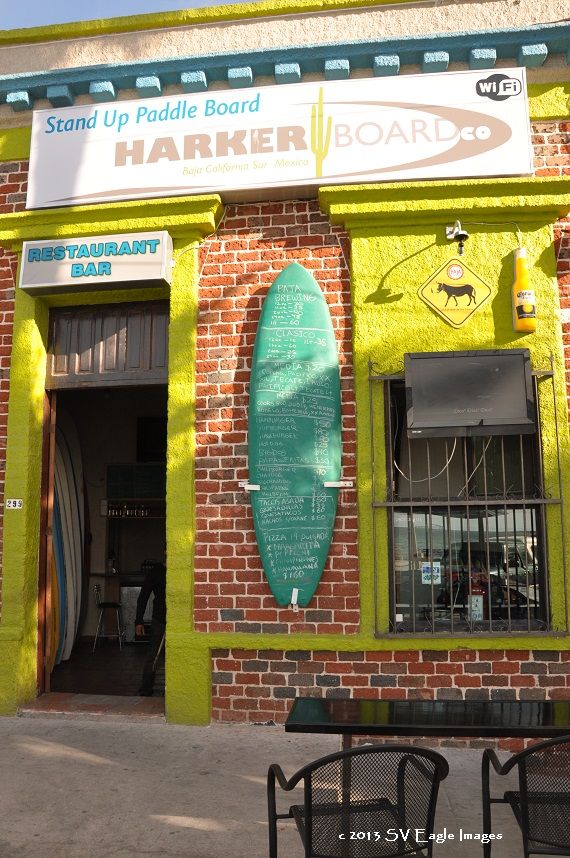 Bryon Harker, his wife and his Mom, Katie run the place, providing an icy cold craft beer from Baja Brewing on tap, a good burger or hotdog, or an amazing tuna burger, a classic rock from the 60's and 70's soundtrack... and the people watching and sunsets are terrific! Stop by if you're on the malecon, you may just see Tom hard at work!



Big Left Turn....LLC ???
Tom, Jeanne, and Lefty
04/01/2013, La Paz Mexico
The Big Left Turn goes corporate....as in Mexican corporation. By now most of you know that we have been doing a little work on the side, selling some water makers, installing a solar panel or two etc. Well, we have decided to become legal, and have formed a Mexican Corporation...Big Left Turn Enterprises LLC. This is a multi faceted corporation, as when we first hired an attorney to begin the process, she asked us what we planned on doing with the corporation. It was pointed out to us that we can list as many things as we want, with the idea that we cover all our bases. So, of course, we covered retail/wholesale/import/export sales of marine related products. Then we added Yacht Management, sales and service, with the plan of doing some boat babysitting as it were. There a lot of boats here in La Paz that are used 6 months of the year, and then the owners go back home to the States or Canada. Watching over them, making sure they are cleaned and safe is a big business down here. Of course our photography.... Just in case we open a gallery, and if we open a gallery, we might added coffee shop and wi-fi service as well. Jeanne added massage, and found out that massage covers virtually all of the medical field. So along with her massage, laser technology, x-ray, sonograms etc were all added automaticly. I decided to go ahead and add Golf Lessons...why not who knows what might happen some day.

The process of beginning a corporation down here is pretty interesting, time consuming, and a little bit expensive. We began the process the first week of February, by filling out the first form, which gathers all our personal information, objective for the corporation, and the hard part....a name. Big Left Turn seemed like a reasonable name, but in all honesty it was our second choice. We had hoped for Eagle Enterprises....but it was already taken. Once that was settled, 2 weeks later, the paper work went to immigration to make sure we were OK to do this, yep, another 2 weeks. Then the corporation charter was drafted, and approved, yet again 2 more weeks. Then an appointment with a notary to get everything stamped. This was a two hour appointment as much of the original charter was incorrect and had to be retyped. Once it was notarized, it went to the office of incorporation for their seal of approval. Of course, there is Easter week...most of Mexico is closed. Then we go to the Mexican tax officials and get our Tax ID Number. Once we have that number then we go to "hacienda" which I have to admit I don't have a clue what that is!! Some where in all of this we hired an approved Mexican accountant, which is required by law, to represent us. The accountant is actually listed on our Corporate charter, and is legally responsible for our behavior LOL could be a tough job! Now in the next few days we will go open a local bank account, and we are all done. At that point, hopefully we can stem the hemorrhaging of money that we have been paying out and put some back into the bank.

Despite all the running around, Jeanne and I are pretty excited to be starting out this next adventure. There has been little question about our love of La Paz, it's people, and of course the weather. We knew all along that at some point we would have to do some work to be able to keep running around in this dream like adventure that we have been on. I guess if you have to be at work, and if you can do it living on a boat in Mexico, wearing a tee shirt a pair of shorts, sandals on you feet, and no real clock to punch, you could do worse. It never hurts to truly enjoy what you are doing....it just doesn't seem like work that way. Also with the loose structure of this corporation, we will still have plenty of time to get out in the boat and continue exploring the Sea of Cortez.

We do have a new site with info about what we are doing, that is being upgraded all the time. As new services and products come along we make sure to add them to this site. www.sailblogs.com/member/bigleftturnllc

And, of course, if there are any of these services we can help you with now, or in the future, please do not hesitate to contact us at [email protected]

A little controversy
Tom
03/28/2013, La Paz
Nothing can stir up a good bit of debate, especially here on the docks in Mexcio, like a debate on the best anchor!! I know...I saw some of you flich right off the bat!! Best anchorage, best out board, best dinghy, mono hull vs catamaran vs tri-maran. There are a bunch of these "Hot Button" topics that are sure to get a heated discussion going. And no group of people are so quick to ralley the debate as a dock full of seasoned international cruisers. Opinions are like elbows...everybody has a couple.

So...just to stir the pot a bit...let's talk about anchors shall we? Eagle actually is as diversified as any boat I have run across here in the sea. We have a 55 LB Rocna, a 45 LB Bruce, and 45 LB C-Q-R and a Fortress #27.

I did a bit of a survey this morning, OK so I walked down the dock with a pen and paper, and recorded what my fellow dock mates were using here on Dock #3, Marina Palmira, La Paz. Of the 30 cruising boats ( I did not count the 2 power boats, nor did I count the little Bayliner) that are on the dock right now, the following are the results that I found:

Rocna 9

CQR 8

Bruce 7

Manson 3

Delta 2

Danforth 1

Actually I am quite surprised with these numbers, as previously on the dock, the Rocna has a much larger presence, but there has been some turn over and many boats have gone north into the sea to begin the summer portion of the crusing season.

For the record, here on Eagle the Rocna is our #1 anchor, and it is my opinion that it is with out a doubt the best over all anchor I have every used. I will follow up this with several pictures of the anchors, and how they are mounted on the boats.

OK now you may argue amongst your selves!!

Here is the Rocna





Here is the Manson






Here is the Bruce




And the only boat carring Danforths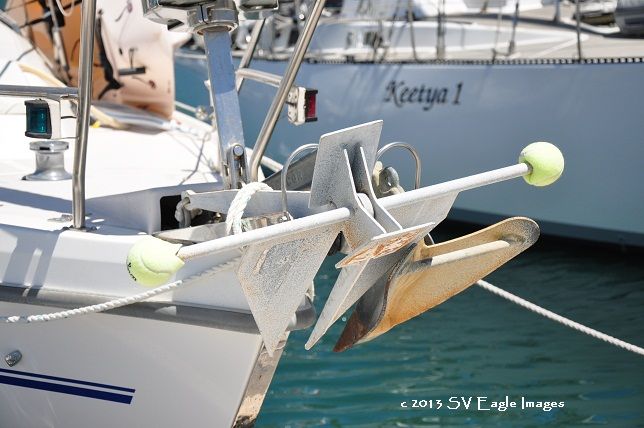 here are a few more to browse thru...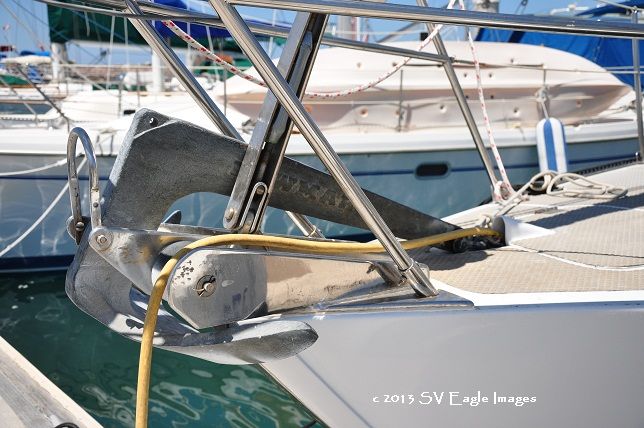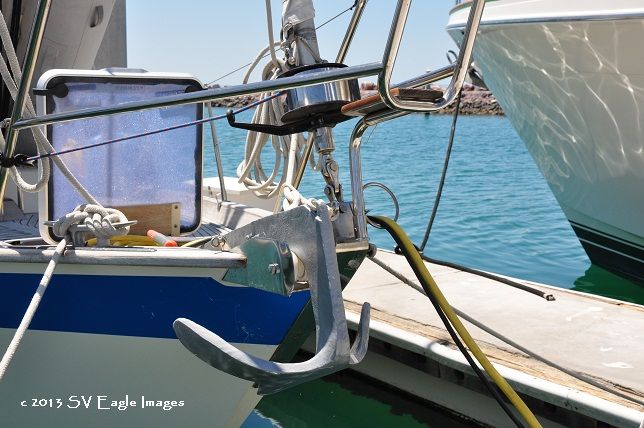 Armchair sailors, take note
Jeanne/ do you really want to know?
03/26/2013, La Paz
There has been a fairly steady outflow of sailboats from the harbor of La Paz. Many are heading north to the Sea of Cortez for exploration, on their way to Guaymas and San Carlos to put the boats on the hard for the summer or heading westward to the South Pacific.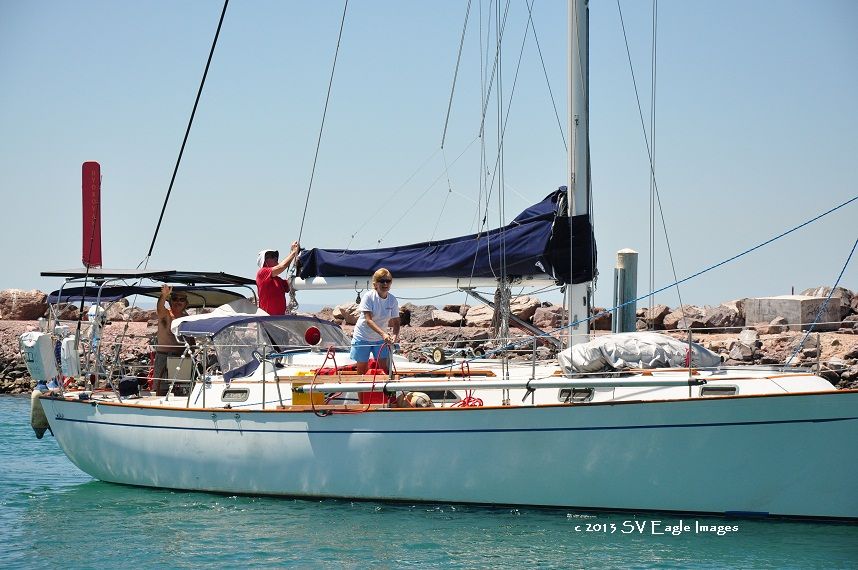 Today we said goodbye to our friends on Wings, from Anchorage Alaska. Bill, Connie and their crew Chip left about 13:00 and are going to take 2 days to get to Cabo San Lucas. They've already got their zarpe (check out papers), and all the inspections to the boat and crew have been completed.
Follow along with them and their Passport 40 at www.svwings.com. They will be using an SSB radio to transmit. Remember that means getting blogs and updates posted depends on propagation and weather reception.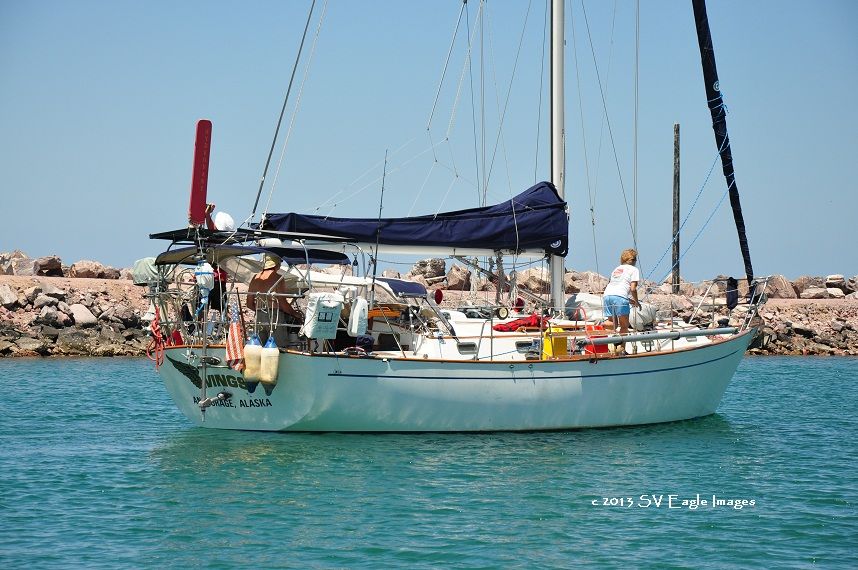 Unfortunately, they will wait in Cabo hoping that the whisker pole that they ordered will arrive in time. This being Semana Santo - Holy week, might slow things down.

Here in mexico, many of the shops and restaurants are closed for the entire week, some even into next week to celebrate Easter. This is the time when families that live away from the bays and beaches come to play in the water and visit families that live here. There are certainly a lot more people out enjoying the great weather. The atmosphere isn't quite that of Carnaval, but it's certainly got a festive quality to it. I haven't heard of any 'organized' or community festivities, but we're keeping our eyes and ears open.

Bon Voyage Bill & Connie!





Passing on traditions
Jeanne
03/25/2013, La Paz
Yesterday I had the pleasure of a visit from my nine year old friend, Hannah of Vida Rica. After spending some time being creative with our beading supplies, we moved into the galley for a cooking lesson.




On the 'menu' was chocolate pudding - homemade style! We pulled out the bowl, the whisk, sugar, milk, cocoa, cornstarch, salt, vanilla, butter, measuring cups and spoons and the pan to cook it in.
After writing down the recipe, Hannah started following it. I had all the stuff on the top step in our companion way so it was a good working level for her.... then I had a flash back, a good memory!

When I was little, we lived with my grandparents for a while. My grandmother, Winnie, made everything from scratch. This is her recipe. She would let me help her measure and mix, only she set me up on the open door of the dishwasher. Perfect height for a 3 or 4 year old. Pretty clever, as all spills would be contained and she could just close the door and it would wash off in the next load!

Back to the present..... we got it all mixed together and placed in the double boiler. She stirred and stirred and pretty soon it started to thicken....... add the butter, and the vanilla and stir a bit more. Now the best part.... licking the beater!



She did great. So good in fact, that we decided to make another batch for Eagle! ( second beater licking.... )The crew on Eagle, Swan and Vida Rica all enjoyed the treat!

Here's the recipe:
2 ¼ cup milk, powdered works just fine
½ cup sugar
1/3 cup cocoa, - like Hershey's with no extra sugar
½ teaspoon salt
3 heaping TBS cornstarch
1 TBS butter
1 tsp Vanilla

In the top of a double boiler, over medium heat, blend everything but the butter and vanilla. Stir often scraping the sides and the bottom until the mixture thickens. When it's thick, remove from the heat and add the butter and vanilla. Blend together. Spoon into bowls, or a cooked pie shell for chocolate pie... or if you're serving a bunch... just put the bowl in the middle of the table and give everyone a spoon!
If there are any leftovers, - yea right! Refrigerate it, but it's best eaten slightly warm.