Agua de what?
Jeanne
04/30/2013, La Paz
A couple of the items on our menu for the last Mujeres en la Cocina, were two beverages:
Agua de Jamaica (ha- MIKE-a) and Agua de Tamarindo.

Both of these drinks are popular all around town. Many of the 'carts' and stalls sell many different flavors of waters. Horchata is a rice, milk, and cinnamon blend. Often you can find Sandia or watermelon. Flavors vary with the season and what's available. Jamaica and tamarindo, coming from dried ingredients are available anytime.




Agua de Jamaica is made from the dried hibiscus flower. Basically you take a cup of dried flowers, available at every market usually in big bins, add it to about 4-6 cups of water. Bring it to a simmer for about 20 minutes. Cool, then strain the flowers out. Add sugar to taste, for this amount about 1/2 cup, or to taste. I've found that the NorteAmericanos tend to like it a bit on the tart side, the Mexicans prefer it a bit sweeter.
It's a beautiful red color and quite refreshing. It also has slight diuretic properties, is high in vitamin C and is beneficial to diabetics, use Stevia or sugar substitute if you desire.



Tamarind is a seed pod. It can also be found at the markets, or fruit stands. It's a brownish, dried pod that looks something like an overgrown bean pod/pea pod that's been allowed to dry up. It is a member of the legume family, and is used when green as well as fully ripened. The greener the pod, the tangier the taste. It is used all over the world in various ethnic preparations. I've seen it in Asian and Indian markets and is often in paste form. Quite often its a small sticky package about the size of a deck of cards or bigger.



For a beverage, you prepare the tamarind from the pods by removing the dried outer shell and the 'string' - very much like pea pods. Place the inside in a pan of water, again about 6 cups. Bring to a boil, then simmer for about 20 minutes. Let cool and then mash the pods. Some people will strain the pulp, but for our cooking lesson, it was left in the liquid. It made for a bit 'thicker' beverage. Tamarind tends to be tarter than jamaica, so a bit more sweetener is needed.



So, head on down to your local Mexican tienda and try some jamaica or tamarind for your next fiesta - hey, Cinco de Mayo! Maybe jamaica flavored margaritas! Enjoy


Mujeres en La Cocina #5
Jeanne
04/28/2013, Cocina de Mariella
Masa, and how to make bocaditas or lunch, snack food with it.
The meal: Lunch
The head chef: Mariella
The menu: Sopes, Tlacoyas, and Caldo con pollo y verduras, agua de Jamaica y agua de tamarindo
The sous chef's for the day were the regulars, Olivia, Dulce and myself, along with a couple of guest chefs, "J" from SV Winsome, Rhonda from SV Swan, and from Seattle, my friends, Jane and Michael, who drove up from San Jose del Cabo in the morning to participate!



Mariella, Rhonda and I got started about 9 with some of the chopping and prepping while we waited for the rest of the crew. Danny, Mariellas grandson, and her husband Memo (May-mo) were sent to the torterilla for masa dough - 4 kilos of it.





We didn't have to wait too long for Olivia and 'J', and right behind Jane and Michael. Dulce stuck her head in and helped between appointments in her salon. ( Since her salon had it's 'makeover', she's had enough business to hire someone to help... and the new clients just keep rolling in!)





We had a stock pot full of a couple of chicken breasts and a whole chicken. When the chicken was done it was cooled and shredded for a topping on the sopes.




Beans were prepared for toppings as well. Cebollas were chopped, along with tomates, cilantro, ajo, papas, calabezas, chiles y mas.




The whole time this is going on there's laughter, several conversations, singing, stories, techniques, kids running in and out, Kiko the dog adding a bark or two, it's just so very Mexican. I know that sounds very 'gringo' of my, but I just can't say that this experience is like any I've had in any other home kitchen anywhere. There is definitely a bit of a dance, well choreographed, this time by Mariella, as well all moved about the kitchen.


It's very hard to take photos, take notes, participate, sit back and watch it, remember my Spanish - butchered as it is, it's just a very active time. And no one gets frazzled or excited. And not once have I seen a measuring cup or set of measuring spoons. MY kind of cooking..... a little of this, a dash of that, a handful here and there. I've described myself as a 'glug' cook, so I feel at ease cooking this way!


We had a few more friends join us for lunch, and a sumptuous feast was enjoyed by all.


A Whale of a tail!
Jeanne
04/27/2013, La Paz Channel
Heard on the radio...." Attention La Paz fleet, there's a whale in the channel, heading into the bay".....very cool! About 30 minutes later..... we hear, "Attention the fleet, the whale is high centered on the magote sand bar that creates the outward edge of the channel!" Not so good.
Evidently this whale wasn't familiar with the 'red right returning 'rule of navigation! In the US and Mexico, when entering a harbor, one should keep the red markers and buoys on the right , and the green on the left when passing. This young humpback was waaaaaay off!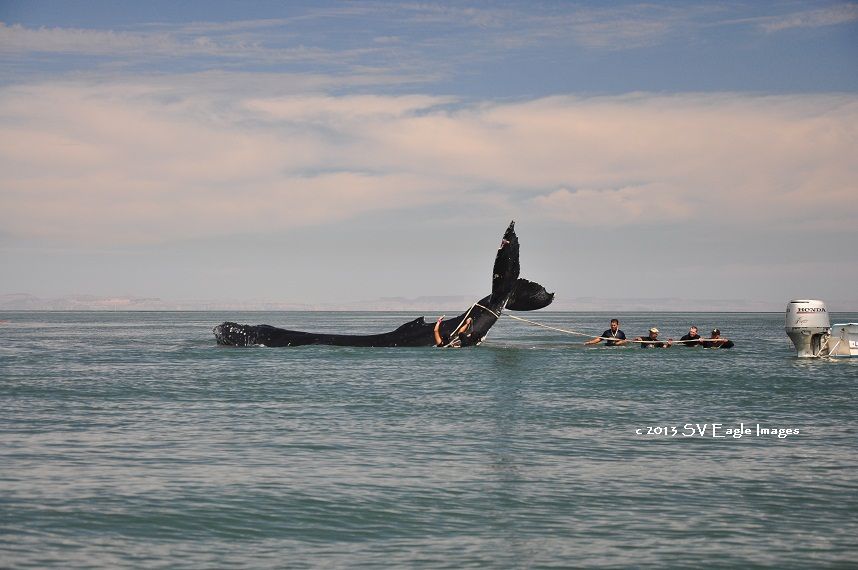 Having planned a day of boat time for just us, we looked at 'the list' and then at each other. Tom untied the dinghy, I lowered the outboard, we loaded cameras and headed out to channel marker # 8, about ¼ mile from the entrance to Marina Palmira.





A three minute dinghy ride got us out to the stranded whale. A youngster, at about 30 feet, was definitely stuck on the sandbar. He/she, was heading into the town of La Paz. Unfortunately the tide was going out. Fortunately, we had a very small tide of about 1.5 feet and were about halfway through the ebb.





Surround the whale was a group of about 10 people, mostly locals, a few gringos, 3 pangas, a kayak or two and several dinghy's and a couple of sailboats, and a very stupid woman swimming out amongst all of this. What was she thinking?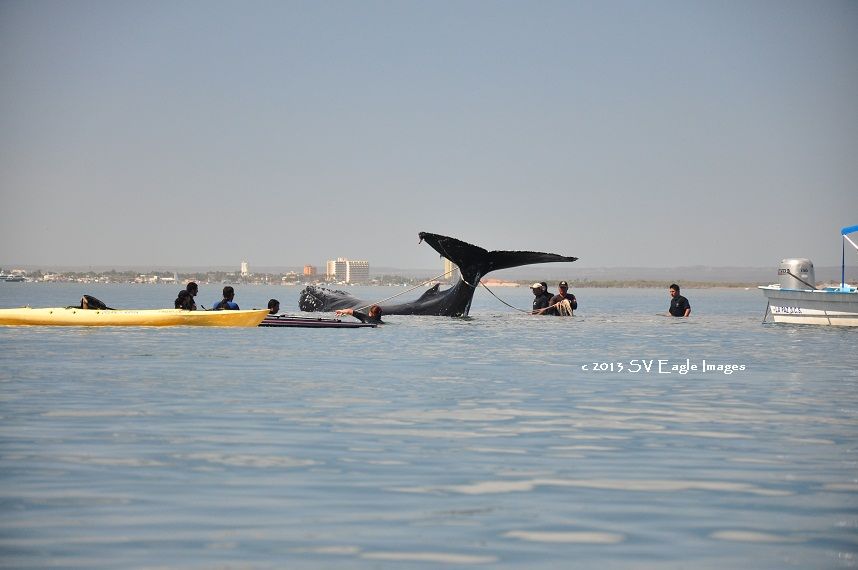 We watched the volunteers toss water on the back of the whale as it's top ¼ of the whale was out of the water. Others had a long length of line that they were trying to get around the whales' tail. They finally succeeded in the wrap, then attached the line to the stern of a panga. On a signal from one volunteer the panga tried to drag the whale, by the tail, off of the sandbar. In theory, perhaps a good/nice idea.
In reality? There were a couple of problems with this plan.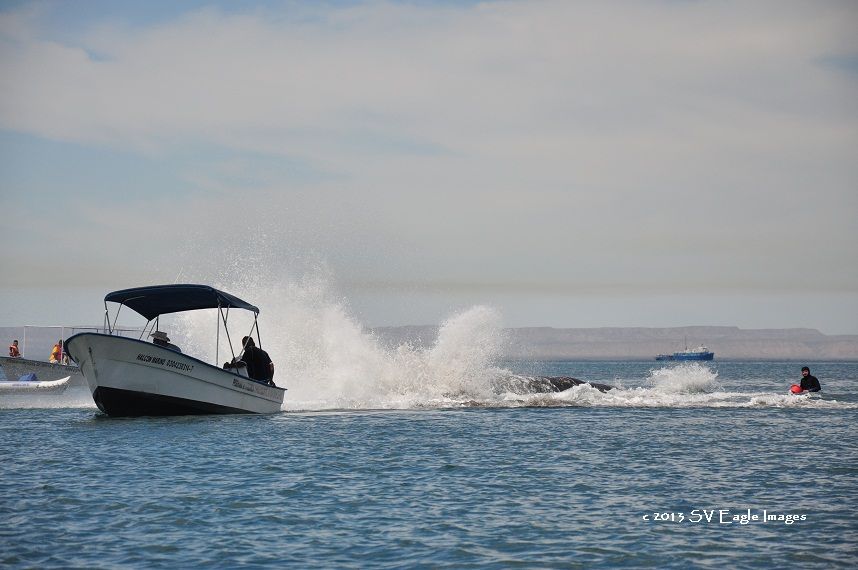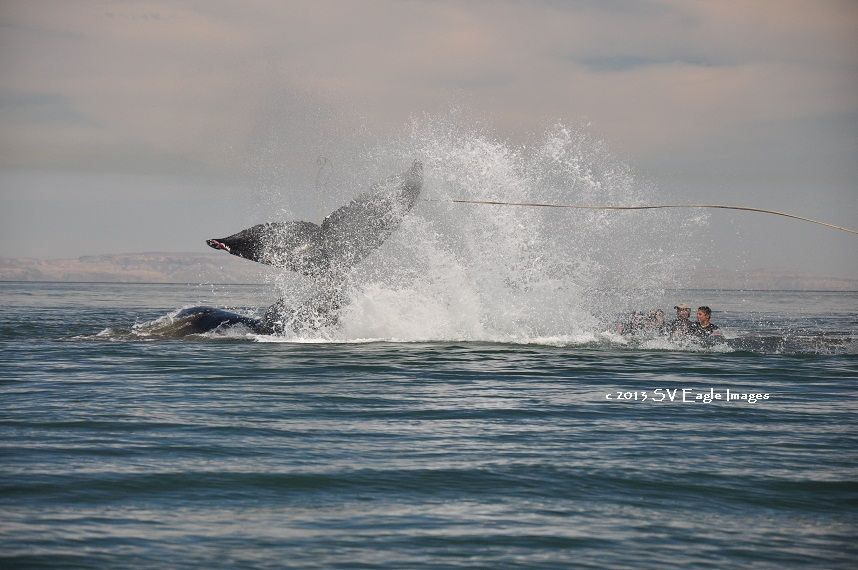 First of all the whale was definitely stuck on the sand. Second, it was heading across the sandbar and the panga was pulling it into shallow water. Finally, the whale was not happy AT ALL about having it's tail pulled - I mean, really... who likes to have their leg pulled? - especially in a direction that it was not designed to go in. This resulted in lots of splashing, tail and fin slapping and some rather heart-wrenching cries from the whale. This was attempted several times. Each time the whale managed to toss off the lines, was moved or turned a bit, but no real progress was noted. Several big breaths and some big sighs - whales take really BIG breaths - the plan, if you could call it one, didn't seem to be working.



Tom and I were shooting photos and getting disturbed along with the whale. We both had too many shots to choose from and we decided we were just adding to the noise in the water and potential stress of the whale. We opted to head back to our 'list' and hope for the best.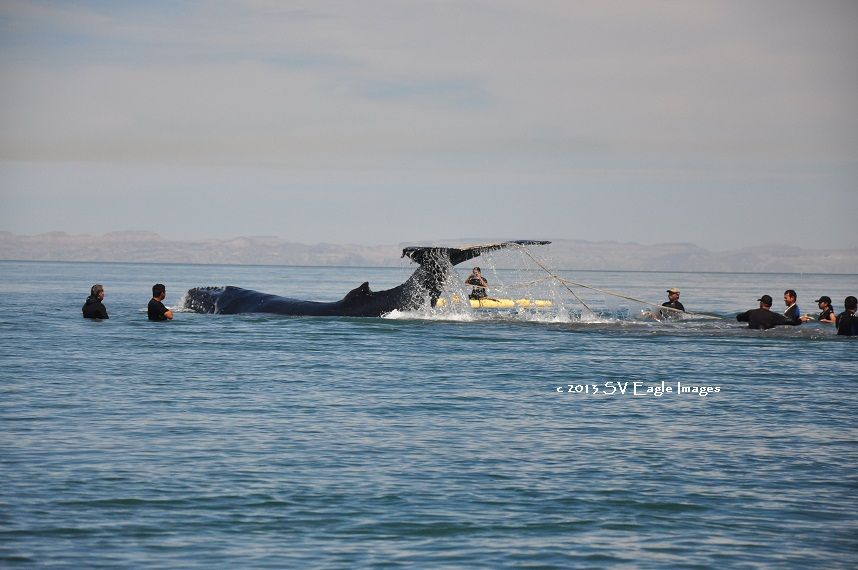 To our great relief about an hour later we heard on the radio, "the whale is free!" YEA!!! Whoo- hooo! I love happy endings!

Mexican Navy Training ?
Tom
04/21/2013, La Paz Beachfront
In keeping with our coverage of the Mexican Navy personel, I got invited to cover the Mexican Navy, many of whom had played Volleyball that a few days before, when they got to spend a morning learning about SUP Boards. SUP stands for Stand Up Paddle Boards, which are starting to show up on waterways all over the world. Brain Harker, owner of Harker boards, also known as my "Office" hosted the Navy folks. The day was a little gray, but the water was warm, the wind was down, and we had a great time.

Here we see them start out for the first time...so far so good!! nobody has fallen in yet.




Here we see Brian Harker, giving some on the water instruction




This is Sergio, he is the coordinator for Desportes.deLazPaz..the organisation the schedules and promotes virtually every sport activity here i La Paz, and most of Baja Sur. He has invited Jeanne and I to photograph as many of the activities as we want, or can.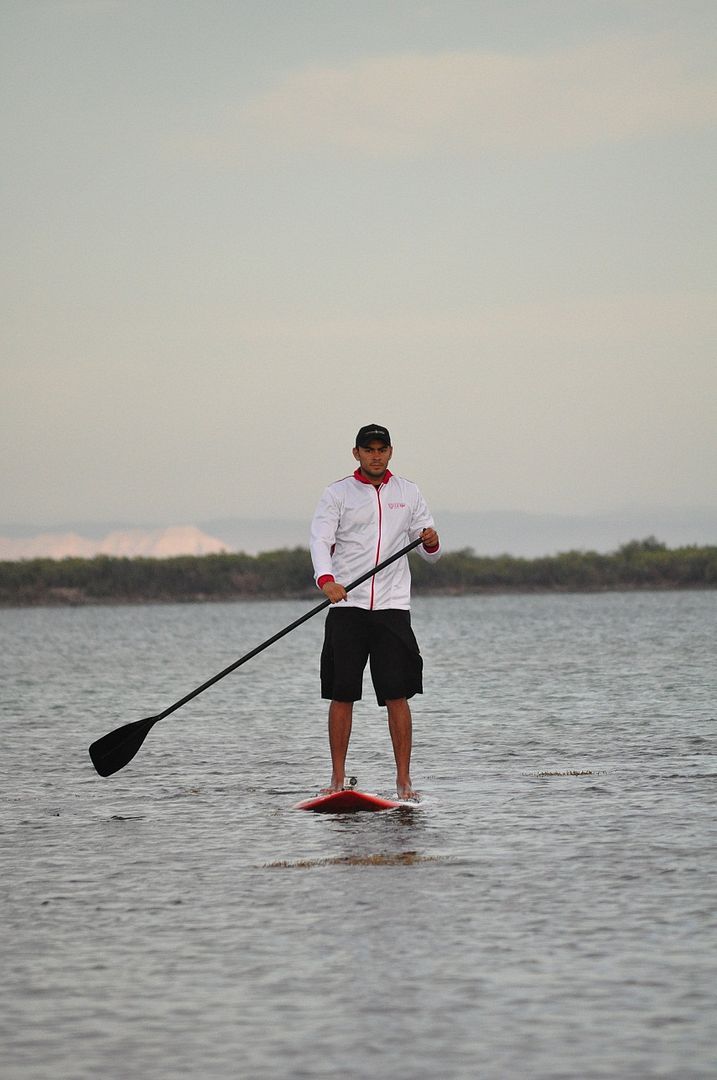 After having been boarded by the Navy a few times, I sure hope they dont plan on using these to make a run out and check the papers on this big boy!!




I am really looking forward to getting to shoot many more of these great sport events in the future.



La Paz Bayfest
Tom
04/20/2013, La Paz
Every year, the local cruisers have a bit of a celebration, with games, dancing, music and food. This celebrates the end of the "season" when everybody leaves their boats and heads back home to avoid the heat.

This one of the high lights was the three volleyball matches that were organised by Shelly, from La Paz Yachts. This group of pictures that I took cover the match pitting the cruisers VS the Mexican navy team




Of course, every team must have a group of cheer leaders.....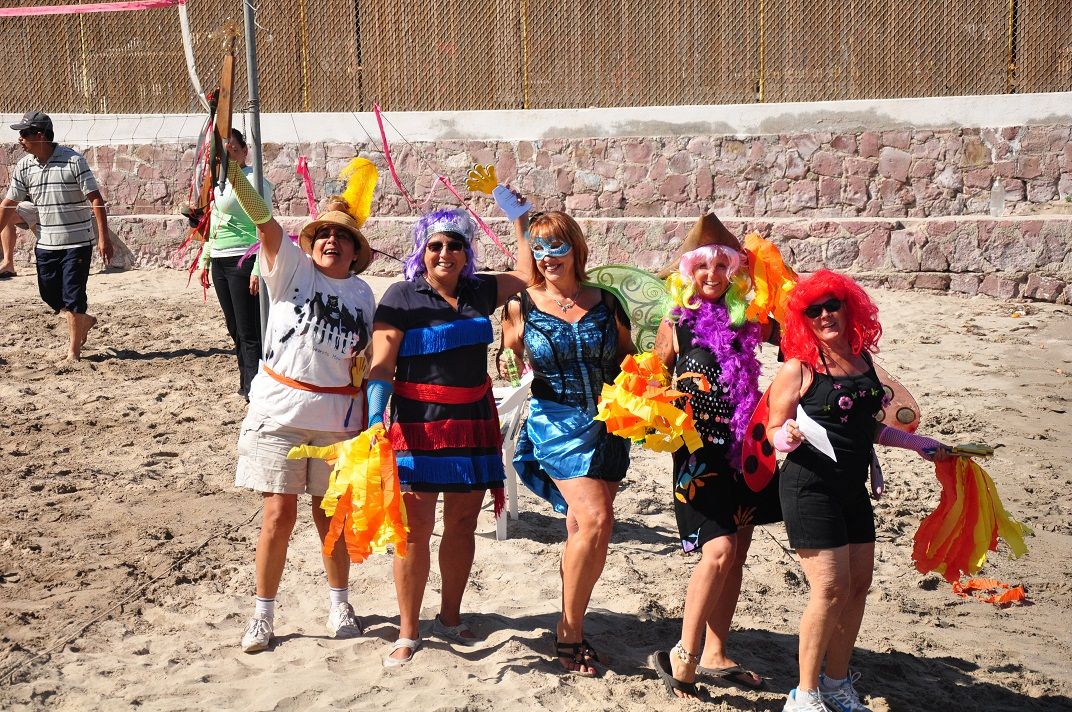 and when ever you play beach volley ball, and there really is a beach.....




The cruisers certainly held their nown, but in the end...youth prevailed, but everyone had a great time!!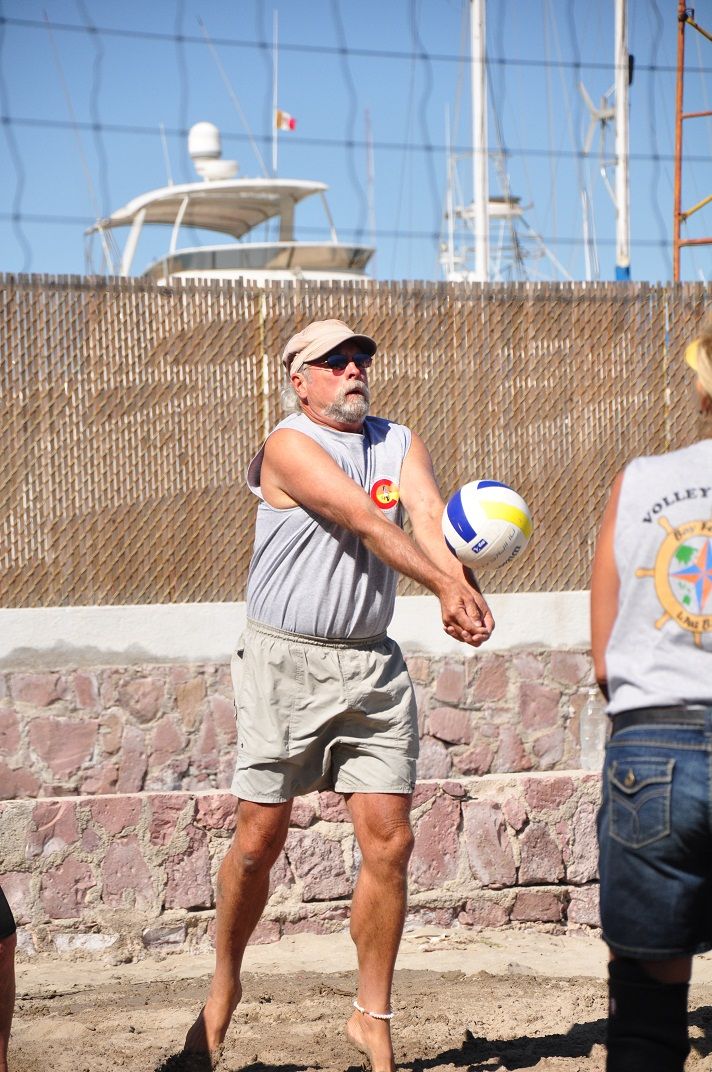 A NEW BIRD!!!
Tom
04/19/2013, La Paz
Now that we are not moving on the boat nearly was much, I have not been able to find, and photograph nearly as many birds. In addition, I have not seen any new birds for quite a while...until yesterday!! As Jeanne and I were walking up the dock, and big blue blur went flying by. I chased it down, quite literally, running down the side walk to find out what it was. Then once I found it, I ran all the way back to the boat to get my camera to get some pictures. The big blue blur (BBB) turned out to be a Black Throated Magpie Jay, from the mainland Mexico area. I have not been able to find any info of them ever being spotted here on the Baja! How cool is that!