Finally...
Jeanne
09/23/2013, Alaska via La Paz
Well things have finally calmed down enough here for me to get some of my Alaska images together for your enjoyment!

The past couple of weeks have been incredibly busy... the store is coming along nicely, a new shelf unit is attracting people, new products, lots of sewing jobs, a few electrical jobs, a bit of socializing, and a dip or two in the pool.... not to mention the threat of Hurricane/Tropical Storm Manuel.
The good news with the storm is it brought us 6 hours of clouds and about 1 hour of heavy rain about 1/2 inch.
It also seems to have taken some of the heat with it! We've been having days in the mid 90's and evenings are in the 70's - even saw 64 one morning! Cool enough to dig out a light blanket for sleeping! It's lovely here right now.

Anyway, I've created an album, " Jeanne's Alaska Cruise", for your viewing. Grab a cup of coffee, or an adult beverage, or and adult beverage added to your coffee... sit back and enjoy!


Hey...what are you doing in there?
Tom
09/14/2013, in our bathroom
So, we had just gotten back to the boat from work, with plans to change into our swim suits, and to go for a nice cool down swim. Jeanne went to the head to use the toilet...when I heard a bit of a.....well gasp. Not a scream or a yell mind you, but certainly a loud enough noise to get my attention. She then hollered at me to "come here, and bring the camera" Now I have to admit this had certainly peaked my curiosity, but the camera was still up in the store. What caused all the excitement was the above creature sitting on the toilet seat. Now that it of it self is certainly cause for concern, but then we both realized that this beetle was actually quite pretty...in a beetle sort of way. I mean, I am sure his (or her) mother loves him.

After taking a few glamour shots, we took him(or her) outside and set him on the dock to fly away, or at least go do what ever it is the big beetle do!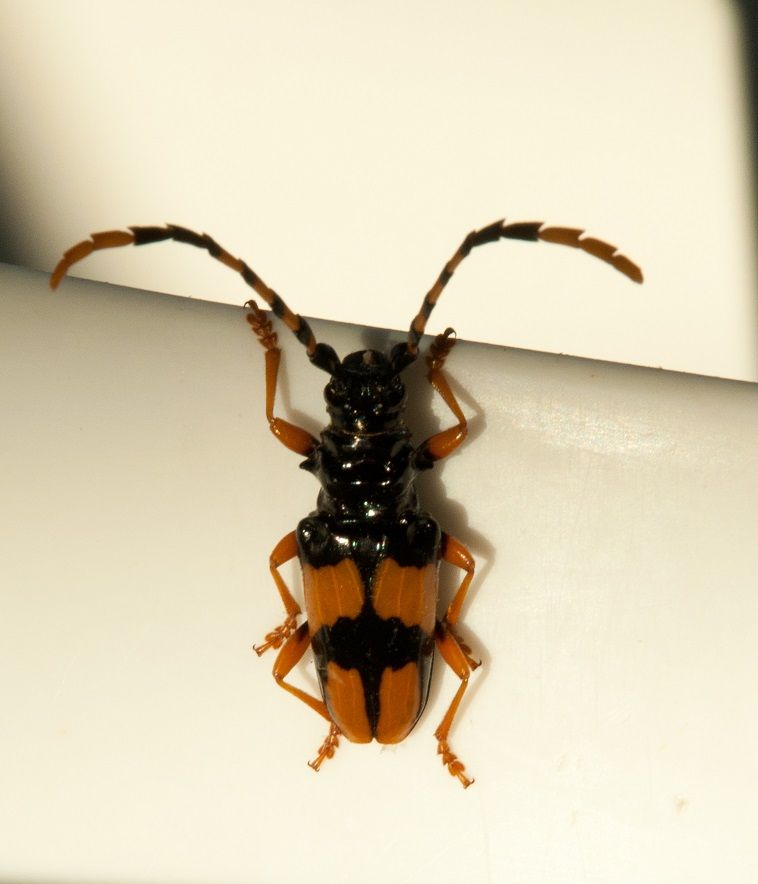 Hot Fudge!
Jeanne
09/11/2013, La Paz
This time of year, when it's really hot, we occassionally treat ourselves to a walk along the malecón in order to stop for ice cream at Fuentes. Ok, any time of year will work! They have great ice cream.
What they don't have, however, is hot fudge! You can order a sunday with chocolate - the hershey's squeeze bottle kind, but no gooey, thick, hot fudge.

My dear husband knew I'd been craving a hot fudge sundae, so he enlisted the help of our friends on Nirvana. They just drove down from the US and stashed a jar in the car for me!

Last night was very hot and still. Pefrect for a possible ice cream outing. I tossed the chocolate and a bag of nuts into my bag for a Fuentes stop after our Gina burgers. We opted to just buy a small container of ice cream from the store instead.... so back at the boat, we had hot, hot fudge on our ice cream! Since the ice cream brand we choose, wasn't as good as Fuentes, we're just going to have to try it again! Oh, darn!

Birthday update
Jeanne
09/10/2013, El Nautico, La Paz
He doesn't look a day older!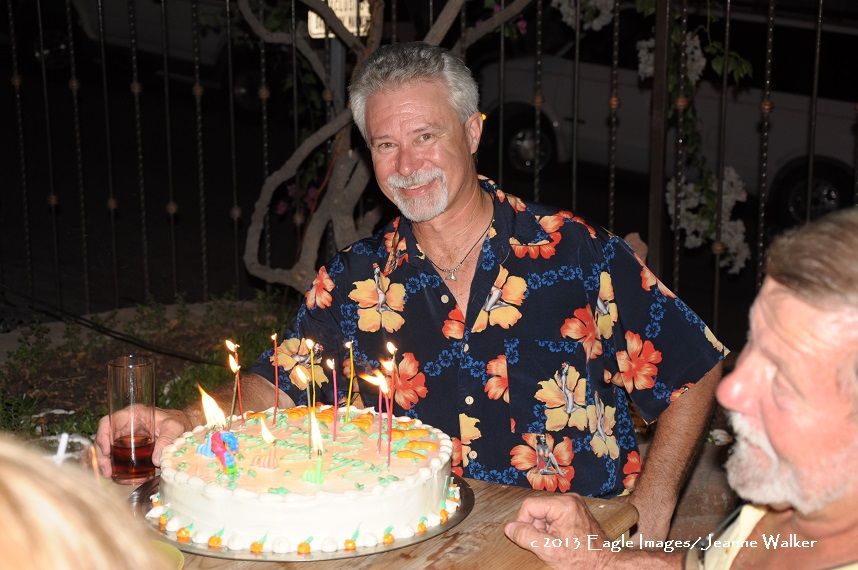 Last Wednesday night we gathered with a group of friends at a 'new' restaurant for an evening of conversation - tall tales, beverages - lot's of margaritas y cervesas, and laughter.



El Nautico (Now tick oh) , on Ocampo has recently been redone. We'd eaten at the sister restaurant, La Bartola, and felt it's some of the best authentic Mexican food we've eaten. The oohs and ahhs around the table last night tells me that Obert and his brother have a good thing going.

Our friend Olivia made Tom a huge carrot cake, of which there wasn't much to take home! The traditional 'happy birthday song' was presented along with 'Las Manzanitas' the mexican version. Obert, Olivia, Sonja and Isabel sang it out for all of us.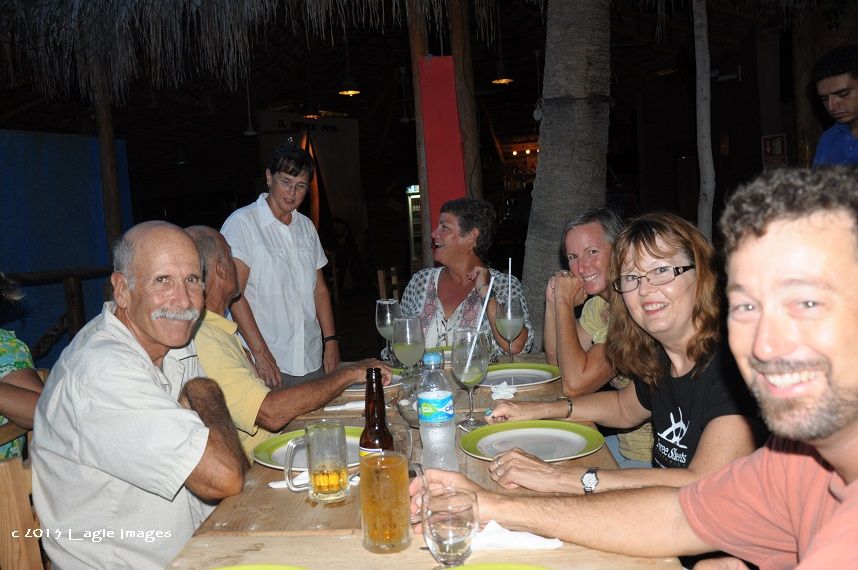 Obert informed Tom that after one blows out the candles, it's tradition for the newly aged one, to bite the cake....... I didn't do it....I was behind the camera catching the results of Ober giving Tom's head a wee little push into the cake. That portion of the cake is then presented to the one wearing the frosting! So the bigger the imprint - the bigger the piece! He was aware of the custom and was slightly prepared! But he still did get a bigger piece than anyone else!



Health and welfare alert
Tom
09/06/2013, La Paz Mexico
I know that many of our faithful, long time followers are also prone to stop by and see what the crew of SV Third day are up to. Rich, Lori, Amy and Jason left several years ago on their sailboat, headed to the warm, blue waters of the Sea of Cortez. Then last year, they headed back home, to the protected, yet cold waters of Morrow Bay, California. The kids were of the opinion that they wanted to do the high school thing back in the states.

The reason for this posting is that after many years of diligent writing on their blog, they have fallen of the map!! Not a single posting in over a month!! Well, I am here to let you all know that they have been found, safe and unharmed, aboard their boat, firmly attached to it's moorage in Morrow Bay. In my discussions with the captain and crew, I heard horror tales of high school, home work, varnishing stripping, and the worst of all....JOBS!!! It is my understanding that they will all be fine, no permanent damage is thought to have occurred.

As an unlicensed, minimal knowledge physiatrist, I am sure that a dose of 95-99 degree heat, in sunny skies, some cheap Mexican tacos stand food, and perhaps a cold cerveza (for the adults only) and they will be right back to their consistent blog posting habits!! This therapy will of course have to be administered here in La Paz, or at least in a similar small Mexican community.

If you want to follow along with the family, and track them on their road to recovery, you can use the following link!!

http://www.sailblogs.com/member/svthirdday/?xjMsgID=286491

We all wish you the very best

Good Luck Boren's

The number 5
Jeanne
09/04/2013, La Paz
What's with a number ? Well, not much really. Unless it's the day that you call yourself by a 'new' one!
So, today's number is 5. It's a nice number: Halfway between 0 and 10, divides and multiplies nicely, can be counted on one hand......even looks good with a partner or a 'shadow'.... like 55! A mirror image of it - 55 - hey, looks the same!

Happy Birthday Tom!
P.S. And a very Happy Birthday to fellow 'virgins' Brian L and Dave Calhoun!