In some ways September just flew by, business wise. In others, such as the healing process, it seemed to take forever. We're now into October, and on the 5th was 3 months since the surgery.
I'm still doing PT, and daily exercises, and waiting on my next visit to Guadalajara on Thursday.
The weather may have just made a change towards being cooler. We've had northerly breezes all week. We did see 113 out in the desert last weekend on a road trip. But today, the front and patio doors are open and a breeze is blowing in.
I've tried to use the 'real camera' and find that I get frustrated trying to use it with crutches, and not being stable. So I've attempted to like my cell phone camera better!
Here are a few shots from the past couple of weeks, that caught my eye.
The moth at the top, I found on the window screen at our condo. I'm attempting to identify it, and have sent the photo off to Butterflies and Moths of North America for help - no answer yet. Anyone? 4" across and gorgeous!
Tom usually leaves the condo about 7:30 in the morning and takes the stairs to the bottom level. He's mentioned several times that the variety of moths on the walls of the stair case is pretty amazing. There's a light on each side - 3 sides to a level. I've seen a few, but generally don't leave until 8:30, and by then most of them are gone, except for this one.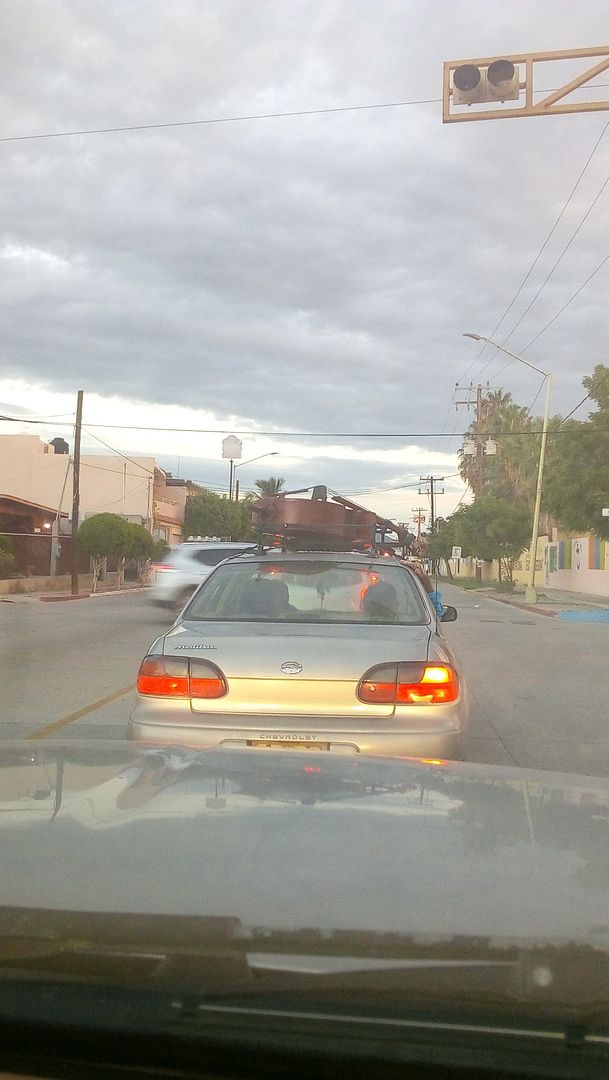 A fairly common site around town. The Mariachi band heading off to a gig - bass on top of the car!
I actually saw a 12' ladder balanced on the top of a car with one arm out the passenger window to hold it. I was driving and chose to move away from it, so no photos!
Seen out side our condo entrance. Which company is it?
I have a package of "Trial Mix" in the cupboard. I'm hoping that it's as nutritional as Trail mix!
And my personal favorite, a gecko on the bathroom window by the pool.
We have a couple in the condo. We hear them at night with their 'chirping' call. They eat the bugs, so we like them!