Staging Southward from Mazatlan
Roy
02/15/2015, Marina Mazatlan, Mazatlan, Mexico


I don't know why the sky insisted on grumbling and weeping over Marina Mazatlan when it was poor me that had to shelter below to the snare drum sound of rain drops pelting the canvas dodger. I'd planned to take Friday morning for the half-hour walk to Walmart to provision the boat for a Monday departure, but I found the lightning, thunder, and heavy rain to be discouraging of such chores. Rumor had it that this would be the agenda for the weekend as well.

I was getting antsy to move on, though, and had been inching toward another attempt at departure southward to Puerto Vallarta. There was little to keep me here except the friends I'd made on the dock and being cooped up in a marina is not my idea of the cruising life. At the same time, I'd built up stationary momentum and it might have taken a motivational tape to get me started. Rain wasn't helping in that regard.

The decks were done and I was completely satisfied with them. Besides being just a really nice guy, Beto and his crew were diligent workers and knocked out the job in four weeks rather than the predicted six. In the meantime I'd completed quite a bit of canvas work, making new covers to match the burgundy ones that I'd had delivered with the new sails. I replaced everything that was too bedraggled to survive much longer, but there remain a few blue odds and ends as leftovers that will last until I rebuild momentum for more stitchery. Anti-bug measures were in place, too, with a concoction of stainless steel rings to spring in and hold mosquito screen in the portholes and canvas constructions to discourage them from entering through hatches and the main companionway.

With the autopilot back in commission (stand by for more disheartening news on that front), there was nothing to hold me back from departure other than a provisioning run, saying goodbye to so many new friends, and paying my marina bill. If it would only stop raining, I'd get on with it.

Cruising Yields to Repairs and Projects
Roy
02/13/2015, Marina Mazatlan, Mazatlan, Mexico
After Emily left, I was determined to resume my southward cruising, so it was on January 7th that I paid my marina bill and headed out of the harbor, stopping at Marina El Cid's fuel dock to top up on diesel and potable water. Past the breakwater I set the autopilot (you might recall her name: Mona Laguna) to steer the boat while I put away fenders and dock lines and hauled up sails. All those chores done, I asked Mona to make a 90 degree turn to head south to Stone Island where I planned to anchor over night and set off the following afternoon for Isla Isabel. That request apparently confused the little lady, who set off on a drunken zigzag course toward our destination. I fiddled with her a little, but to no avail, so I sent her to her room to consider her despicable behavior and hand-steered the two hours to Stone Island, still planning on having a stern word with her about how important cooperation is to a happy crew.




Although I did get this gorgeous sunset out of it, I spent several long, frustrating days of poking and prodding interspersed with no small amount of swearing and several international phone calls to Wil Hamm (the system's designer and manufacturer) before I got tired of trying to fix it anchored out in a somewhat isolated Mexican bay, so I went back to Marina Mazatlan. A week or so later I overcame my discouragement and indulged Wil's request to find some calm seas to go out and adjust a potentiometer hidden inside the cover of the pilothouse control unit. With the help of John and Reina off a neighboring cruising boat, we exited the marina and made a stab at the adjustment. Gawd! I can still not fathom why, but it worked. We returned to the marina with glee in our hearts.
























One would think that I'd immediately head south again, but while waiting on advice from Wil, I'd made a commitment with a local craftsman to redo my teak decks. They've been in bad shape for many years. There were no significant leaks, but many, many screw heads were showing and there were vast expanses of deck that weren't even grooved, much less caulked. It was something I'd anticipated doing when I found skilled, but inexpensive labor and I couldn't pass up the opportunity to get the work done for one-quarter to one-fifth what I'd have paid in the US.

Beto (Alberto Moreno Ortega, owner and primary source of skilled labor for B.B. Marine) predicted six weeks to do the job, so I settled in to knock off a list of my own projects. Mostly that included making new canvas covers for my hatches and deck box as well as mosquito screens for my hatches and portholes. I eventually became quite the seamster and am mostly proud of the results. I also read a lot, slept in late, ate out, and explored the more commercial aspects of Mazatlan with forays to WalMart and Home Depot.


If you'd like to see the bug screens for the portholes and hatches as well as a couple of other sewing projects, go to the Projects album in the Gallery.

I would be sadly remiss not to share the friendly welcome I've received by the marina and its residents. Prior to my aborted attempt to sail south to Puerto Vallarta, I spent a couple of weeks on dock three where I was warmly greeted by my neighbors there. I've since visited several times with Barbara and George, including joining them to cheer the Seahawks through their debacle of a goal line attempt in the last few seconds of that disappointing Super Bowl.

Returning from Stone Island, I requested a slip closer to the marina office with better wifi connectivity, and ended up on dock six. There we enjoyed daily "safety" meetings promptly at 4pm during which I got acquainted with literally a dozen boat loads of cruisers and adopted locals over beers and snacks. What a wonderful group, always ready with helpful advice and directions for this newbie to the Mexican cruising life.

Wings of Morpheus
Roy
01/25/2015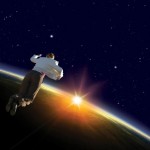 Dream-borne images
Rise out of humid sheets
To fly the crystal evening
I became the night sky
With hair dark streamers behind
And star-glimmered eyes
My delight a silken whisper
Put goosebumps on the wind
Miles were mere nothings
Mountains stepping stones
Then, awakening
I settled, earthbound
Exuberant breathing
Quieted back to rhythm
Searching again for sleep
And the wings of Morpheus

Visitor from the Frigid North
Roy
01/11/2015, Mazatlan, MX
It's been so long since I've added to this blog that I had to go back through my most recent entries to recall what lies I've told. Thus, I discovered that I'd ignored Mitch's participation in my Old Mazatlan explorations. (Apologies, Mitch.) He did inspire several forays into town, not the least of which were his multiple attempts at becoming an actually legal tourista. The border authorities kinda skipped the visa process when he drove into Tijuana with his brother. Then, when he tried to fix the problem, they made it just too hard to correct their mistake later. The best they could do was offer to deport him so that he could come back in properly. Isn't bureaucracy a wonderful thing? So, Mitch explored with me under cover for a couple of days, then packed up his sh*t into two back packs, one HUGE, one normal and we had a fond farewell at the Club Nautico dinghy dock late one Sunday night. He was off on a southbound bus to meet friends and climb the second (?) highest peak in Mexico, them embark on a hazy plan to become a reverse wet back working on a truck farm down in Guadalajara somewhere.

On December 30th my daughter Emily would become the first state-side visitor of my cruising life. Enrique arrived early in his taxi to pick me up at the marina as promised and delivered me to the terminal in plenty of time. Unfortunately, US Air didn't do the same for Emily. I had entertainment, though, since someone else had arranged mariachi to greet their guests. It was a disappointment that Emily didn't come through while the performance was still under way. I would have liked to claim that I'd ordered them for her.

Back on Mabrouka I got Emily settled in and we set off on a week of visits to Old Mazatlan, great meals out, tourist shopping, poaching sunshine and beach-side chaise lounges at nice resort hotels in the Golden Zone, and several 10 mile, 10 peso (66 cents) bus trips along the malacon to explore down town.

Though Emily had arrived on December 30th, I hadn't made New Year's Eve plans. Fact is, I'm not much of a New Year's Eve-er, but there was a night of music and food to be had at the nearby Chill and Grill, so it didn't take much encouragement from Emily for me to book a table. I had high hopes for the music since I'd heard some really great rock-n-roll rolling across the harbor from the place on Wednesday afternoons. What we did get was a pretty good acoustic guitarist, but he was, frankly, a bit of a sleeper. Anyway, he didn't keep our attention for the four hour trip from dinner to 12 PM. Emily was more interested in the throbbing base from the techno that was imposing upon our evening from across the highway. Needless to say, we didn't make it to midnight and went back to Mabrouka for (disappointingly for Emily, I expect) a DVD. That didn't keep me going 'til midnight either. What an old fart.


One of our nicest down town discoveries was the El Presidio restaurant a couple of blocks west of Plaza Machado. We had been browsing graffiti and street art on the exterior walls of abandoned buildings and alleys in the neighborhood west of the plaza and Emily had discovered some entertainingly inappropriate tags that she chose as a backdrop for Facebook selfies with her smart phone. I had anticipated photo-ops myself, and had lugged my Canon and a tripod along. Doorways are a common attraction for amateur photographers since they hold still for you and offer fairly static variations in color and lighting that allow the untalented to play with camera settings at their leisure.


I'd found one across the street from Emily's photo shoot. It was a dark hole in a broad expanse of wall that boasted a modest burnished bronze plaque outside, giving an air of restrained elegance that contrasted with the street art only 15 yards away. After clicking away a few shots, the subtle drama of the entranceway pulled me in where I was greeted by three attractive young ladies who were stationed semi-formally in black skirts and white linen blouses beside an elaborately lettered menu displayed on an easel inside the door. One that spoke English escorted me, with my camera and tripod, down a rustic corridor and into a huge shaded, but open-roofed interior dominated by dilapidated plaster walls that were patch-worked in rough brick, with contrasting terra-cotta tiled patios and dramatic stairways that found their way up past the arching branches of the large fig trees that grew up through the ruins. The cool, shaded setting echoed enchantingly with the quiet chatter of splashing water and the whisper of leaves.

A more skilled photographer could have spent hours in photo-shoots there. It became apparent that the hostess had been trained to keep her restaurant from becoming a mere backdrop for local photographers, since she immediately informed me that I couldn't take pictures unless someone in my party was in them. The place was whispering devilishly in my ear to be photographed, so I went back outside and lured Emily in for pictures. I hadn't planned on staying to eat, but the ambiance was so enticing that we did decide to have a couple of drinks and came back a night or two later for dinner. I have since recommended El Presidio to several friends and "liked" the restaurant on Facebook. Enter "El Presidio Mazatlan" in FB's search box if you'd like to see more.

Our other favorite destination was the "old" Pueblo Bonito in the Zona de Oro just south of the marina. We'd put on our bathing suits, throw towels over our shoulders, pack reading material and suntan lotion, and walk the mile or so from the marina to the big resort hotel. I don't think we were unwanted or even unusual in "sneaking" through the lobby to the beach behind the hotel. No one questioned us as we walked past reception, around the pool, and down the seawall steps to cop a couple of chaise lounges in the sun and enjoy free entertainment throwing a borrowed Frisbee, playing in the surf, watching the other tourists, and fending off beach vendors. All we had to do was bring our own towels. In any case, we made up for our imposition by buying lunch and cocktails.

Emily and I spent a grand week together, shopping and touristing and eating out and generally lazing about, so it was sad to send her on her way.

Shifting northward
Roy
12/24/2014, Marina Mazatlan, Mazatlan, Mexico


My first week in Mazatlan had been taken up mostly with exploration. I'd used the anchorage at Club Nautico as a convenient and inexpensive base while old Mazatlan enchanted me with her golden evening light. Daughter Emily was to come to Mexico on December 30th for a visit, though, and I thought more convenient access to restaurants, groceries, and showers ashore would make a better welcome for her, so I moved Mabrouka up to Marina Mazatlan on Christmas Eve. What's more, Jim and Karen had invited me to enjoy Christmas dinner aboard their lovely Hans Christian, Apropos, so there I was with two reasons to take the two-hour motor to the north side of town.

The trip was my first extended daylight exposure to the near coastal waters we'd sailed across from La Paz and my enlightenment was not altogether reassuring. Our one AM landfall from Ensenada des los Muertos the previous week had been abbreviated by a brief jog upwind while we took down sails, and now I was seeing how disastrous that could have been. I know we were well enough out to sea for the maneuver, but the bright light of day showed me several small, un-lighted rocks awash far enough from the coastal islands to be an unexpected surprise at night. I could well imagine a ragged sailor, worn to the nubbins by a rough crossing and in search of more shelter to douse his sails than we needed, coming to a shocking halt on top of one of these.

I did have reason, though, to worry a little about clearing the marina entrance this day. I'd heard much conversation by local and incoming cruisers on the morning radio net about the dredge that is often working just inside the jetty. Apparently there is a standing problem with the channel silting up. None other than my friends Jared and Amanda on Friday had had a gut twisting experience there. As veterans of several Pacific Northwest bar crossings, they were prepared for some swell at the entrance, but were unnerved when the outflow for the one that rose behind them was enough to draw them to a stop, even though they were gunning their engine to full power to outrun it. At the same time, their depth alarm began to sound, warning them they were at the edge of their comfort zone for water under their keel. They survived, only to be confronted by the dredge with its suction pipes restricting the channel. With no where else to go, they just had to tighten up their little sphincter muscles and slip between steel hull and rocky shore.

Their tale ended well, but provides the only real drama I have to interest readers in my own dull entry to Marina Mazatlan. I'd timed it for high tide, the swells were not running large, and the dredge was not working. I found the approach to be as expected from having read and reread the guidebook. Though I'd heard only silence in response to my earlier radio requests, the marina had finally answered about a half mile out with a slip assignment, so I motored Mabrouka at least semi-confidently between the jetties, past the El Cid Resort Marina and the slumbering dredge parked along one side of the narrow channel toward Marina Mazatlan deeper inside the lagoon. I was greeted at slip 26, dock 3 by white-shirted security guards who took my lines, hola-ed me to their marina, and handed me a magnetic gate card.

There was enough left of the day for me to reward Mabrouka for her fine service crossing the Gulf of California with a full rinse and rub down.

A Sophisticated Acquaintance
Roy / Varied cool to warm, night to day
12/24/2014, Mazatlan, MX


Anchorage off Club Nautico is not luxurious, but it is cheap and provides much better access to Old Mazatlan than the marinas up in the Golden District north of the city from where it's a 100 peso taxi ride into town. At night, when music strides around the bay from neighboring restaurants, one can almost see back in time ten or twenty years when the club's huge round arcade, sheltered beneath its broad red tiled roof and standing proudly behind a row of shiny Med-tied yachts, was only beginning its downslide from cruising Mecca-dom. I can imagine knots of Izod-shirted sailors luxuriating in the cool, Mexican evening air with pina coladas and cervesas while they swap tales of Gulf crossings.

Now there are no boats moored at the sea wall and only a couple of dinghies at a time tie up to its dilapidated float to brave the walk up the creaky, rusting gangway to the parched cement patio. The promenade is lit only by a few bare, incandescent bulbs and it must have been many years since a prize marlin has hung in the stocks in front of the club. The blue and white stuccoed walls still echo the moonlight, but the reflection is marred by failing plaster and muted by the dusty patina of years. Now fifty pesos a day gets you access to brown-tinged bathrooms and showers, a spigot for undrinkable fresh water dispensed through hoses furled in lazy coils on the pock-marked boat ramp, a corner in which to pile your trash, and a friendly local who poses as night security.




I've taken the walk and, lately, ridden my bicycle several times into the city, skirting up and around one side or the other of a rocky knob of residential area, or along the commercial wharves where the water taxis and ferries load and unload passengers from Stone Island and La Paz, then through the outer streets of town. The road on the sea side of the hill is the scenic route, topping rocky shore with a cement rail that offers jutting view points along the way. The biggest one harbors souvenir and drink vendors to help the tourists pass the warm, sunny days.

All roads from Club Nautico seem to lead into Mazatlan's historic district. I've been in most days in the week or so that I've been here and am just starting to know the area and its people. Even more than in La Paz, I think of Mexico as a country of color. The reds and yellows and greens and blues here are magnified by the bright sun, even in winter. Night time in the city is lit mostly by incandescent lights that give a golden tinge to all the edges and bolster the brown-skinned faces with a healthy tone.


Life teems here. The streets, shops, and squares are always roiling with people, few too intent on their own business not to look up to swap a smile and an "Hola!" Though there are abundant stores displaying modern wares in cases ablaze with fluorescent light, I haven't found a supermarket here yet, just street vendors and the open air market.

A walk through the shopping district is cacophonous with music blaring from the shops, from traditional Mexican to hip-hop. If I spoke Spanish I could offer you a more definitive description, but there appears also to be a living to be made in equipping your car with a pair of roof-mounted bullhorns and blasting political or marketing messages through the canyons of buildings and homes of Old Mazatlan.










I'm not a late night person, but it seems to be true that dinner hour really doesn't start before at least seven or eight in the evening. At dusk the waiters and maitre d's are still chatting at empty tables that have been prepped for the onrush of diners and night vendors are still setting up their tables on the squares. A few people are strolling, but it's a lull between afternoon shopping and evening social hour.



Last night I sat down at a sidewalk table outside an essentially empty square-side restaurant at seven and things were only starting to crank up around eight. The square had filled with wandering couples, at least two wedding parties spilled out from their indoor venues for photo-shoots, people shopped for nicknacks among the crafts spread across the folding tables, and benches filled up with young women chatting their evening gossip.


I've come to know Mazatlan only by her gaudy dress, but her curves, style, and poise hint at a mature, sophisticated lady who welcomes the world and offers enchantment to any who linger to spend time with her.