Oh what a summer!
Kevin Walters
10/20/2008, Grand Rapids, MI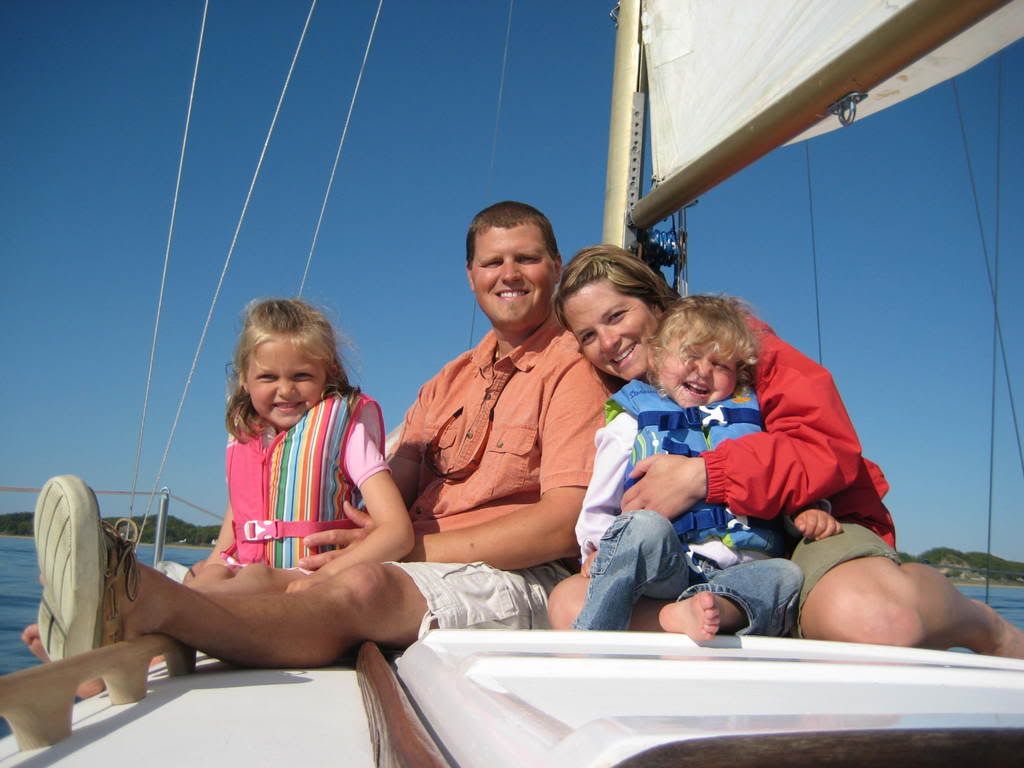 I should have listened to my dad when he warned that purchasing a boat would only make the summer go by more quickly and the winter more slowly.  I now sit at the edge of a very long winter reflecting back over a very fast, yet enormously memorable summer. Maybe somehow putting it all down on paper will make the sailing from this past summer last just a bit longer.
Let's start at the beginning.  Before this summer, I was first a young boy spoken to by the sweeping sheerline of a Maine lobster boat, an adolescent teen enjoying the wind in my hair from the bow of mom and dad's boat, and more recently a novice sailor seeking wisdom from the wind and waves aboard a Laser on Lake Charlevoix.  In fact, just one summer ago I was a mere armchair sailor, reading all I could about sailing adventures in far off places.  The internet was my virtual showroom allowing me to step aboard the thousands of sailboats listed for sale and drift just a little further into my South Pacific fantasy.
But now, as you read on, you will see that I've traveled far in just one summer, even if mostly only figuratively.  Am I any closer to my dream of sailing around the world?  Not really, mathematically speaking.  Absolutely, however, in reality!  I am blessed with the knowledge that the longest voyage starts by simply casting off the first dockline.  So read on and see just what all was involved in casting off.
On the day our little Hannabel was launched back in early May, I pondered in my blog: "...did I miss some hidden spot on the hull where water could get inside?  Will the swingbolt for the centerboard be watertight?  Time will tell."  Indeed, time has told.  Hannabel is seawatertight.  However, she does let the occasional drip into the cabin during heavy rains.  Rain seems to be the enemy of Hannabel, not the sea.
Then came our first sail on Hannabel.  I gulped it all in: the way it felt to rig the boat for real sailing, the smell of 2-stroke outboard exhaust, the adrenalin rush that accompanied scurrying forward on the deck to set the sails for the very first time, the sweep of the boom on that very first tack.  Sailing on this day was everything I had hoped it would be.  Well ok, I didn't hope for the outboard engines problems (snapped pull cord, stuck choke, broken shifter) but engines aren't part of real sailing anyway, are they?
As we gained experience and confidence, we began to let more and more water pass under our keel.  On a sunny day in early June we had a full crew (mom, dad, Hannah, Isabel, Erin and I) aboard as we pointed the bow north to Muskegon.  The air was light but our ambition was heavy and hunger for lunch at Dockers kept us moving!  We logged 25 nautical miles that day in the sun and calm seas.
When we paid our slip fees last winter, we made an oath to spend more days and nights aboard Hannabel than at home.  Sure, we massively lowered our "cost per night" of slip rental, but more importantly we got to live a docklife.  In any typical seven-day summer week, we spent at least four nights aboard Hannabel.  That equates to about 50 nights spent aboard Hannabel this summer.  So much time spent at the marina engenders you with many new friends and neighbors.  There were parties galore celebrating birthdays, anniversaries, launchings and just about any other event including the setting (and sometimes rising) of the sun!  We twice watched the air fill with "sulpheric sensation"; once on the fourth of July and a second time during the Coast Guard festival.  Camaraderie is a big part of boating for our family.
Then there are all the great meals we enjoyed while onboard or on the dock.  One of my favorites was Erin's crockpot rendition of "meigas", a Mexican-style quiche served on top of corn tortillas...very delicious!  Or how about a seafood bake and boil right on the dock with crab, shrimp and fresh-caught yellow perch?  We had that too!  Of course we also had plenty of tube steaks (hot dogs) and beans when we needed to keep things simple and quick.  But hey, there's probably not a better food on earth for the money.  In fact, one of the most memorable meals was an afternoon of grilling brats on the beach in Holland just as the summer's most formidable storm was rolling in.  The coast guard wisely recommended that we "wrap up the barbeque and take shelter".  We heeded their advice and took the brats with us on the dinghy back to Hannabel and waited out the big storm in the "safety" of the cabin while we dinned.
We also were able to experience a fair amount of racing in our first season on the water with Hannabel.  Erin and I will not soon forget the 8+8 Rally.  This was our first chance to sail far from the land, as we raced 8 miles out into the lake and 8 miles back.  There was a stormy start, a becalmed middle and a perfect end.  Then there was the 70th running of the South Shore Yacht Club's Queen's Cup.  I was fortunate enough to get a spot as a foredeck crewmember on a 38 footer.  I'll never forget the fear of starting the race in a fierce thunderstorm with low visibility, or the feeling of a massively heeled boat racing along with hundreds of other boats at an average of 8 knots, or crossing all 84 nautical miles of Lake Michigan in the dark of night, or the sight of dozens of flashlights lighting up sails to check telltales, or the sleeplessness of "sleeping" on a heeled side deck, or the view of the sun rising over Grand Haven from 30 miles offshore.  I also enjoyed many Wednesday evening races aboard the same yacht and can tell you that there's more to be learned sailing one race than there is in an entire season of cruising and daysailing. 
Between cruises to Muskegon, Holland, Port Sheldon, Hoffmaster State Park and as many day sails as we could manage, Hannabel tallied some 225+ miles of sailing this season.

 

Sure, that's just a couple days worth of water beneath the keel on passage from the Galapagos to the Marquesas, but we're plenty proud of season one's logbook.

 

Stay tuned for off-season reports, random sailing thoughts and plans for season two!
A night on the hook!
Kevin Walters
08/29/2008, Port Sheldon
On what turned out to be a rather spontaneous decision, we threw off the docklines and headed south towards Port Sheldon and Pigeon Lake.  The crew consisted of Erin, Hannah, Isabel, Shasta and I.  The weather forecast was perfect...10-15 knot winds out of the north with waves 1 foot or less.
We rounded the south pier head of Grand Haven at about 11:30am and enjoyed a perfect broad reach for 8 nautical miles to Port Sheldon.  The wind and waves were so very right that day that we did not even once take a tack or pull on the jib sheet.  Just awesome sailing!
Port Sheldon is listed in the chart books as simply a "port of refuge" with no services or marinas.  Fair enough, we were looking for a bit of relaxation and quiet before the busy holiday weekend that lay ahead.  The channel into Pigeon Lake is a bit narrow and sometimes shallow, but well worth navigating because of the clear blue water and narrow sandy beaches on the shorelines.  We motored down the channel and into Pigeon Lake proper.  Just inside the lake to the north side is a nice little cove that is perfect for anchoring.  We dropped the hook in about 12 feet of water and promptly took Little Coconut ashore for some exploration and a shore lunch. 
Little Coconut is a small but very row-able dinghy.  She just barely holds the four of us, so Shasta (our golden retriever) was "forced" to swim in along side of us.  This may sound a bit cruel, but if you know Shasta you know that we suspect her of having gills and webbed feet. 
The northern shoreline of Pigeon Lake has a very nice boardwalk along a narrow sandy beach that stretches for about 1/2 mile.  We ate our picnic lunch one of the many benches along the boardwalk and scoped out the best place to spend the afternoon laying around on the beach.
By the time we made it back to Hannabel, the anchorage was starting to fill in.  In fact, by nightfall there were about 12 boats total.  Some new friends of ours from our marina even showed up in their Pearson 30 named Whispurr.  I spent a few minutes in the diminishing dusk light with my mask and snorkel on scrubbing the bottom of Hannabel.  The water in Pigeon Lake was so clear and inviting that I couldn't resist the evening swim. 
After our dinner of grilled catfish, garlic bread and salad, we enjoyed a Dark & Stormy (rum & ginger ale) in the cockpit as the girls played in the cabin.  As the sun set on a perfect day, Marc, Marilyn and their two kids (from Whispurr) joined us in the cockpit for an hour or so of laughter and fun. 
We woke the next morning to a very serene lake with a heavy fog concealing anything more than 50 feet away.  After we all had breakfast, we took a morning bath/swim in the lake.  There's nothing more refreshing than an early morning swim in a clear, calm lake! It's wasn't long after 9:30am that we had Hannabel headed back towards Grand Haven. As luck or King Neptune would have it, we had a light 8 knot breeze out of the south/southwest and were able to again enjoy a tackless broad reach all the way home. In fact, the sailing was so smooth and peaceful that the girls enjoyed at least half of the trip in the dinghy as it was towed behind Hannabel. Good friends, good sailing and a peaceful anchorage make for a very memorable late summer voyage!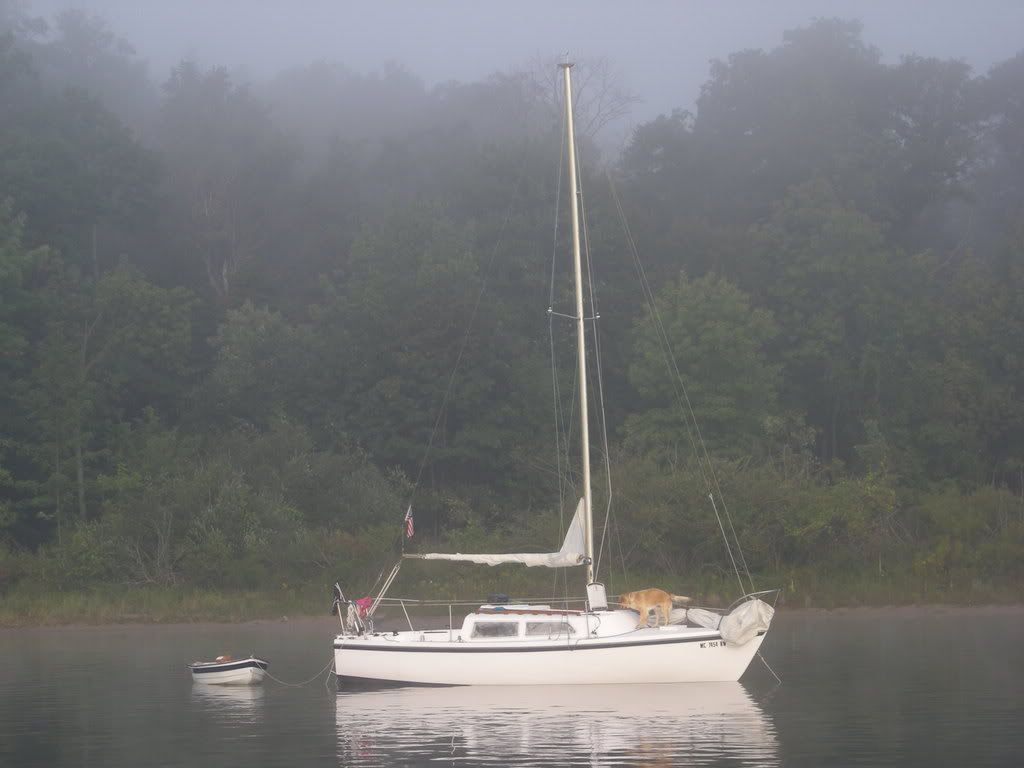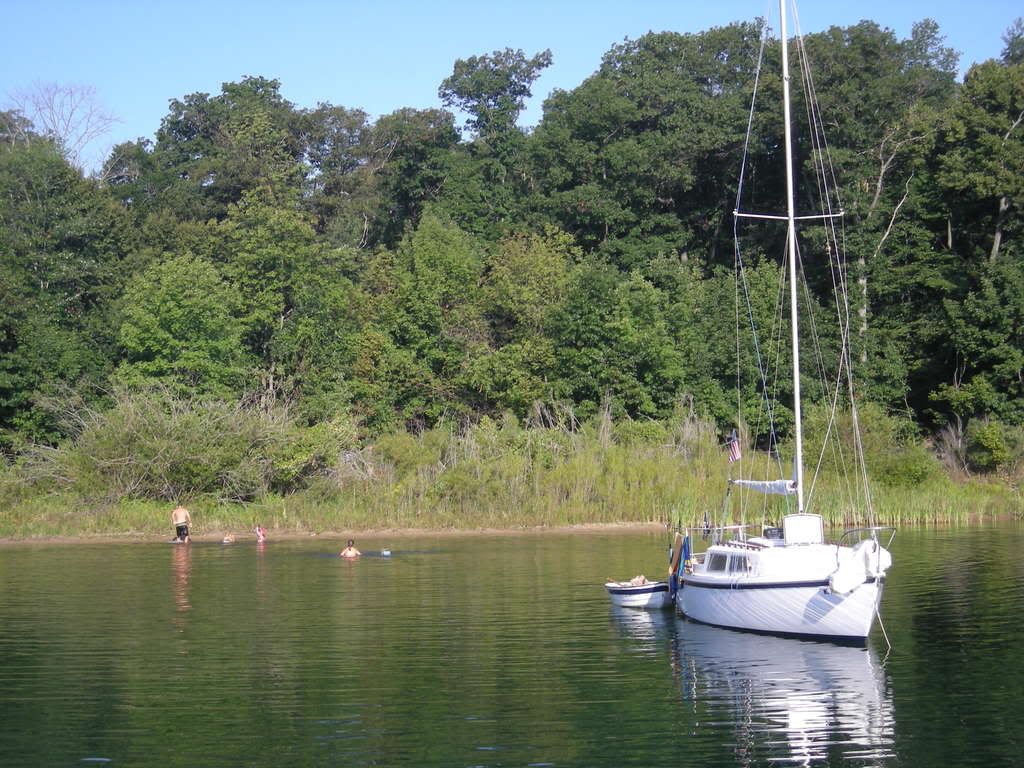 It's good to be away!
Kevin Walters
07/16/2008, Grand Haven to Holland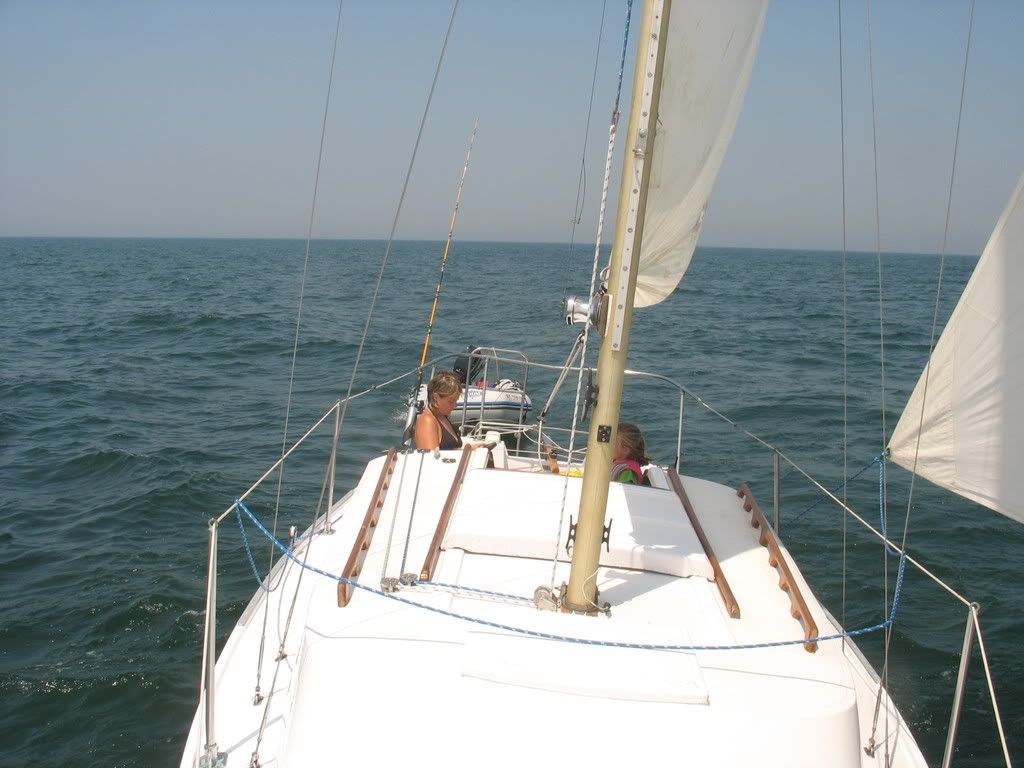 On Wednesday, July 16, 2008, we embarked on our first overnight cruise from our homeport.  We had originally planned to sail from Grand Haven to Saugatuck (~24 nautical miles) to meet up with some friends who have a boat there.  The voyage from Grand Haven to Saugatuck affords a couple of ports in between for weathering a storm, provisioning, etc.  The ports are evenly spaced with Port Sheldon/Pigeon Lake being a short hop at 9.5nm and Holland being an additional 8nm. 
The forecast for Wednesday, our departure day, called for winds out of the south from 5-15 knots.  This meant a tough, slow beat upwind.  Luckily the seas were only 1-2 foot and the sky was clear.  We stayed on Hannabel the night prior to the trip and both Erin and I woke early Wednesday morning (6:00am) with excitement, ready to begin our journey.  We rounded the Grand Haven pier and headed south at about 9:00am.  The girls both played for the first few hours.  Our dog, a golden retriever named Shasta, slept.  Then after a few snacks and a light lunch, both girls took a nice nap while Erin and I kept Hannabel on tight SE/SW tacks as we made our way south.  At about 2:00pm somewhere just south of Port Sheldon we decided that we would call it a day and make port at Holland.  We ended up pulling in to Holland and Lake Macatawa at about 4:00pm.  The 17nm trip from Grand Haven had taken us 8 hours and plenty of tacks.  We set two bow anchors and then took the dinghy to shore to cook dinner.
We were grilling our dinner on a beach about ¼ mile from our anchorage when a Coast Guard RIB pulled up and announced on their loud speaker that we should "wrap up the barbeque...there's a storm headed our way with wind gusts to 50 knots and possible hail."  Needless to say, we hastily broke camp and hurried back to Hannabel to prepare for the blow. 
The sky darkened and a very ominous roll cloud appeared just as we approached Hannabel from the dinghy.  Erin, the girls and the dog all prepared to hunker down in the cabin as I scurried about on deck in gusty winds and a light drizzle tying down the sails and worrying about the anchors holding.  As several strong wind gusts blew across our bow, I quickly decided that I'd feel safer picking up one of the many vacant nearby mooring balls rather than trusting our undersized anchors.  All ended up well as Erin masterfully maneuvered Hannabel under power while I secured a bowline to a mooring ball just as the storm hit with full force.  We hustled down into the cabin and finished our dinner with all hatches and hatch boards secured for a damp, rolly start to our evening.  The storm moved on after about an hour and we enjoyed a pleasant evening on the mooring. 
The next morning, decided to abandon our plans for Saugatuck and grab a slip at Eldean Shipyard to enjoy the pool, hot tubs, restaurant and many other beautiful cruising sailboats at the marina.  Hannah and Izzy were thankful for a warm pool while Erin and I truly savored walking the docks and looking at all of the sticks in the harbor.
After two nights in Holland, we decided to head back to Grand Haven because of many severe thunderstorms in the forecast for the next several days.  We left Holland at about 8:00am on Friday morning with strong winds (20 knots) out of the south and 4-6 foot seas.  As we motored out of the breakwater we all felt a little nervous and uneasy with the motion of the boat under power.  Truly one of the greatest attributes of sailing vessels is their balance and relative comfort (compared to powerboats) while under sail.  We raised the main with a single reef and shut of the engine.  Hannabel quickly settled in to a nice comfortable rhythm and we gradually gained our confidence.  With the seas and wind at our stern, we were able to let the main out and enjoy a nice surf to the north.  After about 30 minutes, we decided to raise the 100% jib.  After the jib was up, we sailed wing-and-wing northward at about 5 to 6 knots.  Another hour passed and we felt like the wind had decreased a bit (perhaps 15-20 knots true?).  At that point I went forward on the deck and took down the jib and hanked on the 120% genoa.  With a decrease in wind speed and a slight direction change we were able to cruise at an average of 6.5 knots on a broad reach all the way to Grand Haven.  The steel drum music and sing/dancing of Isabel and Hannah made for a very enjoyable cruise home.  The return trip took us about 4 hours, half the time of our initial trip.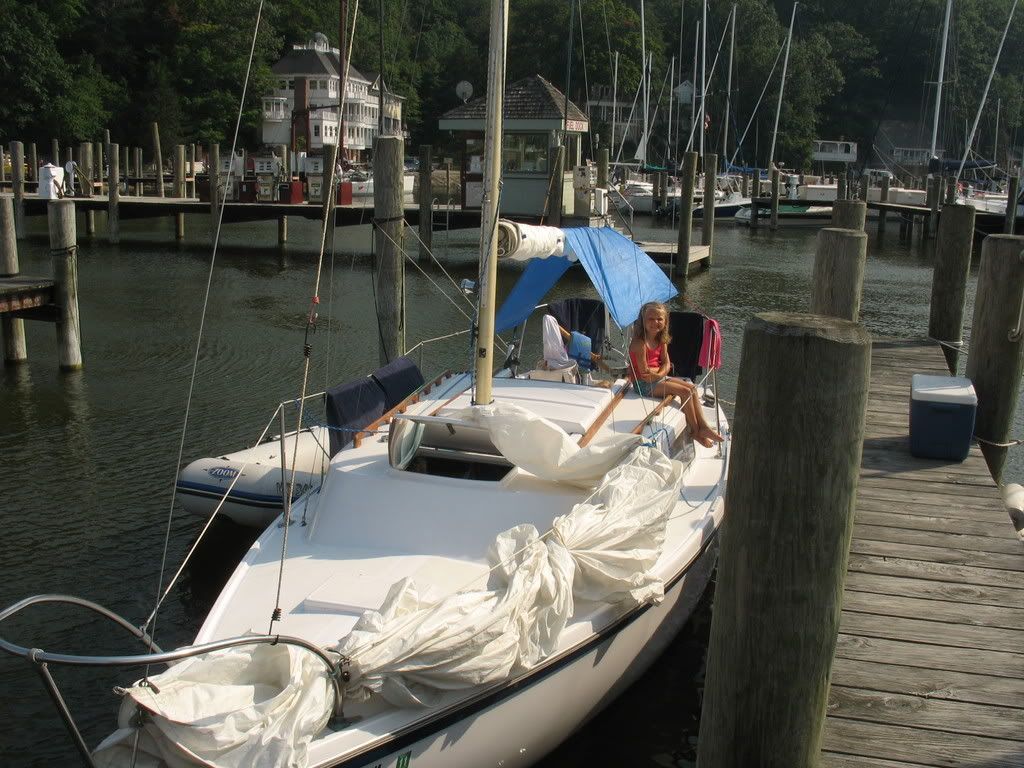 8+8 Rally
Kevin Walters
07/10/2008, Grand Haven, MI
The Grand River Sailing Club graciously invited Erin and I to participate in their annual "8+8 Sailing Rally" and we happily accepted. 
The 8+8 Rally is a laid back "race" that uses a handicapped start so all boats finish relatively close together.  The course is set so the race has one turning mark 8 miles out on a beam reach.  I know many of the regular GRSC members don't really consider the 8+8 to be a race, but believe me, Erin and I were racing!  This was our first organized sailing event together with Hannabel and we're happy to report she did great!
The race started with dark storm clouds looming overhead and 15 mph winds bustling about.  But the conditions quickly mellowed out and all participants were sitting still in the water with little to no wind for about an hour.  At that point the race committee decided to shorten the 8+8 to a 6+6 (6 miles out, 6 miles back) race.  Because of our PHRF handicap starting place, we were the first boat to round the turning mark and head back for the finish line.  The wind increased to 15 mph all the way back and we cruised along at a steady 6-7 knots.  We ended up finishing in 6th place out a total of 12 boats.  Not bad for a couple of newbie sailors!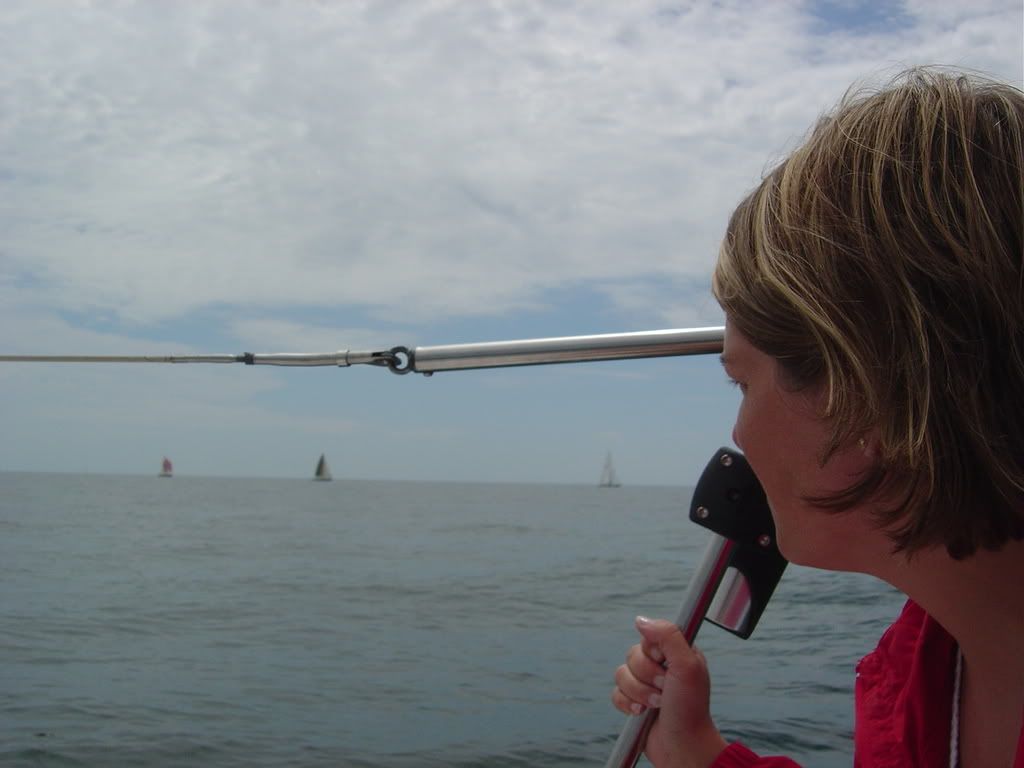 Queen's Cup
Kevin Walters
07/09/2008, Grand Haven - Milwaukee
It's been a while since I've updated the blog, so I thought I'd take the time to make a few posts.
I was blessed with the good fortune of being asked to crew on 37 foot sailboat for the 2008 Queen's Cup race.  For those unfamiliar, the Queens Cup (http://www.ssyc.org/queenscup/default.asp) is one of the oldest cups in world-yachting still being offered for competition every year.  The race begins on the western shore of Lake Michigan in Milwaukee and finishes on the eastern shore in Grand Haven. 
Our boat and crew crossed on Wednesday morning from Grand Haven to Milwaukee (approximately 72 nautical miles) in near perfect sailing conditions.  We had 15-25 mph winds on our beam nearly the entire way and averaged about 6.8 knots for an 11 hour crossing. 
The race back home was even better.  We started in a thunderstorm and tacked around the starting area with a double reefed main.  Eventually the storm passed and we shook out the reefs and enjoyed an all night sail with the same winds (15-25 mph) but an even faster average speed of about 7.5 knots for a 9 hour and 47 minute crossing.  The boats, stars, lake conditions, skipper and crew were all very enjoyable. 
I learned a lot about sailing and Lake Michigan and am grateful to the skipper and crew of Windfeather for allowing me to take part.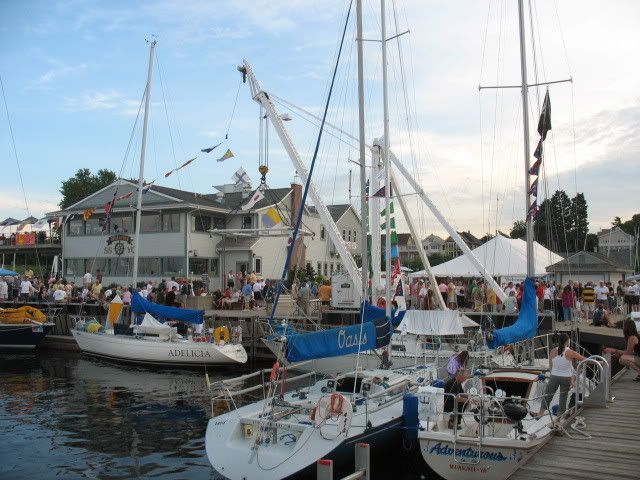 Dockers for Lunch!
K. Walters, sunny, N winds 5-10kts
06/03/2008, Grand Haven to Muskegon
This past Sunday marked the first trip on Hannabel that was more than a mere daysail. Erin, Hannah, Isabel, my mom, dad and I all shoved off from the docks at North Shore Marina at about 11:00am and headed north to Muskegon for lunch.
The weather called for light air (5-10kts) out of the north, so we knew might be in for a long, slow trip of only 24 total miles. Still, we were eager to get some mileage beneath our keel so we worked our way windward...for about 3 hours. The trip to Muskegon was uneventful, as we munched on my mom's almond bars and basked in the sunny (but cool!) 1st day of June. Just west of Grand Haven we observed a couple of the USCG boats practicing towing drills as we sailed by at a very leisurely pace.
We pulled into the Muskegon breakwater and channel around 2:30pm and motored our way to Dockers. The food was good, even if they did take the very memorable calamari off the menu. There was also a live blues band and plenty of activities for the girls.
The trip back to Grand Haven was equally mellow. The winds remained at around 5kts, but shifted to a more NW heading. We sailed with the main and genoa about half way and then started the motor to give us a little extra push. The air temperatures were a bit warmer on the return trip so we all soaked up sun in the cockpit and on deck. Hannabel returned safely to her slip around 7pm.
We can't wait for our next trip!
What's in a name?
Kevin Walters
06/03/2008, Grand Haven, MI
This is a brief but important post I should've made long ago. We decided very early this year that the name of our sailboat is to be "Hannabel", which comes from simply combining the first four letters from our daughter Hannah's name and the last four letters from our daughter Isabel's name. Tricky, huh?

In any case, our beautiful little boat is hence forth to be known as the sailing vessel Hannabel!


Sailing!
Wind: N <10kts, 60 degrees, cloudy
05/10/2008, Grand Haven, MI
Our first sail on our "new to us" boat was short but ever so sweet! 
We tried our sails and running rigging at the slip before departing for the lake.  Everything seemed like it was working as it should, so we shoved off for Lake Michigan.  Once reaching the big lake, we motored out about a half mile before shutting down the outboard and preparing to hoist the sails.  Erin took the helm as I scurried about the deck and cockpit setting the sails and sheets.  Once the jib went up, we were off!  The conditions were light (wind to 10 knots from the North), but we made headway and enjoyed every minute of the first sail.  We practiced making a couple of tacks and alternated between beam and broach reaching.
On the way in we encountered engine problems, as the pull cord for our outboard broke, the choke stuck open and caused the engine to run poorly and to top it all off, it wouldn't stay in gear!  Luckily we had my mom and dad nearby with the mothership (their Carver motoryacht) for assistance if we needed it.  Erin and I both were nervous bringing the boat back to the marina and slip while dealing with a motor that kept stalling, but we did so without incident.  Erin worked the tiller like an experienced helmsman!
Here are a few pictures from the outing taken from the "Mothership".
Motoring out of the marina: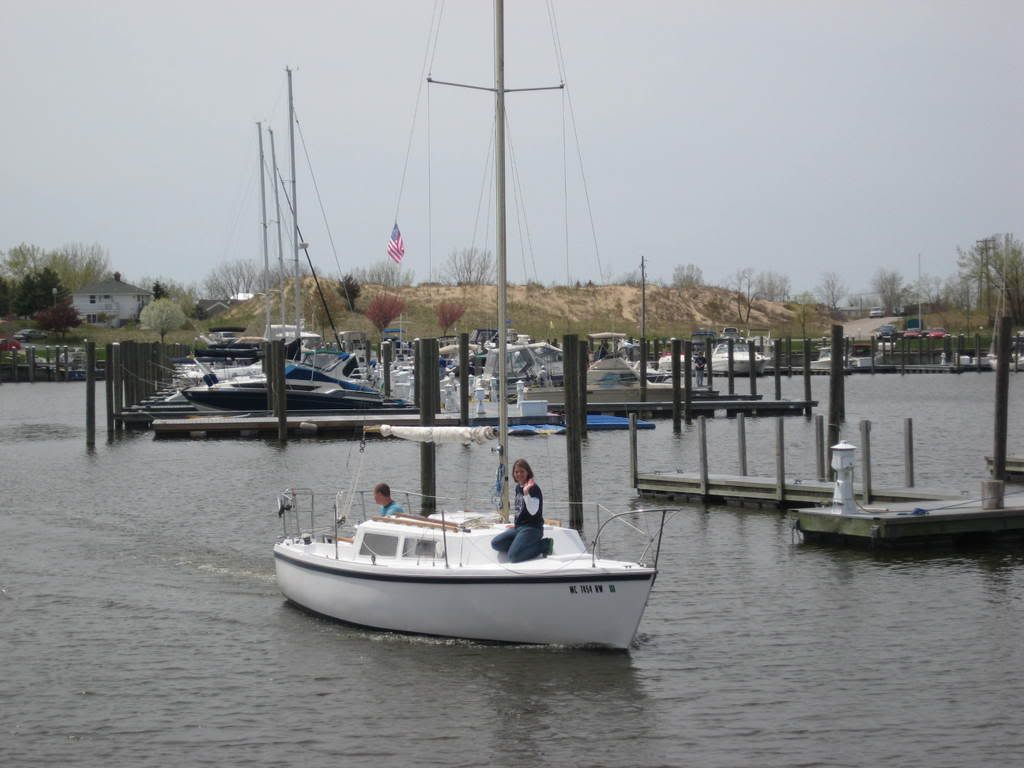 Readying the sails:
Sailing!: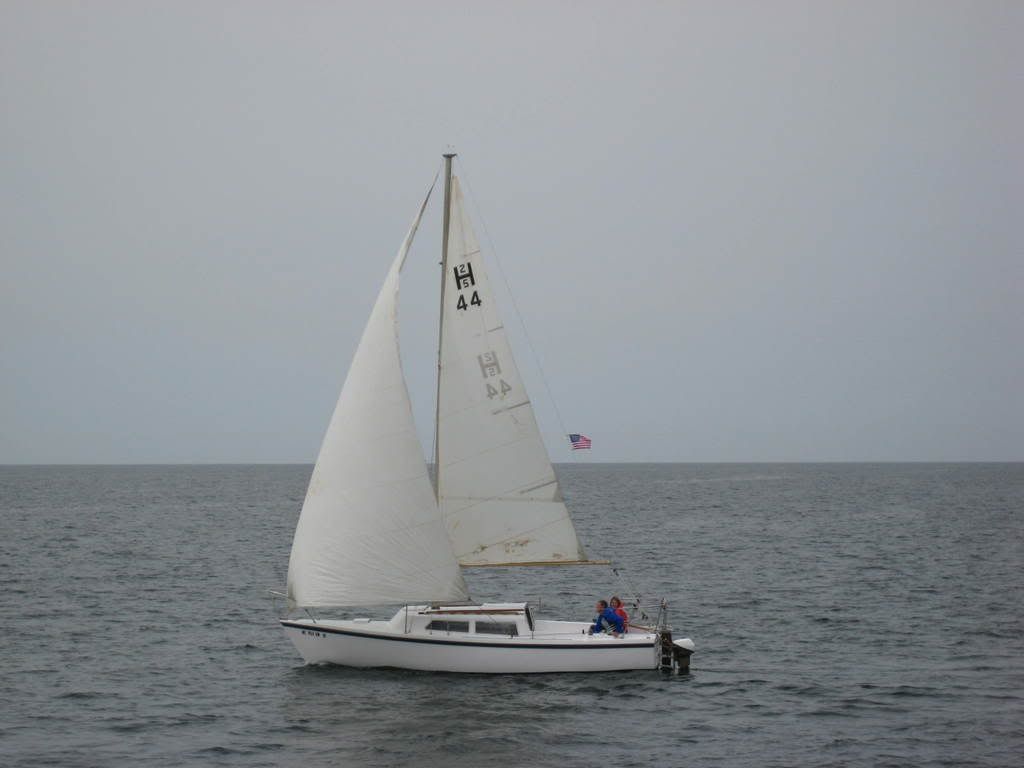 Splash!
Kevin Walters
05/09/2008, Grand Haven, MI
The big days for our little boat keep rolling in. Today we splashed her at her new summer home, North Shore Marina in Grand Haven.
The marina staff used a modified fork lift that is typically used for their "in and out" service to lift the boat off the trailer and set her gently down in the water. Even though the staff knew exactly what they were doing, I was still quite nervous as I watched the boat lift from the trailer and be set into the water.
I was also nervous after the hull hit the water. Would it keep the water on the outside where it belongs? Or did I miss some hidden spot on the hull where water could get inside? Will the swingbolt for the centerboard be water tight? Time will tell.
Anyway, here are a few pictures (courtesy of my mom):
And finally, resting peacefully in her slip:
Stepping Up
Kevin Walters
05/07/2008, Grand Haven, MI
Finally...the day I've been anxiously awaiting since last fall has arrived.  Today we stepped the mast.  Obviously, this is a big day since it moves us that much closer to actually sailing our "good old boat".  But despite my excitement, I was also very anxious because of the unknown.  I've never stepped a mast or rigged any sailboat larger than a Laser. 
Luckily, I received a lot of great advice from forums members at Sailnet and a few other trusted Helms owners.  Based on this advice, I constructed a gin pole from Home Depot materials (10' 2"x6", 4 eye bolts, ratchet strap) that made the job very manageable.  I cut the gin pole to fit around the base of the mast and used the ratched strap to hold it in place.  We then attached the forestay to the opposite end of the gin pole and ran a line from the same end through a block on the bow and back to the sheet winch in the cockpit.  One person stood holding an extension ladder which supported one end of the mast.  Another person operated the winch.  Yet another stayed at the mast hinge to keep the mast from tipping to either side.  The fourth person moved frantically about the deck attaching stays and shrouds to chainplates.  It was a beautifully orchestrated dance, in hindsight, of course.
I was fortunate enough to enlist the help of my wife, mom, dad and two little girls.  Six novice "steppers" working together to get the mast up before sunset.  I'm happy and proud to report that we did it without incident!  Yes, we had some tense moments when I thought the halyards had come off the sheaves after the stick was up and when the weight of a heavily leaning mast lay on my shoulder when we forgot to cleat off the tailing end of the line from the sheet winch.  But I can't express the shear joy of seeing our little boat with an upright mast waiting just feet from the water for her day to be splashed! 
Coming home!
Kevin Walters
05/07/2008, Grand Haven, MI
Today was a big day for our sailboat. Most of the hard restoration work has been completed and she's moving to her new home in Grand Haven on Lake Michigan. We loaded her up with all of our crusing gear and towed her west.
Recently completed projects include:
-New compainionway hatchboards installed
-New teak handrails installed
-Refinished teak railslides installed
-Transom boarding ladder installed
-Fishing rod holder installed
-New dinette table built and installed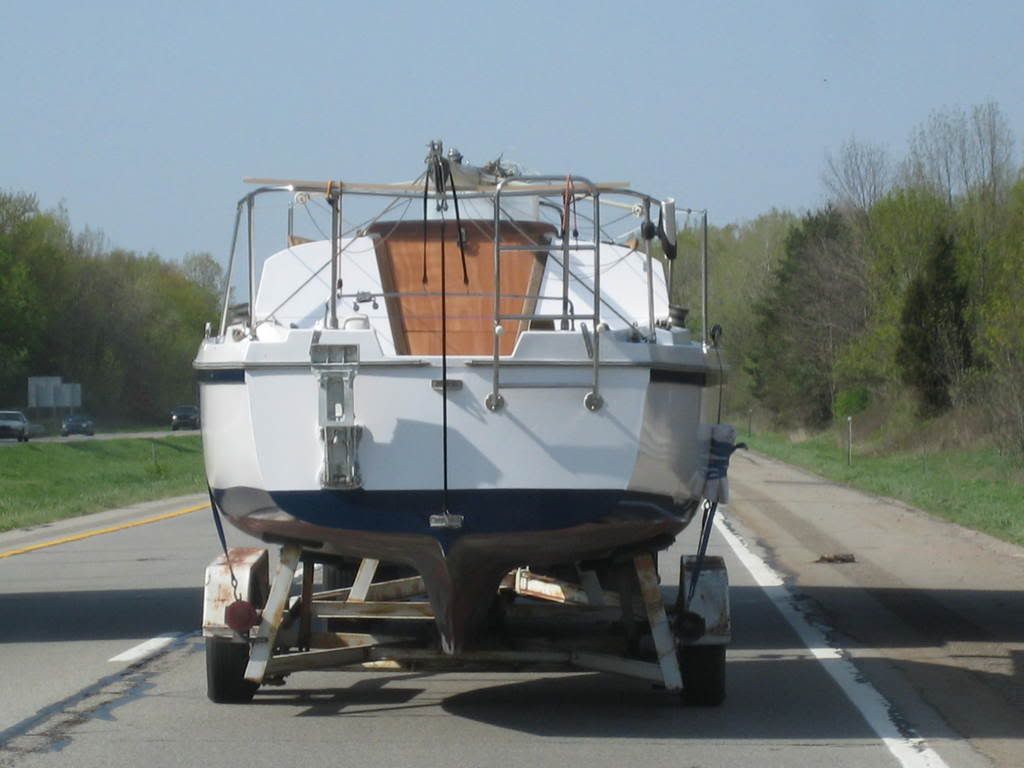 New Paint!
Kevin Walters
05/07/2008, Grand Rapids, MI
It's been a while since I've made a blog post, but I have a legitimate excuse:  I've been busy with spring boat projects!
Over the last three weeks, I finally finished up the new paint job.  We painted everything above the waterline on the boat (hull sides, boot stripe, cove stripe, deck, non-skid, cockpit).  As with many projects, the preparatory work was the hardest part.  In preparation for painting, I sanded the entire boat first with an orbital sander, than by hand.  Next, I washed over the sanding residue with warm water and a bit of soap.
I then applied one coat of Interlux Pre-Kote.  This, of course, was followed up with another round of sanding.  Then the next coat of Pre-Kote primer was applied.  Followed by more sanding.  Needless to say, my forearms are now Popeye-esque from all the sanding.  
After priming, my dad (thanks dad!) helped me roll and tip two coats of Interlux Brightsides polyuerethene onto the hull.  We were both very impressed by the ease of application and the end result of a shiny, hard finish.  I also used Brightsides for the new dark blue boot stripe, dark blue cove stripe and white cockpit.  Interlux Interdek was used on the non-skid portions of the deck.  Interdek is a polyuerethene very similar to Brightsides, but with small polymer beads added for traction.  It also has a low sheen/gloss finish to cut down on glare.  What follows are before and during pictures.  Stay tuned for some "after" pictures very soon!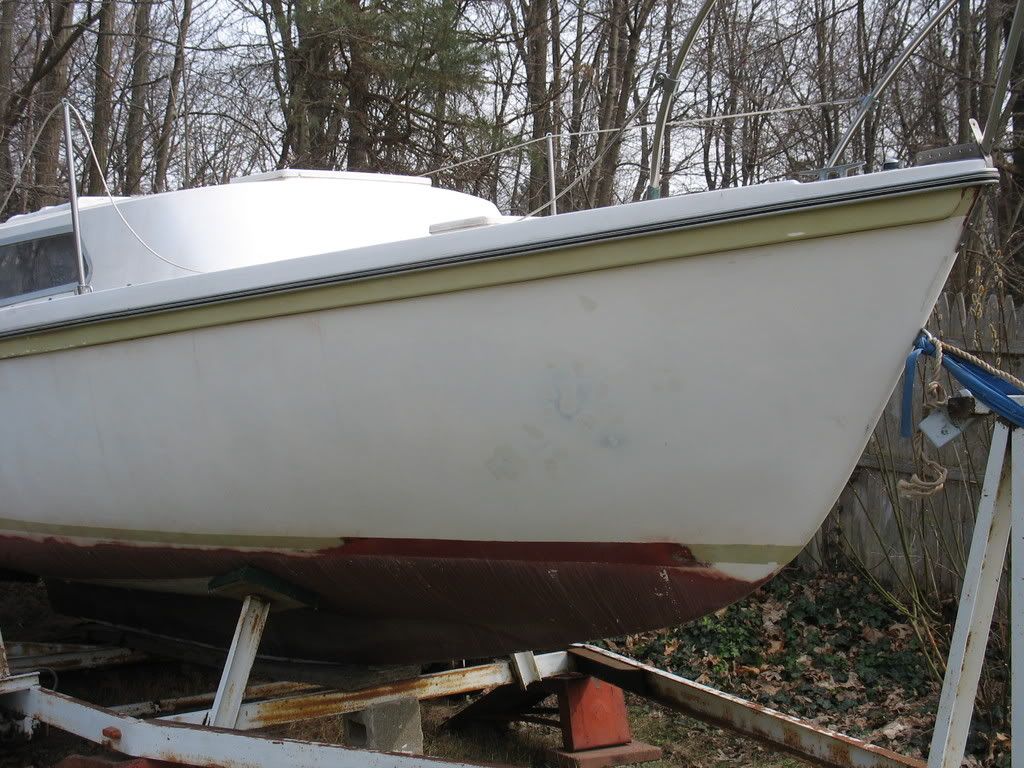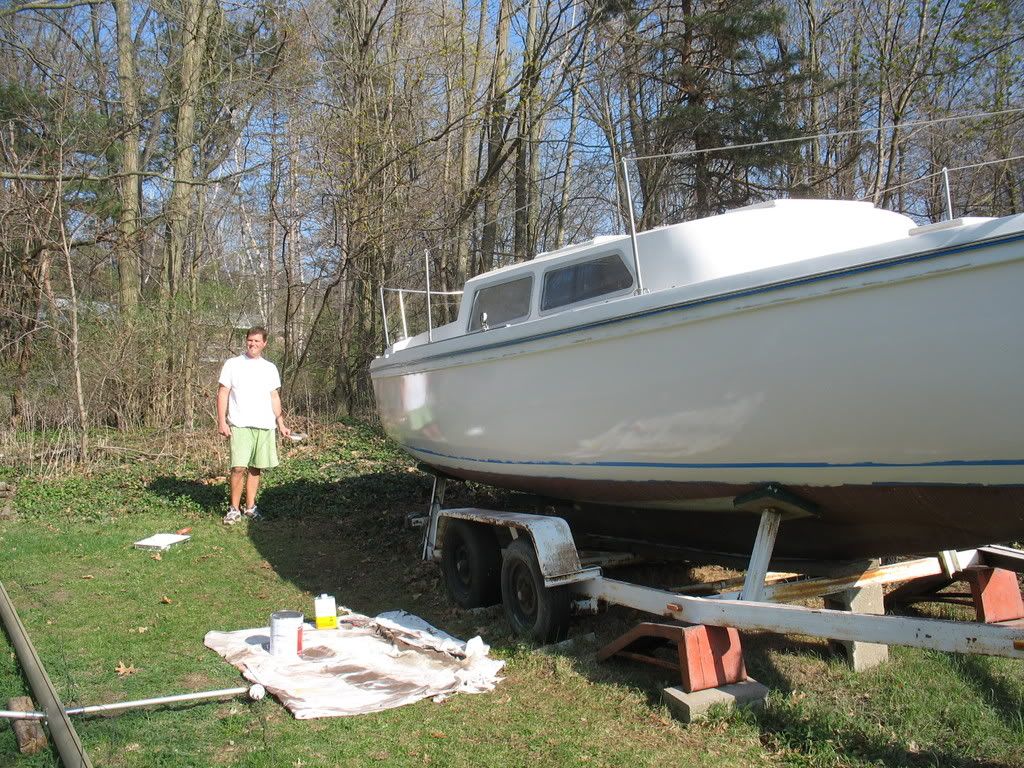 Winch Maintainence
Kevin Walters
03/16/2008, Grand Rapids, MI
Today I picked up a of Lewmar #7 single speed winches from a fellow sailor who was scrapping one of his sailboats. The winches are in excellent condition and should make good spares or upgrades for both my halyard and jibsheet winches. My starboard side jibsheet winch is currently dismantled in my garage and in need of a tune-up. I may replace it with one of the Lewmars.

Anyway, I took the two Lewmar winches apart for cleaning and oiling. As soon as the weather gets warm enough to apply adhesives (3M 5200), I'll look into installing them.

One Week Until Spring!?
Kevin Walters
03/13/2008, Grand Haven, MI
So the calendar says there's only one week to go until spring. Today I got anxious and decided to take a drive out to the big lake and see how she's doing. As you can see from my pictures below, we here in Michigan still have a fair bit of thawing to do before we can declare the boating season open.
Our slip awaits!
Kevin Walters
03/12/2008, Grand Rapids, MI
As spring draws closer, we're getting more and more excited about the upcoming sailing season and "splash day" for our sailboat.
We now have our slip reserved at North Shore Marina in Grand Haven, Michigan. We can't wait to enjoy the summer breezes coming off of Lake Michigan while we rock away the days on the boat. We're also very excited to be able to have a spot at the same marina where Kevin's parents keep their boat.
Bring on summer!