Barnegat Bay Bash 08
Kevin/ Chilly w/ light wind.
08/13/2008, Tice's Shoal/NJ
We had four boats attend this years function. Bob and his Com-Pac 23(Koinonia), Denis in his Morgan 30(Cacique). Newcomers Peter and Becky in their Com-Pac 19(Beagle) as well as I and my crew in a Seaward 22(Panacea).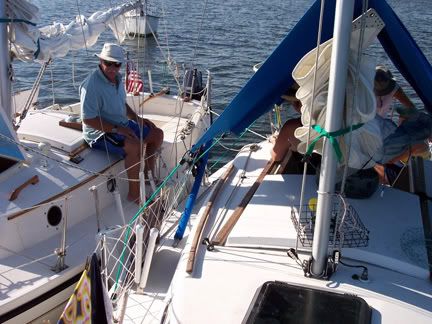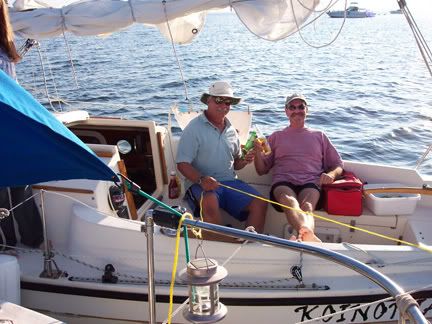 We pulled Bob's boat along side and had everyone over for dinner and a great time was had by all. Pete and Becky headed home as the rest of us prepared for sunset. Robin took the honors of blowing the conch horn as the sun slipped below the horizon.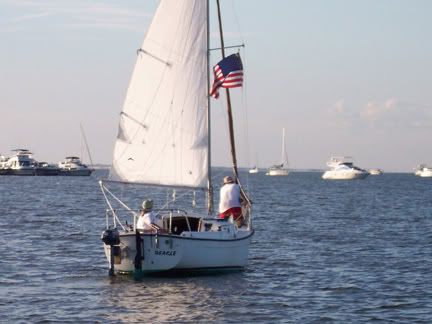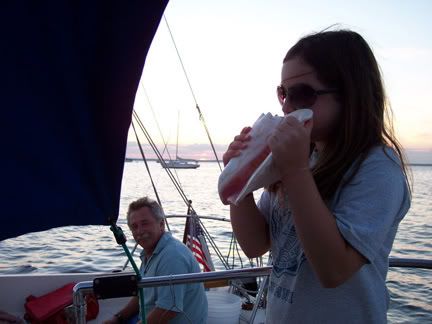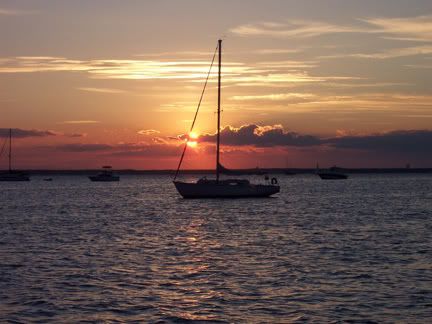 As for me I anchored a bit too close to a sandbar and as the wind switched I worried about sticking the keel into the bottom all night. Sunday morning we all pulled anchor and off for home by 9am. Which turned out to be perfect timing to get home before the hail storm hit.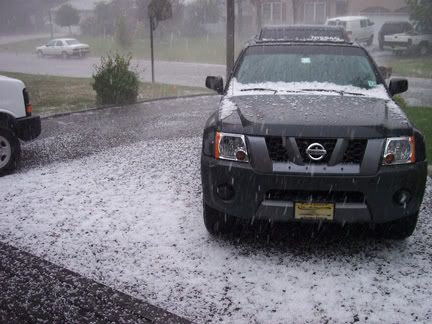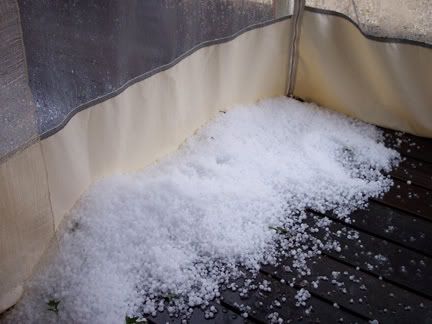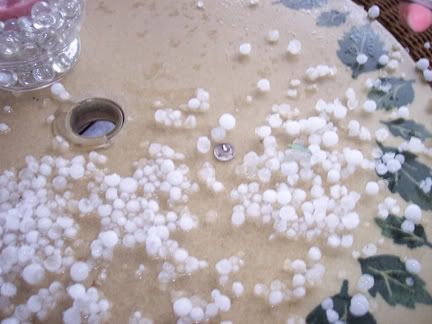 That's a dime on the table to show the size comparison. This was the largest hail I've ever seen! It pretty much rained the rest of the day causing much flooding for those on their way home after a weekend at the Jersey Shore.

____________________________

Fairwinds!

-Kevin



Two Days!
Kevin/ Nice but windy!
07/20/2008, Tice's Shoal, NJ
Well we headed out to Tice's again, this time we left Mom home and brought Chris. Met up we my Bro and his family and had a great time.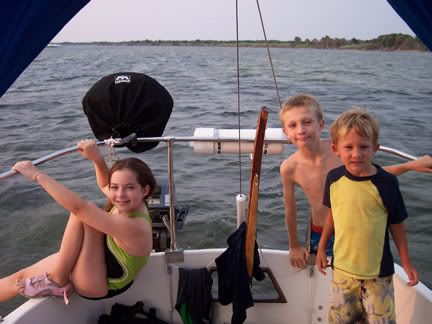 They brought their kayak which we had a blast with, have to get one or two of them for next year for sure.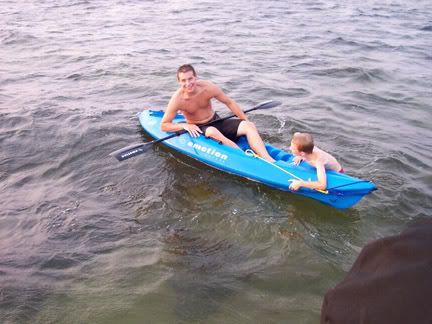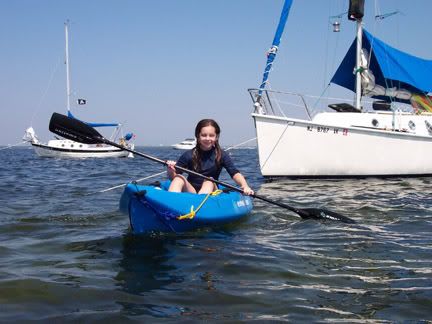 Wind picked up so I decided to stay another night instead of sailing into 23 knot winds. My son was not too excited about that and my daughter had a party to attend on Sunday.




So the Admiral drove over to pick them up on Island Beach State Park. I had a nice peaceful night alone and a great single handed sail home Sunday morning.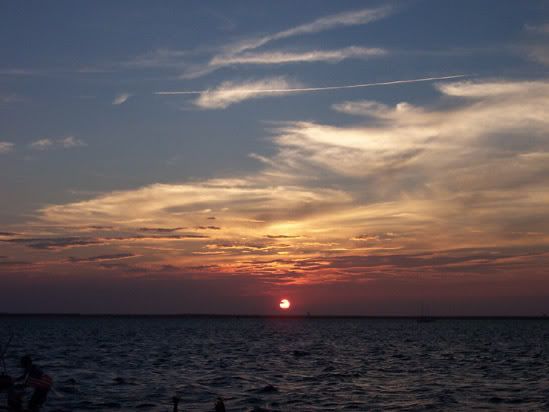 ...Fairwinds!

Kevin

Overnight
Kevin/Awesome!
07/13/2008, Tice's Shoal, NJ
Brought the Admiral along for her first overnight on the hook. Had a great time and we avoided any major problems. Met up with Bob and played chef for dinner Saturday as well as lunch on Sunday before pulling up the anchor.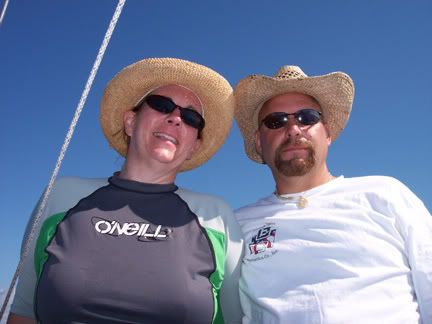 The wife seemed to enjoy the trip except for some sun burn and a sore back. She has already informed me that the next boat should have nothing short of standing head room and an enclosed head, I guess I have no choice but to obey her commands.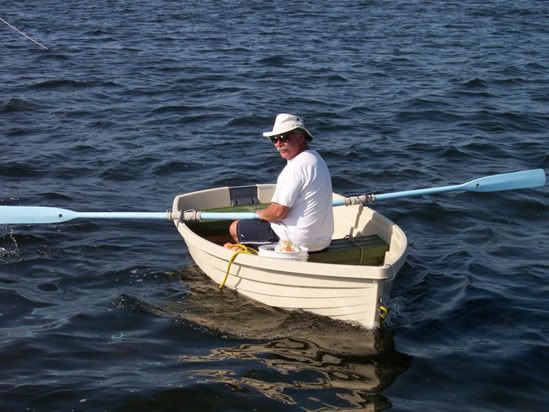 Bob in his Dink

As for the solar shower, that worked nice which the ladies aboard loved. Port-a-Poty worked well enough stuffed up into the forepeak cabin. Just need to get the Origo stove working for the next trip to boil water for the French Press that I also will be adding, the Admiral has to have her coffee.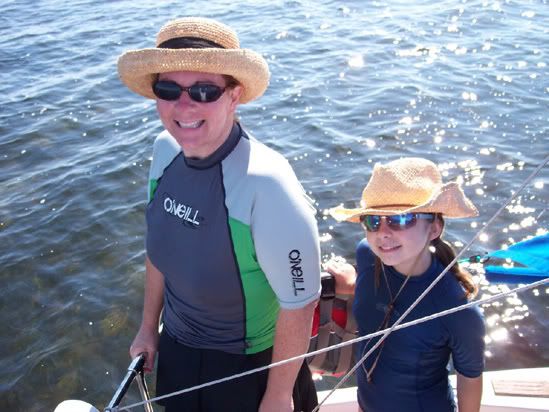 Until we meet, Fairwinds!

-Kevin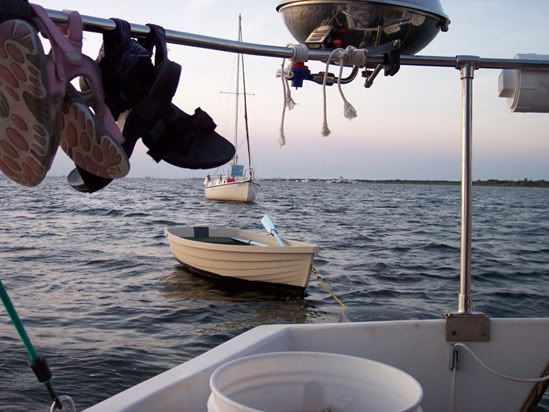 She Floats!
Kevin/ Sunny and Breezy.
05/25/2008, Barnegat, NJ
"May God bless her and all who sail in her".

"If a man is to be obsessed by something, I suppose a boat is as good as anything, perhaps a bit better than most."
E. B. White

"Ships are the nearest thing to dreams that hands have ever made".
Robert N. Rose

__________________________________

Happy Memorial Day weekend everyone!

Well, we put Pan in today with the help of Mom and daughter, or should I say Admiral and Firstmate?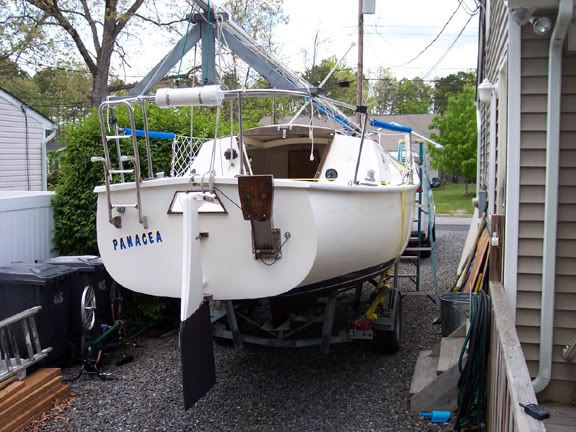 The launch went about as smooth as could be expected. The boat and trailer arrived at the ramp safely, wish the same could be said for the trailer's return trip.




Bunk supports got alittle tweeked during launch and on the trip home, I lost the wheel on the tongue jack. Needless to say we made the short motor to the Marina fine.

Later we took Panacea out for her 'Maiden Voyage'. A short 1.5 hour sail and she did fine, better than the Admiral, but you didn't hear that from me. ;)

She pointed just as good as my old Com-Pac 19 did without the centerboard and the furler was great! Sailed a bit with just the jib then went and hauled up the main.

Had no trouble maneuvering into the slip, easier than I had thought. All in all a great day and looking forward to a wonderful sailing season.

-Kevin

"Once more upon the waters! yet once more! And the waves bound beneath me as a steed That knows his rider." - Lord Byron

Almost Ready!
Kevin/ a nice day after a Nor'Easter
05/13/2008, Manahawkin/on the hard
Pan is just about ready to go. Looking at a Memorial Day weekend launch. Mostly likely the Friday before in hopes of beating the crowds at the ramp.

-Kevin

Day light savings time
Kevin/warming a bit
03/15/2008, Manahawkin/on the hard
Well the to do list, besides scraping and sanding the bottom. Tear out old electrical, remove cockpit speakers, repair to mast step, get portholes to stop leaking along with a few others areas that are letting in water.

Also address the leaking center board slot. I have the idea of just closing her up and do with out. Also a few small fiberglass repairs need to be made. And last but not least, continue the repair to the rudder that was found to be full of water.

Let the fun begin!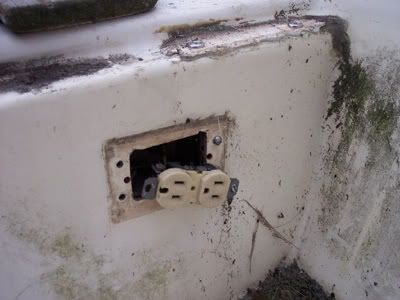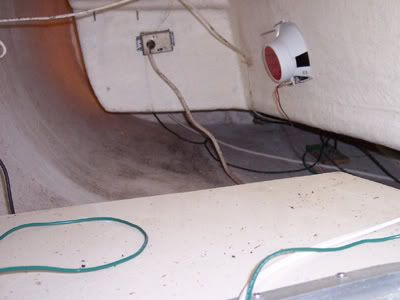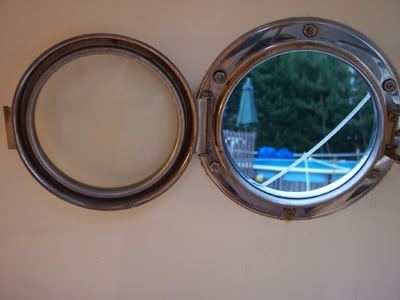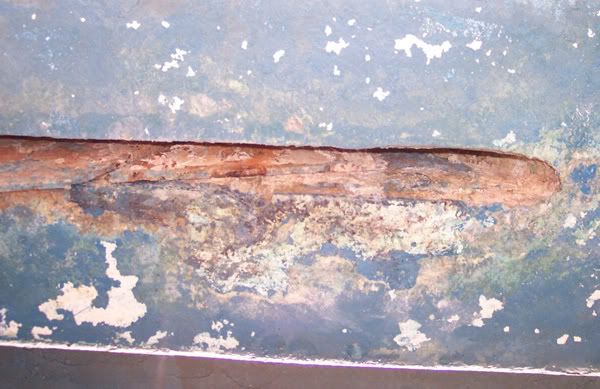 Fairwinds,
Kevin