We have a new website!
01/21/2008
www.svmissemily.com

Up the mast..........
me
02/01/2007, miss emily
Ok..I had to post these pics of Eddie going up the mast! He hates heights and the look on his face was priceless..... ! ok i shouldn't laugh too much.. cuz it will be my turn next....

ok.. guess its my turn... cause I'm still laughing..!! hehehehe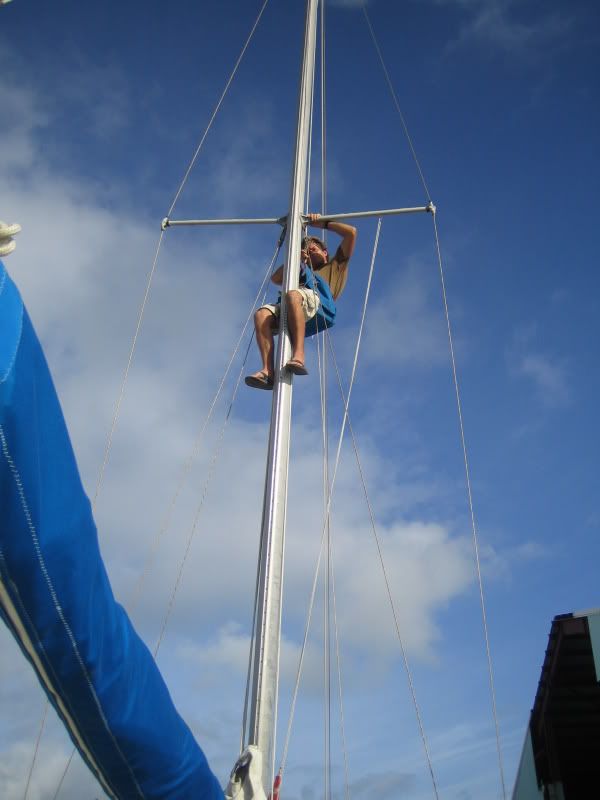 hey!
12/11/2006, miss emily
We havent been on in awhile. Been really busy at work and studying for my Divemaster. I will upload more pics in the next day or two. Eddie is now working on the topside and getting all of the leaks fixed. Yeah..like we can actually get ALL of them fixed! LOL... anyway... check back in the next day or two and we will have more!

WE are getting really exited about cruising...and I've been chatting with Alex Dorsey from www.projectbluesphere.com..he has been crusing since 2003 and reading his website and chatting with him.... really gets me motivated to just go!!! Check out his page... its pretty cool!

much love!!!

Dolphins!
12/01/2006, the ocean!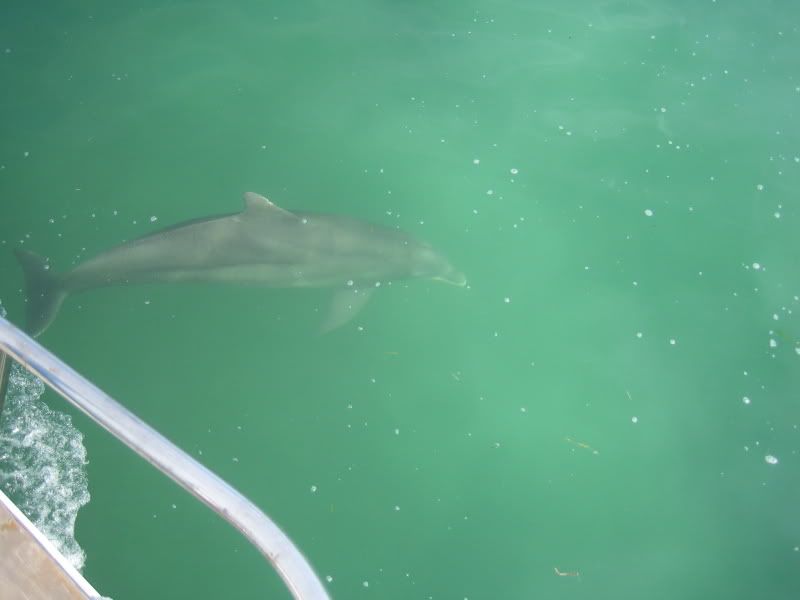 Ok... I'm a typical girl who gets excited everytime I see the dolphins!! We were out sailing...and well I jst had a feeling that I was going to see them! Sure enough a few minutes after I told Eddie..that we would see them today...they appeared!!! They must have heard me talking about them.. because they were jumping out all over the place... in front of the bow, at the stern...on both sides! it was really cool!!! There also was a baby.. and he was just learning how to leap from the water...he was adorable!! anyway... here are a few pics!! enjoy
Glacier in the canal! :)
Moi!
10/25/2006, Paradise!
Well yesterday morning was the first day for the cold front!!I awoke to a beautiful morning view of the sunrise, and a very chilly morning! I was so excited..I went looking for a long sleeve shirt to put on before taking the dogs to the park for my morning jog! Eddie was still in bed, and he said "it's not that cold outside!" He thought i was being dramatic... or that I was just wishful thinking....:) I smiled and proceded to make our morning tea. He then got up..and went above to see if it was REALLY as cold as I said. Needless to say he went back down below and found his jacket. He was cold! :).... love it when I'm right!

It was soo cold that there was a glacier that hit our boat... take a look at the pics.... it must have come from Antartica or somewhere far away...... LOL

Ok... no it wasn't a real glacier...it was just a big styrofoam block! With my twisted sense of humor.... I decided to take pictures and make it look like it was about to hit our bow....

yes I'm corny, but I constantly entertain myself....

This weather makes me very frisky.. I love when the weather is just a bit cold..and clear skys...and sun shining on my face. I was so happy about the weather...when we took the dogs jogging in the park.. I decided I was 12 again.. and did a couple of cartwheels! WRONG!... I pulled my top leg muscle... guess I should have stretched a bit more...LOL.. I then remembered that I wasn't in gymnastics anymore..... yet I still decided I hadn't had enough fun for one morning..and went roller skating with my friend Kyle. Luckily no injuries there... but my leg is still hurting.. I'm walking with a bit of a limp!! :) Eddie was pleasantly amused.... hahaha

I told you this weather gets me excited...and today..is another beautifl chilly morning... so I must get off this computer...and go and play before I go to work....

much love MOM and DAD! I miss you both!!

and Georgia.. I'm so excited that you are coming back... I can't wait to see you!!!!!!!!!!!!!!!

Micha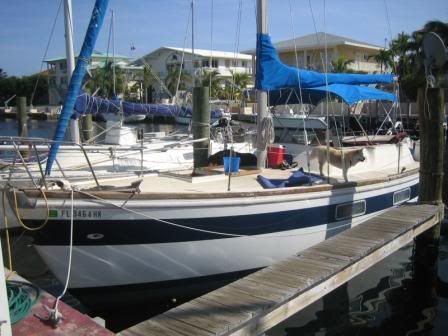 Interior Views!
Me!
10/19/2006, Miss Emily
Well, I thought I would finally put up some pics of our interior!. It is not even close to what it is going to look like when we are done, but it is most definetly 100x better than what it looked like when Eddie bought it! We now have a stove/oven in the galley. The refrigerator will be replaced with something new. All of the dark teak inside the entire cabin area is going to be sanded down and made lighter to better match the new hardwood floor. ( as you can see in some of the pics, we have sanded down a few of the drawers and doors already. It looks better I think!) The sitting area instead of the burgundy fabric at present is going to be a light ivory faux leather. The dining table top is already sanded and looks a lot better than in this pic. Its very light wood now. We are also putting up mirrors all along the back wall in the aft berth and in the dining/sitting area. Eddie is also in the process of making a pull out bed so that we can have another place to hang out and watch movies instead of lying in our bed all the time. Let's see what else... oh yes, there will be cabinets all along the starboard and portside above the windows in the galley, sitting area, and head. Everything will have its place, and it will be all organized! yeah!! You know, when you live on a 35' boat with 2 dogs and your boyfriend, its better to have everything picked up, put away and out of site, (atleast for me and eddie) so that you can utilize ever bit of space that there is!! Oh yeah, we will also make cabinets in our bedroom, the aft berth, and I'm hoping we can start on that soon!...

Basically our goal is, to get everything inside done first, cabinetry, sanding, etc... then I can decorate, and then we will work on the cosmetic part etc of the outside!

It's Lots of work, but WHAT BOAT isn't? I love knowing that every little project we do, is one step closer to making it a home that is uniquely ours!

Oh..and if any of you have Coronado's like ours...besides our friends S/V Mari-Hal-O-Jen...and have any other ideas for us... please let us know!! Always interested in seeing the work of others!!

Have a great day!!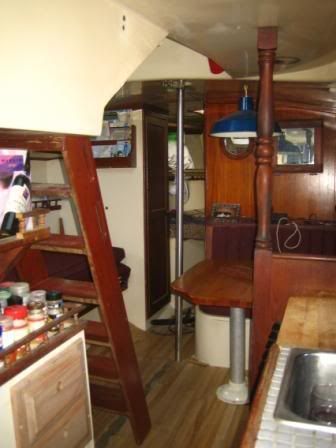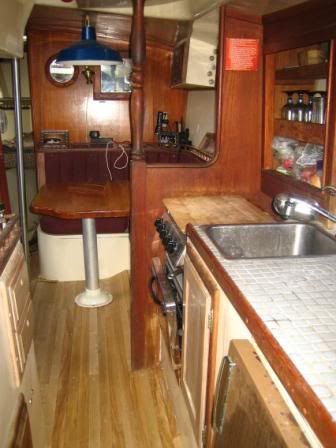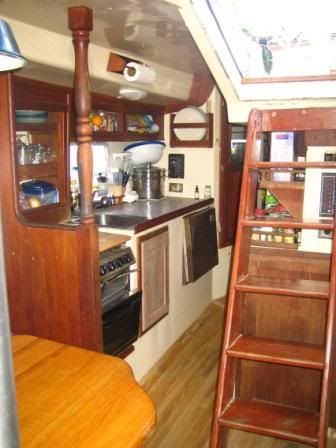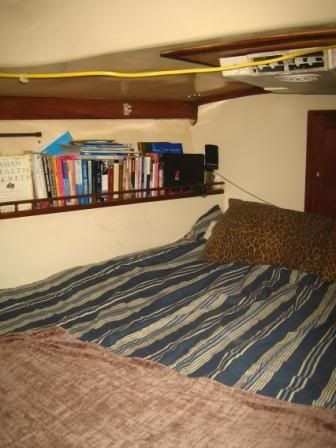 A Doggy Ramp!!
Moi!
10/19/2006, V Berth
Here are some pics of the ramp that Eddie made in the V berth for the dogs to go in and out of the hatch. Before it was just a platform that went from side to side. We also used it as a shelf. Since both of my dogs are different sizes, it didn't work that well... and Max, my dobie, was too scared to jump up all the way. Now with the platform, it gives them more headroom, and when not in use is has a pully system that brings it up flush to the ceiling covering the hatch. The dogs can now walk up and down by themselves and hang outside on top or inside their bed area!

Just thought I'd let everyone see just in case anyone else had big dogs! It works great! Its not the prettiest ramp, but eventually we will make something that is a bit fancier!! And you can't really see it when its up anyway!!

This is definetly a dog friendly boat!!!!



This pic is what it looked like before. The shelf/platform was useful, but it started to get lots of junk put on it, and I thought it looked unorganized!
What a beautiful evening....
08/08/2006
well...I just finished my dinner.........and I actually cooked. Pasta and pesto with chicken. Of course it wasn't as good as Eddie's but it was good... non the less.

As I'm waiting on the laundry to finish its cycle(real exciting I know), I'm having a cocktail...smoking a cigarette...and watching the clouds blow west in my sky above! It's still a very windy night onboard, but the moon is one day less full..:)...and the clouds beneath her are illuminating from her glow. I'ts absolutely beautiful! I'm thankful no matter how the day goes...that I am where I am..and with the man I love..and have the view that I do.

goodnight..........

Rainy Day....
HIGH WINDS AND RAIN!!
08/08/2006, Miss Emily
Well today has been a lazy lazy day. Its raining outside...and I hadn't had a chance to take out the dogs until an hour ago... Eddie and I are both either reading or playing on this computer... I myself, have been playing on this blog site for too many hours!

The wind is really picking up...and the boat is rocking heavily from side to side. I keet hearing it banging on the dock which isnt good...and which also means I need to go and fix it before the rain picks up and I get soaked!!

So I went outside to adjust the lines from the stern on the starboard side. My buddy...Captain Neil has been teaching me about the wind direction and how to adjust the lines correctly, so I thought I'd go and try myself. Wrong!! The wind is really strong... so even though I tried... the boat kepts shifting towards the portside and I'm not strong enough (YET) to pull it back.... unfortunately..I had to get Eddies help. What a girl I am... haha... I guess I need to work on that(my strength) a bit!!

Now the boat is set and its gently rocking back and forth... I'm now back in the comfort of my cool BUT dry cabin....and I'm looking around for something to do......the galley needs to be cleaned..haha..as well as the rest of the boat... but I'm going to stick to being lazy... atleast I can catch up on my reading. I'm currently working on my Rescue and Recovery and Divemaster books...along with "Maiden Voyage" by Tania Aebi. (yes.. I tend to do too many things at once...haha..and then never finish...)

So long... for now... hope everyone is having a great day....I'm going to go and see if Eddie will cook me another fabulous meal for dinner!!

Boredom creates hunger...... and I'm famished!!

Typical day....
08/07/2006, Our Boat........
Just wanted to say what a great day it has been so far... sunset is approaching and we are having a few friends over for a BBQ.

Guess I need to hurry it up and get ready..... even though Eddie is still napping...!

The wind is blowing..and it feels wonderful outside!! Sun is shining..and Im loving every second! Can't wait to see our friends...:) What a great way to end the day!

Hope your day was as awesome as ours!

love, M

Good Luck to the S/V Mari Hal-O Jen Crew!
08/07/2006, PARADISE
Funny thing....I just started this site yesterday..and not long after I had my first comment.. from someone I have yet to meet... Jennifer. I've been reading her sailblog site..all of the time and yet she probably had no idea!! Funny thing is, her husband Hal came over while Eddie and I were painting the hull of Miss Emily, and told us that he had a Coronado as well. He had told me to check out his family's website and ever since I have been reading it every chance i get..and I finally just had a chance to start ours! Then the first person to respond would be his wife!! What a small world!! LOL

So Jennifer... thank you for taking the time to write to me...and I hope that Eddie and I will get to meet you and your daughter soon! Im not sure if you have already left for Key West..and if you have........ good luck with your new adventures down there..and I look forward to reading about all of them in your new blogs! They are always entertaining..as well as informative!! :)

Thanks to all of you!
Hope to see you soon!

Cheers!!
THE MISS EMILY CREW

PS. This pic is from my first day in Key West a few weeks ago..and my first encounter with the Roosters on the street.... "what DID the chickens say, when they crossed the road?"...I had NO idea, but thought it was a cute pic...:) haha





Dogs and Sailboats
Beautiful Day in the Keys
08/06/2006
Well I traveled all the way from Texas with minimal clothes... (haha) and my babies Max and Bailey! I was really worried about how my dogs were going to adjust to the boatlife! Living aboard a 35' sailboat was going to be a bit tricky especially since our companionway is way to steep to allow my 120 lb dobie to walk up and down. So with the help of our friend Jameson... Eddie and him made a platform in the V berth (the dogs room) so that they could jump in and out with ease.... yeah right...!! they still act like they need assistance from me.. but when it gets hot out... they jump right back in!! They are adjusting well to living on the boat...and there are wild cats all around that Max, of course, loves to bark at. Lucky for us... all of our sailing neighbors have dogs too...and its pretty much a dog friendly area!! As I type they are walking around on deck... doing what dogs do! Loving the wind blowing in their faces!!

Its a beautiful evening and Eddie is about to cook dinner... while I enjoy a glass of wine and watch the sunset!!

Life is Good!!!

Miss Emily 1973 35' Coronado
Me
08/06/2006, The Atlantic Ocean
Well this is the first journal entry that I have written for our newly renamed boat. "MISS EMILY" in honor of Eddie's daughter Alexandra Emily (12
) who resides in London.

I just moved here with my dogs and a few belongings all the way from Texas to Florida! (ok.. Eddie may disagree that I have only a few belongings.. but you should see the storage unit that I left behind!...

Anyway... I love it! I have been here a month now and I am enjoying being with Eddie and living on our boat and waking everymorning to a beautiful view...and watching the sunsets together from the cockpit each night!

With that being said... I will post more soon. i just wanted to get this started... and put a few pictures up so our family and friends can see what we are doing...and what we are up to in our daily lives aboard Miss Emily!

Micha, Eddie
Max and Baily

PS. The pic of Miss Emily is the day we splashed her after all the hard work Eddie did, along with help from moi!

The Day We Splashed
Me
06/16/2006, Boatyard
Ok.. here are some more pics....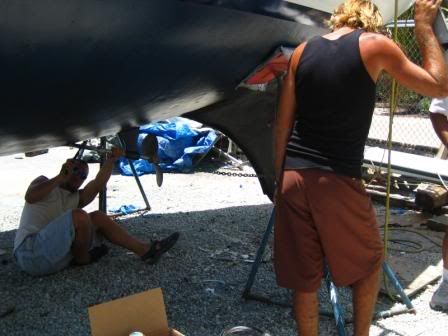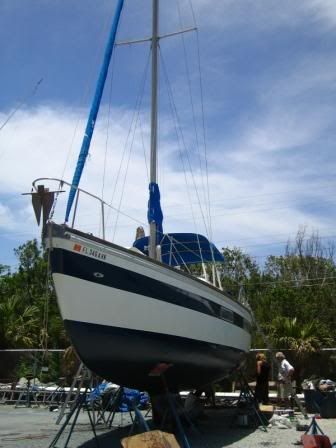 The Day we splashed
Me
06/16/2006, Boat Yard
I am backtracking in a way... seeing that I just started this site a few days ago...(today is really the 9th of Aug.) but I just realized that I can change the dates on my entries to the original dates.. sooo I'm going to go" back in time"..so to speak... and add previous events and pictures from the begining when Eddie purchased Spindrift aka Miss Emily. That way Eddie and I can share these pics with the real Miss Emily, his daughter (Alex Emily)...and the rest of our families and friends.

So on this particular day.. two days before Eddies birthday....our friend Dean (who works in the boatyard...and who has been extremely helpful to us ) came by and gave us a bottle of champagne .. just before we were ready to get her back into the water! Just so you can keep up, Her name was STILL Spindrift, and we wanted to take her out for one last sail under that name. Now, if you know or don't know about sailboats.. or any boats for that matter...we had been told that there are certain protocols to changing the name of boats (some dont even recommend it and say its bad luck)...and we were told by Dean that we had to break a champagne bottle on the bow before we splashed her again. Of course we thought it was a great idea..(no need to add any bad luck in the future, right?!)

.....so here are the pictures from that day.... watch Eddie run from the Champagne bottle after it hit...it was hilarious!!!

PS oh..and I have since found out...there are TOO many rules and superstitions to keep up with but we ARE doing our best to follow them!!