Back to The Cold South of the Border
The Skipper
12/10/2010, Mazatlan
In mid-October we left Oregon heading east and south. This season we decided to travel in the RV (Dirt Boat). Some friends of ours (From the boat Seatern) were returning to Green Valley, so they tagged along with us in thier own car, but sleeping in the RV. It was great fun to have company along on the trip.

All went well until we were crossing Idaho one early morning when we had a tire blow out. Its a real unsettling feeling to hear a loud bang while driving down the freeway. We pulled over to see what had happened or to verify that we'd had a blow out. Our traveling companions were already on Google (1-800-466-4411) on the phone locating a near by town with a tire store with our sized tire. Half hour later we limped into the Jerome Les Schwab store and spent the next 2 hours getting two new tires (you can't just add one new tire as they would be different sizes and not wear well together) put on the RV. Of course this prompted the discussion of replacing the other two rear tires as a preventive measure. This was something we had wanted to do anyway but hadn't budgeted for. Somehow logic won out over costs. However the nearest store with two tires was in Provo Utah. So off we went in search of the next Les Schwab store. By 4 PM we reached the store and they promptly put on the new tires. By 5:30 we were done and it was time to find a campground. Fortunately one was near by and it was a welcome sight. Getting into the spot proved tricky but that's a story for another time.

The next day we left early to get to Cedar City Utah early enough to park the RV and go out to see the Parowan Gap Petroglyphs 15 miles NW of town. We made it to the site in time to see them and take some photos. This must have been a favorite trail back when these were done as they were a lot of them in a small area and it was in a gap between two valleys. Sort of a facebook and travelers blog rolled into one!

The next day we were off to "Sin City", Los Vegas to visit some friends that had recently bought a home. We visited them in the afternoon and then took our traveling mates on a drive down the "Wild and Crazy" streets of the Vegas strip. We didn't even park and walk around. We were all tired and it looked crowded so we opted for a drive by.

Off to Mesa Arizona to visit friends and family. Pat's youngest daughter had just moved to Phoenix. After two days we headed to Green Valley. Once there we prepared the RV for storage and then headed to Anna Texas for a visit with family.

After a week plus visit it was time to leave and head back to Green Valley. However there was a stomach flu bug going around and it grabbed the skipperette and sent her to the emergency room for help. Ouch!! $$$$$ She spent 3 days in bed recovering. We drove back to Green valley without incident except by the time we got to Tucson the skipper was sick with a viral infection and had to visit the VA ER. After a six hour wait we got his meds and were off to finish the trip. The Skipper spent the next two days in bed recovering. After another two days it was time to head to Mazatlan.

We stopped in San Carlos over night and went out to dinner with some friends from Rosebud. On the way to San Carlos we passed through the city of Hermiso where we were stopped by a friendly cop who wanted a early xmass gift so we settled on $500p ($40US) and continued on our way. The next day we left San Carlos and headed out to Mazatlan. We arrived safe and sound.

Since arriving we've been working on projects to make the boat livable and addressing any issues that have come up. So far there been few real problems.

Now to the cold part. This is a La Nina year and it has been cold and nasty up north and down here it translates into cool nights and mild days with low humidity. We have had to add extra blankets at night and wear sweat pants in the mornings and before bed time. Burr! Its not what we're used to for sure!

Since being here we went on an art walk in old town which was fun, everyone had to pickup something, there were no exceptions. We ate at the El Tunnel restaurant which we've eaten at before the food was great. We've had our teeth checked out and medical exams and did some planning. That's when it hit us square in the heart that once again we're not going to be able to go for a lengthy cruise.

It turns out that the skipperette had made commitments to her mom to help her transition out of rehab (she had fallen in October) and back into independent living. This event has been delayed due to her recovery and isn't going to happen until right before Christmas. Who wants to be alone at Christmas so the skipper is going along too. (PA will be so cold!!!) Ok so that puts our return into January and we could still go for a cruise except we also had made another commitment to help the skippers daughter after her thrid child is born in mid-March. OK that cinches it! What with getting the boat ready and looking for weather windows (going and coming back), getting there, spending time there, getting back and then putting the boat back to sleep and then getting to Anna Texas by mid-March that leaves almost no time for a cruise. Rats! It looks like another condo on the water winter. All is not lost however, we can still take mini cruises to the islands near by and we're looking into taking a road trip in January to visit the vacationing Monarch butterflies who migrate to Mexico, much like us each winter. Also we're looking into another road trip to visit the near by town of La Noria, and the Blue Agave farm and distillery (Tequila) located in the area.

Thanks for visiting our blog. More to follow for sure!

Northwestward Ho!
The Skipper
10/03/2010, DBBB (Dirt Boat Beach Base)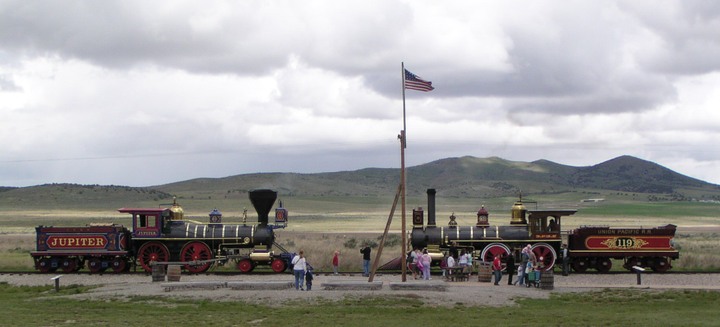 Our intention was to spend a month in Anna, Texas visiting family. We had a wonderful time including Pat's grand daughters "Bumble Bee" dance recital. We went to the Dallas Aquarium with the family and had a wonderful day on Pat's birthday. This aquarium is more then a bowl of fishes. The adventure begins at the top of the Orinoco - Secrets of the River rainforest exhibit. Then it wines its way down along a path through a rain forest with birds and other critters lurking about and then down under the water to see a wide variety of fishes. Very nice unexpected exhibit, stop by if you're ever in Dallas.

My visit was interrupted by news of a dear friends' sudden death, then before I had time to fully digest this, my father's health failed dramatically over a short few days. I flew to St. Paul, Minnesota but I arrived to late, my father past away one hour before my arrival. This time I was able to stay for the funeral. While there I went with two of my brothers to my Dad's old cabin on Devels Track Lake north of Grand Marais, Minnesota. Forty years ago I helped my dad build his cabin. We had a good visit while we got the place ready for their summer activities. On the way back to the Twin Cities we stopped at a Lake Superior view point. Quiet a specular sight indeed!

After my birthday we made plans to head to the northwest. We wanted to travel on some new ground in order to traverse the country. We decided to head for Amarillo and then NW to highway 25 then north through Denver and then follow the interstates back to Portland.

On the way to Amarillo we listened to the radio and kept hearing of rain storms ahead and north of us. We did end up driving through a few rain squalls, as we approached the Oklahoma border we ran into a true "cats & dogs" down pour. We slowed down and had to drive at reduced speeds for 20 miles as one and then another squall came at us. We decided that we were in the squall birthing zone because the radio was reporting lots of hail in the storms 50 miles to our east, and we didn't have any. Whew! Soon we drove out into just cloudy skies and reached Amarillo easily.

We'd been through Amarillo a couple of times and had heard of the Cadillac's that were planted in a field. We decided to go locate it. After a quick Google search we had our directions. There is indeed 10 Cadillac's buried in a field. Visitors are allowed to bring spray paint and paint away. Unfortunately they didn't "Pack their trash out". Regardless these were incredibly painted, junked cars, poking up out in of the ground in the middle of a field.

We cruised on through Colorado and Wyoming, as we were passing into Utah we decided to stop and see the Golden Spike Historic site. On May 10, 1869 the Union and Central Pacific Railroads joined their rails at Promontory Summit. Golden Spike National Historic Site commemorates this incredible accomplishment of this nation's first transcontinental railroad. The day we visited the site there was a full scale reenactment occurring so we stuck around for the presentation. The museum and the presentation was very informative. The only down side was the fact that the location is 29 miles off the freeways so it a bit of a drive out and back. If you're into history and trains its worth a stop. The remainder of the trip to Portland was uneventful.

The summer has been spent visiting with family and friends, spending time at our place at the coast. Oh ya and waiting for the new grand baby the 12th and the 1st great grand baby to arrive in August. There was a lot of time spent bemoaning the crappy weather. Oh well! We had several visitors at our place this season which provided a lot of fun for all. We made time to get the RV serviced for our trip in the fall. We were able to attend a couple of Longbeach events this summer too.

One event was the Sandcastle building contest. We all always amazed at peoples imagination and the sand sculpturing skills required to create their master pieces. Another event was the Washington State International Kite Festival. There was an amazing amount of kites being flown the day we visited the festival. They had many roped off areas containing a variety of events. One had large kites, one had a contest to see if they could set a record for the largest number of kites in the air at once, and there were many areas stretching south along the beach for various kite acrobatic events. Of course there were vendors selling everything kite related including food and drinks.

In August the grand babies arrived as expected and all concerned were OK. We spent over 2 weeks in Portland visiting and helping out as best we could. In late August we attended the annual Baja Cruisers Rendezvous. This event is held in Cathlament, Wa. the last weekend before Labor Day. Its not much more then a very large pot luck dinner with 80 or so friends. The part that is wonderful is that as on the seas, the wondering nomads starting arriving all week long in the their RV's and trailers. If you get there early, there are many hours spent catching up and reminiscing with friends. Coinciding with our event was the annual long board down hill race going on. So the small town was packed and the streets closed during the races. We watched the finals on Sunday afternoon and saw some exciting downhill runs and some great wipe outs right in front of our seats behind the hay bail barriers.

The rest of the summer was spent at the DBBB. (Dirt Boat Beach Base) One weekend was spent in Portland for Susan's son's 40th birthday party, otherwise we were at the coast. There were logs to be cut and stacked up for the winter. There was chores to be done before we headed back south later in the fall. A few friends came out for visits and a card game weekend was a big success. The last visitors had just returned from a vacation in England, Ireland, and Scotland. We helped them decompress!

Susan had decided to travel to Pennsylvania to visit her mom for a week. Pat stayed at the coast and started final preparations, on the DBBB and the RV and the car, that were needed to be done before casting off on the trip south. After a weeks visit in Portland, the Dirt Boat will way anchor and turn her bow southwards.

Thanks for visiting our blog. More to follow for sure!


Summer of 2010 Photo Album
Headin' to the USA
The Skipper
05/05/2010, Anna, Texas
On the way out of Mexico we stopped in San Carlos to spend a few days with our good friends on Sea Tern. They were there getting their boat ready for a quick cruise. It was fun visiting with them and helping them where we could on their projects. We meet up with some other friends on Rose Bud too. They were busy putting their boat to sleep for the summer. We all went out to dinner together. We went to a restaurant with a view of Bahia San Carlos from the second floor seating area. We all had a great meals and a fun get together.

The next day we left for the states. It was an easy drive up highway 15 to the crossing point. We then had to wait an hour before having the privilege of having the border guards search through our car and ask us the normal questions. Once through the border dance we beat feet to Tucson.

We spent several days visiting of our boating friends. This included a couple up and back to Mesa Arizona. Next we headed to Benson Arizona to visit more friends, then onto toward Anna Texas to visit my daughter and her family.

When we reached Las Cruces, New Mexico we reevaluated our driving route and decided to divert north and see some sights. After some research we discovered that just north and a little east was the White Sands National Monument, White Sands Missile Range Museum, the New Mexico Museum of Space History and finally the Three River Petroglyphs site. Plus it meant a nights stay in Roswell (The UFO Capitol) New Mexico. It was an easy decision to take this detour!

The first place on the route was the White Sands Missile Range Museum which was on an Air Force base. This required our identies to be checked out and the car searched because we had to enter the air base to go to the museum. The museum was excellent. It covered the US history of the development testing of missiles both for war time and space exploration. It started at the end of the WW II and is still going on. There is even a full sized German U2 rocket in a building by itself.

Next we continued up the valley to the White Sands National Monument. The 275 square area is totally white except for the vegetation. It was surreal to drive into an area that has white sand dunes larger then a house. This also reminded me a lot of bring in Minnesota in the winter after a good snow. Some mounds were glistening in the bright sun light to the extent it hurt your eyes. There were folks sliding down the slopes, cycling and off on walking hikes into the dunes. It was 85, too hot for us to go anywhere except in the car.

We got our room in Alamogordo, NM and decided we had time to visit the New Mexico Museum of Space History. The Museum is located NE of town and up on the side of the hill. This was an interesting museum with exhibits on different floors covering the evolution of space exploration. Outside there were several rocket examples of this evolution.

We had a long day ahead of us so we left early and headed to the Three River Petroglyphs site. It was good that thing we did as the day turned out to be quite warm and the petroglyphs were up on a rugged ridge and represented a one mile round trip hike up and down the trail. A guide is provided at the visitor center after paying the admisions fee. The guide indicates signposts along the trail to key Petroglyphs.


New Mexico Detour Pictures
We headed out to Roswell, along the way we stopped in
Fort Stanton
and tour the forts meseum and watched a video. Also we stopped briefly in Lincoln, but it was more of a tourist trap then a historic site. We made it into Roswell late in the day. We had a early dinner and got inside before the UFO's came out!
We headed to Abilene, Texas spent the night and then hooked up with the interstate highway system and soon reached Anna, Texas. We plan to stay at my daughters for a month.
Thanks for visiting our blog. More to follow for sure!
Headin' For Border
The Skipper
04/28/2010, Mazatlan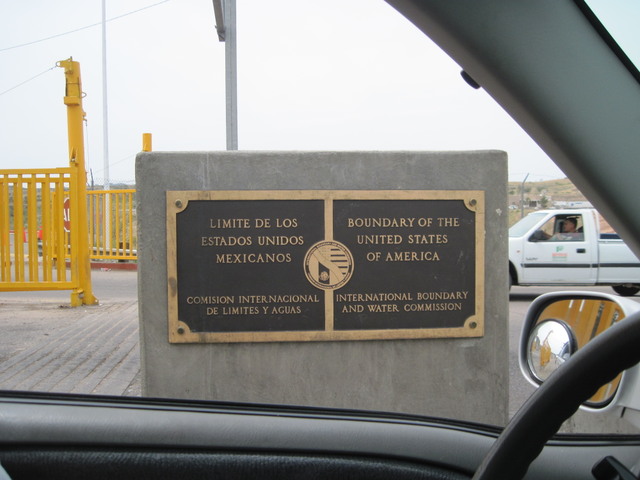 We decided to head to the states on April 15th. In addition to the normal projects to put the boat to bed we always have a few extra surprises. This season in addition to to getting the refer back in order we discovered some dry rot around the pilothouse door and a few small cracks in the fiberglass deck. Neither of these were very big projects just time consuming and an unneeded interruption.

The refrigeration worked out very well. The repair guy cleaned and repaired the unit, reinstalled it and got it running great after only one call back checkup. The remaining projects took to the end of March, Then we had to get down to business and get the boat ready to leave.
As we worked the project list we came to point where we needed to close the through hulls. The water intake through hull in the head leaked when it was closed. Not much but enough to cause issues over time, like over the summer. This was easily solved by tightening up the ball value attachment nut a couple of times.
Next came the engine fresh water flush. During this task I discovered that the water intake value could not be closed. Plus during the investigation I punctured the intake hose. I left this project in the hands of my service provider to replace the value and hose. I had my summer boat care giver keep a close eye on the engine room bilge until it was fixed, which was done in June.
We left on the 15th and headed to San Carlos, one long days drive (545 miles).
Thanks for visiting our blog. More to follow for sure!
No Cruise This season
The Skipper
03/22/2010, Mazatlan
Between the boat projects, the grieving process and the shrinking cruise window duration it became apparent around the 1st of March that we we not going to be ready any time soon and progress had almost ground to a halt by then anyway. We made a decision to fore go any attempt at leaving Mazatlan. This took the pressure off and allowed the skipper some space to reboot the emotions.

Some friends from Portland were down for their annual vacation so we spent some time with them and revised the project list with the must get done new items added. Went to see the movies (Avatar, Alice) eat out several times, watched videos at our friends condo and generally relaxed.

Two new things did make themselves apparent. First the head hosing had to be cleaned out twice and the unit rebuilt twice (isn't boating fun ... NOT) and then lately the refrigerator seemed to not be keeping things cold. We cleaned to raw water filter and removed and cleaned the pump head but it didn't make any difference. So today the service guy showed up, tested the system and said "No Gas, man".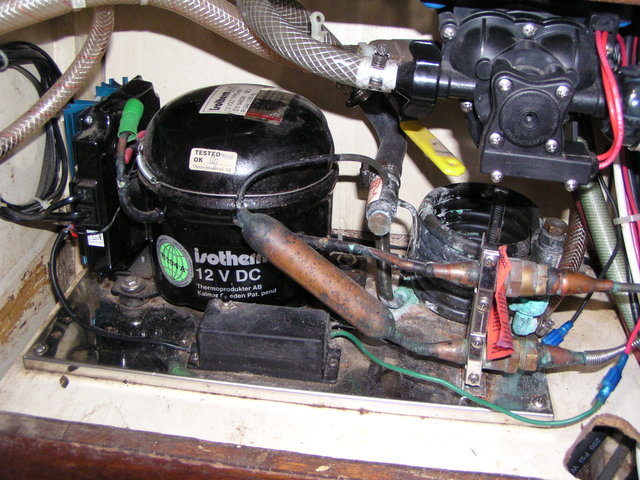 He removed the entire unit and took it with him, hope he doesn't forget where we live. He said manana, but that means not today! So we'll see ....

Some boat projects have gotten done and today the skipper sanded the three booms for painting. So slowly things are starting to move forward.

Our exit plans should start around mid April include visiting folk in Arizona and Texas. Susan will be taking a trip to visit her mom from Texas and we may take a side trip to Minnesota before heading back to the Northwest. Well that's what we know now. Of course that was written in the sand at low tide ...

Thanks for visiting our blog. More to follow for sure!

Keep on Keepin' on
The Skipper
02/28/2010, Mazatlan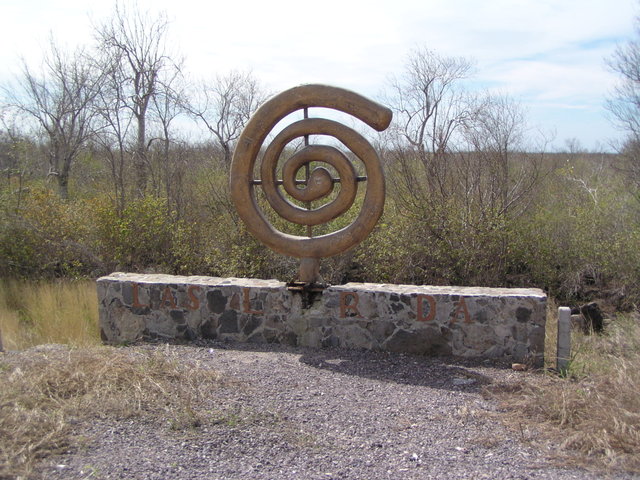 Have you ever gone on an adventure and had such a good time that you had to do it again. Or have the planets not lined up properly enough to do something that should have been done years earlier?

This blog entry is about to two such experiences. The first was a day trip by car to see some Petroglyphs that are north of Mazatlan. The second was attending the third largest parade of its kind in the world. The third was redoing to first trip with the added dimension of muddy dirt roads.

I'd heard of the Petroglyphs but had not actually ever pursed locating them, mostly for the lack of a car and adequate directions. This year we have a car and I found out our RV friends had directions and a name for the place. I used that info to flush out some additional information off the internet. I learned that in addition to the Las Labradas Petroglyphs themselves there was a small museum and then if you're on a tour they usually took you to the near by town, Barras de Piaxtla, for lunch at the El Mirador restaurant.

This sounded like a great outing, especially since the directions sounded like something out of James Bond. What with driving a certain number of miles past the highway toll booth, then looking for specific mile marker signs, turning left, crossing the busy highway, taking dirt roads through small villages, then through creeks and then following the railroad tracks, how could we go wrong. Oh, did I forget to mention avoiding the goat herds! It was an adventure just getting to the museum and the site. (The second time was even more fun; more on that later.) The museum cost 10 pesos ($.80US) and was quite basic. However it did tell the story of the Petroglyphs and the probable creators. The buildings on the museum site were quite unique in and of themselves. Take note of the construction technique in the picture.

After visiting the museum and it grounds we took an easy walk down to the beach area. There were hundreds of boulders strewn up and down the coast. The area covers about half a mile along the beach. Beyond the rocks were just sandy beaches. The fun was to hop and/or jump from rock to rock and discover whether or not Petroglyphs had been carved into it. Then of course taking pictures of the rocks. Some of the carvings were eroded away, while other looked like they were carved yesterday. It was great fun. There was plenty of Petroglyphs to discover, rocks to hop upon and sea birds to observe, to while away a couple of hours. Soon it was time to locate the restaurant.

Getting to the near by town, of Barras de Piaxtla, and the El Mirador restaurant meant driving back down the dirt roads on the reverse of our in bound route until we reached the highway. Then we headed north again looking for another mile marker sign before exiting on the to the "dirt" shoulder/off ramp leading to the bridge back over the highway. You guessed it back onto another dirt road leading into Barras de Piaxtla. This was a better road and we had signs leading the way. It was still about a 5 mile dirt road with a few turns that could easily be missed. Of course when we reached town there was road construction that had dug up large sections of the dirt road. We had to detour around this area and still try to find the restaurant. We asked directions from the local workers and each one told us his interpretation of the way to reach the restaurant. We finally stopped at a teinda (little store) and asked for directions, they took us out into the road and pointed to a palapa up on a the hill top. When we reached the restaurant we didn't know what to expect. Imagine our surprise when we entered the El Mirador (palapa) restaurant. The view took our breaths away and the place was very well put together, for this village or anywhere for that matter it was an upscale establishment. The pictures tell the store for themselves.

We all ordered lunches and were not disappointed. The menu consisted mostly of seafood entries. It ranged from crab, to shrimp, calamari, to fish. Each type of seafood served in a variety of ways or combined together. It was hard to decide! We ate to the sound of the ocean roaring below and the sea birds gliding by at eye level. What a sensory treat!

As mentioned in the beginning this adventure turned out to be so much fun we repeated it the following week. The first trip was with our RVin' buddies and some of their friends. The second time we took my sister, her hubby, his sister and her hubby and another car with some of our boating friends. The first trip there was 8 people and the second there was 10. The primary difference was the dirt roads. This was because for the second trip it had rained that morning turning them into "water traps" and "slip & slides". Fortunately neither car got stuck, just completely covered in mud! It even rained during our lunch and the thatched roof of the palapa keep the rain off of us. The pictures of El Mirador reflect the two trips by the amount and size of the clouds in the sky.


Las Labradas Petroglyphs & Barras de Piaxtla El Mirador Restaurant Pictures
The third largest parade of its kind in the world is of course the Carnival (Mardi Gras) Parade here in Mazatlan. I (we) had never been to the parade because of fear of the crowds, not the right time or not in Mazatlan at the time. This year the stars lined up and we decided that we had to do it at least once. Once will be enough, but it was fun. We signed up with a crowd from the marina to have bleacher type seating up above the crowds and the price included a real nice buffet. The location was at a hotel (Aquamarine) along the Malecon (ocean side walk way) in the heart of the parade route. The buffet was great, good food and you could order drinks as needed. The seats and view were almost perfect. We were high enough to see over the crowds but not high enough to see through the masses of people that crowded between the route and us. So some of the lower detail of the activities was not observable. When it was over it was pandemonium in the streets as everyone, literally thousands of people tried to leave the viewing areas at the same time and head down the side streets to whatever transportation they were seeking. Our group managed to flow with the crowd down one block then spiraled off onto and intermediate block that fortunately for us was the alternative bus route to go back to our marina. Once on the bus we were out of the crowds and home safely. We didn't go to the other Carnival events, which lasted for 5 days, though the parade was great to watch.
Carnaval Parade Pictures
We're still in Mazatlan, the boat work continues!
Thanks for visiting our blog. More to follow for sure!