What sailors do in the winter
02/09/2013, Minnetonka, MN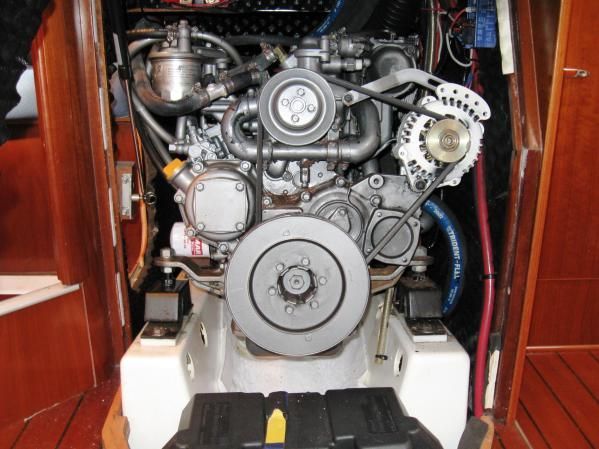 Well, it's winter here in Minnesota and the boat has been tucked about for a little over 3 months now. I am missing my boat....sigh....

In the winter months, we try to keep the sailing mentality alive despite the snow and cold. Any opportunity to talk about sailing, visit and shop at West Marine, plan projects to be completed during the season, complete projects over the winter and attend educational classes that will help further our knowledge.

We just returned from attending Mack Boring's Diesel Maintanence class for boat owners in the Chicago area and boy, did we learn alot. Prior to attending class we had this mysterious hunk of metal, gears and belts living below our companionway steps. (Well, perhaps Mark knows alot more that I do, however to me it was a mysterious hunk of metal). After attending class (which was awesome thanks to our great instructor - Jordan, thanks Jordan!), we have successfully completed the following:

Changed the alternator
Changed the starter
Changed engine oil/filter
Changed coolant
Changed raw water impeller/pump
Took apart the heat exchanger and replaced
Pulled the fuel injectors, inspected and replaced
Removed the valve cover and adjusted the valve set
Replaced the v belt and adjusted
This and a whole more....

Now this all seems a little less mysterious...

We also met some really great people who were also attending the class with us. Lots of different boats, motors, stories and experiences. It's a small, small world when one of the guys in class shared a sailtime boat with our friends John and Kate Dowell.

Our First Season with Painkiller
10/01/2012, Lake Pepin, WI
Well, yesterday we were at the boat and took down the sails for the season and started to empty all the items that cannot remain on the boat for the winter months. The boat will come out in a couple of weeks time and we want to be prepared for this year's haul out since we have never winterized this boat, nor has this boat ever been winterized. We wanted to allow enough time for things to not go as planned.

So, our first season with the new Painkiller...we have accomplished a great deal this year in making this boat ours, although to the naked eye it doesn't appear to look that different.

Here's the list of what we have done.

Lots of cleaning
- Clean & polish all the interior woodwork
- Clean & polish all exterior stainless steel
- Clean & Wax all fiberglass on the topsides
- Clean out fridge and freezer
- Clean stove burners (they all work now)
- Compound, wash & wax the hull
- Wash & polish the mast, boom and all one hundred million inches of
wire rigging
- Clean bilge

Putting some stuff back together
- Reinstalled the solar panel
- Reinstalled the wind generator

Some Fixing/Repairing
- Fix loose wire on starboard side AC/Heating unit to allow it to heat
- Repair dinghy davits (broken during take down and transport)
- Electrically bonded the sea water strainer for AC and for raw water
wash down
- Fix loose connection on cabin fan
- Fix loose connection on stereo speaker
- Replaced the starter for engine
- Lubricate slide out for garbage can
- Replace water pump, impeller and belt on generator water system
- New bottom paint
- Newly painted boot stripe
- Change zincs
- Redo teak fiddles in the galley
- Re-tag and re-certify fire extinguishers

Some upgrades
- Installed a wifi antenna
- Installed the XM radio and antenna
- Make a cover for the freezer so that when we open the one door the
freezer is not open everytime you open the fridge
- Put the name "Painkiller" on the transom
- Install line hanger in port lazerette
- Make new curtains/covers for portlights
- Remove shampoo and conditioner dispensers in the bathroom
- Added new teak boarding steps

Wow, when I look back at all we have done, I feel quite accomplished. Next spring comes our big task of re-finishing all the exterior teak!

Our First Night Sail (on Lake Pepin)
08/24/2012, Pepin, WI
Friday night we arrived at Lake Pepin, as we usually do. Forecast for the weekend looks like Friday will be the best sailing day for both winds and weather....we must do some sailing. We arrived about 5:30 pm or so and always have a little work to do to unload the car and get settled for the weekend and of course, we must eat dinner.

So, after we got settled, we got some awesome brick oven pizzas from the Third Street Deli. This weekend, it is Mark, myself, Abbie and her boyfriend Mason with us.

After an awesome dinner, we gather friends from the dock, who are also interested in a great sail - aboard we have Don, Jodi, Tim, Julie, Jay, Mark, me, Abbie and Mason. We left the dock just after the sunset.

The winds were from the south at 15 - 20 knots (that's about 10 - 15 mph for you landlubbers). After dark there was a beautiful half moon shining brightly on the water and a clear sky full of stars. I absolutely love sailing at night! For reasons I can't understand, Lake Pepin has virtually no boat traffic after dark, so we have the lake all to ourselves.

It is a absolutely perfect night sail on the lake and we sailed about 12 nautical miles with only a small handful of tacks required (tacks = turning the boat).

I cannot describe how peaceful, exhilirating, calm, fun, freeing, mysterious, and connected to nature, sailing at night is. Especially great with good friends aboard! Perfect!


Oh, your the new Island Packet
06/24/2012, Pepin, WI
Yes, it's true, our identity has been reduced to an immediate association with the boat make, model and name and we have lost all sense of names and personalities.

Well, I am exaggerating a bit, as my husband tells me I like to do...

However, I do find it curious that among sailors there is an immediate and lasting association of people with the boat. I too, am guilty of this affliction...for the life of me, I can't remember their names, but you know... the ones that own that Catalina.

It appears that even before we are introduced to people, they are already aware of a new boat in the marina, what it is, what dock it is on, etc. So, frequently when we do finally get to an introduction, the response I hear most often is "Oh, your the new Island Packet". Why, yes, I am the new Island Packet, er...I mean, hello, I am Rose and my husband is Mark.

I am not bothered by this association to the boat and once introductions are complete, I suspect we become Mark & Rose, who own an Island Packet. And I know, when we get out cruising, we will once again be referred to as "Oh, your the new Island Packet". And it's all good, comes with territory of owning a boat I suppose. Just a causual observation of this name game we play.

Now, I must be off, need to run over and chat with some people who own a Catalina that I can't remember their names, but have remembered their dog's name (I guess that's a whole other topic for a furture post)



Friends, Fun & Relaxation
06/09/2012, Pepin, WI
Well, if I read through our previous blog posts, it sounds like all we are doing is working on the boat. This weekend the priorities shifted a bit in the right direction. This weekend was all about friends, fun and relaxation. Our good friends Marty & Linny are at the boat this weekend with us and we had a great sail with the old gang from Shorewood Yacht Club - Mark and I, Marty and Linny and Don & Jodi (and their dog Ozzy too!) The winds were great - 12 - 22 knots from the SW. Enough to make for an exciting and fun sailing time and I few exclaimations of "Your going to kill me!" Ok, just to explain, there were no actual deaths involved in this journey, just a joking expression among sailing friends. Ok, so we did finally roll up the jib and sailed on the stay sail and main....that's better.

All three couples have grown through various stages of our sailing experiences. We all previously owned Hunter sailboats and sailed them together on Lake Minnetonka. Likewise, we have all fairly recently moved on to own bigger, crusing boats. Our friends Marty & Linny have just purchased a 44' Nordic in California. We had great fun swapping boat purchase experiences and are so happy for them in their new adventures that will be coming soon in California.

A fun 4 hour sailing afternoon was concluded by some sundowners in the cockpit with appetizers before we turned to thoughts of dinner.

The town of Pepin is fairly small, however has some great little resturants in the area. We had dinner at the Garden Pub, which is just a couple of block walk from the boat and has a great outdoor patio where we could sit under the table umbrella's and could even bring Don & Jodi's dog Ozzy with us. It was a great dinner of burgers and such on a hot and glorious summer day.

I am looking forward to more days like this!

FAQ - How did you find the boat?
06/03/2012, Pepin, WI
Well, so far that most frequently asked question that Mark and I have received from our dockmates that we have met is....

How did you find the boat?

This question usually comes after we have already told them that we bought the boat in Florida and had it shipped to Minnesota/Wisconsin on a truck. I am sure they are really thinking...why would you buy a boat in Florida and ship it here?

Well the answer is really quite simple, there are not alot of ocean going boats available for sale in Minnesota/Wisconsin that would be suitable for our intended purpose of cruising in the tropics/living aboard. Once we settled on the purchase of an Island Packet, there also are not a great deal of Island Packets on the market in Minnesota/Wisconsin either.

So this really required that we not focus so much on where the boat was located but instead focus on purchasing the right boat for us, regardless of where it was located. Yes, shipping is a considerable expense, not to be ignored, however when compared to the overall cost of the boat itself, it really is just a small percentage and one that we were willing to pay on the right boat.

Of course the more simplistic answer to the question is, we found it on yachtworld.com. Now perhaps not everyone knows about yachtworld.com, so I explain that it's like the MLS listing for houses online, only for boats. Nearly any boat in the world that is for sale, is listed on yachtworld. So, like us, you just sit back and browse through the descriptions and pictures in the comfort of your favorite lazy boy and dream about which one you want to buy....hahaha.....then you wake up from your nap in the lazy boy :)

Yes, browsing yachtworld.com can be an obsession on to itself. Sometimes you kind of forget...am I looking or buying?