Back to La Paz, Mexico
Capt Rich
07/21/2014, 2014 Mexico Food Tour
Three things dominate life back in the USA: Schedules, schedules and Schedules. Between the kid's sports and school schedules along with our work schedules, the days, weeks and months just slip away into the future. So when we have an opening in the schedule war front line, the best thing to do is charge forward before the enemy fills the gap with pointless activities and tasks of monotony.
Summer school ends on Thursday and high school sports have a few weeks of mandated "dead time", so what better use of our time could there be than a trip back to La Paz, Mexico? I say none. Unfortunately for Lori, her new job will keep her from going, but she may just enjoy the 10 days of quite on the boat. Of course we will miss her, but without her to run rough shot over our Taco Tour...the sky's the limit!

We will document the gluttonous excess of the Taco Tour on the blog for posterity's sake. The Taco Tour Starts on Saturday July 26th


Maybe This Will Explain It
Capt Rich
06/02/2014, The
The word "Busy" doesn't seem to do justice to what's been going on aboard for the last year. The kids absolutely love Morro Bay high school which only has this week left for finals. Lori is off the boat during the day now putting her PA skills to use pediatrics. And I've been doing what I love, developing products and adding to the Cruise RO Water line. Product development is what I did for years before casting off cruising. The fun part is the getting to play and test, but the negative part is that it's pretty much a 7 days a week down to dusk process to go from an idea to product ready for sale. The photo below for example is our solar powered refrigerator unit that we developed jointly with a company in New Zealand. They are using these for total off the grid application and putting them in small villages that don't have any refrigeration. The 1000W of solar and Lithium ion battery bank will keep villages fish, meat and produce and be as maintenance free as possible. It seems humorous to boil down about a year of work and testing into a photo and paragraph, but here you go:



Then in the spare time, we are gearing up to produce the KISS Wind generator. "Rich...are you crazy?" Well of course, but let me explain how it all happened. The current manufacturers of the KISS Wind generators were looking ahead to retirement and word got out to them about our successful purchase of Technautics/CoolBlue so the owner could retire. Like Technautics, the KISS wind generator has a long standing reputation in the cruising world as a bomb-proof quality piece of cruising gear, so when the opportunity came up to add the KISS to the list of things we manufacture...heck...how could I say no? So what was going to be a quite relaxing summer working on the projects aboard the boat has turned into a summer project of moving the KISS wind generator production from Florida to San Diego.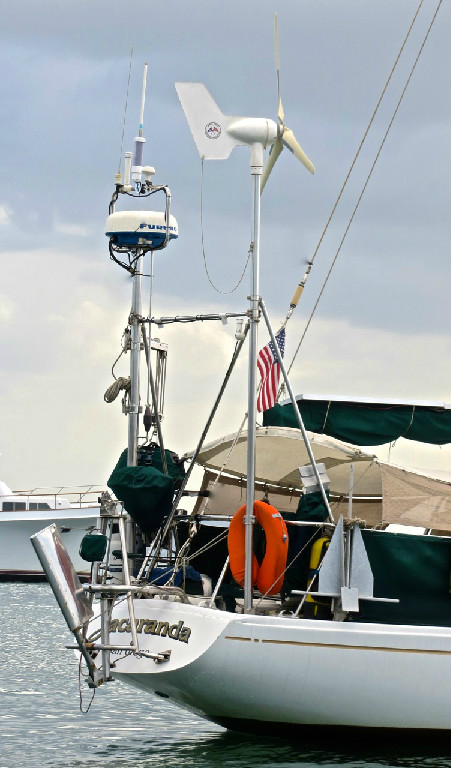 I've promised myself that the KISS wind generator is the last addition to the gear line for a while because, well frankly, I don't need or want to work this darn hard! Unless there is a Mexico taco stand at the end of the rainbow...same old me...just lighter. I've managed to lose 30lbs since January, which is what living in the States without a good empanada or shrimp taco will get ya!

Cruising Family Rescue
Capt Rich
04/06/2014, The Cruising Family's Worst Nightmare.
http://www.nbcsandiego.com/news/local/Navy-Ship-Makes-Contact-with-Boat-with-Sick-Baby-254056951.html

Having a sick child at sea is every cruising parents worst nightmare, but thanks to the California National Guard and US Navy...the family is safe.