Back from La Paz, Mexico
Capt Rich
08/09/2014, 2900 Mile Round Trip
The first miracle for the 2900 mile round trip from Morro Bay California to La Paz, Mexico is that our 1998 Honda CR-V with 240,000 miles didn't have a glitch. The AC worked in the 106-degree heat, the suspension didn't fall apart during our 34 mile off road "shortcut", and we only had to turn off the engine once to keep it from overheating while we were parked on the road waiting for the road construction delay to end. Maybe it wouldn't have overheated at all if we would have turned off the air conditioning, but we took the risk and suffered the consequences. The second miracle is that Grandma Gina, the lady who runs our favorite burger stand in La Paz still remembered how Jason liked his burger and they were just as good as we remembered! We were a little apprehensive, afraid that our memories had built up our favorite food places to an unobtainable level, but there were several times during the trip that Amy asked me if I was ok, because I had tears in my eyes!

One of our best meals wasn't at one of our old classics but was based on what I call "Taco Cart Experience". We had just left the hotel on a Sunday morning heading south out of San Quiten and then out of the corner of my eye I spotted it down a side street. A rag-tag collection of shade tarps that could only mean one thing: a MSM (Mexican Street Market). Usually a once a week affair, a MSM is part swap meet, part farmers market, part flea market, and if you are lucky - part taco goodness. A lesser trained eye could have missed it, but I almost instinctively stepped on the breaks and made a sharp U-turn. It startled the kids half-awake in the back seat and they were asking what I was doing. I just told them to trust me and I wouldn't do them wrong, they both laughed, but the laughter turned to understanding and ear to ear smiles as I turned on the side street and they spotted the MSM.

We were like three kids running down the stairs on Christmas morning as we scurried out of the car and followed the scent off authentic Mexican street food. To the left Tocos Dorados (fried crunchy Tacos), to the left Tacos de Carnitas, and straight ahead was aquas de frutas (fruit juice and sugar water). It didn't matter that we were the only white faces in sight; because from the smiles on our faces it was obvious to everyone we knew exactly where we were and were perfectly happy to be there! The pork they were frying up for Carnitas in a huge 3ft diameter old style wash tub looking fry pot was hold tenderloin. Now we have been into a lot of Mexican churches and never dropped a few pesos in the box to light a prayer candle, but folks, if there would have been a prayer candle around we would have lit the entire top row! For 10 pesos each ($0.75) we had perhaps the best pork carnitas tacos we have ever had in our lives. We were only ½ way to La Paz at that point, but we could have turned around and headed home, or cravings satisfied. Of course we didn't turn around; we wobbled to the car and continued onto La Paz, where like Cinderella at the Ball danced our way through the town.
To Be Continued......


Back to La Paz, Mexico
Capt Rich
07/21/2014, 2014 Mexico Food Tour
Three things dominate life back in the USA: Schedules, schedules and Schedules. Between the kid's sports and school schedules along with our work schedules, the days, weeks and months just slip away into the future. So when we have an opening in the schedule war front line, the best thing to do is charge forward before the enemy fills the gap with pointless activities and tasks of monotony.
Summer school ends on Thursday and high school sports have a few weeks of mandated "dead time", so what better use of our time could there be than a trip back to La Paz, Mexico? I say none. Unfortunately for Lori, her new job will keep her from going, but she may just enjoy the 10 days of quite on the boat. Of course we will miss her, but without her to run rough shot over our Taco Tour...the sky's the limit!

We will document the gluttonous excess of the Taco Tour on the blog for posterity's sake. The Taco Tour Starts on Saturday July 26th


Maybe This Will Explain It
Capt Rich
06/02/2014, The
The word "Busy" doesn't seem to do justice to what's been going on aboard for the last year. The kids absolutely love Morro Bay high school which only has this week left for finals. Lori is off the boat during the day now putting her PA skills to use pediatrics. And I've been doing what I love, developing products and adding to the Cruise RO Water line. Product development is what I did for years before casting off cruising. The fun part is the getting to play and test, but the negative part is that it's pretty much a 7 days a week down to dusk process to go from an idea to product ready for sale. The photo below for example is our solar powered refrigerator unit that we developed jointly with a company in New Zealand. They are using these for total off the grid application and putting them in small villages that don't have any refrigeration. The 1000W of solar and Lithium ion battery bank will keep villages fish, meat and produce and be as maintenance free as possible. It seems humorous to boil down about a year of work and testing into a photo and paragraph, but here you go:



Then in the spare time, we are gearing up to produce the KISS Wind generator. "Rich...are you crazy?" Well of course, but let me explain how it all happened. The current manufacturers of the KISS Wind generators were looking ahead to retirement and word got out to them about our successful purchase of Technautics/CoolBlue so the owner could retire. Like Technautics, the KISS wind generator has a long standing reputation in the cruising world as a bomb-proof quality piece of cruising gear, so when the opportunity came up to add the KISS to the list of things we manufacture...heck...how could I say no? So what was going to be a quite relaxing summer working on the projects aboard the boat has turned into a summer project of moving the KISS wind generator production from Florida to San Diego.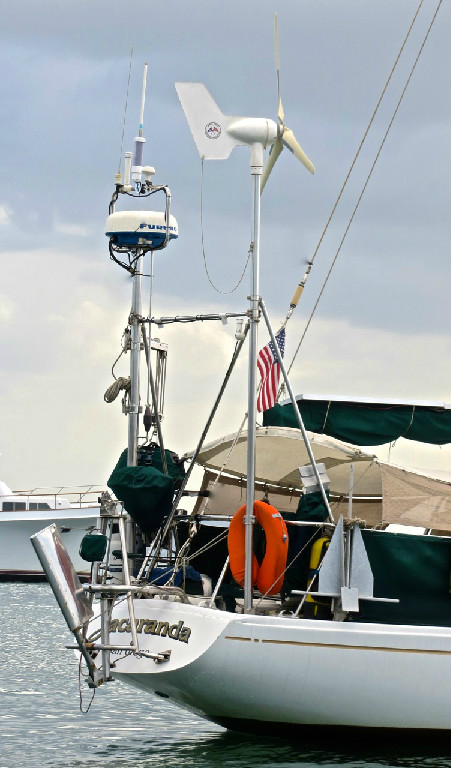 I've promised myself that the KISS wind generator is the last addition to the gear line for a while because, well frankly, I don't need or want to work this darn hard! Unless there is a Mexico taco stand at the end of the rainbow...same old me...just lighter. I've managed to lose 30lbs since January, which is what living in the States without a good empanada or shrimp taco will get ya!