We Have Moved Ashore
Capt Rich
12/13/2015, Port San Luis, CA
July 23rd, that sure seems like a long time ago now. Seasons change, High school football season starts and ends, and here we are still in the Port San Luis Boat Yard almost 5 months later. If we make the 6 month point we might as well change our PO Box back to Avila Beach and epoxy the jack stands holding up the boat to the hull. Sure the 10ft ladder isn't exactly fun and we keep getting sympathy emails and posts on Facebook, but the truth is it just isn't really that hard to be here...on the hard. It doesn't help that FatCats Cafe is just 50ft away but for those keeping an over/under pool we are really getting close.

In fact, if there wasn't currently a winter storm smashing into the boat haul/launch slip we would have already launched and headed back to Morro Bay. The boat is ready and we are not just waiting for calm seas. Of course the joke is that with the super El Nino this year we would be here until May. But the truth is "here" really isn't that bad if you forget about the $30/day is is costing us to remain in the boat yard.

We may have moved ashore temporarily but even Cortez is looking forward to feeling the gentle swaying of the boat beneath us again at night.

9 Weeks Later
09/27/2015
Last Friday Sept 25th marked 9 weeks in the Port San Luis boat yard, or just about 4-5 weeks over our initial gustimate.

I guess we could complain about the added costs, but this yard is pretty cheap at $12/day for the first 4 weeks, $15/day for the second 4 weeks and no $20/day for the third 4 weeks.

Maybe I could complain about having to climb up the 10ft ladder seemingly hundreds of time a day as I work on projects, but since I haven't managed to lose any weight this summer, well maybe I need more exercise anyway.

Then there is the lack of shower and bathroom facilities aboard. Well we do have a old school porta-potty to use at night and some pretty clean bathrooms and showers are only 300ft away.

I know I should have something to complain about, it's what you do while living aboard "on the hard" as us boat dwellers call it, but honestly I can't really come up with something.

I don't think I will make it back floating again in September. Then I'm in Annapolis, Maryland for the first two weeks in October for the boat show, so the best we are looking at now is late October for getting back on our mooring in Morro Bay.

Day 6 in the Boat Yard
07/29/2015
We are now on Day 6 of living aboard up on jack stands in the boat yard in Port San Luis. So far the best thing about these last 6 days has been that we are about 25ft from the FatCats restaurant, so all day long the smells of the kitchen are calling to me.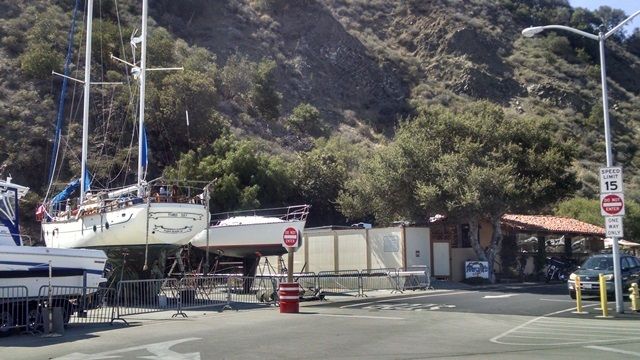 Our last haul out was back in March 2011, so we were certainly due for some bottom paint and many of our through hull fitting were original to the boat back in 1977, so we are taking on the huge job of changing out all 17 through hull fittings. That's $1850 just in bronze fitting!