Doing the Impossible and Loving it!
Capt Rich
01/13/2008
"You can't do it"
"It's crazy"
"You will be robbed"
"The road is horrible"
"There be monsters out there"

Well those are just a few of the calmer replies we received, as soon as we started telling people we intended to drive from Bakersfield, Ca to La Paz, MX and back during the kids Christmas vacation. As history teaches us, the grandest of adventures are had by those willing to face the unknown "monsters out there" and our 2400 mile drive through Baja was a grand adventure we will never forget!

Our 10 day trip had us on THIRD DAY in La Paz for 5 days with the other 5 days in transit. Looking back at the trip, it was the 5 days in transit that proved to be the best part of the trip, perhaps because it was called the most crazy and "dangerous" leg. Maybe the fact that we pulled off what so many said was insane without a glitch made it more enjoyable? But for what ever reason, the whole crew agreed that the time spent getting to and from the boat was the highlight of the trip. The little towns, the stops to explore along the vast desert when someone needed a pee-break, and the time together was worth the worry and doom of what "bandito" we would find around the next curve.

We don't want to sell short the time on the boat, because it was great. There were about 8 cruising kids in the same age range as Amy and Jason (9 and 10) on our dock at Marina Palmira, so the dock was bustling with activity. We had people over for dinner almost every night and made some new friends and were eager to learn form their experiences of being out cruising with kids.

I could go on and on about the beauty of the drive but it just seems logical to shut up and show some photos so below is a photo essay of sorts. A photo story of a family doing what others call crazy and having a great time, perhaps there is a lesson in here somewhere, but I'm still too high from the good time to find it!

We saw the "Black Pearl" in Ensenada



The Sea of Cortez, Bahia Concepcion



Our Car on the beach in Bahia Concepcion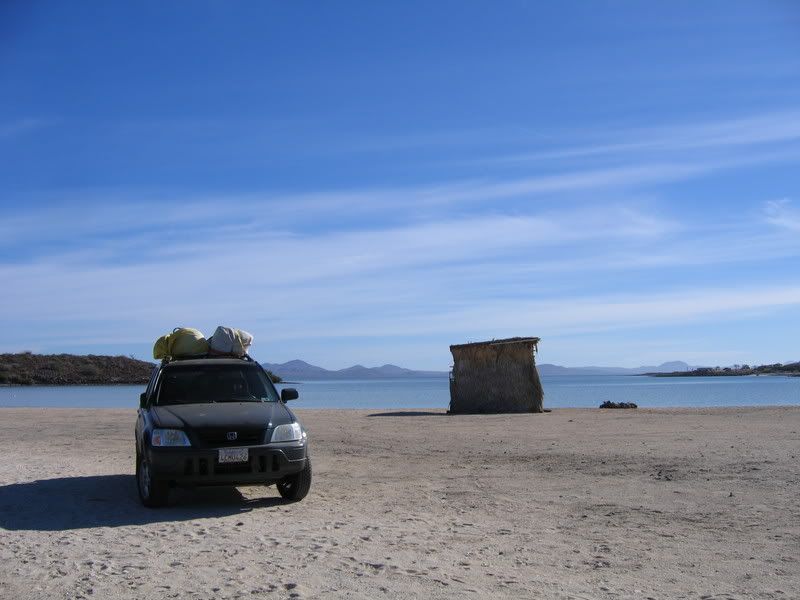 Vizcaino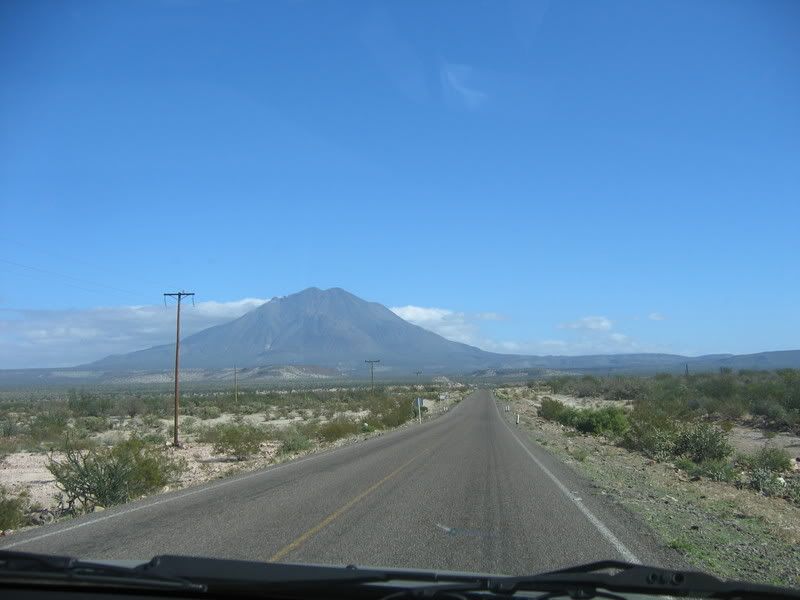 Playa Santispac



Bahia Concepcion...aka...paradise!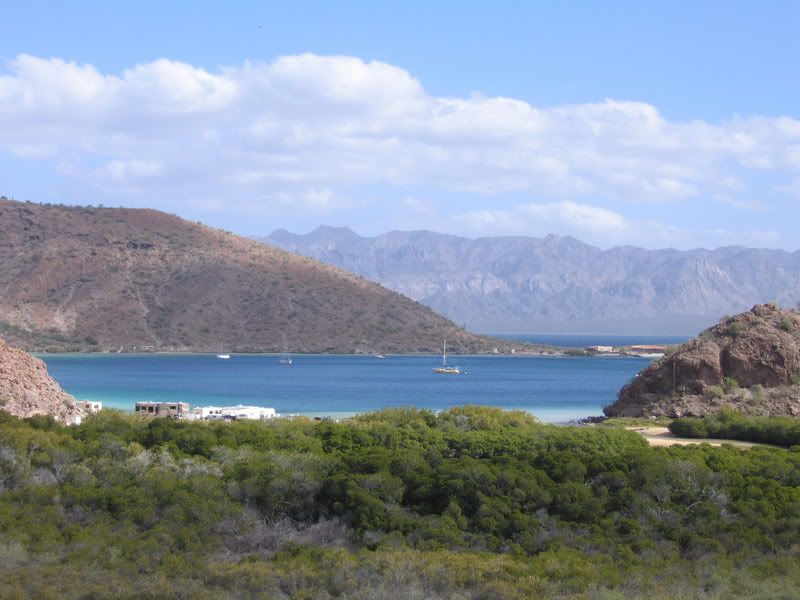 Is this the Road to Hell everyone has been telling us about?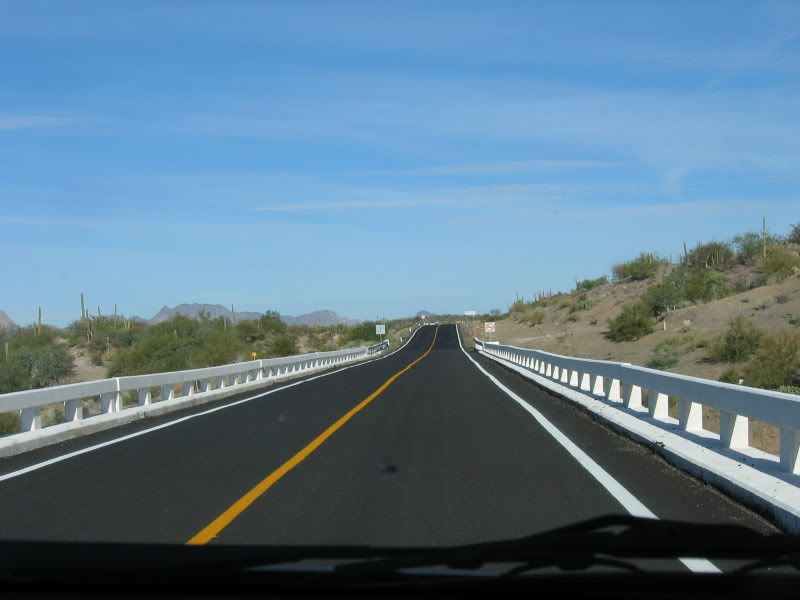 But seriously, there are hazards not seen typically in the USA....COWS! We saw eight of them dead along the road from close encounters with cars!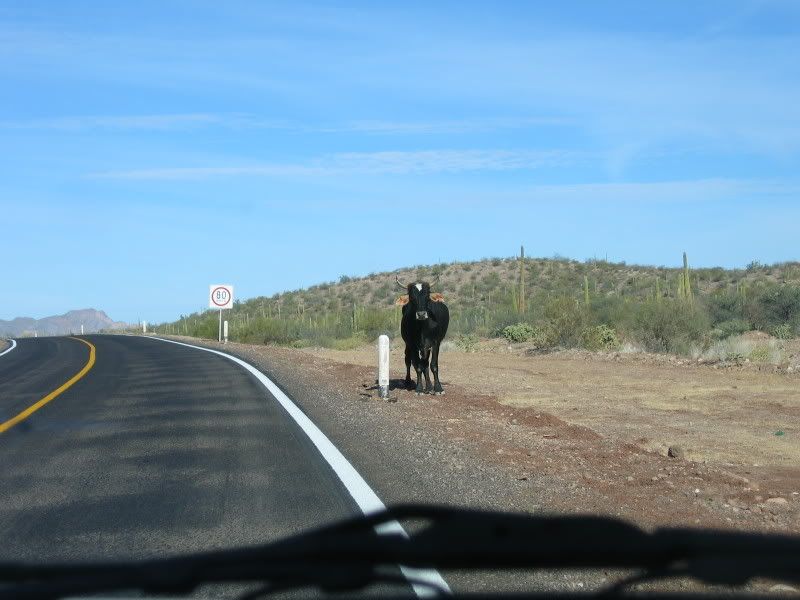 To be fair, there is some curvy section of roads.



Nuestra Senora De La Paz built in 1861.....comming soon.




More photos to come...check back later....







1179 Miles to La Paz
Capt Rich
12/31/2007, Marina Palmira, La Paz
December 26th started early at 0259hrs when I opened my eyes and looked that the time on the alarm clock. The clock was set for 0300hrs, so the excitement had me moving before the alarm clock went off! Lori was already in the shower so off I went to wake up the kids and started loading the car. By 0340hrs we were rolling out of the driveway and off on our La Paz adventure.

Besides my laughter, the only other sound to be heard in the car was George Norri talking about alien abductions on his after midnight coast to coast talk show. Someone on something called "the wildcard line" was giving a detailed account of how they had been abducted by "the browns" and were then subjected to wild experiments probing orifices, taking samples, and giving him a once over. Thrown in to the mix of wild stories were several cow mutilation stories from callers that have cornered the "kool-aid drinking" movement!

We officially left the USA at 0800hrs and the circus began almost right away! The sun was right in our eyes so seeing the road signs was all but impossible. We were all checking out the giant Indian bronze statue in the center of the "round-a-bout" and failed to notice that we had just missed our turn towards Ensenada. This was the moment of truth; lost in Mexico, would my crew mutiny and start their cries to retreat to the USA before we even arrived at THIRD DAY? This was my chance to show leadership in the eyes of certain disaster! So I smartly made a U-turn and proclaimed, "nobody panic, I've got everything under control". I wasn't a bit offended when the whole car broke out in laughter, leadership carries a heavy burden.

As I was trying to concentrate and lead us back to the safety of Hwy 1, Jason kept shouting "look, there's a stature of Abraham Lincoln!"

"No Jason, there isn't a statue of an American President in Mexico", I must have said several times before I was looking right at a huge statue of Abe Lincoln Himself! I quickly changed the subject as I saw the street sign that we had missed and told the rebellious crew we were back on track!

Day 1 of the drive took us from our house in Bakersfield to a $26/night hotel room in Guerrero Negro and was action packed full of adventure and sights. The pure vast empty nature of Baja California Mexico is spectacular, but then lets talk about the road! Honestly, the much talked about Mexican roads weren't that bad for leg 1 of the trip: Two toll roads that were in good shape, and then lots newly paved two lane highway. Mexico doesn't believe in wasting pavement, so they don't put any to the right of the white line, so if you happen to get your starboard (opps....right) tire off the road, prepare for a 12 inch drop at the minimum, so paying close attention is critical to safe Mexico driving, that's for sure.

I've got a strong suspicion that there are many more alien encounters here in Mexico than back in the USA, because there were dead cows all along the road and many of them look pretty fresh, as witnessed by the large number of vultures both on the cactus and circling around as an aerial landmark. By the time we completed leg two, from Guerrero Negro to La Paz, we counted no less than 8 cows in various stiff poses with varying numbers of vultures on them. I'll be sure to call into George to report the alien activity as soon as we are back in the USA.

We wouldn't have thought it possible, but the second leg of the trip had even more spectacular scenery and even more narrow twisty roads, so I guess you take the good with the bad. Driving through lava fields then rounding a curve to a million dollar views of the Sea of Cortez continued for hours. We continually remarked that if we weren't on a tight driving schedule, we would love to explore more on our way down, and plan to do so on our drive back.

The six armed check points all went smooth and the Mexican soldiers were clean cut and courteous as they asked us in Spanish where we were going. I used my best Spanish to tell them that we were driving to our boat in La Paz and after a quick look in the back seat at the kids got us a quick move along hand wave

We will post some photos and more of our La Paz trip when the excitement slows down!

Regards


Back to La Paz....only via Auto this time
Capt Rich
12/21/2007
THIRD DAY has been patiently waiting in Marina Palmira for us to return after our great Baja ha ha rally. The "Plan" is to cross the San Diego/Mexican boarder at sunrise on December 26th and then make the 22 hour car drive to La Paz. We will spread the drive up into two long days with our midway stopping point being either: Guerrero Negro, San Ignacio, or Santa Rosalia, all depending on how the traffic and driving works out. Once reunited with THIRD DAY in La Paz, and after a few days of resting and exploring La Paz with the kids, we will provision for a trip out to Isla Espiritu Santo where we will relax on the hook, fish, swim & snorkel and enjoy the warm weather! After we have had our fill of sun and fun, we will make the return drive back to Bakersfield, Ca and the cold weather.

THIRD DAY will remain in La Paz until we make the return trip back to our mooring in Port San Luis, Ca. The trip north up Baja is termed the Baja Bash and for good reason, as it is against the prevailing wind, current, swell and common sense!

When in Mexico, we will update the blog for all our snowbound and cold friends.