Last Day of 2009
Capt Rich
12/31/2009, make 2010 what YOU want.
It was a long, but successful day-trip to Tepic. We made the bus ride from San Blas to Tepic and back without any real incidents and I'm happy to report that Cortez is doing fine. We left the boat at 0715hrs and returned at 2030hrs, at which time I went straight to bed.

The internet connection is not working on the boat at this time, so this post was made over the HF Radio, so I'm not able to post any photos of the trip. Hopefully my internet connection will return once the San Blas public library opens this morning and they turn on their computers, since it's their internet connection that I'm able to use out in the estuary.

At the top of today's agenda is continuing the ice box lid and hatch teak trim varnishing so that we can once again have refrigeration and if all goes well with that project we should have 6 coats of varnish completed by Sunday. Until then, we will live out of our borrowed ice chest, which is giving us a whole new appreciation of our electric refrigeration. Our Aldler-Barbour super cold machine, which keeps our ice box cold, is by far our biggest energy hog aboard the boat, but after a week without refrigeration, it's also a huge quality of life improvement second only to our 50 gallon per hour watermaker. I guess we could cruise without it, and some people do, but life without it would not be as comfortable and honestly, I wouldn't recommend it. If going cruising without refrigeration was the only way I could go, then I'd do it, but I'd be keeping a close eye out for a used 12v ice chest type cooler on ebay!

With today being the last day of 2009, I'll find some time in the next few days to summarize and post year end totals and averages for our 2009 cruising costs. I'll also post the Nov and Dec cost summaries up on our website. November came in at $1,165 and assuming we don't spend anything today, which is anticipated, December looks like it will be $1,631. December had some health care costs of $379 along with the $121 for Cortez making it a little higher than the monthly numbers we have been keeping lately. The good news is that the $379 in heath care costs would have easily been $3000 if done back in the States so not only did we save $, but we actually experienced Better care here in Mexico than we would have back in the States. I'm planning on writing up our health care experiences in an upcoming blog post, which will help bust what we found to be a myth of poor health care in Mexico, so stay tuned.







A new needed tool
Capt Rich
12/30/2009, find room in the bilge.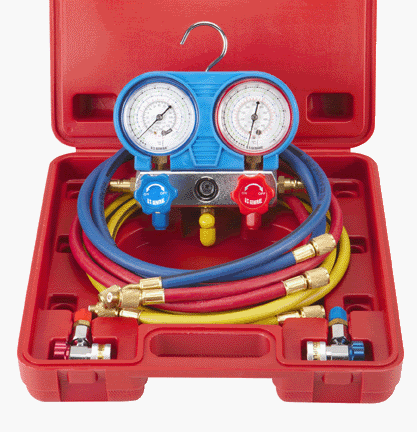 At times, I think that THIRD DAY is a floating tool barge but after this refrigeration incident, I now have another tool that I would include on any cruising boat. A few cans of refrigeration refrigerant and a refrigerant guage/manifold set would be a valuable addition that could save you or one of your cruising neighbors. I was able to get my refrigeration fixed by the local tech for $600 pesos (only $46US) so the repair cost was certainly reasonable, but having the ability to recharge and test the refrigeration system would definitely be nice when cruising remote locations. We will once again have cold water and beer aboard THIRD DAY and with the temperature in the 80's here in San Blas, we need refrigeration!

This morning, I'll be taking Cortez on an hour buss ride to Tepic, the state capital of Nayarit, to have him neutered. It's something that needs to be done, and with our friends on Eyoni making the trip to Tepic, the timing is right for me to tag along with Cortez and borrow their cat carrier box.


Projects: Planned and Unplanned
Capt Rich
12/29/2009, the real cruising lifestyle: repairs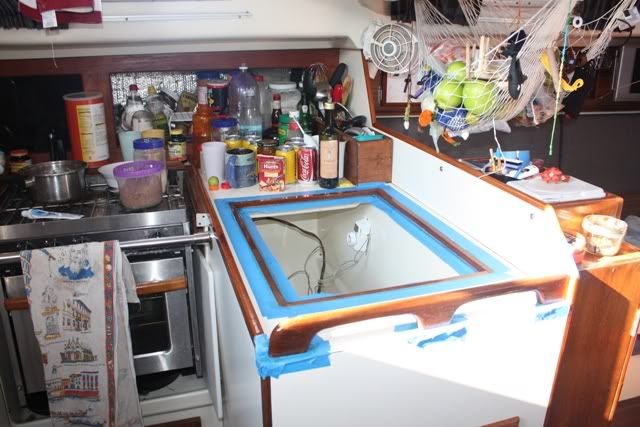 Yesterday was simply one of those days. I set up a 5PM appointment with the refrigeration guy to come and repair the refrigerant leak in the morning, so in the afternoon, I decided to start on my project list. The port sail locker was already emptied out to gain access to the refrigerator compressor, so it made sense to change the fluids in my 6.5Hp Kubota engine that drives my watermaker. I wanted to warm the oil up before sucking it out of the dip stick tube with a small pump, so I fired the engine. It was then that I noticed a little excess play on my high pressure water pump. After I turned off the engine, I grabbed the high pressure pump to inspect the movement and the bracket came off in my hand! The bracket had cracked and was only being held in place by the belt and two hoses attached to the high pressure pump. I've been down this road before with broken brackets, so I didn't panic. Instead I just laughed and called for Lori to come take a look.

An hour later, I had the unit taken apart and stuffed in my backpack for the short trip to Cezar's welding shop. He welded up two items for me last year in San Blas, so I knew where to go for repairs. There was a little excitement getting to Cezar's that provided a little entertainment for the locals working at the fuel dock. I was on the bow of the dingy and Jason was driving. My plan was to hop off the bow and then push Jason and the dingy away form the beach. Well, before I knew it, the dingy had hit bottom and I was flying off of the bow and into the water. I surfaced to the laughter of the locals, took a bow, and sent the also laughing Jason back to the boat. Cezar recognized me when I walked up to his shop and we chatted for a bit about how our families were doing before he jumped into the repair. Thirty minutes later and for only $200 pesos ($15.4US) I was heading back to the boat with a repaired bracket. The engine fluids were then changed, and I was back in business just in time to dingy ashore and pick up the refrigeration repairman.

Alfredo examined the small leak, which resulted in the loss of most of the refrigerant gas he had replaced 48hrs earlier, and informed me that he could repair the leak. He mixed up the black two part paste, which to me looked a lot like the Mexican version of JB Weld, and applied it to the leak and surrounding areas. The material takes 24hrs to cure, so he will return today at 4:30PM to recharge the system with refrigerant and determine if the patch was successful.

In the typical boat project way of a project expanding beyond its original scope, we then decided that since the refrigerator was down for repair, now would be a good time to sand and varnish the teak trim around the refrigerator hatch. So this morning I applied the first coat of varnish and in a few days, if we are lucky, should be able to move our sacred blocks of Mozzarella, Gouda, Blue, and Goat cheese back to the ice box from their current location in the ice chest that we borrowed from SV Eyoni.

For the score card, we have been in San Blas now for 6 days. We have not started any of our preplanned projects but we have worked on two surprise projects of a broken watermaker bracket and the leak in our refrigerator. Well, I should take that back, I did get the fluids changed in the watermaker engine and I did enjoy a Pork Torta on the plaza our first night in San Blas. It's all about priorities and that Pork Torta was certainly higher on my list than moving the battery location from the engine compartment to under the cabin salon floor!