Opening Day of Shrimp Season
Capt Rich
09/17/2009, Busy busy busy harbor today at the fleet prepares
Tonight is opening night of Shrimp fishing season here in Punta Penasco there were many shrimp boats in the harbor preparing for the season opener. All day the sound of men working on their boats rang out through the harbor, which typically was someone hitting something with a hammer! We arrived in Rocky Point or Punta Penasco about 1100hrs this morning after a nice easy 14 hour motor-sail form San Felipe. The wind wasn't that usable for sailing, but the seas were calm, so it was a fair trade off, considering the hellish nature of our last aborted attempt at reaching Penacso. Within an hour of being at the dock, we had a dinner invite over to the house of former cruisers, now full time residents in Penasco. It will be fun to share cruising stories over dinner and get some local information about this interesting town.

I did make a trip today to Super Ley, which is similar to most grocery stores in the States, and it was fun just to walk the meat and veggie isle eyeing all the food that we haven't seen since we left La Paz, some months ago. If I ignore the high-rise condo-lined beach, so far I have a good feeling about Penasco. It's only $20 pesos for a taxi to take you anywhere in town, so we will be doing some exploring in the next few days.


Aground!
Capt Rich
09/16/2009, as planned and our exit from San Felipe Again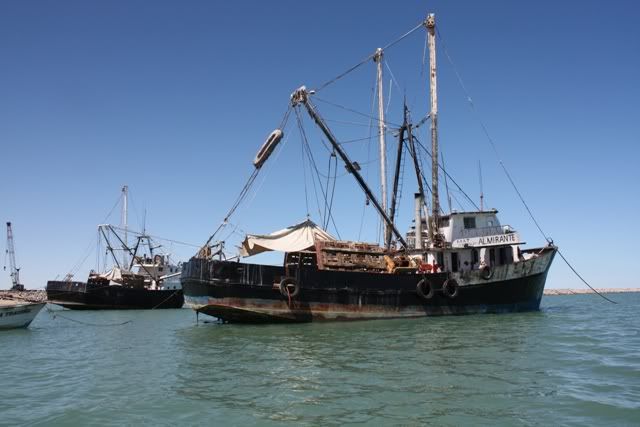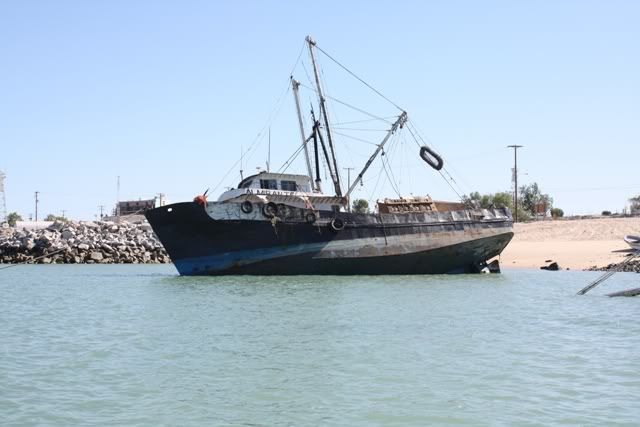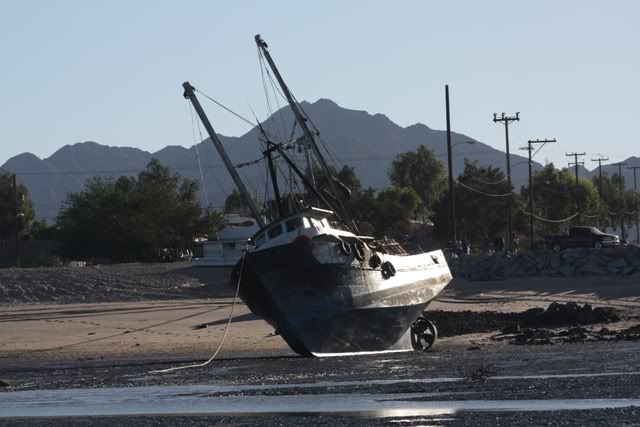 You can do a lot with a 20ft tidal flow as these photos show taken inside the San Felipe Harbor. There are now currently 3 shrimppers aground at low tide all getting their boats ready for the opening of shrimp season in a few days.

After ordering our new anchor windlass and about cleaning out our cruising kitty, we decided to try our luck again tonight and make the 67 mile trip to Penasco. We will stay there a handfull of days to film and explore the area and then return to San Felipe for our fast car trip to El Centro California, where we will be picking up parts and visiting with family. We will be keeping our eyes out for soda and beer cans alongside the road to help pay for the new windlass, but what can you do, as pulling the anchor chain by hand was just not an option.

So the next post should be from within the harbor of Punta Penasco (Rocky Point) or of Lori digging out lost peso coins from the bottom of the bilge!

Anchor Windlass Repair
Capt Rich
09/15/2009, or at least a try!
After doing all I could with my failed anchor windlass, it's now in the hands of the repairmen here in San Felipe. As seen in the photo, I'm not sure a hammer is a Lewmar approved method for repair, but as they say, "when in Mexico"! I should hear in a few hours the prognosis: can she be saved or will our cruising budget take another big fat hit. Only time will tell.

There is a 15ft tidal swing here in San Felipe today and we are getting ready to watch two big shrimpers intentionally ground themselves on the careening beach here in the harbor. Rather than pay thousands of dollars for a haul out, they simply let the tidal movement do the work for them, allowing them to make bottom repairs and apply new bottom paint. Before the days of boat lifts, careening your boat for bottom work was standard operating procedure. It will be interesting to watch and we will be sure to take plenty of photos for the blog. If we were in need of new bottom paint, we would consider giving it a try ourselves, although it would be odd to intentionally ground our vessel, when we spend all of our time avoiding going aground!

Pending windlass repair and weather, we still are trying to leave for Punta Penasco. It's a good thing we don't have a "schedule' or we would sure be shattering it with our extra time in San Felipe!