Amy: Our New Kitty
Amy Boren
11/04/2009, Day 1
When I first say the kitty I loved him. He almost knew where everything was on our boat. He never missed the litter box, not even once. He loves to play. He runs all around the boat, jumping up and down. I made him some toys to play with and then he gets sleepy. I take him to the litter box after he eats some food and then takes a nap. It's so cute to watch him sleeping.


Cruiser Entertainment
Capt Rich
10/09/2009, Capt Norm would be proud!
When we were back in San Blas, Jason was quite excited when he purchased an authentic looking pile of fake dog poop at the local Saturday flee market.. Now I realize that not every cruising boat carries a pile of fake dog poop, but then again not every cruising boat carries 4 hula hoops, so it's just part of the reason THIRD DAY is so over loaded. During our stay in Puerto Penasco, Jason had his chance to have some fun with the "trick", as it's been called, with tourists walking down the dock past THIRD DAY on their way to the party barge. These photos pretty much tell the story and incriminate the entire crew.

Poop on the deck of SV THIRD DAY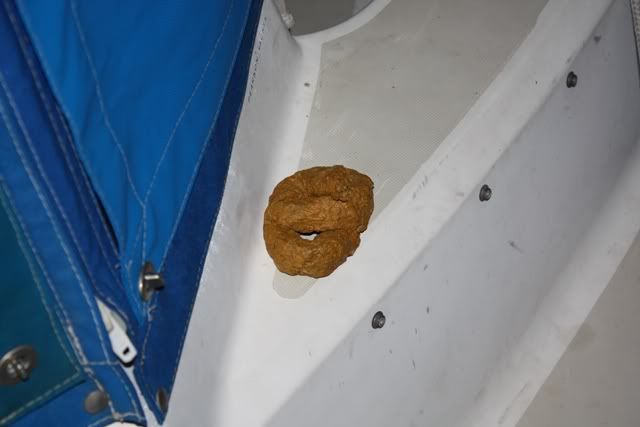 The innocent looking pranksters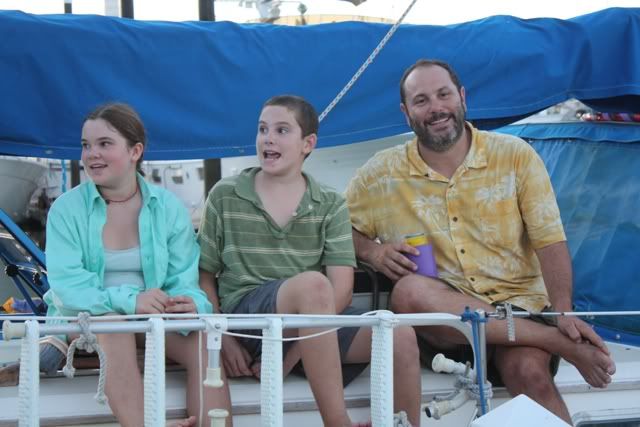 Some passed it calmly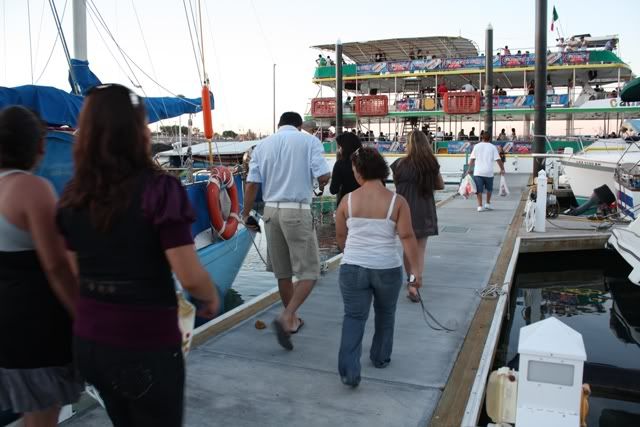 While other bumped into it and screamed!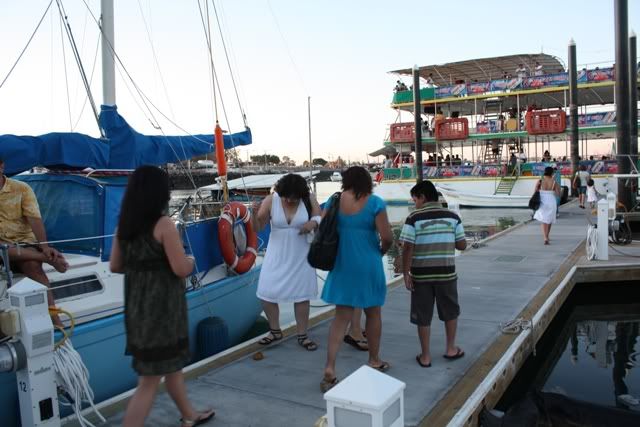 Jason the Fish Slayer
Capt Rich
10/08/2009, At Puerto Refugio on Isla Angel de la Guarda
While the kids were working on their home school, I donned my dive gear and set out to spear us lunch, however, it wasn't to be. First, two of my 3 spear gun rubber bands broke as I was loading my gun, so I returned back to the boat for my spares. Then I shot at a large fish and missed, smashing my spear into a large rock and breaking off the tip. I do have a few spare spears, but instead of trying a third time, I decided to take the easy way out and pick up a few clams for lunch.

Following school and a pasta and clam lunch, I stayed behind on the boat, while Lori took the kids snorkeling. Amy was excited to try out her birthday gift camera, which can take underwater photos up to 30ft, and Jason was looking forward to trying out his new pole spear that he bought in Puerto Penasco. I was running our dive compressor to fill our two tanks, when I heard Jason screaming above the 5hp Honda engine that powers the compressor. He had speared a fish! By the time I had filled two tanks, they were back to the boat and showing off Jason's 6 fish, three opal eyes and three trigger fish. He made a point of saying that he had broken my previous record of 5 fish in one outing, with his six! So it turns out that we will have a fish fry for dinner, just not speared by me, but the new fish spearing champ aboard THIRD DAY.

The weather here today was right out of a Mexican visitors guide. Just enough breeze to keep things cool, but not enough to cause any swell or chop on the water, in a word, a dream. The forecast is for the winds to build out of the North-Northwest this evening but hopefully we will have another calm night at anchor. At this point, it's hard to imagine leaving here anytime soon, but all of our friends are about 35nm south of us and we are really looking forward to seeing them. It is nice being the only boat in this huge anchorage, but it's been quite some time since we hang out with another kid boat, and the kids are really looking forward to seeing the kids on Just A Minute and Windfall again.

Speaking of Windfall, the last time we were all here, back on Sept 1st, Tim dropped his sun glasses overboard. As I was checking out our anchor today, I found his long lost sun glasses, so it was Tim's lucky day indeed. Tim is the nicest 14yr old boy I think I have ever met and Jason really looks up to him, so that's another reason to head south, not to mention that we have a pile of things for Windfall and Just A Minute from our trip to the States.

It is really hard to believe that it's already Oct 8th and time is growing near for us to start heading South, around Nov 1st. I can definitely see how/why people spend more than one season cruising Mexico and the Sea of Cortez. There are just so many anchorages and places to see, there is just no way that you can see everything in a single season. In fact, many long term cruisers that have sailed around the world, rank Mexico and the Sea of Cortez as some of their best cruising, so if you are planning on coming south with this years Baja Ha-ha or in the future, don't short-change Mexico. It's worth at least spending a season here and no one could fault you for spending more!