Things you do while out Cruising
Capt Rich
03/03/2010, but at least the water is warm!
These two little events help to give a idea of what goes on aboard a cruising boat all day. The morning started off with Lori taking a little swim after the dingy was spotted slowly floating away from THIRD DAY here in Tenacatita Bay. We won't point fingers of blame on who didn't secure it to the boat properly, but I got my chance for a swim later.

Then after having my dingy wheels aboard for over two years, I finally got around to finishing the installation process. I've started and worked on it many times, but never actually finished. As of this moment, one of the two wheels is installed and when I went to the beach yesterday I was taking heat for having a "Unicycle". I plan on getting wheel No2 installed today. Why does a dingy need wheels? Well, try pulling the 105lb dingy and 79lb motor up the beach filled with beach stuff and you will have your answer!

I don't have a photo of the 3rd item, but yesterday I discovered that the "knock" in my helm (steering) was due to an almost sheered off pin. So we won't be pulling up anchor until I get that fixed, hopefully with a bolt until I can find a new bronze pin. Having just went through a nasty gale, I'm sure glad I didn't lose steering at the same time our main sail blew out!

[I'd also like to thank everyone that left a supportive comment on the Money talk blog post, it's good to know people enjoy seeing the cost numbers]


Lori Preparing for a swim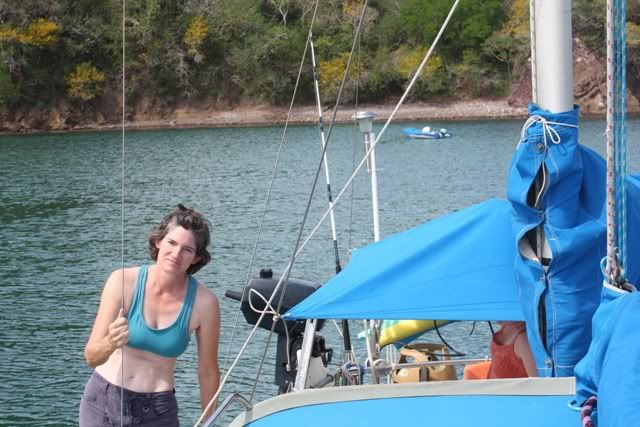 Lori Swimming after the "lost" Dingy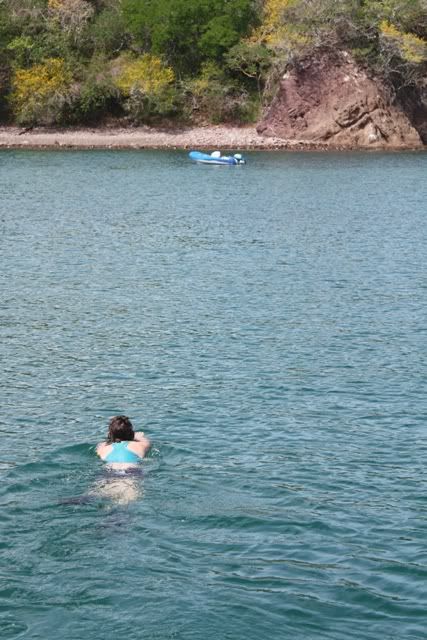 Capt Rich installing the Dingy Wheels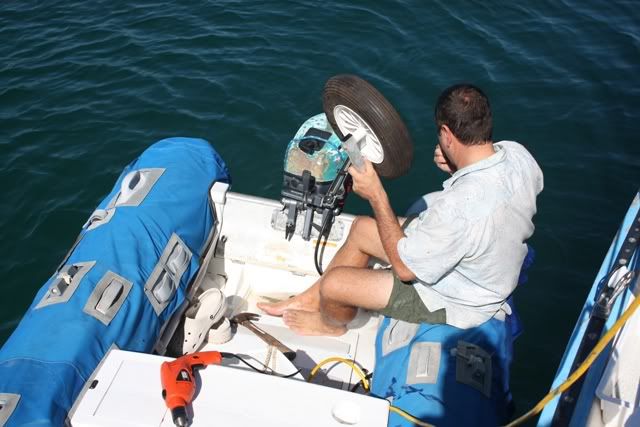 You Drop it, you go get it!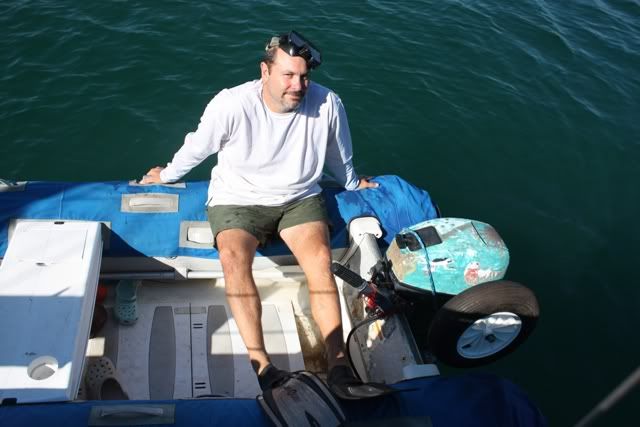 $ Talk Again
Capt Rich
03/01/2010, The Monthly Look at our Cruising Costs
It's that time again to peak under the covers and see what it costs this family of four to cruise. This was another good month, with no major "issues" driving up the costs, so February 2010 came in at $1015. I've updated the full expense file and you can view it at the "What does it cost to do Cruising" link at the right side of this blog.

When you look a little closer at the numbers it looks even better, and should give some hope for those trying to see if a sub $1000/month number is possible. We add in the $175/month boat insurance payment each month; however we only pay that each July. Then there's the $76 in donations and $81 for the wireless internet card purchase this month. Factor these in and we could have cruised comfortably for the month of February on $682, certainly not a King's ransom. Just look at our last two months in food costs at $292 and $240. Add in our eating out at $107 and $102 and that still keeps us under $400/month to feed a family of four down here in Mexico. By no means do we eat just beans and rice, in fact, we eat better than we did back in the States, with more fresh veggies and good meats.

We even had $63 in marina fees (3 days) this month in La Cruz when the threat of a "weather bomb" event emptied out the anchorage. It's worth noting that if we spent our time in a marina, we could EASILY expect to spend $300 in marina fees. We all know my thought of marinas, I don't dislike them at all; however, marinas are just death for cruisers on a budget and they have a similar attraction as a black hole, sucking people in from light years away. As Mark Twain once said, "it's easier to stay out, than to get out" and when it comes to marina life, boy is that true!

People that have been following our blog for a bit or those that take a moment to look back through our budget numbers form when we cast off will notice something, and it has not at all escaped our notice. For much of our first year, it seemed hard for us to get below the $2000/month expenditure mark. However, now after 17 months of cruising, we seem to have magically cut $1000 off our monthly numbers and hover around (if not lower) than $1000 per month, which is our goal. It doesn't take much time in reviewing our expenditures to see why this is the case. Simply put, we got out of the cruise refit and toy buying mode and into cruising mode.

This transition isn't something that is unique to the crew of THIRD DAY, but seems to be more a path many cruisers take that are out for more than one cruising season. The first year is spent fine tuning the ships equipment, replacing inadequate systems, and buying things that now make sense to have aboard or adding extra cruising toys. In our case, a good amount of money was spent on unplanned boat repairs and adding cruising equipment. It takes cruisers different lengths of time to arrive at this point, but sooner or later most of us reach the "That's It" phase of our cruise and decide that if there is something we don't already have and want, we will just have to do without it. This point is when you shift from refitting underway to cruising and the expenses really start to reflect living, more than outfitting. It's a hard point to come to really, because it goes completely against everything the culture and sailing magazines have been teaching us all our lives. Sometimes less is indeed more and you can indeed be happy without that next cool toy or cool boat system.

I've generally receive lots of positive feedback form people interested in looking over our shoulder at our expenses, but I've also received a few emails thinking that it was somehow "tacky" "showing off" or even that it was "unprofessional to talk about money all the time on a cruising blog". For those with that view, there are hundreds of cruising and sailing blogs that never talk about what it costs out here on the web, but this simply isn't one of them. I decided early on that our blog wasn't going to be just another "We did this or that today" blog, but provide something that I would have liked to read while dreaming and planning our trip. I wanted to remove as much as I could of the false ethos and perception that people and families that cast off cruising are special or anything other than just average. We have a simple old boat, had very little in the way of real sailing experience when we cast off, and are cruising on a budget that puts us below the U.S. poverty line. Ours isn't the type of standard Cruising World magazine story of the family sailing off on their new "Hugeness 48" custom designed expedition boat. Sure, we share the same anchorages as the "Hugeness 48", have the same sunsets, the same beach, and the same view of the bay, but ours isn't a story of how our boat designer's friends flew down for a test sail to try out our new high tech sails. Ours is a story, and our budget illustrates it, of an average family doing what many average families have done before us and will do long after our cruise adventure ends


What's it like there?
Capt Rich
02/28/2010, photo taken this morning.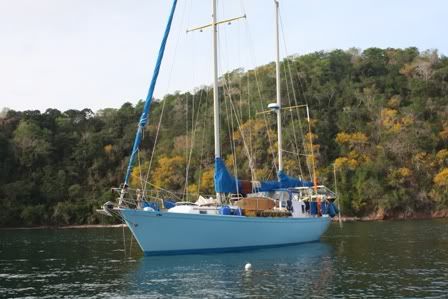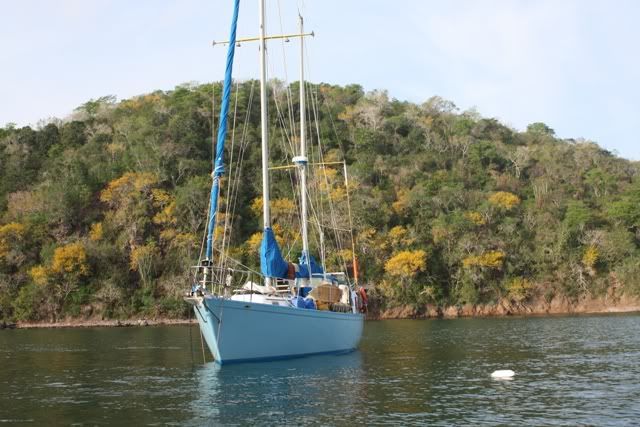 You can also see my anchor bouy floating alongside THIRD DAY.

I took the above photos this morning before breakfast and they pretty much sum up why so many cruisers spend months in Tenacatita Bay each winter and do so year after year. The views of flower-tree covered hills are incredible, the beach is great, and the bay is huge, the water is warm for swimming and beach activities, and it's FREE to anchor here. No mooring ball fees/day or slip fees to draw down your cruising kitty.

On taps for today are installing the spare alternator and finishing the dingy wheel install, but as you can see, it's pretty hard to complain down here.