A Normal Day
Capt Rich
03/06/2010, not every day is filled with adventure or repairs
Today is what's knows as a quiet day filled with just the normal happenings of a life afloat. We woke up to the Amigo net and listened to the weather forecast. Before the sun starts warming things up too much, I gave the deck, dingy, and solar panels a fresh water wash down and then started up the watermaker to top off the water tanks. We plan on heading into the Bara lagoon later this afternoon and I didn't want to make water in the murky water. It's ok to do it, you just have to clean out your watermaker pre-filters more often, and I'm lazy. Ethan came over and I hitched a dingy ride into town for a few provisions and now am back on the boat rolling around in this rolly anchorage called Melaque. The anchorage here is rolly, but the town is very nice because it's managed not to lose it's real Mexico feel. There are plenty of good markets and the prices are good.

After lunch, we will make our way to Barra Navidad, which is an estuary anchorage, which should make us feel right at home. There have been 9 dingy engines stolen off dingys this year in the Barra Lagoon. Many cruisers leave their dingy floating in the water at night and a common theft approach is to swim to the dingy, cut the dingy painter and it floats quietly away. The dingy is usually found the net morning stripped of all the valuables: dingy engine, oars, fuel tank, etc. We always raise our dingy out of the water at night, so should be fine and a little precaution is much easier than finding an new dingy motor! It isn't that Mexico has a high theft problem, as there are many streets and neighborhoods back in the states that I wouldn't leave my unlocked car sitting through the night.

I bought some fresh ground pork so for lunch I'm planning on making some pork burgers with roasted peppers on fresh baked bread, in fact, just thinking and writing about it is making me hungry. I'll take a photo or our lunch to wrap us this rather normal, non-eventful day.


Hanging by a thread
Capt Rich
03/04/2010, a familiar story


We have noticed a "sound" coming from our helm (steering system) lately and yesterday I dug in and started investigating. It didn't take long for me to see that we were missing a Pin that holds in place one of the pulleys that transfers steering from the wheel to the rudder. I'm sure glad we didn't lose our steering during the last squall that took out our main sail! This morning I'll put in a new temporary stainless steel pin until I can get a proper bronze pin. Of course to get to this point, I had to completely empty out two sail lockers and scratch my arms up, but it seems pretty standard to donate a little DNA on each boat project, as a sort of offering!

From the photo you can see that the Pin is almost completely chaffed through and one side has completely broken off. We often feel as if we are hanging on by a thread, and in this case, we were.

We plan on pulling anchor in the morning and perhaps making one big hop to Manzanillo, but we will make that final decision once we are underway and get a feeling for the conditions.


Things you do while out Cruising
Capt Rich
03/03/2010, but at least the water is warm!
These two little events help to give a idea of what goes on aboard a cruising boat all day. The morning started off with Lori taking a little swim after the dingy was spotted slowly floating away from THIRD DAY here in Tenacatita Bay. We won't point fingers of blame on who didn't secure it to the boat properly, but I got my chance for a swim later.

Then after having my dingy wheels aboard for over two years, I finally got around to finishing the installation process. I've started and worked on it many times, but never actually finished. As of this moment, one of the two wheels is installed and when I went to the beach yesterday I was taking heat for having a "Unicycle". I plan on getting wheel No2 installed today. Why does a dingy need wheels? Well, try pulling the 105lb dingy and 79lb motor up the beach filled with beach stuff and you will have your answer!

I don't have a photo of the 3rd item, but yesterday I discovered that the "knock" in my helm (steering) was due to an almost sheered off pin. So we won't be pulling up anchor until I get that fixed, hopefully with a bolt until I can find a new bronze pin. Having just went through a nasty gale, I'm sure glad I didn't lose steering at the same time our main sail blew out!

[I'd also like to thank everyone that left a supportive comment on the Money talk blog post, it's good to know people enjoy seeing the cost numbers]


Lori Preparing for a swim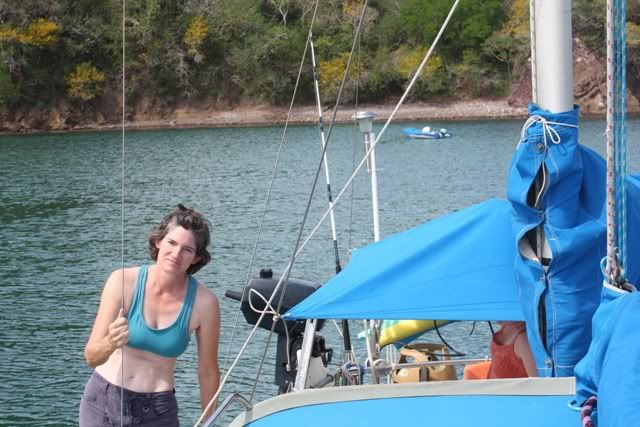 Lori Swimming after the "lost" Dingy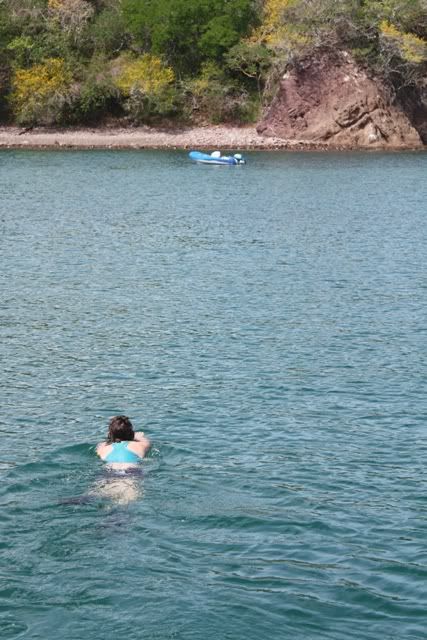 Capt Rich installing the Dingy Wheels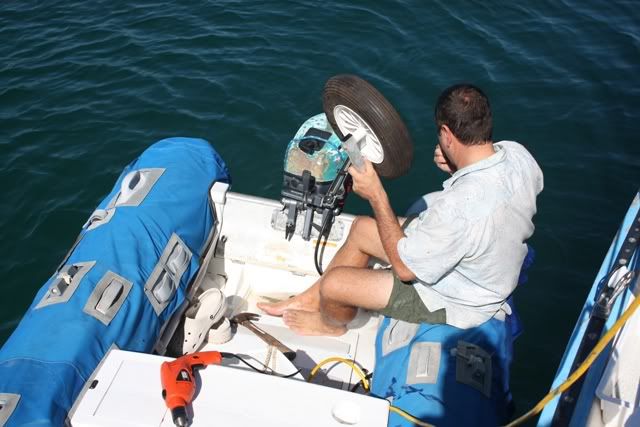 You Drop it, you go get it!