The Yahoo SouthBound Group
Capt Rich
03/09/2010, Info for cruisers to be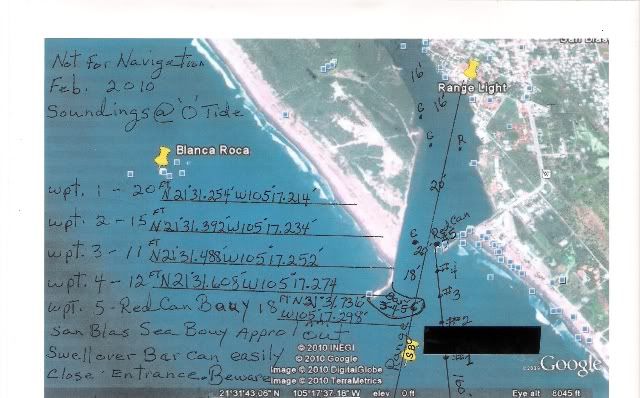 If you are in the planning stages of your own Pacific Mexico to Panama cruise, or just like to see what those who are out here are doing, saying and thinking, then the Yahoo Southbound Group Link should be added to your browsers "Favorites" folder. You can find Questions and Answers for just about everything, and things you can't find you can then ask the hundreds of cruisers currently out cruising that participate for their thoughts and advice.

Heck it's worth joining the group, just to be able to download the latest and greatest updated San Blas Cruisers Guide. Freshly added to the guide is a satellite photo of the Estuary entrance with new entrance GPS way points. So if you have the old guide with out the Sat photo map, be sure to download the new guide. I will also be happy to email anyone a PDF copy that wants one!

I can't claim credit for the new Sat photo map and entrance way points, that goes to our good friends Peter on SV Delphis and Russ and Judee on SV Smoke-n-Blues who have spent the season in the flat anchoring of the San Blas Estuary. They have helped countless boats in and out of the estuary after we left and I handed my "Keys of the City" over to them.

The San Blas Cruisers Guide is now available on the La Paz Club Cruseros Website! A Direct link to the PDF is available HERE at This Link

Barra Navidad Photos
Capt Rich
03/08/2010, The Cruising Life through Photos
In true THIRD DAY form, we followed Just a Minute into the Barra Navidad lagoon, letting the shallow draft Cat warn us of shallow water. We were monitoring channel 22 when I heard Patrick call our for THIRD DAY. I answered with the standard, "where do you want to go" meaning what channel would you like to change to and his quick response as he was turning his boat sharply to port was, "Not Here". I understood immediately that he was warning us of shallow water and followed his turn to port!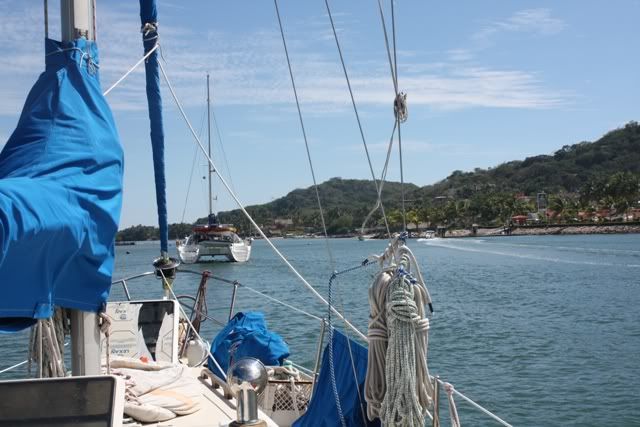 This is a shot of the Barra Navidad lagoon, a fabulously smooth anchorage suited for my new nick-name of "The Princess" after "The Princess and the Pea" children's story due to my whining about rolly anchorages!



Another Barra Lagoon photo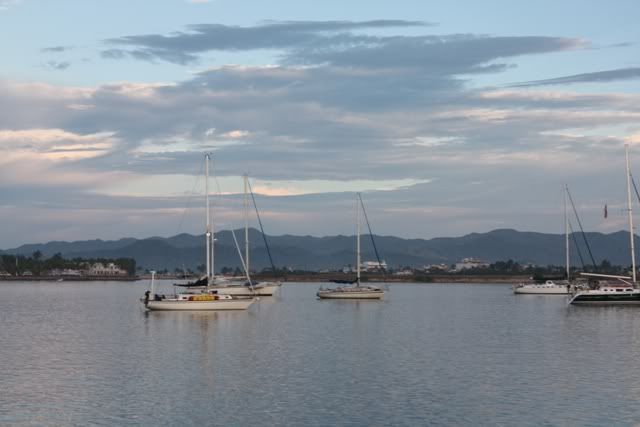 Amy on the deck of THIRD DAY with Cortez the boat cat ruling form his perch atop the dodger.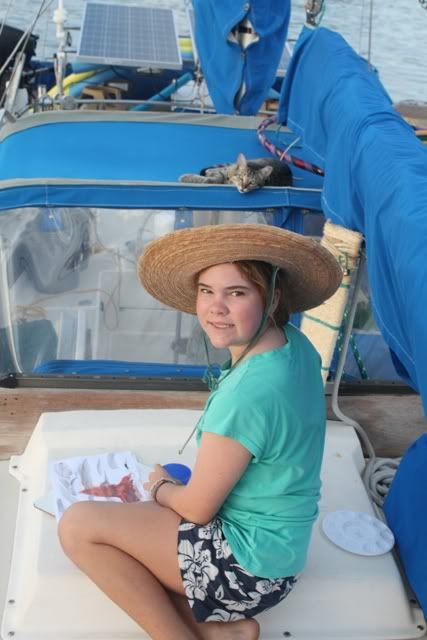 The French Baker making along side JAM, no doubt they are cleaning out his supply of Baggets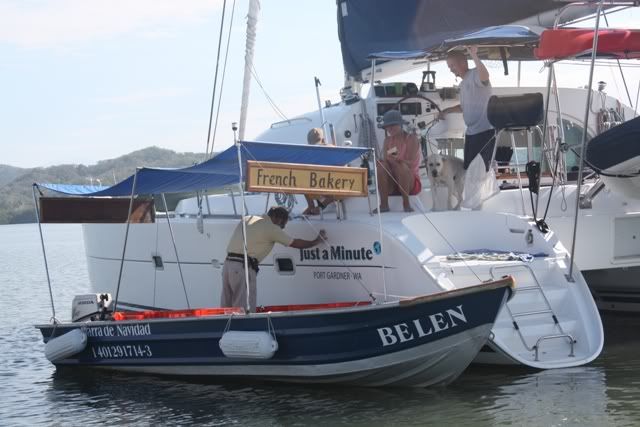 Amy with her Peach Tart from the Barra Navidad French Baker.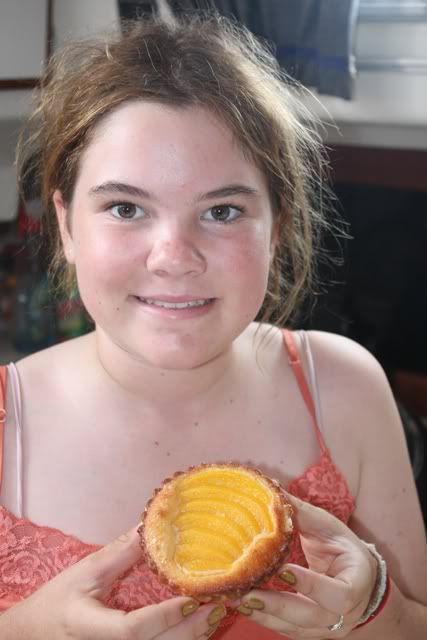 Cortez trying to figure out how to jump up and grab the American Flag



This is a photo looking into the Barra Marina at the stern of the Mega Yacht "Bellissima". We have a cruiser friend currently working aboard as their Chef...and hope to have a tour sometime today!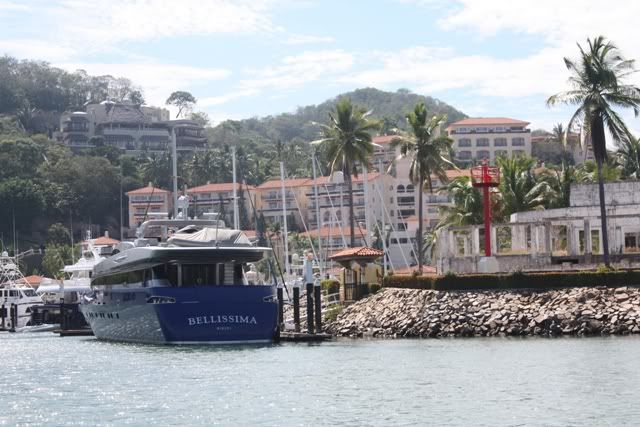 When I saw the sunrise this morning with JAM in the foreground, I figured I'd take a photo to show them what they were missing still sleeping in!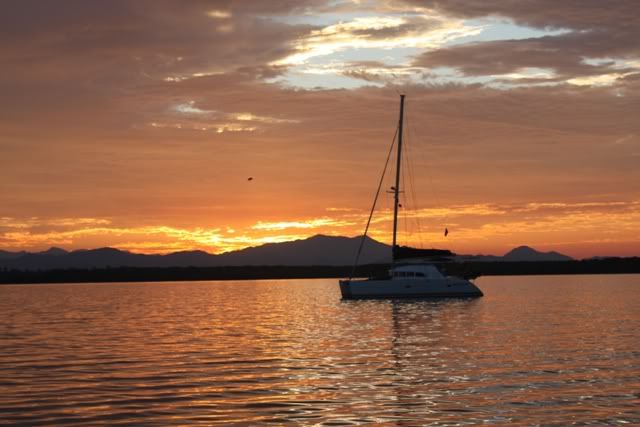 Funny, but it seems we have this same laundry day photo every where we go! I guess we could pay $120 pesos or so to have our laundry done, but then we would have to give up our "Jeb Clampet Look"!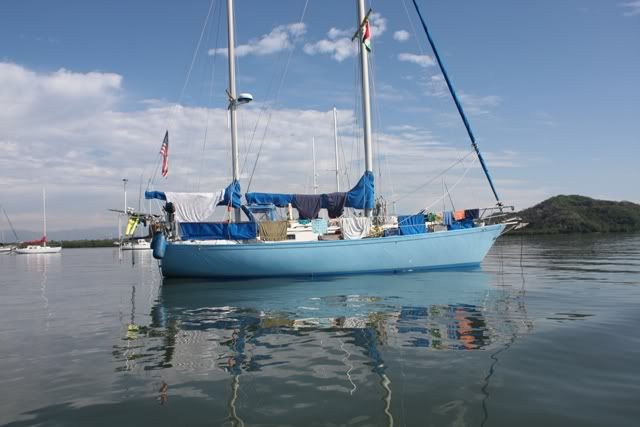 North or South
Capt Rich
03/07/2010, The same old decision
Here we are in Barra Navidad, a place we have heard much about from fellow cruisers that have made it further south than the slow moving crew of THIRD DAY. Actually from them point on we are moving Southeast rather than south, as Mexico and Central America sweep southeast. A reminder of our eastward movement is that we are currently in the Mountain time zone and two hours ahead of our friends and family back home in California. Barra has lived up to everything we have been told about it. The French Baker that delivers top quality French pastries and breads right to your boat anchored in the lagoon every morning is indeed here and fabulous. The town of Barra is great, having successfully maintained the mix between a tourist and real Mexican town. Anchoring in the Barra Lagoon provides a flat calm anchorage with nice views of the mangroves and easy access to town. And the Weather is gold coast perfect, well almost. The weather cycle of El Nino has been causing more overcast skies than are normal for this time of year and has resulted in a little more unsettled weather.

With everything going well and none of the ships major systems currently broken or in need of repair, at least that I know about, we have been relaxing and working to figure out where we go next. Barra and our next stop of Manzanillo are natural points where most boats not continuing on to El Salvador and Central America end their southeast march and start the trip back up towards the Sea of Cortez. It's hard to be thinking about this summer's hurricane season on March 8th, however, with this year's El Nino potentially set to bring an increase in this summer's hurricane activity, cruisers are already starting to plan their hurricane strategy. Having spent last year in the far northern Sea of Cortez without incident while two hurricanes hit the central and southern Sea, going north, far north, is an easy familiar option. We would love to see points further Southeast like El Salvador, Costa Rica, Panama, Ecuador and even transit the Panama canal, it's just a matter of timing and finances at this point. Do we race through that area, knowing that racing anywhere isn't our preferred mode of travel or do we save it for later and follow the stream of boats heading back towards the Sea of Cortez? If this was our one and only chance to live out our cruising dream, we would be more tempted to scream Southeast and pick up the pace, but since we are relatively young in the cruising community, we see many more opportunities and have decided to repeat some of our best times out cruising, in other words spending another summer in the Sea of Cortez.

We went into last summer with dread, not knowing if we could take the hot temperatures of the Sea. However, it wasn't as hot as reported, mostly from people that have never actually done it, and last summer has easily been the highlight of our 18 months out cruising. Rather than dread, we are going into this summer looking forward to the fabulous anchorages and great fishing along with revisiting some of our favorite small towns. I've always felt cheated that I missed the goat cheese sold in Aqua Verde and this time I'll knock on every door in town until I find a wheel of goat cheese before we pull anchor! There are so many anchorages in the Sea that we didn't even come close to seeing them all last season and are looking forward to checking out more of what the Sea has to offer. We skipped whole islands due to the evil constraints of time last season and didn't find time to visit San Carlos or Guaymas, which will all be on our list for cruising the Sea for the summer in 2010.