Bahia Asuncion Photos
Capt Rich
08/03/2012, Perfect REAL MEXICO
I've used the terms "Real Mexico" and "Fake Mexico" before with Real Mexico describing a Mexican town that hasn't been transformed into Fake Mexico, aka a Gringo-Tourist town akin to a Disney land experience. I know that every time I use the terms it irritates those who enjoy Fake Mexico and perhaps a side of me likes using the terms just to irritate the uptight. However, it's also the honest no BS way we view things. As I remind people who send me the nasty emails calling me everything form a racists to idiot, this IS a blog about what WE like after all. If you want to rave on about Fake Mexico, with it's organized pool events, Gringo Bingo, and restaurants that have menus written in English...have at it.

Bahia Asuncion is Real Mexico through and through and it ranks right up there as one of my favorite towns, despite not having too much time to explore and enjoy it due to our needing to take advantage of a weather window. The people are classic, almost over the top, nice and you won't find condos or all inclusive results lining the beach, just modest Mexico homes with million dollar views of the bay.

Here's a shot looking at the town from the anchorage. On the far right of the photo is the dingy landing and where the next photo was taken from looking out at the anchorage.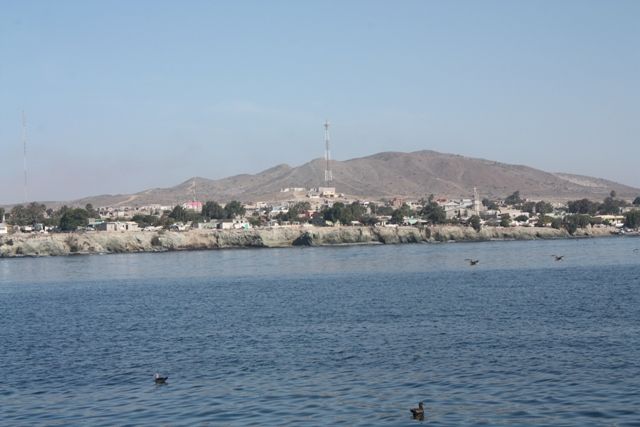 And then looking back at the anchorage from just above the dingy landing beach. You can just see our little flotilla at anchor.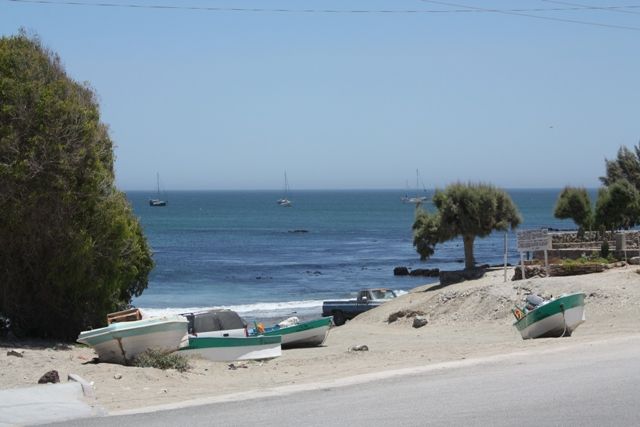 One of 4 Tiendas that we went into with plenty of provisions and friendly people.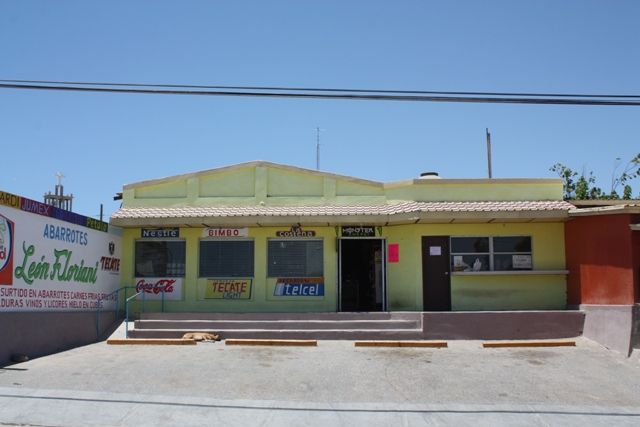 Amy and Lori buying some eggs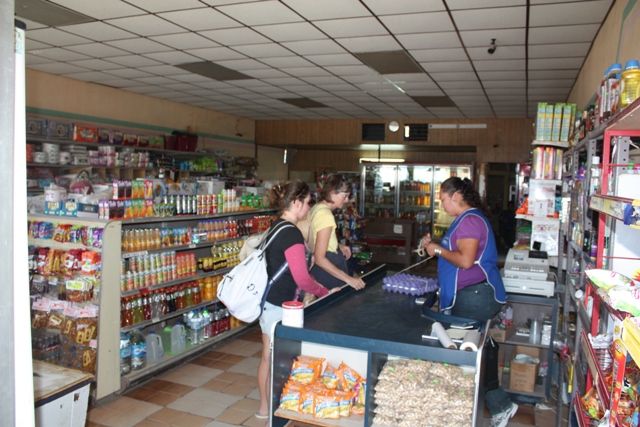 When we hit the beach we were greeted by a local who offered all of us a ride around town in classic Mexican form.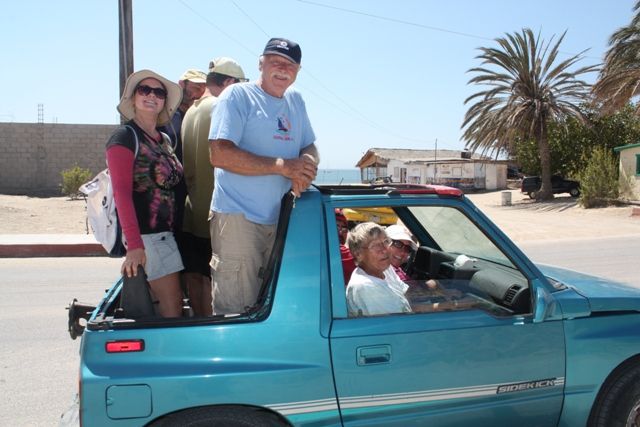 We of course had to stop at the best place to eat in town...aka...his sisters place...Cafe Juanita's...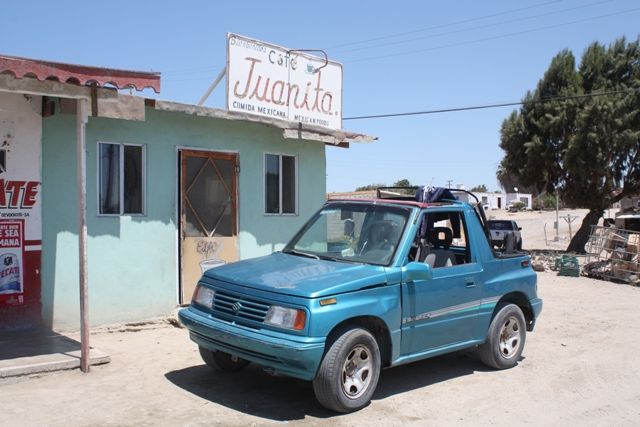 Once inside we invited our our new friend to lunch and had a great meal and made some new friends.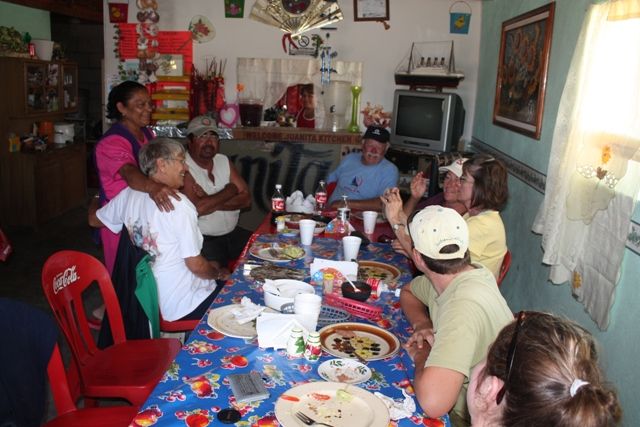 Then a panga full of fishermen come up to the boat and give us a Halibut! They wouldn't let me pay or trade for it, so we owe something nice to someone else down the road.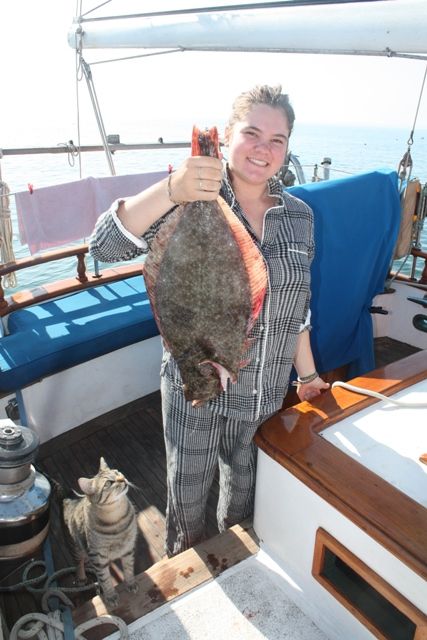 I have never cleaned a Halibut before, so as Jason and I tried to figure out the best way to proceed Cortez looked on with impatience!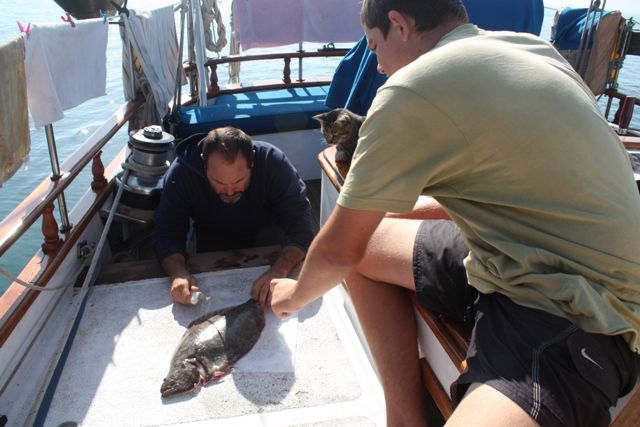 My thoughts about summering on the Outside of Baja between Mag Bay and Turtle Bay would definitely put Bahia Asuncion on the hot spot list. With TelCel Wifi, friendly locals, and a good source of provisions...what's not to love about the town?

Day 18 Resting in Turtle Bay
Capt Rich
08/03/2012, and it could be a while!
Five years can sure change a town. It was five years ago during the 2007 Baja Ha-ha that we last walked the streets of Turtle Bay. Yesterday, right before sunset and in dire need to get my TelCel internet card recharged, we launched the dingy and heading off into the town Turtle Bay. Some changes we noticed right away were the many new houses, gravel being laid on the dirt streets, and several new tiendas, with amazingly fresh produce all in refrigerated display cases, something rare for small town Baja.

The first store we walked into was able to recharge my Telcel Internet Card, so as we wait here and wait and wait for the weather to calm, I'll at least be able to WORK to keep my partner Charlie in San Diego from flinging his tired and worn out body off a cliff. I've been away now from the cell phone for 18 Days. The good news is that my partner Charlie now can see why sometimes I don't get paperwork done, because working the phones for client calls takes a LOT of time, it isn't just all those taco cart trips (he reads my blog also unfortunately).

The weather isn't looking good for a departure until at LEAST next FRIDAY, so we will just relax here and make the most of being in Turtle Bay without the other 150 Boats where were here on the Baja Ha-ha...it's a whole different town.

Day 17: 12 Miles out of Turtle Bay
Capt Rich
08/02/2012
We didn't get the wind much last night as we had hoped but the seas were surprisingly lumpy. Nowhere to be seen was the long period Pacific swell and all night and even now we are bouncing into lumpy and a bit confused seas. The nice thing about have a boat that weighs 55,000lbs is that we tend to plow through the slop a bit better than our traveling companions Hurrah and Sea Raven, being smaller and lighter boats.

According to the GPS, we are 3 hours away from the Turtle Bay entrance and unlike a weather forecast, it isn't known to lie as much.  Unless our speed changes, which would cause the GPS to recalculate our arrival time, it's fairly safe to assume that we will have our anchor down in about 3.5-4 hours.  Just like we did with our 7AM arrival in Bahia Asuncion, the crew will then go to sleep and nap for the remainder of the day to make up for last night.  The fleet will take on Diesel fuel from Servicio Anabelle (Panga converted into a Floating Fuel Barge) and then after a trip or two into town we will start looking for the next weather window North.

17 Days could almost be long enough for some boats and crews to have made the Bash TWICE...but we are being a bit more picky about our weather windows.  However, with the "flip a coin" nature of the weather forecasts...I'm not sure our slower pace has really mattered, but it has kept the crew well rested and helped minimize mutinous thoughts of a buss ride up the Baja!  

When we left La Paz we had two engle freezers (ours and our friends on Just a Minute) filled to the brim with pre-prepared meals and meats.  As we get closer to San Diego, the pre-prepared meals are about to run out.  We need to start cooking our frozen meats so the friendly folks at the US Customs dock don't take away the dangerous contraband when we arrive back in the States.  Unrefrigerated eggs, Mexican pork, and heavens forbid uncooked Carne Asada are a National Security threat and if found aboard are confiscated, treated as a biohazard and incinerated.  It doesn't matter that the Costco Pork Loin has the USDA stamp on it, it was in Mexico is now the enemy.  So rather than cry and our good meats go into a Yellow and Red Bio-hazard receptacle like they are carrying the Ebola Virus, we will eat well these next few days to clear them out.