Really?
Ran-Over Rich
12/02/2012, All for a free sample?
Ok, as much as I like all the huge "value packs" of more than we need Costco stuff, I just got myself ran over and nearly killed by the hoards of free sample stalkers wanting their piece of sample pizza. Try pushing your cart past the hair-netted ladies and swoosh...you get swept up into the sample frenzy. Once calm and rational, they go nearly mad for a free taste or processed and prepackaged food. For my personal safety I am done with this the Costco Sunday sample circus, people were worried about us in Mexico, but I feel safer on the mean streets of San Blas compared to the isles of Costco on free sample day. It will take days for the shopping cart tracks to heal on my back!

Late but Ugly
Posted By: Live-A-Board Bozo Hobo Rich
11/30/2012, Watching the Storm from the Land
The weathermen may have been late a bit in their storm prediction, but watching our 55,000lb boat bounce around like a cork in a bathtub sure makes us happy that we moved off the boat! We are not really worried about the boat because we know that unless the recently pulled and inspected mooring fails there is really no way in Hades that our 1/2" anchor chain emergency back up "snubber" is going to fail if our primary mooring lines were to chafe through and fail. I'm sure that all of our lockers and storage areas are getting totally reorganized for us, but that's just something you deal with when you live on a boat.

We are staying at my folks house in Pismo Beach that actually over looks the bay, so we can actually see the boat bouncing around each time we check to make sure she is still there on the mooring. It sure is different living on land and the first thing I noticed was the dish washer. At first I thought it was cool to just load it up with dirty dishes and like the Popel counter-top Rotisserie, "set it and forget it". But unfortunately just like the counter-top rotisserie, the mythical ease and time savings of the dishwasher let me down. On the boat we are always careful to use as few pots, pans, utensils and plates as possible, but after only a few days of house living, I think we must have used every dish in the house for a simple dinner! Back on the boat we wash, dry and put away all at the same time, typically that night. But with the dishwasher, first you load it and then the next day you have to mess with unloading it...is this really a time savings? Not to mention all the water and power used just to make life easier.

Well Cortez is sure having a good time. He quickly traded the constantly moving boat for a kings perch on 6 seat cushions. I was once compared to the Princess that could feel a pea under 12 mattresses and it's clear to see that Cortez is a cat after my own heart!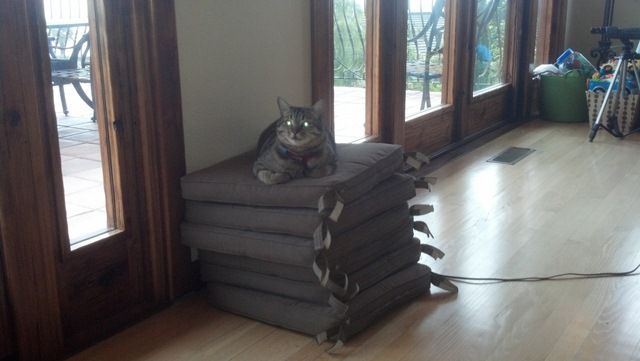 Space...where is everyone?
On the boat even if people are all in their rooms, you can talk in a normal voice to everyone and hear their breathing when things are quiet a night. But here with an upstairs and downstairs, the kids can watch TV far enough away from us that we don't even know they exist. After a lifetime of living apart under the same roof, it is no wounder family dynamics are what they are and families complain about not knowing each other. On a boat, it is impossible NOT to know someone. There is no place to hide emotions or feelings, from having a little case of "tourista' to having a bad day, you can't hide in on a boat and your lives are automatically more interconnected for better or worse.



More Lies?
Posted By: Live-A-Board Bozo Hobo Rich
11/28/2012, Or is it Coming?
...GALE WARNING IN EFFECT THROUGH THIS AFTERNOON...
TODAY...SE WINDS 20 TO 30 KT WITH GUSTS TO 40 KT. COMBINED SEAS
4 TO 6 FT DOMINANT PERIOD 14 SECONDS. RAIN.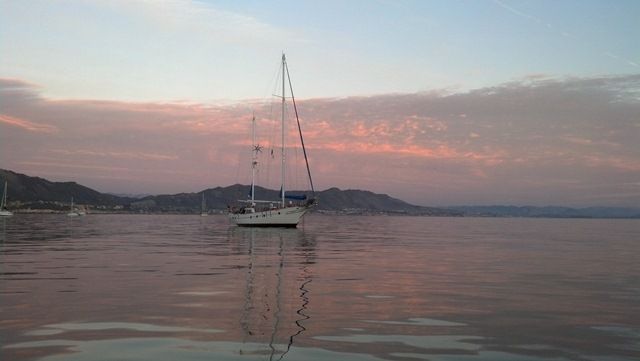 If there is one thing that seems to be constant, it would appear to be the Lies of the Weather Forecasters. Living on a boat in Mexico or California makes you a keen weather watcher. When the forecast is matched up with the flat calm shown in the photo, well you have no option but to scratch you head. Jason and I went back out to the boat to check on how we were riding out the "storm" and well, it was flat calm and we were laughing all the way to and from the boat. The storm does appear to be coming, just a day or so late.