Happy B-Day Jason
Posted By: Live-A-Board Bozo Hobo Rich
12/15/2012, And Jason is Taller than Dad
Jason Turned 14 today and our friends and fellow Port San Luis Live Aboards on SV Tiki came over this afternoon and gave Jason what we think is his favorite B-day gift, a CASE of Snicker Candy Bars! 4 yrs ago today we were crossing the Sea of Cortez from La Paz to San Blas and Jason landed a Sailfish. We admired and then released the sailfish, but I don't think I can talk him into throwing back the case of Snickers!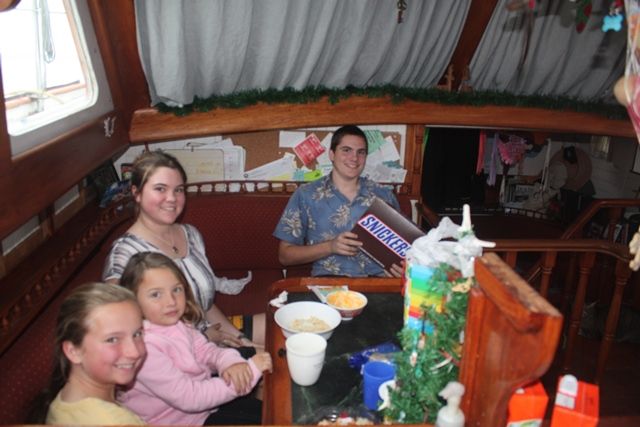 ''

It isn't a Red Ryder BB-Gun, but we had fun shooting the floating targets.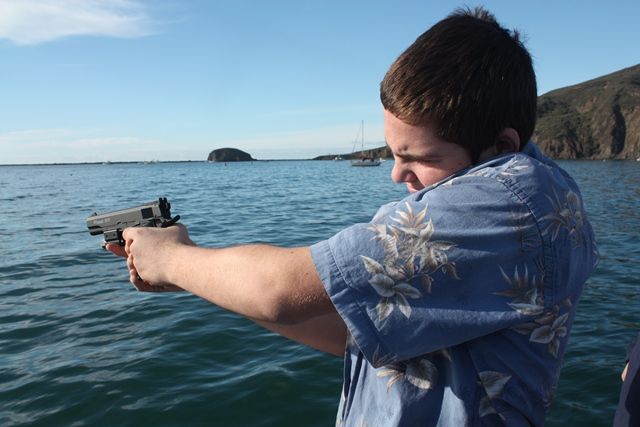 This photo of Amy all dressed up for her Christmas Parade dancing has nothing to do with Jason't B-day, but I smiled when I saw this photo so I wanted to share it. Amy is the only "gringo" girl in the dance troop, but she loves it!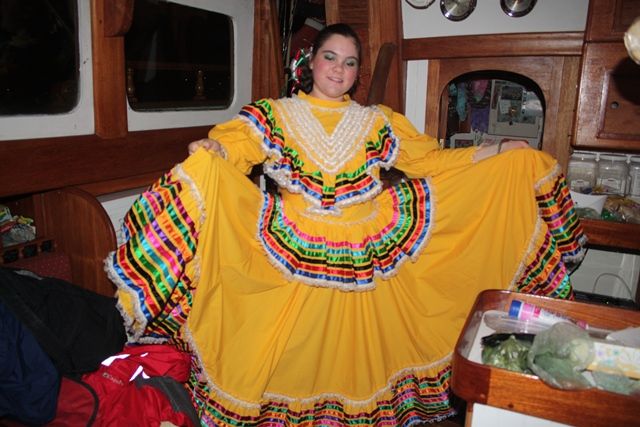 The Comfort vs Hardships of Living Aboard
Posted By: Live-A-Board Bozo Hobo Rich
12/14/2012, And the Matter of Preception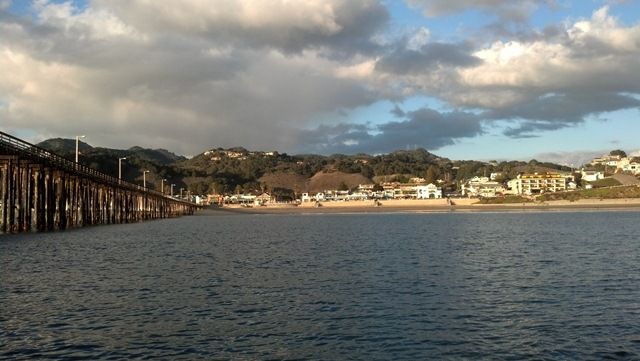 The positives of living aboard are something it's easy to talk about or show with photos of vacation-like scenes that after 4yrs we almost take for granted, almost. Cheap rent and utilities, freedom, fabulous views of the Bay, and being safely separated from the chaos ashore all add weight to the positive side of the Living Aboard Scale. But we all know positives don't exist without negatives. The balance scale has on one side the positives of a decision and on the other side the negatives. Rarely is there a decision with only positives. We can ignore the negatives and try to act like they don't exist, but like rain during a dingy ride to shore, the cold wet negatives will drip down your face if you haven't acknowledged and planned for them.

Most of the Living Aboard negatives are simple discomforts and inconveniences that the vast majority of people living on earth throughout history would laugh at and would envy to only have it so good. No dish washer, no walk-in closets, no garage to store stuff you don't really need but can't give away, having to pay attention to your water and power usage, having a small stove and kitchen, and the tiring inconvenience of having to carry your groceries from the parking lot car to the dingy all make life aboard more work than living ashore. It isn't the fact that the boat floats and moves around on the water that makes Living Aboard more work and tiring than land living, it is the return to a more basic living that simply takes more daily energy and wears you out. Compare our living conditions and "hardships" to the daily life of the founding fathers during our Countries beginnings and most of the Living Aboard "hardships" become too trivial to even complain about with a straight face. Perhaps you don't like historical comparisons because that was ancient past? Well that's ok, take a trip down to Mexico or other poor counties around the world and the splendor and elegance (even opulence) of living aboard on a 50ft floating castle will stand in stark contrast to most of the world population's living conditions. A little perspective, changes how you view hardships and being uncomfortable. That perspective certainly doesn't mean I won't complain about the cold here in Port San Luis. But because Inuit Indians are living in Igloos, it will just make me thankful that I can afford to burn $4/gallon diesel just to make myself comfortable.


Back from Florida...
Posted By: Live-A-Board Bozo Hobo Rich
12/12/2012, NOW Back to Mexico
Lori picked me up at the small San Luis Obispo airport (I'm talking crazy small) and it sure felt good to be back aboard. Living out of a suitcase is never fun, but at least I had a good time hanging out with other cruisers at the SSCA event. With just barely enough time to enjoy the diesel heater, the rain, and hot chocolate I'm off to Mexico this weekend. I could try and make it sound like a hard and grueling work trip, but come on, everyone here knows I'll be enjoying myself and hitting every Taco cart from the Border to my destination of Ensenada! It is a work trip with a dental visit throw in, but I'm not going to let a little crown work keep me from the El Pastor Tacos in Ensenada that I'm still dreaming about since my last driving trip down in September.

The rain started today just after I got back from dropping the kids off from the Avila Beach pier and it's still raining almost 12 hours later. It hasn't been a hard rain, but when you are living aboard on a boat any rain is wet and doesn't exactly make for an enjoyable dinghy ride to and from the boat. Rain doesn't stop the show however, so out came our rain gear and we carried on just like any other day of living on a mooring. If you want to leave the boat, you have to take a dingy ride, wet or dry, rain or shine, hot or cold, and sick or tired.