Burning The Ship
Posted By: Live-A-Board Bozo Hobo Rich
01/12/2013, There's No Turning Back Now
When Hernando Cortez landed in present day Mexico in 1519 his motivational technique to complete the task at hand was to burn his 11 ships giving himself and his men only one option, success or death. While my motivational technique doesn't risk the death of the crew it certainly only gives me one option. That option is to rebuild the fuel system that I completely tore out of the boat!

Reworking the fuel system was always on the list, there just never seemed to be the time (or motivation) to do it, but when the fuel supply to our diesel heater started getting interrupted, the cold became a great motivator. The heater is now temporarily pulling diesel out of a 5 gallon fuel jug and our engine is useless without fuel lines. Being in a slip rather than at anchor makes that "ok" but I'm heading off to the Seattle Boat Show on Monday 21st and if we don't get this slip in February, Lori will have to pull out and move to the anchorage without me! I know she can do it, she has taken the boat out without me before, but that means I have 6 days to get the fuel system back up and running.

I've always been better under pressure, so tomorrow I'll start living under the salon floor plumbing in the fuel system. Failure isn't an option, or at least not one I want to think about.




Crunchy Grass
Admiral Lori
01/11/2013, Morro Bay
Crunchy grass.... We have not experienced frost since... well it is hard to remember but we have not seen a cold winter since 2007. We left in 2008 before any cold wind thought of heading our way. I took the kids to the bus stop at 6:30 this morning and Amy stepped on the grass and thought it was cool. I told her it was actually COLD and the grass was frozen. She responded that she may remember what that was like but she was not sure.

After Thanksgiving, we were driving back to the port and Jason looked at the trees that lined the drive and he was horrified that all of the trees were dying. Their leaves were turning yellow and red and some were even falling off onto the ground. He just could not fathom leafless trees. That did not happen in the tropics of Mexico.... So, as we explained to him that the trees were not dying and it was just Autumn and that is what happened in colder regions. He then said "oh yeah, that is why they call it fall. I remember now."

Rich is now off to get parts for the fuel lines for the heater. It has not been behaving like it should and we do not want it going out. Rich's desk is right by the heater as he likes his toes warm. He usually wears shorts and wool socks but since Cortez chewed a hole in his last pair he had to do something different. He has now taken to the practice of wearing sweats in the mornings. This is unusual for him as he almost never wears long pants. He is afraid that if he admits that he is no longer in the tropics he may never get another taco again.

Cortez just got lifted out of the only patch of sunlight on the boat... as it was on the kitchen counter. He knows that he is not supposed to be there but it was a nice warm spot. He wants to go outside as he is going stir crazy being stuck inside the boat but as soon as I Iet him out he comes running in again.

As for me, I am sitting by the heater with my jacket and fuzzy socks on. I will pick up the boat and then settle down into studying. I took Christmas vacation off so I need to get rolling and back into the swing of things. I will cuddle up in a blanket and stuff knowledge in my head and try to stay warm with a cup of homemade cocoa. Hopefully this alien cold will pass soon and we can get back to being warm again. I am awaiting the news from the ground hog and I am hoping he can be bribed....


Life in An Estuary
Posted By: Live-A-Board Bozo Hobo Rich
01/04/2013, Home Sweet Home
There is a constant site in estuary anchorages in Mexico and the States. A boat aground when the tide, current and wind conspire against the boat owner that anchored just a bit too close to edge of deep water. Typically there isn't any real damage to the boat because as bad as it looks most boats can take a gentle drying-out but it sure is easier to look at when it's not your boat!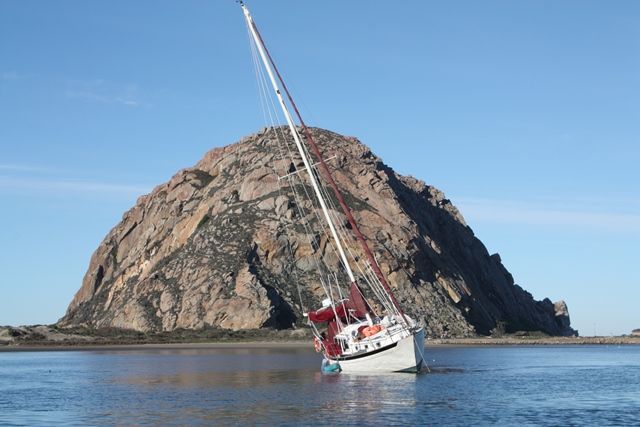 Combine cheap anchoring and moorings with flat calm water and you can find them everywhere from Puerto Escondido and La Paz Mexico to Morro Bay, California. Boat that stopped being "boats" long ago but to someone is home. Local Government agencies and Harbor commissions try to kick them out and make their life harder through anchoring limitations and various rules, but the Float Aboard or Sea Gypsys always find a way around the maze of rules and regs designed to run them out. Morro Bay actually has more than it's fair share of floating (or not so floating) water condos, but it's part of what gives the area it's charm.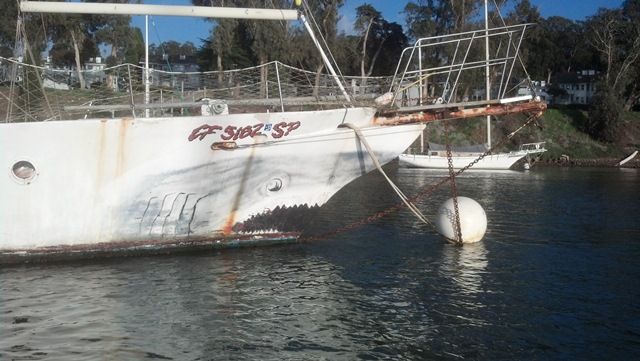 Jason and I took a dinghy tour of the estuary and about fell out of our dingy laughing at this boat owner who turn a bumper sticker political slogan into his boat name. I bet I know who he voted for last Nov.




What isn't a Lie is just how much we like Morro Bay. We have been coming here for short day visits as far back as I can remember, but this is the first time we have been here by boat. We have already met lots of friendly live aboards and unlike the novelty of us living aboard in Port San Luis, living aboard here in Morro Bay is quite common.