Shotover Rafting
John / Hot
08/02/2012, Queenstown, New Zealand
Its always good to get back on a boat - even if its got a wobbly bottom. Mine felt much the same after the drive out to the launch off spot way up country on the Shotover River.

It took maybe 30 minutes on road, then another 20 minutes off road by bus along the narrowest dirt road I've ever been driven on. It wound its way along the edge of Skippers Canyon - said to be the in the top 20 most dangerous roads in the world. I don't always trust what I get told, but believe that one.

Trust me, not more than a tyres width to spare either side. The rafting was always going to be a doddle after that ride.

Here's our gang.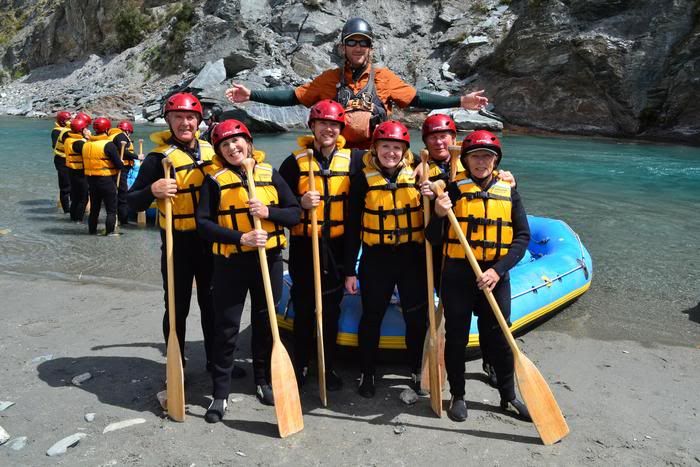 Here we are coming out of the tunnel and 'Mother in Law' rapid. Grade 3 / 4. Yes, we're the middle two.




Here down 'Mother' rapid. Grade 4.




A great fun day out, bit of a work out as we DID have to paddle hard, and a super way to keep cool on a very hot day.

And by the way, my underpants didn't even need a rinse. But thats only because I didn't have any on.

Tomorrow its the Zipwire Ecotrek..........

On on

JOHN

Franz Josef to Queenstown
John / Hot
07/02/2012, Queenstown
Well if you think I've been overstating the scenery in past blogs, I think its best to let some photos do the talking - or you'll think I've finally lost it on kiwijiuce.

Before leaving Franz Josef, we tanked up with fuel (a rediculous $1.80 here compared with 1.55 east coast, and 1.40 north island) and drove to the trailhead so as to walk up to the glacier face. Lots of other people had the same idea, so it prooved a bit of a tourist trek.

This is a fast moving glacier, some 70 cm each week. Along the off track scree bed you can see how the past forces of ice and rock grinding thier way down have scoured out waves in the cliff walls.




But it was worth the effort, as a glacier is a glacier and as we dont get to see one very often, or get the chance to hear one growling from up close.





The sun was up and hot, and once we'd had enough we got back down, turned up the asircon, and pointed the van due south for Wanaka, our overnight campsite en-route for Queenstown.

Initially the road took us to Fox Glacier, another small township like Franz Josef, also named after a glacier sitting high above. Both towns sounded like the opening scenes from MASH with helicopters flairing in alongside the road to take on and dicharge passengers. At one time 3 came in following one another. War zone for tourist trade.

We scoffed a couple of kiwi meat pies from the local store, sitting on its wooden boardwalk and kicking our heels watching all this action.




Then the road wound its way towards the coast, and we got a chance for some stunning views from Knights Point.




We then whooshed through the somewhat deserted township of Haast, as the road bent inland and up to the Haast Pass. close by Mount Buller (2515 metres) in Mount Aspiring National Park. Then down wide valleys with ranges either side, through Mekarora, bucketing along at 100 kph. This would be superb driving in a sports car or on a motorbike (even a scooter), but it was impressive enough in the truck.

Without doubt the best days driving I've ever done,




As we came down a pass between two ranges, we saw the top end of Lake Wanaka open up before us. Its huge! Its empty. Like a deserted inner sea.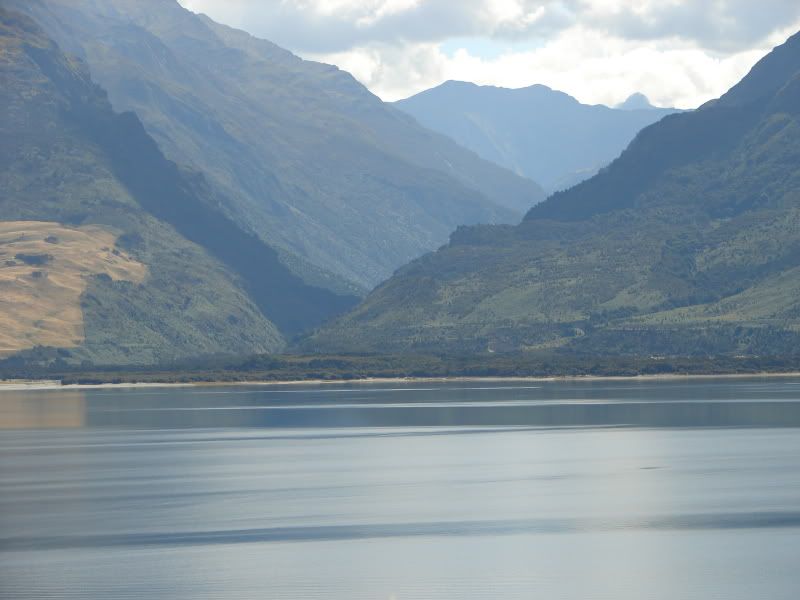 About half way down the right side of this lake, the road cut up away from Lake Wanaka, through another short pass, and down to the adjacent Lake Hawea. Its all so fabulous you begin to wonder whats coming next.




We finally got to the base of Hawea to roll up over a short bridge before going up a steep bluff, and again were dropping down to the base of Lake Wanaka where its small but trendy township is laid out along the shingle 'beach'. No sandflies here.





Our campsite was maybe 3 klm out of town wand itself had had stunning views, but once we'd secured our spot we drove back into town for a needed beer and feed. Met up with a lovely couple from Western Australia also on vacation and ended up sharing a table for our evening meal.

We slept like logs despite it being a warm night, and Tuesday early we decamped to park the truck back by the beach. I topped up my bronzie whilst Sue found a hairdresser she trusted, then we hired a catamaran and got out on the water. Chilly water, but lovely zipping along in the warm breeze on one of these.




After lunch we headed off the last 100 klm to Queenstown. You may not make it out, but its about 10 km down this hill.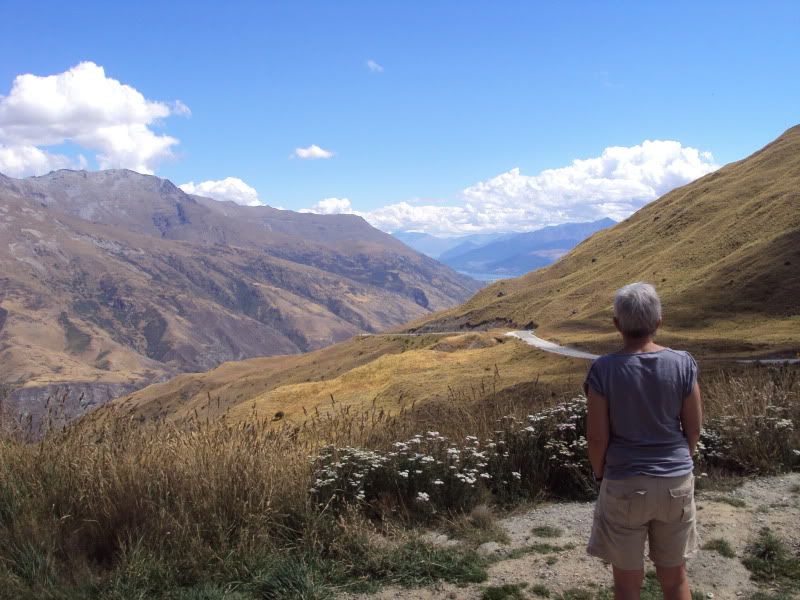 Its packed with people of all ages and nationalities aiming to loosen thier bowels doing something you'd not normally do. And preparing themselves using demon alchohol at one of the many waterfront bars. Needless to say, we joined in......




Sues already drwan up her shortlist, and it begins tomorrow with some grade 4 white water rafting. I've been trying to work our kiwi grading, and think that means you have to wash your underpants four times when you get back.

I'll let you know once I've done it!

Cheers

John

Hanmer Springs to Franz Josef
John / Overcast / Warm
05/02/2012, Franz Josef, New Zealand
The weather on NZ's west coast is notoriously fickle. Facing out to the Tasman and Southern Ocean, its open to whatever the world wants to throw at it. As the South Island (just like the north) has a spine of mountains, when winds blow in the humid sea air and it rises, it condenses.

And at the best forms clouds. At the worst forms rain.

We've been lucky and only seen clouds on this part of our travels. We wheeled out of Hanmer Springs close by 9 am, and by midday were searching the streets of the coastal town of Greymouth looking for something living.

It's an aptly named town, after the waters pouring from its wide river mouth by the large township.

Greymouth is an old mining town which first found fame with gold, and then eked out its existence with coal. Today sad to say, it just felt empty and dead. There was a bit of a party going on in a Sunday session at one hotel, but the noise faded as we strolled the otherwise deserted streets.

The drive down from Hanmer Springs across the island to the west coast had been exceptional. I think Im going to have to give up on the superlatives to describe the countryside. Its just awesome. Not all plain sailing, herescwhere one farmer, his wife and two dogs, decided a quiet Sunday was the best day to move his stock across the road. They'd break the heard and allow a couple of cars through every ten minutes. We waited about 30 minutes for our turn. No small heard.




What with windy roads, new scenes around each bend, hardly any traffic, some pretty country towns sitting under the sun, it was a Sunday drivers dream.




We moved on out of Greymouth without a second thought, setting off south down the coastal highway. The long beaches either side of Hokitika ran for miles along to our right. These beaches are strewn with the drift wood of a century or more, all pushed in by the surf of the Tasman Sea. We wondered why the guides said they werenot good swimming beaches, and quickly learnt why. The west coast sand flies are aggressive little biters, guaranteeing those beaches remain empty.

The countryside and mountainsides to our right is back to being rain forest, all waxy exotic ferns and palms mixed in with deciduous trees. It all grows quickly under the warm damp weather conditions.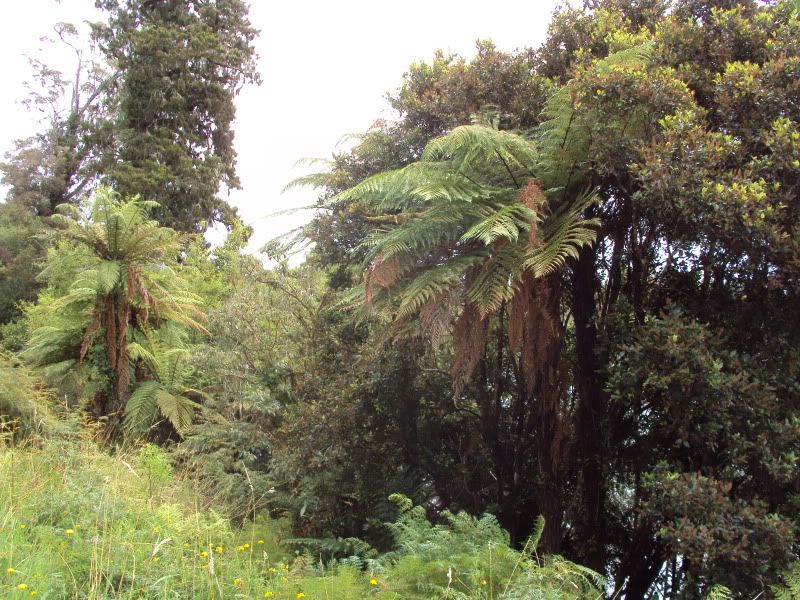 The highway eventually turns road slightly inland but still due south, and begins to curves it way along the foothills of the mountains to our left, making it easier to cross the wide shingle filled watercourses created by the run offs heading seaward. The bridges are typically old long wooden or rusty steel jobbies, often with wooden planked tarmac covered roadways.




Most are only wide enough for a single vehicle which if people were not so polite, might have caused some issues. But down here it's a real 'after you' and 'no, after you' type society. Nice.

The glacial melt waters running under some are bright blue in colour. The other streams where fine rock sediment is still mixed up in suspension, are almost white / grey and milky. They all look cold!

At 4 pm we reached the township of Franz Josef, named after the glacier perched high above it, and turned into what looked to be a brand new and nearly empty camp site with great views upward.




We were not wrong in that it was brand new this year, so the facilities are still all bright and shiny. But it did not stay empty for long. Clearly lots of people on the move use this site, and by 7 pm the inflow of new vans was continuous.

We cooked up a pasta to go with salad 'a la van' (actually did it in the sites wonderous new stainless steel kitchen) allowing us to enjoy the company of three other families who are also on the move. Two had hired vans from Christchurch and had 'done' Queenstown, so they shared their experiences and we gave them ours.

Tomorrow we continue south, but before leaving plan to drive up to a trail head car park, then clamber up the Franz Josef glacier bed to reach the moving face of the glacier. You can make out the flat front edge of the glacier in this photo (taken with our bigger camera) from the van site.




My little legs are really looking forward to that!

Cheers

JOHN

Hanmer Springs
John / Sun / Hot
03/02/2012, Hanmer Srings, New Zealand
Hanmer Springs has a Lake Tahoe feel to it. It's set high alongside the Hanmer National Park about half way between Blenheim and Christchurch (which are both east coast) but about 80 km inland (maybe 1/3rd the way across South Island).

During the winter months they've ski slopes adjacent, but I've not espied a chairlift yet.

A really attractive town set on the valley floor with steep fir clad mountains not just circling but lots of big trees actually still standing in the town. Obviously lots of traditional but classy holiday homes, I guess belonging to folks from the 'big smoke' of Christchurch.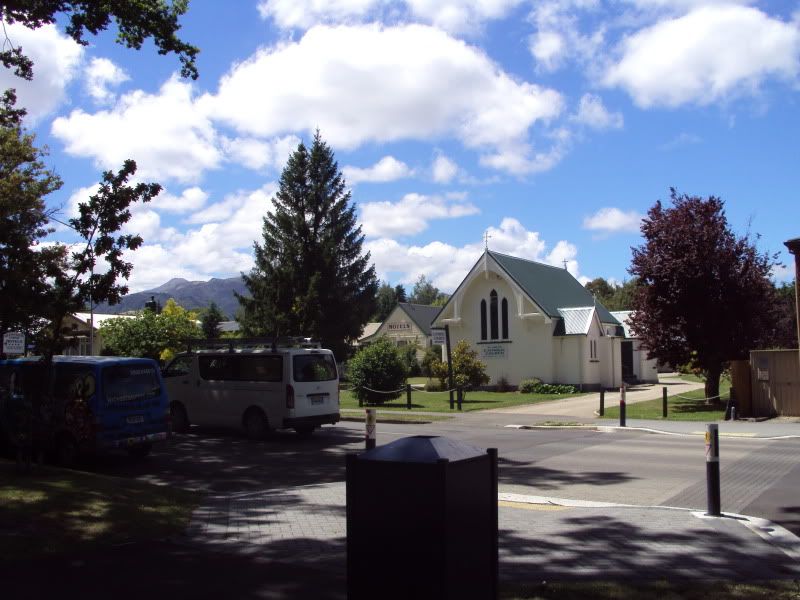 Lots of old ship lapped timber buildings, typically painted cream with a red tin roof. OK, yes you picky ones looking at the photo......some DO have green and some have grey. But mostly red.

Just off the towns tree lined main boulevard are the thermal springs that made people first settle here, and they still attract plenty of visitors today. This weekend is a three day Kiwi public holiday so the towns shopkeepers tell us it should be packed out.

We got here earlier than we'd expected. Initially we aimed to whale watch and stay in the Coastal town of Kaikoura, but we changed our minds.

We had a great coast road drive down from Blenheim, on a narrow windy road with mountains to our right, and the Pacific Ocean to our left.

Lots of fur seals and pups on the rocks in the coves, and not shy either.




Our weather was overcast, and the winds coming in from offshore felt noticeably  cold as we stood outside the van on Kaikoura's seafront.  It did not take 5 minutes to decide we'd just stay long enough to stuff ourselves with fresh fish and chips, and then head for some walking hills like Hanmer Springs . We're glad we did.

Our driving deviation from Kaikoura took us up mountainsides inland on the narrow but scenic Rotheram road, and eventually we got to Hanmer Springs and their Top Ten Campsite. Despite the steady stream of arriving kiwis, they somehow found a spot for us. It was enjoyable watching the place fill up after, with kids running around excitedly, mums struggling to erect tents, and dads yapping away with old holiday mates as they supped beers.

We took a wander up town for a few beers ourselves and used the sites BBQ as we got to know our neighbours for the weekend. Obviously lots of mountain bike tracks around, as most were here for that with pretty high spec bikes.


Day two was just splendid. We awoke early to bright sunshine and with a plan.




The forest around the town are filled with bike tracks down low, and with hike tracks heading up high. Our plan was to link 3 of their most remote walks together, and it worked out well. We drove out to start at a remote car ark, expecting it to be packed. It wasn't. We hardly saw a sole the whole time up the mountain. We clambered and slid maybe 5 - 6 miles along wooded tracks. Only company were honey bees filling their faces with tree sap.




We ended up at our highest point under the Dog Stream Waterfall.  It drops some 120 feet over an escarpment and then blasts off downhill forming the Dog Stream which eventually feeds the main river. It's a lot busier down there, with shot over boats, bungy jumping, a other manic activities, but it was all quiet up where we were.

Brilliantly chilly also in the gloom of the forest, especially close by the roaring stream beds. You could actully see our breath steaming out. The cold woods nicely balanced the two overheated Allison bodies, and the overhead sun.

By midarvo we were back off the mountain and sharing a 40 degree rock pool down in the town springs. It felt blissful being soaked by water that apparently contains every living mineral known to mankind. We stepped out (eventually) looking like a pair of prunes.

Then a 2 hour chill as I type all this up beer in hand, and tonight were off out for a curry at one of the more upmarket restaurants.

All in all, an action packed day.

On. On.

John



Marlborough Wine Trail
John / Overcast / hot
03/02/2012, Blenheim, New Zealand
We awoke late Thursday with a bit of a throbber.  Had a late night drinking Wednesday with fellow van travellers Helen and James who we met on the site.  Nice guys and we shared lot of laughs.

They equally liked their wines so we teamed up to hire bikes to wend our way around the local 'wine trail' on that Thursday.  Our camp site at Blenheim is slap bang in the middle of the Marlborough Region, it being a pie shaped triangle with Blenheim and the Marlborough Sounds on the east coast, and the main wine producing valley stretched between the Richmond Ranges and Wairau Plains inland from us.   The long-ripening season here produces not only superb sauvignon blanc grapes, but also super aromatics, chardonneys, good copy champagnes, and some nice pinot noire.  I know, cos we tasted them all in our days outing.




The team worked well, starting out with good peddling intent. Yup. And suitably wobbly by the afternoon.

We cycled up and down side roads between the vines. It was 10 km on the map from Blenheim up to Renwick, so goodness knows how far we eventually covered. I do know my bum got sore.

But to compensapose we enjoyed samplings at Cloudy Bay, Moa Distillery (yup, had to have a beer break), Nautilus Estate and finally Wairau River.  All good.




These Kiwis also know how to sample.  You tend to get a couple of sips per taste, and tend to taste 5-6 different wines........then re-taste the ones you really liked.........


We both found Nautilus Estate Reserve good enough to buy some bottles.  Astounding! That we splashed out to buy at the vineyard counter.......

We more or less ended with a long late relaxed lunch at Wairau River's classy but informal restaurant, and treadlied our way home against a head wind for a well deserved late arvo nap. Or crash out. Whatever you want to describe the snore filled drunken slumber.

Helen and James knocked us awake to introduce us to a new bottle of pinot noir as the sun went down, and the evening rocked on until we four were the camp sites version of last men standing. Very good young guys, good company.

Tomorrow we head down the east coast to see if the sun remains, and maybe whale watch.  Helen and James head off across South Island making for the west coast.

On on

John


North to South Island
John / Overcast / Warm
03/02/2012, Picton, New Zealand
On Tuesday the weather came overcast and we had some spatters of rain on the windscreen as we wound our way south for 400 klms from Taupo to Wellington.  We'd arranged to link up with friends Dennis and Jean who live close by the capital in Lower Hutt.

The highway was like most here, single lane with doubled up overtaking lanes up most longer hills.  We are tending to roll along uphill and down, at the National limit of 100 kph.  The scenery here has been different again, but still giving us a brilliant new vista around every new bend.  More spectacular forests and valleys, but wide sections of open countryside through which you can see huge sheer cliffs have been formed, like a succession of large waves, as slabs of land were  thrust upward. Awesome.

Townships through the mainly agricultural southern part of North Island seemed to be time warped - albeit cute.  It's easy to imagine why youngsters get drawn from the country life to the cities and even preferring to travel overseas, but saying that, many locals we chat too really do enjoy the quiet life.

We got to a campsite in the town of Lower Hutt not far from the Hutt River but in what seemed to be a mainly industrial area. We put on our finary and pals picked us up that evening.  I haven't seen Dennis and Jean for years and we enjoyed their good company along with a nice meal out overlooking Wellington's twinkly lights directly across the other side of Hutt River.




The following day we left early to make the 10.30 interIslander ferry from Welington to Picton.  Just like an older Cross Channel ferry really........except this one costs $450!

It was overcast but no wind across this little bit of the Tasman Sea, but a shame I never took the camera from the van.

As the ship twisted and turned it's way up into the narrow island dotted Queen Charlotte Sound, the scenery really opened up.  Lots of small forested islands slid past either side of us, many with lovely small traditional wooden holiday home perched on their shore lines. Looks like boats would be needed to get to many of them.

Picton is nestled right up into the most southerly bay of the Sound, obviously chosen by Capt. Cook as a well protected anchorage away from winter gales. When we glided in to turn around and berth, the place was buzzing.


Yachts moored in a modern Marina.  Fishing boats chugging back and forth followed by flocks of screaming gulls.  Cruise liners berthed up and even a float plane zipping in to land across our path.  We just entered the gateway to the second part of our kiwi trip.

Ive enjoyed the driving, and our camper has done us well. Every so often we see something a bit bigger we fancy - do you think this one is maybe a bit OTT?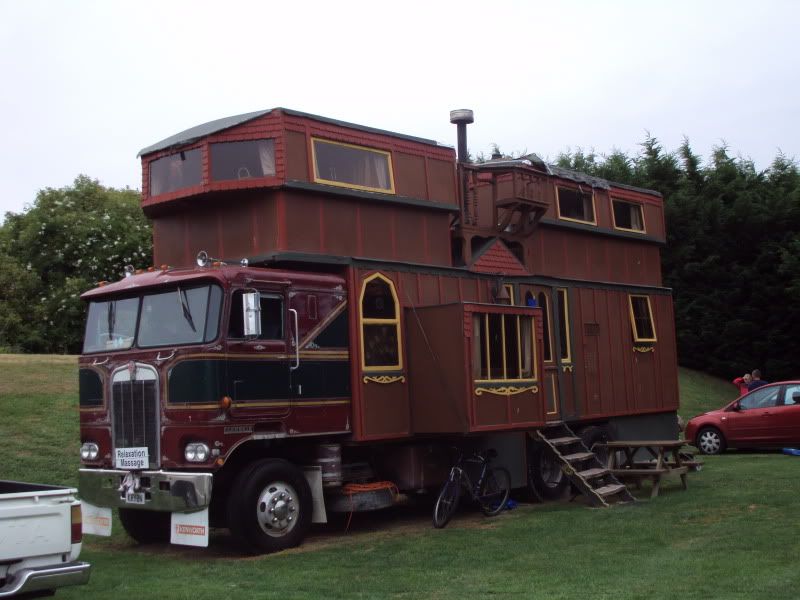 From Picton it was only a 30 minute drive down to Blenheim, the largest town in the wine making Marlborough region.  Marlborough is a wide valley astride
the Wairau River, which flows out past Blenheim into Cloudy Bay off NZ's South islands NE tip.  Methinks hiring a couple of bikes to visit the wineries (to stretch the still tight legs and avoid the deadly breathalysers) makes sense before moving further south.

Cheers
John and Sue