Back on the Water
John / Wet / Cold
12/06/2012, Lymington
Well the Scow nationals were hardly an auspicious start to our serious Scow racing. The weather over this past weekend was so blustery they cancelled the first three races on the Saturday, and Sunday it was all down to two circuits off Keyhaven to decide the championship.

We were all rugged up in our new drysuits prepared for the worst - and it happened. Race one saw us with a reasonable start, still amid the leaders trying to squeeze around the first windward mark. But I got it wrong, and brushed it!

Sailed off high and tacked around to do my penatly turn, a bigger gust came in just as we were gybing in front of the rest of the fleet, and over we went. Always meant to trial a capsize but this was a first for us, and of course Sue was not best pleased. She flew off the boat head first into a rough sea and I dived in to make sure Sue was ok as the boat came over on top of us. I was underwaster at the time, but guess the rest of the fleet sailed on by............

True to the written dinghy capsize drill I got a pretty vocal Sue lying in the half submerged boat, and using the centreboard got it upright with a bedraggled Sue frantically bailing - but do you think I could get back in myself! No way.

Seems from a later X ray I cracked two ribs on the boat as I dived under the boat, and that coupled with a high gunnel and contrained by a PFD, meant I found it easier to swim off to a resuce boat, climb on that, and then get back in alongside a pretty pissed off spouse. Not sure what took the most punishment for the next coupl eof hours - the ribs or my ears.

Sue was not a happy bunny - especially as she had warned me we would not make that mark in the first place. Have to admit she was absolutely correct..........

It took us two more legs of the race to get all the water out of the boat, a lot of coaxing from me to get Sue to stay on board and not try to swim ashore, and we did manage to claw back 3 other boats to end up 19th out of 22 over the first race finish! Silly, silly me.

Race two saw another reasonable start, but we kind of lost our height up the first leg and despite sailing OK, only managed a 11th postion which was half way down or up dependant on your optimism, the fleet. So adding the two scores we achieved only 15th out of 22 championship starters.

But despite the dunking, and the ear ache, it was fun (well for me anyway) and we've at least got over that fear of capsizing into the unknown!

The bad weathers continued this week in the UK, so Thursday sees us flying out once more to Matilda to start the journey north to get her out of France.

We are going to Holland, which may take us 3 or 4 weeks up the inland waterways via Paris and Antwerp, and we'll be leaving Matilda in Heusden with a nice Dutch broker to look after her her whilst she is on the market for sale.

I'm guessing we'll be back in the UK mid or end July with the boat emptied, and can then focus on both the Scow, the Airstream, and hopefully a warmer British summer!

Cheers
JOHN

UK or The Netherlands?
John / Sun
23/05/2012, Lymington
With our Scow Nationals being hosted by Keyhaven Sailing Club in June just down the coast from Lymington, we are currently interchanging time working on the Airstream with Scow practice to get us up to speed.

We are really enjoying this classic dinghy and the varied crowd who sail them out of Lymington. A lovely sociable mob.

The design is a real clunker. It does not point. Refuses to plane. Ploughs it's nose in downwind. Impossible to depower when hit from behind by 30 knot breezes...........but they are all the same and have fleets of up to 30 out sailing at least twice each week........so we're enjoying it despite it's flaws.

Got lots more done on the Airstream. It's 12 v systems, brakes and lights, are
all up and going. I've ripped out the double bed, furnace, seating and carpets and started work on the 220v systems. It's meant installing a 220 to 110v converter so we can continue to use the 110v aircon and battery charger, but the existing wiring is so old and unmarked, I just hope I've got it all back correctly. This Friday we tow it to a welding resource to tidy up the new tow hitch, then it's the panel man to remove the front dings.

We plan to fly back to Matilda mid June but undecided on where to take her for the rest of the year, as we do want her sold. So do we drive her home and keep her local whilst trying to drum up buyers? Or stay in the waterway system and take her to a broker in Holland where there might be more buyers for her?

Whaddaya think?

In the meantime summers finally arrived at home. We are currently enjoying hot sunny weather as I also learn how to shoot a longbow, having joined the local archery club. Have just been loaned someone else's 53llb draw longbow so have ordered up targets and stands for our back paddock so I can get some more practice underway.

Shooting with a wooden longbow is strangely satisfying and with its relatively heavy draw, it all makes for good upper body exercise. What with Spin classes working on the lower half three mornings each week, its the middle bit thats going to stand out as needing attention!

So it's all good, and England 2012 with the Olympics and all, is bound to be fun. We've already got tickets to some sailing events in August, and look forward to watching the rest on TV.

Take care, and let me know what you think about a sale venue for Matilda.

Cheers
John

Bummer
John / Sunny and hot
07/05/2012, Migennes, France
Stumped by French floods.

With two weeks of solid April rain on top of a very wet winter, the rivers of Central France are high and the Yonne is in full flood. When we got to MIgennes to begin bringing Matilda home, we found the Yonne - which joins the Seine and is part of that route - foaming past the yard quay at a steady rate of knots. It was a dirty brown swirling mess of loose timber, runaway trees, and fast water.

The engineering work on Matilda seems to have been well done. It took a lot of custom work to manufacture new cutlass and intermediate bearings, lots of access issues due to furniture and added gear being in the way, all leading to higher than expected labour costs. Plus the external job of re-milling the shafts added thousands more, so my eyes did water at the bill.

But it is only money. The works been done well, and have to say she looks top notch. Our troubles in Migennes were not with Matilda but with the rivers.

We'd actually enjoyed a pretty seamless flight / cab / train trip from Southampton via Paris then Migennes.  We had no idea of what awaited us so were smiling broadly as we dragged our bags under Thursdays hot sun the 15 minutes down to the yard.

It was there we got both good news on the work, and bad news on the water levels.

The river was swollen, almost in full flood, and the VNF (French Waterway Authority) temporarily closed our section of the Yonne for navigation.  No boats were going no where for a while.

We hoped during the weekend that we might only be delayed a couple of days as the first closure notice said the river would be barred until Monday. So to better prepare for that late start, we cast off from the yard and navigated the river down to the junction with the Canal du Bourgogne, and turned in to get lifted though it's first lock into the canals basin by Migennes centre.

Matilda's 2 x 100hp engines handled the floodwater ok, but I suspect they'll not open the locks and rivers just for us.

Parked up in the basin on the canals flat water we could watch the Yonne rushing past below us. Migennes town is a pretty quiet place, but nicer than Simons muddy yard at least for a few days. We soon found we got lots of boating company in the basin and were certainly closer to the supermarket.... but that did seem to be the only place that opened. Local bars and restaurants always seemed closed just when we wanted them!

Friday and Saturday, we sat under more rain as more boat arrived down the canal to halt up in the basin. At times there were six or seven skippers standing morosely looking at the Yonne, all I guess wondering when they could move onward. Over the weekend and despite the VNF completely opening the river weirs adjacent to the locks below Migennes, the river levels did not drop........so it wasn't looking good.

But we hoped against hope if we did get away Monday, we could make up time by travelling non stop down the Yonne and Seine using the fast flowing rivers to speed us along and gain those lost days back............but then today (it's Monday) we got further bad news. More rain is expected, so the VNF thinks it is too dangerous to open. They'll review it all this coming Friday and possibly open then. But they stressed the 'possibly'.

So weighing it all up, we have decided our best option is to drop back down to Simons yard on the Yonne, re-park Matilda alongside some of his stationary barges, and fly back home for a furhter month. This new plan will ensure we'll be around for Scow Nationals early June, and then once we are sure the waterways are open, we will go back and get Matilda.

Its clear from the packed town quay in Migennes that we are not the only ones being inconvenienced.  There is a big boat hire centre down the swollen Yonne at Joiny and lots of their boats have been abandoned here in Migennes as they cannot get back to base.  Those that are att he base can't go anywhere.

There are other private barges arriving daily into Migennes down the Canal du Bourgogne, a few wanting to make Paris for an annual DBA barge rally.  Stuck here above the Yonne, the town quay is beginning to get full. If the river does not drop soon, this place is going to get overloaded.

Frustrating for us I know, plus expensive. Don't think we'll get a refund from our YOGAFF reservation.  Doubt we'll get a refund for the VNF Vignette we bought to cover the trip home.  We'll have to give away a boatload of provisions.  And two return plane / rail tickets to and from the UK will not come cheap!  All because of the bloody rain.  Seem funny, I never though a river boat would get stopped like a yacht, by inclement weather. But it clearly happens.

But there you go. Matilda looks great. All up and together, her engines purr and the serviced injectors means she smokes less. Thats all relative of course as other DAF engine owners can testify.

We've lots mpore to do with our lives so wasting a week sitting alongside one town quay in central rural France has knobs on it for me.  On. On. Next task. Speak soon.


John


MATILDA is FOR SALE
29/04/2012
Enjoyed our first race last Monday on the Scow, and Tuesday saw us down on Matilda in central France refitting doors and tidying her up below. It was so we could take pictures of her interior for boat adverts.

We've got her now listed on several sites, TheYachtMarket ( http://www.theyachtmarket.com/boats_for_sale/314817/ ) , Apollo Duck ( http://apolloduck.net/246485 ) but if anyone wants a bigger folio of photos or more info, please email direct on mail(at)yachtswagman(dot)com, or phone us during our journey on +44 7930 345255.

We depart later this week back down to Migennes by plane and train so see her relaunched, engines trialled, then we will begin to bring her home up the swollen rivers and canals via Paris to Calais. I'm guessing it will take 3 weeks but it will depend upon lock opening times and of course, the weather when we get to the cross the English Channel. Like when we brought her over from Holland, we'll need to wait in Calais for a quiet day and motor her over and down to the Lymington River.

Fingers crossed, for if we can make it by 24th May, then we can enjoy the berth we've booked for the big annual YOGAFF party weekend on the Isle of Wight ( http://www.yarmoutholdgaffersfestival.co.uk/ ).

So.......if anyone has an interest in knowing more about a much loved gentlemans power boat, or know someone else who might also wish to know more, then go look at the adverts.

Cheers

JOHN



Now the work really starts.........
John / Wet / 10C
18/04/2012, Lymington, UK
It's now a very wet and blustery spring here in the UK, and thats a shame. With a long, long list of jobs to complete, bad weathers not what I need.

The vintage Airstream has arrived OK. Safely delivered on the back of a tow truck from Southampton docks, its now parked up round the back of the house where it will sit whilst we're getting it weather-tight and towable.

The weather proofings been quite easy, removing all the old brittle window seals and sourcing a suitable profile to replace them. Happy to advise we found a seal supply company only 5 minutes aways, so now enjoy the perverse pleasure of sipping a cup of tea each time a shower thrashes down drumming onto the roof.... whilst eyeing up the daunting later work of interior refurb.

Re towability. The USA vintage towhitches are set for a US 2" ball, and the US towing electrics are of a completely different standard to whats allowed in the EU. And then whilst the Audi is more than powerful enough to pull the silver bullet - we've learnt does not have a tow bar strong enough to carry the 130 kg hitch load of our US van...............




So job two was trading up Sues Golf for a 3.2 litre SWB Shogun which a bit nuggety but also strong enough to pull the van PLUS carry the heavy hitch load. Sues not best pleased to loose her beloved Golf, but there you go...........

I've also hit the front A frame with a grinder to remove the original US hitch fitting which is still on in the photo above, and once off I had to straighten the front A frame girders to accomodate the new EU / UK hitch . It's made a a UK firm named Bradley, and hefty enough to take the loads on a 50mm ball, plus giving me a new heavy duty jockey wheel.

I'm in the process of bolting it on now but it will also be reinforced with welded plates top, front and bottom.......once I can tow it carefully to the welder.

To handle the electricals, I've also ordered up the EU spec 12v plugs and cables, and got the Shogun in a local garage having it fitted with a new electric brake controller. Once those jobs are all complete hopefully the van will be legally movable on British roads with care.

We then need to deliver it to a local panel man to not only weld up our bolted new hitch, but to also pull out the few dents and dings on her outside panels. Then, we will tow her back home and out will come my new polishinng machine for a real upper body workout..........

Polishing is a messy job but if I hire some scaffolding to be able to get over the roof etc, I'm hoping it won't take more than a week to get the mirror finish we desire.

I've also used the web to order a caravan mains electrical installation kit which I need to fit for basic 220v power input. The vans built to take only the US 110v spec, but the interior wiring is rated for 600 volts so hopefully (I do need to do a few more checks) we can continue to use some of the interior wiring for some new 220v sockets, and some other to continue carrying 110v to the aircon, battery charger, and water pumps. To do that from 220v input I also need to install the hefty step down converter that I ordered with the van from the USA.

Then, once all that is done I can then turn my eyeballing of the interior into a proper plan to rip out and replace some of the interior furniture. We do not aim to refub it back to the old standard, but rether use carbon effect laminates and bright red covers to give it a real jazzy 'art deco' look.

All thet, along with removal of the heavy but redundant gas furnace, polishing up and then bolting on a new horizontal outside front gas tank, and finally replacing the floor and adding chrome trim, should ensure it is very usable.

Phew!

So my pretty full chore list not been helped as we've been told Matilda is almost ready for us to refit doors and soft furnishings down in France. Its good news I've been waiting on for ages, so we've booked a ferry for next week and aim to speed off that next Tuesday with all the doors etc and get that all done before next weekend. If we're lucky we'll be able to remove her winter cover, replace the dinghy onto the davits, and tidy her up enough to take some interior photos.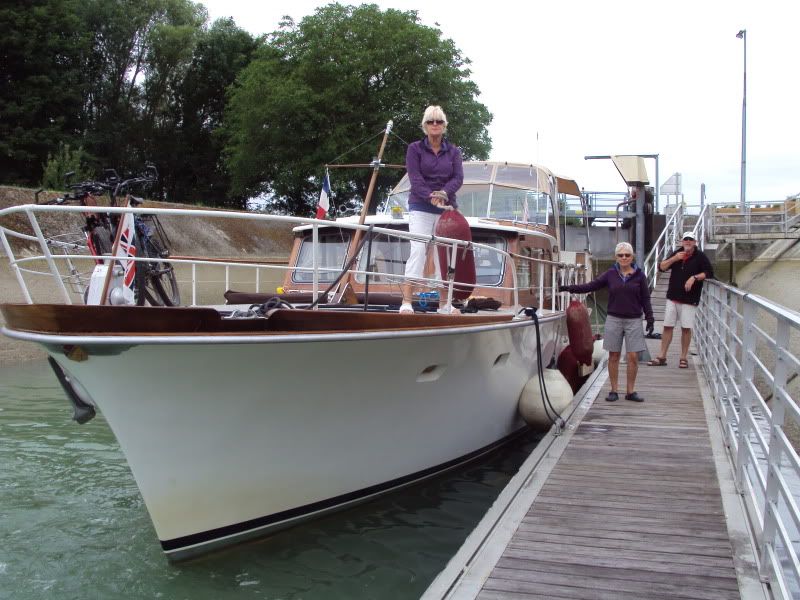 The reasons? We've actually decided to sell Matilda!!

Having got back into the sailing scene via the little Lymington River Scow, we've now decided motor boating is not really for us and another sailing boat probably is.........but being sensible adults, we know we cannot run three boats.............so Matilda will needs a new loving home.

I'm pretty sure there are many past sailors looking to get into a gentlemans launch who'll find her appealing, but it will be easier to find that family from the UK, so when we do re-launch her we'll be bringing her back home across the Channel.

But first lets get those pictures, and get her ready. Regretfully we cannot spend too long in France next week as our Scow racing season starts next Monday with the first of an early series of evening races..........and we want to be back for the second a week later.............

Somehow before the Scow National in early June, we're going to also have to find another three weeks to go back down and motor her home. This time back up to Paris, then up to Calais, where she can sit if needed for the right weather window before making Dover, Eastbourne, and finally Lymington.

If we can do it, a bonus would be getting her home in time for YOGAFF - the Yarmouth Old Gaffers weekend - which starting 24th May is just too good a weekend to miss.

To meet all these deadline will involve us in doing Matildas engineering trials at Migenne tout suite so I need to chat with the engineers in Migenne next week. I'll keep you posted on what we do from there.

So what with Airstream, Scow and Matilda, we've quite a bit on right now...............so you'll excuse me if I don't find much time for the blog.

On on.

JOHN

French Skiing
John / Sunny / Clear
21/03/2012, La Rosiere 1850, France
What a super way to end winter..............you can see there was lots of snow in the alps still ........looked good eh?





Sue and I drove down in the Audi carting the ski and baby gear whilst the rest of our party flew out. It meant we left mid morning on Friday, rolling off the Dover / Calais ferry just after lunch. Personally we always enjoy a cross channel ferry. It's the combination of the ports activity, the fog horns from the sea, the gulls screaching along our long wide wake with the white cliff receeding that make us feel like you are truly going on holiday. IMHO it is not quite the same shunting your car onto a train for the tunnel rail trip. Its also half the price.

Under glorious sun we sped off south down the french toll routes. With two families taking babies on a snow holiday for the first time, we had everything from sledges to toys to food to carry cots, along with everyones skis and boots. The cars back seats were down, and it plus the ski box were crammed full.

The French autoroutes have a 130 kph limit (about 85 mph) so it was a swift and enjoyable journey southwards through Frances wide open countryside. I love long distance continental driving. Maybe in my afterlife I'll come back as a bus or truck driver...........

We did not need to get to our chalet until the next day so having estimated it would get dark as we closed Dijon, I called ahead to book one of those cheapie motorway hotel. It was as black as when we swung off to find the hotel was actually over the other side of the service point, and acess was via a private locekd road and small bridge. It took a whilst phoning to get a young receptionist to drive to us along the dirt road and unlock the gate, so we could follow her back to the other side.

Our hotel did not have a restaurant, and the public service food court was packed by French travellers heading north, but it had a superb small grill where we got a great local flavoured evening meal. Anyone know why the French can manage to make you feel served at a service station, with reasonable food and even offering a taster of your wine, when in Britain you feel lucky if motorway staff manage to throw the plate onto your tray without spilling the chips?

The back door route to the hotel surprisingly gave acess off the freeway, and that presented an unexpected bonus next day as we could not bother to wait for the busy receptionist to escort us back over to the other side with her key. It was easier to simply exit out the back of the services onto regular roads, then take time to refuel at non motorway prices, then take a new toll ticket and rejoin the autoroute at the next entry. What it meant was our hotel bill was effectively negated. Discount the 60 euro bill by 30 euros saved by binning the toll ticket picked up near Paris, and another 20 euros we saved on fuel.......it all adds up. Silly eh, the pleasures such small wins give.

So that Saturday we got away under more sunshine, to complete the 700 odd miles south to the alps and then up the mountains to the resort of La Rosiere. We arrived just after midday.




The rest of our party who had left home Saturday at 5 am to fly, eventually rocked up on a transfer bus from the airport at 7pm local time. They all looked knackered. Seems it was the flight from hell as Georgina had picked up a virus and the plane was packed solid. It all vindicated our decision to drive.




La Rosiere 1850 is one of those purpose built French ski resorts plonked high up in the Alps to get the most snow and therefore the longest possible ski season. But unlike many other concrete French jobbies in the region, this resort was surprisingly attractive.

We had booked a four bedroom chalet with two hosties so we could enjoy a family holiday with Rob / Lou / grandkids William and Georgina, along with our pal Judith / her daughter Laurens family of Damian and grandson Hugo.

The chalet was one of several in a joined up building block, but nicely set up and cosy enough inside. Our two hosties Emma and Camilla proved to be great cooks and better company. You can see from the photo that the chalet was close by the slopes, but the hot weather meant whilst we could (well almost) ski right back into the boot room, we had a tiresome 100 metre trudge each morning up that bit of tarmac outside to reach the snow slopes.




It doesn't sound much, and I thought we were reasonably fit - but you know what it feels like every morning. Cramming feet into cold boots when bent over covered with padded ski kit on a big breakfast always leaves me feeling bloated and puffed, so then any trudge clunking up a hill carrying kit before you can don skis is something I like to avoid.

No chance with this location. But it does make you realise how soft we've become, eh? How did they survive 50 years back when they had to walk all the way to the top of the mountain for just a single ski down...........

Our ski area was more than adequate, running up as it up towards the peaked border between France and Italy, filled with mainly red but some black and blue runs. It had an awesome speed course which we all enjoyed crashing on...........

The lifts and runs allowed us to ski both sides of the mountain - up in France, and down the other side into Italy.




With even the off piste areas hard and crusty, we dodged over from run to run enjoying what we had under lovely hot sun. And not to many bowl outs!

With lots of pistes and hardly anyone else on the slopes, we had few queues for lifts, but seems you can't have it all. The hot hot sun which had prevented new recent snow falls, meant it was very slushy later each day. But it made sledge runs with the kids a lot more fun.




The high temps and slush gave good rationale for long lazy lunches in the sun. As you can see, I invariably had to work hard to keep William away from my chips.




It was all good. What with a few stolen snoozes in sun filled bedrooms late arvo, and enjoying the kids company. They seemed to take to the terraces and ski kit like locals.




Of course we wanted to share the grandies so a rota allowed us all time to ski and walk / play alternate days. It worked well, and we cannot wait until the kids are big enough to get up on skis. They say they can start as young as 3 y.o. In the meantime they always enjoyed an afternoon outing and snooze in the strollers.




We got a bonus midweek when elder son Alex dropped over the mountain top on his board. He is a production foreman building America's Cup boats and currently working in Bergamo, and managed to nick a day away to come see his mum. He drove early to La Tuile on the Italian side of the mountain, and got a ski lift up to link up with us for a long French lunch.

Sue was well chuffed - its not often she has both sons with us at the same time.




The rest of our week flashed by pretty quick, and we were soon waving the bus transfer off before repacking the car with even more gear (meaning they all had even less to carry on the plane) we drove further south for a night out and a top hotel in Chamberey, and then on to Grenoble and catching up with some some old sailing pals.

Eveylene and Gerard are French sailors we met in Turkey back in 2006 and have built a friendship since. Lovely people.

Evy cooked us a great meal, and Gerard raided his wine cellar for a few great bottles, and we relaxed through a peaceful evening at their home and a deep sleep, before pointing the car back north on Monday morning, and storming our way back home.

Not a bad home run either. Seven hundred and fifty five miles from Grenoble to Sway including an hour on the ferry, saw us home and turning on the central heating in a chilly UK........

So winter sports done now, it's on, on for the rest of the spring and summer..............

Cheers
JOHN