Blowin' in the Wind
Winds NW 10 knots
04/30/2014, Bay of Aqaba
Last September we returned to Eilat energized and ready to save enough money to sail again this year. When you buckle down for hard work, there isn't much opportunity for exciting adventures. Now and then we'd get an email or a call from someone wanting a delivery and we'd perk up, but within a week or two they'd change their minds and we'd be back to our routine jobs. Adventure wasn't on the menu this winter.

It's been a pretty unpredictable winter weather-wise for those of us in the Northern hemisphere. In Eilat, winter got off to a cold start in November with snow across this region. For the first time in several years we could watch it snowing on the mountains of Jordan, across the bay.

The snow melted in a day or two, but high winds hounded the area for months on end. I remember summers in Canada when we'd count rainy weekends. This winter, in Eilat, we had weekend after weekend of strong winds. Just when we'd get a little time off and plan a day of sailing, we'd waken to 25 knots of wind and blowing sand.

We did get out for some good sails and the winds were a test of equipment and teamwork. Manny crewed on a couple of passages south to Egyptian waters and found sailing conditions to be pretty much the same there. Early this year, he picked up a handheld anemometer and has had fun checking windspeed readings. A couple of weekends we dodged the local sailing races and marveled at how the young kids adapted to the conditions.




While the wind blew we tackled a few jobs on Yofy, resealing the opening ports, beefing up our forward chocks to prevent chaffing, putting four more coats on all the brightwork, as well as our regular maintenance work. I began to go through all our lockers and look at what we could reduce. After a few years onboard, even on a small boat, it's amazing what you can collect.

We found an interesting website
that has an animated map of the current wind speeds around the globe. (Click on any wind currents and the windspeed is displayed.) While it was fun to check out areas that were suffering more wind than us, we think this could be an interesting addition for passage planning.

In January we had a couple of good rainsqualls that brought our year's rainfall in a couple of hours. The wind lingered and temperatures remained cool but we still hadn't had any real southern winds - the winter storms of Eilat. Then a couple of weeks ago, while we were up north for Passover holidays, we got a call from a friend. He reported black skies and very strong winds. "Is someone looking after Yofy?" he asked.

There is nothing worse than being far away and hearing about bad weather at your boat's berth. We know that the section of the Eilat marina where Yofy lies is well protected, but this sounded like a bad storm. We called marina neighbours and Dima who looks after Yofy for us. Everybody seemed to think it was just a line squall.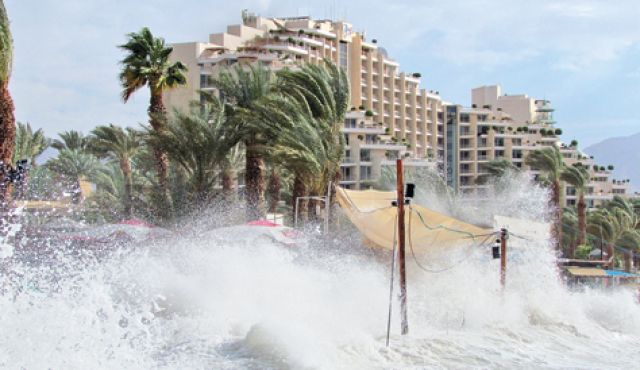 When we returned to Yofy, the next day we heard many stories of the storm. Wind speeds were clocked at over 50 knots in the gusts. Two boats suffered serious damage from surge in the outer basin. Others had ripped biminis and one of Yofy's newly replaced chocks had pulled out. We got off lightly but this is just another reminder to never take Mother Nature for granted.

With the arrival of May we are watching weather patterns more closely. We have some sea trials to do and then a delivery up through the Suez Canal. Before we know it, summer will be upon us and it will be time for another Mediterranean adventure.



Sailing the Ionian Part 2
Winds NW light, sunny
12/29/2013, Gulf of Aqaba
Back in 1979, I was backpacking around Europe when I met Manny. Our paths crossed, a spark was lit and later that year I found myself visiting Israel for the first time. In our mid twenties, we both had similar dreams. We wanted to travel and slowly see the world. We were willing to work along the way. Manny wanted to live on a sailboat and I easily bought that dream.

In those days there weren't many Israelis who would understand two dreamers like us, but for a couple of years, we found kindred spirits with a group of friends. Nicknames were common then and Dove became Dooby, Meir became Butch and Manny... well he's always been Manny to me. As for me, Robyn was a strange enough name for an Israeli to pronounce, so it stayed as it was. We all spent many evenings pouring over copies of Cruising World magazines that my brother Hugh sent us. We schemed at making enough money to buy our first boats and some of us hitched our way north through Europe looking for that pot of gold.

In the end Dooby, Doron and Meir hitched up with another friend and were the first to buy a boat. They took off sailing and our ways parted. It was to be many years before Manny and I could rustle up the funds for our first boat, but we stand as the diehards being the only couple to actually liveaboard and still hold on to the dream. Recently we've reconnected with Dooby and as life would have it, his kids are grown, he's now with Osie and he's back to dreaming. This year he bought Bay Spirit, a Cyclades 38, in Croatia and sailed it back to Israel. We joined him for the Ionian leg. Last blog I wrote about the first part of our cruise. Now we continue with Meir and Sarah on board.



For their first night onboard our new guests wanted to eat out. It was Sarah's birthday and Meir invited us all to join them. We set out by foot walking by the tourists shops and further along the coast to a more residential area. We found a lovely, quiet place where tables and chairs were scattered under the trees across the street from a tiny taverna. In one corner table, an informal gathering of musicians sat strumming ballads into the summer night. It was the perfect spot. Over the next few hours we ordered wine and mezes. Then the owner brought a round of raki. The musicians continued to play. We ordered more wine and mezes and ended the evening weaving our way back to the boat and up the wobbly gangway to our berths.

The next day groggy from way too much alcohol we had a slow start. Late morning we cast off our lines and set out for Ormos A'y Nikolaos an anchorage at the northern tip of Zakintosh. We had a fast sail with good winds and anchored early in a bay alongside a few small tour boats. We all were happy to spend a quiet evening and turn in early.

Leaving Zakintosh island next morning, we passed the Blue Caves at the northern tip of the island. Winds were light and we had a quiet sail entering the bay of Vathi on Ithaca late afternoon. We med moored to the town quay and looked around at the pretty town. A string of colourful houses along the waterfront gave way to appealing shops and tavernas. Alleyways continued to wend their way up the mountainsides making for a steep climb in some places.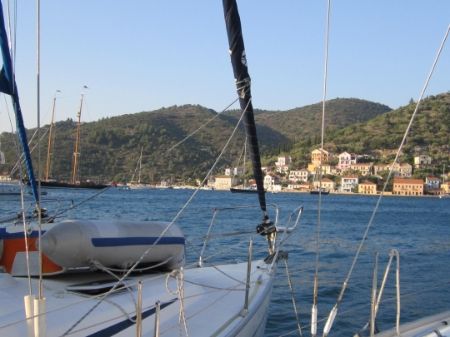 Since all visitors must arrive by boat, this is a town that has welcomed sailors for centuries. The town dock was free and busy with cruising boats. While there is no electricity on the quay, Makis is your man for water on Ithaka. Call him at +30 6979 687862 and he will bring his tanker truck to your boat. We saw a sign advertising showers on one of the small houses and while we never used it, we heard that for a small fee you could have a good hot shower there. The town has a good hardware store and a small building supply store for basic plumbing or electrical fittings. There are a couple of good grocers and excellent vegetable shops as well as a bakery, tavernas, cafes and souvenir shops.

We passed two pleasant days in Vathi walking around town, eating out and sitting in the cockpit and enjoying the show of yachts as they entered and left the bay. The guys hiked up the mountain to the building supply store and found just the fitting to fix a leak in the head. The second morning we sailed around the corner from Vathi into the large bay and anchored off of a small beach in good holding. We spent a laidback day beach combing, swimming and lounging.

In a natural way the group split into two and the guys stayed on board the boat while Osie, Sara and I set out for the beach in the dinghy. I have spent so much time with all male crews that I have forgotten what a pleasure it is to spend time with women along the way. We easily fell into the conversations that women have - talking about families, aging, change and the choices we all have made along the way. It was a tranquil place where we easily could have spent several days enjoying the quiet.




Anchors hold well here but be aware of the weedy bottom!




We reluctantly said our farewells to Ithaka and set off on a reach for Meganisi the next day. All day winds were fickle changing from 16 knots on the beam to dead calm and then back to 16 knots again. The coast of Meganisi is much indented with finger-like coves offering good shelter. During July and August it is a popular destination for sailboats and if you arrive late, you may need to search for a space. We explored a bit and then quickly anchored before there was no room. Even though the anchorage was crowded, it was quiet enough and we spent a pleasant evening on the hook. After we all had gone to bed, Manny stepped out on deck and for the first time enjoyed a night sky full of stars. Far from city lights, finally we could see the constellations.




Next day we hauled anchor early and set south for Cephanlonia. After a short romp under full rig the wind dropped and we motored for several hours only to have the wind come up again to allow us to reach into Poros near the southern tip of the island. Although a great point for a short hop over to Zakintosh, this was a lousy choice for the night.

We entered under strong winds, with williwaws coming down off the mountains. Neighbouring yachties, who had come in earlier, jumped ashore to help with lines. It was a wild struggle under onshore winds but we finally secured a med mooring to the quay. Over the next hour or so, we joined hands to help with other arriving boats fending off and handing lines. Once the evening winds calmed a little Manny, and I set out to explore. It was a pretty spot with a good hike over a steep hill into a sleepy little town. Bare provisioning was available so later we ate a good diner at one of the local tavernas close to the down dock.

Leaving Cephalonia, we had a good sail to Zakintosh. We were back to drop off Meir and Sara who had a flight to catch. Along the way Sara moaned about going back to work. It had been a relaxing week and we had visited some wonderful islands. As we neared Zakintosh, Dooby began to think about his tactics for dealing with the local "agent" and the exorbitant fees he charged. (which I wrote about in part 1). He decided to opt to do his own paperwork at the port and save the 50 Euros.

We approached the town dock and a moped roared up with the same "agent". Dooby gently refused his offer to help and got quite the cold shoulder. The guy immediately called the port police and gave us until that evening to complete the paperwork. Dooby stood firm. Manny and I walked with him to the other side of the harbour where the Port Authority building stood. We waited while Dooby went in. After a long wait he returned. He had been told to come back later, the officials weren't in. We went for Gyros and then Dooby went back. The officials still weren't in. Then the office was closed and he couldn't get his stamp till the next day. The game was clear. This agent and the Port Authorities were on a scam together. As visiting sailors to Zakintosh there wasn't much we could do but pay the agent and avoid the town dock here again.

Sara and Meir said their goodbyes and we spent the next day catching up on laundry and making some Skype calls home at the internet café. The four of us were happy to leave Zakintosh and early morning we set sail for Katakalona a small town on the Peloponnese. This was to be our last sail on this trip and true to form it was perfect. A gentle breeze filled the sails and we made 5 knots while the autopilot steered. We lounged in the cockpit and talked about the last weeks. It had been a wonderful sailing vacation and we were grateful to Dooby and Osie for inviting us along.

Katakalon was a quiet and friendly port. We spent a couple of days packing and doing some organizing. From here we would rent a car and drive through the Peloponnese. Dooby and Osie planned to anchor out for a few days of R&R after a month of guests, and then continue to head south.

Greece is a country that has always welcomed sailors. The Ionian was no exception. Here you can find cheaper marinas and many free anchorages and town docks. In remote bays, family tavernas, grocery shops and bakeries service the cruising community. As I write this blog, news has come of a new tax
for visiting sailboats in Greece. Sailors are up in arms as the hefty fees may be prohibitive for many cruisers on small budgets. We will keep our eyes on the final outcome of this new law. While we are aware that the Greek economy is in crisis, we fear that cruising is fast becoming a lifestyle of the rich - if not famous.

© Robyn Coulter 2013



Sailing the Ionian - Part 1
sunny 35C winds NW 10 knots
11/12/2013, Bay of Aqaba
Sometimes we get lucky and this was one of those years. Late April we got a call from Dooby, an old friend who was buying a boat in Croatia. He wanted to slowly sail her back to Israel during the summer. In fact he wanted to take three months to sail her home. Would we be interested in doing the Ionian leg with him?

Of course we were interested. This would be a way to combine business with pleasure, as Manny has been interested in spending some time in Levkas for several years. By June we were set to fly to Corfu where we would meet Dooby and Bay Spirit, his new Cyclades 39 sailboat.

We arrived in Gouvia Marina on the Island of Corfu midday Sunday at the beginning of July. We were tired because no matter how we plan it, the travel time spent getting to a distant boat is always the hardest part of the delivery. Grateful that we had time to rest before setting off, we happily unpacked our bags and readied ourselves for a few weeks of stress-free sailing.

The general plan was to sail south to the Peloponnese via Levkas and Zakintosh. The decision had already been made not to take the Corinth Canal but to round the Peloponnese into the Aegean. Along the way we would be at our leisure to choose anchorages either on one of the many islands or on the mainland.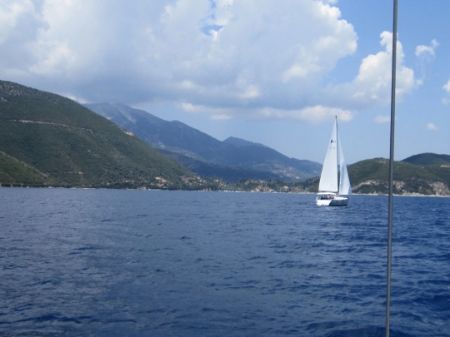 Tuesday after a day of provisioning, one last load of laundry and filling water tanks, we cast off lines, raised sails and pointed Bay Spirit's bow south. A gentle breeze slowly filled in and by late afternoon we were making good speed towards Moutros where several good anchorages awaited us. Even though we arrived late in the day, we found a good spot tucked in between several charter boats. The bay was lovely with scrub pines and a little beach and only a short dinghy ride away from the town of Sivota. Our first night at anchor we chose to stay put and cook onboard. The next morning we got the dinghy out and visited Sivota, a quiet, pretty little place with upscale boutiques and cafes. There is a town quay with electricity and water. Fuel is available by truck. At the north end of the town there is a small grocery store and an unfinished harbour. Nobody seems to be tending the harbour and several boats were tied up there. It was a nice place to walk around but a little pricy for us. That afternoon Dooby dug out the hammock and we were in cruising mode. We spent the rest of the day swimming, reading, snoozing and exploring the coastline in the dinghy. We all agreed that while Moutros is a fairly busy spot, this was a very pleasant anchorage and we could have easily spent a few more days here.

Thursday we were underway in good time only to find no wind and so we motored. Dooby set course for Levkas and the hours passed peacefully. The islands in the Ionian are greener than those in the Aegean and have high mountains leading down to deep bays. Along the coast of the mainland we passed quiet bays and tiny villages nestled between the hills. After a few hours a breeze came in and we were able to raise sails. We sailed on a straight course for Lefkas making 5 knots. Ahh this was the life! Even the temperature was great - sunny but not too hot. Late afternoon, after searching the distant coast for the opening, we lined up Bay Spirit with the canal entrance which only becomes apparent at the last moment. To cap off a perfect day, we caught the very last seconds of the bridge opening and scooted through to a good spot on the town quay.

Mooring here is for free. Water is 5 Euros to fill your tank and wash your boat. If you are quick, you might be able to do a bucket of laundry too. Check the sign at the small hut for the number and call in advance. He's the water guy for the Levkas town dock and you need him to turn on the tap. There are a couple of electrical hookups but unless you get a spot right next to them you'll need a very long electrical cord. Of course Levkas also has a big marina with all the amenities for those who want more comfort.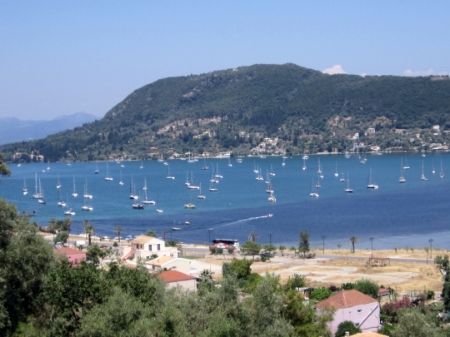 Vilcho Bay Levkas

Levkas is a huge sailing center and a cruising sailor's delight. Several large charter companies and brokerages have bases here. There are at least four good chandleries, a wonderful second hand marine store, good yards for boat maintenance, and great anchorages. The town is pleasant with, many good shops for provisioning and finding parts. Vilcho Bay, perhaps the most well known anchorage in Levkas, has room for hundreds of boats. The Vlicho Yacht Club is not a private sailing club but rather a pub run by Ruairi & Vicky Bradley. The small pub has hot showers, a washing machine, the best book/ CD swap library that I've seen anywhere, WIFI, printer and copy services, a good notice board and ...oh good food and drinks. They also offer guardiage and many other boating services. If you want to know anything about Levkas or need something for your boat, just ask your waitress. She's bound to hook you up with the right person.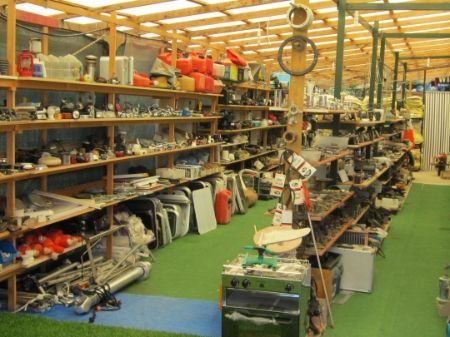 The Second Hand Marine Store levkas

It was hard to tear ourselves away from Levkas but Dooby needed to do a crew swap in Zakintosh in a few days. His son who had been with him since Croatia was leaving and a couple of mutual friends would be joining us for a week. So one morning we hauled in our gangway, untied our lines and motored down the salt canal. This is a narrow channel that runs through wide salt marshes between Levkas and the mainland. The scenery was pastoral with green hills and rocky shorelines. Later we motored by Onassis' island where a pretty anchorage awaits but we didn't stop there. The wind filled in from the south and we continued on to an anchorage at the southern tip of Levkas. We spent a quiet night at anchor eating onboard and going to bed early as the next day we had sixty miles to make to Zakintosh.

The next morning we were up bright and early to find that the wind had swung back around to the north and within two hours we were making five knots under sail. What with the perfect breeze, the sunny day and copious fresh air sometime later I found myself nodding off and headed below to my cabin for a siesta. An hour or so later I dreamt that I was rolling up a steep hill and woke up to find myself sliding up the bulkhead next to our berth. The wind had picked up and when I went back out to the cockpit, Bay Spirit was heeled well over and romping along at eight knots. Dooby, his son and Manny were all grinning like crazy kids.

Late afternoon, we entered Zakintosh harbour and tied up. Just as we reversed into our spot on the town quay, we were met by two men eager to take our lines. One was a man with a fuel truck who we promised we'd buy from later. The other was a man dressed in official clothes asking for our papers. Dooby handed over his transit log and answered questions as to our last port. He was told that the mooring and processing fees for the paperwork would be 50 Euros. Our jaws dropped and then I noticed a sign on the quay, right behind the official.




I tried to signal to Dooby to have a look, but it was too late. He had paid the official.

We've seen this before in Greece. It's one of the ugly sides to life in this country and frustrates the cruising sailor. Town quays in Greece have traditionally been free. Nowadays there may be a fee for electricity or water but the mooring is still normally free. Obviously there is a payoff going on somewhere in Zakintosh, but as a visitor to the country there's not much you can do. After a little discussion, we decided to chalk the experience up to newcomer's naivety. This was our first time in Zakintosh. However we would need to come back here in a week when we would drop off our guests. Next time we wouldn't be so naive. We'd do our own paperwork ourselves and save a bundle of money.

Zakintosh is a gruff sort of town. While you can find boulevards and quaint side streets if you are willing to venture afar, the near at hand waterfront has a grotty feel. It is however a very good place to take on crew with a local airport, excellent provisioning and laundry facilities. It also has a ferry dock with regular ferries to the mainland. We quickly did some laundry, topped up our provisions and welcomed Meir and Sarah who would join us for one week. We planned to head back north into the Ionian and explore a few more islands.

It was great to have more time to sail this beautiful sea. During the summer months the Ionian is hard to beat for sheer perfect conditions. Mornings are normally calm with a gentle breeze coming up around noon. By three or four that breeze fills in and winds will pick up to 20 or 25 knots till around nine in the evening when the wind dies down for a calm night. Daytime temperatures during July were 25C to 30C.

You can plan your day sails to suit your needs. Got small children onboard and don't want to heel to much? Then set out early in the day and plan to anchor by 3 PM. Want to shake out your sails and enjoy a good race? Spend the early morning relaxing and swimming and then set out around noon. You'll start off with light breezes but be prepared by 4 PM to tuck in a reef. The prevailing wind direction in July and August is NW to WNW and perfect for a north south cruise.

Next blog I'll introduce you to Osie, Meir and Sarah and tell you about sailing with old friends and some of our best moments in the Ionian.

© Robyn Coulter 2013