Life gets in the Way
cloudy, cool winds NW 19 knots
01/24/2015, Eilat Marina
I have some favourite blogs that I follow and every now and then they seem to disappear. After months, or even years of regular posts suddenly there will be nothing. It always frustrates me. What happened? Where did they go?

And now, here I am silent for more than half a year. It has been a long time since my promised last post but I'm not going to leave you hanging. What indeed has happened?

Life got in the way.

Suddenly at the end of last summer, Manny's mother's health began to turn. We knew this would happen one day and when our help was needed we put everything else aside. Finding ourselves wrapped up in land based concerns didn't leave me any time to finish our Cyrus story. I hope that I'll be able to continue soon.

Meanwhile, I wanted to leave you a few stunning pictures from a local photographer. Two days ago, we made what we hope is our last long drive (for awhile), back from the north. All though the desert we were serenaded by an amazing sunset. We didn't have our camera, but Erez Herrnstadt, who took these pictures regularly photographs the desert and its people. He leads local eco tours of the Negev desert and you can find him on facebook.





Stay tuned for the second half of our Cyprus story with lots of cruising tips because I really do intend to write it.

The 50 Days of Summer
Sunny, 37 C, winds NW 12 knots
09/28/2014, Eilat marina
Back in April, our summer plans had been made: a delivery from Eilat to the Med via the Suez Canal and a summer cruising the Aegean.

All through May, Manny and I prepared our neighbour's Gibsea 40.2 for the passages ahead. We cleaned water and fuel tanks, washed lines, overhauled bilge pumps, organized the galley and interior lockers and went over safety gear. Manny repaired the anchor winch and installed a bigger main anchor. He checked the self steering gear and the sails. The engine's filters were changed and hoses were checked.

With all the routine checks done, we began to watch the weather and check for a good window for a trial sail. The plan was to sail south about 40 miles, from Eilat to Dahab, and then turn around and sail back. This would give all of the boats systems enough time to run and for Manny to shake out any bugs. He also wanted to try sailing with some of the owner's friends who were eager to crew.

Everything was going like clockwork until the owner abruptly changed his mind. And just like that our summer plans were gone.

Of course there was always the option of taking Yofy to the Med, but then where would we live in Eilat once our sailing holiday was over? We explored the option of flying to Canada for a good visit, but flight fares were outrageously high. We looked at helping a friend deliver a newly purchased boat from Greece. And then war broke out.

As a child growing up in Canada, the closest thing I had to understanding war was Veteran's Remembrance Day. I used to wonder what it would be like living in a country that was being bombed. I always thought it would be very frightening but what I didn't know was how depressing it is. From the beginning of July and for the next 50 days, Israel and Gaza sat under a cloud of doom and black smoke.

Lucky for us Eilat was too far away from the center of action to be bombed frequently. But we did get hit a few times. Once the sirens went off in the middle of the night and Manny swung out of our Vberth faster than I've ever seen him get up. I was close behind. In seconds we were in the cockpit just in time to see the rocket's arc in the sky overhead. The loud explosion that followed told us that it had landed not far from us. After that we, were always ready wherever we were.

Horrible pictures came out of Gaza.

We called friends who live aboard in Ashkelon Marina, right next to Gaza. They were in the middle of all the action and finding it hard to cope. We asked them if they'd like to take a break and sail to Cyprus. Chen and Vered jumped at the opportunity and we set a date for mid August.

We arrived at Pachuli, Chen and Vered's boat, during the longest ceasefire. While summer winds remained light, the heat and humidity had increased considerably. The next two days were spent provisioning and organizing Pachuli amid news broadcasts and frequent dock-showers. Chen was stuck at his job right up to the last few hours before we left. Never had we seen two sailors more in need of some quiet time at sea.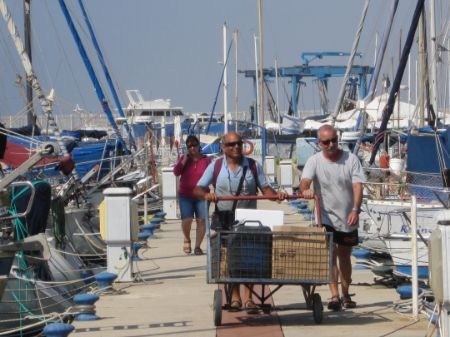 On Thursday August 14th, late in the afternoon, we cleared out of Israel and finally we were underway. With last minute jitters adding to the tension, it would take several hours before the sea did its magic. Later, I lay down for a short rest before my night watch and found my thoughts racing from the stress of the weeks and days leading up to this vacation. Who would have thought that this was how we'd spend our summer? Nevertheless when I got up for my watch and stepped out into the night air, I felt a different person. Out here nothing mattered except the boat, the course and the wind.

Soon we all fell into the routine of meals, watches and resting. The next day with light winds, we stopped to swim and cool off from the intense heat. Back underway, just as we were discussing dinner plans, our fishing line went off and we reeled in a 3 kilo tuna. That evening, we ate a tasty dinner of fresh tuna steaks and salad. Chen announced that we were half way to Cyprus. We sat back with mugs of tea, and as if to round off a perfect day, dolphins joined us diving and playing in our bow wave.




Pachuli is a Moody 42 with a ketch rig. She's a boat that needs a fair bit of wind to make any headway under sail. While every day the winds would pick up for an hour or two allowing us to sail, this was a passage of light winds and so we motor-sailed most of the way. The course from Ashkelon to Cyprus means taking the swell on the beam, which is an uncomfortable movement for anyone with a tendency for seasickness. For our crew, however, nothing could break the relief of finally being underway.

Our last night at sea, we sighted oil rigs about 40 miles off of the coast of Cyprus. Far from land the sky was filled with thousands of stars and I stood transfixed by the display. Later we sighted some cruise ships. Manny came to change my night watch and I sat a little longer with him, taking one last look at the stars.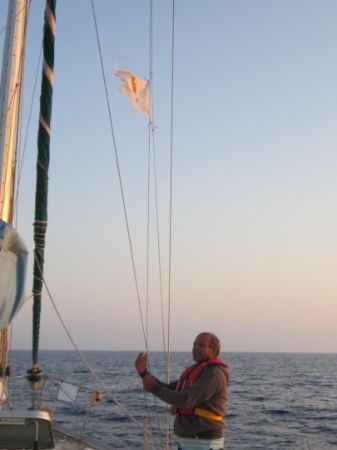 The next morning I was up early in anticipation of our arrival in Larnaca, Cyprus. The morning mist burned off as we approach the marina. By 07:30 on August 16th, we were tied up to the gas dock and waiting for clearance.

It had been a rough summer for everybody in Israel and Gaza. For now the ceasefire was holding and for those of us aboard Pachuli, we'd had a good passage to Cyprus. We all made quick calls home to say we had arrived and then turned our cell phones off. For the next week we would leave our troubles behind and enjoy the many surprises that this quiet island offered.

And I'll tell you that story in the next blog.





Blowin' in the Wind
Winds NW 10 knots
04/30/2014, Bay of Aqaba
Last September we returned to Eilat energized and ready to save enough money to sail again this year. When you buckle down for hard work, there isn't much opportunity for exciting adventures. Now and then we'd get an email or a call from someone wanting a delivery and we'd perk up, but within a week or two they'd change their minds and we'd be back to our routine jobs. Adventure wasn't on the menu this winter.

It's been a pretty unpredictable winter weather-wise for those of us in the Northern hemisphere. In Eilat, winter got off to a cold start in November with snow across this region. For the first time in several years we could watch it snowing on the mountains of Jordan, across the bay.

The snow melted in a day or two, but high winds hounded the area for months on end. I remember summers in Canada when we'd count rainy weekends. This winter, in Eilat, we had weekend after weekend of strong winds. Just when we'd get a little time off and plan a day of sailing, we'd waken to 25 knots of wind and blowing sand.

We did get out for some good sails and the winds were a test of equipment and teamwork. Manny crewed on a couple of passages south to Egyptian waters and found sailing conditions to be pretty much the same there. Early this year, he picked up a handheld anemometer and has had fun checking windspeed readings. A couple of weekends we dodged the local sailing races and marveled at how the young kids adapted to the conditions.




While the wind blew we tackled a few jobs on Yofy, resealing the opening ports, beefing up our forward chocks to prevent chaffing, putting four more coats on all the brightwork, as well as our regular maintenance work. I began to go through all our lockers and look at what we could reduce. After a few years onboard, even on a small boat, it's amazing what you can collect.

We found an interesting website
that has an animated map of the current wind speeds around the globe. (Click on any wind currents and the windspeed is displayed.) While it was fun to check out areas that were suffering more wind than us, we think this could be an interesting addition for passage planning.

In January we had a couple of good rainsqualls that brought our year's rainfall in a couple of hours. The wind lingered and temperatures remained cool but we still hadn't had any real southern winds - the winter storms of Eilat. Then a couple of weeks ago, while we were up north for Passover holidays, we got a call from a friend. He reported black skies and very strong winds. "Is someone looking after Yofy?" he asked.

There is nothing worse than being far away and hearing about bad weather at your boat's berth. We know that the section of the Eilat marina where Yofy lies is well protected, but this sounded like a bad storm. We called marina neighbours and Dima who looks after Yofy for us. Everybody seemed to think it was just a line squall.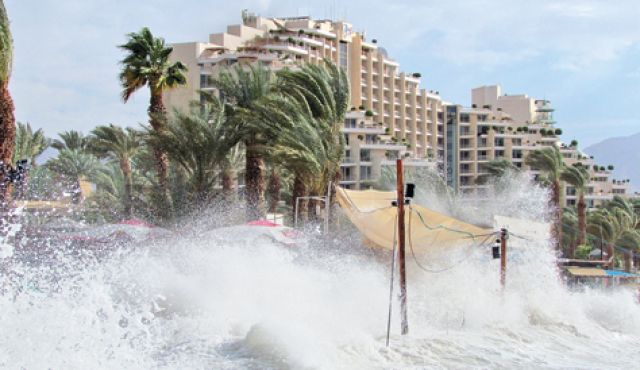 When we returned to Yofy, the next day we heard many stories of the storm. Wind speeds were clocked at over 50 knots in the gusts. Two boats suffered serious damage from surge in the outer basin. Others had ripped biminis and one of Yofy's newly replaced chocks had pulled out. We got off lightly but this is just another reminder to never take Mother Nature for granted.

With the arrival of May we are watching weather patterns more closely. We have some sea trials to do and then a delivery up through the Suez Canal. Before we know it, summer will be upon us and it will be time for another Mediterranean adventure.