The New Year began with renovations.
Our cold weather lasted a good two months and winter passed in a blur of different projects. For months Yofy's cabin looked like a construction site. Our head compartment was first. Last summer, we decided to upgrade our head to an electric toilet. After weighing the pros and cons we were ready to give it a try. It was one of the best upgrades we've made on Yofy. The toilet needs much less maintenance, uses minimal electricity to run (and we have lots power coming off of our wind generator and solar panel), and is so much easier for guests to operate. Now that we added a new water tank we needed to resurface all of the old cabinetry so it would be water resistant and easier to clean.
The head was out of use for several days at a time as Manny tore apart cabinetry in order to install Yofy's new water tank. There were a few tense moments as he tried to align the tank in place and then a huge sigh of relief when it fit. Next he built a new sink front redesigning the cabinet and making the space so much easier to use.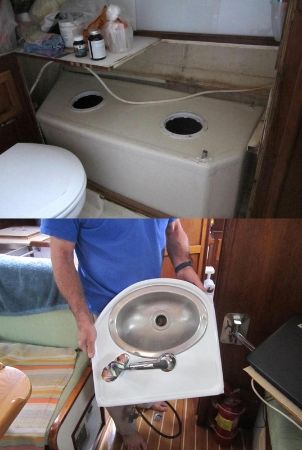 When we bought Yofy, we found the head sink to be really difficult to access. It sat under the side deck ceiling and made it impossible to brush teeth or to shave. So Manny designed a sliding sink that worked for a couple of years until corrosion set in. Since then, we've been brainstorming improvements. Now he glassed in a curved front to the cabinet that makes the sink accessible, attractive and compact. He glassed the counter top surrounding the sink so that it would be easy to clean and there would be no edges for mold to collect. And he made the sink counter removable so that we can access the tank underneath. Later he gelcoated the locker door and we have a modern and easy to clean cabinet. The rest of the cabinetry still needs to be resurfaced but the bulk of the work is done and it is such an improvement!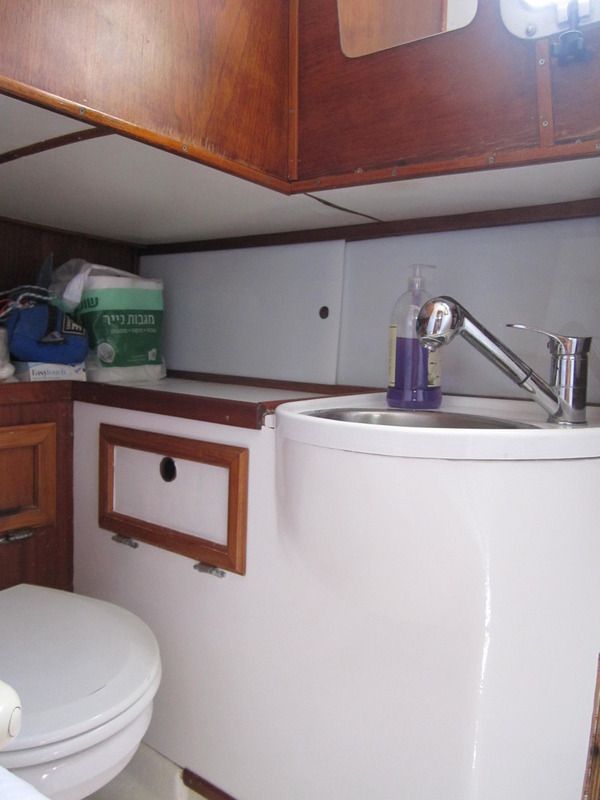 As soon as we were able to make some sort of order in the main cabin, we called Rafa to come and measure our salon and Vberth for new cushions. There was a grand debate over how firm the cushions should be and what fabric would be best but Rafa guided us to make the right choices and now our cabin has a brand new look.
Rafa is a man of all trades, sewing yacht canvas and upholstery, managing the local sailing school and taking the job of head coach for Schahaf Israel's Olympic wind surf medalist. Part way through our cabin cushions Rafa had to take time off for coaching as Eilat sponsored the Windsurfing World championships. We headed out to watch the final day of races and were there to cheer Sahahaf as he took first place.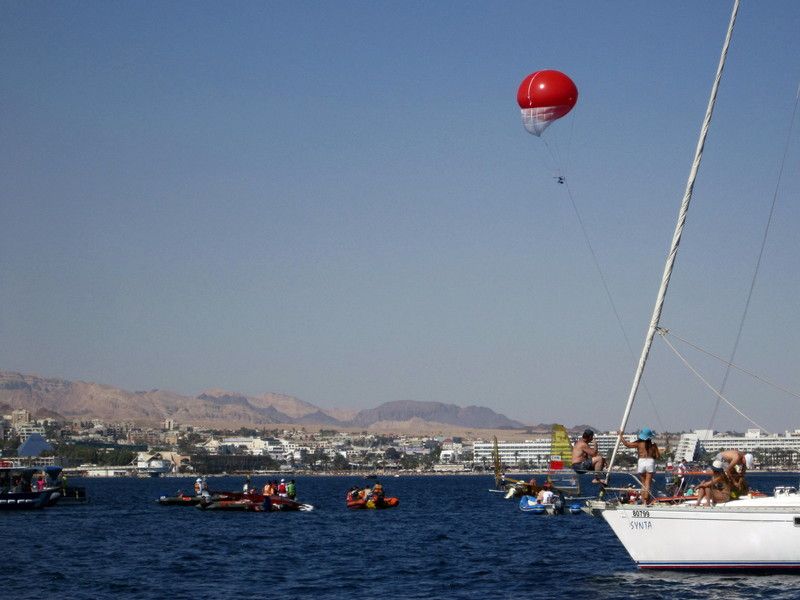 Back onboard Manny began to tackle the next project which was renewing and reconfiguring all the boat's plumbing and installing a new marine air conditioning system. Here on the Red Sea, air conditioning is imperative for any liveaboard boat. When we moved aboard, Manny installed a marine AC unit that he converted from an old house AC unit. And it worked fine, but now with thoughts of sailing on the Med, we wanted a unit that could be used for heating as well. So he began to build us a new marine unit that is more compact, and will heat or cool the boat's interior.
Whenever we undertake big projects on Yofy, something is bound to go awry. This time, mid project, Manny found himself busy with other people's maintenance requests. As the cool weather was holding he wasn't too worried. Then in its normal fashion, spring arrived all in one week as temperatures rose twenty degrees mid March. The high temperatures caused a little concern, ruining local crops on the farmer's fields and making one sailor wonder when our new air conditioner would be complete. Then we had to leave everything and travel up north for two weeks. I found myself checking temperatures online and cringing as one heat wave after another swept through Eilat. Finally on our return, Manny put off all his customers for one week, dug in his heels and finished the AC installation.
The new unit sits under our galley sink and the control panel is next to our electric panel. The AC runs very quietly and cools our boat interior down in a matter of minutes.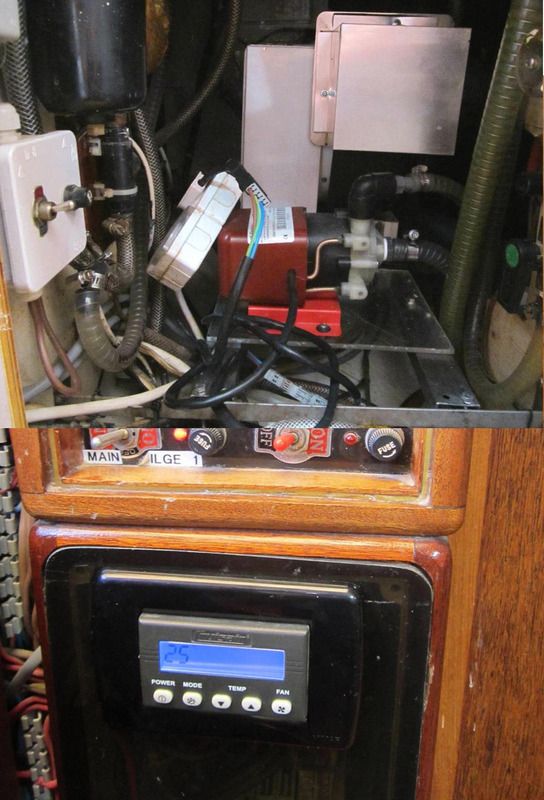 While I sit here at the computer with our AC blasting away, Manny is mid way through our last big project. The old solar panel is gone and new much higher powered one is ready to be installed. Manny has reconfigured the stainless stand which will hold the new panel and our wind generator and double as dinghy davits. The argument still stands as to how Yofy will sail with all this extra weight. Manny's been extra careful to try to design something that isn't clunky or awkward and I'm sure for all my resistance, I'll be the first one to enjoy the ease of handling the dinghy from the davits.
With the advent of spring we began to celebrate the growing potential of sailing Yofy in the Med this year and then delivery job offers began pouring in. Week after week, Manny received offers for deliveries through the Suez Canal, from the Ionian to Corfu, from Israel to Turkey and more. Some of these requests were so last minute that he had to turn them down. Others we just couldn't refuse. So it seems that this year's sailing season will begin with some delivery jobs while Yofy waits in Eilat. Only another reminder, that for cruising sailors an itinerary is just a loose plan.
Yofy's new upholstery: