Some Like it Hot
Winds S 10 knots
01/06/2016, Gulf of Aqaba
This fall, in the middle of yet another heat wave, I came across a Swedish saying:

"A year without summer is like a life without love".

While I do remember Canadian winters and the intense longing for sunshine and warmth, I had to laugh. After years of living at the opposite end of the climate zone, mid summer we find ourselves yearning for cooler temperatures. In fact, with temperatures hovering around 50 degrees Celcius for months on end, if we were to go without summer for a year, we'd probably celebrate.

This year being an El Nino year, we've had an extremely long, hot summer and lots of wind. Month after month, three out of four weekends we've had winds over 25 knots. Combined with the heat, the winds have made everybody cranky, so we've tried to make the most out of any good weather. And there have been some wonderful days with perfect sails in a 12 knot breeze and long swims off the boat in flat calm seas. Those are the days that make it all worthwhile.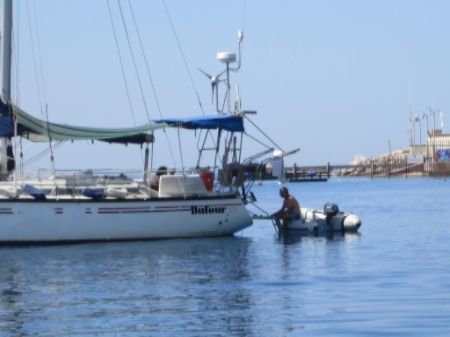 Mid September we spent a long weekend at anchor and it was one of those weekends that you never want to end. The anchorage was quiet and the winds were light. We had good books onboard, swam for hours and shared dinners with friends anchored nearby. It was the closest we had come to cruising all year.

Each time we take Yofy out, we talk about sailing the Med. It's been a dream for so long and always just out of reach. With terrorism on the rise, sailing in Egyptian waters is a bigger risk and so we've talked about alternate ways to get Yofy to the Mediterranean. We've also bantered around the idea of buying a bigger boat already lying in Greece or Italy.

Over the years we've made many improvements on Yofy and by now she is pretty much just how we like her, but there remain a couple of problem spots. As we haven't found that bigger boat yet, and with thoughts of doing some offshore passages, Manny wanted to find some solutions.

Our water tankage is one main issue. Yofy came with two inflatable water tanks - one under the Vberth and another in the starboard heads compartment. A few years ago Manny built a fiberglass water tank to replace the tank that sits under our V Berth and it has been a terrific improvement. The tank that sits on the starboard side in our head compartment has caused nothing but problems and Manny has wanted to replace it for some time. As he examined possible solutions, he added in restructuring all our water hoses, and redesigning the head sink. I requested upgrading all the cabinetry in the head so that we'd have white fiberglass or formica surfaces that would be easy to clean and water resistant.

Winter project #1 came into being:
Building a new water tank for the head compartment
Moving all the water hoses and seacocks for convenient inspections
Rebuilding the sink compartment
Resurfacing most of the cabinetry and walls in the head compartment



Another problem is how to carry our dinghy underway. The fortune 30 is a center cockpit sailboat with a small aft cabin. This makes for a terrific cockpit configuration, but little foredeck space. We've tried several variations over the years, but no matter how we do it, we can't carry our dinghy on the foredeck without making sail handling impossible. So, Manny has decided that our only choice (other than towing the dinghy) is to make davits. We are clearly divided on this plan. I think that davits will make the already stern heavy Fortune 30, even worse, while Manny thinks that with a heavier anchor and other gear on the foredeck, she'll balance out.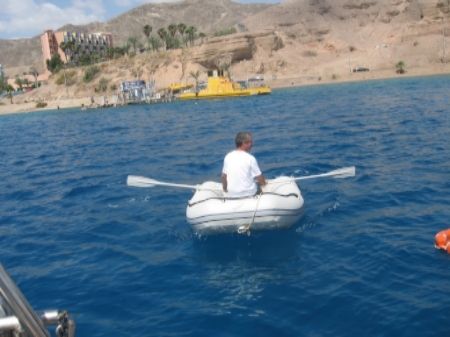 Recognizing that we don't have much choice, I seem to be loosing the argument and so:

Winter project #2 came into being:
Reconfiguring our solar panel and wind vane post
Building a "radar arch" (although we don't have a radar) with davits

Along with these two major projects, we are renewing all the boats interior upholstery, putting another coat on the interior varnish, as well as completing all our regular winter maintenance projects. I've started with polishing and waxing the exterior stainless and next will come the brightwork. Winters are short here, so we have to really hustle on any projects that need to be done outside.

Finally mid November temperatures began to slide just below 30C and we could enjoy working outside. Just as we relaxed into our favourite season, a cold front from Siberia travelled south and hit us with cold weather. Overnight temperatures dropped 15 degrees and weather warnings were declared all over the region.

Later temperatures crept a little higher and soon all our neighbours fell into maintenance fever as well. These days mid day temperatures are in the low 20's and on a sunny day sanders and grinders rev up, varnish tins are opened and everybody is in the rush to get things done before the heat returns. As the sun sinks behind the mountains, we all begin to pile on layers until evening temperatures plunge to single digits.

As I write this blog, I am wrapped in fleece and have the heater going. Our boat has been somewhat of a construction zone for almost two months. During the day Manny puts in long hours trying to finish the water tank and sink cabinet between his other jobs. I squeeze in a couple of hours each day to do a little varnishing. Evenings we each retire to a small corner of the cabin and escape via a good book or movie, trying to ignore the discomfort of the disorder around us.

As the projects progress, we allow ourselves to dream a little and to hope that maybe... just maybe... this year we will be cruising in the Med.




At the Crossroads
Sunny, hot, winds NNW 10 knots
09/24/2015, Gulf of Aqaba
Here it is September and we are at a crossroad of sorts.

One famous cruising couple insists that cruising should be done while you are young. In many ways I agree with them. As our bodies, age the rigors of cruising become a little harder and while we do not all age the same way, there is a certain advantage in the vigor of youth. Even though we see their point (and we really do), for us, there have always been other factors to be considered too.

We are a couple who have their feet spread over two continents and that means a life of juggling. When we were young, every time we'd pack up and go travelling one or the other set of parents would feel we'd deserted them. When we cruised south from Canada to the Bahamas, my parents missed us but understood that we weren't THAT far away. On the other hand, Manny's parents felt that we had disappeared into a remote hinterland. When we arrived here on the Red Sea, Manny's family understood that we were actually close by, while my parents felt that we'd disappeared forever. Over the years those distances have cost a hefty price. During our stay in Canada, Manny lost his father and grandfather. While we've been here in Israel I've lost both my parents. No matter where we were, we were too far away to be there for both our families.

These are the worries that go through the minds of all cruisers and everybody has to make their choices based on what feels right for them. In the end, Manny and I made the choice to stay here on the Red Sea, close enough to have regular contact with his aging mother - the last parent. We felt we'd have the freedom to explore the northern reaches of the Red Sea and still be close enough for regular visits.

Two years ago Rachel was diagnosed with Alzheimer's and being close by began to take on even greater importance. Last December, Rachel fell and broke her pelvis, and the disease began to take greater control. By the end of June, we were with her full time. Rachel left this life in the middle of August and we spent the rest of the summer in mourning. Now a month later, we can look back and be grateful that this time, with this parent, right till the end, we were there by her side.

Rachel became my Israeli mother and quite the role model. She had a fighting spirit while still being gentle and compassionate. One of her outstanding attributes was the ability to accept change and make the best of what she couldn't alter. For a woman whose life revolved around family, accepting the fact that her only son had moved half way across the world to live on a sailboat couldn't have been an easy adjustment.

It feels like yesterday when I watched her rolling her huge suitcase down the dock to our little sailboat/home in Pickering, Canada. She was as far out of her element as she could be. As her heels clicked along the dockboards, I remember the raised eyebrows of our neighbours, but within days she had settled in to the life of the liveaboard.




Some months later when we had parted once again, we were now anchored in the Bahamas. On a hot day long before cell phones, internet or Skype, we rowed our dinghy ashore and walked the two miles into town to the only phone booth on the island. Several months into our cruising, we each were going to call home. After several tries we finally got a connection to Israel and Rachel picked up the phone. After hellos and where are you's, she asked Manny if he could do her a favour.
"Can you pop over to the Israeli consulate in Miami and fill out a form for me. They'll mail it express".
Manny looked at me mouth agape. Now just how was he going to explain to her how impossible that would be?

As the years went by, Rachel began to understand that the cruising life wasn't just a whim, it really was what made us happiest. Now and then when we'd catch her bragging to friends about our experiences, we knew she was finally accepting our lifestyle.

A few years ago, on a long delivery we decided to surprise her on her birthday. Ignoring the outrageous cost we were about to incur, Manny called her from the boat's satellite phone. When he said hello, she asked him where we were. As he explained that he was calling from the middle of the sea on a passage east through the Med, we could feel that she didn't quite get it.
"So you won't be here for my birthday dinner?" she asked.

Some of the realities of our lifestyle simply weren't comprehendible.

As we begin to return to our life aboard Yofy we look forward to the next year. The death of the last parent is a crossroad of sorts. We have decisions to make.
Even as we sit and weigh our options, we feel Rachel gently urging us to follow our dreams. It's true, we're not as young as we used to be and we may have to alter our choices because of that. However, these last years have taught us that we don't need to go half way around the globe to find pleasure in cruising. One thing is for sure. Wherever we go, we'll make the best of it, Rachel.




Rachel Kremer 1927 - 2015

Cyprus
Sunny winds NW 14 knots
03/25/2015, Gulf of Aqaba
Cyprus is an island that sits midway between Turkey, Greece and Israel. Lying just a short passage from each of those countries, it is a perfect midpoint on any passage to or from Israel. Yet, on our many passages in the Eastern Mediterranean, we have never stopped there.

Perhaps it is because Cyprus is such a popular cruising destination for Israelis. One can untie their dock lines in Haifa at 4 PM and be in Cyprus the next evening. Many races and regattas are organized between the two countries. In the past, sailing friends who had visited the island assured us that there was nothing much to see. And Cyprus sports the bad rep of having no decent anchorages and no room in most of the marinas. Is it any wonder that we had grown accustomed to giving Cyprus a miss?

This year however, when all our sailing plans had gone up in smoke we looked at Cyprus as being an interesting option for a short sailing vacation.

Finding a spot to tie up in Larnaca Marina is a bit of a dance. Arriving in Larnaca Marina on a holiday weekend in August adds a certain twist, where patience and tenacity are your only hope.

We found a space at the gas dock, which is nothing more than a high, long concrete wall with rusty metal U-bolts embedded mid wall. It was a stretch to secure the bowline and even on this 42 foot Moody, we needed the aid of a plastic step to climb ashore, but we were not deterred. Chen set off to do clearance and returned with the news that although we'd cleared in, the Marina office would be closed all weekend due to the holiday, so this will be our berth for a couple of days.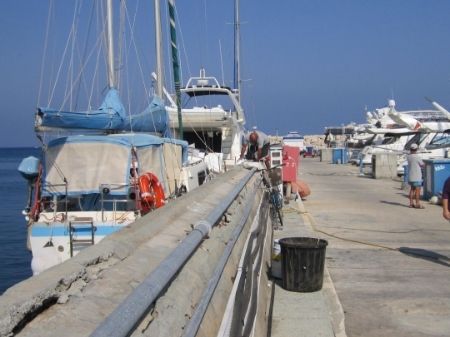 Our first day was spent resting and getting our bearings in town. After a short nap, we walked for miles happy to stretch our legs after days at sea. Lunch was Gyros and a Greek salad. The fresh food tasted great. By 2 PM, we were soaked with sweat and joined the local tradition heading back to Pachuli for a siesta. Manny and I pulled on our swimsuits and dove into the sea. One of the perks of being on the outer wall is that we had the whole bay to swim in.

The rest of the day and Sunday were spent pretty much the same way. We explored Larnaca, checking out supermarkets until the heat forced us back to the boat for a swim. Then for several hours we swam, walked to the showers, drank cold beers and chated with neighbours. Much to our amusement we were surrounded by boats from Lebanon and crews from Syria. Outside of Israel we are all just sailors, although inevitably our neighbours talked about the war. "How do you take it"? they asked. This is a question we were to hear from everybody we met over the next two weeks.

While Sunday would have been a good day for a short sail to Konnos Bay Chen was concerned about not finding a spot on the wall to tie up to on our return. The marina was quickly filling up with more and more Israeli boats. It is possible to anchor in the bay but with the intense heat and extreme humidity we all wanted shore power for fans in our cabins. So the time was used to reserve a rental car and to check out several other services that Chen and Vered wanted to take advantage of while in Cyprus. Later in the evening we walked to town and stumbled on what was to be our best meal in Cyprus at Art Café 1900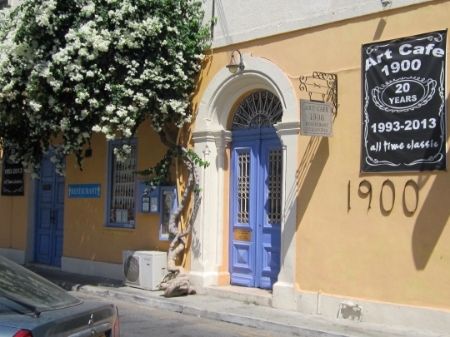 Tucked away on a side street just a short walk from the marina, Art Café is a delightful place. There is a pub downstairs and on the second floor a lovely restaurant decorated with the artwork of the owner. Specializing in seasonal local food - no Gyros here - and a warm hospitality, we couldn't recommend the place more. Manny had lamb and spinach in lemon sauce and I ordered stuffed vegetables. We drank the house red and finished the meal off with a slice of chocolate cake and ice cream - all for a very reasonable price.

Monday morning we were up early. Chen headed directly to the marina office to try and wager a berth in the marina. Our plan was to rent a car and drive to the Trodos mountains for a few days of hiking and we weren't very happy about leaving Pachuli on the wall where any wind would bring up a swell. Not to mention the event of the previous night, where unaware to all on board, some passerby had tossed their lit cigarrete butt in through one of our hatches burning a large hole in the apholstery - amazingly not starting a fire -. Clearly we needed a dockside berth.

With Chen at the marina office, we set off to reserve an air conditioned car and do some provisioning at the big Carefour on the outskirts of town. I reveled in all the European products grabbing buiscotti, gingerbeer, cristini, salami, mini gouda cheeses, fresh vegetables and fruit, good bread and other picnic staples for our road trip. We quickly checked out of the supermarket and headed back to the marina arriving just in time to find Chen getting ready to move the boat. Our tenacity had paid off and we'd got our prized space! There was a last minute rush to ready ourselves for an early start the next morning. The weather in Larnaca was continuing to get hotter and more humid and we were desperate to head off to the cool mountains.

One of the incentives for this holiday was the opportunity for Chen and Vered to have an inspection done on their liferaft. All Israeli yachts must show a recent certificate of inspection before clearing out of Israel. Unfortunately the national inspection center had closed business and sailors were being left in the lurch. Pachuli had just a couple of months left on her certificate and here was a grand opportunity to renew it. So first on our list Tuesday morning was driving to Limasol and dropping off their liferaft with Elias Liassis




Bright and early Tuesday morning, we load the life raft into the car along with our bags and we're off. After 2 hours of getting lost, several phone calls and finally finding the place, we pull into Elias's business. In his late 30's, Elias is a quiet and measured man, who likes to show off the exactness of his trade. Over the next couple of hours, he delicately opens the life raft and begins to explain all its workings part by part. Just as we begin to feel that we are in for a long afternoon, he finds a leak in one of the seams and it becomes very aparent why life raft tests are so important. This one is only two years old!

We leave the raft with Elias and rush to catch a couple of marine stores where Chen finds a replacement kit for his manual bilge pump. The stores close at 2 PM for siesta and finally we have no more excuses. We are off to the Trodos mountains!

As we climb higher and higher into the central region of Cyprus, the scenery changes from scrub pines and bushes to wooded forest. We turn off at Pano Platras and find the Kalithea Hotel - two separate rooms with balconies overlooking the mountains. Here the daytime temperatures are a good 10 degrees cooler and evenings you will need long sleeves. We all sigh deeply. Nothing could be more perfect.




The next two days are spent exploring the little villages in the region, sampling local food and hiking. We follow a beautiful trail climbing 400 meters in two hours through deep wooded forests, serenaded by rushing streams that converge in a waterfall. The green and vastness of the nature is a real boon after years in the desert regions of the Red Sea.




Evenings we linger on the balcony of the hotel enjoying the mountain vistas. One evening I experience a magical moment as the sound of monks chanting Kiriyas from a nearby monastery drifts out over the landscape.




All too soon we need to head back to Limasol and collect the life raft. The repair is good work and Elias charges less than what would have been paid in Israel. We are really pleased. We make one last stop in a marine store for some last purchases and then off to Carrefour to provision for the sail home. Back at Pachuli we eat a light dinner onboard and I do some laundry. The marina office sells tokens for the machines at 5 Euros each.

Larnaca marina has two small cafes on site. The café next to the marina office offers WIFI free to all customers and at 1.6 euro a beer it's a great place to log on and check out the weather forecast for our passage home. Going online brings us the sad news that the last cease fire has yet again been broken and we will be returning to war again. I could have enjoyed the last few days more without that news.

So, it is with heavy hearts that we untie dock lines and set sail for Israel. I should mention here that while Larnaca marina's fees are the cheapest anywhere in the Med at only 10 Euro a day (electricity by meter), we did get hit with an overtime fee for clearing out on a Saturday. The fee was 50 Euro! Be forewarned.

We motor for a bit with just a light NW breeze until we clear the island and then raise all Pachuli's sails and make 4 knots over calm seas. Vered cooks chicken for dinner and we set into the sea routine. On my night watch the sky is full of falling meteors and I make wishes on every one. The night passes quietly as Pachuli glides over glassy seas.

At first light I hear noise in the cockpit and get up to find Chen reeling in a 4 kilo Tuna. We have lunch. The day passes quietly as the humidity builds. In this heat nobody has much of an appetite but we do manage to eat the delicious tuna steaks that Vered cooks for lunch. During the afternoon the conversation turns to projects on Pachuli. Chen picks Manny's brains about marine AC units and before he knows it, Manny's has got him lined up with a contact in Eilat who wants to sell a used unit. We also brainstorm better shade cover for their cockpit.

By 17:00 the wind has dropped again and we stop to swim. Each of us has a cruiser shower which automatically lifts our spirits. Chen makes omelets for dinner and we set ourselves up for night watches. We are approaching Israeli waters and will need to be on standby for the Israeli Navy.

Around midnight, Rcc Haifa (the Haifa Rescue Control Center) relays a VHF call for us to the Israeli Navy confirming our location and ETA. We hear an Italian sailor yelling furiously at RCC Haifa as he repeats personal data for the third time. "You are not sailors, you are farmers!" he exclaims. "I am repeating this for the last time." We all smile at his frustration.

I turn in and try to sleep. The night passes with light winds, but the sky is alight with rocket fire. At first light we are called by the Israeli Navy and warned of a rocket heading in our direction. From then on we watch as rockets from Gaza arc over Israel and others outwards to sea. As we motor into Ashkelon Marina, we all sigh. After the peace and quiet of Cyprus, this is no homecoming.