A Fish Tale
sunny, clear, 29C wind NW light
02/13/2012, Gulf of Aqaba
Last week Manny went out sailing on a neighbour's boat. It was Friday afternoon and I was still busy teaching yoga, so he grabbed the chance to get out on the water for a couple of hours and joined Amir and Reuven. As a last minute thought he grabbed our fishing rod and a lure that a one of the marina staff had assured him would catch a fish. It was an automatic sort of gesture because, you see, Manny hasn't caught a fish while trolling from a boat ... well ever!

Let me make this clear. Manny has fished many fish from shore. He's quite good at spear fishing and when we cruised the Bahamas, he often provided a dinner of lobster or conch. Over here, he manned a fish trap for years, which brought us regular dinners. He built a smoker and has earned quite the reputation for his smoked fish. He has crewed on boats in various oceans when fish have been caught. He has helped land the fish and he has cleaned the fish, but he has never reeled in his OWN fish while trolling a line from a boat.

Once on a delivery aboard a Formosa 50 ketch, Manny found a rod, some line and a lure. We were on passage from Egypt to Turkey and it looked like a promising night. He rigged the rod off the stern of the boat, reeled out line and gave me clear instructions to call him if I heard the reel go off. Then he headed down below for a well earned nap and I took over the night watch. Just as Manny began to drift off to sleep, I heard the reel go off. I jumped up and down squealing with delight and hollered "You've got a fish!" Manny shook himself awake, dashed up to the cockpit, and began to reel in the line. Unfortunately the rod was old and rusty, the line snapped and the reel gave in. He gave me a smoldering look with clear instructions NOT to bother him with fish anymore and slunk off to bed.

Aboard Yofy, if there is any wind at all, we generally troll a line. Sometimes friends join us and then there usually is a discussion about which lure we are using. Everyone offers their advice.
"I always catch fish with a silver lure".
"Anything that's red and rubbery works. They think it's a squid."
"THIS is the lure that ALWAYS catches fish for me!"

He's bought and tried them all. He's got a good professional rod, reel and proper line. He's weighted the line and not weighted the line. He's trolled the deep water, the farthest point south, the lucky spot by the harbour. We've watched for seagulls over the water and trolled where they are fishing. We have watched tuna chasing groups of fish causing the surface of the sea to "boil" and we've trolled right through the school. Not a fish.

About a month ago, Manny was out sailing trolling a line as usual and he sailed right past another boat also trolling a line. As the two boats passed each other and were parallel, suddenly the line on the other boat went off and Manny watched them reel in a fish. That evening he told me "I can't believe it. They were just meters from us!" The whole thing was becoming a joke.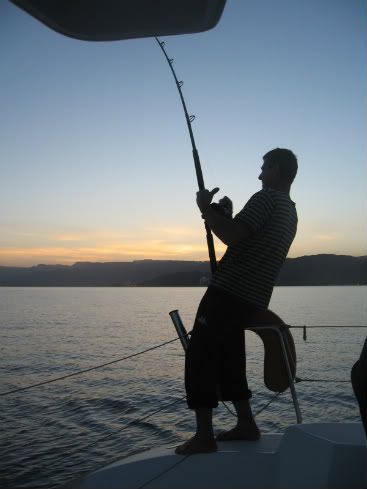 So you can imagine my surprise when I called him last Friday afternoon and heard that he'd caught a fish. I immediately put our camera on standby and waited for the Five o'clock Bridge. This was one picture I had to get. As soon as they had docked Amir's boat and the fish, a three kilo tuna, was brought over for cleaning, a group collected around the guys. The story was told and retold. Manny began to clean the fish and now everybody gave their opinion on the best way to cook it. In the end Manny cut the fish into steaks and shared them with Amir. We each got several good sized steaks and I took the head and tail to make fish broth which I'd freeze. Then I began to thumb our fish recipes.

We decided to try a recipe by Chef Jamie Oliver: Spice-Crusted Tuna Steaks with Cilantro and Basil The steaks were delicious. Now I can't wait to make chowder using the fish broth as a base.

As for Manny, he's now setting his sights on a Mahi Mahi. Who knows he might even catch one!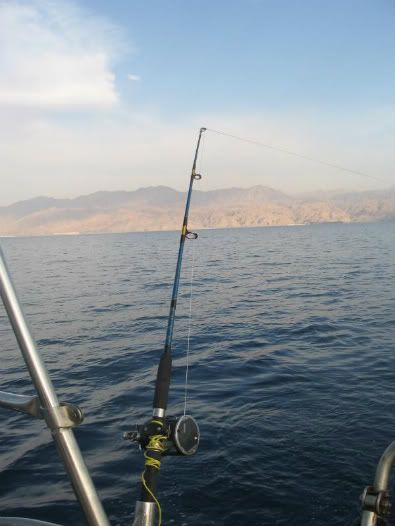 Cruising the Red Sea - An Update
sunny clear skies winds NNW 12 knots
12/22/2011, Gulf of Aqaba
Winter arrived early in the Gulf of Aqaba. While normally November is a lovely month with warm days and gentle breezes, this year temperatures suddenly dropped bringing with them the winter winds. We scrambled to dig out our warm clothes and after several cold nights, even brought the heater into our cabin. Nevertheless, after several years of hot summers and mild winters, no one is complaining. We are all enjoying the change.

The cooler weather hasn't stopped us from sailing. Weekends when Manny hasn't been working, we've layered on warm clothes and headed down the coast. Winter winds have provided a good run south and later in the day a good beat back north. Days like this, we wonder if there are any cruisers left on the Red Sea.

Almost three years ago I wrote a two part blog on Cruising the Red Sea. Since then there has been a sharp increase in piracy and political upheaval throughout the region. While much of our advice still remains pertinent, a few things have changed. So I am writing this blog as an update with some important changes for any remaining sailors intending to sail the Red Sea.

Piracy
These days, just a mention of sailing in the Red Sea fires up pictures of deadly pirate attacks. Actually the attacks do not cover all the Red Sea but are confined to an area spanning the northern Indian Ocean and the Gulf of Aden. Pirate attacks in this region have sharply increased and need to be taken seriously. Noonsite has been keeping a watchful eye on piracy and you can read their extensive reports and analysis here.

Here in Eilat, hundreds of miles from the danger zone, it is a regular site to see ships that have made passage from the Indian Ocean. These days they all sport coils of barbed wire around their decks and up to the control tower. From time to time we spot bullet holes and we know of agencies that regularly supply heavily armed merchant soldiers to patrol their decks.

Perhaps the most weighing remarks come from Lou Brust, the organizer of the Vasco de Gamma Rallies
After five consecutive and successful rallies from Turkey to India via the Red Sea and back, Lou has made the tough decision to cancel this rally route for the next couple of years saying: "Due to the affected developments of the piracy in the Indian Ocean, North of the Maldives till Oman en Yemen there is no more a safe route to the Red Sea."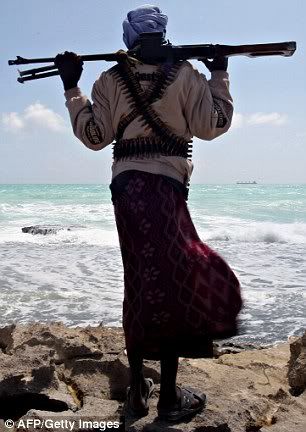 And what of the different sailors who were attacked by pirates over the past few years? Paul and Rachel Chandler were released a little over a year ago after being held captive in Somalia for 388 days. They are now safely back in the UK and slowly piecing their lives and their boat back together. They have written a book about their ordeal available here

The Danish family Jan Quist Johansen, his wife Birgit Marie Johansen, their children Rune, Hjalte, and Naja along with their two crew employees were also released a couple of months ago. They were captured by pirates last February and finally were released after seven harrowing months in captivity.

Sadly, Bruno Pelizzari and Debbie Calitz, the sailing couple from Durban remain in captivity after more than one year since being seized by pirates.

Scott and Jean Adam, Phyllis Macay and Bob Riggle aboard Quest were attacked by pirates and subsequently murdered. Their story is here

The message is clear. Any sailors intending to make a passage from the Indian Ocean to the Red Sea this year must weigh their decision very carefully. The piracy is real and the risk is higher than ever before.

Political Upheavals
Okay. We've stated our case for the southern end of the Red Sea, but what about cruisers from the Med who wish to overwinter in the northern reaches. Is it safe?

2011 ushered in a wave of political unrest and revolutions throughout the Arab empire. For the first few weeks, we were unsure of how this would affect sailors in the Gulf of Aqaba. As conflict in Egypt escalated, we wondered whether this would have an impact on passages through the Suez Canal. Today we are happy to say that from all accounts the changes are very small.

We have talked to several skippers who have transited the Suez Canal since the conflict. They all report smooth transits and even suggest that bureaucracy is more efficient. It would seem that the Egyptians are most concerned to show that business is as usual.

Once you are through the Suez Canal, you will find some changes in Egypt though. This year sailors say that Egypt seems to be a little stickier about anchoring out and often are less welcoming to foreign boats. Our advice? Always have plan B. Keep your distance and don't try going ashore. Cruisers with current visas who've tried to go ashore have been abruptly sent away.

Our friend Tommy who is living aboard in Hurghada reports that the marina is empty. He is the only liveaboard. This has had one good consequence in that he managed to bargain cheaper marina rates for this winter. Tommy does say that otherwise everything is as normal and he is enjoying his stay.

One caveat we'd like to add is that side trips inland should be carefully thought out. With the final elections on January 3rd 2012, demonstrations are becoming more violent. Terrorism is a real threat, with foreign tourists at high risk. We all need to watch what the outcome of the election will bring and hope for a peaceful government.

Jordan however is thus far a good option. Travel inland is safe and the marinas are busy as usual.

Need I mention that Israel is another good safe option? The only problem with bringing your boat to the Eilat marina will be space. This winter slips are full, but the marina manager is sure to squeeze you in somewhere. Call in advance (972 8637 6761).

Cruising Updates

In my last blog I reported that the marina at Taba Heights in Egypt was closed. I would like to make a correction. Egyptian authorities say that the marina remains open to boats cruising in Egypt. However it no longer is a port for clearance.

Lo Broust has announced a new rally that will leave Turkey and sail south to Eritrea and back over the winter of 2012 and 2013. You can read the details here.

Well it has taken me a long, long time to complete this blog. So I would like to wish all of you a wonderful holiday season. May the New Year bring peace and prosperity to this region and may all of you sail in safety wherever you are.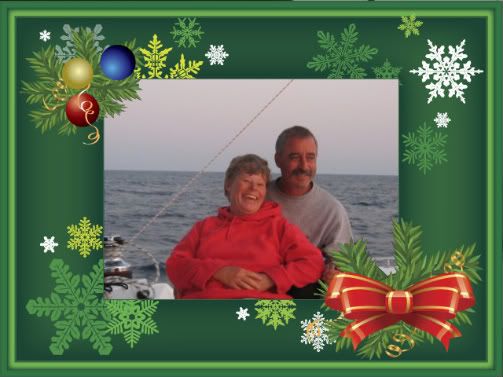 It Ain't Necessarily So
38 C , sunny and calm
10/10/2011, Gulf of Aqaba
Is it just me or have the last few months been tough for everybody? Lately every new email seems to express regrets over lapsed communication and shares stories about months of challenges that just don't seem to let up. Even those sailors lucky to be off enjoying the cruising life in the Med have had their share of troubles. Just take a look at Aisling's Blog and read about the sudden storm that surprised sailors in the Ionian sea. While our trouble's certainly are small next those sailors who weren't so lucky in Lefkada, this has been a challenging summer for Manny and me too.

It all started out well when in early June we took some friend's out sailing for the weekend. We sailed along the coast, fished a little and moored out for the night. The weather was wonderful. We ate well, swam often and slept under the stars. All too soon it was time to sail home. When we arrived back at the dock, I took one look at their long faces and quickly understood the heavy feeling of having to go back and face the rat race. "Look", I said "we're thinking of sailing down to Egypt for a few days next week. Do you want to come?"

They were eager. We all began to organize ourselves for a little cruise and then Murphy stepped in. The Egyptian government closed the Taba Heights marina and in one fell swoop put an end to our plans. Maybe we should have been prepared for this what with the fall of Egypt's government last winter, but Taba Heights is the only Port of Entry along Egypt's Sinai coast until Sharam. (And entering in Sharam doesn't make sense. Boats from Eilat would have to sail all the way south to Sharam, enter, then beat all the way north again and then south again to clear out and beat back north AGAIN to come home - a ridiculous procedure that would take a good part of a week to do.).




The thing is that not only did this put a stop to our short cruise, but it meant that taking Yofy up to the Mediterranean was getting to be an ever increasingly good idea, considering all that's going on in this area. And we really do want to sail Yofy in the Med. In fact we really do want to sail Yofy in the Med now!

There are just a couple of things that we need to do before we can cruise in comfort and safety. First off we need to haul Yofy out, inspect her bottom, paint her with antifouling, replace all her thru hulls, seacocks and zincs and check her cutlass bearing. Like most of the sailors in Eilat, we really would rather not do this in the local yard. Not only is the owner gouging boat owners with unbelievably high rates but he is using a rail car; a method that is outdated, and this particular rail car is so unsafe, that it runs chills up your spine just to watch a boat being hauled out.

We had thought we'd found a creative solution when we decided to hire a crane and put Yofy on a trailer. We planned to get our friend Amnon to drive Yofy to his workshop in Eilat's industrial zone where we could do the work in our own time. In fact we had thought we'd do this just after we returned from our sailing vacation in Egypt. But this plan had to be put on the rails too. See my last blog Constructive Crtiticism

Secondly we needed to replace the cabin sole. Way back in the summer of 2008, I fell through Yofy's floor into the bilge. At that time Manny had far too many jobs lined up to tackle laying a new cabin sole and so he did some temporary repairs. They've held well but the sole was soft in a number of places and it was clear that a proper repair needed to be done soon.

Just as we began to wail about all these obstacles, Manny got a phone call from
an acquaintance living in the north who had just bought a new boat. Would we like to go sailing? Would we like to go sailing for a month? Delighted with a new solution to what was fast looking like a summer of work, we quickly affirmed that we were available. Out came the pilot book for Greece and the provisioning lists. Then it was suggested that Ellen needed a haul out and perhaps we should take her to Greece. Maybe we would go sailing for a month and then come back and take Ellen to Greece for a haul out.

Things were really looking good now.

But our acquaintance pushed back his date for a sailing holiday to August and the owner of Ellen began to waffle about haul out dates. Time was sifting through our hands. We decided to tackle one of the jobs that needed to be done on Yofy and Manny chose to replace the cabin sole.
"It will only take a couple of weeks. I've already worked out the quirks in the job with the work I did on Hermakis" he said.
And since we were on a roll, he decided to make a new salon table that would both swing to one side so we could access lockers more easily and lower into a double bed for guests. If we were in for the penny we might as well be in for the pound.

So at the beginning of July we packed up the contents of Yofy's salon, removed all her cushion covers, stored the foam in the V berth and moved into a small studio apartment. Within a day or two Manny had ripped out the old floor and we were committed.




Days he would work away on Yofy while I sat in the apartment going through boxes of things we had stored on Yofy, throwing out what wasn't needed. Evenings I would come down to the boat and help with whatever I could. We worked late into the night hoping to finish this job before August.

After ripping out the old floor, Manny began to look at the supporting beams and to replace any that were rotted. Day after day he found more and more soft wood. In the end he replaced all eight supporting beams. Then the battery locker needed to be replaced as well. As soon as he took out the battery locker he found that the shower well from the head also needed replacing.

With no end in sight, this was becoming a depressing job and our dreams of summer sailing were quickly slipping away. There was nothing to do but push on and finally the last week of July; Manny slowly he began to reassemble everything.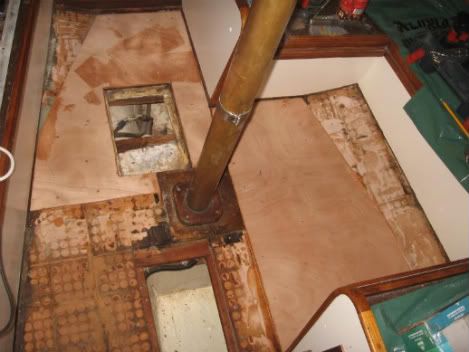 The beginning of August found Manny ordering the oak planking and still our phone hadn't rung. We intensified our work schedule. With a big push Manny laid the last oak plank and seamed everything with silicone. It was now mid August and apparent that our sailing friend was never going to get it together to go sailing. Frustrated and exhausted from what had turned out to be a summer of renovations, we booked last minute plane tickets and flew to Greece. Sometimes you just have to accept what's on your plate.

Early September, we returned rested and ready to continue with the project. Manny is still finishing up the last bits of trim work and I must say he did a great job. Let me tell you though, if anybody had told us that we would move off of Yofy and spend our summer doing a huge renovation project, we would have told them they were nuts.

As Mark Twian said "It ain't what you don't know that gets you into trouble. It's what you know for sure that just ain't so."