The tourist season never really ends in Bermy but the first cruise ship of the year the Oriana arrived last Saturday Jan 13.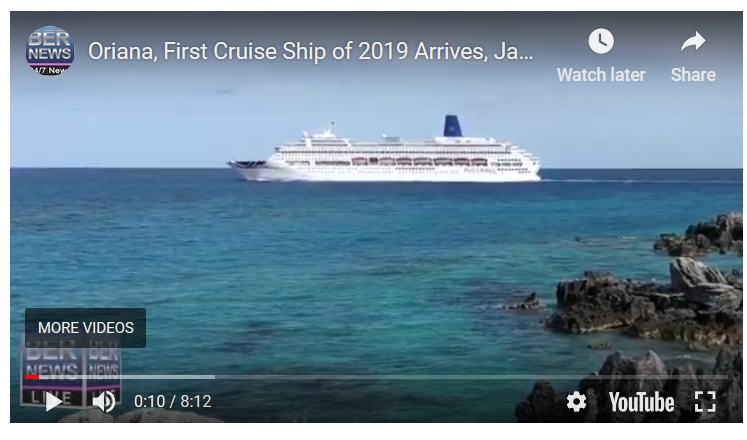 2019. January 8.
The number of cruise ship visitors rocketed by more than 168 per cent last November compared with the same period in 2017, the Bermuda Tourism Authority said yesterday.
The number of tourists who arrived by air rose by just 2.7 per cent over the same time frame. Kevin Dallas, the BTA chief executive, said: "As outlined in the National Tourism Plan, our strategy is to focus on better balance in Bermuda's cruise business with more calls outside the summer months. The effectiveness of that strategy has shown up in the November 2018 visitor arrival statistics."
Mr Dallas added: "As our extended season strategy takes hold, we hope tourism experience providers are ready to provide the same level of service to cruise passengers in November as they do during the summer." A total of 18,620 visitors travelled to the island by cruise ship and 11,836 tourists flew to the island last November.
2018. December 28.
Bermuda is expected to receive an extra 68,000 cruise ship visitors next year, according to the Government. Next year's cruise ship schedule includes 192 calls to Bermuda, which is estimated to bring 544,000 passengers, a rise of 14 per cent on the 2018 figure. Zane DeSilva, Minister of Tourism and Transport, said the increase in passengers is expect to generate $7.9 million in tax revenue and increase visitor spending.
He said: "We have another growth year for cruise ship calls to Bermuda and we look forward to welcoming approximately 544,000 cruise ship passengers in 2019. Be assured, though, that our Government is very mindful of the big picture: the increase in cruise passengers, year over year, the need to balance air and cruise arrivals, and the challenge of providing the necessary infrastructure to serve all of our visitors." The minister added: "My ministry is working diligently to attract more business for Hamilton and St George's." Kevin Dallas, Bermuda Tourism Authority CEO, said the body is still working to increase the number of ships in the cooler months.
Mr Dallas said: "The long lead time of the cruise ship industry means the Bermuda Tourism Authority has accounted for next year's cruise passenger's growth in the National Tourism Plan. Our focus between now and 2025 is better balance in Bermuda's cruise business with more calls outside the summer months, increases in what cruise passengers spend on-island and, perhaps most importantly, growing the number of vacationers who arrive by air." Next year's cruise ship schedule includes five inaugural visits to the island, including calls from NCL Pearl, NCL Jade, Celebrity Edge, Spirit of Discovery and the Adventure of the Seas.
Seems that in this aspect at least the local economy is set to perform well this year.