The very first Magnificent Frigatebird (Fregata Magnificens) I got to see was while we were at anchor in Turtle Bay, on our way down the west coast of Baja. Since then, they have become a pretty common sight around any of the Baja waters. They are a pretty large bird, effortlessly gliding along on the winds, but they have a sinister look to them that matches their behavior. They float around on the wind currents, looking for fish or other likely food items. Despite their ability to grab fish from the water, they do not float, so they must pluck the prey cleanly from the water. With that in mind, they have found that the best way to gather food, is to steal it from other birds in mid air. They will drift around, upon high, waiting for some poor seagull to find a meal, and then with the speed (and noise of F-14 jet) will swoop from above and bash right into the previously successful victim. Once they have robbed their meal, they soar off in search of their next thievery.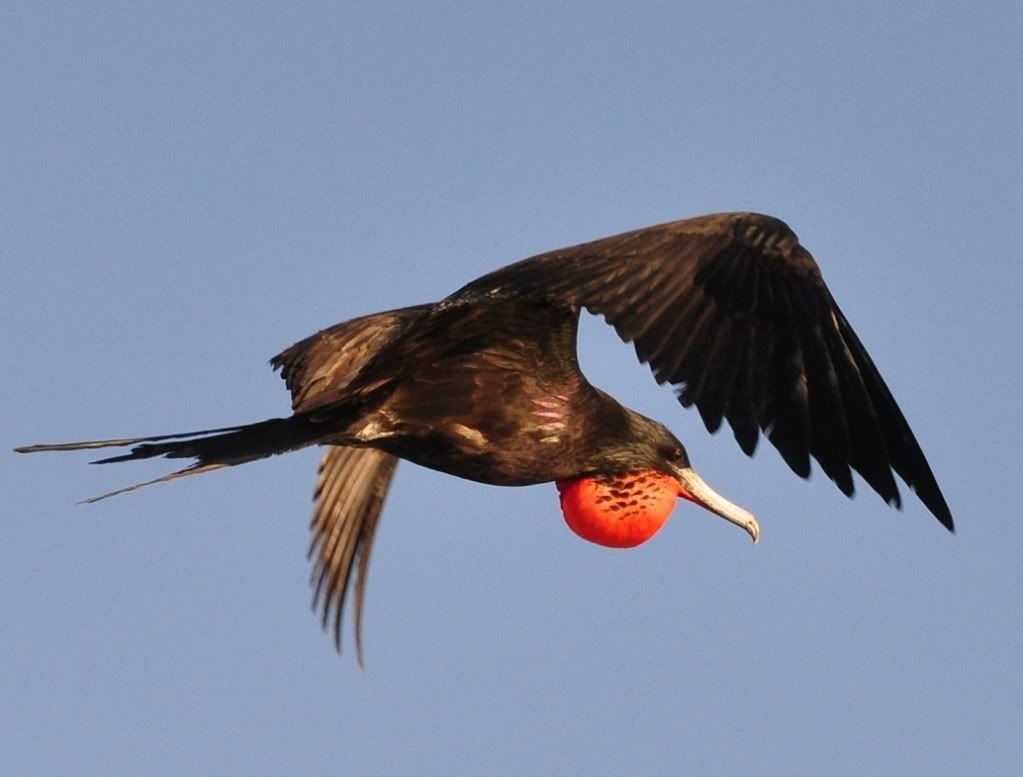 These birds grow to have a wing span that exceeds 90 inches. The adult males are solid black, only showing off their bright red breasts which they expand like a balloon when seeking a mate. The females, while primarily black, have a white breast plate that is easy to see as they roost or fly over. The juveniles show the same white breast as the females, but have a solid white head as well.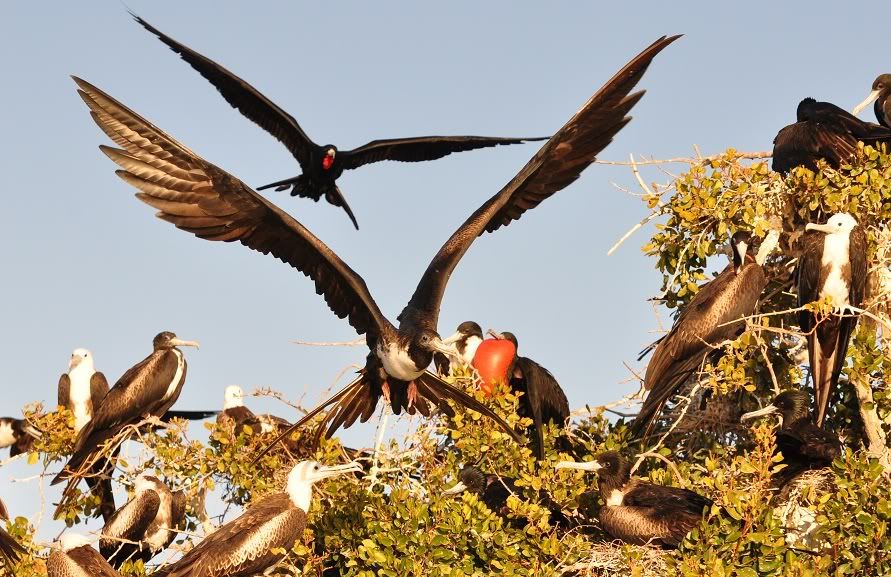 For most of the year these birds are some what solitary, but come breeding season, they gather in huge groups, call "rookerys". At this point the males get to show off their stuff so to speak. The adult males have a almost balloon like bag on their breast that they inflate into a very bright red spectacle, looking much like a deployed automotive air bag. Along with some wing flapping, and a raspy rattling call they do their best to get the attention of a willing female. Once there is a bond, the males will begin to gather sticks for nest building, flying off to find twigs and such to bring back to the female. From what I have seen, she is a very discriminating nest builder, accepting or rejecting sticks and such, based on some unknown quality.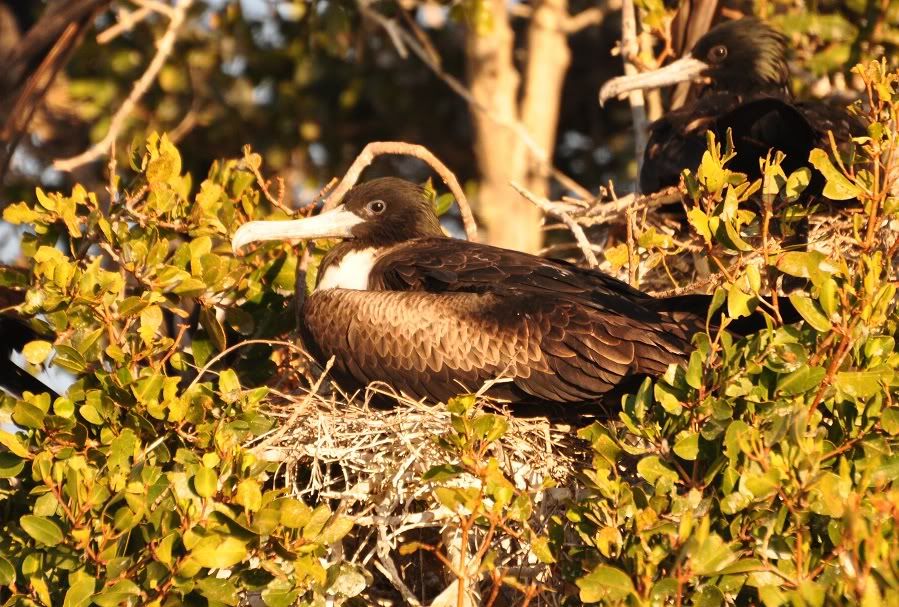 Once the nest is built, the males will do the bulk of the "Nest Sitting" while the females are off robbing unsuspecting birds of their lunch.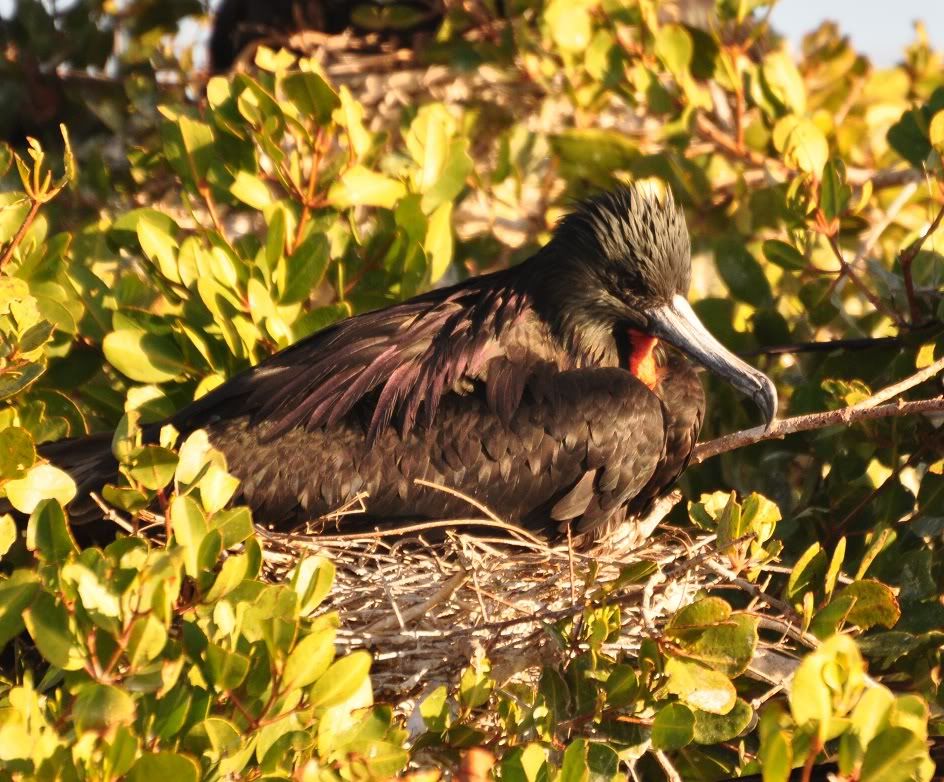 One of the great features (depending on your boat location and the wind) is the fact that there is a huge rookery right here in Bahia San Gabriel. They have picked a group of mangroves near the waterline, in the north east corner of the bay. To see nearly a thousand frigatebirds in one concentrated area is amazing to see, but not a place you want to spend much time down wind off!! This is a real treat for someone who was recently described as a "Bird-Nerd" I can live with that!