We've made a couple of day trips out to explore – more on that later, but the highlight of February was our day to go see Grey Whales.
This is the same trip we did 2 years ago, and while the same, it was different.
We collected 18 cruisers from Palmira who had never had the experience and joined with Eduardos Tours of La Paz, headed off for the day.
The day starts early, 5:30am pick up, and heads north. Two hours later we stop for breakfast in Constitucion, before the last hour drive to Puerto Lopez Mateos.
Once at the bay, we get our PFD's and split up into 2 pangas. This year we headed north towards the entrance to the bay.
There's a very narrow channel to cross the bar from the Pacific Ocean. And once inside, there's a very nasty sand bar/island to skirt around. Because of this sand bar, a fairly deep channel is created. This was our destination this time. The momma whales use this channel, and the daily currents with the tidal swings, to teach their babies to swim and build up endurance for their long swim to the Alaskan North.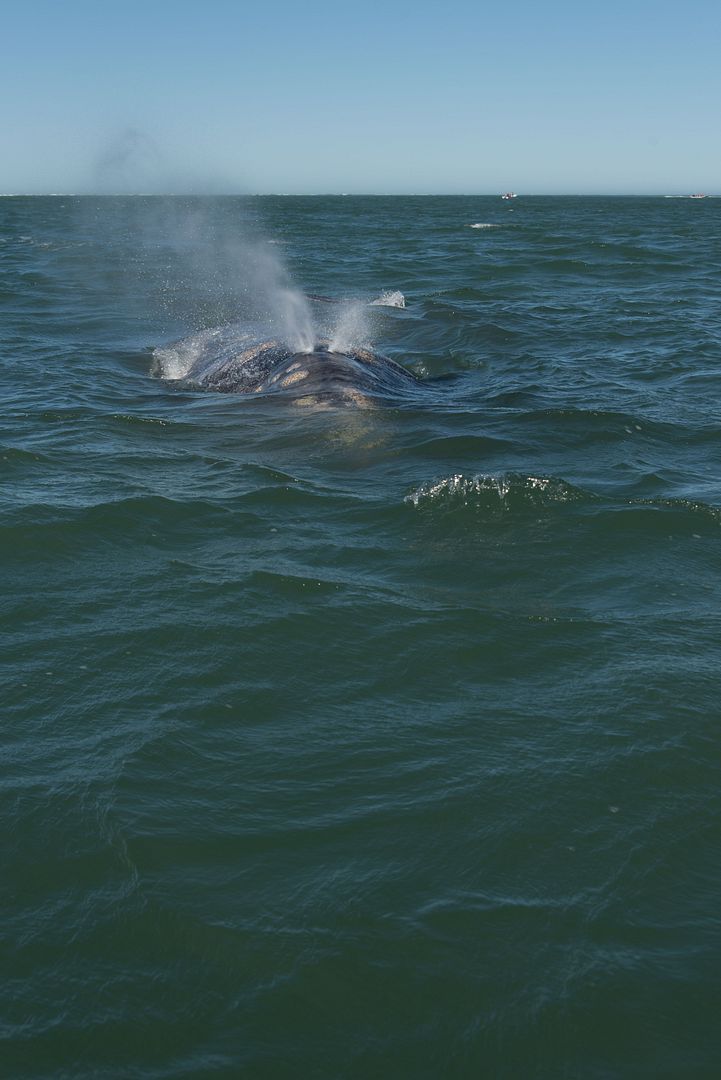 We quickly spotted whales and their spouts all around us, a dozen or more. Once we were in the channel, we spotted a pair coming in our direction. They swam right alongside for a while, then dove deep – watch for the really arched back and some tail.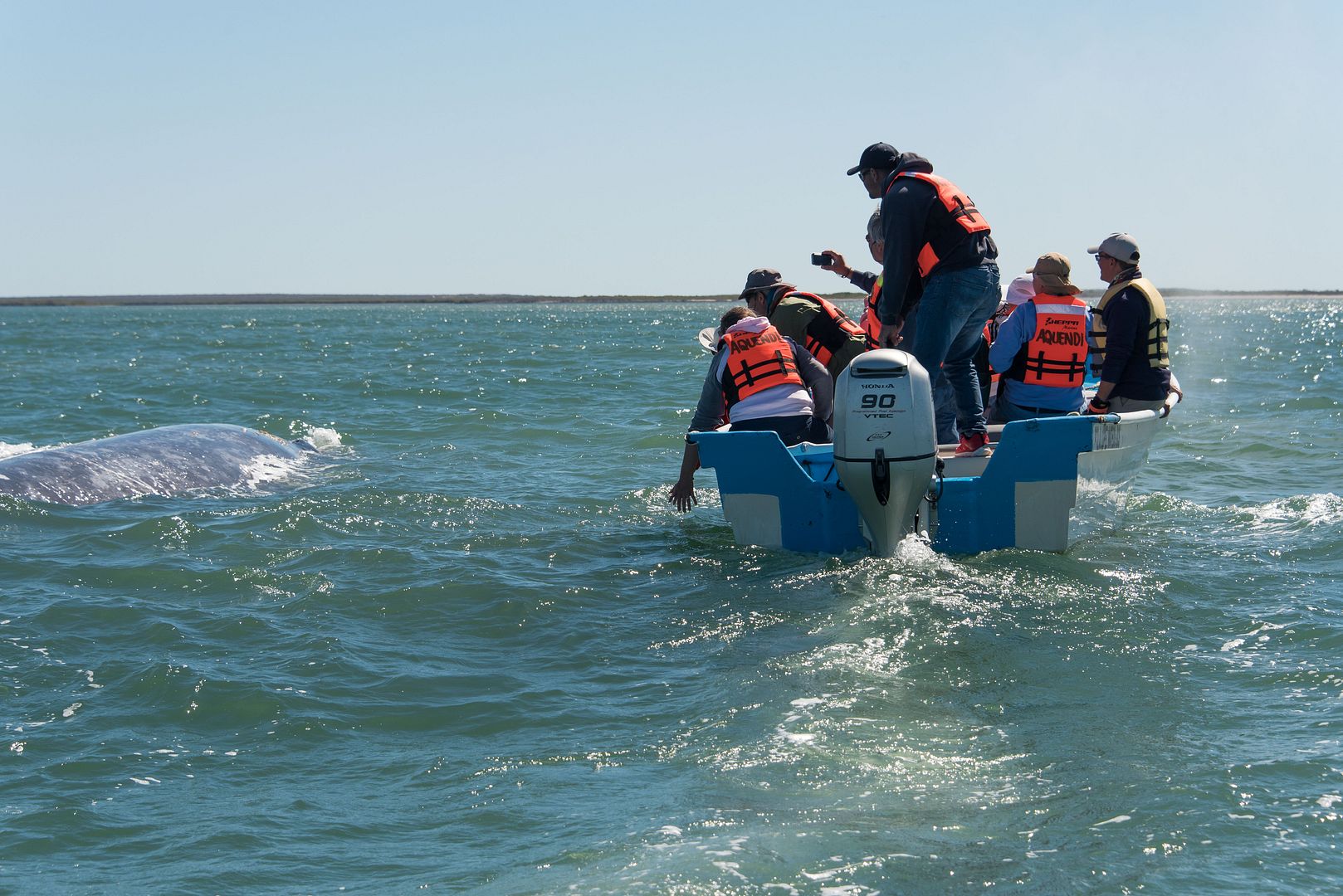 Another pair was spotted and we maneuvered close. This one was willing to play and interact for a few photos.
While the tour director points out that the trip is all about 'seeing' the whales, up close, not to pet them. The whales have to decide if that's what they're interested in.
In our case, we were drifting in the channel, close to where the last surfacing was seen. With the engine off, the momma brought her baby right to the side of the boat, then gave it a nudge from below to 'come and say hi'!
I was lucky to be sitting on the port side where it came up.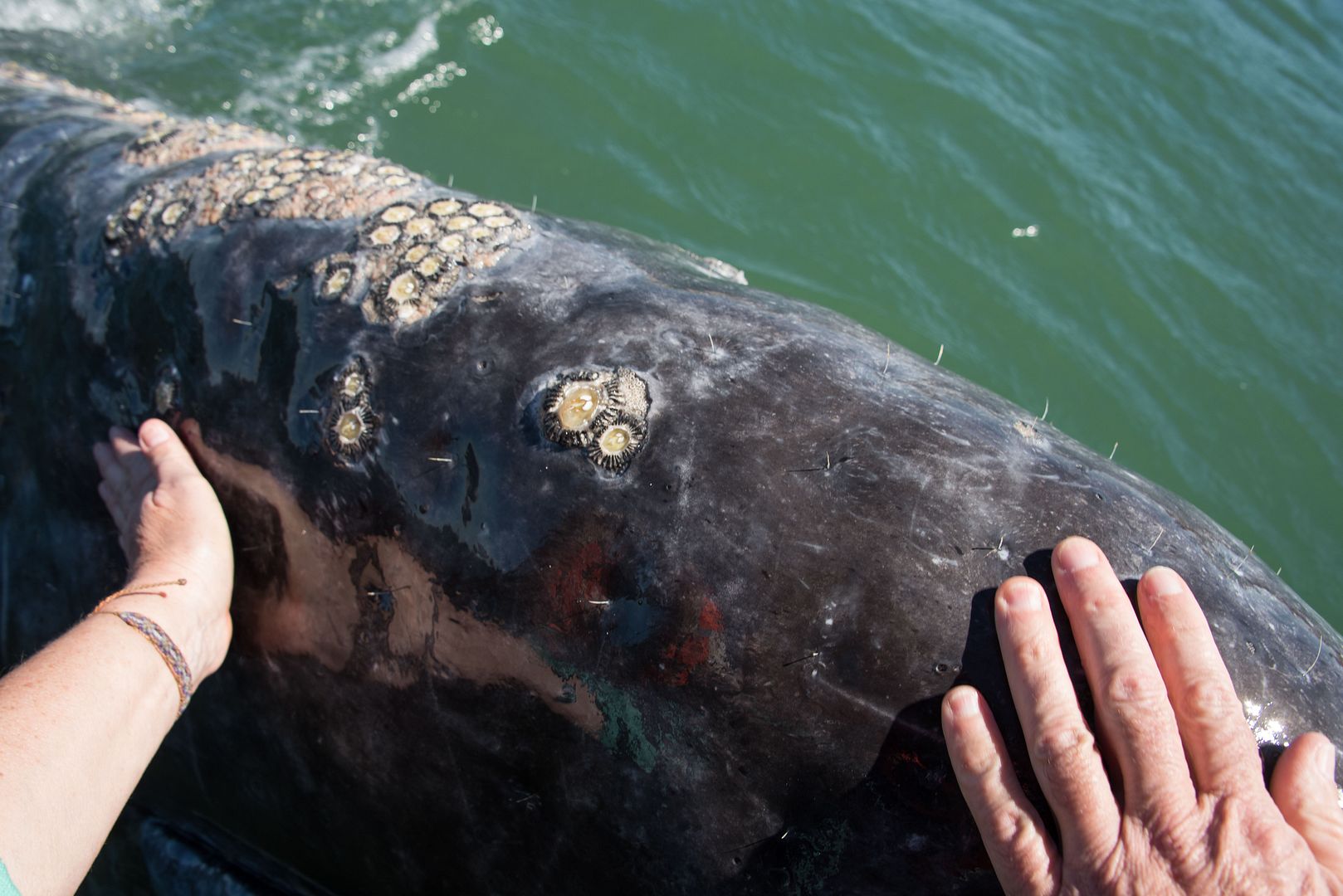 And that's my version of a selfie - my hand's on the left!
End of February into Mid-March is the best time, give or take a week or two. The later one visits, the better chance of having a momma and baby who are wanting some human love, but also the later you go, the less chance of seeing them if it's time to move on.
The new sculpture at the port of Puerto Lopez Mateos.