The UK south coast
Starting out in Portsmouth Sammy, Nelson and myself, heading towards the gateway into the Solent , past the meca of sailing (Cowes) and on to Lymington a measly 15 miles but hey it was a start and one of us had to go back to work for five weeks !
so with a heavy heart I secured BA (Blown Away) to a fore and Aft mooring buoy in Lymington river , just off of town quay, little was I to know how big a mistake that was to be.
So picture the scene: Im at work, in Australia and i open an email that is titled -BOAT DAMAGED attached were pictures of the stern and the now missing toe rail.
long story short the HM (Harbour Master) had decided to move the boat as it was in a prime position and there was a bank holiday weekend approaching, so money to be made !
Then the storm hit the south coast and boats were damaged through out the solent, many proud yacht owners lost their pride and joy over the 48 hrs that did so much damage and sank so many vessels , mine included .
The stern was damaged and so was the toe rail , pieces of wood lay splintered and abandoned over parts of the deck, she looked a mess , the whole summer before I had been in Cowes on the hard making repairs and fettling for this journey now I was faced with this mess and all the while still in Australia at work, with three weeks to go before travelling back to my now damaged yacht.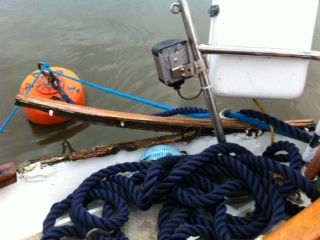 pretty depressing !